Homemade "Cream of" Condensed Soup
This post may contain affiliate links (meaning I earn a small comission if you purchase an item through a link I provide) I only provide shoppable links to items I love and are helpful. As an Amazon Associate, I earn from qualifying purchases.
Wow, It's already February? Happy February! This is the first month since I've launched Daily Dose of Pepper where I don't really have a plan of what I'll be working on. It feels a little weird… but it also feels a little freeing! Yes, I have a list of things that I want to do. I have notebooks full of random recipes that I've made throughout the years, but I usually have some sort of small plan. This month? I don't. I don't know why. I guess this month sort of snuck up on me. January was insanely busy for our home and I think I'm still a little discombobulated from the craziness of the holidays. So what am I going to do? Well, the world is my oyster!
I honestly have NO idea why that is a saying. I don't understand it at all. I suppose I could google it… I don't even like oysters.
Okay, I just googled it because I really couldn't shake the feeling that I have no idea what it means, but I tend to use the phrase a lot. Good ol' Shakespeare apparently coined the phrase. It's from his play The Merrywives of Windsor. The scene goes like this:
Falstaff: I will not lend thee a penny.
Pistol: Why then the world's mine oyster, Which I with sword will open.
Falstaff: Not a penny.
I've never seen it or read it, so I don't really know what this is about either.
Then I read further, and stopped just before I started reading about how to create your own catch phrase, where the phrase "hump day" came from, and then I ended up on some page about folding fitted sheets properly. The internet is weird. It's a weird, silly, and lovely place.
Back to my point. I promise I have one… probably.
DUH.. All ya have to do with an oyster is pry it open and you can "enjoy" it, and bonus, sometimes you'll find a pearl.
So, there ya go. The world is your oyster- Go get it!
(I used quotations around enjoy when referring to oysters because I do not like osyters. No ifs, ands, or buts about it! If you came here looking for oyster recipes, I'm sorry for that.)
Back to my original, original point. Have I lost you guys? I'm sure I have. I actually had to scroll up to see what post I was even working on!
You know those red and white cans that we have all come to either absolutely love or hate? Well I'm like Switzerland- I absolutely refuse to choose a side and either love or hate them. Of course, I want to cook what is healthiest for my family and myself, but sometimes convenience needs to happen. And by sometimes, I mean a lot of the time. I know there's a few too many ingredients in those little cans of cream of whatever soup, but they work. This homemade version also works really well for me because let's be honest, I am a very forgetful, unorganized person (All the best kind of people are!), and I can't tell you how many times I have forgotten the dang cream of chicken soup at the store and I need it in a recipe.
This homemade version is pretty delicious, and I can tell you right now what's in it… Milk, Chicken Broth, and Flour. I really do enjoy knowing the exact ingredients in my food. It makes me feel a lot better, but I promise you there will be many a time that I'll still use those cans because sometimes life gets crazy and dirtying an extra pan is just too much. But if you have the time and the motivation, you'll want to make something completely from scratch… Enter: Homemade Cream of Condensed Soup.
I had almost completely forgotten about this recipe. A few years back my mom gave me an Amish Cookbook that she got on a trip. The Amish totally know what's up when it comes to cooking. I loved that cookbook! (I have no idea where it is right now, otherwise I would tell you the name of it.) I went on to make my version of a Chicken Noodle Casserole using this recipe a few years back, because Eric LOVES both Chicken Noodle and Tuna Noodle Casserole. Back then, I always pulled out the big guns in the kitchen, and made everything from super scratch because, well.. the way to a man's heart and all. It was a hit! Look at us now! Back then, I used whole milk and chicken stock, but using skim milk and chicken broth really doesn't change the taste or texture much at all. I played around with the spices a bit because I remember in the cookbook they had used a lot of fresh herbs, and I don't have those laying around during the winter months. They also had put actual chicken in theirs, where I add protein to the casseroles separately. When pulling out my old chicken noodle casserole recipe to lighten up a bit for this blog I realized… this can pretty much be for any casseroles or recipes calling for Cream of Chicken/Celery/Mushroom Soup. (Note: I have not tested it in a slow cooker recipe yet, but I am planning on it this month!) Why did this take so long for me to put together in my head? I honestly don't know. Don't ask. I've only been a mom for 20 months, so it might be that my hair is actually naturally blonde. Ha!
Alright, I'll get to the part y'all actually came here for now…
Follow me- into the kitchen we go!
First up, you'll need these main things. Milk, Chicken Broth/Stock, Flour (and an assortment of dried spices).
What I use for the spice mixture varies. If you want to keep it pretty basic and versatile I would go with minced onion/onion powder, garlic powder, celery seed/salt, salt and pepper! I like to add crushed rosemary and thyme to mine when I am making casseroles like my Chicken Noodle Casserole, but if I wanted to use it in something like my Beef & Rice Taco Casserole, Tex Mex Cheesy Chicken Spaghetti, or White Chicken Enchiladas. I wouldn't necessarily want a thyme or rosemary taste in those dishes. Also, if you're not a fan of rosemary and/or thyme skip them completely! It'll still be good, I promise.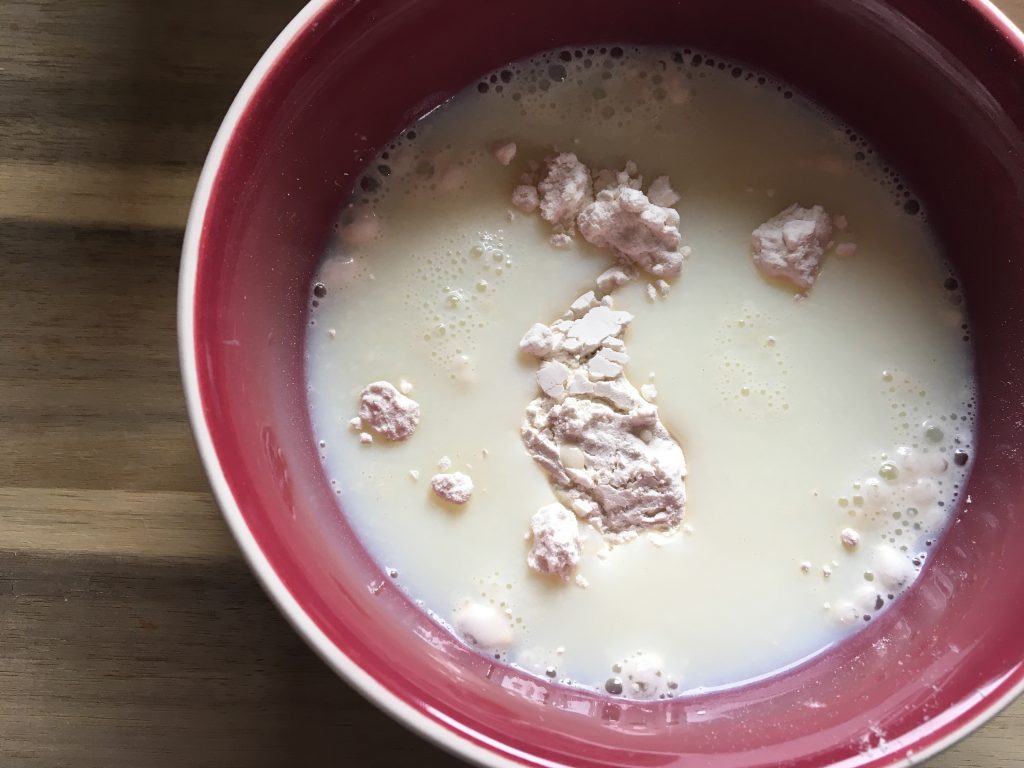 In a bowl combine 3/4 cup milk and 1/2 cup flour.
Whisk together until the flour is completely dissolved.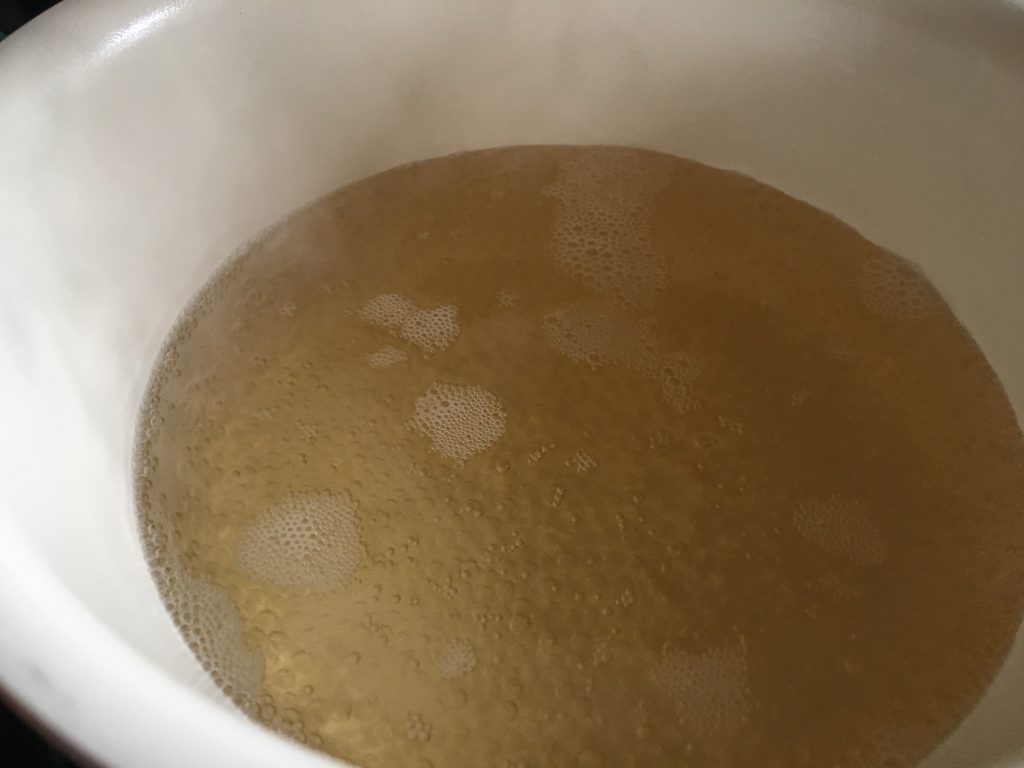 In a small sauce pan, boil 1 1/2 cups of chicken broth.
Pour flour/milk slurry into boiling chicken broth slowly, followed by the spices, and whisk until thickened. Bring mixture to a slight boil. Reduce heat to low. Whisk constantly for about a minute, or until the soup is thickened.
Now I know it's not pretty, and it's not meant to be eaten on its own! So the taste might not be what you're used to after you try a Daily Dose of Pepper recipe. It's meant to add that delicious creamy factor to dishes, mainly casseroles.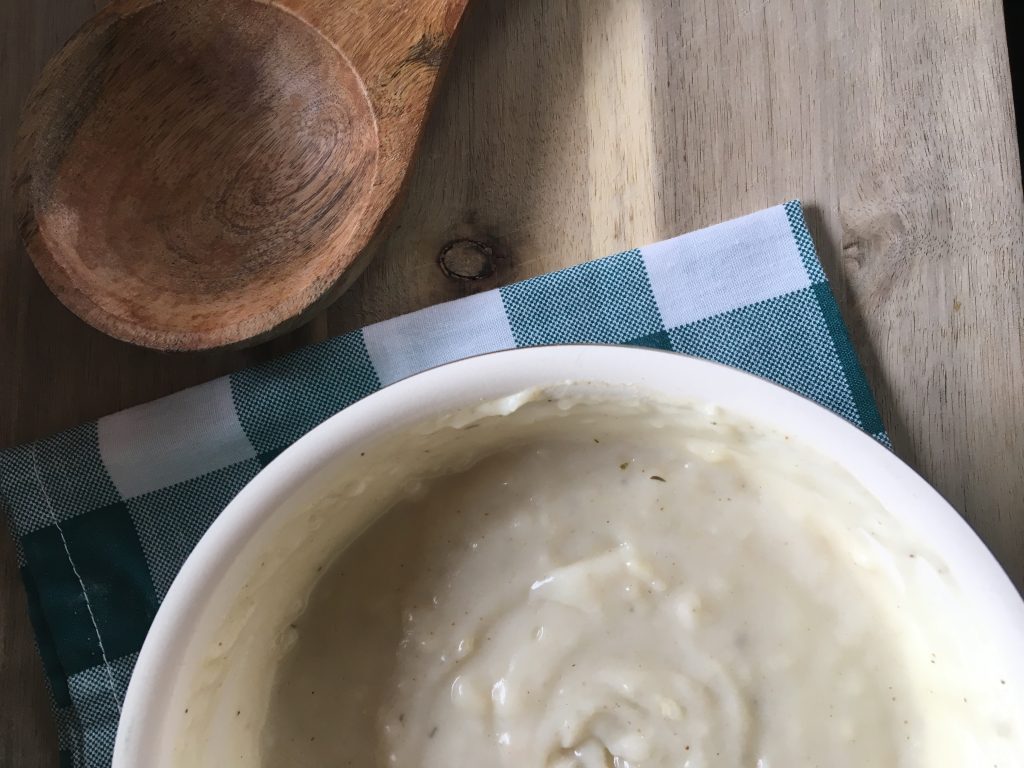 and there you have it! A delicious from scratch substitution for those good old cans of cream of condensed soups!
With love from my kitchen to yours,
Star
Print
Homemade "Cream of" Condensed Soup
a lightened up, from scratch way to make cream of condensed soup
Materials
3/4

cup

skim milk

1/2

cup

flour

1 1/2

cups

98% fat free chicken broth. low sodium

1/4

tsp

salt

1/2

tsp

pepper

1/2

tsp

garlic powder

1/2

tsp

onion powder

1/2

tsp

celery salt or celery seed

1/2

tsp

crushed rosemary

, optional

1/2

tsp

thyme

, optional
Instructions
In a sauce pan, over medium-high heat, heat up the chicken broth until boiling. In a small bowl, mix up your spices of choice together. In a separate bowl add milk and flour. Whisk until the flour is completely dissolved and there are no lumps. When the chicken broth comes to a boil, slowly pour the mixture into the pan along with the spices, and whisk. Reduce heat to low and whisk constantly until the mixture is thickened (should take about a minute). Use immediately in a recipe, or store in the refrigerator for up to one week.
Notes
*I did not figure out serving size, because this is not meant to be eaten on its own. It makes approx 2 1/2 cups
The entire batch is 8 Smart Points. 7 Points Plus. 290 Calories, 1.5g fat, 0g saturdated fat, 53g carbohydrates, 2g fiber, 10g sugar, 13g protein.