This post may contain affiliate links (meaning I earn a small comission if you purchase an item through a link I provide) I only provide shoppable links to items I love and are helpful. As an Amazon Associate, I earn from qualifying purchases.
Hey there! This weeks drop dead delicious recipe is Slow Cooker Lasagna! Slow Cooker Lasagna made healthier by using 50/50 of lean ground turkey and lean ground turkey sausage. It also has three cheeses. I repeat three cheeses! This is not a drill. Parmesan cheese, mozzarella cheese, and cottage cheese. Don't stop reading. I promise you it's delicious. It's all wrapped up with lasagna noodles and a quick n' easy marinara sauce from scratch. I'm actually chowin' down on this reheated as I type this and oh man, this is totally one of those 'tastes even better the next day' type dishes. It tasted real good last night, but I think I might eat this for breakfast, lunch, and dinner tomorrow because I am an adult and I can do what I want.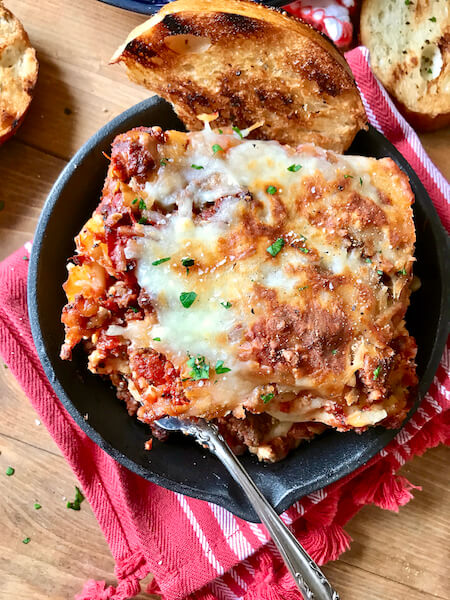 Last week, I made this for the first time, and it was just alright. But I'm a perfectionist, so I made it again this week. The first time, I think I added a bit too much water to the sauce, and it didn't cook properly in the slow cooker, because It was just a bit too "soupy" for my lasagna preference, and the flavor was a little flat. This batch though? It's AMAZING!
I've never, ever cooked lasagna in a slow cooker before last week. Actually, I'm pretty sure I've never cooked any kind of pasta in there. I'm usually a stove top and oven type of girl, but I'm journeying more and more into the slow cooker world. (As a lot of people journey into the Instant Pot world haha!) You want to know the number one reason why I love my slow cooker? I just love the smell that permeates throughout the house for the entire day! I also love that I have dishes done before dinner time, so I can relax with Eric and Pepper before her bedtime.
The idea for Slow Cooker Lasagna came by request from my lovely sister and some of her co-workers. They wanted a healthier crock pot lasagna! Ask and you shall receive… eventually… probably, unless it's oysters. Go somewhere else for that. So, here you go, gals! I think you'll love it. I know I love it. Eric went on and on about it. Pepper ate lots of it.. but I had to add extra cheese. She's having a 'more cheese please!' phase. Is that actually a phase? I don't think there's ever enough cheese. But, she still won't touch macaroni and cheese, try and figure that one out.
The best thing about Slow Cooker Lasagna:
It's delicious.
It's creamy and cheesy.
It's flavorful.
It's stupid easy.
You get a real 'bang for your buck' when it comes to portion size.
So here we go… Let's get into the kitchen, folks!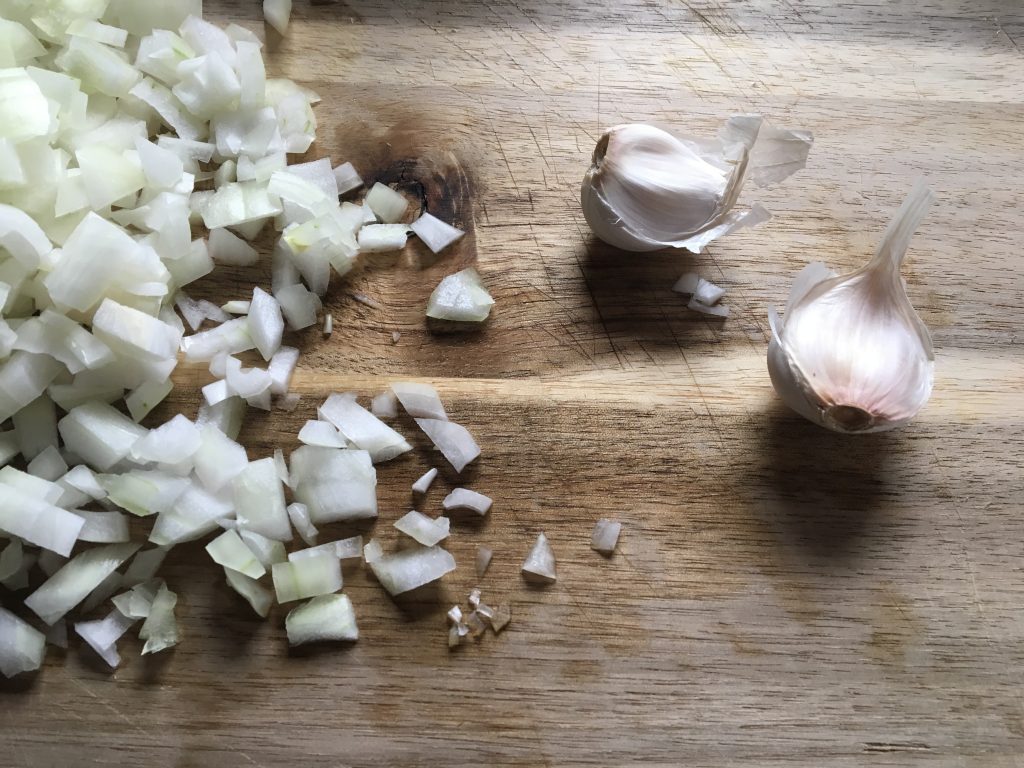 Grab a medium yellow onion, and chop it up as evenly as possible. Then grab a few cloves of garlic..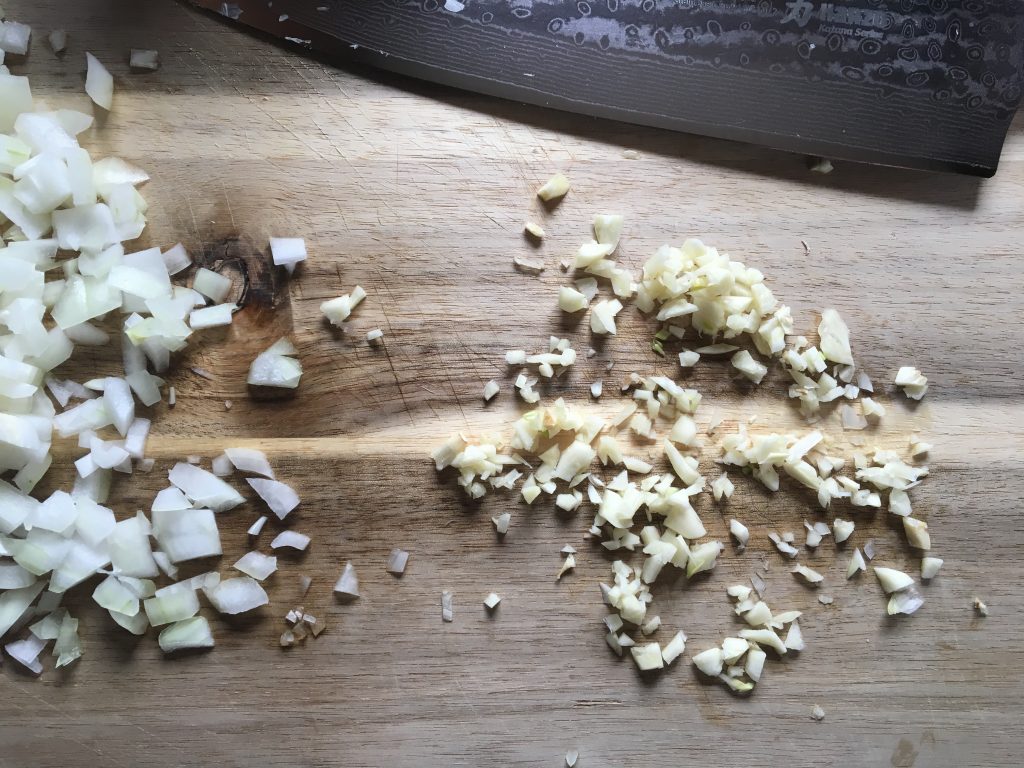 Mince the garlic as finely as you can. I actually noticed some pieces were a bit bulky, so I put it under the knife once more after this shot.
In a large stock pot and throw in half a pound of Italian Turkey Sausage (I use Jennie O Sweet Italian Links with the casing removed from the links), and half a pound of lean ground turkey. Throw a bit of kosher salt (about 1/2 teaspoon) on it while you're at it. I use a mixture because I find the sausage taste overpowers if you only use that. It's a personal preference, honestly. You could use all sausage or all turkey, but in my humble opinion the mixture of both is where it's at. If using just the ground turkey, I recommend sprinkling about one teaspoon of Italian seasoning on it while browning to give it a bit more flavor.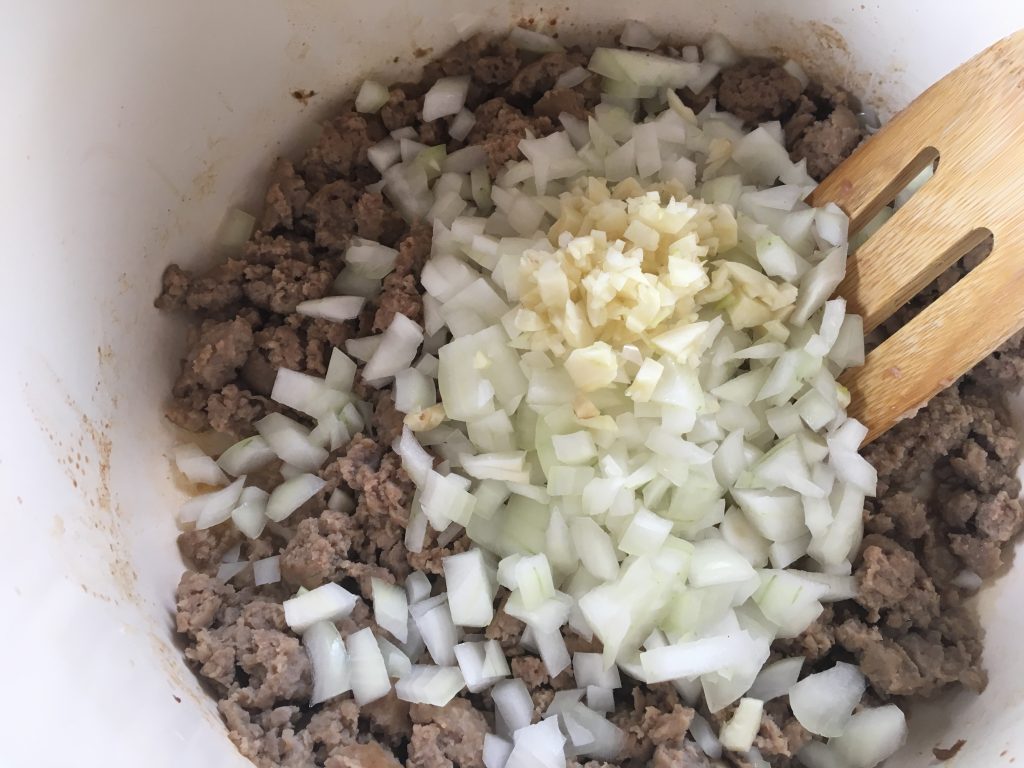 When the meat is mostly browned, add the onions and garlic, and cook until soft.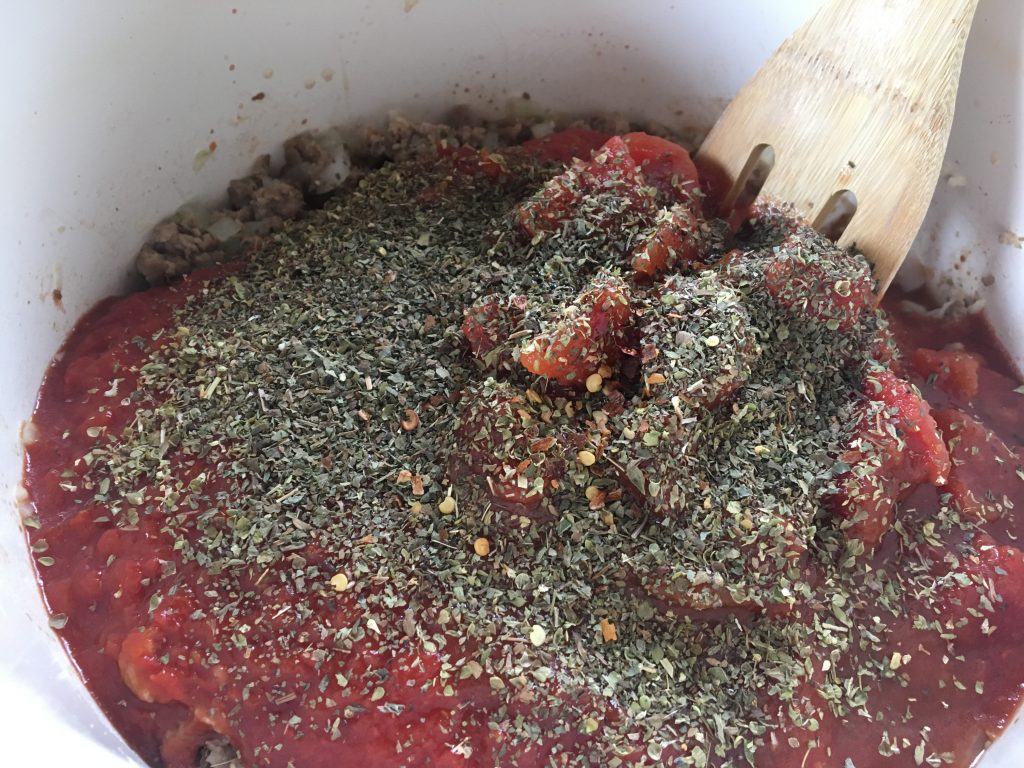 Now add a large can of crushed tomatoes, and a can of diced tomatoes. (You can use tomato sauce in place of this, but I like the extra texture of crushed tomatoes!) Add 2 tablespoons of Worcestershire sauce, 2 teaspoons dried basil, 2 teaspoons dried oregano, 2 teaspoons salt, 1 teaspoon pepper, and a couple shakes of red pepper flakes. Also 1 cup of WATER! Do not forget the water. It needs water to ensure the noodles cook properly in the crock pot, because we won't be cooking the noodles beforehand.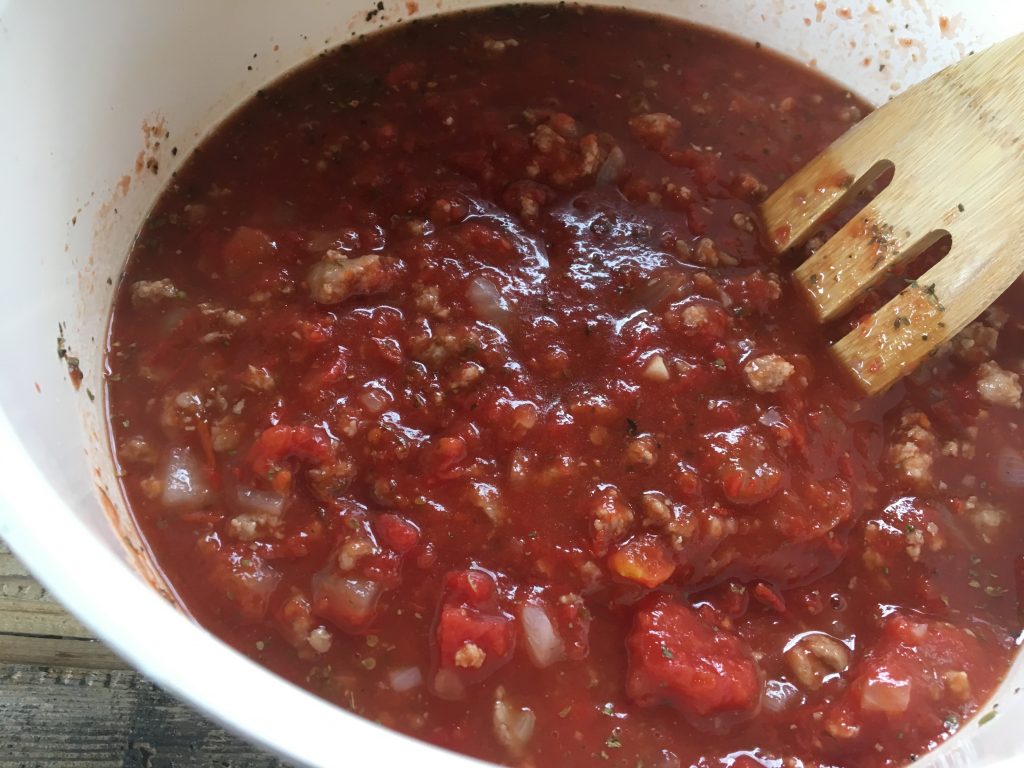 Mix it all up, cover the pot, and simmer for about 10 minutes.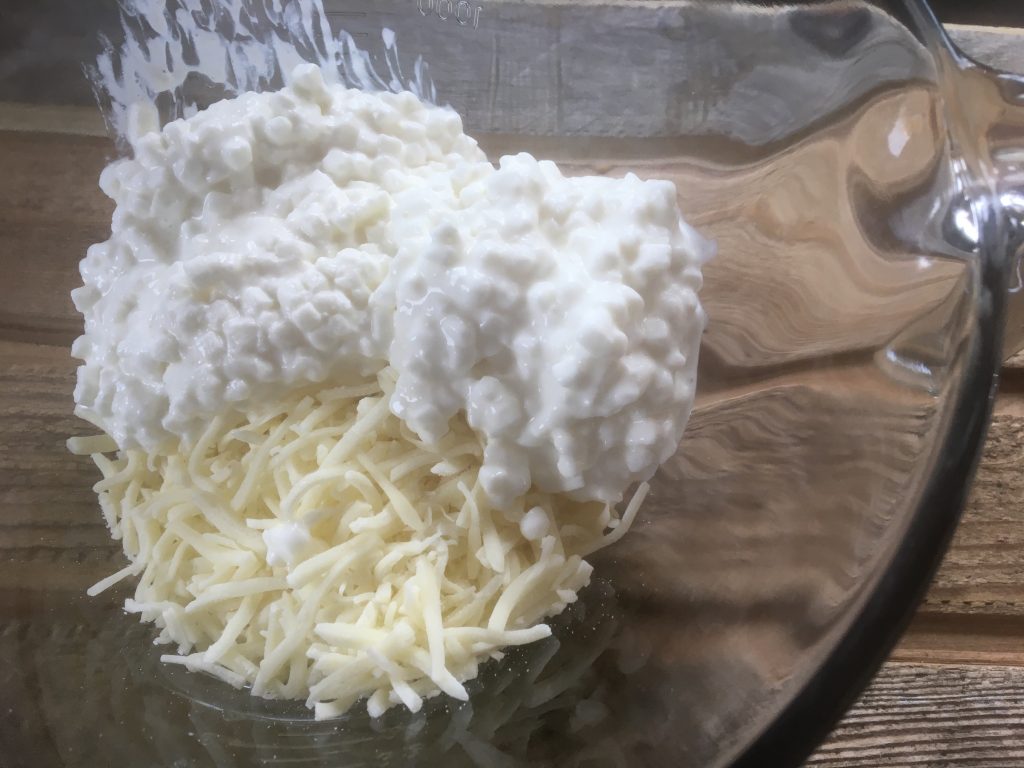 While the sauce is simmering, grab a bowl and mix up my favorite part; The cheese! Add 2 cups cottage cheese, 1 1/2 cups mozzarella cheese (reserve 1/2 cup for later), and 1/4 cup parmesan cheese. I was so excited that I was able to use this much cheese while still keeping the points/calories in check. Mix it all up!
P.S.- If you've been reading my recipes for awhile… you know I HATE cottage cheese, but I cook with it because it is PERFECT to cook with.
Spray the crock pot with a bit of cooking spray, and then add about 1 1/2 cups of sauce at the bottom, followed by a layer of broken-up lasagna noodles.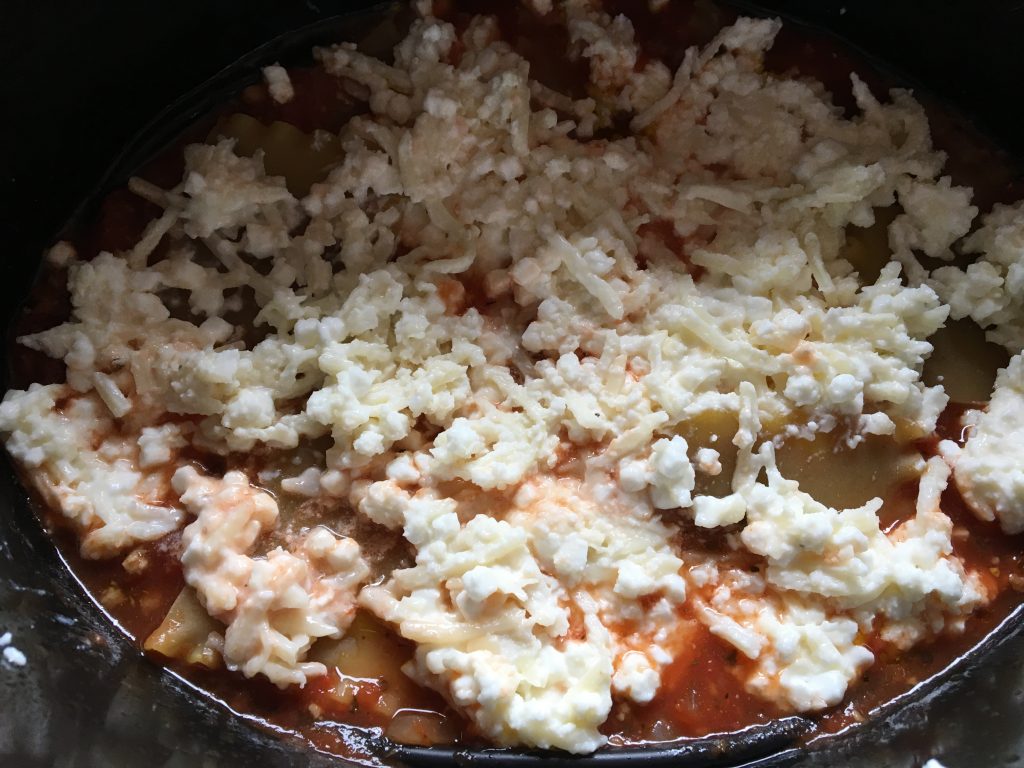 Spread 1/3 of the cheese mixture on top of the noodles as evenly as possible.
Layer on another portion of delicious sauce, about 1 1/2 cups.. followed by some more broken up noodles! (I chose to break them up because it annoyed me too much that they didn't fit properly)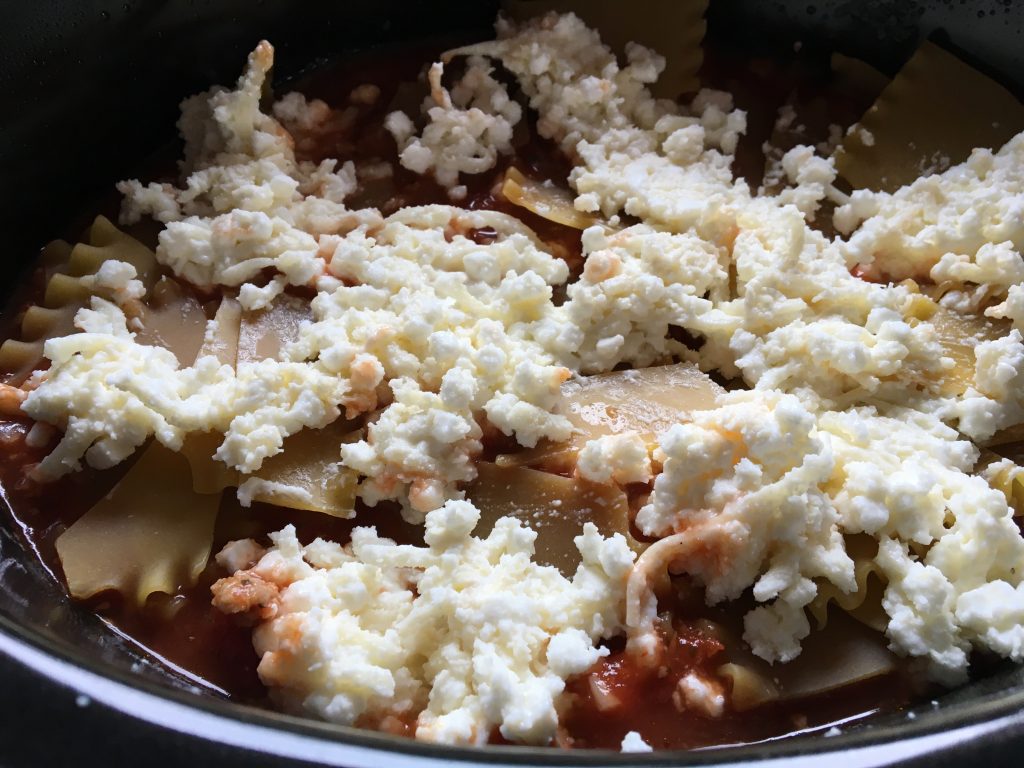 S'more of the cheesy mixture…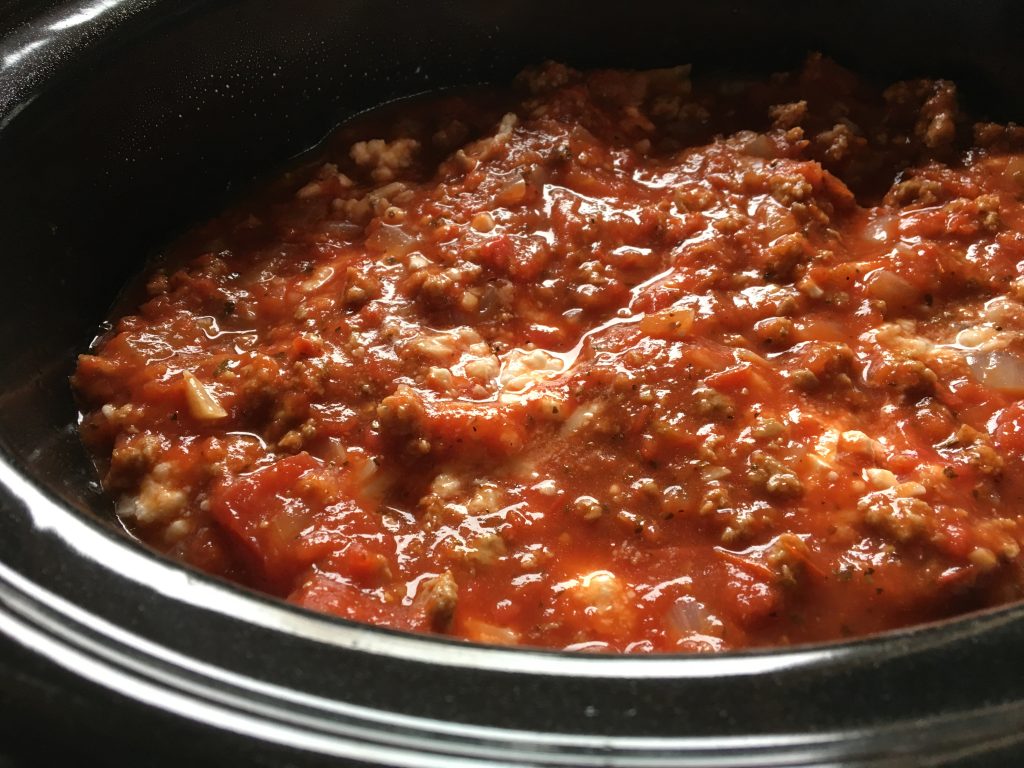 Now yet another layer of sauce!
More noodles!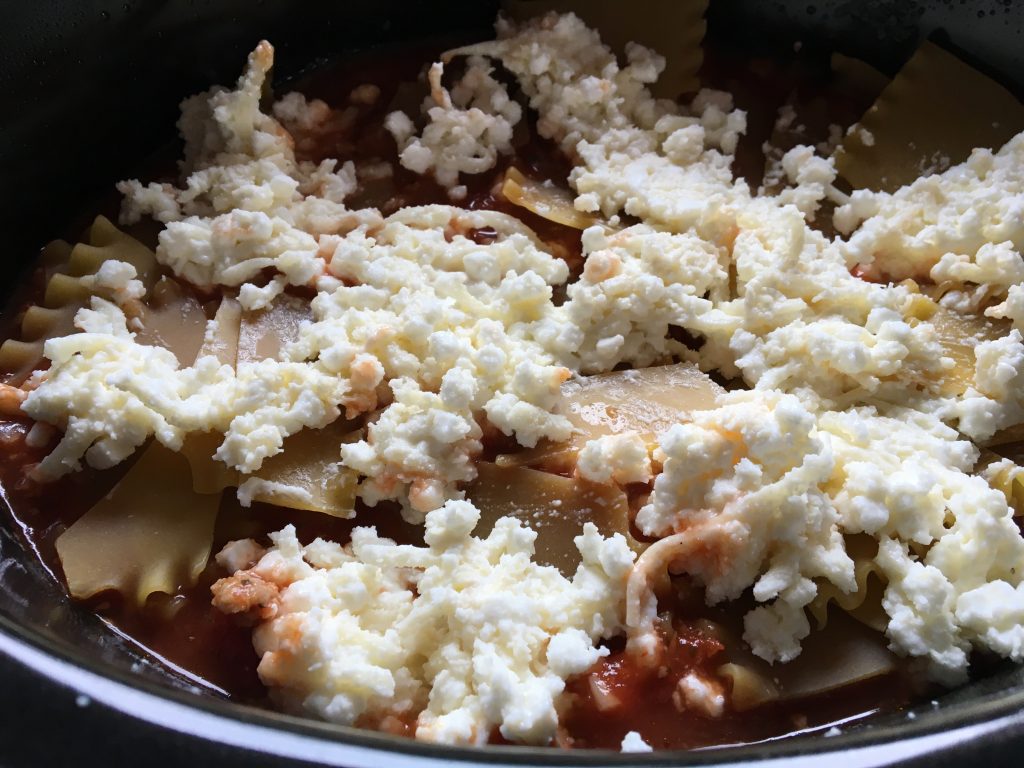 More cheese! I apologize for all the repetition. But remember, layering is everything here- it's what lasagna is all about!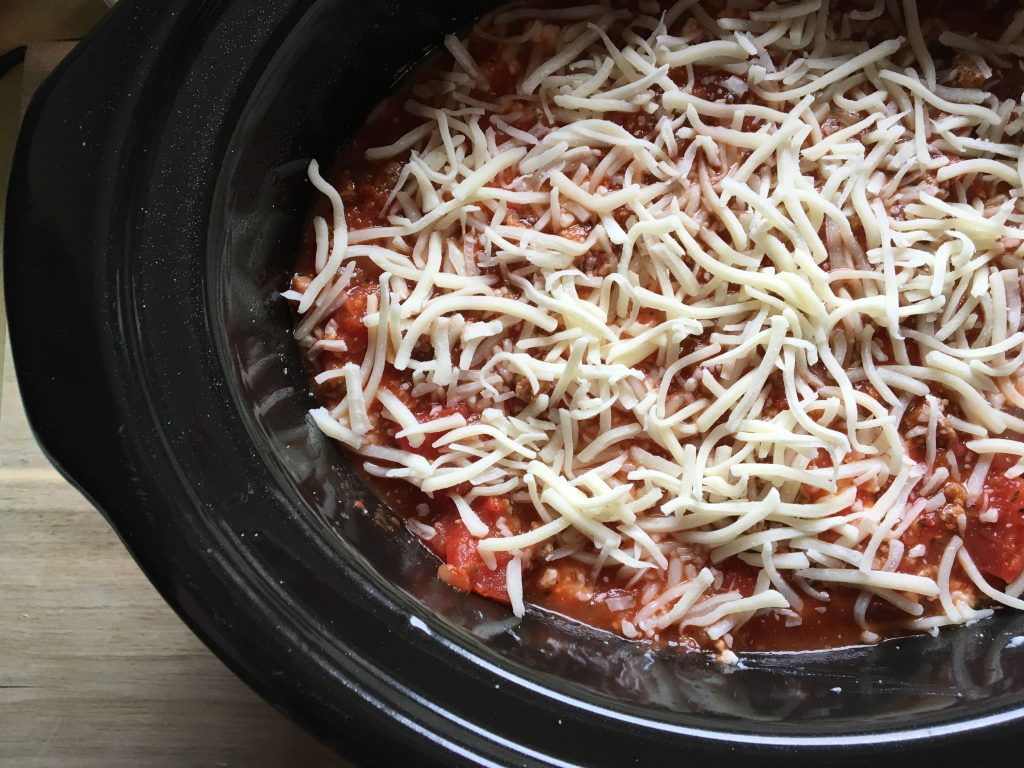 Top with the remaining sauce, and mozzarella cheese! Cook on low for 4-5 hours.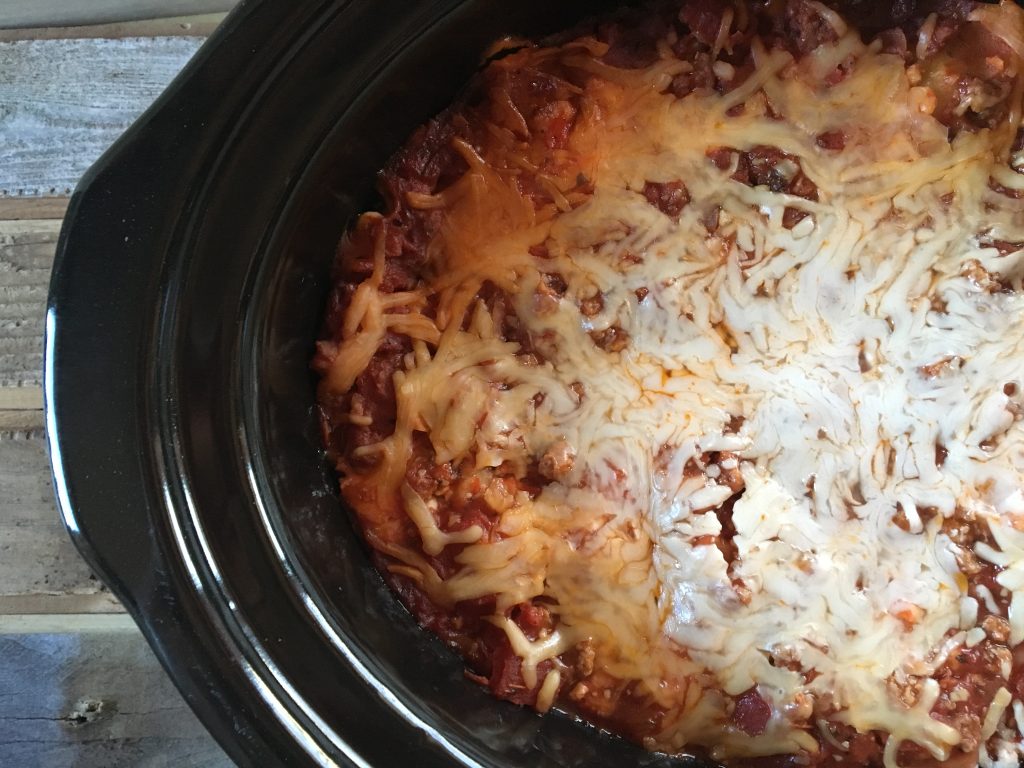 If you've been making lasagna for a while you probably know that it needs to sit 10-15 minutes after cooking so it kind of all "forms together," ya know what I'm sayin? There must be a technical term for this process.
I feel like this also rings true with the slow cooker method. I turned the slow cooker off, and while I was making side salads and toasting bread in the oven, I just let it sit with the cover slightly turned. It was a total of 20 minutes, maybe. By all means, you can dig in right away, but it will be a bit sloppy and you want the noodles to kind of hug the sauce and cheese a bit.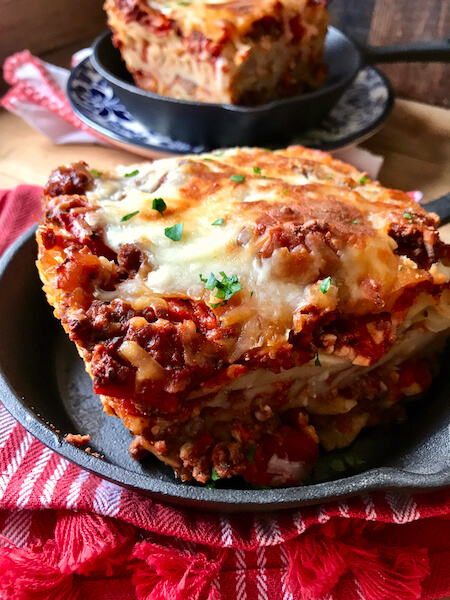 My second favorite part about this is that the serving size is HUGE, which means a lot to a girl watching her weight.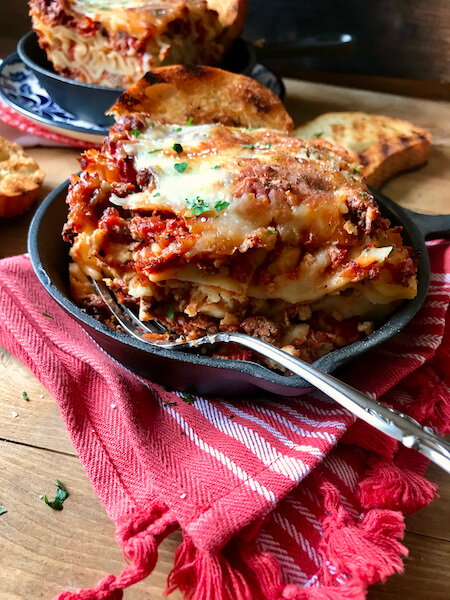 A bit messy… but oh so scrumptious! Eric came home from work and said it smelled like just an Italian Eatery! He was fairly unimpressed with the one that came out of the kitchen the week before (He's got pretty high standards these days, insert eye roll.) But alas, He couldn't stop raving about this one, and honestly the only thing I changed was the amount of water, and I threw some salt on the meat while browning it. Voila!
*drools* I hope ya love it up!
With love from my kitchen to yours,
Star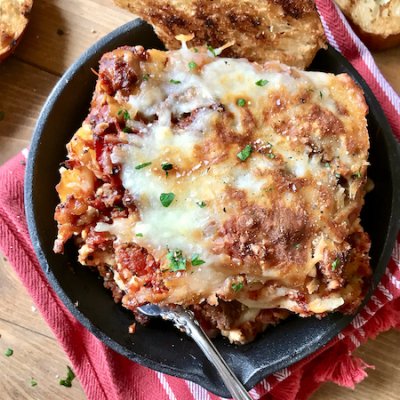 Print
Slow Cooker Lasagna
a lightened up, slow cooked Italian favorite, with layers upon layers of cheese, and a from scratch sauce!
Materials
1

medium yellow onion

, chopped

3

garlic cloves

, minced

1/2

pound

Italian turkey sausage- I use Jennie-O Sweet Italian Turkey Sausage Links

, with the casings removed

1/2

pound

lean ground turkey

1 28

ounce

can crushed tomatoes

1 16

ounce

can petite diced tomatoes

2

tsp

kosher salt

2

tsp

dried basil

2

tsp

dried oregano

2

tbs

worcestershire sauce

1

cup

water

8

oz

lasagna noodles, uncooked

2

cups

1% cottage cheese

2

cups

part skim mozzarella cheese

1/4

cup

parmesan cheese

cooking spray
Instructions
In a large pot, add ground turkey, ground Italian turkey sausage, and sprinkle with a bit of kosher salt. When the meat is mostly browned add onions and garlic, cook until slightly softened. Add crushed tomatoes, diced tomatoes, salt, pepper, basil, oregano, worcestershire sauce, and water. Stir together and simmer for about 10 minutes. While the sauce is simmering, Add Parmesan cheese, cottage cheese, and 1 1/2 cups of mozzarella (reserve 1/2 cup of mozz) into a bowl, and mix together thoroughly. Take your slow cooker and spray lightly with cooking spray. Add 1 1/2 cups sauce to the bottom, lay the broken lasagna noodles on top, then about 1/3 the mixture of cheeses, followed by about 1 cup of sauce. Repeat layers twice. Top with remaining sauce, and sprinkle 1/2 cup mozzarella cheese on top! Cover and cook on low for 4-5 hours.
Notes
Serving size 1/8 of the lasagna (or about 11.5 ounces) This is a very large serving and can easily be cut in half if wanting less points or calories.
390 calories, 11.9g fat, 5.5g saturated fat, 38g carbohydrates, 5g fiber, 8.5g sugar, 31.5g protein
WeightWatchers Points: 9 Points