Air Fryer Sweet Potato Cubes
This post may contain affiliate links (meaning I earn a small comission if you purchase an item through a link I provide) I only provide shoppable links to items I love and are helpful. As an Amazon Associate, I earn from qualifying purchases.
It's time to fall in love with these Air Fryer Sweet Potatoes Cubes! They're incredibly easy to make and absolutely delicious. Perfectly cooked with a crispy outer layer that gives way to a soft and tender interior. These beauties are the ultimate side dish that can be used to complete breakfast, lunch, or dinner! Whether you're adding them to breakfast bowls, salads, or tacos… sweet potato cubes in the air fryer are just total perfection!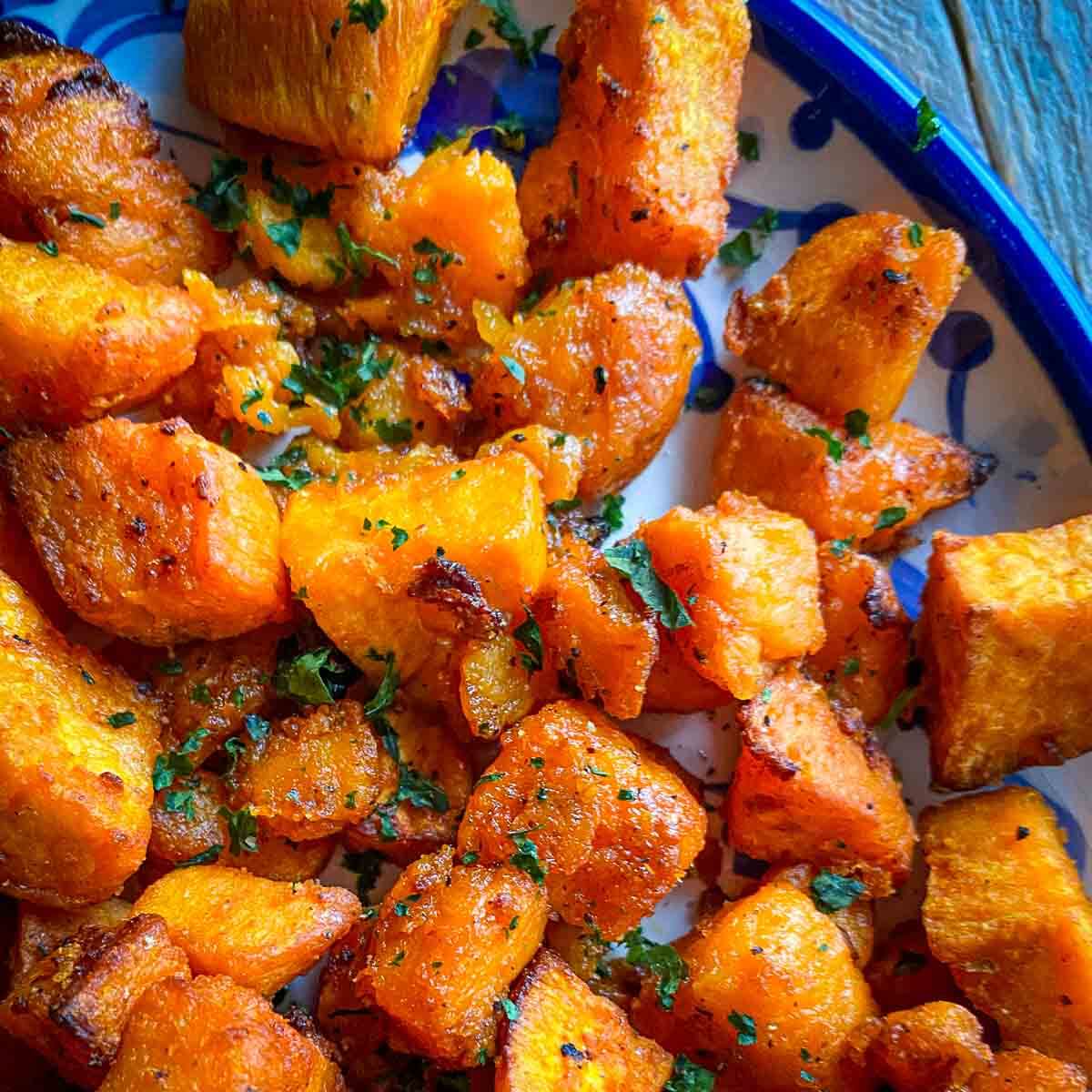 I perfected this recipe during my recent Whole30 journey. These babies have become an absolute must-have in our household. I'm going to be honest here, before I discovered this game-changing cooking method, I was totally disappointed with how my sweet potatoes turned out in the air fryer. So let me share my secret with you and turn those underwhelming potatoes into mouth watering perfection!
Some recipes have secret ingredients, this recipe has a secret step! The extra step is truly a game changer! You can tell just be looking at them that they are different from other photos of air fryer sweet potato cubes.
Sweet potatoes are so nutritious and a great source of fiber, Vitamin A, Vitamin C, Maganese and potassium which makes them the perfect carb to add to so many delightful dishes!
One of my very favorite ways to enjoy sweet potatoes is by roasting them, like my super popular roasted sweet potatoes with bacon and parmesan recipe. I'm a huge fan of roasting literally ANY veggie. Roasting brings out the natural sweetness in them while caramelizing the outside for ultimate flavor and texture. I always keep my air fryer on stand-by for quick side dishes. It's so much more convenient(and quick!) than heating up the oven.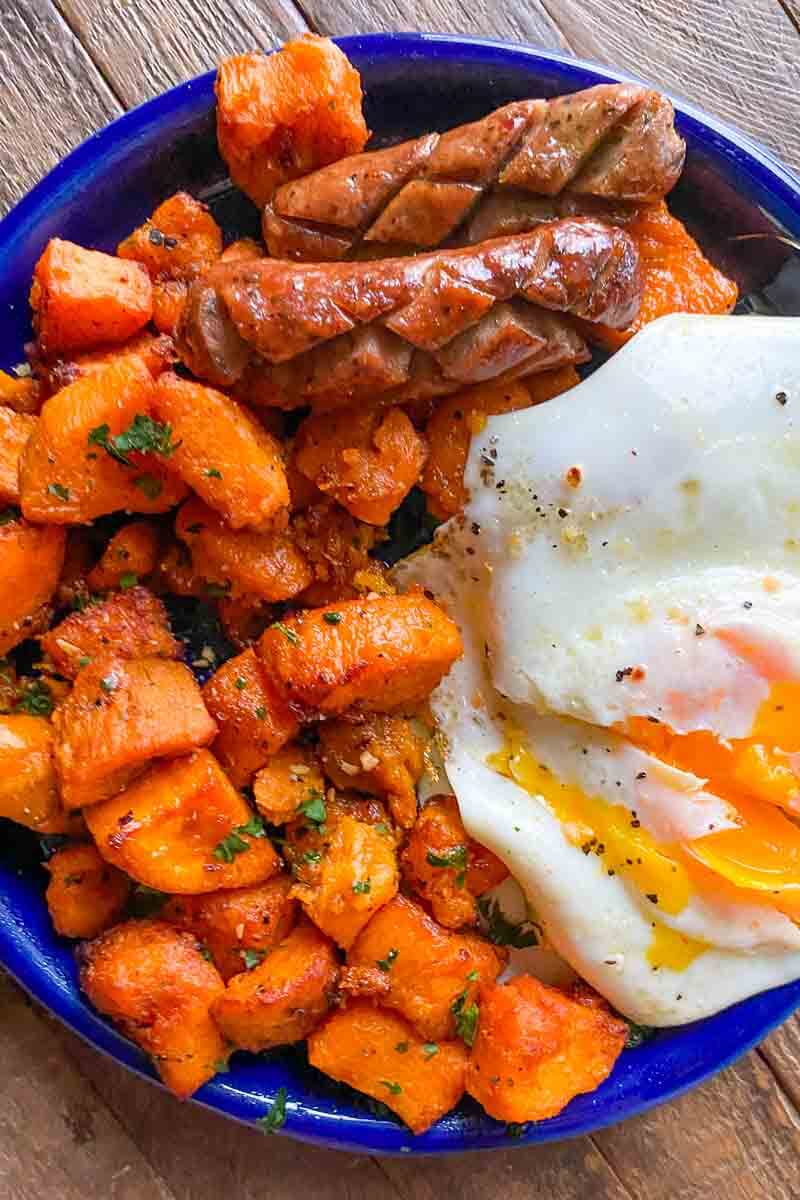 Ingredients you need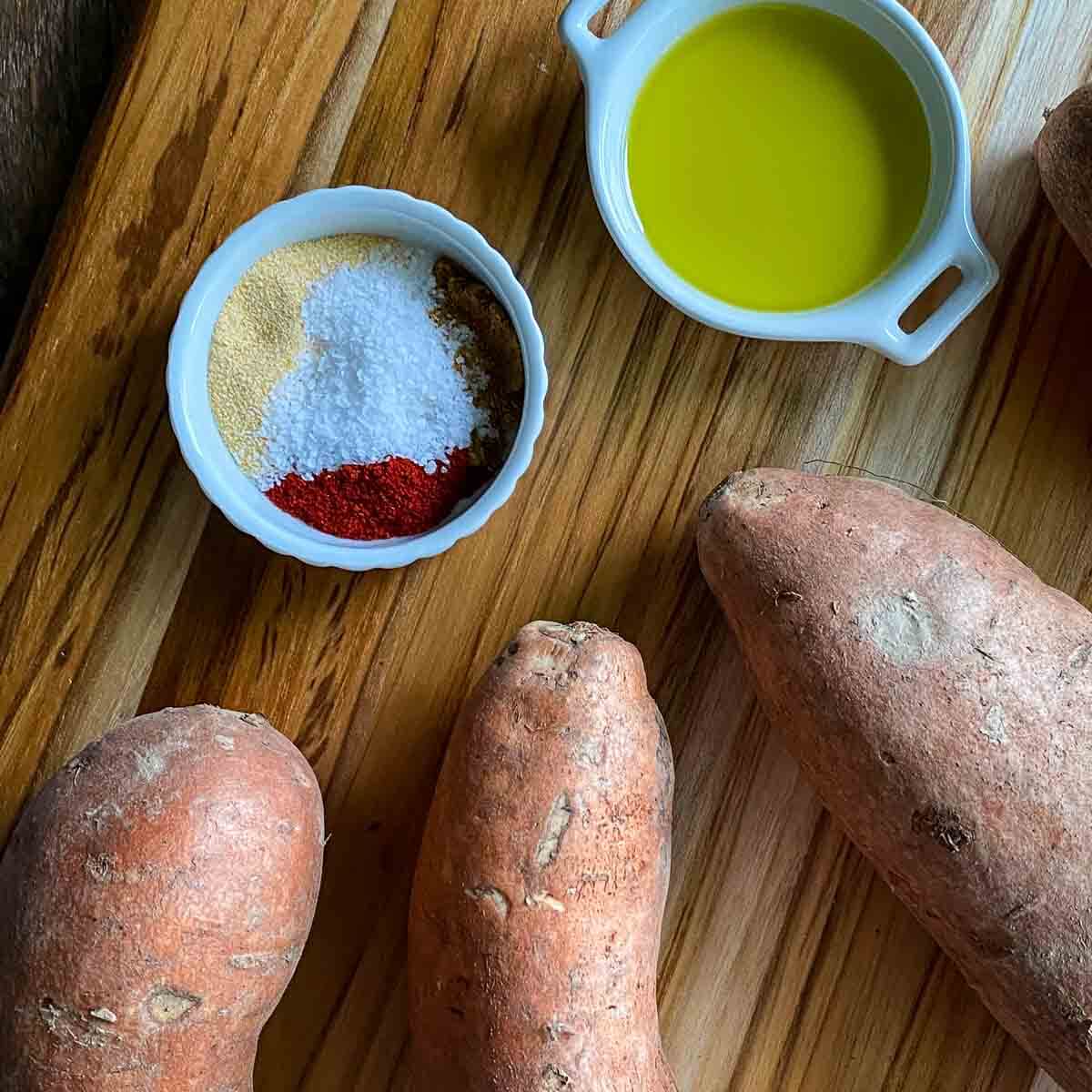 The list of ingredients is short and sweet. You probably have it all (except for the sweet potatoes) on hand most of the time. Plus, you can really play with spices to create a range of flavors depending on your mood and/or meal, so feel free to swap some of the below to use your favorite dried spices (or scroll down a bit cause I'll include a few of my favorite variations).
Sweet Potatoes – There are actually A LOT of different varieties of sweet potatoes. I can usually only get 2-3 different types in my neck of the woods which are Red Garnet, Jewel, and Beauregard. For this recipe, I've only made it with these varieties. Finding white sweet potatoes around here is next to impossible.
Olive Oil– or avocado oil.
Smoked Paprika
Salt and Pepper
Garlic Powder
Cumin
How to cut Sweet Potato Cubes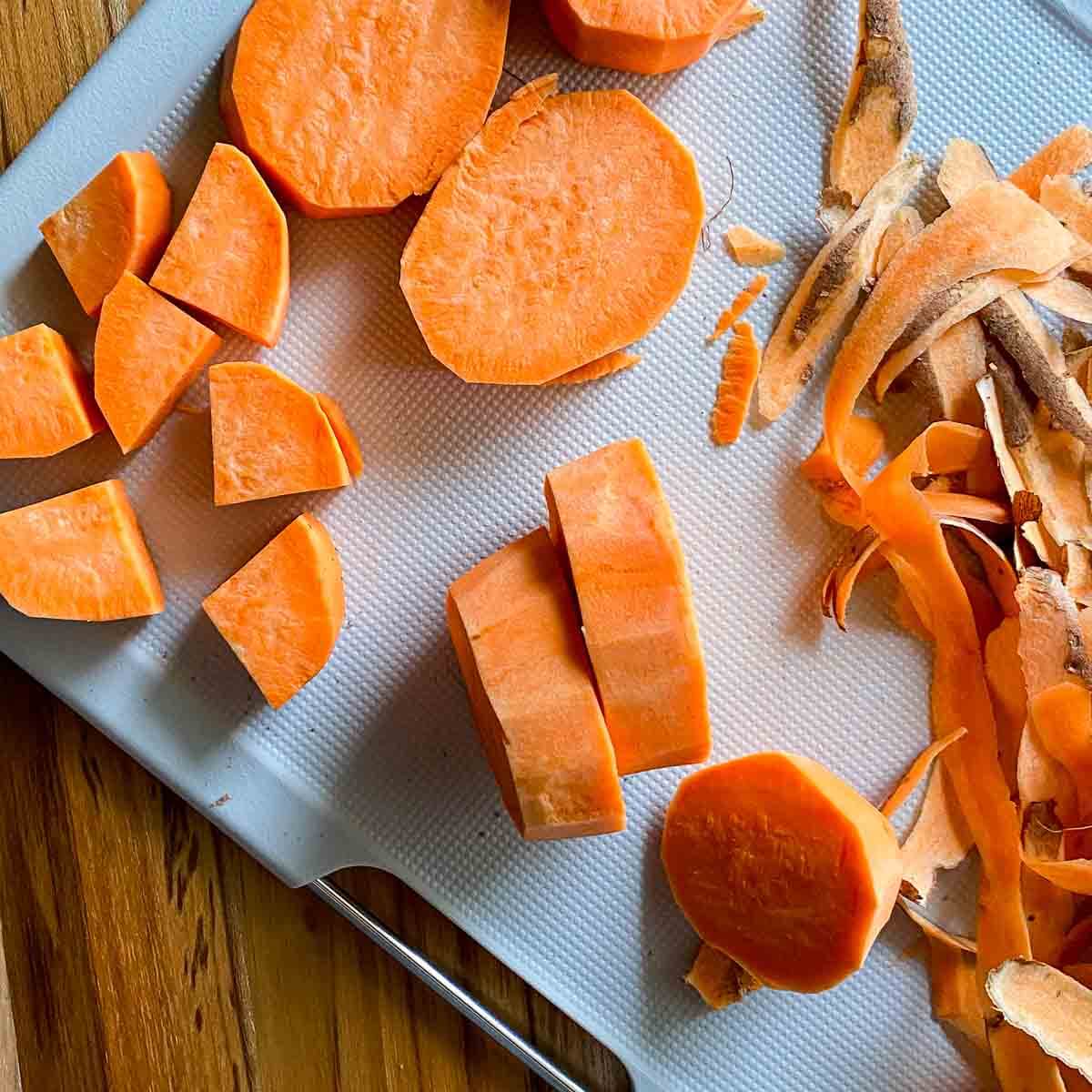 Scrub and Rub – Give those sweet potatoes a nice wash and dry to remove any dirt or residue.
Peel'm – Grab your trusty vegetable peeler and peel off the skin from those spuds.
Slice 'n Dice – Cut the sweet potato into about 1/2-inch rounds, then cut again into either fourths or into sixths depending. on how large the sweet potato is around.
How to make Air Fryer Sweet Potato Cubes
Okay so, here's the "secret step" I mentioned earlier. It's going to add a few minutes to your total time making these, but it's 1,000% percent worth it. This is what sets them apart from every single air fryer roasted sweet potato recipe i've ever found on the internet.
Add your sweet potato cubes to a microwave safe bowl and then add about 1/4 cup water to the bowl. Place in the microwave and cook for about 2 minutes then stir real quick then continue to cook for about 2 minutes. The potatoes should be fork tender, not mushy.
Note: If you don't love using the microwave/don't have one you can also boil the potatoes in water on the stove top for about 5-6 minutes until fork tender.
This method is different from soaking potatoes like you would white potatoes so don't do that thinking you will get the same results.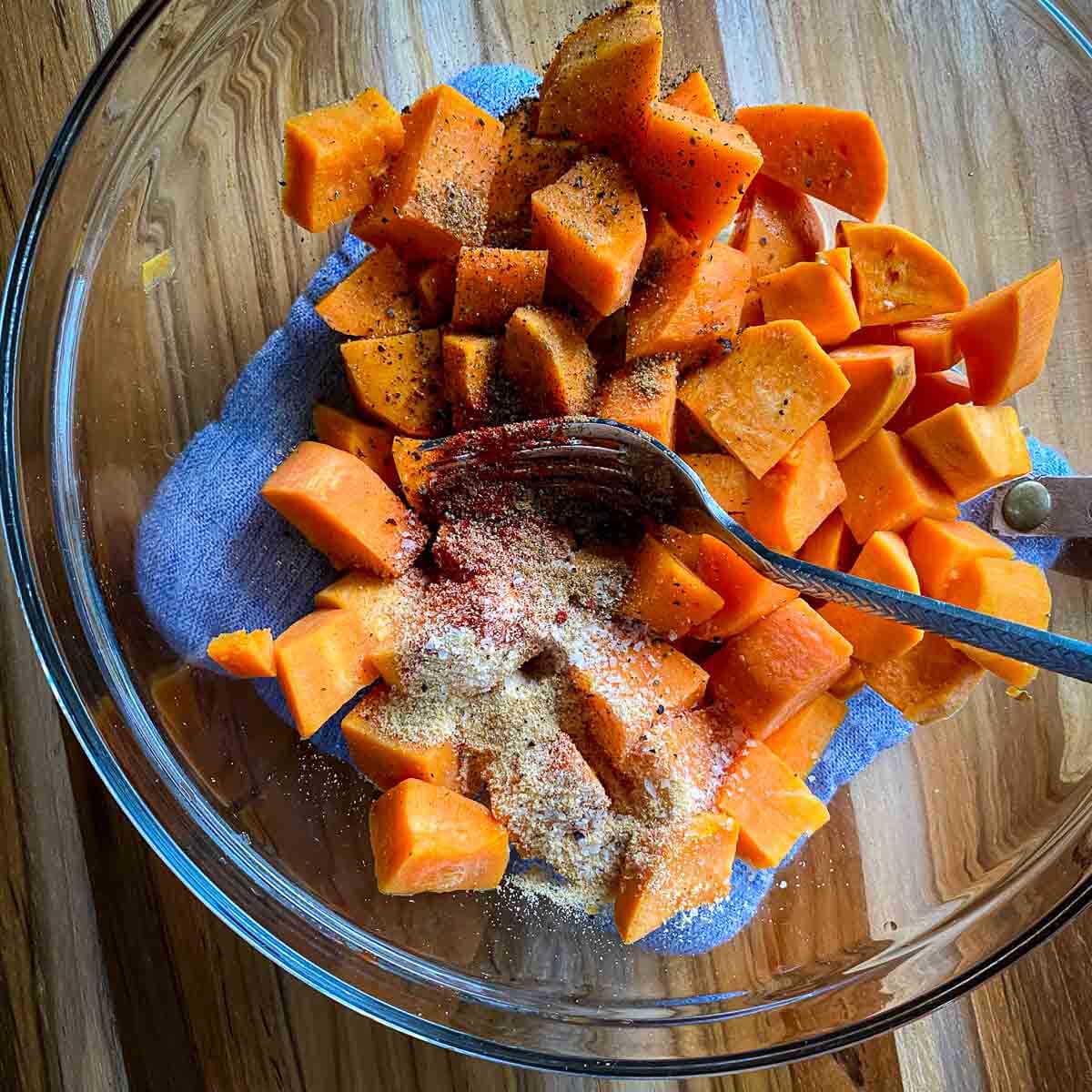 When the potatoes are done cooking remove bowl (careful it might be hot!) from the microwave and add spices.
You can get creative and do any spices you'd like. I'm gonna share my favorite kind of "all purpose" mix with you that goes great with just about anything!
Add avocado (or olive) oil, kosher salt, cumin, garlic powder, smoked paprika, and pepper. If there's a little water still in the bowl leftover from cooking, no worries! It actually almost helps the spices and oil coat the potatoes even better!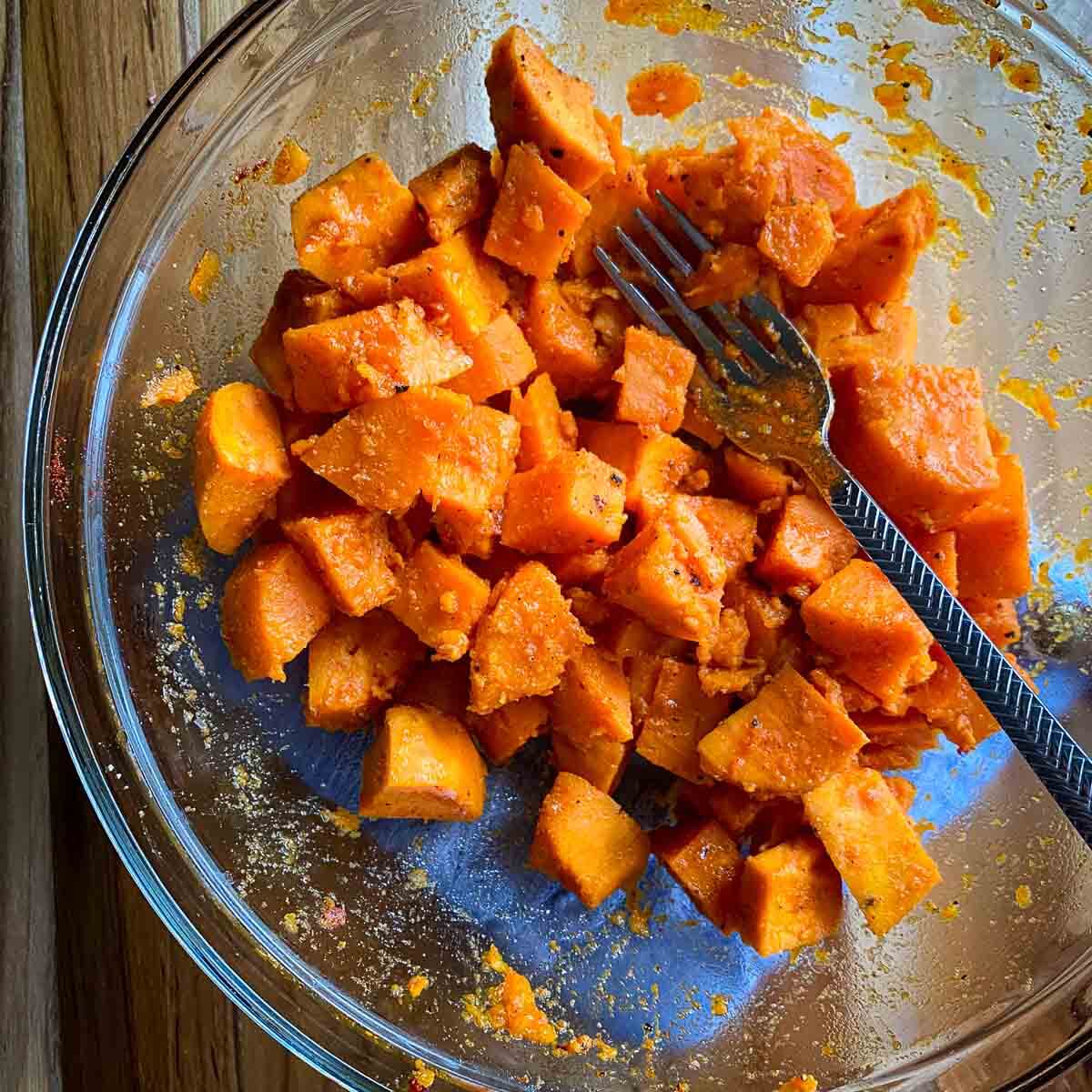 While this recipe is SUPER easy, there are a couple steps you can't slack on, okay? The precook is a MUST, and stirring (practically beating them) roughly with a fork is also non negotiable.
I learned this method of cooking potatoes actually years ago from Bobby Flay, but this was only for white potatoes. For some reason, I always thought sweet potatoes wouldn't work this way. Wow, I was so wrong.
Now, take a fork and stir the sweet potato cubes aggressively for a good minute or two. Make sure the seasoning is distributed well. The fork is used because it creates small knicks in the peices of potato each time you hit one while stirring. This helps to create tiny potato pieces that kind of coat the other potatoes. It's magic, I tell ya! Magic!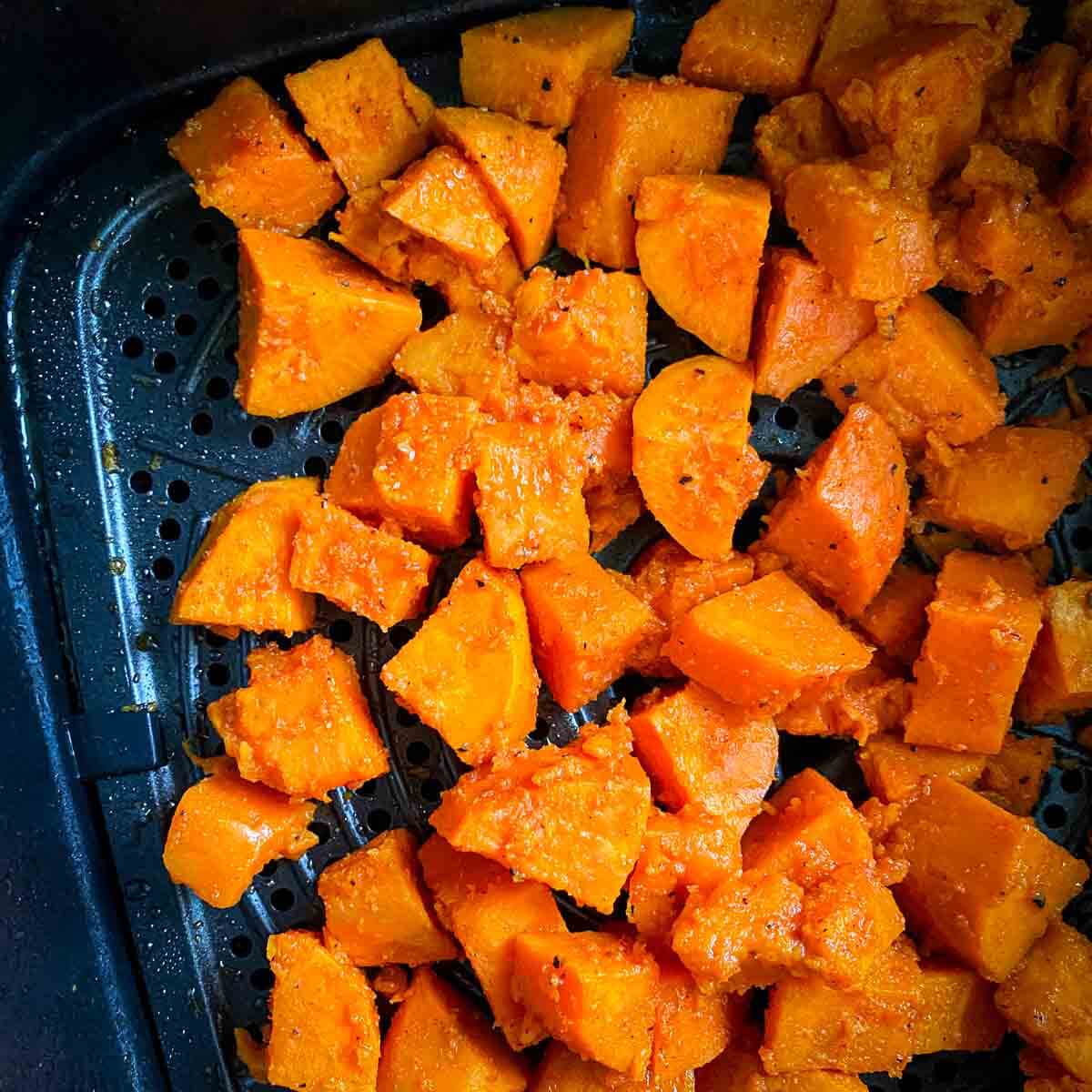 Just like an oven, you'll want to preheat your air fryer.
After preheating add sweet potato chunks to the air fryer basket, spread them out in a single layer so they don't get too crowded. More air circulation= evenly cooked + more crispy texture.
I cook these at 400 degrees for about 10 minutes total and shake the basket 1-2 times during the total cooking time. If you want them a little extra crispy you can add a couple of minutes.
If you want to double the recipe, make sure to do two separate batches so the basket isn't over crowded.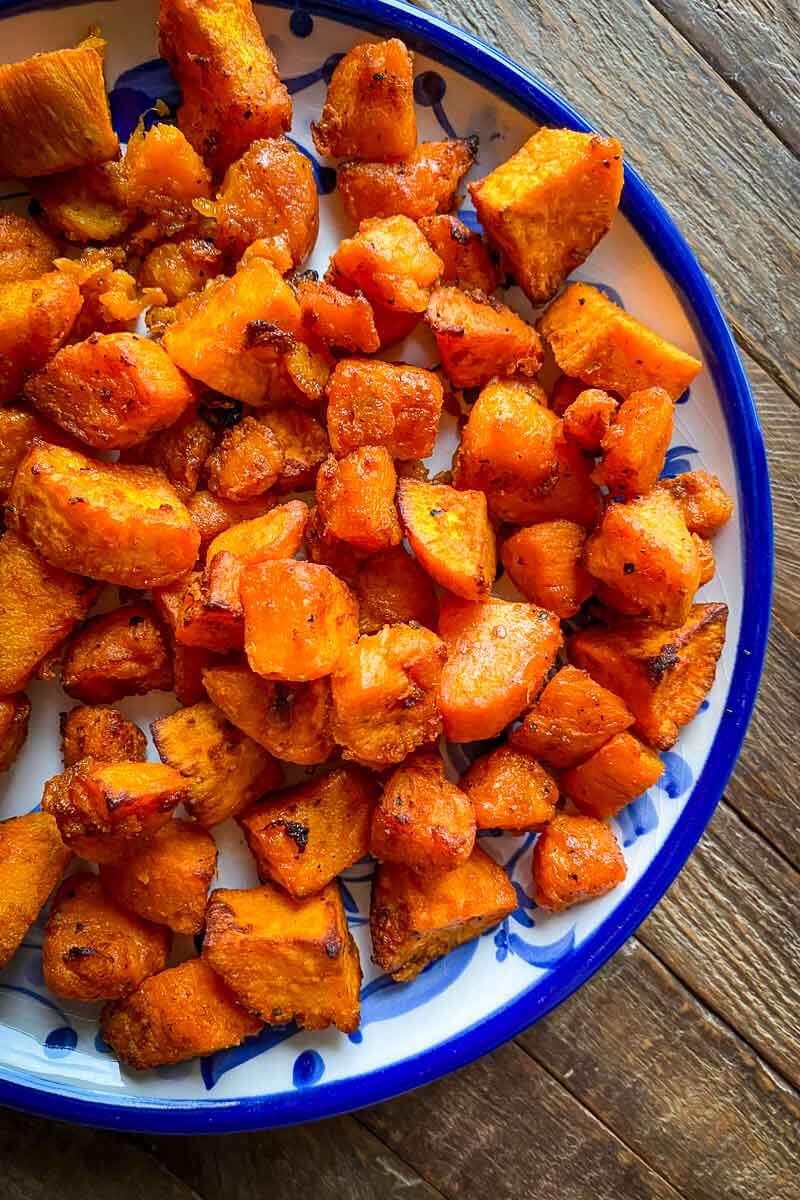 What to use sweet potato cubes with
I have been using this recipe for sweet potato cubes in so many different things. Here are a few of my favorite ideas that I think you'll love too!
Breakfast bowls– Seriously my favorite. A couple over easy eggs + air fryer sweet potatoes + some chicken sausage or bacon. I also loved swapping out the shredded hash browns for these in my breakfast burrito bowl recipe.
Warm Rice Bowls– Have you ever had the sweetgreen harvest bowl? I like to use this recipe in a copycat version.
Sweet Potato and Black Bean tacos– Warm up some black beans and add to a tortilla shell with sweet potatoes. Top with cheese and some slaw. So good!
Easy Side dish– Love using these next to baked chicken breast, air fryer steak bites, air fryer salmon bites, air fryer monterey chicken, or meatloaf
Taco bowls– I realized I love sweet potatoes in a taco bowl! Either skip the rice or add some with it. So good.
Breakfast Burritos!– Add scrambled eggs, sweet potatoes, meat of choice, and cheese to tortilla and roll up.
Healthy snack- When I did my whole 30 recently, I realized that sweet potatoes are a perfectly acceptable and satisfying snack!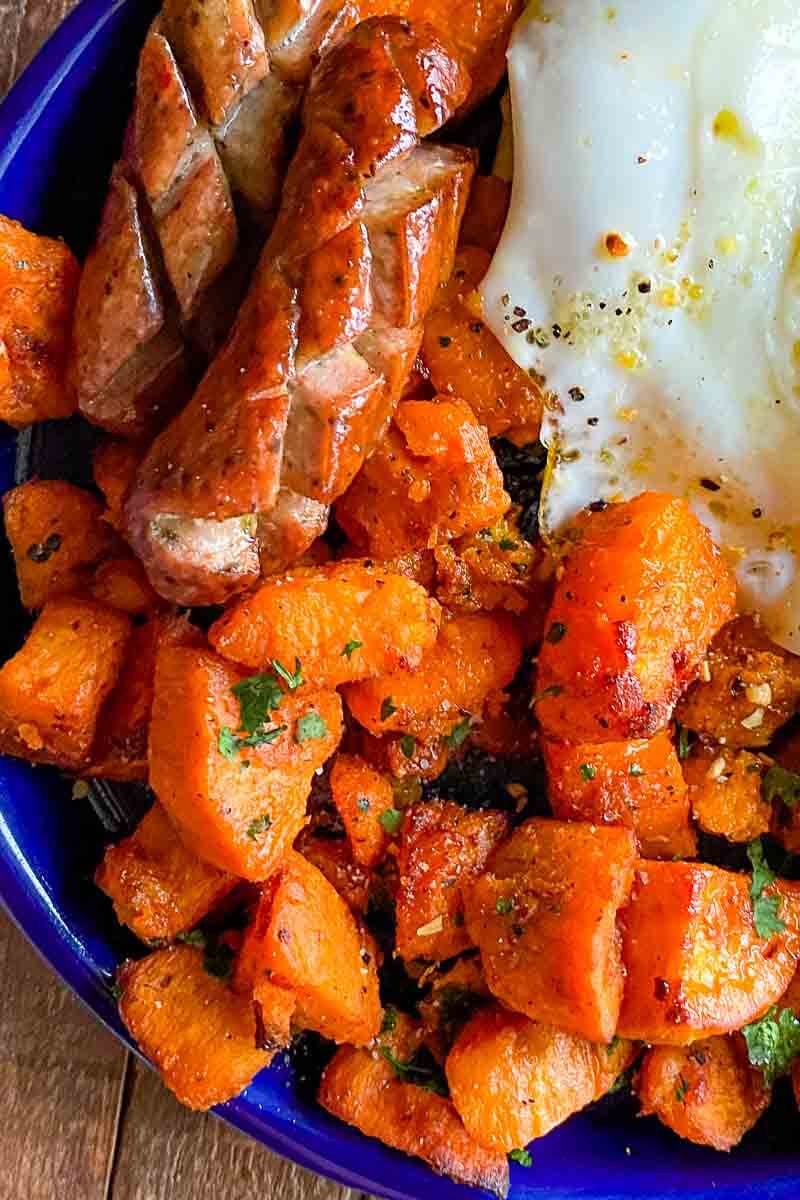 Seasoning variations
Cinnamon Maple Glaze: perfect for Thanksgiving!? Mix 1 tbsp maple syrup, 1 tsp cinnamon, and a pinch of salt. Toss with sweet potatoes before air frying.
Southwest Spice Blend: Add 1 tsp chili powder, 1/2 tsp onion powder, and a pinch of cayenne pepper to the basic seasoning list in instructions. Sprinkle with minced cilantro.
Mediterranean Herb Rub: Combine 1 tsp dried crushed rosemary, 1 tsp dried thyme, 1/2 tsp garlic powder, pinch of cumin, and salt and pepper to taste.
Sweet and Spicy: Combine 1 tbsp honey or maple syrup, 1 tsp garlic powder, 1/2 tsp cayenne pepper, and a pinch of salt.
Bacon and Parmesan- Add basic seasoning, 3 slices chopped center cut bacon, and 2 tbsp grated parmesan to sweet potatoes before cooking.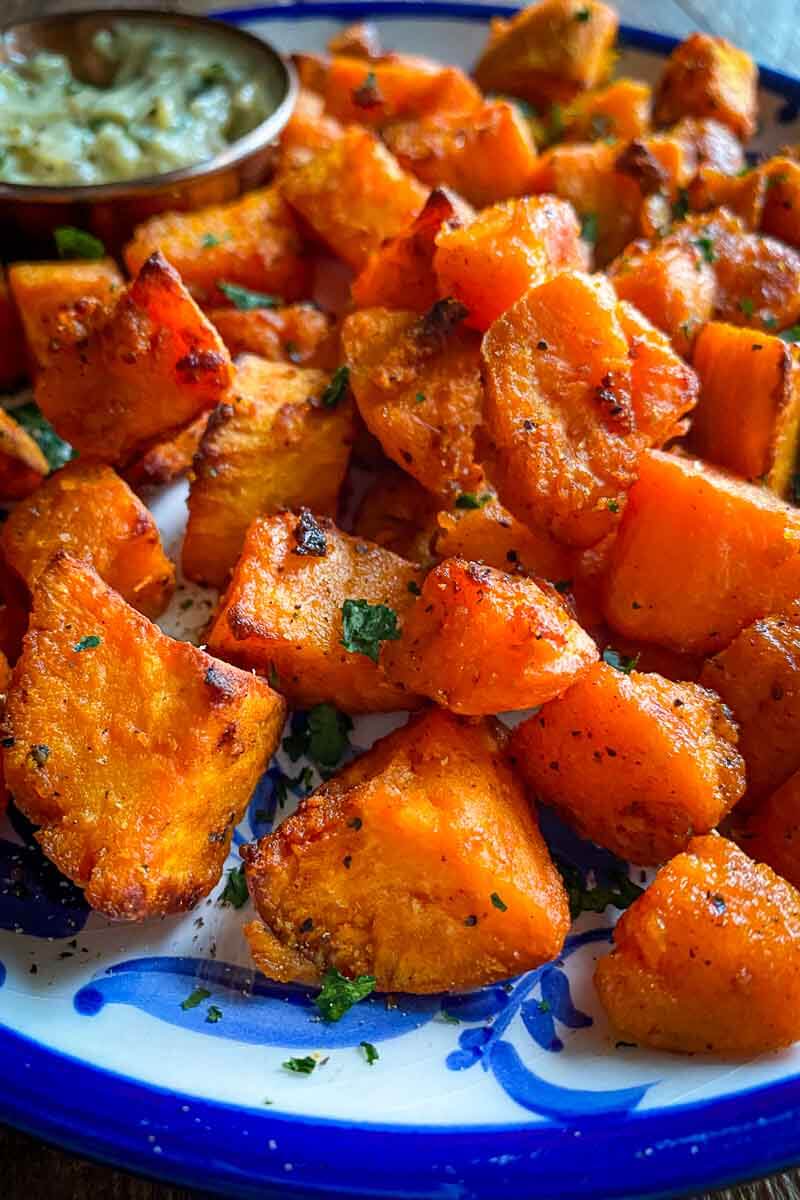 How to store and reheat
Storage: Store in an airtight container in the fridge for up to 5 days.
Reheat: Preferred method is in the air fryer for a few minutes at 375 degrees, but you can reheat in the microwave, on the stove top, or add them to different meals and heat!
More Epic Air Fryer Recipes You Should Make!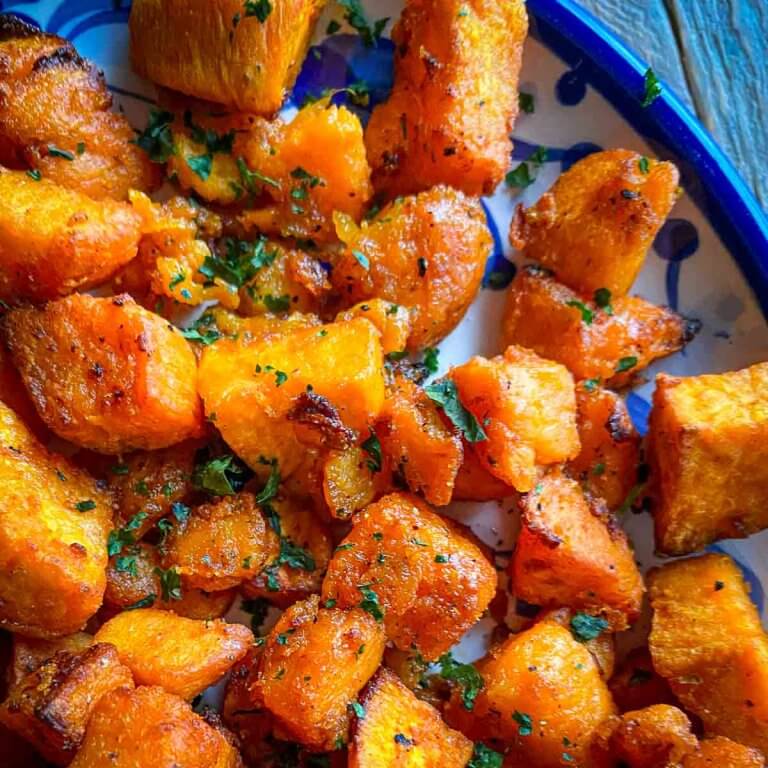 Print
Air Fryer Sweet Potato Cubes
Air Fryer Roasted Sweet Potatoes are a super quick, easy, and yummy side dish. Crispy perfection on the outside and tender inside, they are the perfect side dish to almost anything! Add them to breakfast bowls, tacos, salads, or even enjoy as a satisfying snack!
Materials
1

lb

sweet potatoes

3

tsp

avocado oil

1/2

tsp each kosher salt, garlic powder, and paprika

1/4

tsp

cumin

1/4

tsp

pepper
Instructions
Prep potatoes: Wash, peel, and dice sweet potatoes into about 1/2 inch cubes. Try to keep them roughly the same size.

Microwave (the secret step to epic sweet potatoes): In a microwave safe bowl add sweet potato cubes and 1/4 cup water. Cook for 2.5 minutes then stir then cook for another 2.5 minutes until fork tender. Note: if you don't want to microwave, you can boil them until fork tender, remove from water and follow the same steps.

Add seasoning and stir: Add oil, kosher salt, cumin, garlic powder, smoked paprika, and pepper. If there's a little water still in the bowl leftover from cooking, no worries! It actually almost helps the spices and oil coat the potatoes even better.

Stir everything together roughly with a fork for a minute or two. The fork will help stir forcefully so that knicks are added to the potatoes and a light potato coating will go onto all the other sweet potato cubes resulting in the best sweet potatoes ever.

Air Fryer: Preheat your air fryer to 400°F. Add the seasoned sweet potato cubes to the air fryer basket in a single layer. Cook for about 10 minutes, shaking the basket 1-2 times to ensure crispness and even cooking.
Notes
Serving size: 2 oz (about 1/2 cup)
139 calories, 6g fat, 1g saturated fat, 19g carbs, 3g fiber, 1.6g protien, 6g sugar (0g added sugar), 213g sodium
WW Points: 3
Storage: Store in an airtight container in the fridge for up to 5 days.
Reheat: Preferred method is in the air fryer for a few minutes at 375 degrees, but you can reheat in the microwave, on the stove top, or add them to different meals and heat!
*Check out the post above for 5 different spice variations and substitutes!
Nutrition
Serving:
2
oz
|
Calories:
130
kcal
|
Carbohydrates:
19
g
|
Protein:
1.5
g
|
Fat:
6
g
|
Saturated Fat:
1
g
|
Sodium:
213
mg
|
Potassium:
245
mg
|
Fiber:
3
g
|
Sugar:
6
g