Cheesy Chicken Tortellini
This post may contain affiliate links (meaning I earn a small comission if you purchase an item through a link I provide) I only provide shoppable links to items I love and are helpful. As an Amazon Associate, I earn from qualifying purchases.
Cheesy Chicken Tortellini is a semi-homemade dinner time favorite! Easy store bought cheese filled tortellini, tender perfectly seasoned chicken, and marinara tossed together and topped with mozzarella!
Raise your hand if you have days where you're way too busy to cook a full course meal, but still want to eat a healthier homemade meal. Everyone? Okay. Honestly, the name, Cheesy Chicken Tortellini completely speaks for itself here! This dish is super quick, easy, and delicious. Three of my very favorite things when life gets a lil' crazy.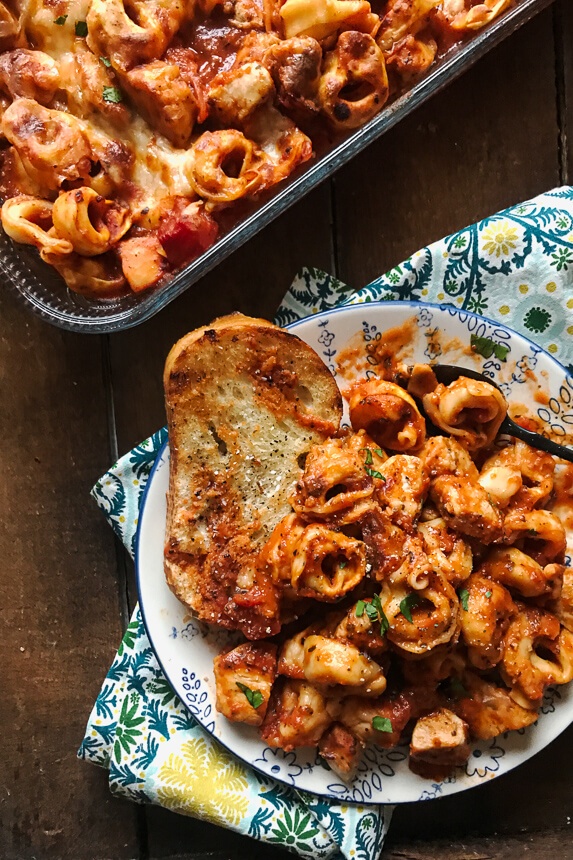 I've made this about 12 times in the past couple months and I'll tell ya what.. It hits the spot. Every. Single. Dang. Time. It's simple. It's delicious. Every other time I make it Pepper eats all of it up including the chicken. The other times she eats only the tortellini. So, I call that a win! I've made this multiple times where I've added different veggies which adds some delicious texture and a whole bunch of nutrients. I think out of the few I've tried we preferred zucchini the most. When I went to photograph this, I went the grocery store to grab a few ingredients one of which was zucchini and they looked sad. Very, very sad. So, I decided to spare you and my family of those very sad lookin' zucchinis and just omit them this time around. Eric would tell ya that it needs mushrooms, but that's like a curse word in my kitchen so I'd fling those suckers out the door before they went into this delicious bake. This meal calls for one of my most popular, most versatile, and easiest recipes *drum roll* Crock Pot Marinara! It's basically kind of like the most popular girl in high school type of recipe. It's oh so good! If you haven't tried it. Do yourself a favor and make it! If you just don't feel like making it though, I understand. We've all been there. Try to use a higher quality and/or your favorite jar of marinara as that's where bunches of the flavor is in this recipe. Be mindful that the points/calories are figured for my crock pot marinara which happens to be zero smart points/points plus for any amount and about 25 calories per half cup.
Alright, into the kitchen!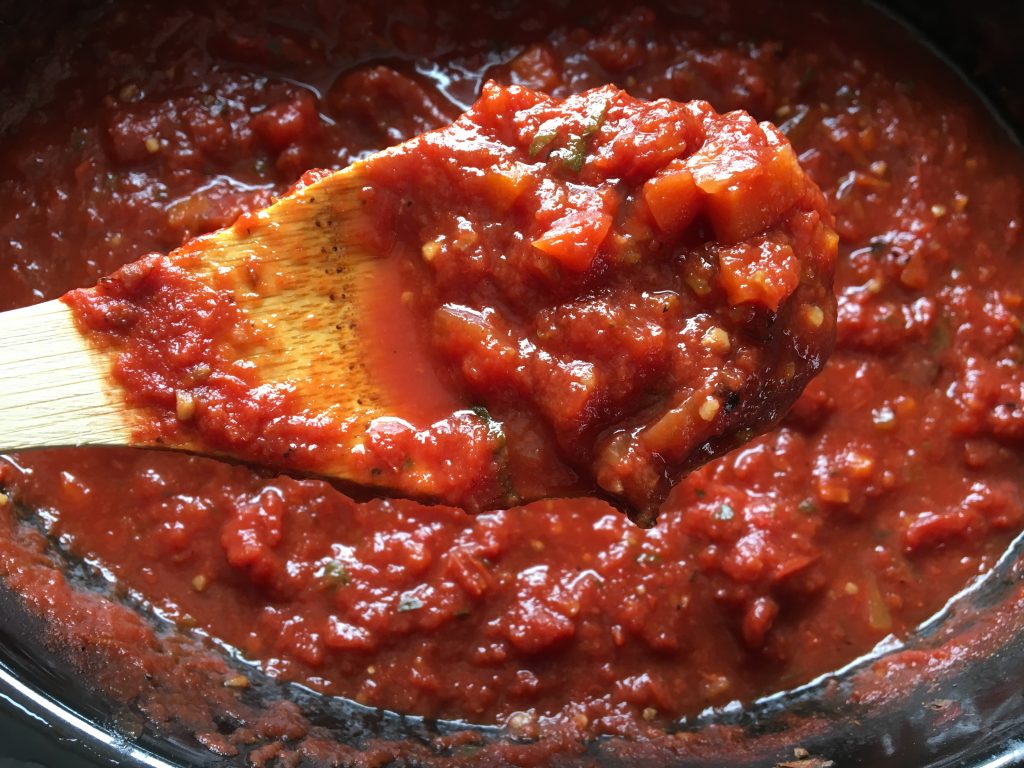 I made a fresh batch of sauce and my house smelled like a little Italian eatery. It was divine. You'll need this stuff. Or you'll need some jars of the stuff. Either one works, but I'm a little biased and I prefer homemade marinara. You can find the recipe for this here.
You'll need some raw chicken breast and you'll need to cut it up into even "bite size" pieces. I love taking pictures of raw chicken probably just as much as you love lookin' at them. Trust me. Ha! It's part of the process.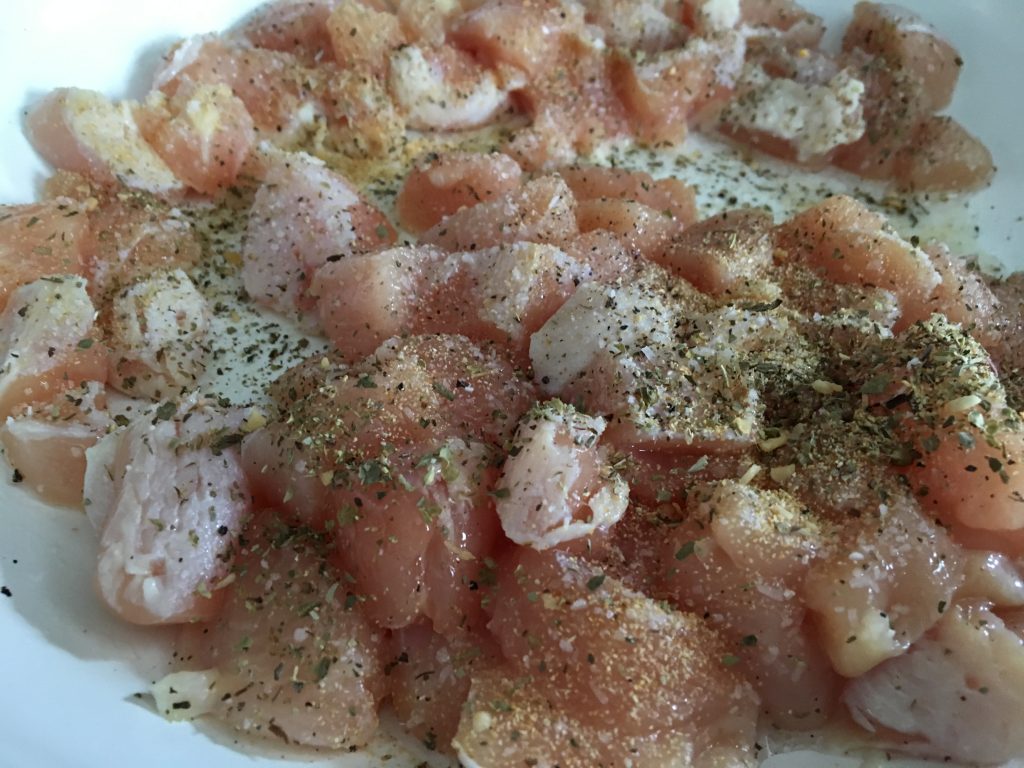 In a large skillet heat a couple teaspoons of oil then throw in the chicken. Generously sprinkle some salt, pepper, and about 1 heaping tablespoon of Italian seasoning.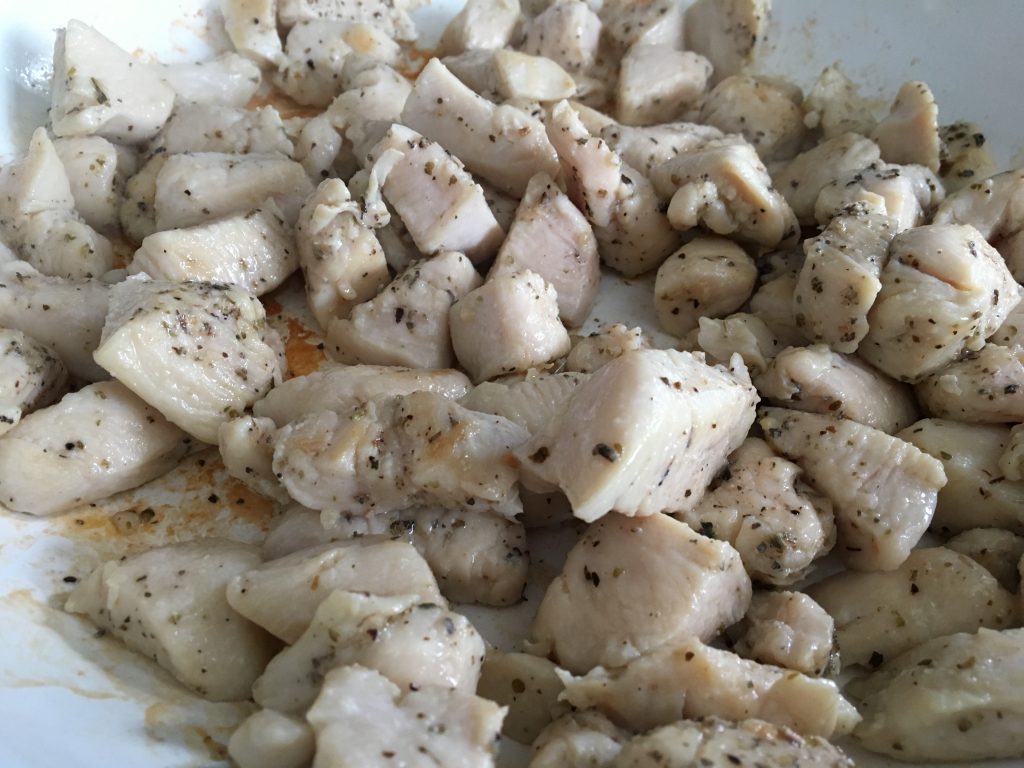 One of the most important steps is to cook the chicken properly. Nobody, not one person, wants a dry piece of chicken. My biggest tips are as follows:
Don't crowd the pan. Cook in two batches if you do not have a large skillet!
Cut the pieces as evenly as possible. (I'm not perfect, but I sure try!)
Cook smaller "bite size pieces" over medium-high heat for about 5-6 minutes, flip the chicken from time to time with a spatula, remove from pan, and let the chicken rest for a few minutes! I cook them until they are just on the verge of being completely cooked. The chicken will continue to cook for a few minutes after taking it off the heat. I questioned this for entirely too long before I finally gave in and believed it. Trust me, it's true.
If unsure eyeball the largest looking piece of chicken, remove from pan, cut open, no pink? alright remove it all from the pan and let it all rest.
I put right into the casserole dish. No need for extra bowls or dishes here!
Add your frozen cheese tortellini to boiling water. It should only take 3-4 minutes, but follow the package directions.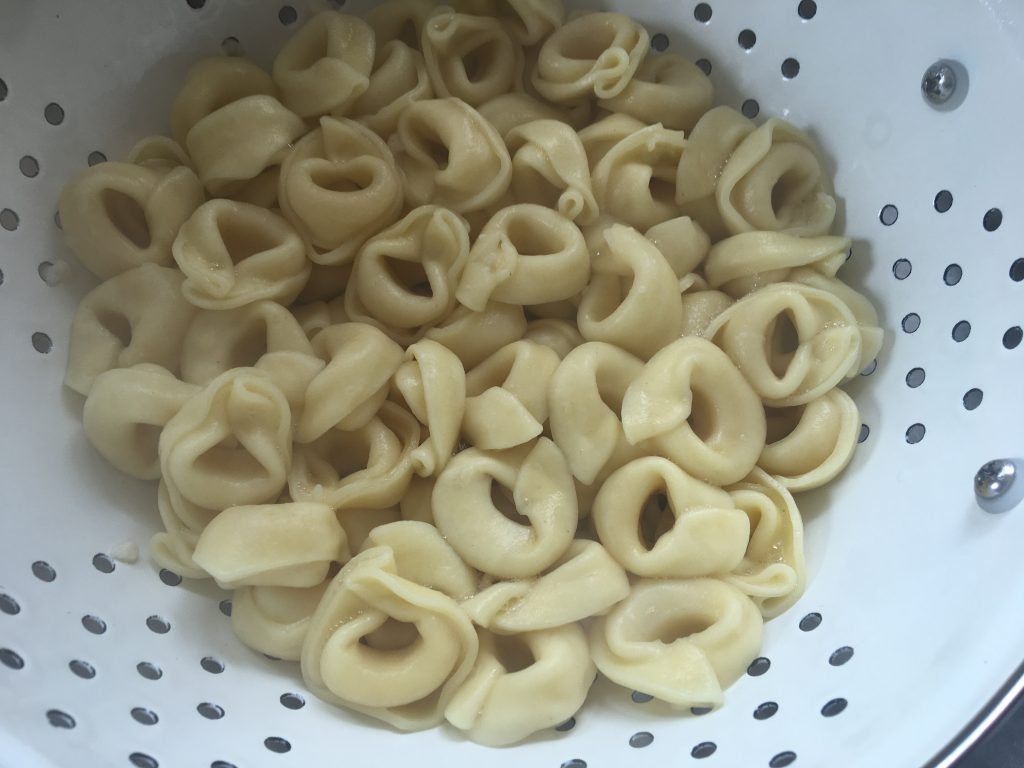 Strain those perfect little cheese filled bites of pasta!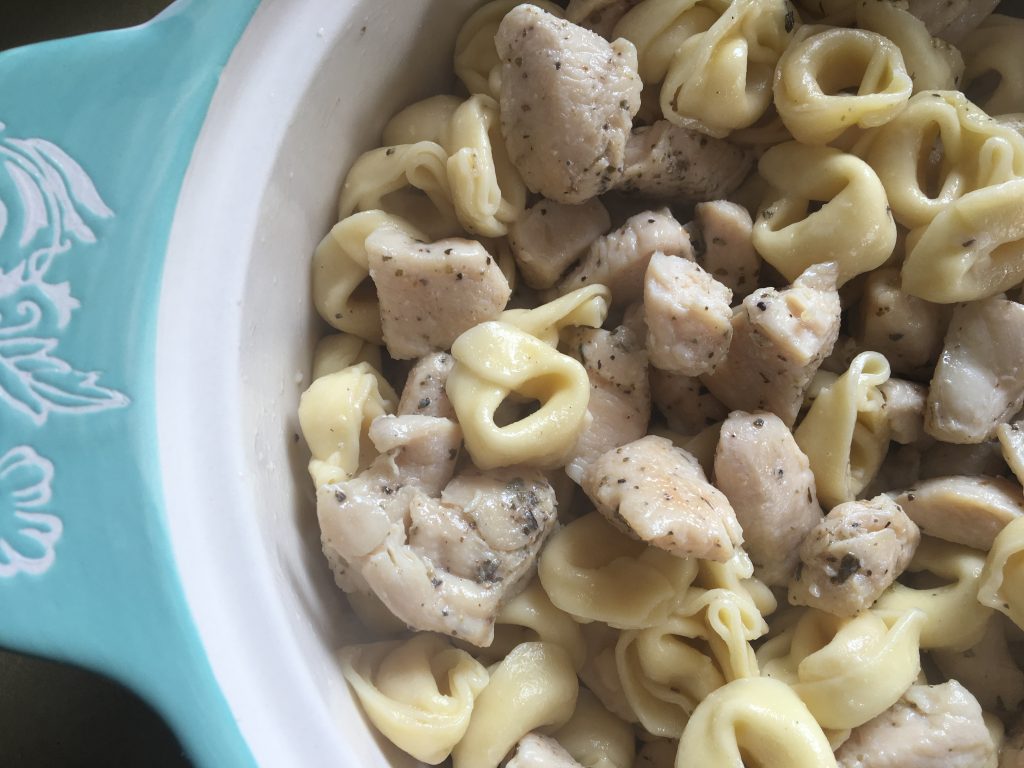 Mix it in with your chicken.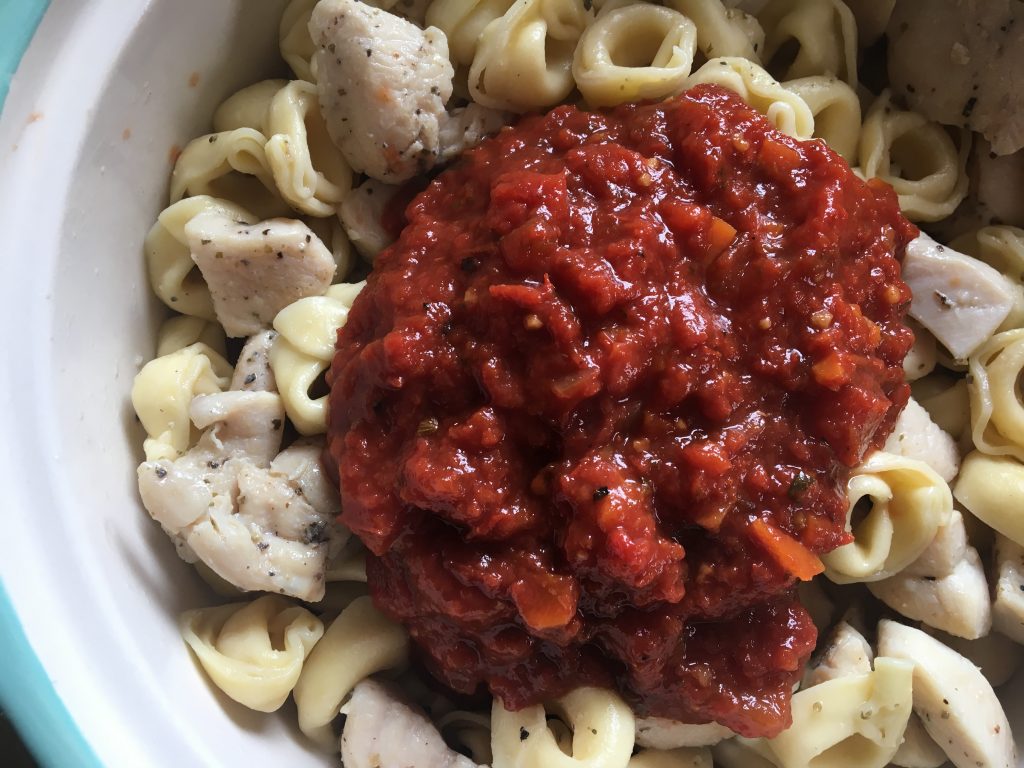 Now add your marinara, mmmmm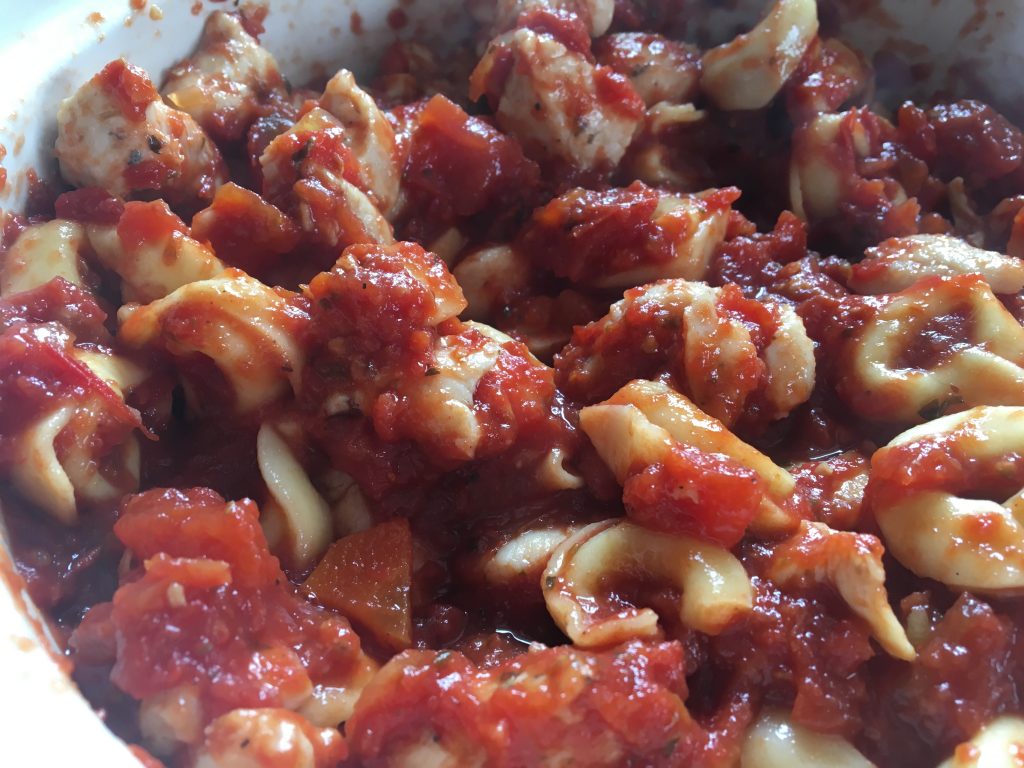 Mix it up real good.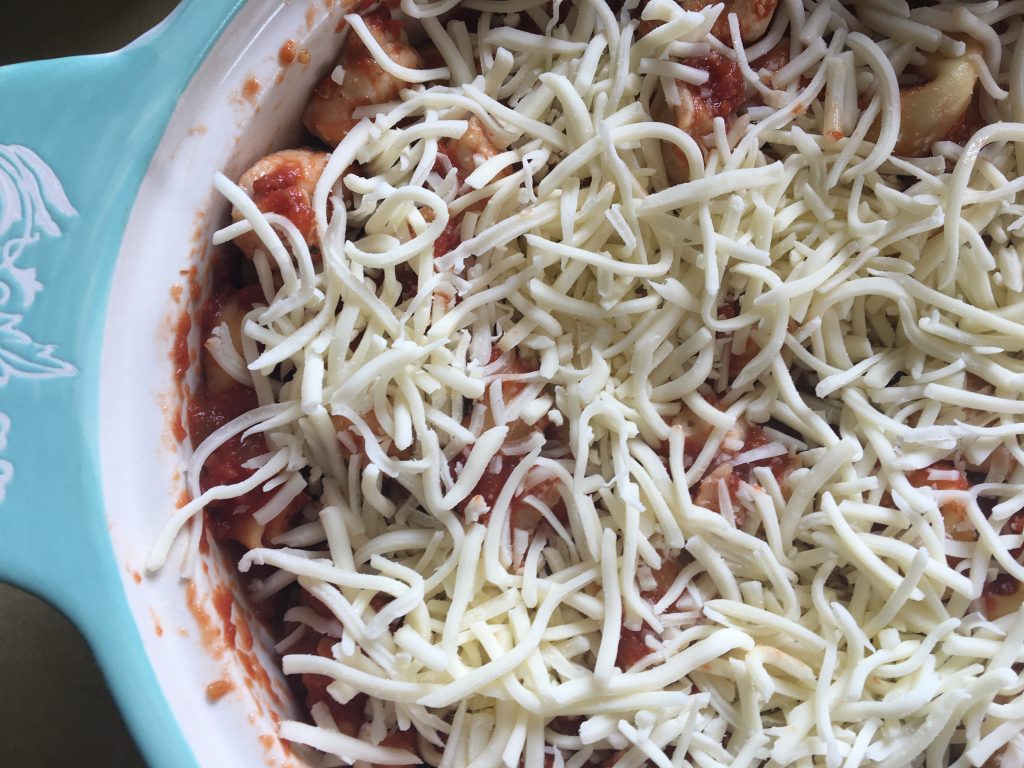 Top with some marinara and pop it in a preheated 400 degree oven for about 10-15 minutes or until the cheese is bubbly, golden brown, and melted.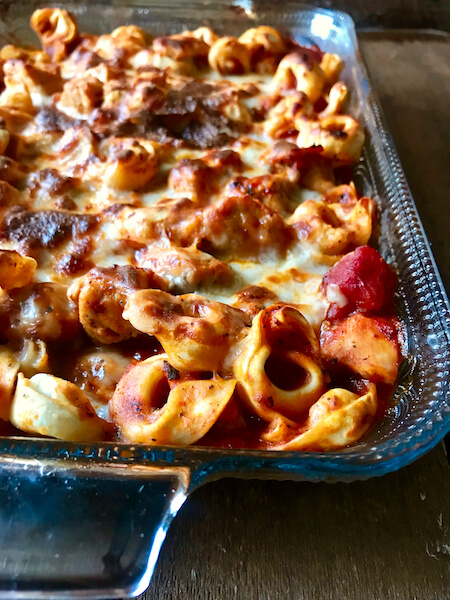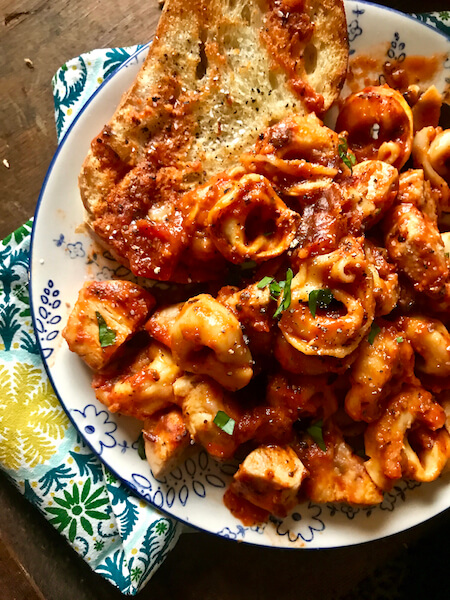 It's simple and perfect for those nights you're craving a big ol' bowl of cheesy pasta, which is almost every night for me. I just love this recipe and I hope you do too!
With love from my kitchen to yours,
Star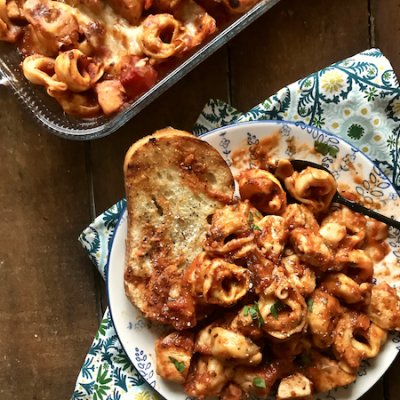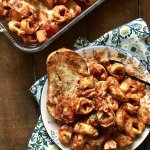 Print
Cheesy Chicken Tortellini
Tortellini with perfectly seasoned chicken and homemade marinara covered in melted mozzarella cheese
Materials
1

16 oz

package frozen cheese tortellini

(dried/refrigerated tortellini will work too. You will need about 4 heaping cups of cooked tortellini total)

2

lbs

raw chicken breast

cut evenly as possible into bite size pieces

3

cups

marinara sauce

my favorite recipe here

1

cup

shredded mozzarella made with 2% milk

3

tsp

vegetable oil

1

tablespoon

Italian seasoning

kosher salt

to taste

pepper

to taste

cooking spray
Instructions
Preheat oven to 400 degrees.

In a large skillet heat vegetable oil and then add the chopped chicken. Sprinkle chicken with Italian seasoing, kosher salt, and pepper.

Cook for about 6-8 minutes turning the pieces after they brown on one side and continue to cook until chicken is just done remove from pan and set aside to let it rest for a few minutes.

Boil tortellini according to package directions, strain, add it to the chicken, followed by the all of the sauce.

Place into a lightly sprayed casserole dish and top with mozzarella cheese. Place into the oven and bake for about 10-12 minutes or until the cheese is nicely melted and golden brown.

Note: If marinara is cold (from being in the fridge if using my homemade version). You will need to either heat it up in a pan before putting it into the sauce or bake it for a little longer so it warms up completely.
Notes
Serving size: 1 and 1/2 Cups
375 calories 11g fat. 4.5g saturated fat. 30g carbohydrates. 33.5g protein. 3g fiber. 4g sugar. 39g protein
WeightWatchers Point: 7 Points
*If using store bought jarred marinara the points and calories are subject to change.