Tex-Mex Cheesy Chicken Spaghetti
This post may contain affiliate links (meaning I earn a small comission if you purchase an item through a link I provide) I only provide shoppable links to items I love and are helpful. As an Amazon Associate, I earn from qualifying purchases.
About once a week I put my foot down and I tell Eric, "YOU ARE TAKING CARE OF MISS PEPPER! I AM LIVING IN THE KITCHEN TODAY." Normally, he argues with me a little because well, he's a man. (Sorry, Babe. I know you'll be reading this probably later tonight!)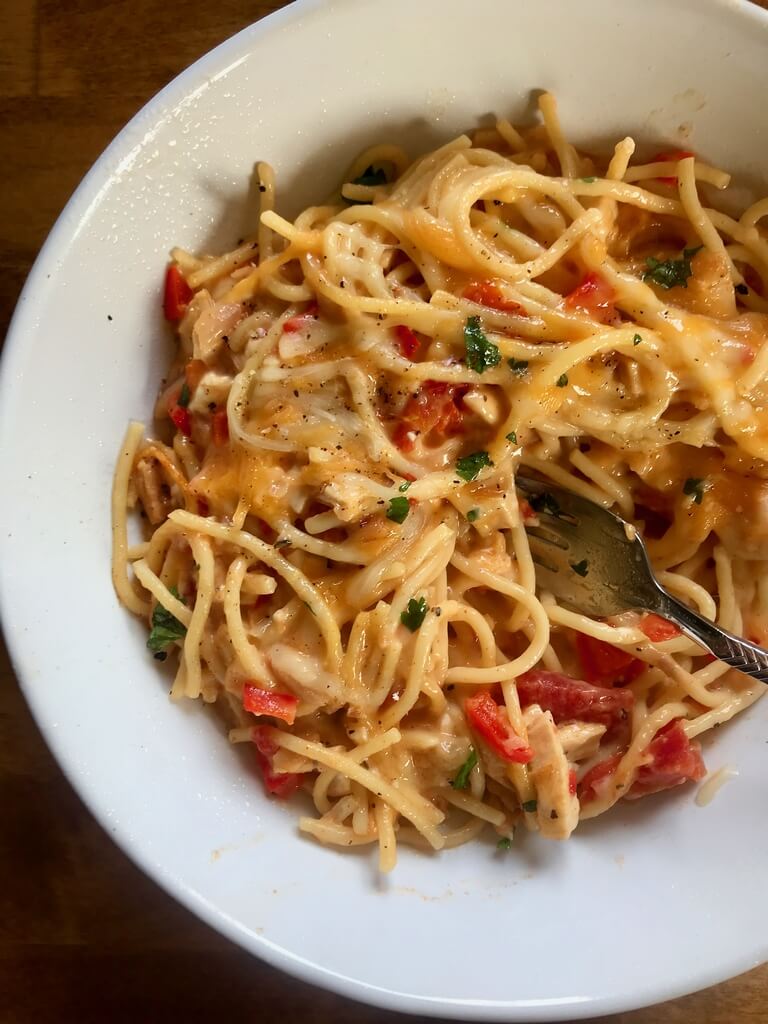 I'm pretty sure he will forget that I called him out after I make something else to eat, so oh well.
Anyway- like I was saying, about once a week I dedicate a good portion of my day to the kitchen. I test out new recipes, I tweak old ones, I sing along to some Miranda. It's really a perfect day.
Every hour or so food magically appears on the dining room table and Eric walks in like, "whoa, when can I eat this?" and I normally make him wait until it is cold and after I take some photos. I'm the worst!
But, he is the most honest with me when it comes to my recipes. Sometimes a little too honest. He's quite the food critic these days. (hahaha!) Before I actually post a recipe It normally goes through a chain of people. Myself, Eric, and My mom. If we all agree that it is fabulous, then I tell you all that it is fabulous. We build a lovely relationship of trust, and you continue making my recipes, and my heart is happy!
It's really a wonderful thing!
Okay, now that you know all of that. I will introduce you to one of my latest kitchen creations. Tex Mex Cheesy Chicken Spaghetti. I love me some Tex Mex! I normally don't make it because it's something I tend to get when we go out for dinner, but doing this blog now is helping me break out of my little cooking shell.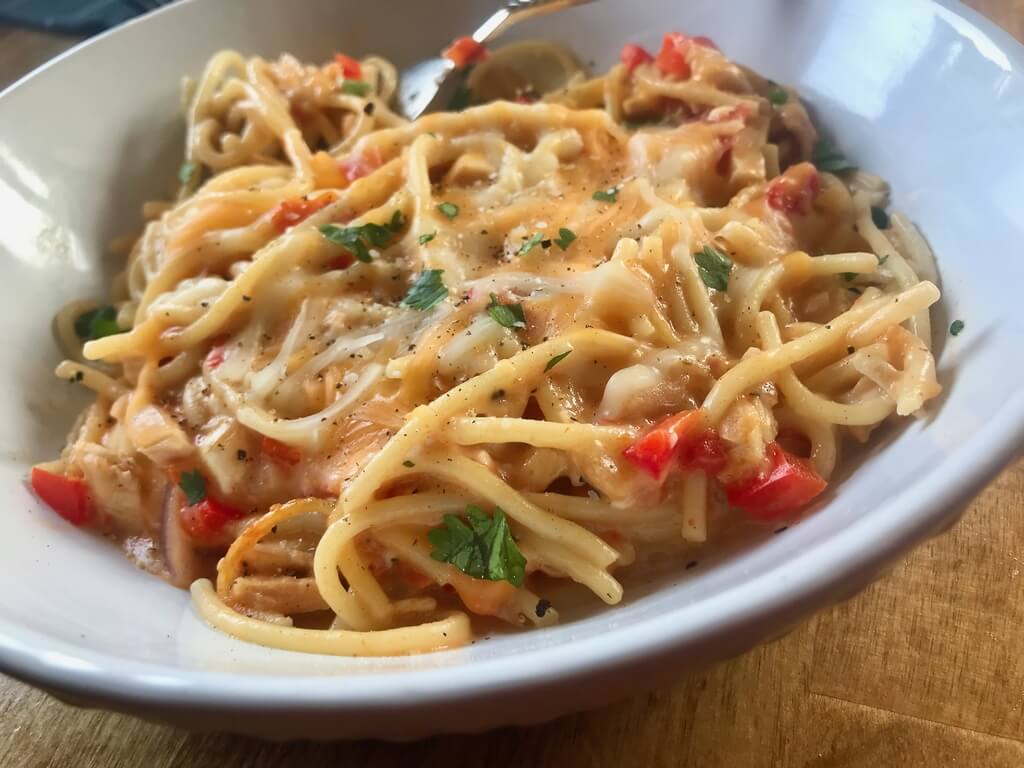 I still won't put mushrooms in anything, don't ask.
I hope you all enjoy!
-Xo, Star
(Eric is my fork holding model in this picture. I still didn't let him take a bite.)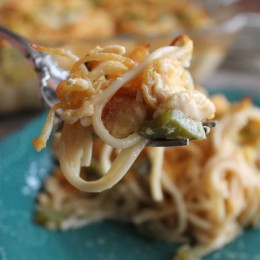 Print
Tex Mex Cheesy Chicken Spaghetti
The perfect lightened up blend of creamy, cheesy, and a lil bit spicy spaghetti.
Materials
3 -5

cloves

garlic

minced

1

medium

yellow onion

diced

1

medium

red or green pepper

diced

8

ounces

spaghetti noodles, dry

broken into pieces

2

cups

chicken breast

(cooked and diced/shredded)

1

cup

nonfat cottage cheese

1 1/4

cup

reduced fat mild or sharp cheddar

mexican blend works well too!

10

ounce

can 98% Fat Free Cream of Chicken or Celery Soup

1

tsp

Lawry's Seasoned Salt

1/4

tsp

cumin

1/4-1/8

tsp

cayenne pepper

more or less depending on the level of spice you want

cooking spray

Salt & Pepper

to taste
Instructions
Preheat oven to 350 degrees and lightly spray a 9×13 casserole dish.

Put a large pot of salted water on, and boil the spaghetti noodles according to package instructions. Drain noodles.

Spray a skillet with cooking spray and cook onions, garlic, and green pepper until soft.

In a large bowl add cottage cheese, ½ cup of the shredded cheese, cream of chicken/celery soup, cumin, cayenne pepper, seasoned salt, sautéed veggies, and chicken. Mix together well.

In the casserole dish add the noodles and chicken mixture. Stir until all mixed together and spread evenly into the casserole dish.

Top with the remaining cheese, cover with tin foil, and bake for 30 minutes. Cut into six servings. Enjoy!
Notes
Serving size: 1/6 of the casserole
WW Points: 8
370 Calories 9g Fat. 3.5g Saturated Fat. 39g carbohydrates. 4g fiber. 3.5g sugar. 30g protein.