This post may contain affiliate links (meaning I earn a small comission if you purchase an item through a link I provide) I only provide shoppable links to items I love and are helpful. As an Amazon Associate, I earn from qualifying purchases.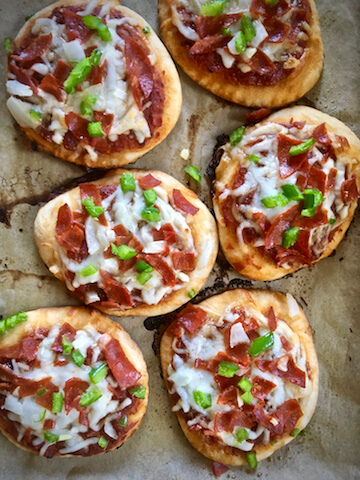 It's to share these Mini Biscuit Pizzas! Now if these aren't the most perfectly and family friendly dinner in the world, I don't know what is. Pepper doesn't help too much in the kitchen just yet. (Aside from taking every single thing out of the cupboards that she possibly can) I'm counting the days until she does, because I can just picture us making some wonderful creations together.
Daily, I encourage her to cook with her plastic fruits and vegetables. For her BIG Christmas present this year Eric and I got her.. drumroll please, an AMAZING All wooden handmade Kitchen Set with TONS of play food, pots and pans, etc. I mean, it's nicer than my kitchen. It probably comes to no surprise that we decided to get her this, but I'm honestly so excited for it!
I can't wait until we can have build your own pizza, taco, baked potato nights! For the time being, I'll just think of lots of ideas and then use them when she's old enough. For now, I'll share my ideas here for all to see and enjoy! I do plan on using this one the next time I see my sister and her little brigade. I know her boys would love the build your own aspect of these!
As for the toppings? I chose turkey pepperoni, green peppers, and onions. However I know a boy (my nephew) who would choose green olives and pepperoni, and I also know someone who would have preferred sausage and mushroom ones. But, I don't buy mushrooms. They aren't allowed in my house. If Eric wants mushrooms he can go buy them himself. I'm sorry. Yep, I'm a proud mushroom hater. I do have a stuffed mushroom recipe that I've never even tasted, and I'll probably share as the holidays approach, but like I said, I have no idea what they taste like. (Well I know what the filling tastes like, and it's so YUMMY) People beg me to makes these, but I rarely do because I'm such a mean person. ha ha ha
AAAAND, I also almost made little bacon and pineapple ones, but that would have meant having to pack up Pepper to run into town to go to the grocery for ONE thing. Something I am just NOT a fan of doing. So I usually make do with what we have until the next grocery trip unless it's really, really important. There's very little that I won't do in the name of bacon, but I just really didn't feel like it.
And that's the other part about these that makes them so much fun! You can arrange little bowls of all different toppings and have your kids make their own before popping into the oven. Of course, if you're watching your calories/tracking points you'll have to be mindful of measurements, but that's not too hard to do!
A meal that gets the whole family in the kitchen for some fun and well, PIZZA!
Who would have thought those little refrigerated biscuits could be made into pizza dough?! I'm like 98% positive that someone, somewhere has thought of this before, but if not then I am a genius and you're welcome because these are quick, easy, delicious, and you can personalize them to each member or your family… or be like me and eat 5 that all have different toppings. I'm not judging you whatsoever.
Here's how you make the turkey pepperoni, green pepper, and onion ones!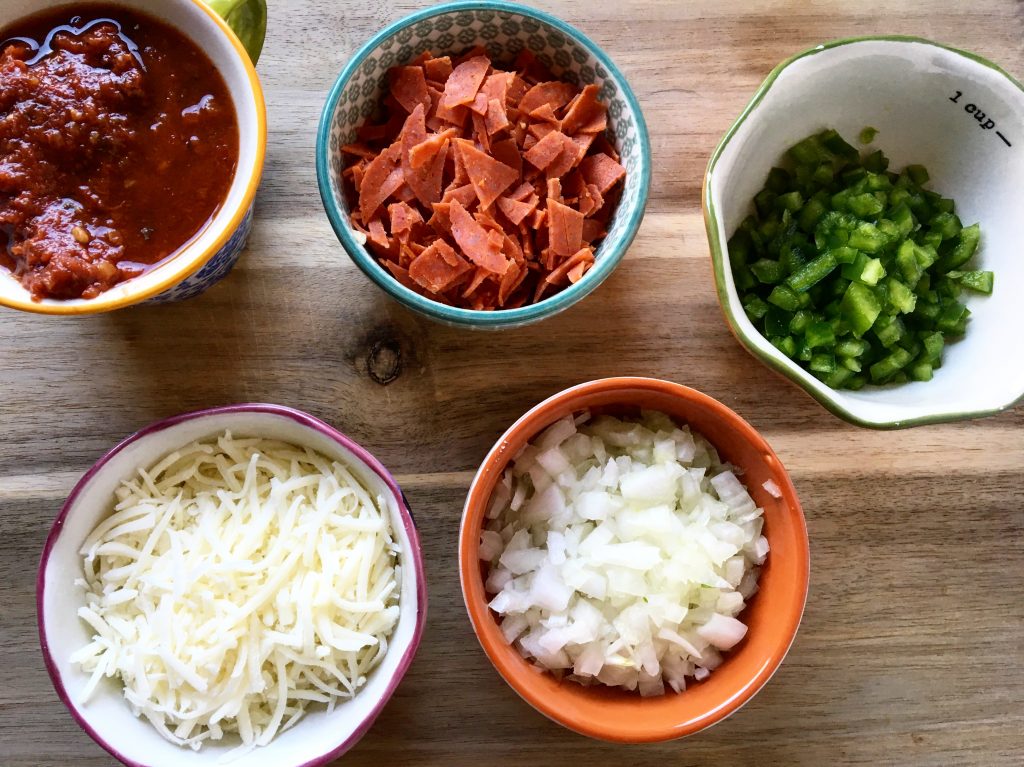 Grab up some ingredients! I've got my killer Crockpot Marinara Sauce (Which is 0 Smart Points/Points Plus for those Weight Watcher gals), but also very low in calories because it has no added sugar or oil in this recipe. That's right folks, it's literally tomato and herbs and It's magically delicious. I promise I'm not a salesperson. This is just honestly one of the best sauces I've ever tasted. Okay, back to toppings: Chopped Turkey Pepperoni, Diced Onions, Diced Green Peppers, and the most important part… MOZZARELLA CHEESE. As you can see I spent some extra time dicing these peppers and onions extremely tiny. This is totally up to you. I prefer them to be tiny on these pizzas because they are smaller so it just seems better that way to me.
It's come to my attention that a lot of stores have stopped carrying our precious little 7.5 ounce biscuit cans (cough cough that name that starts with a "P") But, THANK GOODNESS for store brands. I have found these biscuits at a number of grocery stores now that are all store brand and they taste identical to that "P" brand… I'm not sure if these stores just stopped carrying them or if said "P" brand stopped making them. Either way, I panicked a bit for about a week before I realized they are still around.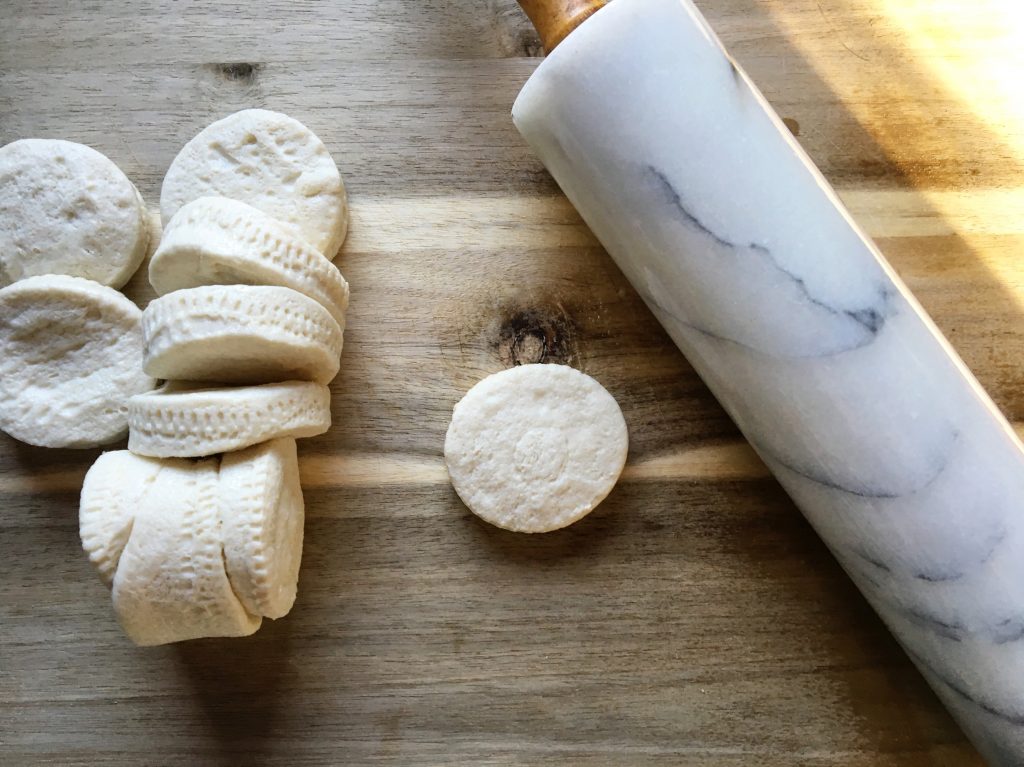 Now take those baby biscuits and on a SMOOTH surface roll them out into a circle-sh type of circle. They won't roll out perfectly every time. At least not in my experience, but they are delicious no matter how they look. I promise. You also don't have to have a rolling pin for this. I actually used a large smooth glass before I finally found my rolling pin.
Now lay them on a sheet pan and lightly spray the dough with cooking spray.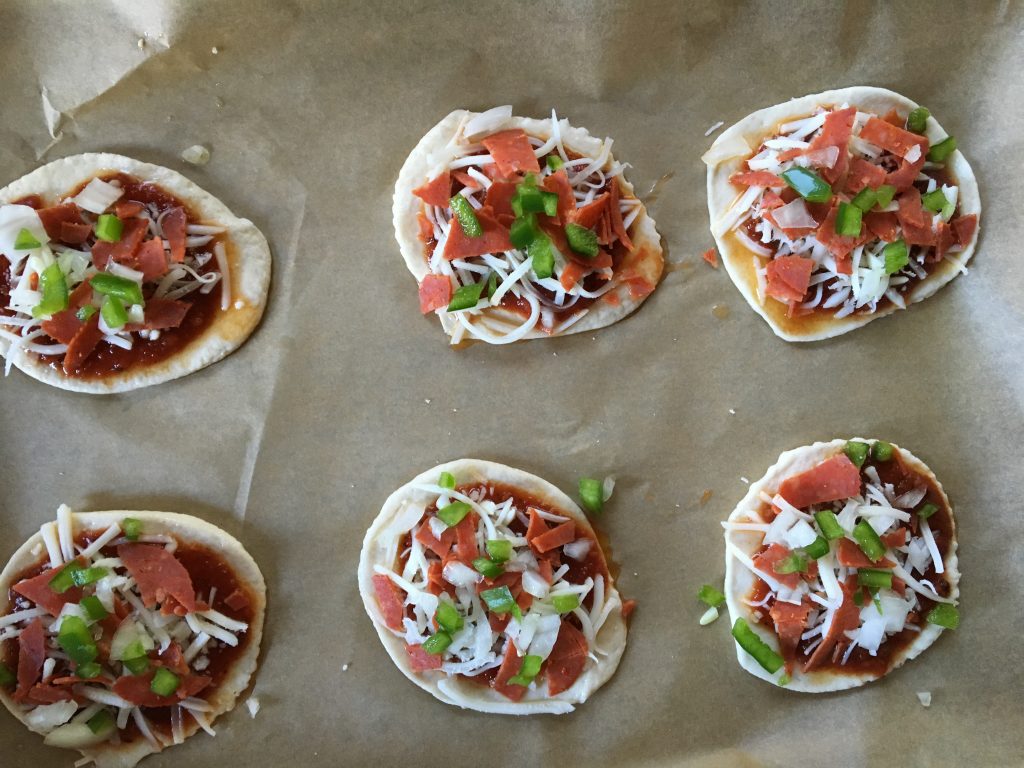 Time to pile on the toppings! I use about 1 heaping tablespoon of sauce onto each biscuit.
Then add some cheese, again about 1 heaping tablespoon….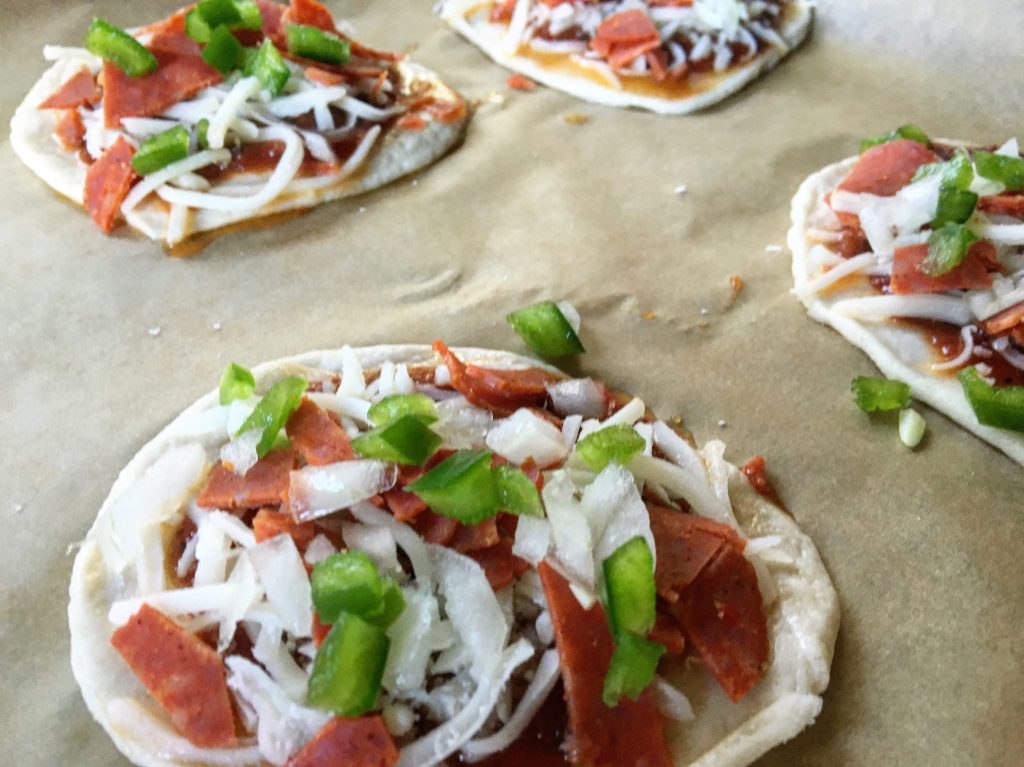 and then a good pinch of turkey pepperoni, onions, and green pepper. How yummy do these look!? *HEART EMOJI!*
Now pop them into a preheated 375 degree oven for 10-12 minutes until the cheese is melted and the biscuits appear golden brown.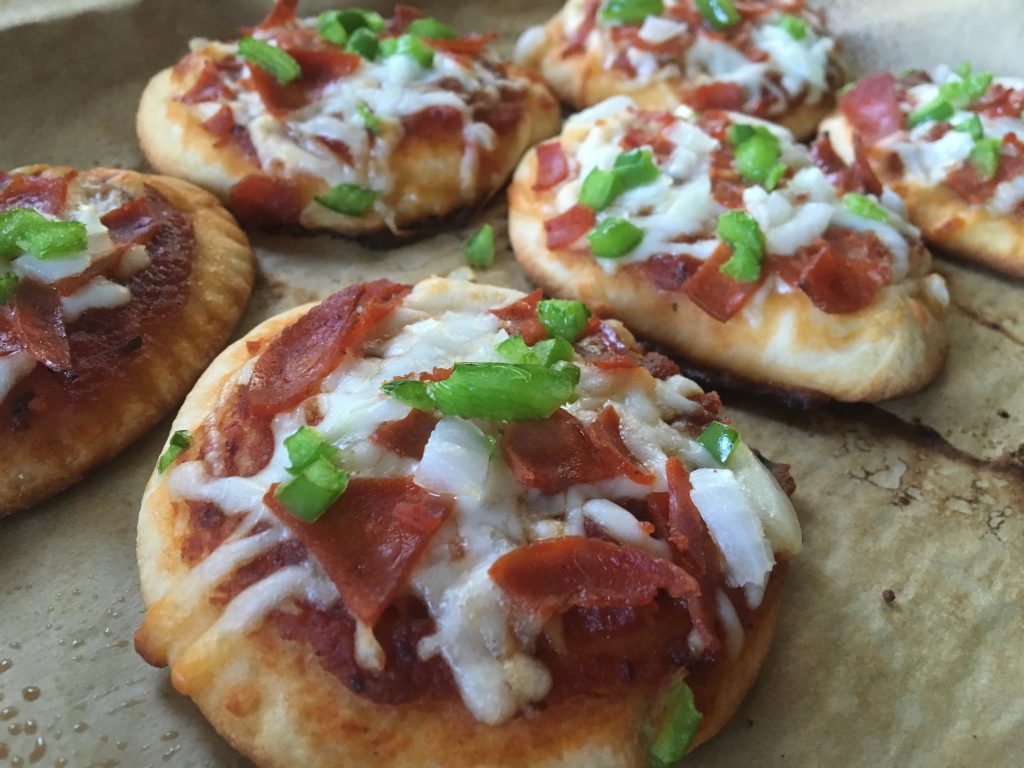 and here they are, fresh out of the oven. Just PERFECT. I love these guys.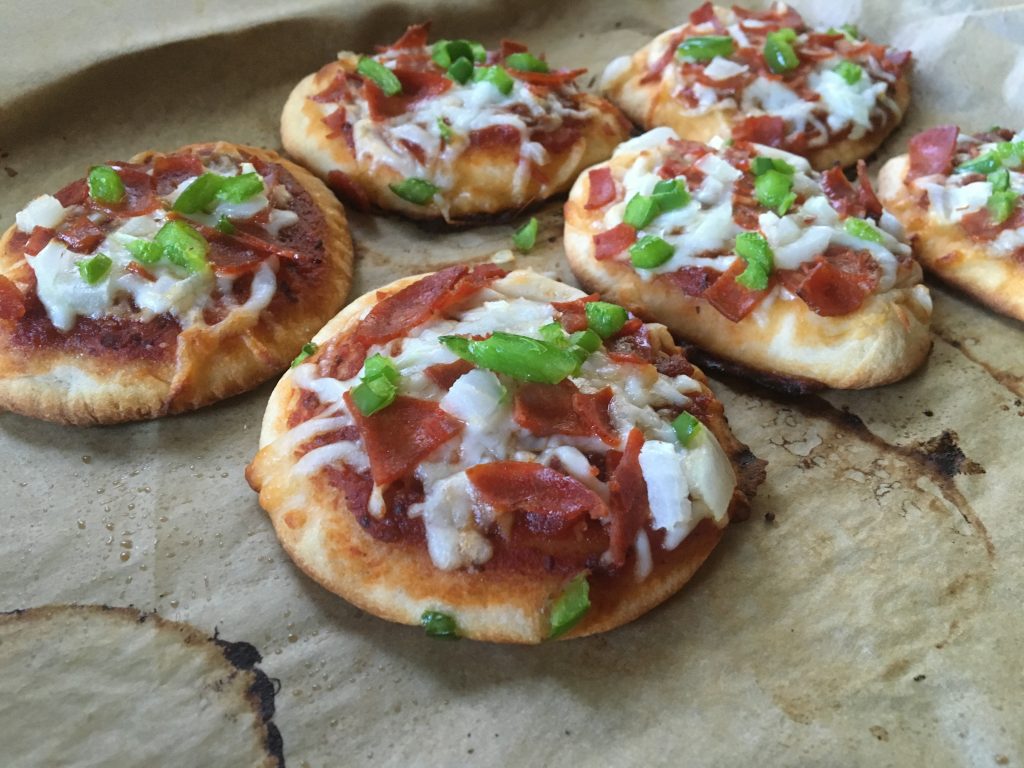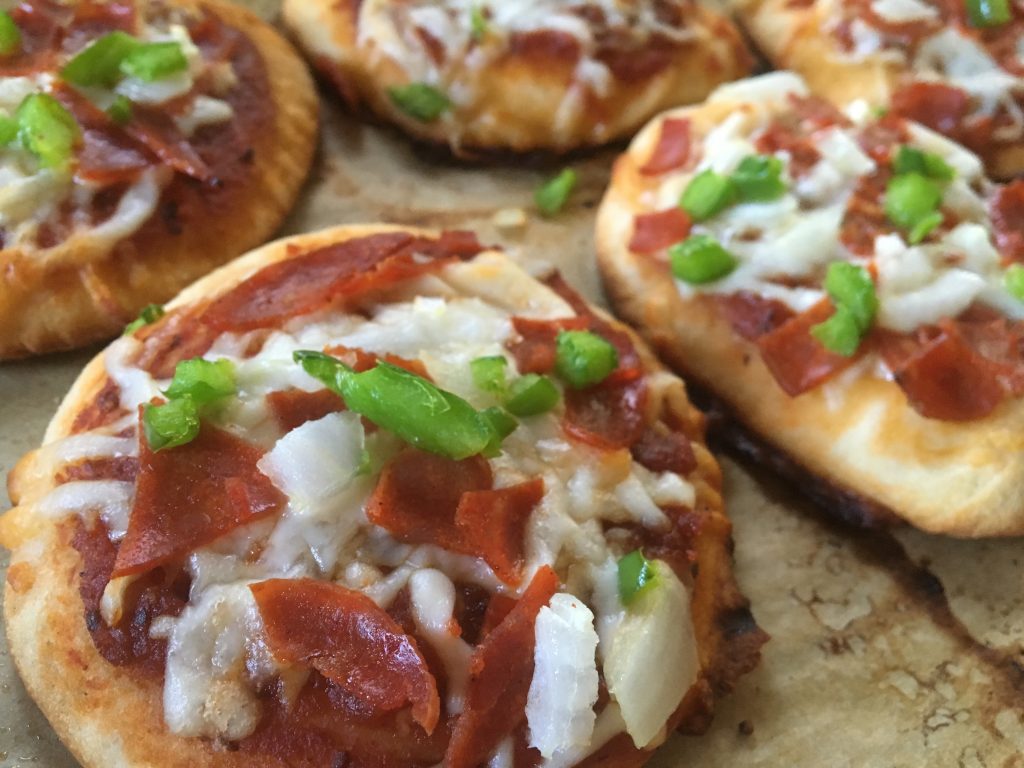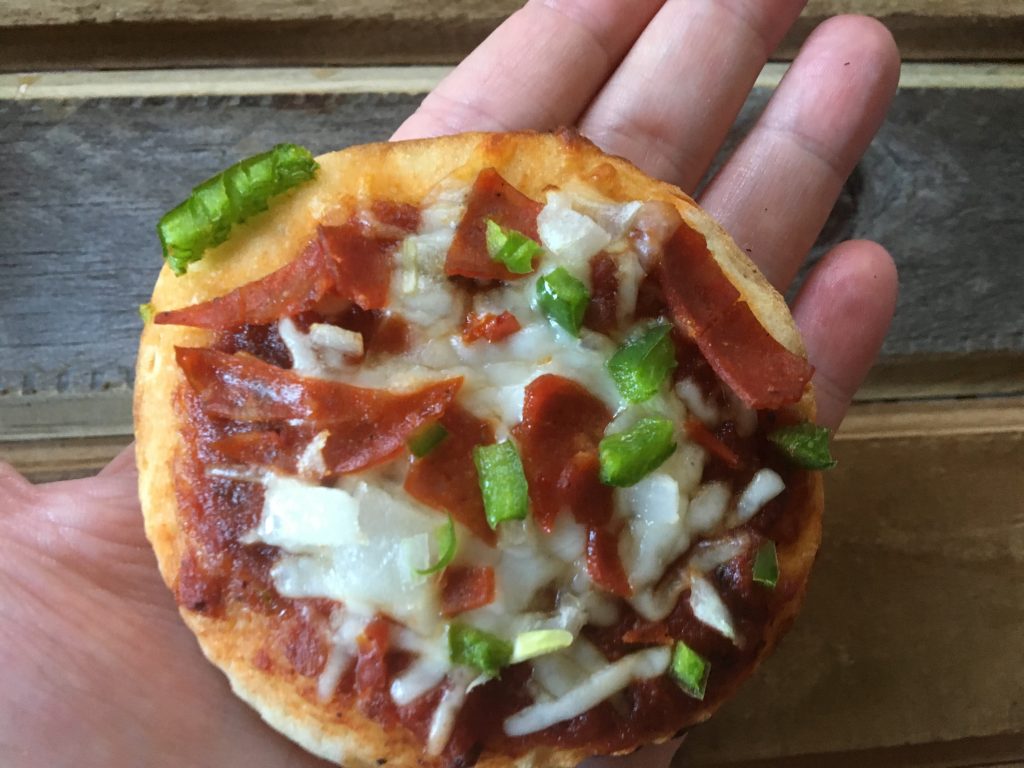 I promise the whoooooole family will enjoy these little guys. Are you a ranch and pizza eater like me? If so, you should most likely go ahead and make my Skinny Ranch to drizzle on top because you'll thank me later for this tip. I promise. Mmmmm!
This recipe is VERY easy to make a double or even triple batch of in case you have a lot of mouths to feed or you just happen to be very hungry. They reheat best in the oven 325 for about 10-12 minutes, but I eat them cold the next morning for breakfast and it's perfect because I'm not so hard to please.
Happy Cooking!
With love from my kitchen to yours..
Star
Print
Mini Biscuit Pizzas
The perfectly scrumptious hand held pizzas topped with classic pizza toppings for the whole family to enjoy
Materials
1 7.5

oz

can of biscuits

(10 biscuits per can)

1

cup

marinara sauce *I use my Crock Pot Marinara

3/4

cup

Reduced Fat Mozzarella Cheese

1/2

Green Pepper

, diced

1/2

medium Onion

, diced

1

oz

Turkey Pepperoni

, chopped

Cooking Spray
Instructions
Preheat oven to 375 degrees. On a smooth service roll out each biscuit into a circle. Lay on a cookie sheet lined with parchment paper. Lightly spray the dough circles with cooking spray. Add one heaping tablespoon of marinara, followed by 1 heaping tablespoon of cheese, and then evenly top with diced turkey pepperoni, green peppers, and onions. Place into preheated oven for 10-12 minutes until the cheese is melted and the biscuits are golden.
Notes
Serving size: 2 Pizzas 170 calories 5g fat. 2g saturated fat. 24g carbs. 2g fiber, 3.5g sugar, 7g protein WeightWatchers Points: 5 Points *Points/calories are subject to change if using a store bought jar or pizza or marinara sauce