This post may contain affiliate links (meaning I earn a small comission if you purchase an item through a link I provide) I only provide shoppable links to items I love and are helpful. As an Amazon Associate, I earn from qualifying purchases.
Throw these Greek Chicken Bowls together for a delicious dinner, or include them in your meal prep for lunch the entire week – either way it's perfect! The combination of fresh, crunchy cucumber salad, chicken breast with a Greek-inspired flavor, and warm wholesome rice, all comes together in a healthy and complete meal that satisfies!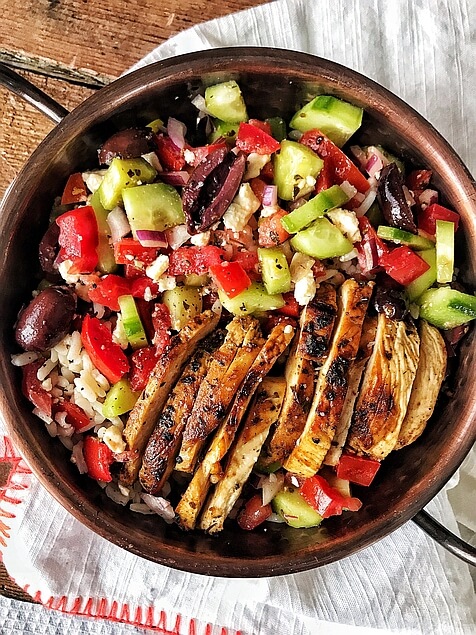 When it comes to my meals, I love it all mixed up in a bowl, so that I can get a little bit of everything. Who else agrees that's the best way to eat? Over the years, I've known a few people who can't handle their foods touching. I've never been able to understand it. My favorite thing about these delicious little Greek Chicken Bowls is that I can get warm fluffy rice, tender & flavorful sliced chicken breast, and crisp, cool cucumber salad all in one little glorious bite. The flavors all balance each other out, and then burst forth like fireworks in your mouth!
When making these bowls, you will have a few different things going on. Even so, they're pretty easy, which has made them one of my new go-to's! If you're meal prepping these, I do advise to keep the Greek Cucumber Salad in a separate container; because while the rice and chicken is best warmed up, the salad part should stay cool and crisp right up to the moment it's mixed in.
Let's get in the kitchen!

Prepare Greek Chicken Marinade
First off, We're going to marinate some chicken breast. Grab a large Ziplock bag (I recommend a gallon size freezer bag) and throw in 1-1/2 pounds of fresh chicken breast. I slice each breast in half lengthwise, so that the breasts are thinner. This makes it quicker when you go to cook'm up on a skillet, and they'll cook more evenly as well. In the bag you'll add 2 tbsp olive oil, 3-4 tbsp lemon juice (1 lemon) , 1 tbsp white wine vinegar, 1 tsp garlic powder, 1/2 tsp thyme, 1 1/2 tbsp dried oregano, 1 tsp kosher salt, and 1/2 tsp freshly ground black pepper.
Just a note: I don't count all of the olive oil in the nutritional information and points because when you take the chicken out and discard the marinade it's mostly being thrown out.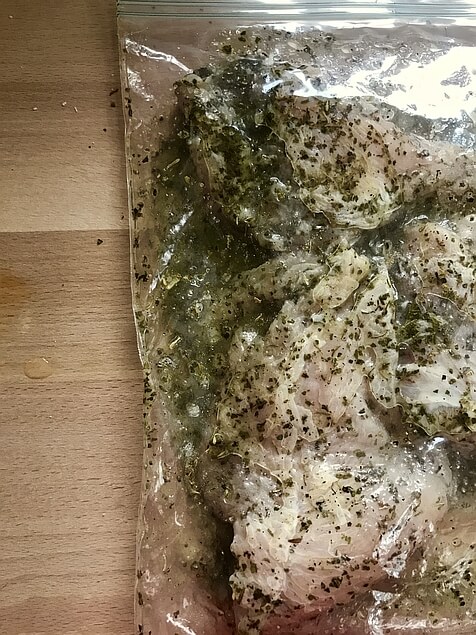 Close the bag tightly, and then massage the chicken and marinade together. You can marinate the chicken for up to 8 hours, or for as little as 30 minutes. Trust me, it will give the chicken a big boost in the flavor department if you have the time, go for the 8-10 hour marinating!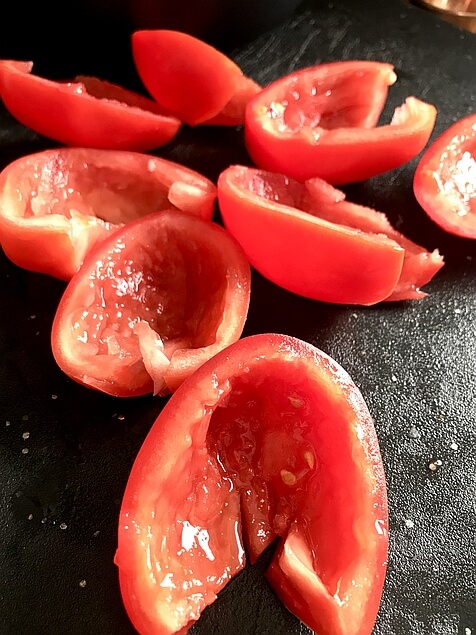 Grab tomatoes 4 Roma tomatoes. Slice them in half, toss out any stem or leaf material, then scoop out the insides, saving the tomato flesh. (I was kind of at a loss over what words I should use to describe this step… I mean, which is best- scoop out the goop, or the guts? Maybe the innards? Keep the tomato skin or flesh?? Bleechh! Seriously. This is all supposed to sound delicious and appetizing… definitely not like a deleted scene from The Silence of the Lambs.)
This is totally a personal preference here. I don't like the more liquid part of tomatoes in salads, bruschetta, guacamole, etc. I think it really waters down things and takes away from the overall textures and tastes. So in conclusion, I get rid of it! You can do this or not, totally up to you.
Make Greek Cucumber Salad
Now the time has come to prepare our Greek Cucumber Salad! This is my favorite part of the bowl, I think. It's so fresh and flavorful, I absolutely love it! It's so good, I went ahead n' made just the salad its own recipe post. Here's the Cliff's Notes version… (NOTE – If you've already read that recipe, then this part will be a little repetitive, so go ahead and skip reading these next few steps if ya want.)
Dice the tomatoes up into small pieces.
Slice 29 kalamata olives in half. I know, 29 olives, how random! That's what you'll need to hit the correct nutritional info/points value. After they're sliced up, it's about a half cup-ful. If Black Olives are more your thing, or if you can't find any of the Kalamata, you can substitute Black Olives. but I really love Kalamata Olives. And even in our smallish town, I've been able to find them at local grocery stores.
Dice 1/2 of a small red onion. Important- If you have a large red onion, please use only 1/4 of it. Raw onion can easily take over the taste in a dish, so we just want a kiss'a it to round out the flavor.
Cucumbers. Use an English Cucumber, or a few of those baby cucumbers. I don't have any serious beef with regular ol' cucumbers, but sometimes they can be bitter; English or Baby Cucumbers are a much better option. You'll need 2 cups of'm, chopped up.
1/2 cup Greek Crumbled Feta Cheese, aka the best dang cheese on earth.
Now throw it all in a big ol' bowl, and add 1 tsp of Oregano, 1/4 tsp Dill Weed, 1/2 tsp Garlic Powder, 1 tsp Kosher Salt, 1 tbsp Olive Oil, and 2 tbsp White Vinegar. Stir together well, and Salt & Pepper to taste! For very best results, I recommend you throw it in the fridge while the chicken and rice is cooking up, to let all those great flavors get acquainted… but in truth, it tastes good right away.
*** As always, if not using Kosher Salt, please salt and pepper to taste instead of using the full teaspoon ***
Now that yer chicken is done marinating, remove it from the bag, and dab it with a paper towel. You don't want to wipe everything off, just the extra. Heat up a large skillet over medium heat, and add 1 tsp Olive Oil. Cook the chicken for about 4-5 minutes on each side. We need to hit that safe and magic internal temp of 165 degrees. Ideally, the meat will be perfectly browned on the outside. The best way to cook chicken is to always check the temp when you think it's almost done, and then let it rest when you are done. So please, don't cut into that chicken breast to check if it's still pink, alright? If you do, that fragrant cloud of vapor might smell great… but it's really all your flavor and juiciness, floating off to that big dinner table in the sky.
Y'all need a meat thermometer? Click here for the one I love.
Make up some rice while your chicken is resting/cooking!
Honestly, this is not any special or magical rice, just plain ol' white rice. You'll need one cup of cooked rice total so that each bowl has 1/2 cup. You can use whatever you have on hand. With everything else in this recipe being so flavorful, it's fine to keep it pretty plain. It just really didn't need much besides a bit of seasoning with some salt and pepper.
Here's how I made mine:
Boil two cups chicken broth and 1/2 tsp salt in a large sauce pan with a tight fitting lid.
When water reaches a boil, add rice and give it a quick stir. Cover, and reduce to a simmer.
Continue to cook, covered, for about 18 minutes. Remove from heat, uncover and let the rice sit for just a minute. Fluff with fork and Salt & Pepper to taste.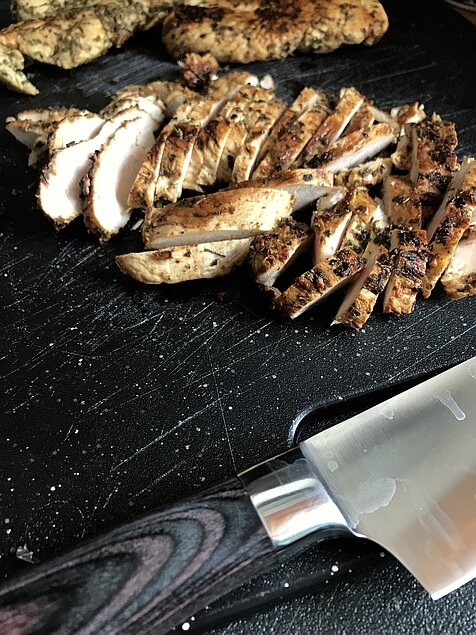 Now that your chicken has rested and cooled just enough, slice it or dice it on up y'all. And I absolutely insist that you grab a piece and eat it right up… because it's soo good. Mmm Mmm!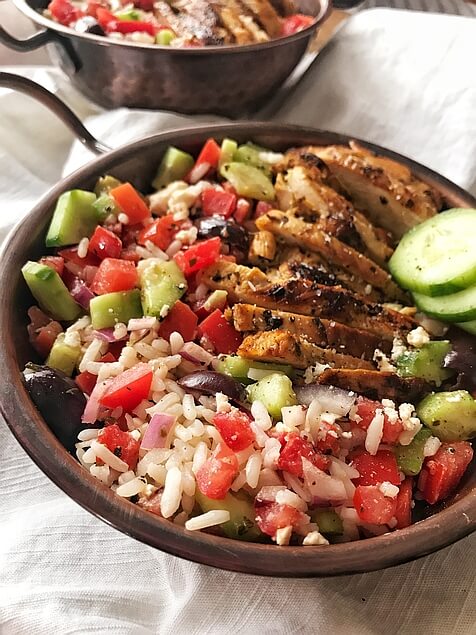 Assemble each bowl by adding 1/2 cup of rice, 3/4 cup of the cucumber salad, and 4 oz of cooked chicken.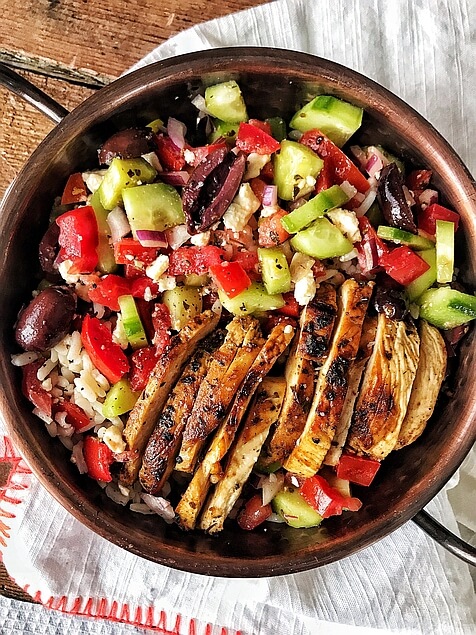 And now – DEVOUR. BECAUSE IT'S SO DANG GOOD.
Seriously, make this sooner than later! You're gonna love it.
And don't forget – If you're making these up for lunches throughout the week, keep the cucumber salad part in a separate container. That way you can heat up the chicken and rice, and then combine it with the veggies while they're still cool and crisp… it's perfection!
With love from my kitchen to yours, Star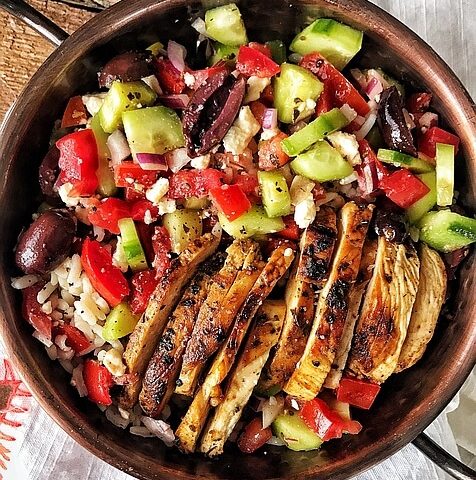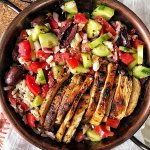 Print
Greek Chicken Bowls
Materials
Greek Chicken & Marinade
1-1/2

pounds

fresh chicken breast

sliced in half to make thinner

3

tbsp

lemon juice

juice of one lemon

1

tbsp

white wine vinegar

2

tbsp

oregano

1

tsp

garlic powder

1/2

tsp

thyme

1

tsp

kosher salt

*use half if not using Kosher Salt

1/2

tsp

black pepper

2

tsp

olive oil

(for cooking)
Greek Cucumber Salad & Rice
2

cups

chopped cucumber

english cucumber or baby cucumbers

4

roma tomatoes

flesh removed, chopped

23

kalamata olives

sliced in half, black olives will work too

1/4

small

red onion

diced small

1/2

cup

crumbed feta cheese

1

tbsp

olive oil

2

tbsp

white wine vinegar

1

tsp

oregano, dried

1

tsp

garlic powder

1/4

tsp

dill weed, dried

1

tsp

Kosher salt

*salt to taste if not using kosher salt

pepper

to taste

2

cups

white rice, cooked

salted & peppered to taste.
Instructions
Greek Chicken & Marinade:
In a large ziplock bag add raw chicken and all of the marinade ingredients above. Close bag. Massage the marinade into the chicken breasts. Place bag in a bowl and refrigerate for up to 8 hours or as little as 30 minutes.

*The longer the better, but 30 minutes still works well!*

When the chicken is done marinating: Remove chicken from marinade and discard access marinade. Dab the chicken breasts with a paper towel to remove a little of the extra marinade, but not all of it. Heat a large skillet over medium heat. Drizzle 1 tsp of olive oil into the skillet. Cook chicken for about 4-5 minutes on each side until golden brown and the internal temp reaches 165 degrees. Remove chicken from the pan. Set aside and let it rest for about 8-10 minutes. Slice the chicken up into strips after letting it rest.
To Make Greek Cucumber Salad:
Add all ingredients for the cucumber salad above into a bowl and mix together well.
To Make Greek Chicken Bowls:
If eating right away add 1/2 cup rice, 3/4 cup cucumber salad, and 4 ounces of diced chicken to each bowl. Top with extra feta, if desired.

If making this to eat throughout the week combine the chicken and rice and place the cucumber salad into a separate container.
Notes
Suggested Serving Size: 1 Bowl (1/2 cup rice, 3/4 cup cucumber salad, 4 ounces chicken)
WW Points: 8
Calories: 385, Fat: 13g, Saturated Fat: 4g, Carbohydrates: 17g, Fiber 2g, Sugars 2g, Protein 44g
*you can replace the rice with brown rice or even cooked couscous! So good.