This post may contain affiliate links (meaning I earn a small comission if you purchase an item through a link I provide) I only provide shoppable links to items I love and are helpful. As an Amazon Associate, I earn from qualifying purchases.
These White Chicken Enchiladas have become a family favorite! They are super easy to prepare, tasty as can be. The sauce is semi-homemade, but we'll just keep that our lil secret, okay?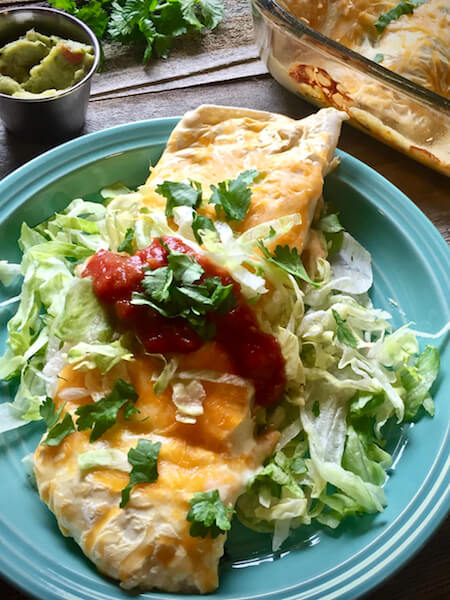 A few weeks ago I was cleaning out my pantry and I found a old recipe that was just a bunch of chicken scratch. I really used to be terrible at writing my recipes down. I pretty much wrote the name of the recipe and the ingredients, so that every time I made something the process was a little different.
I still do this sometimes, but since I love writing and sharing my recipes with you all, I've had to get better! Writing recipes is a labor of love. I'm a pretty 'fly-by-the-seat-of-my-pants' type of cook. When I started eating more healthy, it was an all new concept to start measuring. I realized, "Whoa! portions really do matter!" Since then, I always have my handy dandy scale and measuring cups on hand, but I'm still one to throw random ingredients into an old recipe all the time. I have never once been able to follow a recipe exactly, including my own.
I'm getting off track. Sorry, I do that a lot. You should try having a conversation with me sometimes… that might be why Eric scratches his head in confusion so often when I'm telling him stories.
Okay, here it is- White Chicken Enchiladas! The old recipe (from way back when) was like a million calories per enchilada. So I went in and lightened it up and I honestly think it ADDED MORE delicious flavor! And that's huge to me- I hate giving up flavor in any way shape or form, and I refuse to do it to lose weight.
Oh yeah, 100% Farmer Approved. (Eric's dad loved them too!)
So here's what happened in the kitchen…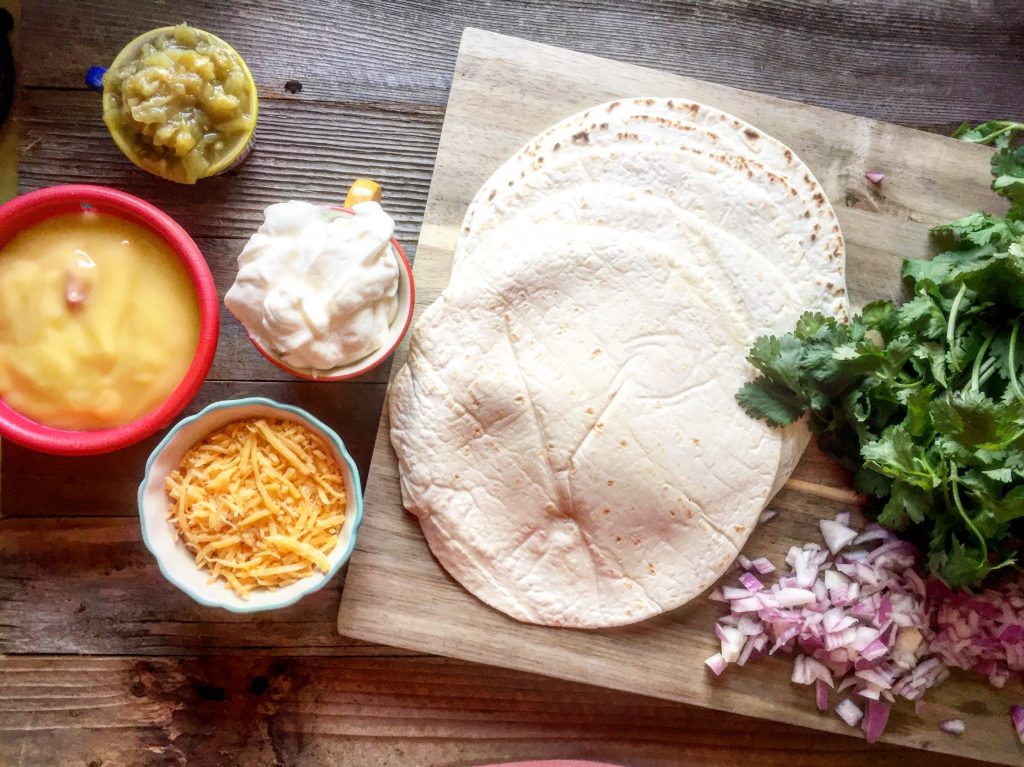 Gather up some ingredients!
(Not pictured: one of the most important parts- the chicken! apparently I wasn't thinking straight, forgot to take a picture of it!)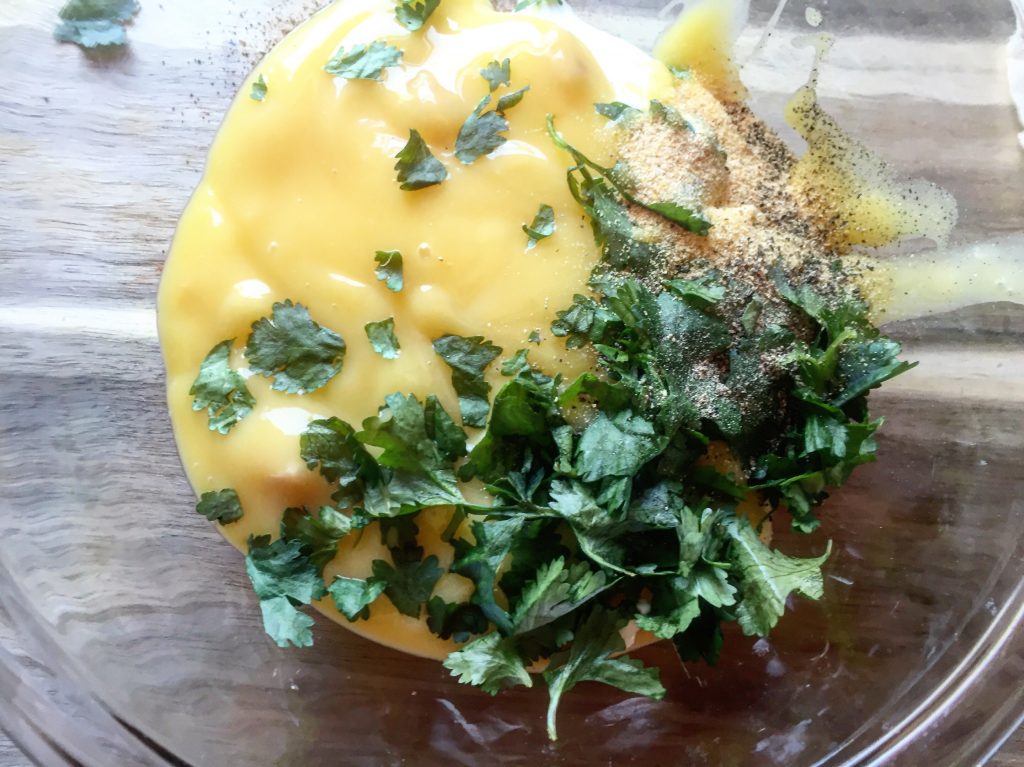 In a bowl add in the sour cream, cream of chicken, cilantro, garlic powder, salt & pepper, and cilantro.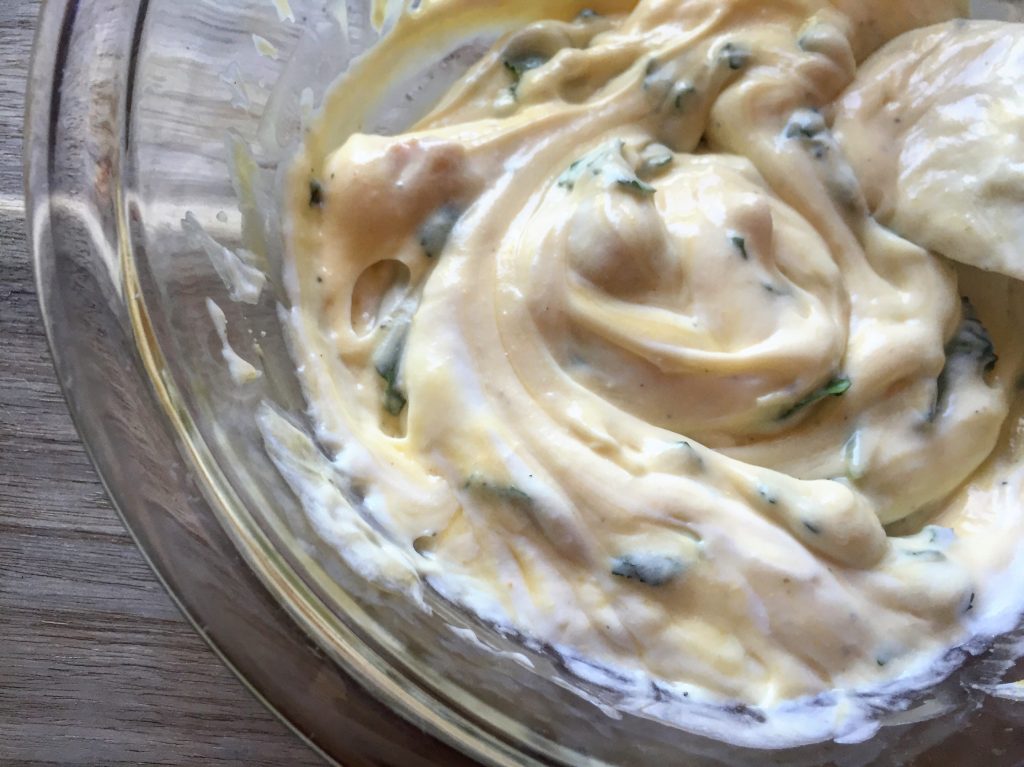 Stir it all up and set aside!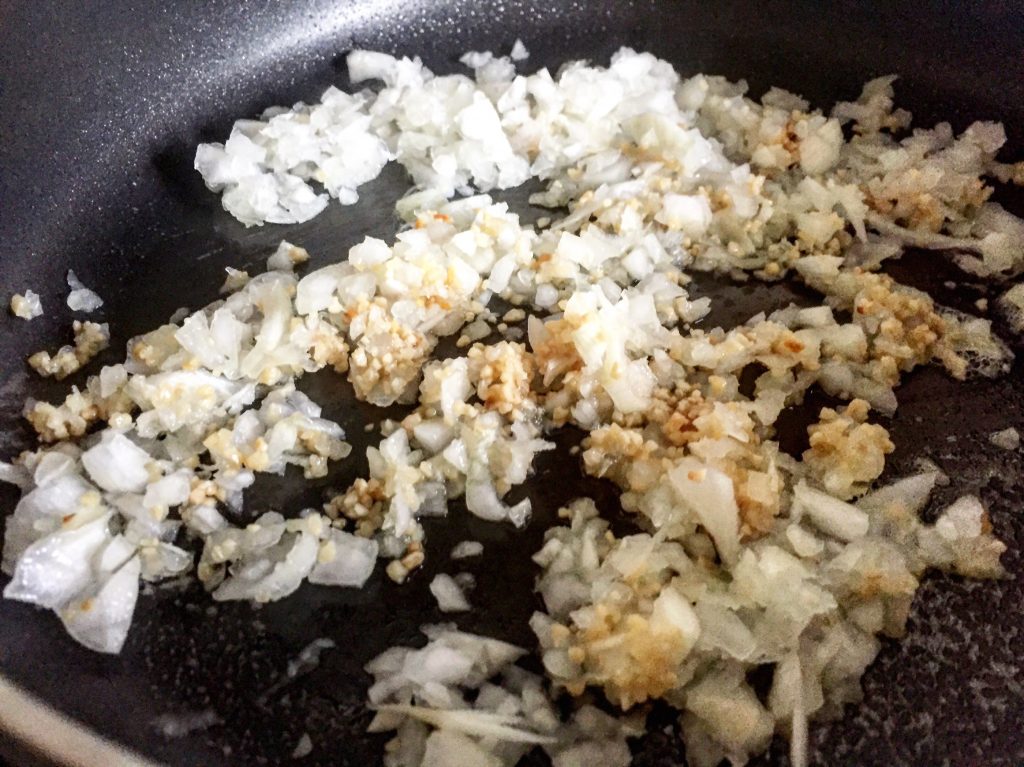 In a large skillet, lightly sprayed with cooking spray, add your onions and garlic and saute for a few minutes, until the onions look slightly transparent.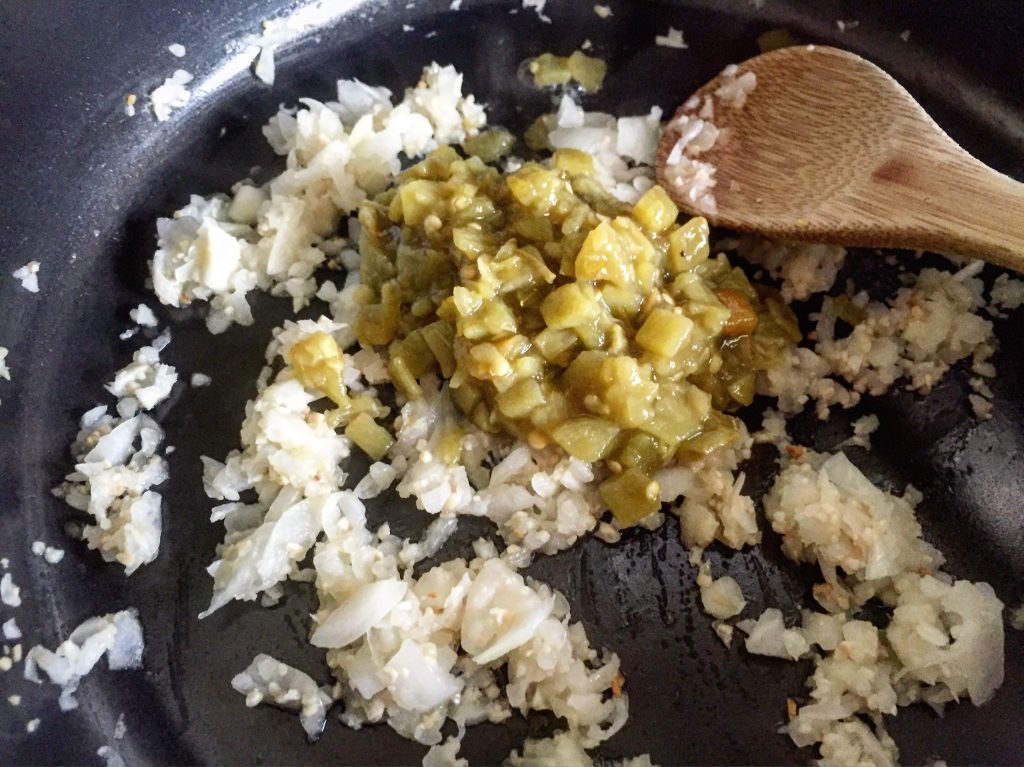 Add in those green chilies!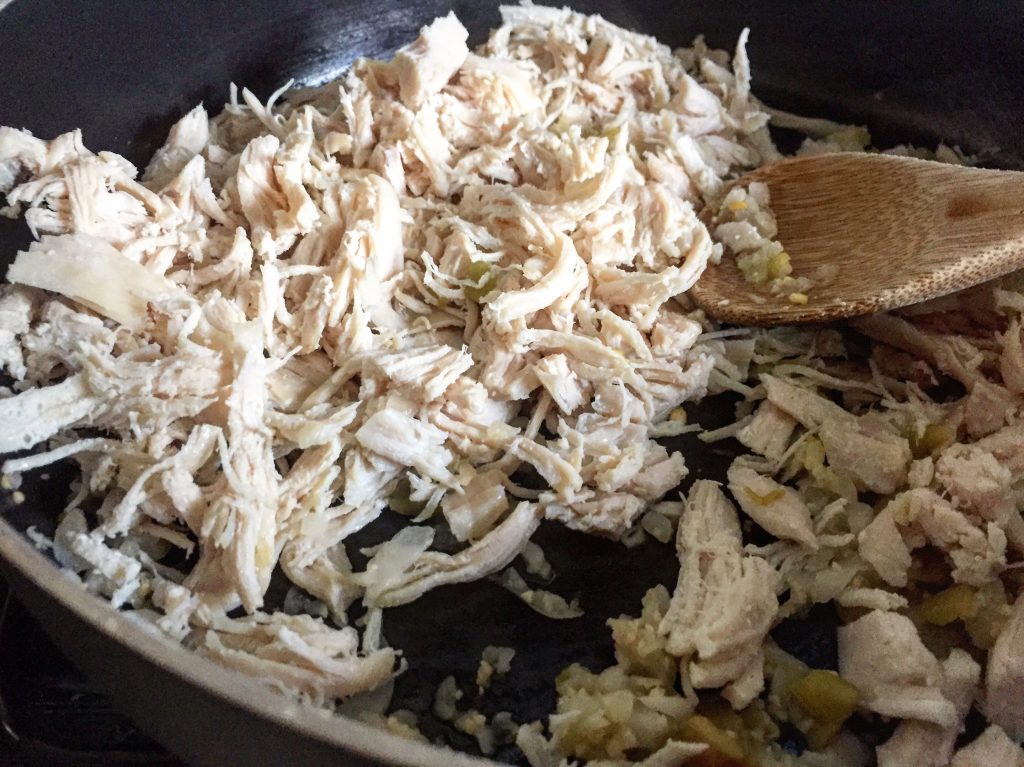 Next up, the chicken…
…and then some cilantro. Do y'all know how good cilantro is for you? Like insanely good. I always double up on the cilantro in recipes that call for it. If you love cilantro use more, if you're not a huge fan use a little less- but don't skip it! It really is perfect for this meal.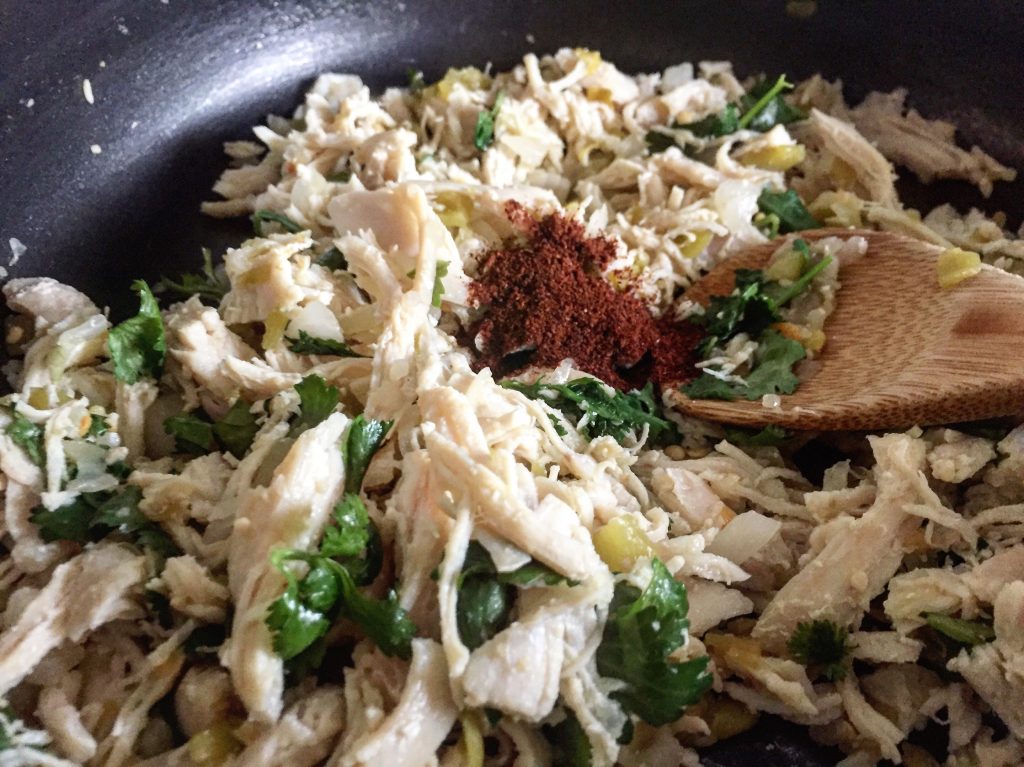 Now for some spice, chili powder! (again, a bit more or less depending on your love of spiciness.)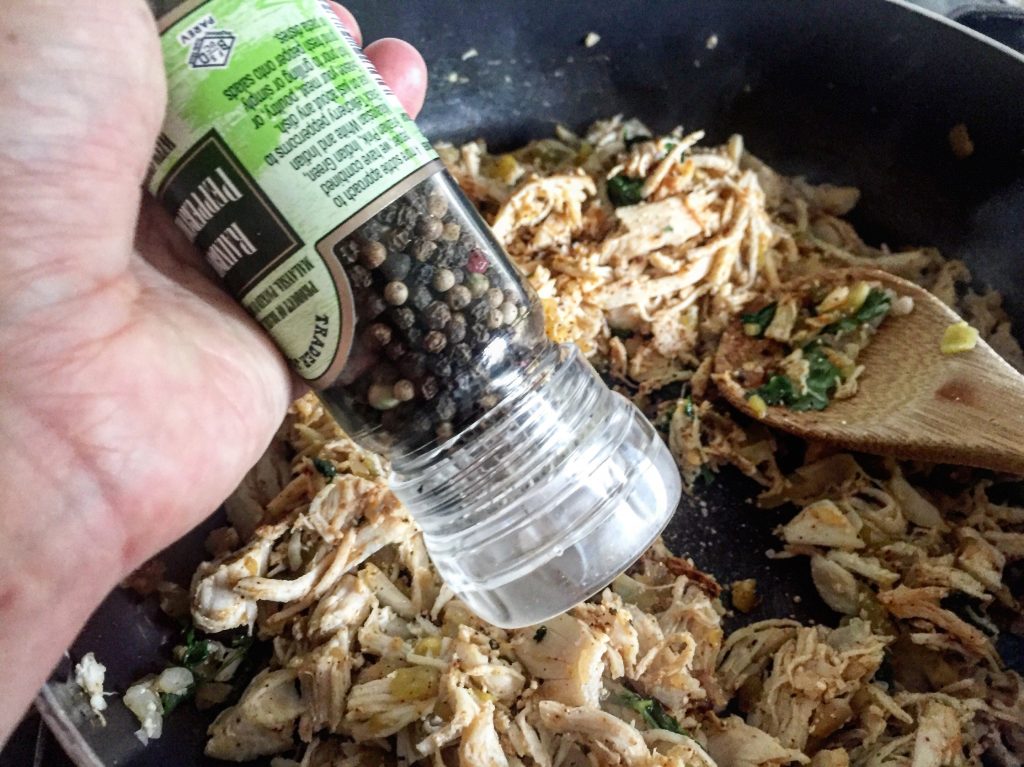 and some good old fashioned salt & pepper…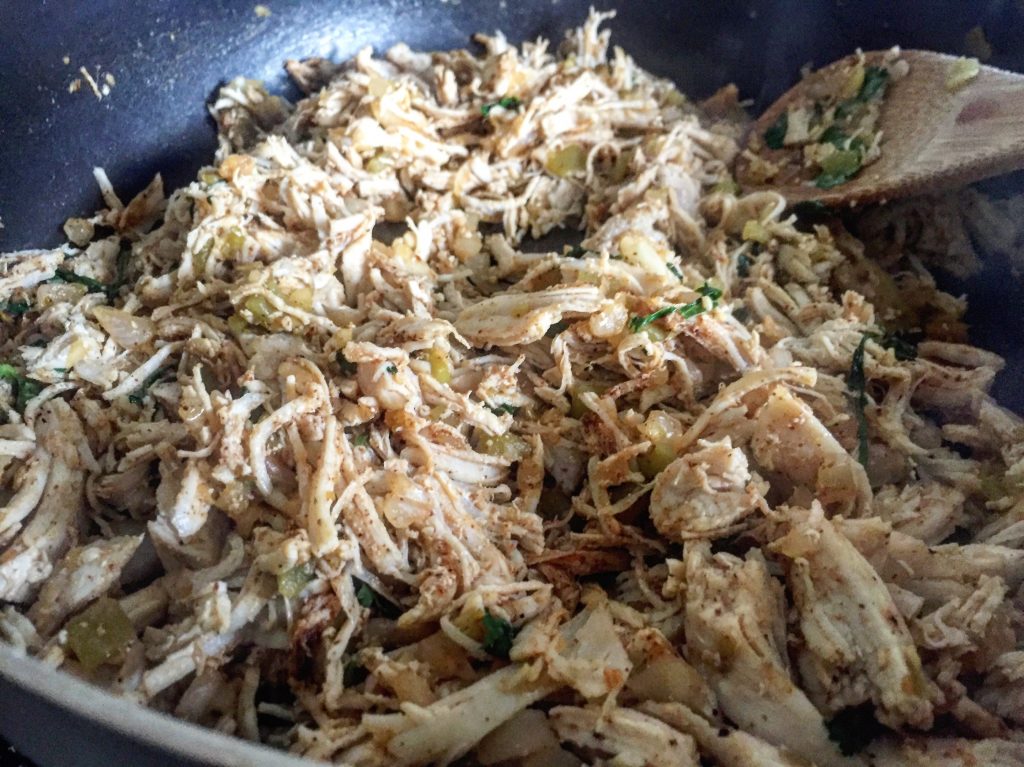 Now mix it all up in the pan, and cook for a few minutes longer…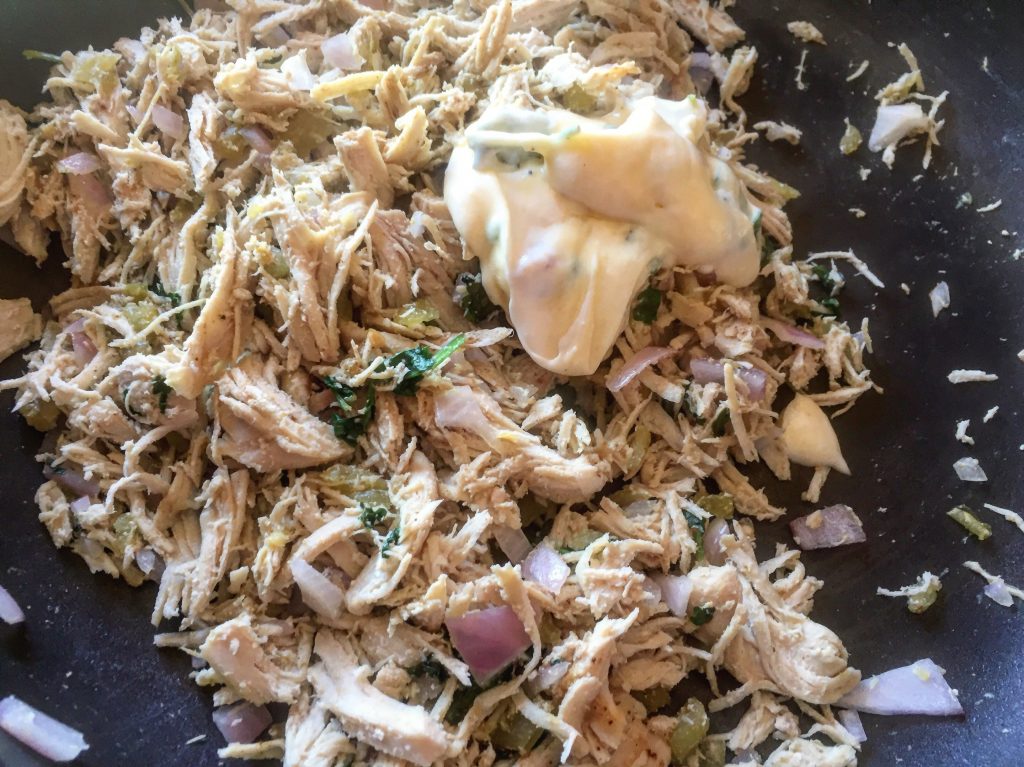 …add a couple tablespoons of the sour cream mixture into the pan with your chicken, and mix it up together.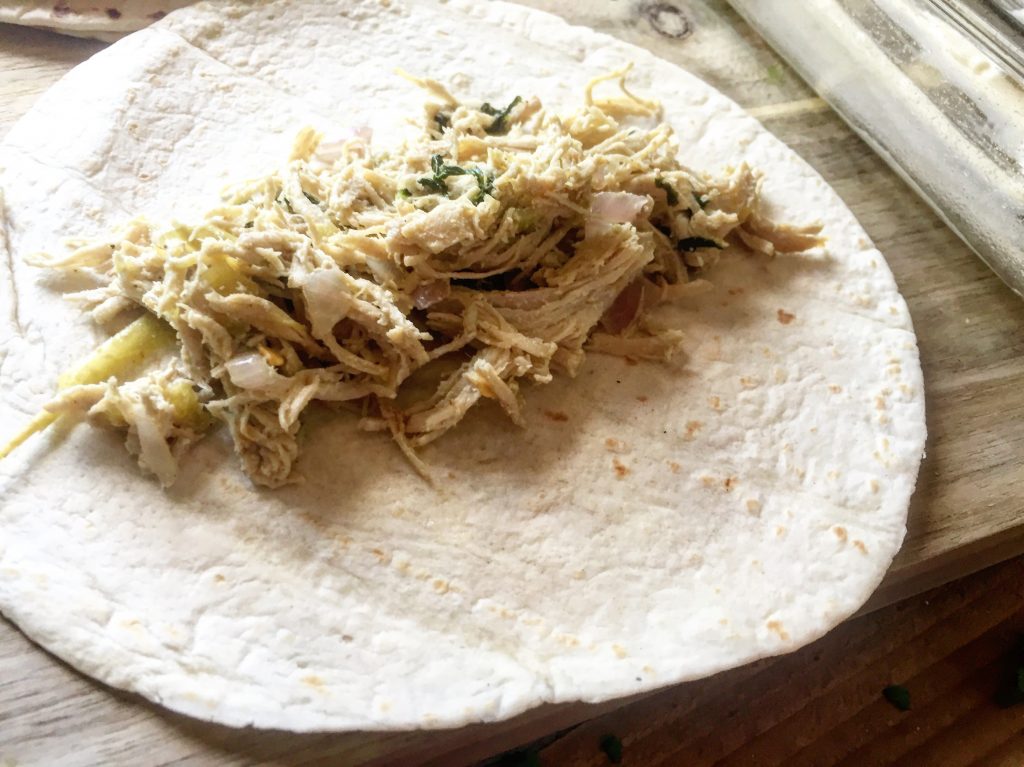 Now grab your tortillas, divide up your chicken mixture into each one, and roll them up!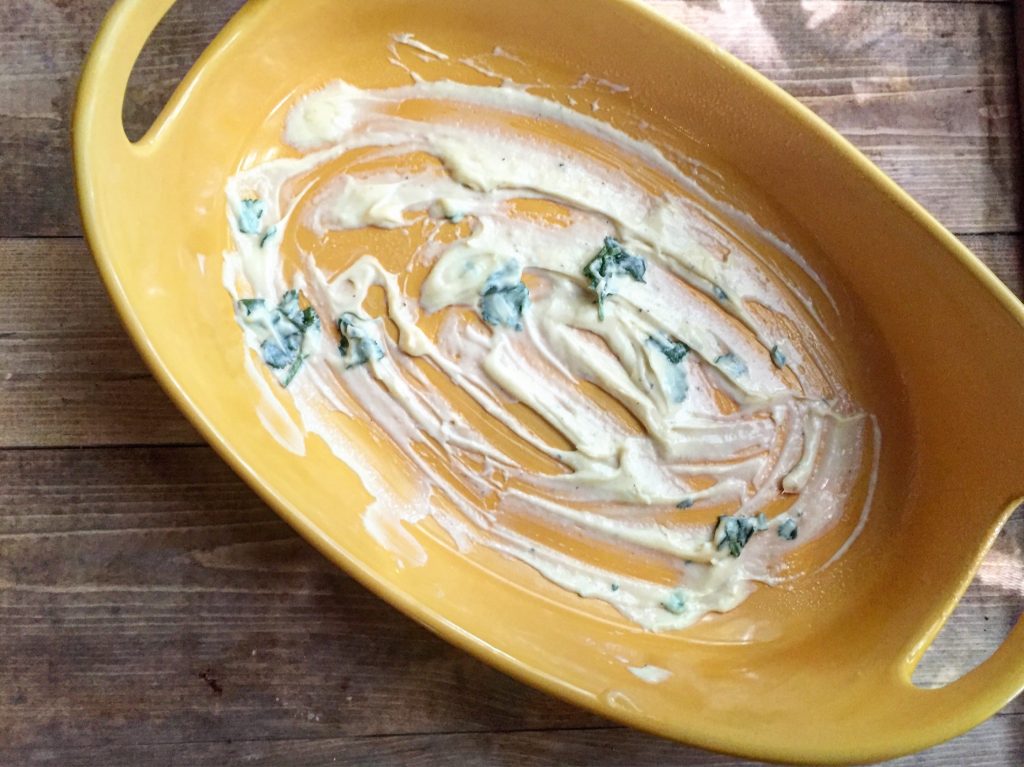 Take your baking dish and lightly spray it with some cooking spray. Then take a couple scoops of the sour cream/chicken soup mixture, and spread it on to the bottom of the dish.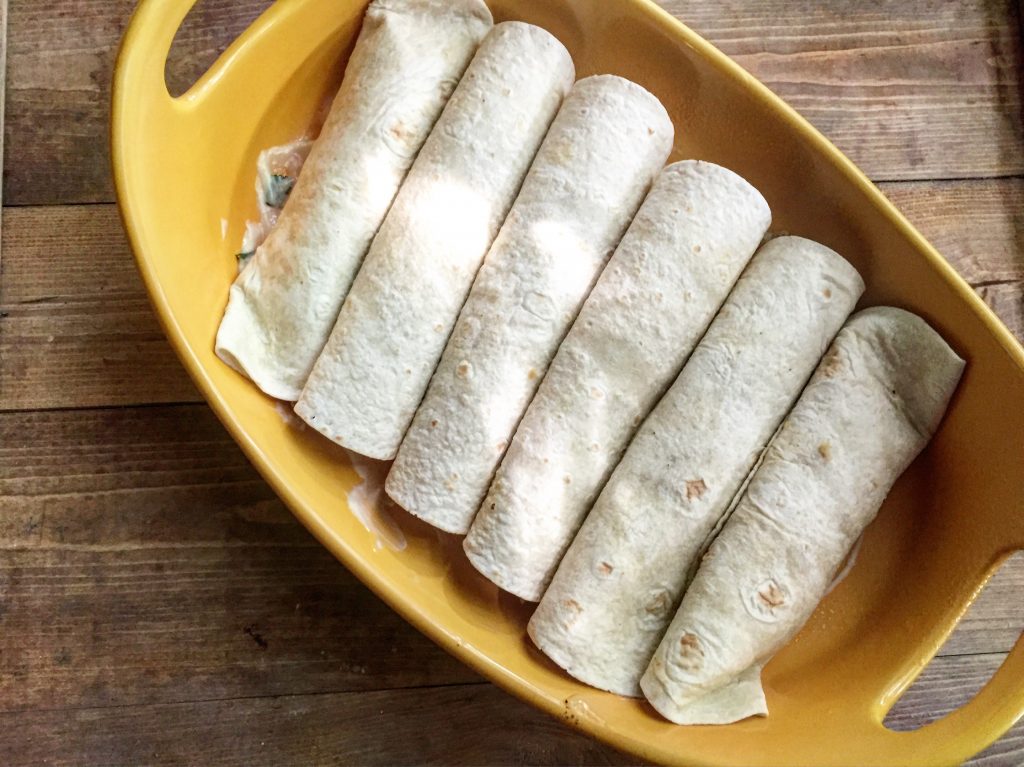 Place all your enchiladas in the dish… almost there!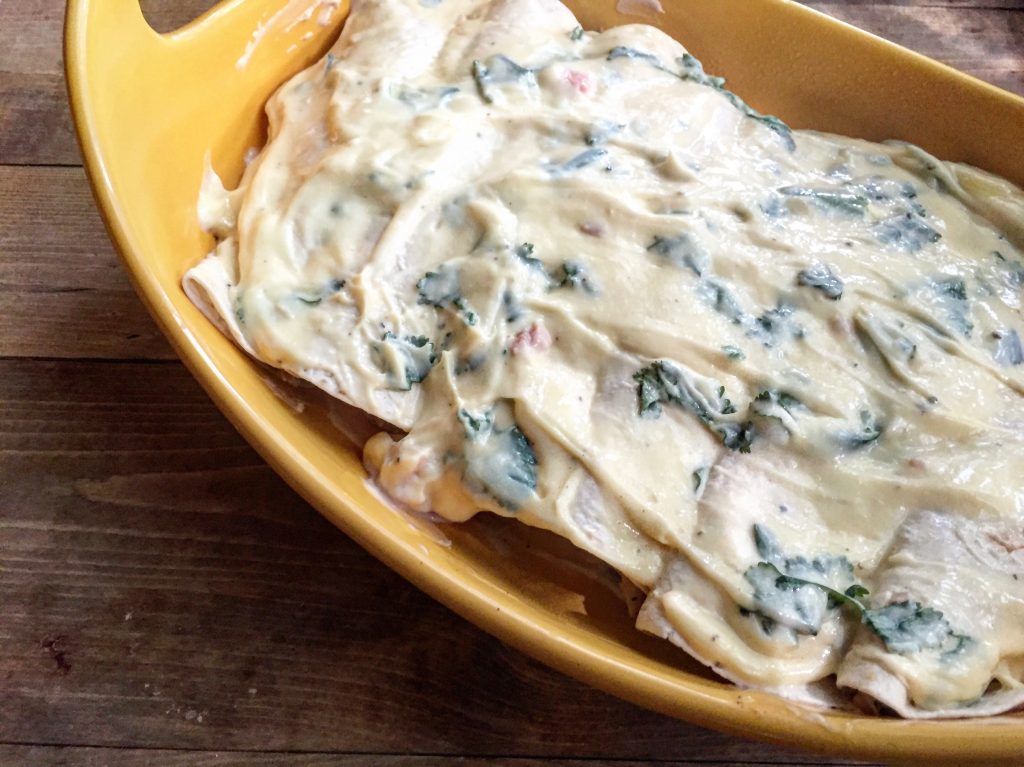 Spread the rest of the sour cream mixture on top…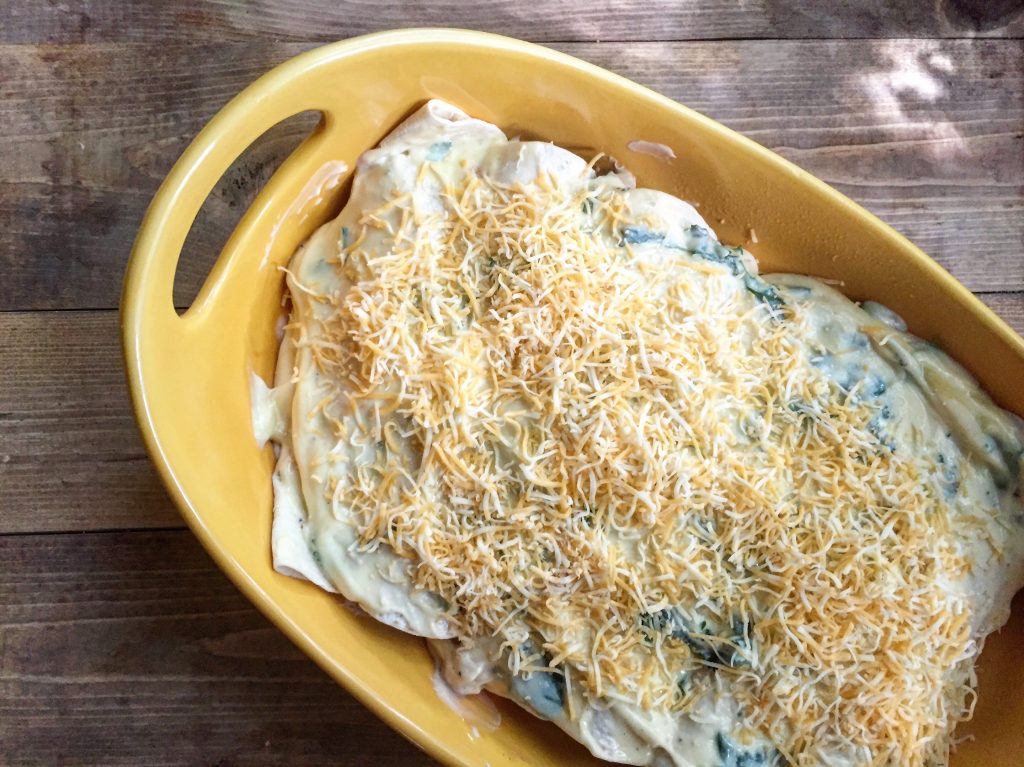 Now for my favorite part: top with the cheese! (If you aren't watching your weight- THE MORE THE MERRIER!)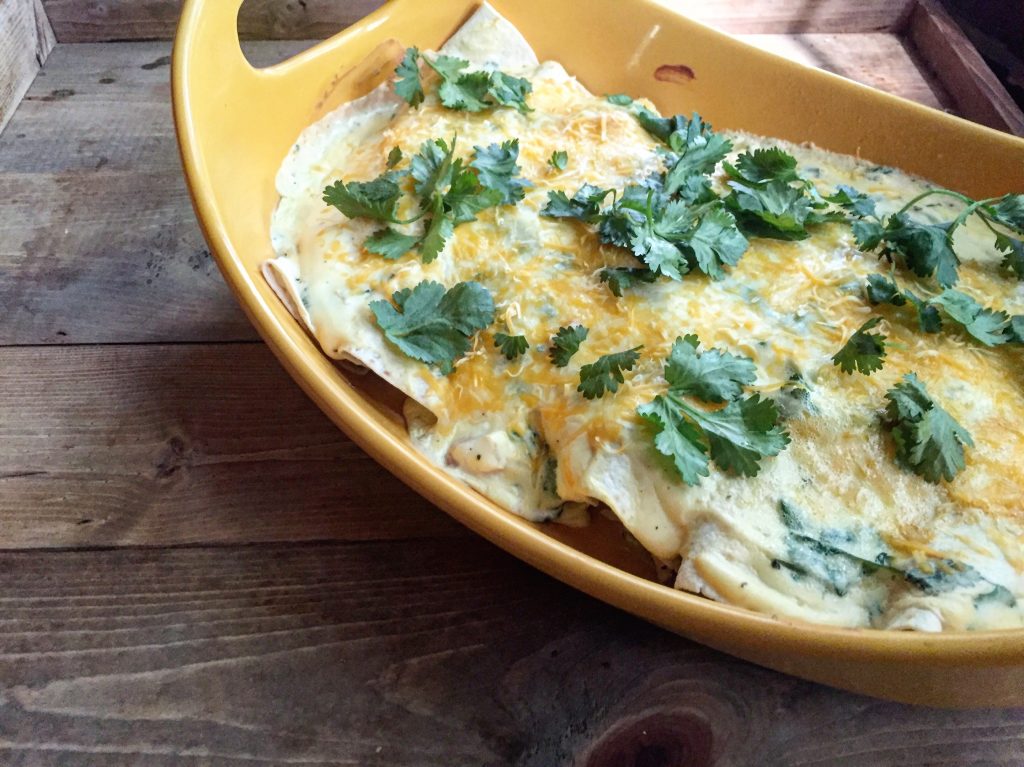 It'll come out of the oven looking something like this…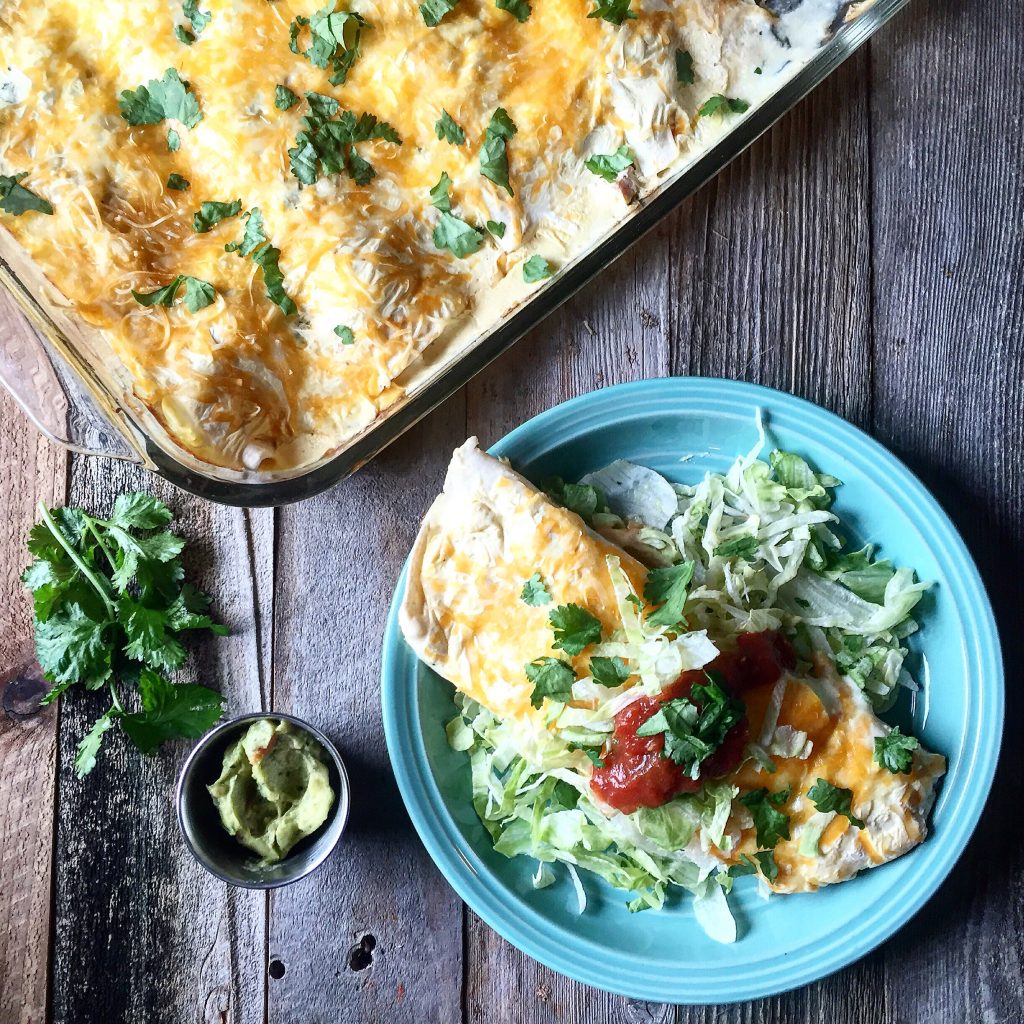 And you can garnish it with some delicious toppings such as lettuce, more cilantro, salsa… I added some guacamole on mine too. So much yum!
I hope you guys enjoy this yumminess as much as we did!
Xo, Star
Print
White Chicken Enchiladas
Materials
3

cups

cooked shredded chicken breast

rotisserie breast works great too!

6

low carb taco size (6 in) tortillas

(such as la banderita carb counter tortillas)

1

chopped onion

1

tbsp

minced garlic

1-10 1/2

oz

can 98% fat free cream of chicken soup

1

small can of diced chiles

3/4

cup

nonfat sour cream

3/4

cup

reduced fat shredded mild cheddar or colby jack

about 1/2 cup fresh cilantro

, more for garnishing

1/2

tbs

chili powder

1

tbs

garlic powder

Salt and pepper

, to taste

cooking spray
Instructions
Preheat oven to 325 degrees.

In a small bowl, mix together cream of chicken soup, sour cream, garlic powder, salt & pepper, and about half of the cilantro. Set aside.

In a lightly sprayed skillet on medium-high heat, add your chopped onions and garlic, and sauté until your onions are slightly translucent (about 3 minutes). Add in your diced chilies, chicken, cilantro, chili powder, salt and pepper and cook for about five more minutes, stirring all together.

Take a couple tablespoons of the sour cream mixture and add to the chicken. Stir and mix completely.

Divide and scoop the chicken evenly onto each tortilla.

Roll the tortillas up and place seam side down in a lightly sprayed baking dish that has a tiny bit of the mixture spread on the bottom of dish.

Top with sour cream mixture and shredded cheese and bake for 25 minutes.
Notes
Servings Size: 1 Enchilada
218 Calories 6g fat. 6g carbs. 2.5g fiber. 1g sugar. 23g protein
WeightWatchers Points: 3 Points