Beef and Rice Taco Casserole
This post may contain affiliate links (meaning I earn a small comission if you purchase an item through a link I provide) I only provide shoppable links to items I love and are helpful. As an Amazon Associate, I earn from qualifying purchases.
Hey y'all! I've got this little brand spankin' new easy peasy Beef and Rice Taco Casserole to share with you today. I'm not lying when I say this is GOOD. I've made it once a week for the past three weeks, and Eric and I have been happily eating it all up every single time.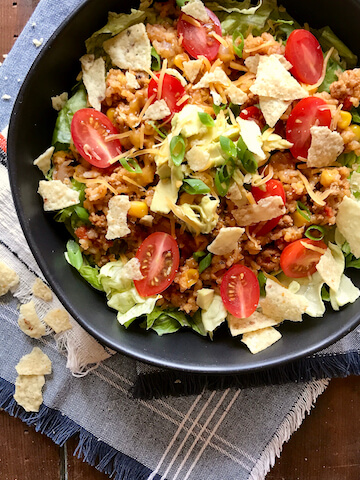 Why have I made it three times in three weeks? Well, I'm a perfectionist. It all started on a really snowy week about three weeks ago when I was going to make Mom's Chicken and Rice! I had it all planned and then I realized I didn't have any chicken and the LAST thing I was going to do is run to the store in a freezing cold snow storm. I really don't love grocery shopping in the winter. It's my favorite thing to do. (Yes, I know I need to work on my hobbies!) But, I could absolutely do without during the winter. I hate bringing Pepper out in the cold too. First time mom here- Don't hate!
Anyway, I had a bunch of ingredients for taco type things, but no tortillas… and 98% of the ingredients for Mom's Chicken and Rice. I was really craving a ricey-type dish. So I came up with this on a whim, and it really worked out. Eric's belly was happy and so was mine. I made it a bit spicy because I only had spicy salsa on hand, so Miss Pepper didn't have any… So unfortunately, this one does not have the Pepper stamp of approval like most of my dishes do!
I'm making this a quick post because I have presents to wrap and hallmark Christmas movies to watch, but I wanted to share it with you before I forget… because this is a good one!
Let's get cooking!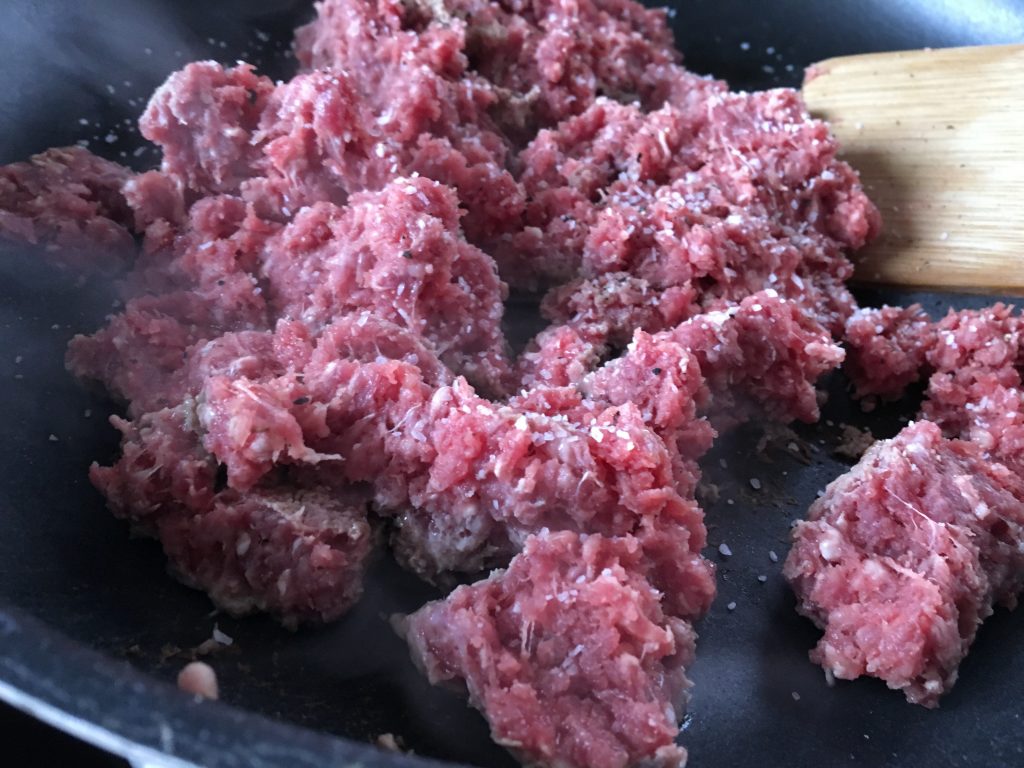 Preheat your oven to 375 degrees. Brown some ground beef with salt & pepper.
In a big mixing bowl, add 1 can of diced tomatoes with green chilis, about 1/2 cup of salsa (the level of spiciness will depend mostly on the salsa you choose), 1 cup long grain white rice (NOT instant), 1 can cream of celery/chicken/mushroom soup (I prefer cream of celery in this dish), 1 packet of taco seasoning, and one cup of chicken or beef broth.
Add cooked ground beef into the bowl.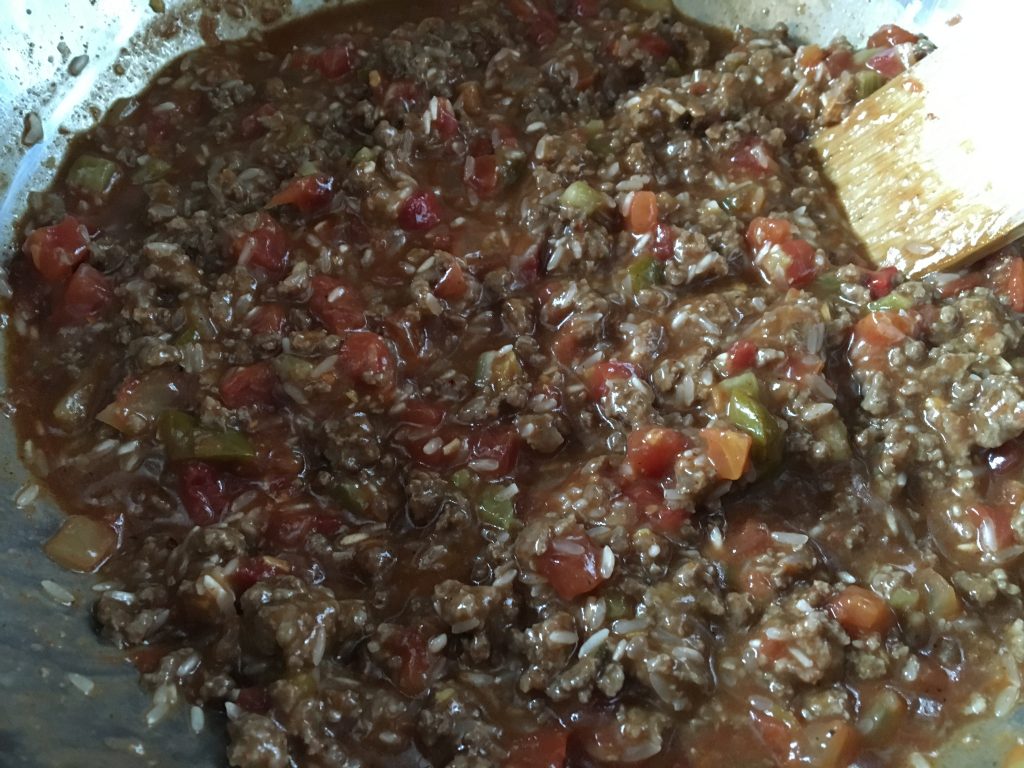 Mix it up real good.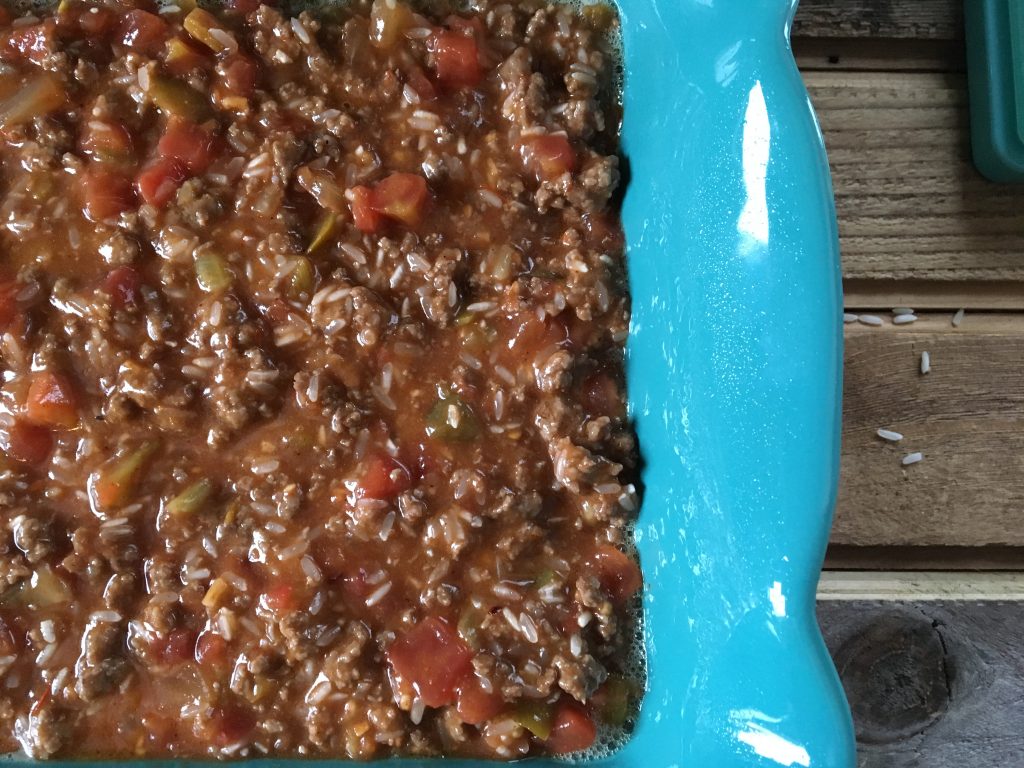 Grab a casserole dish, spray it with some cooking spray, and add the yummy mixture!
*COVER with tinfoil. This is a super important step (Which is why I am using bold lettering!), I should have taken a photo of it, but I didn't. Covering it with foil is the only way the rice will cook fully in the oven.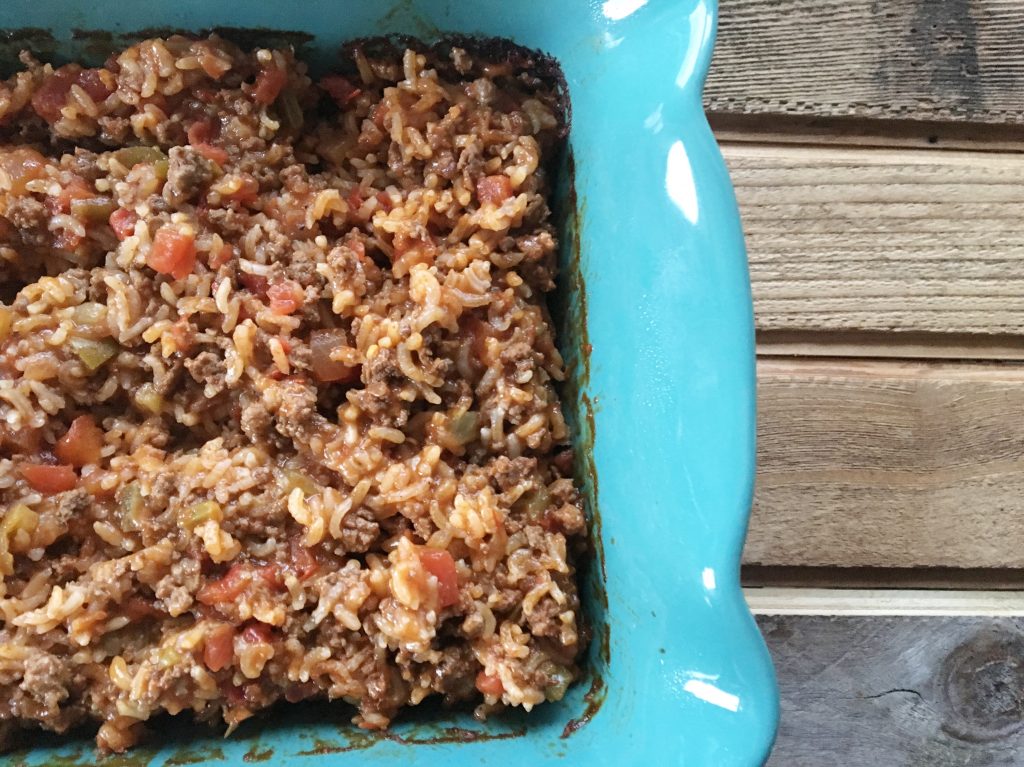 Much like Mom's Chicken & Rice it doesn't look like much, but oh my gosh- It delivers flavor like something really special!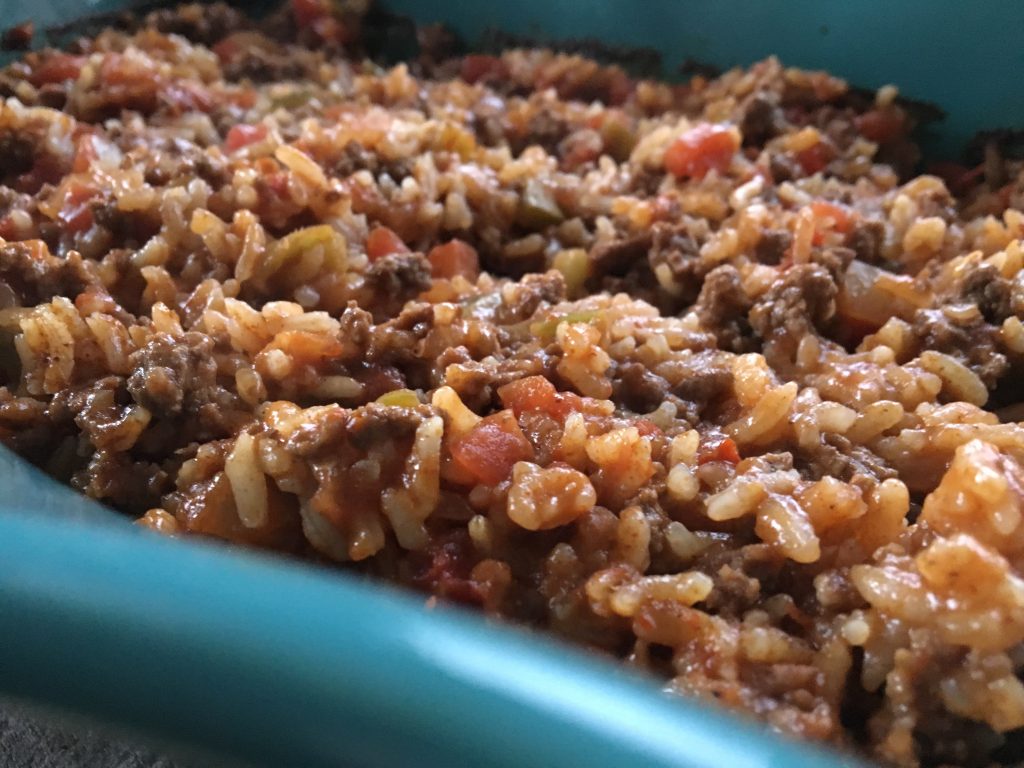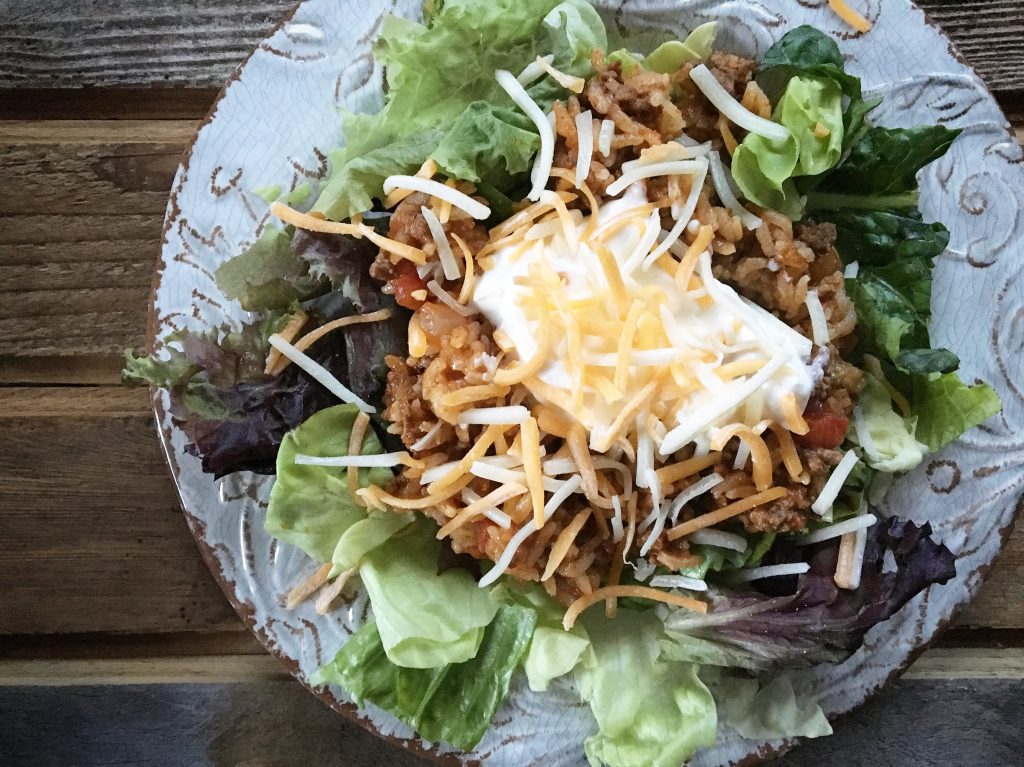 As you can imagine, after eating this for three weeks. Eric and I have both come up with a few different ways to eat it. It's very good all by its lonesome, but I do love adding it on top of a bed of lettuce, then using a dollop of light sour cream and some Colby Jack!
Eric also ate his with tortilla chips crushed up over it, and he said that was his favorite way. He ate all the tortilla chips, otherwise I would have taken a picture of it that way for ya too!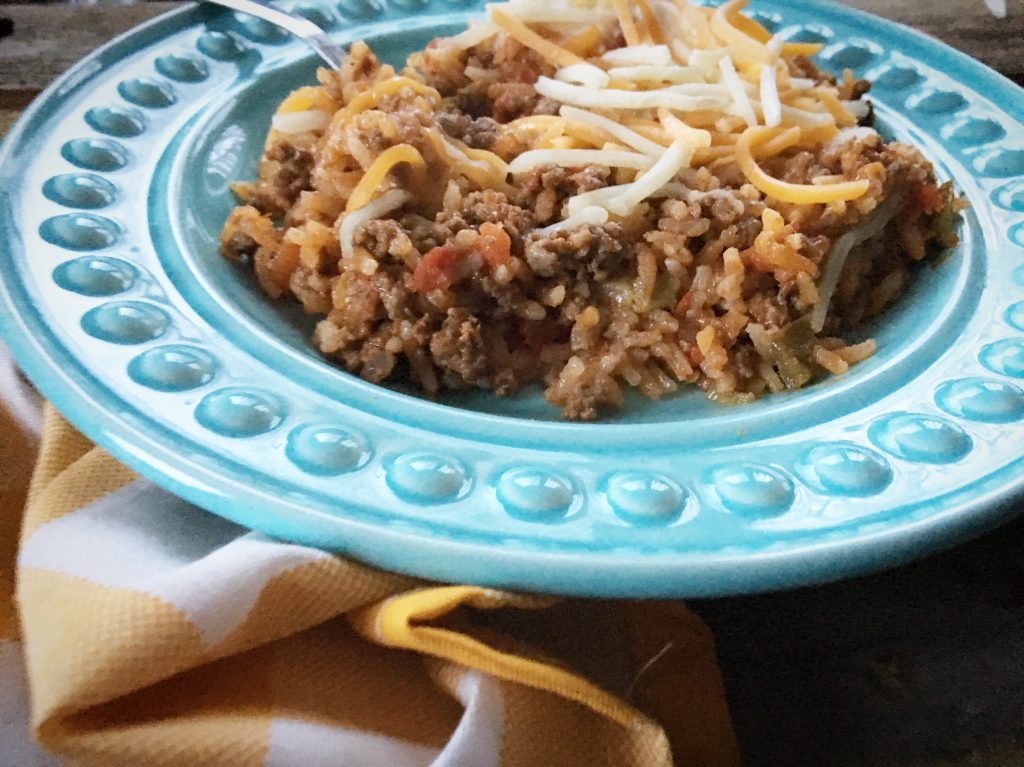 Now go make this!
With Love From My Kitchen to Yours,
Star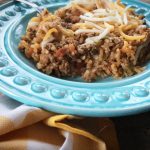 Print
Beef & Rice Taco Casserole
A delicious new way to spend Taco Tuesday.
Materials
1

lb

extra lean ground beef

1

cup

long grain white rice

uncooked (do not use instant rice

1

can tomatoes with diced chilis

1/2

cup heaping

favorite salsa

I love my homemade salsa or mateos!

1

packet low sodium taco seasoning

ortega is my favorite brand if not making homemade

1

cup

98% fat free beef or chicken broth

1

can 98% fat free cream of celery

cream of mushroom/chicken will work as well

Cooking Spray
Optional extra toppings!
lettuce

shredded cheese

crushed tortilla chips

light sour cream

cilantro
Instructions
Preheat oven to 375 degrees. In a skillet add ground beef, salt, and pepper, and cook until browned.

In a large bowl combine rice, diced tomatoes with chilis, salsa, taco seasoning, broth, cream soup, and cooked ground beef. Stir together until combined well.

Spray a casserole dish with cooking spray spread mixture inside. Cover with tin foil. Place into oven and cook for 45-50 minutes until the rice is cooked.

Divide into 6 servings. Top with desired toppings such as cheese, lettuce, sour cream, and/or crushed up tortilla chips!
Notes
Serving size: 1/6 of the casserole
WeightWatchers Points: 6 Points
290 calories

9.5g fat. 3.4g saturated fat. 32g carbohydrates. 3g sugar. 3g fiber. 18.7g protein