Easy Baked Chicken Breast
This post may contain affiliate links (meaning I earn a small comission if you purchase an item through a link I provide) I only provide shoppable links to items I love and are helpful. As an Amazon Associate, I earn from qualifying purchases.
Easy Baked Chicken is a time tested, foolproof, and delicious recipe! This method will give ya flavorful and tender-as-can-be juicy chicken breasts, every single time.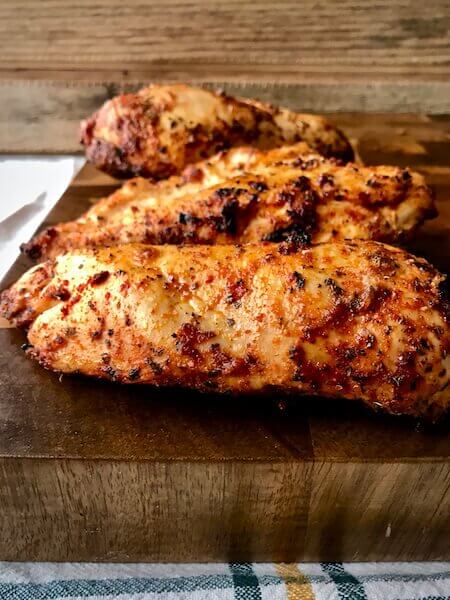 This chicken recipe is a very important recipe. Trust me. I've been honing in on perfect and easy baked chicken breast for about a few years now. And, I've finally perfected it. It's the perfect chicken to have prepped n' ready to go at all times in the fridge and freezer. It's so useful to have on hand for quick and easy dinner when you're feeling something extra simple. I love piling this chicken on salads and in wraps and sandwiches. It's ready to share and it's more than ready to eat! This will baked chicken breast recipe will be one of the last ones you ever need!
How to keep chicken from drying out in the oven: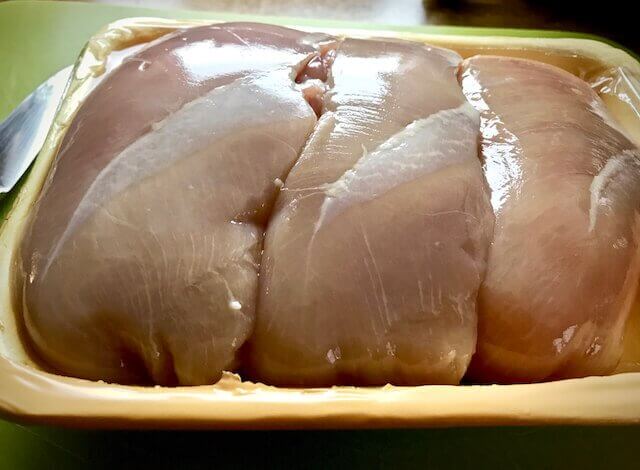 To brine or not to brine?
This is an important question, and there's a very easy answer: Maybe. HAHA. When you purchase boneless skinless chicken breasts at the grocery store, they're not all created equal. It really depends on what type you buy. Some will say "contains sodium solution." This means they're pre-brined. If I know I'm running short on time, I will buy Tyson All Natural "Trimmed and Ready" Chicken Breasts. These are pre-brined, trimmed up, and can go straight into a skillet and be juicy and flavorful without brining. If the packaging doesn't say something along these lines, it's more than likely not pre-brined. If you buy pre-brined chicken and then brine it again. It will be too salty. So be sure to check the label on the package. Most organic chicken is not pre-brined.
Brining chicken breast makes a huge difference!
I didn't learn this until I was bout 20 years old. I loved plain old chicken breast, but I truly hated making it for myself.. It seemed like no matter what I did, it ended up dry and tasteless. I often ordered chicken breast dishes at restaurants, and it would be juicy and flavorful. Seriously, why couldn't I recreate a delicious piece of chicken? How hard could it be! I didn't used to cook like I do now, but I knew my way around a kitchen or two. I can't remember just how or when I learned of it exactly, but there's a good chance it was the Food Network. Food Network was actually my very prestigious culinary school, and ya know what? I'm totally proud of that. Teaching yourself something and making a career out of it is no easy task.
If your chicken breasts have not been pre-brined, brine those babies! It's totally easy and takes seconds to prep!
If you're not completely new to these parts, you might've already made my "Almost Famous" Skillet Pickle Chicken. Remember how you let it sit in pickle juice for a while? That's a type of brine, but it's pickle juice-flavored. And if you've tried that recipe, you know it's worth the extra step!
To Brine the chicken:
Put your chicken breast in a large bowl or tupperware with a lid. Slowly add enough lukewarm water to cover them. Then lightly stir in 1/4 cup Kosher salt. The amount of salt does increase or decrease depending on how much chicken breast you use. For two pounds I've always used 1/4 cup, so just adjust that up or down a bit as needed. If you don't have kosher salt on hand. That's okay, but if using regular table salt/sea salt be sure to reduce the amount of salt by half or your chicken will be too salty!
Cover tightly and place in the refrigerator. I do this for up to 6-7 hours, but even 20-30 minutes will make a substantial difference. If you go much longer than 10 hours it will be on the salty side. I read somewhere (or maybe I heard it on the good ol' Food Network University!) that the salt works to break down the toughness of the meat, making the chicken flavorful and tender as all get out… and that the extra tenderness even makes it harder to overcook! Now I'm no food scientist. But I can tell you that when I've brined chicken, I have never overcooked it!
Anyway, that was my spiel about brining, and how I really believe it'll make any piece of chicken breast insanely delish. Is it a deal breaker if you don't? No. But trust me- you want to. Have I steered y'all wrong before? My favorite thing about "skinny-ish" eating is that there's so many ways to make it more delicious! And something as simple as a salt water brine makes plain ol' chicken breast top notch restaurant quality.
Important: f you are not using the kosher salt decrease the amount of salt in the brine! Chicken will be salty if using the same amount of fine salt.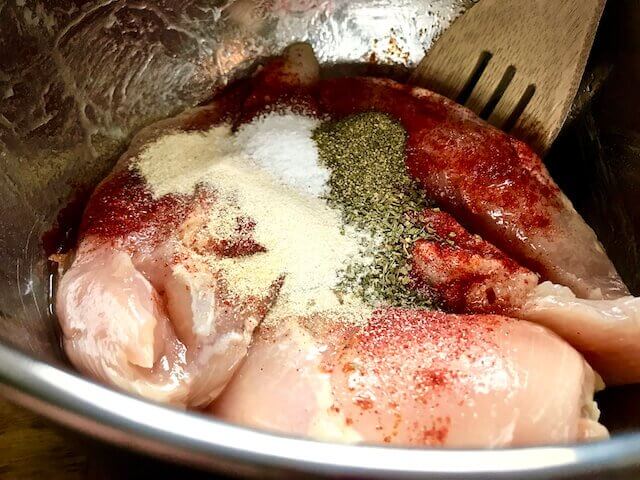 Preheat your oven to 450 degrees. Now whether you've brined or not. You're going to dab-dry the chicken breasts with a folded paper towel really quick. Throw'm in a bowl and add one tablespoon of olive oil, followed by 1 teaspoon of kosher salt, 1 teaspoon of black pepper, 1 teaspoon garlic powder, 1 teaspoon smoked paprika, and 1/2 teaspoon of oregano. This exact mix isn't written in stone- you're free to use the blend of spices you love most. Sometimes I sprinkle in Italian seasoning, chili powder, or onion powder for different flavors too!
I like this particular blend because it's versatile. And can go in anything from Chicken Pot Pie Soup, Cheesy Chicken Spaghetti, Cheesy Chicken and Biscuit Casserole !
When you've got all your spice goodies in the bowl with the chicken, you can do one of two things…
Option one- Get in there and just dig your hands in, and really rub that chicken well with the spices. (preferred method, but yes I agree, gross method!)
Option two- just really mix'm up good with a spoon. This time around I did the spoon method, because I didn't feel like getting those chicken goobers all over my hands. You know, I can't explain it- there's days I don't mind it at all, and days that I'd rather never ever touch it again in my life!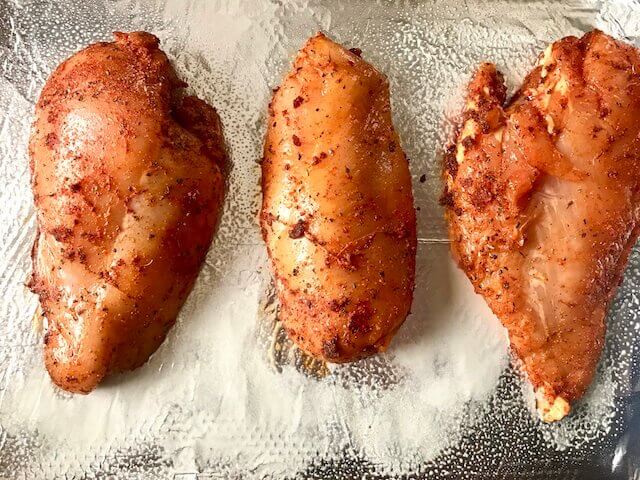 Now we just throw those babies on a baking sheet (you can use a baking dish). Just to make clean up easier, I put aluminum foil over it. Any lil bit helps in my kitchen! Again, it's up to you if you want to do this. Before throwing'm on there, go ahead and lightly spray the pan or tin foil with cooking spray.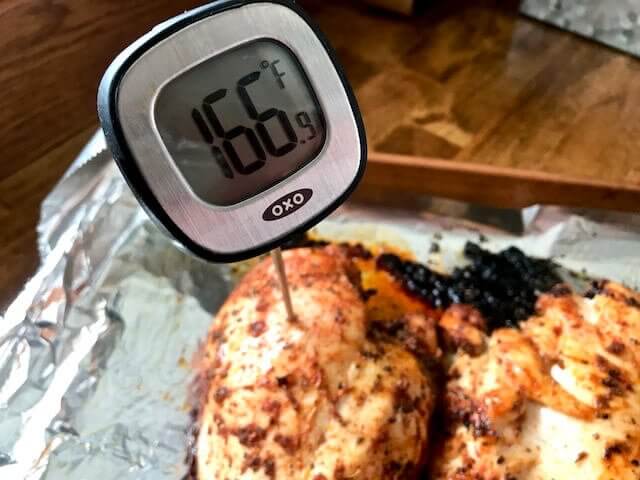 Like we said earlier, not all chicken breasts are created equal. Some are quite a bit smaller than others, and it makes a real difference in cooking time. A small chicken breast is going to be fully cooked 5-8 minutes sooner than a larger, thicker one will. These days, just about every store-bought chicken breast seems to be on the larger side. But there are instances when they might only be about 4-6 ounces.
To find that balance between over- and under-cooking, use your own judgment- If you have a smaller breast, bake at 450 for about 15 minutes. And of course, Always check the temperature with a instant-read thermometer. Insert it into the thickest part of the breast, and before continuing from this step, it should read 165 degrees. If it's almost there, put it back in for a few minutes.
A larger chicken breast (the ones that I have pictured are large) will take somewhere in the range of 22-25 minutes at 450 degrees. Whichever size you have, temperature is the key to serving up the best chicken. Nobody wants undercooked or overcooked chicken, ever.
If you prefer you can flatten your chicken out with a meat mallet too for quicker cooking. Just place the chicken between two pieces of saran wrap and pound out the thickest part of the chicken to be even.
Pro tip: If you want chicken breasts that are a little more brown and crispy, broil your chicken for the last few minutes of cooking. I personally do this every time, and the chicken in these recipe pictures has been broiled for a few minutes.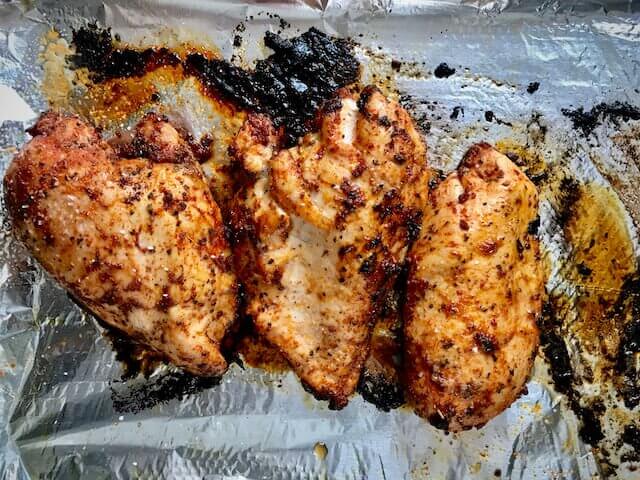 Ta-daa! And here's another important part… let that freshly baked chicken rest, okay? Just literally leave them the heck alone on a cutting board or serving plate for about 8-10 minutes before slicing into it. Resting your freshly-cooked chicken (honestly any meat) is the best thing you could do for it, trust me! When you pull a chicken breast or any other piece of meat out of the hot oven and just slice into it immediately, the juice and flavor just runs right out! It's actually tragic.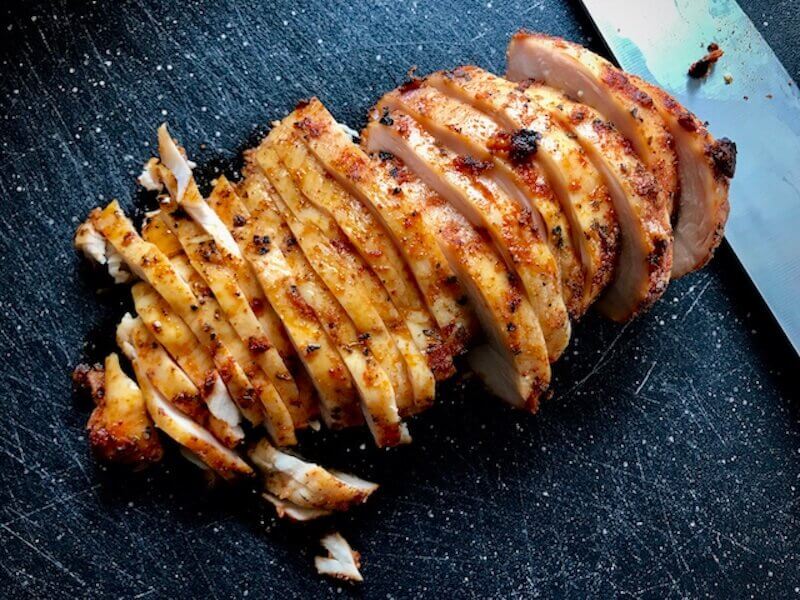 I love this chicken so much, it's unreal. I promise it's easy and pretty quick, despite the fact I've written a small book about it! And the real, honest-to-goodness greatest part of all? Like the Crockpot Marinara Sauce, it's one of the most versatile things I've ever posted! I use this Baked Chicken in all kinds of recipes. It's seasoned just enough to give you all of that mouth-watering flavor, but lightly enough that it won't overwhelm the subtle flavors of other recipes. (so if you chop it up and use it in a recipe like Chicken Pot Pie Soup, it's just enough.)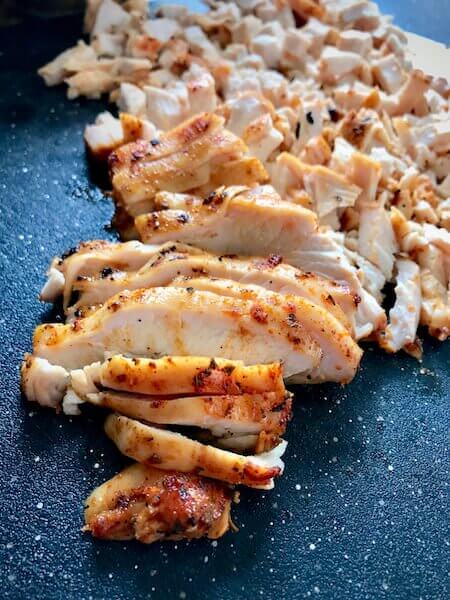 Or go ahead and dice it up if you wanna. Because tomorrow, I'm going to feature this chicken in a crazy-healthy-delicious Southwest Chicken Salad recipe.I just know you're all going to LOVE IT as much as we do!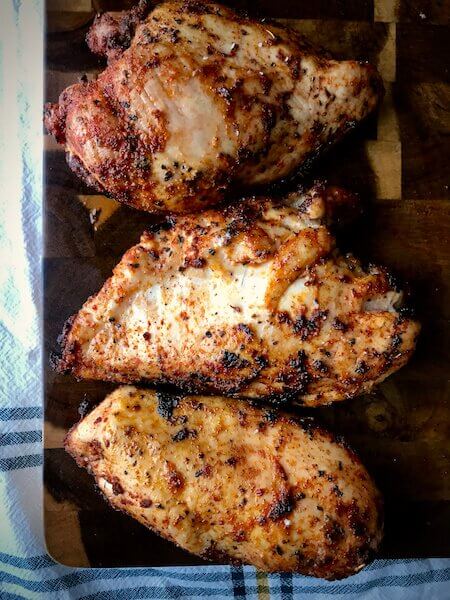 So keep this easy and wonderful recipe in your back pocket. I hope it's becomes something you make all of the time to have on hand!
What to use this chicken for? Here are just a few ideas…
Chopped up in big salads
Store it in the fridge (up to five days) or the freezer (up to two months) for quick n' easy access to add to recipes that call for cooked chicken breast
Sliced thinly, it's PERFECT for sandwiches and wraps
Add a quick protein to any meal
Quick Chicken n' Cheese Quesadilla (Pepper's favorite!)
Or just enjoy a serving next to some Roasted Garlic Cauliflower Mash, or maybe Roasted Sweet Potatoes with Bacon and Parmesan, or just some yummy vegetables.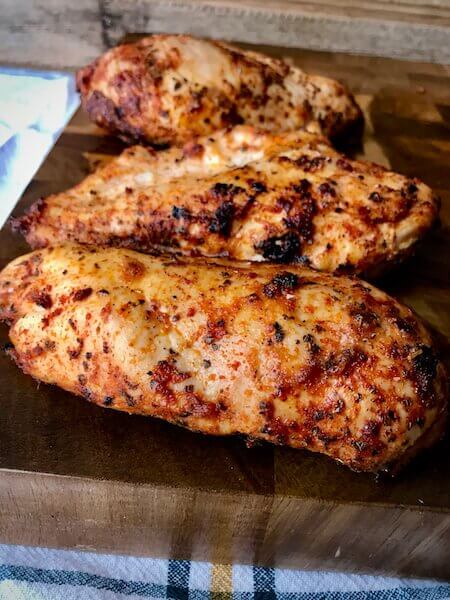 Over the years, I've tried all sorts of stuff to figure out a perfect chicken breast recipe. One that's delicious, easy to make, and can be used to add a protein to all kinds of meals/dishes. And this is the one, it's taken the place of all the others I've used before.
If you make this recipe, please comment below and share your thoughts! Let me know what you think, or if you have any awesome tips for cooking chicken breasts. After all, we should never stop learning. I'm always trying new things in our kitchen!
With love from my kitchen to yours,
Star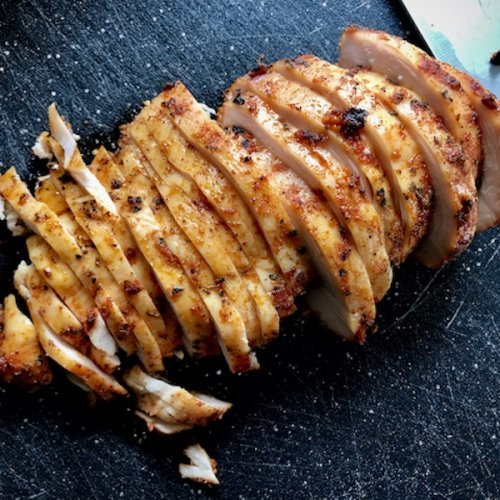 Print
Easy Baked Chicken Breast
A simple and easy method to make perfectly tender chicken breast, that's perfectly seasoned for use in any recipe
Materials
Chicken Brine (optional, but recommended if chicken isn't pre-brined):
2

lbs

Chicken Breast, raw

5-6

cups

Lukewarm Water

1/4

cup

Kosher Salt

see notes if not using kosher salt
For the Chicken:
2

lbs

Chicken Breast, raw

use brined chicken if brining

1

tbsp

oil

avocado oil/vegetable/canola oil works best

1

tsp

Kosher Salt

1/2

tsp

Pepper

1

tsp

Garlic Powder

1

tsp

Smoked Paprika

smoked sweet paprika also works nicely

1/2

tsp

Oregano
Instructions
Chicken Brine:
If your chicken has not come pre-brined (see the post above for more details about this) and you'd like to brine your chicken which is the preferred method. In a large bowl or tupperware place raw chicken breasts and cover chicken breasts with lukewarm water. Slowly stir in 1/4 cup of Kosher Salt and then cover. You can do this early in the day and let it sit in fridge for up to 6-7 hours or you can do it as quickly as in just 20-30 minutes before baking. If chicken comes pre-brined skip this step because the chicken will be too salty.
Oven Baked Chicken Breast:
Preheat oven to 450 degrees.

Remove chicken breasts from package or brine and pat dry with a paper towel. Place in a large bowl, add oil and spices. Rub spices and oil into meat very well with hands. If using a spoon instead of hands, make sure it is distributed very well.

Transfer to the oven and cook for 22 to 25 minutes, or until internal temperature reaches 165 degrees. Thinner breasts will need less time, thicker breasts might need a little more time in the oven.


For crispier and browned chicken breast turn your oven to broil for the last 3-4 minutes of the cooking time.

Remove chicken from oven and set aside. Let the chicken rest for 8-10 minutes before slicing into it.
Notes
Makes 27 ounces or 5-1/2 cups.
Serving size: About 3/4 cup or 4.5 ounces (really depends on how much you want or what you're using it for)
WW Points: 0 (points figured per ounce).
186 calories Fat: 4g, Saturated Fat: .5, Carbohydrates: 0g, Fiber: 0g, Sugars: 0g, Protein: 35g
Chicken will store in fridge for up to 5 days and in the freezer for up to 2 months.
Please note:
*If you are using fresh chicken breast that has been pre-brined, do not brine again! Check the label on the package of chicken. If it says anything about a sodium solution. It has more than likely been brined already. If you double brine. It'll be too salty!
*If you are not using Kosher Salt reduce the amount of salt by half!