Instant Pot Shredded Chicken
This post may contain affiliate links (meaning I earn a small comission if you purchase an item through a link I provide) I only provide shoppable links to items I love and are helpful. As an Amazon Associate, I earn from qualifying purchases.
Instant Pot Shredded Chicken is incredibly tender, perfectly seasoned, easy to shred, and one of the smartest recipes to keep on hand because it's super versatile and budget friendly. It's what I like to call "all purpose chicken" and the best for weekly meal prep!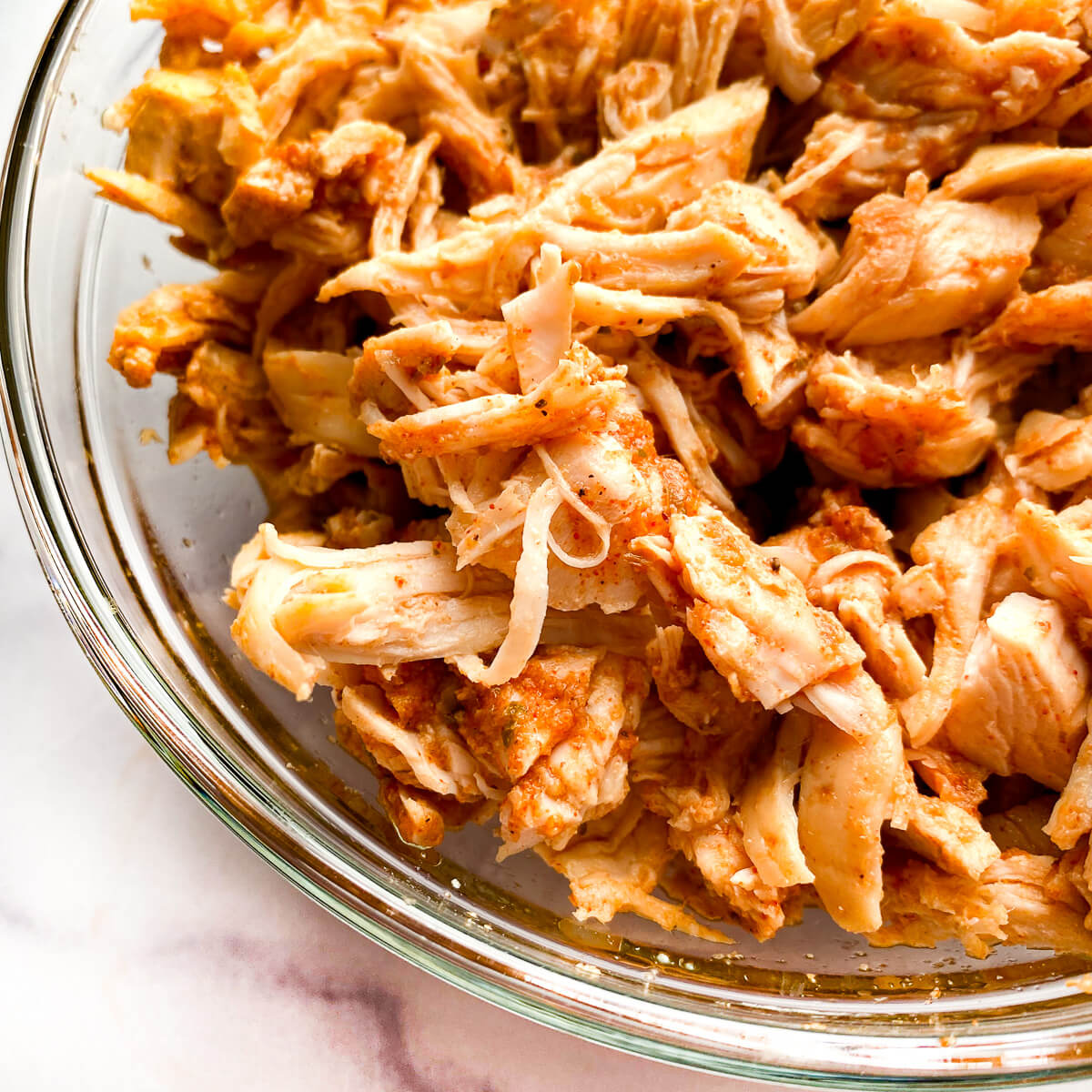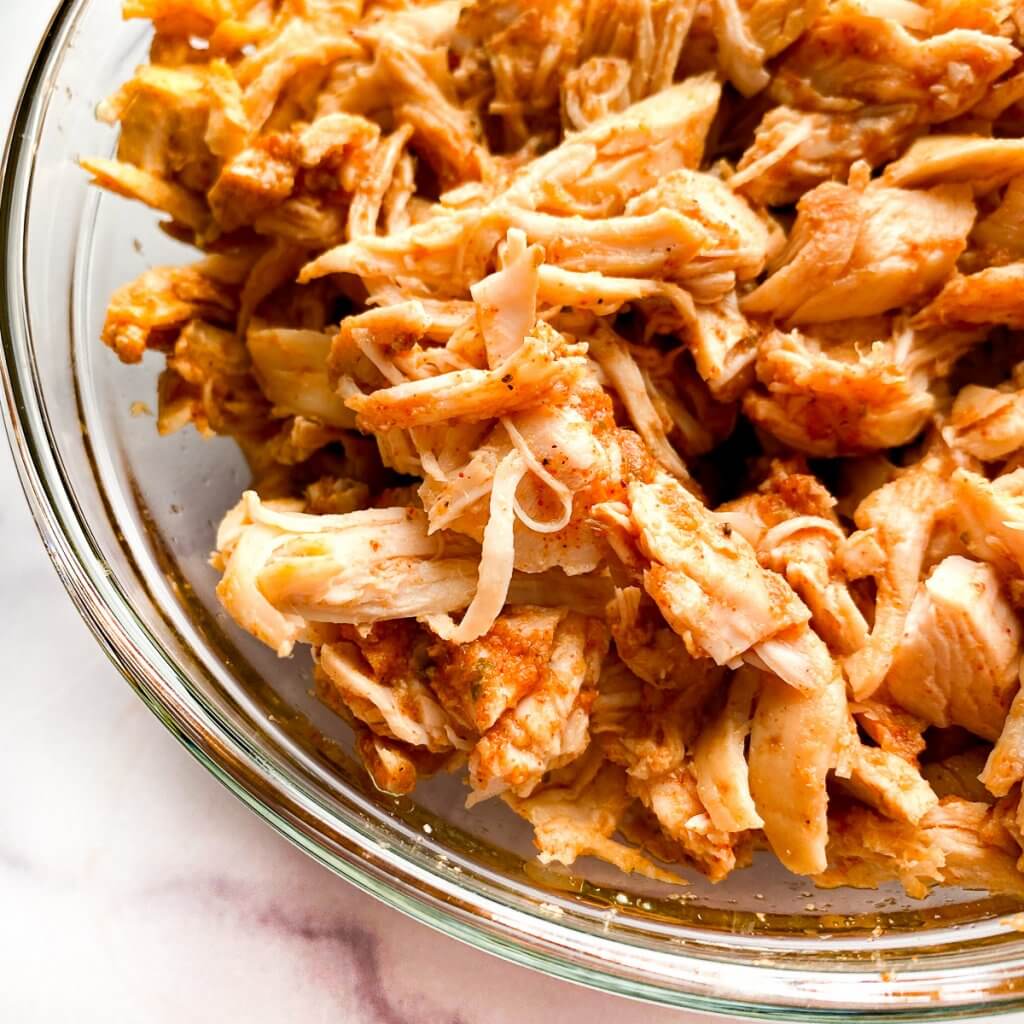 I just love my Instant Pot, also known as a pressure cooker. It's become one of my best friends in the kitchen because it's quick and it really feels like I have an extra pair of hands to help out. One of the first recipes I made in it was actually this shredded chicken recipe. It requires just a few basic ingredients, not even a full minute of prep work, and its almost completely hands off so I can do other things while it's cooking.
If you've been here awhile you know my easy baked chicken recipe is such a staple. I actually use the same very popular "all purpose" seasoning mix in this recipe which in my opinion makes it even more tasty!
You're going to love this Instant Pot Shredded chicken recipe
tender, juicy, and not over cooked– so often chicken breast gets a bad rap because it's just cooked improperly, this recipe is so good!
full of great flavor that will compliment any recipe you add it to– love that it's all purpose! I love rotisserie chickens, but they can get expensive when needing already cooked and shredded chicken for multiple meals
quick and easy– love being able to have this going while I'm prepping other ingredients for a recipe or meal prep
requires just a few basic ingredients
freezer friendly! I can't tell you how many times I've grabbed a container or bag out of the freezer and said to myself, "thank goodness I do this!".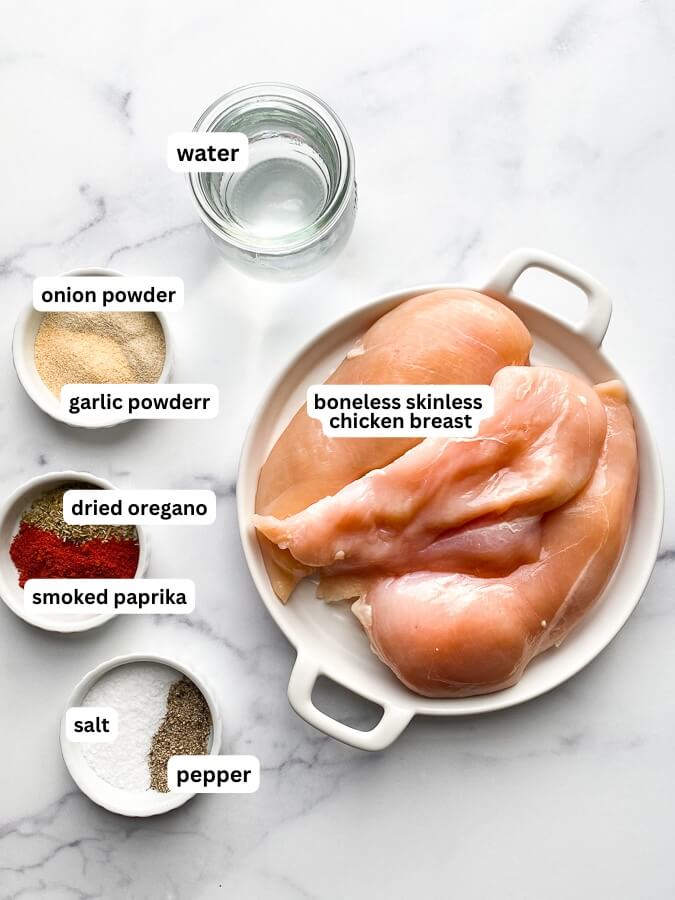 Ingredients & Substitutions
Boneless Skinless Chicken Breasts: You can also use boneless skinless chicken thighs or a mixture of the two if you like dark meat. Make sure the chicken breasts are not the thin sliced breasts and are all generally the same size so they cook evenly.
Chicken Broth (or water): I use chicken broth or water interchangably depending on what I have on hand. You can just use water or you can add 1 teaspoon of bouillon (such as better than bouillon) into the instant pot with the water for extra flavor.
Seasonings: For an "all purpose" shredded chicken recipe I stick to simple spices like smoked paprika, oregano, garlic, onion powder, and salt and pepper.
How to make shredded chicken in the Instant Pot:
Prep. In the Instant Pot place chicken breast, 1 cup of chicken broth (or water), 1 tsp kosher salt, garlic powder, and onion powder followed by 1/2 tsp dried oregano, smoked paprika, and pepper.
Pressure Cook. Seal the lid. Select Manual High Pressure for 10 minutes. It will take about 8-10 minutes for it to come to pressure. Let it cook.
Release pressure. When the cook time is finished let pressure naturally release for at least 8 minutes before letting the rest of pressure release.
Shred. When the chicken has finished cooking. Remove chicken and place into bowl. Gently shred with two fork into chunky pieces. If you're looking for a super fine shred you can use a hand mixer or stand mixer, but I prefer the pieces to be piece-y and recommend it most. Add liquid back into the chicken and stir well. This makes it extra flavorful and helps keep it moist.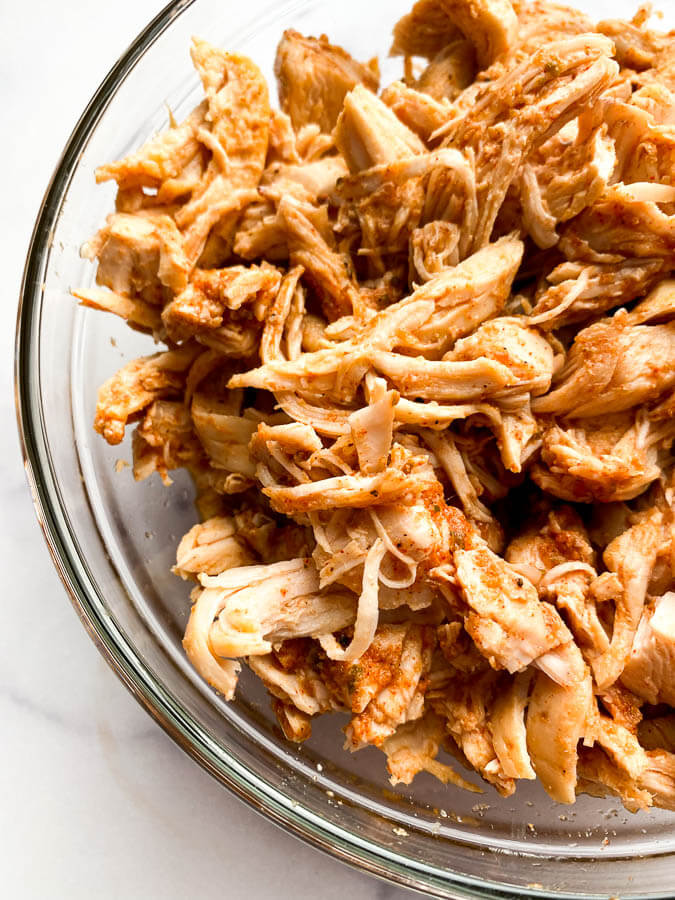 What to use Instant Pot Shredded Chicken in:
The options for Instant Pot Chicken Breast are kind of endless. This is such an easy, healthy, and budget friendly protein to add into so many different meals for easy lunches and dinners. Here are some ideas!
Instant Pot Shredded Chicken Variations
Southwest Shredded Chicken: Use 1 cup of salsa and a packet of taco seasoning in place of seasoning mix.
BBQ Shredded Chicken: In addition to the seasoning mix add 1 cup favorite BBQ sauce.
Buffalo Shredded Chicken: Add a packed of ranch dressing seasoning + 1/2 cup buffalo wing sauce in addition to seasoning mix.
Use frozen chicken breast: Add an extra two minutes to pressure cook time.
Double the recipe: Need a big batch? Just add a couple minutes to the high pressure cook time.
Slow Cooker instructions: Crockpot Shredded Chicken
How to store and reheat
Storage: Place cooked and shredded chicken with its juices in an airtight container in the refrigerator for up 4 days.
Reheat: I usually add the shredded chicken to recipes and heat it that way, but if you'd like to heat just the chicken add a couple tablespoons of broth or water to a pan on medium low heat. You can also use the microwave, but it's not my favorite method.
How to freeze Instant Pot Shredded Chicken
I like to freeze shredded chicken in 1-2 cup increments. Add chicken to a freezer safe container/freezer bag. For best results make sure the chicken is completely cool before freezing and if using a bag squeeze as much air as possible out. I'm a big fan of my vacuum sealer for things like this so it can last longer without chance of freezer burn. It will last for 3-4 months in the freezer, longer if vacuum sealed.
More Instant Pot Chicken Recipes
The post for Instant Pot Shredded Chicken was originally posted 08/13/2019, but was updated with better photos, information, and user experience on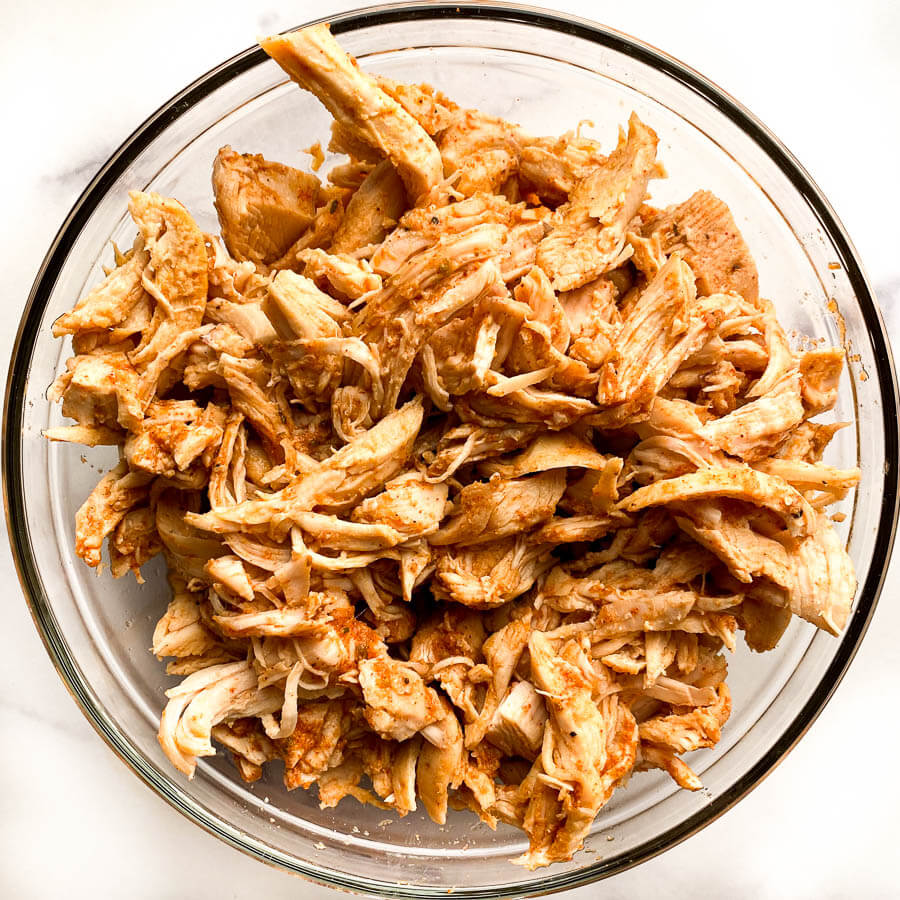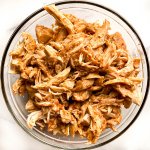 Print
Instant Pot Shredded Chicken
Instant Pot Shredded Chicken is fall apart easy to shred, perfectly flavored, and great to have on hand!
Materials
2

lbs

chicken breast, raw

1

cup

chicken broth

(or water)

1

tsp

kosher salt

1/2

tsp

pepper

1/2

tsp

smoked paprika

1

tsp

oregano

1

tsp

garlic powder

1

tsp

onion powder
Instructions
In the Instant Pot place the chicken breast, chicken broth, and seasonings. Stir.

Close and seal lid. Set Instant Pot to manual high pressure for 10 minutes. After cook time is done let it natrually release for 8-10 minutes. Then do a quick release the rest of the pressure (if there is any).

Remove chicken and about 1 cup of the broth. Place chicken and pour the broth into a bowl. Shred with two forks or a hand mixer. Enjoy!

Storage: Store shredded chicken and extra juices/broth in an airtight container in the refrigerator for up to 4 days.Freezer Instructions: Freeze into 1-2 cup portions in freezer safe container for up to 4 months.
Notes
Makes 4 cups cooked chicken
Weight Watchers Points: 0 Points (any amount)
(1/2 cup) 131 Calories 1g fat, .3g saturated fat, 0g carbohydrates, 0g fiber, 0g sugar, 36g protein