Crockpot BBQ Pulled Chicken
This post may contain affiliate links (meaning I earn a small comission if you purchase an item through a link I provide) I only provide shoppable links to items I love and are helpful. As an Amazon Associate, I earn from qualifying purchases.
Raise your hand if you need this Crockpot BBQ Pulled Chicken recipe. I'll raise it for you, trust me you do! If you're a fan of BBQ Pulled Chicken you must try this one! It's sweet, spicy, smoky, savory perfection and dials back a ton on the sugar content of regular good ol' BBQ. We love it!
I came about this recipe last Fall when I wanted to make a big batch of Chicken BBQ Sandwiches for a family get together. I hopped on google to find a simple recipe that I could use the next day… and all I found were recipes that used a bottle of already made BBQ sauce plus a few ingredients (more sugar) and chicken. Now, I have absolutely nothing against using some sweet baby ray's in bbq chicken. It's one of the most popular bbq on sauces on store shelves for a reason. Growing up my mom made pulled pork and ribs using it so I'm a big fan.
But, I wanted something that didn't have the sugar content of a snickers bar in between two hamburger buns. I decided to try my hand at my own and oooooh baby, it's some good stuff and it's ridiculously easy to throw together. Oh!! and the homemade coleslaw on top? It's a must make if you like that sorta thing. The perfect spicy creamy crunch that any good sandwich deserves. Also good? Melted cheese. Let's be real, melted cheese is always the answer unless you're allergic to cheese… I'm very sorry if you are.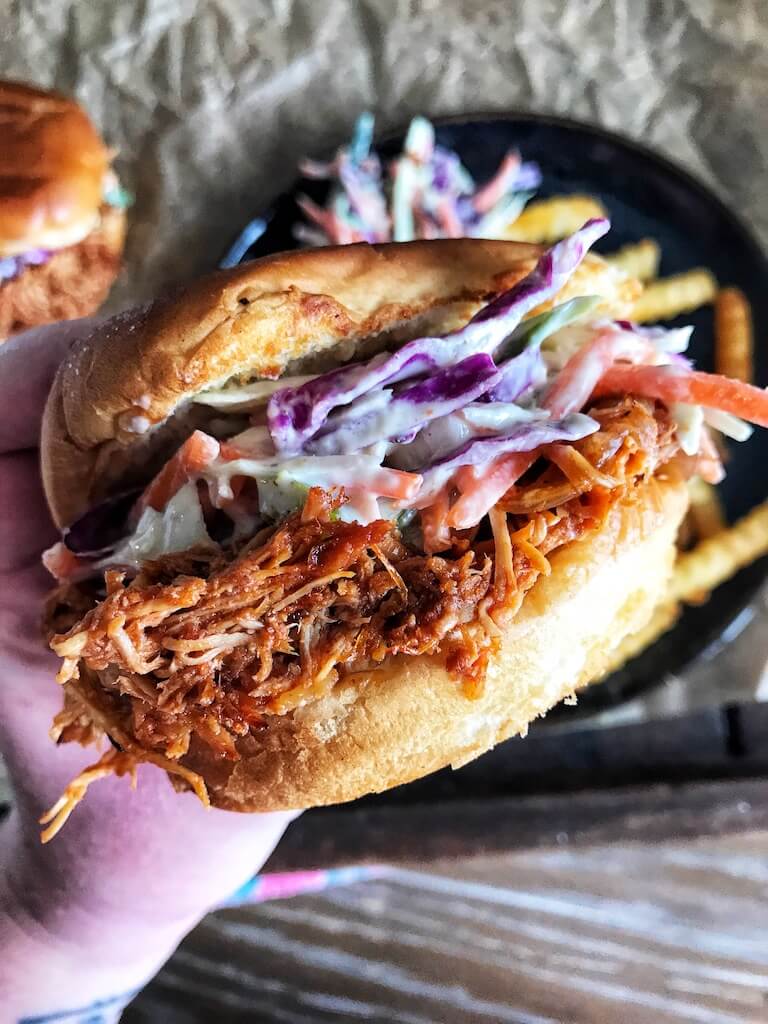 Let's get into the kitchen and make Crockpot Pulled BBQ Chicken Sandwiches!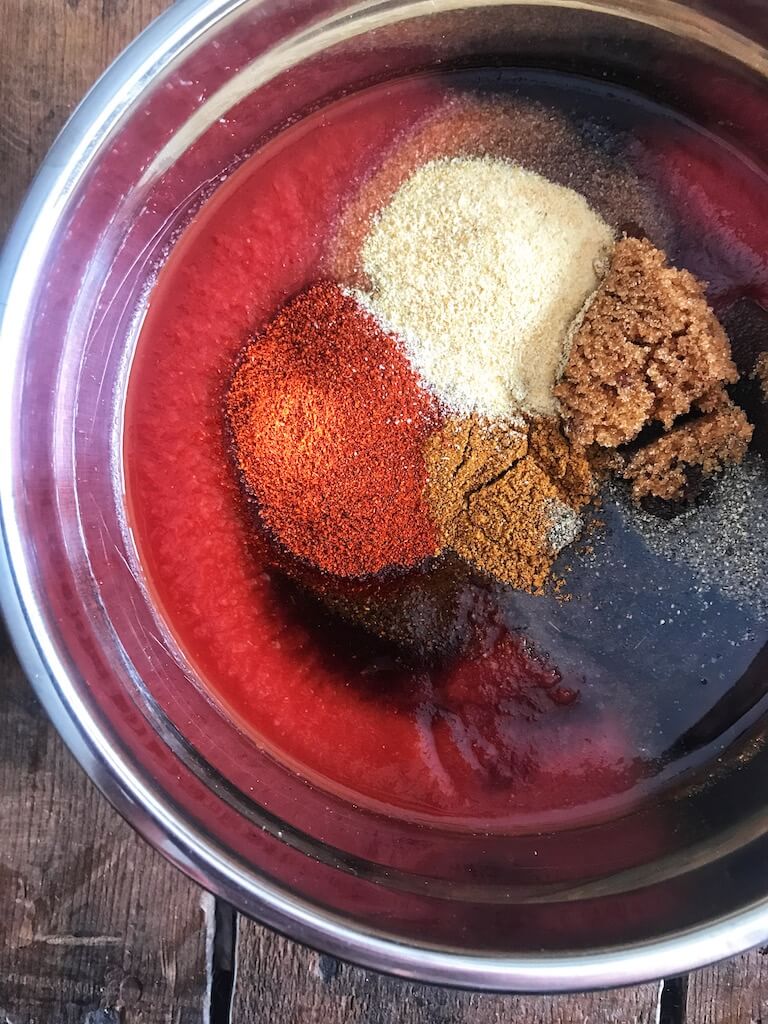 Start off with a bowl and throw a can of tomato sauce, 2 tbsp brown sugar, 1/4 cup of balsamic vinegar, 2 tbsp Worcestershire sauce, 2 tsp smoked paprika, 2 tsp garlic powder, 1 tsp chili powder, 1/8 tsp cayenne pepper, 1/4 tsp pepper, and 1 tsp kosher salt. Stir together well.
If you want to make this completely sugar free you can omit the brown sugar and use 3 tbsp my favorite brown sugar replacement or omit it completely because in a minute here we're going to add some pineapple and that helps make it sweet too!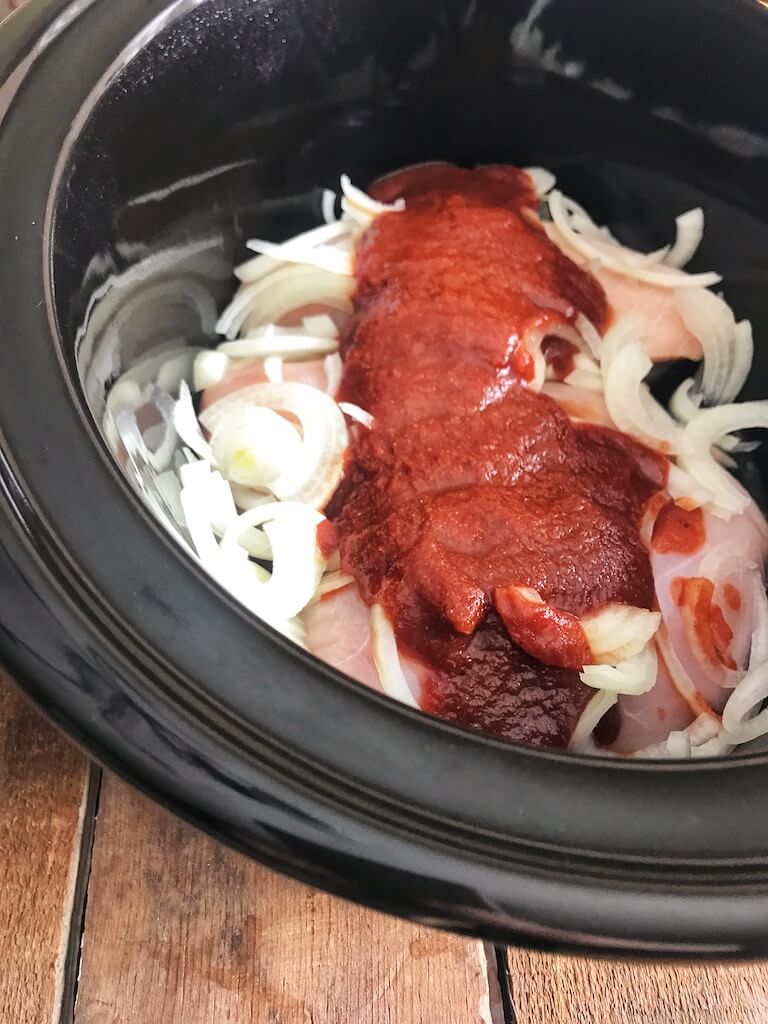 Alright, now add 2 lbs raw chicken breast, 1 medium thinly sliced yellow onion, 1 cup chopped pineapple (see next photo), and all of the bbq sauce mixture into a crockpot that's been lightly sprayed with some cooking spray. Stir to incorporate everything.
Cook on low for 7-8 hours or high for 4 hours.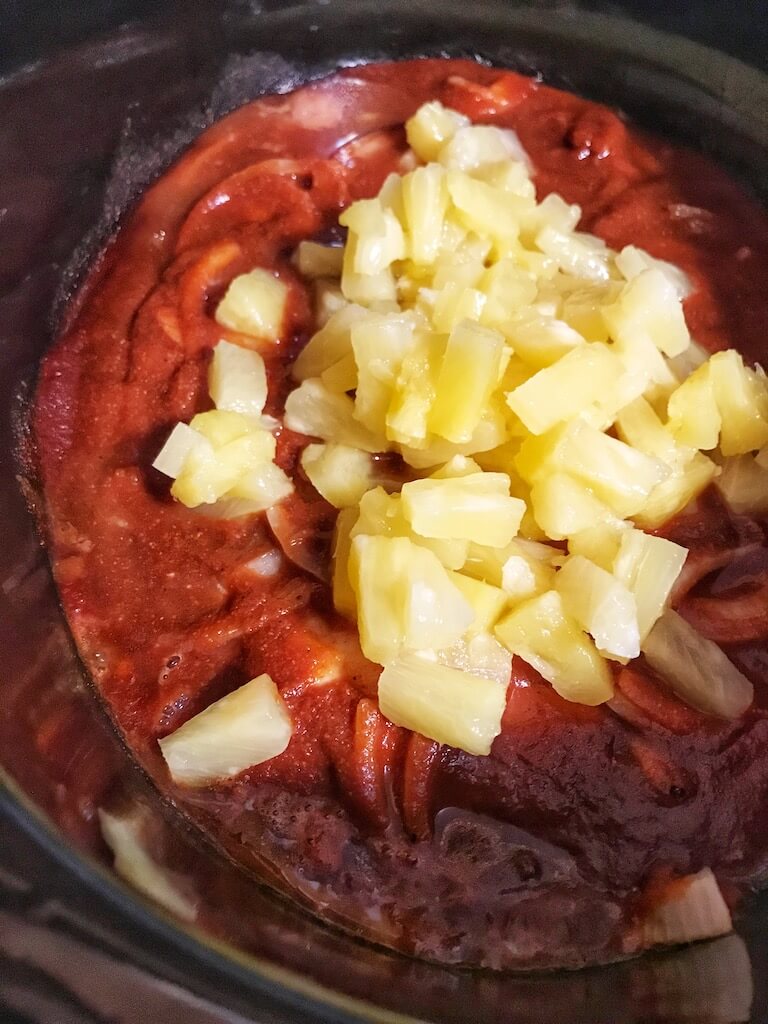 You know how sometimes when you're doing two things at once and you totally forget what you're doing? No? Welcome to my world. This Slow Cooker BBQ Pulled Chicken had been cooking for about an hour and I realized I forgot one of the most important ingredient! I didn't just forget to put it in… I forgot it at the store! And, I knew I didn't have any fresh on hand so I rummaged threw the pantry and thank goodness I had a can in there because I really wanted to get this recipe done and on the blog for y'all to see and make this week.
This is a can of Dole pineapple tid bits in 100% pineapple juice with no sugar added. If you're not sure about using canned, that's fine, folks! Use fresh! I usually use fresh in this particular recipe, but I'm happy to know now that using the canned pineapple was just as delicious.
I know I'm gonna be asked why I decided to add pineapple to this and the answer is that I was at a BBQ joint quite awhile ago and I remembered them having a stupid delicious BBQ sauce that was called "Smoky Chipotle Pineapple" and I loved it so I threw it in mine and crossed my fingers. Inspiration is everywhere. Ha!
How to make quick and easy Coleslaw: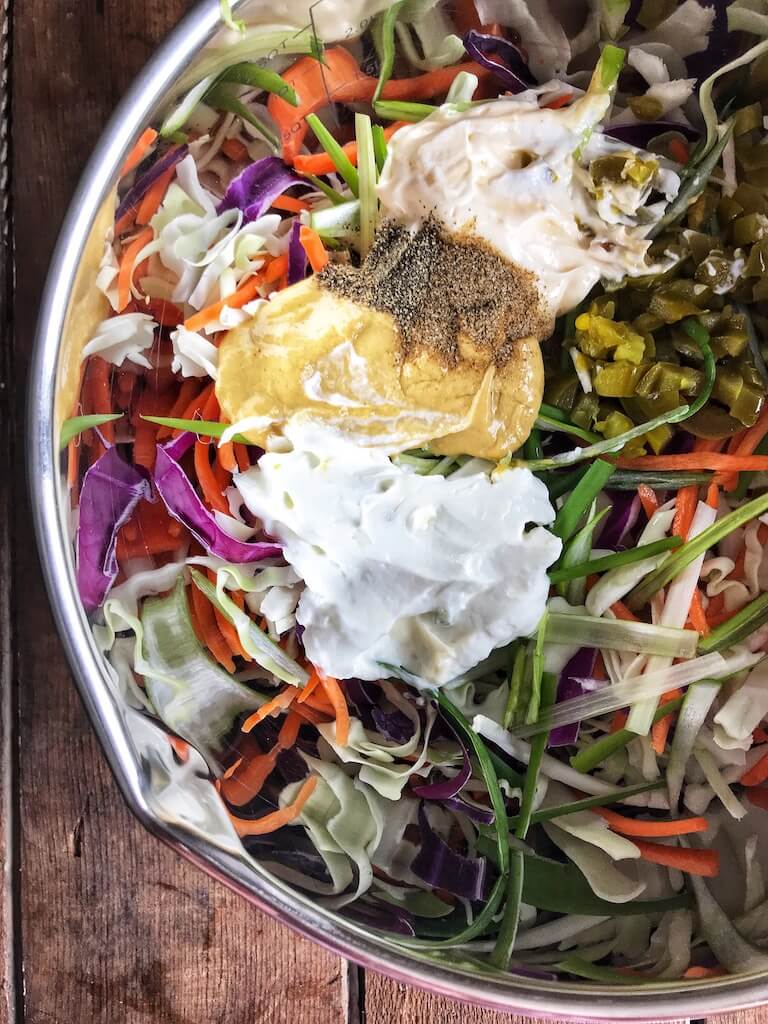 Now for some coleslaw! You don't have to do this, but you should do this especially if you enjoy coleslaw on your sandwiches. It really does add such a satisfying and fresh crunch to a BBQ pulled Chicken Sandwich!
In a bowl, place three cups shredded purple and/or green cabbage and two cups shredded carrots and a few green onions sliced thin lengthwise. Make life easy and just buy it already done in the produce section! I like more of an even carrot to cabbage ratio in my coleslaw so I don't buy the prepackaged coleslaw mix (no dressing) because it's mostly cabbage with like a sprinkle of shredded carrots, but if you wanna buy that. It'll work too!
Add in 2 tbsp chopped pickled jalapeños, 1-2 tsp of brine from the pickled jalapeño jar, 1 tbsp apple cider vinegar 3 tbsp non fat greek yogurt, 1/4 cup light mayonnaise, 2 tbsp dijon mustard, 1/2 tsp celery salt, and 1/8 tsp cumin.
Stir together well and add some salt and pepper to taste! It tastes best if you let the flavors marinate all together for at least an hour or so, but also very good right after it's mixed up. You can also make this up to 24 hours ahead of time.
Don't feel like coleslaw? Melt some cheese on it. It's so, so good.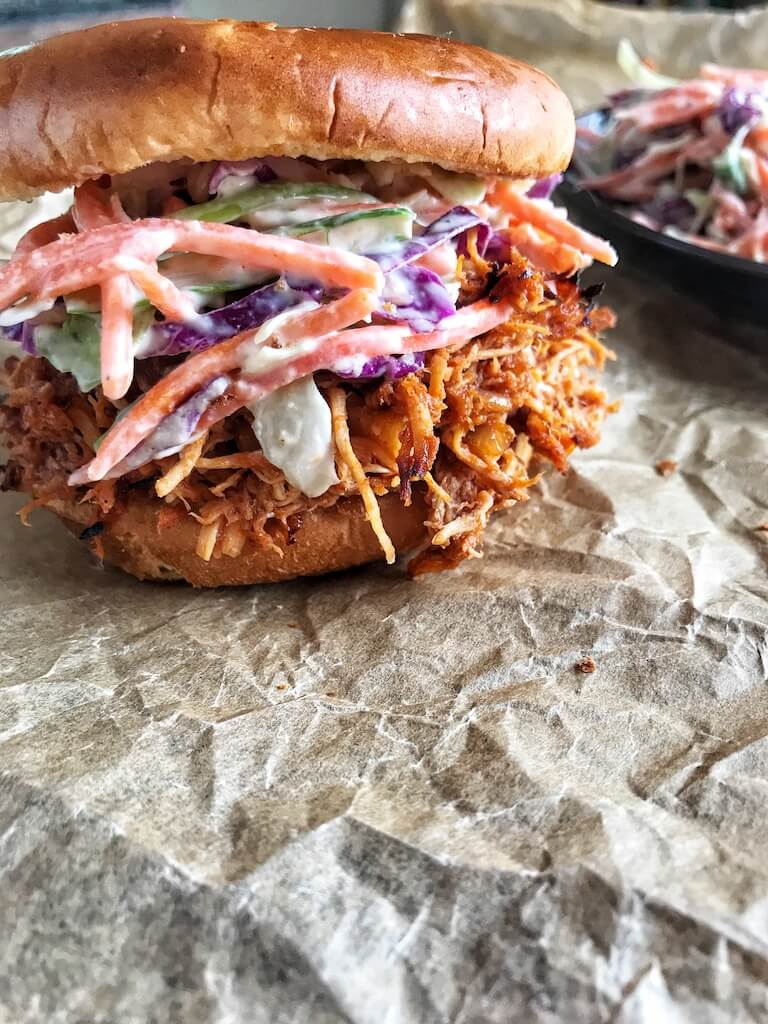 When the bbq pulled chicken is all done take it out of the slow cooker and shred with two forks. Place back into the slow cooker for about a half hour and continue to cook on low.
Grab a soft hamburger bun, add chicken, and coleslaw. Chow down!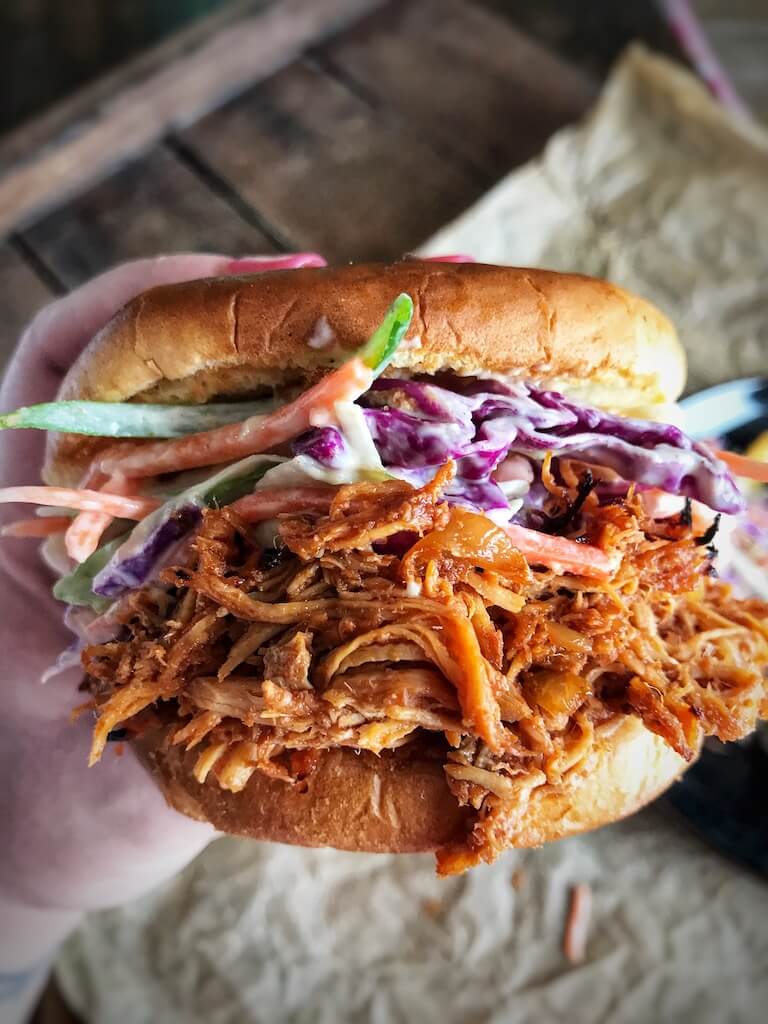 What to do with Crockpot BBQ Pulled Chicken:
Add to a baked sweet potato/white potato with cheese, diced green onions, and maybe even a lil bacon. Mmmm!
Make these simple sandwiches with a hamburger bun & homemade coleslaw.
Add to tacos!
Add next to rice & roasted vegetables for a quick and delicious Meal prep.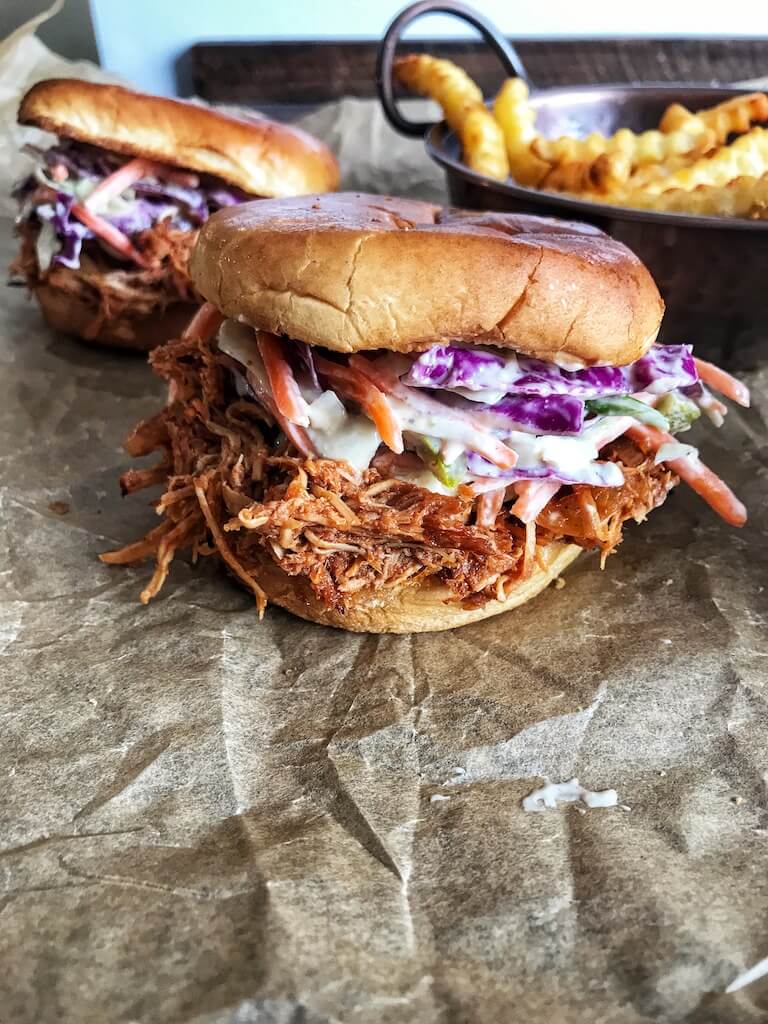 Oh my gosh my mouth is watering thinking about how tasty this is. I seriously cannot wait for dinner tonight because I've been enjoying leftovers for a couple days now and I'm already thinking about an acceptable amount of time before I can make it again.
I know there seems to be a lot of ingredients on that recipe card below, but remember there's technically two recipes. Crockpot Pulled BBQ Chicken AND Coleslaw! I went ahead and divided the ingredients, instructions, and ww points/calories into two separate categories for you so that you don't have to guess which is which and if you just want to make the chicken and not the coleslaw- it'll be super easy!
I hope you love it so much! Comment and rate it if you get a chance!
With love from my kitchen to yours, Star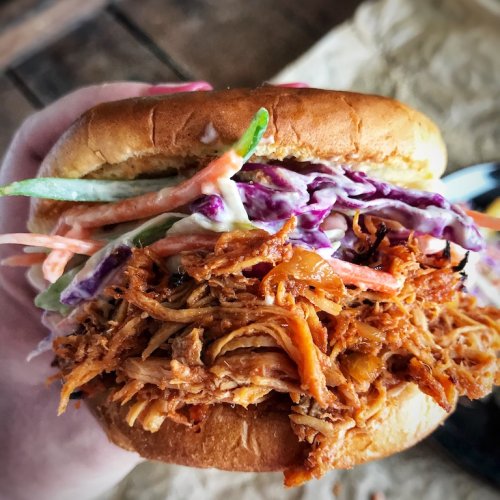 Print
Crockpot BBQ Pulled Chicken
A healthy, crave-worthy, sweet, and smoky bbq pulled chicken recipe made in the crock pot.
Materials
2

lbs

chicken breast

raw

1

medium

yellow onion

cut into thin slices

1

cup

pineapple

chopped into small peices

1-

15 oz can

tomato sauce

¼

cup

balsamic vinegar

2

tbsp

Worcestershire Sauce

2

tbsp

brown sugar

1

tsp

chili powder

2

tsp

smoked paprika

2

tsp

garlic powder

1

tsp

kosher salt

1/4

tsp

pepper

1/8

tsp

cayenne pepper

more or less depending on spice preference. remember you can always put more spice in, but you can't really take it out.
Coleslaw (optional to make sandwiches with):
3

cups

green/purple cabbage

shredded

2

cups

carrots

shredded

3

green onions

sliced thin

1/4

cup

pickled jalapeños

chopped small (about two tablespoons)

1-2

tsp

jalapeño brine

from the picked jalapeño jar

1

tbsp

apple cider vinegar

1/4

cup

light mayo

i like hellman's

3

tbsp

non fat greek yogurt

2

tbsp

dijon mustard

1/2

tsp

celery salt

1/8

tsp

cumin

salt and pepper

to taste
Instructions
Crockpot BBQ Pulled Chicken:
In a bowl add tomato sauce, balsamic vinegar, worcestershire sauce, brown sugar, chili powder, smoked paprika, garlic powder, and salt & pepper. Stir together well.

Lightly spray a crockpot with cooking spray and add chicken breast, onions, pineapple, and bbq sauce mixture. Cook on low for 7-8 hours or on high for 4 hours. When the chicken is done cooking, remove from crockpot and shred apart with two forks. Place back into the crockpot and continue to cook on low for 30 minutes. Salt and pepper to taste.
Coleslaw:
In a bowl add cabbage, carrots, green onions, greek yogurt, mayo, mustard, apple cider vinegar, and spices. Stir well until combined. Salt and Pepper to taste! Make up to 24 hours in advance.
Sandwiches:
If making BBQ Chicken sandwiches with coleslaw grab your favorite hamburger bun or roll add 1/2 cup chicken and 1/2 cup coleslaw. Enjoy!
Notes
BBQ Pulled Chicken Serving size: 1/2 cup
109 calories 1g fat, 0g saturated fat, 200g sodium, 4.5g carbohydrates, 0g fiber, 3g sugar, 0g added sugar, 0g sugar alcohol, 26g protein
WW Points for Chicken: 1

Creamy Coleslaw (Makes about 6 cups)
Serving size: 1/2 cup
34 calories, 2g fat, 0g saturated fat, 150g sodium, 0g sugar, 0g added sugar, 0g sugar alcohols, 2g carbohydrates, 1g fiber, 1g net carbs, 0.5g protein
WW Points: 0
Note: Hamburger buns not included in points or nutritional info since they can range in size/nutrition/points, but you'll need those too if you're making sandwiches! I like the butternut brand.