This post may contain affiliate links (meaning I earn a small comission if you purchase an item through a link I provide) I only provide shoppable links to items I love and are helpful. As an Amazon Associate, I earn from qualifying purchases.
There's nothin' too fancy about this Classic Egg Salad. It's got a lot of flavor and it's zero fuss. It makes for a delicious lunch any day of the week!
Hey there, Hi there, Ho there! Was that from a tv show long ago? Tool Time, was that the name? Tim Allen? No? Did I just make that up? Do I need another glass of cold brew this morning?
(Just in case some of you don't know what Cold Brew is, it's very strong coffee. I don't want any new readers to see the word brew and think, "is this lady drunk at 8 am?" the answer is no, I'm not drunk at 8 am.. not today at least. Kidding!)
Anyway, Happiest of Fridays to you, my dear friends. Truthfully, I never post recipes on Fridays because no one is around. Like everyone is all, "It's the freakin' weekend baby- Let's Party!!!" Okay, maybe not exactly. I don't think I have a bunch of college kids following my blog and waiting to make egg salad during the week. Truthfully, I don't think many people see stuff on Friday evening posts, but I hope you see this, because man alive, it's good. Now let's make some EGG SALAD!
I have a few different variations of egg salad. There's Dill Pickle, hot Jalapeño, and then naturally I've got one that's loaded up with some cheese and bacon. But today, we're gonna keep it real simple. Maybe next time around I'll get one of these Egg Salad variations up on this here blog a week before Easter, instead of after the time your really need a delicious Egg Salad recipe (because you have several thousand hard boiled eggs). Please forgive me! I know this post is late, but better late than never, right? That's my motto. Oh yeah, I also have these Crispy Egg Salad Melts that sound kinda strange, but they are delicious, and ya'll will love'm. We're gonna keep it classic this time because a classic and scrumptious egg salad recipe is like a little black dress or a good pair of boots. We all need one. Am I right or am I right? I could sit here and chat for hours as you can tell, but let's just get to where we are going…
In the kitchen: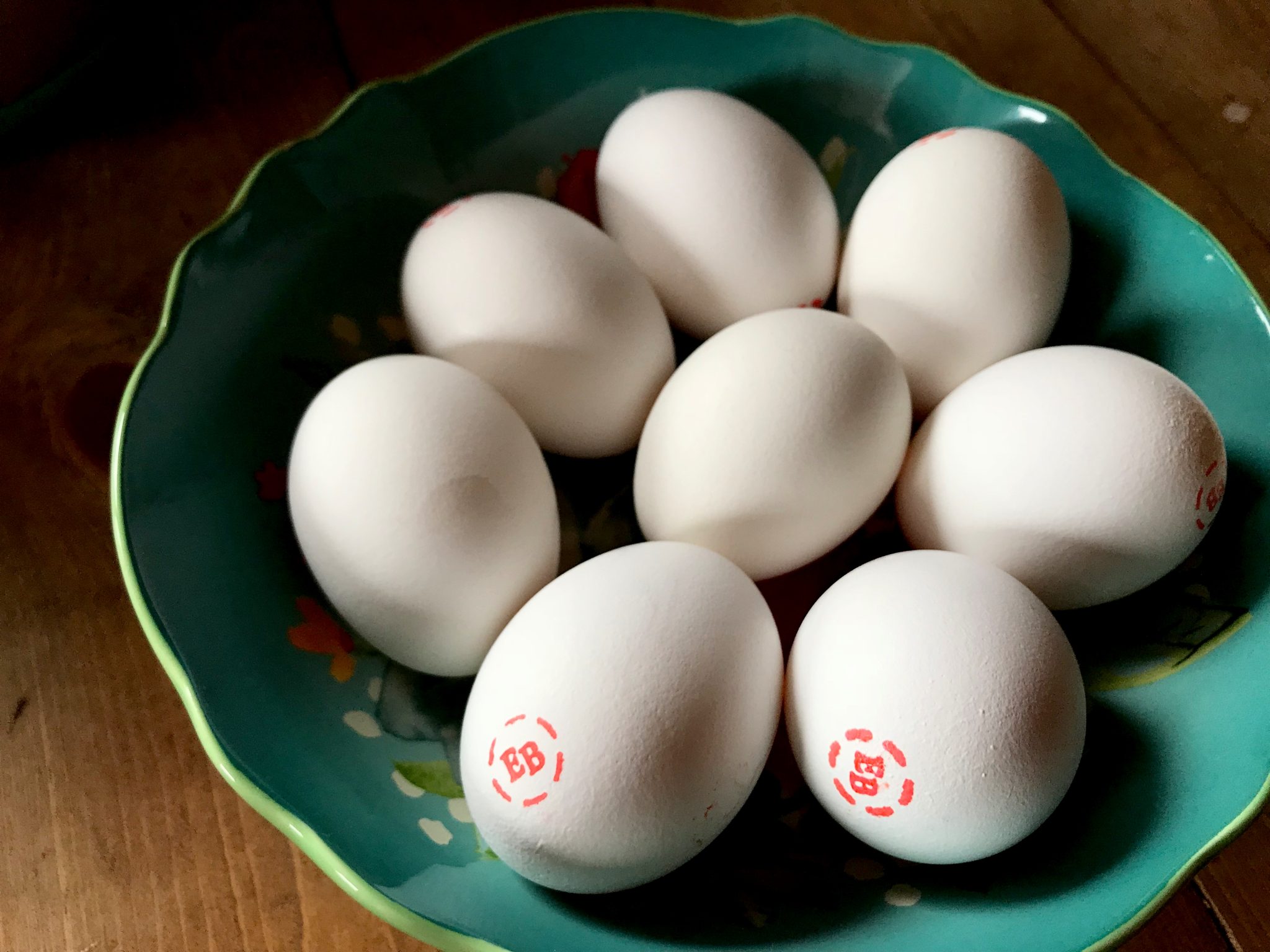 Let's talk about how to hard boil'm real quick. I feel as if everyone has their own tips & tricks on how to hard boil an egg. Some people add vinegar, some add salt, some use an Instant Pot, some use a little egg steamer contraption, some put'm in the oven (excuse me, what?), and well, my mom puts a pot on to boil, puts the eggs in, walks away, and tries to tell my sister and I that it only takes 5 minutes (but she doesn't set a timer). My mama is one of the most hilarious people in the kitchen! She never sets timers, she never temps chicken, she never measures anything. She's my idol… She's fearless in the kitchen. Wanna know how annoying it is to follow your mom's directions for hardboiled eggs, when you need to make a couple dozen deviled eggs for a party? Boil eggs for 5 minutes. You'll sure find out.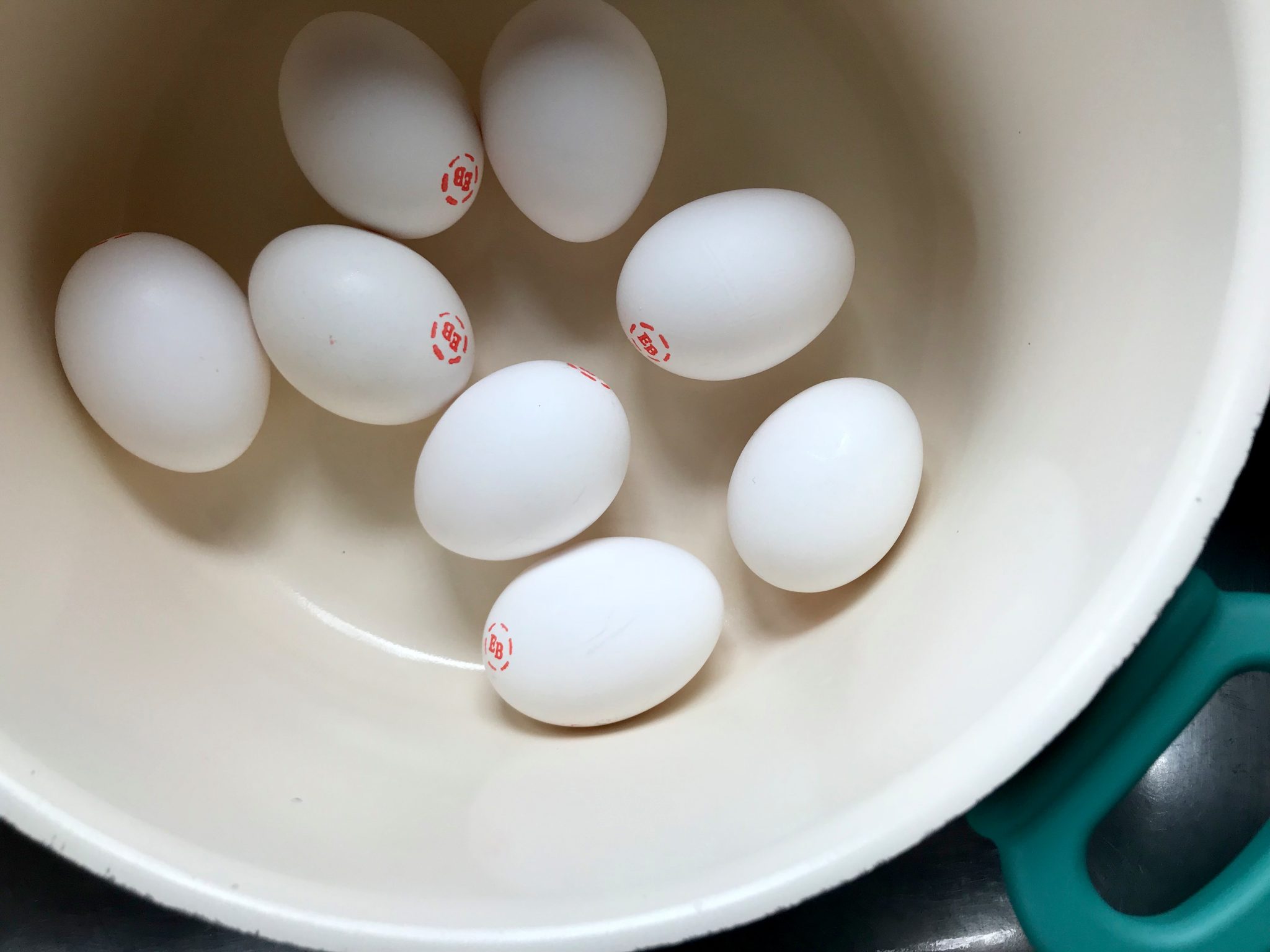 Let's start with a pot. I use a 3-qt pot, and I GENTLY place the eggs on the bottom in a single layer.
Then add the water, until our eggs are about an inch below the surface.
Let's bring'r to a boil. When she's boiling, go ahead and remove from the heat, cover with a tight fitting lid, and SET A TIMER for 12 minutes. Go about your business. I normally go see what Miss Pepper is getting into… Wanna know what it was this time? She put a banana peel in the toilet. It's fine… Life is good.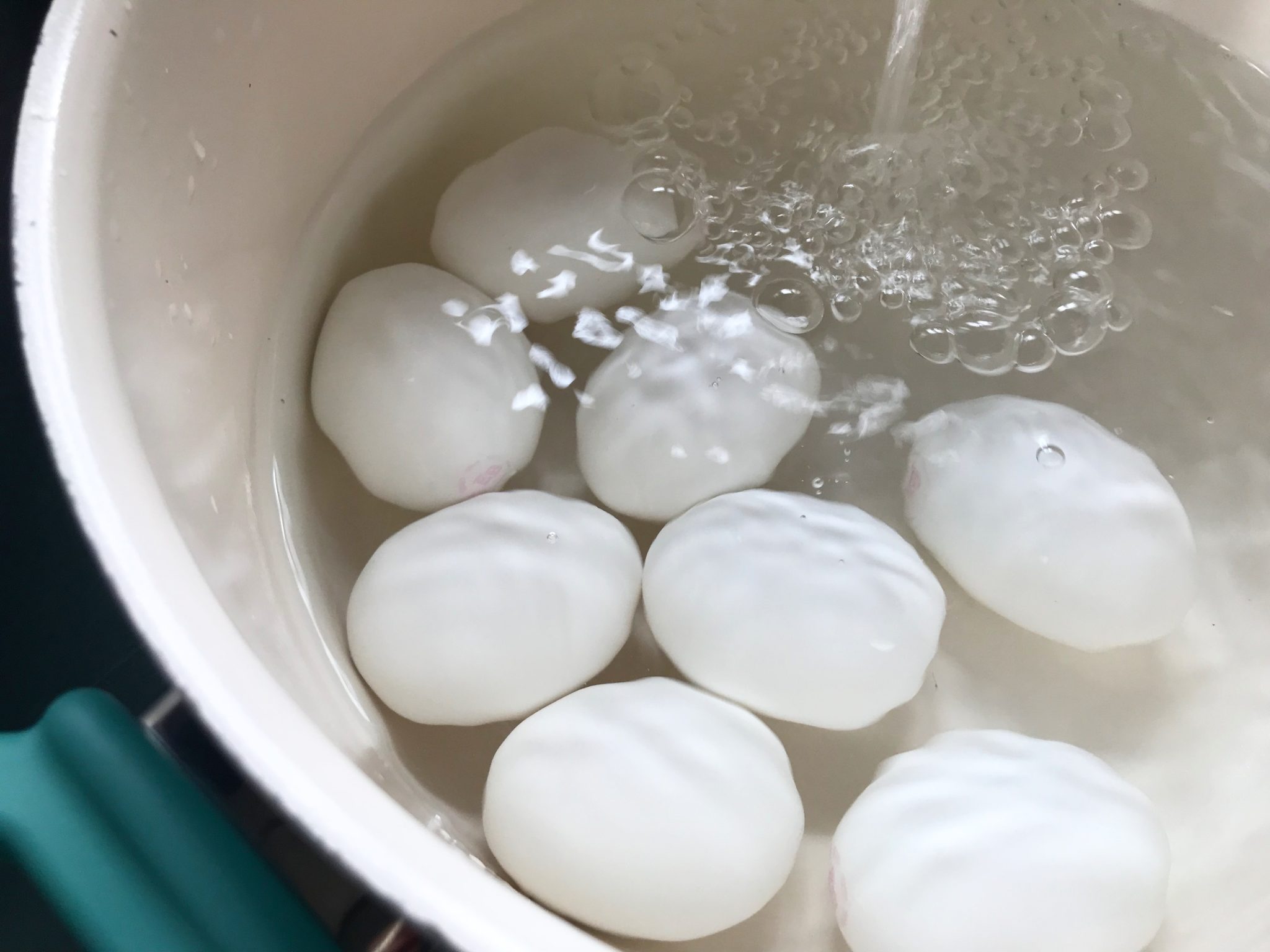 When the timer goes off run, don't walk!… Just kiddin', kinda. All I'm saying is don't be takin' your sweet time, Get yourself to that pot of eggs. I personally put the pot of water in the sink, turn the faucet on cold, and let the cold water run over the eggs. I then gently tip the pot to allow the water to drain while the cold water is running over the eggs. Continue letting the cold water run over the eggs for a couple minutes. I hope that doesn't sound confusing. Truthfully, it's the easiest way for me. I don't wanna deal with getting ice and doing an ice bath, etc, etc.
Why all the cold water? As long as the eggs remain pretty hot/warm, they continue to cook… especially because they are in a shell, and there's no good way for all the heat to escape. You'll want to stop them from cooking, because if you don't then they get that greenish color around the yolk, and they may start to smell. (I've had people ask how to get the egg smell out of the kitchen. Honestly, my kitchen never smells like eggs anymore, so I think it might be that the eggs are being overcooked when they get that smell.)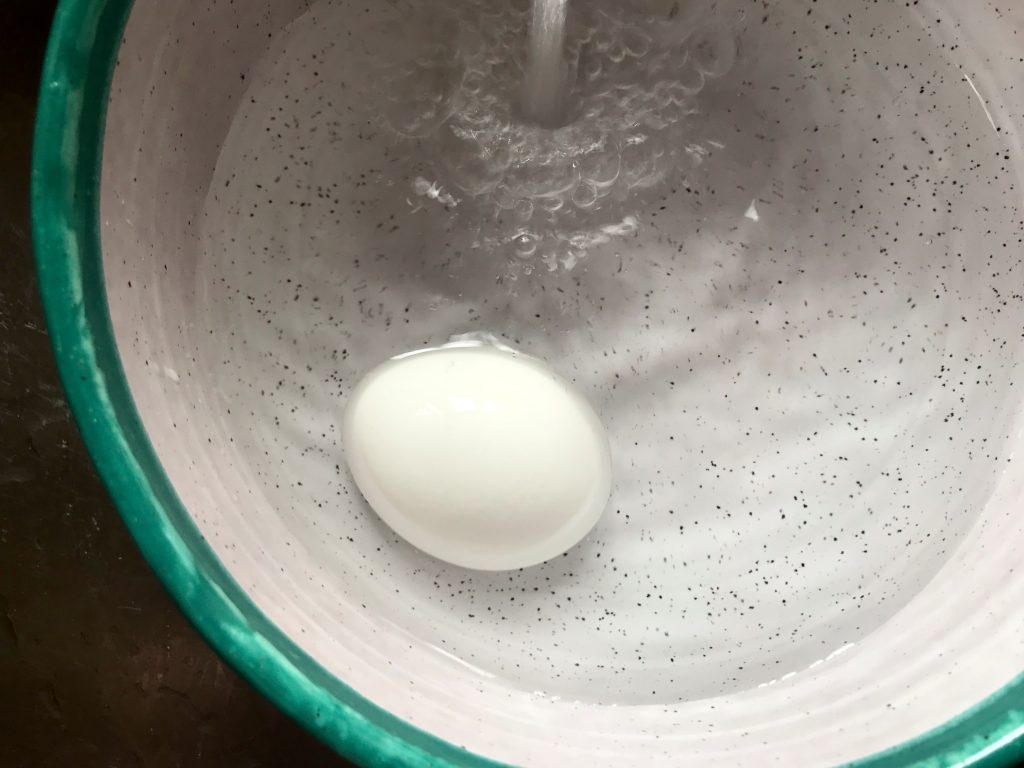 Now to peel the eggs! This can be the most dreaded part, right? I grab a small bowl, and continue to run cool water out of the faucet down into the bowl.
I then hold the egg under the water in the bowl, and peel. This makes peeling almost effortless!
Alright, alright! We're done with the egg peeling part of the post. I feel like that was a lot of information about some hard boiled eggs. I hope it helps because truthfully it took me years to learn how to hard boil eggs properly. It's mostly because my mom misinformed me at a very young age and I thought that I was just doomed, and that I would never make a proper egg salad or a batch of deviled eggs, Ever.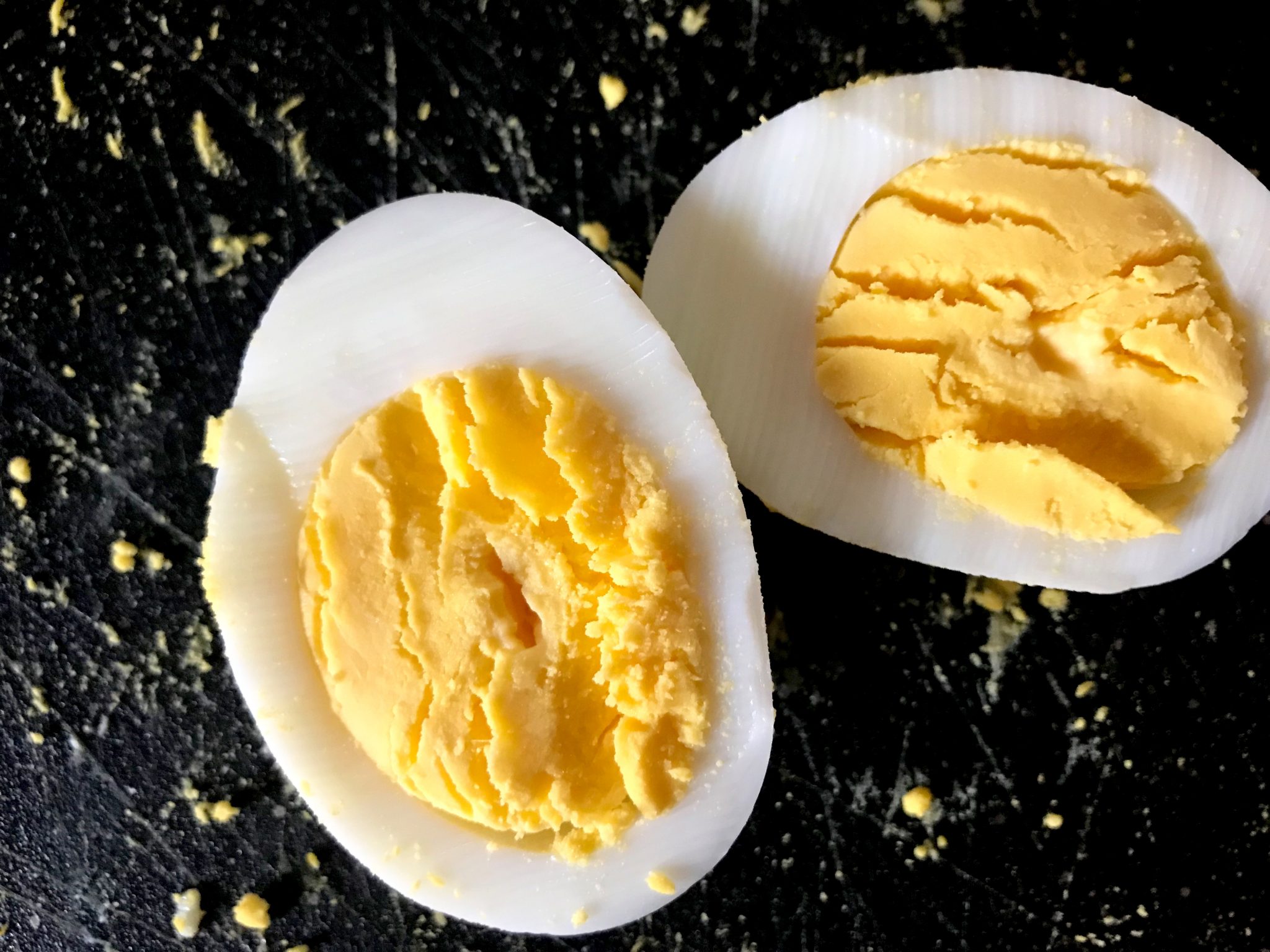 Look at that yolk. Just look at it! I mean, I love it!
Now chop those eggs up roughly. We don't need to be perfect about this, I promise.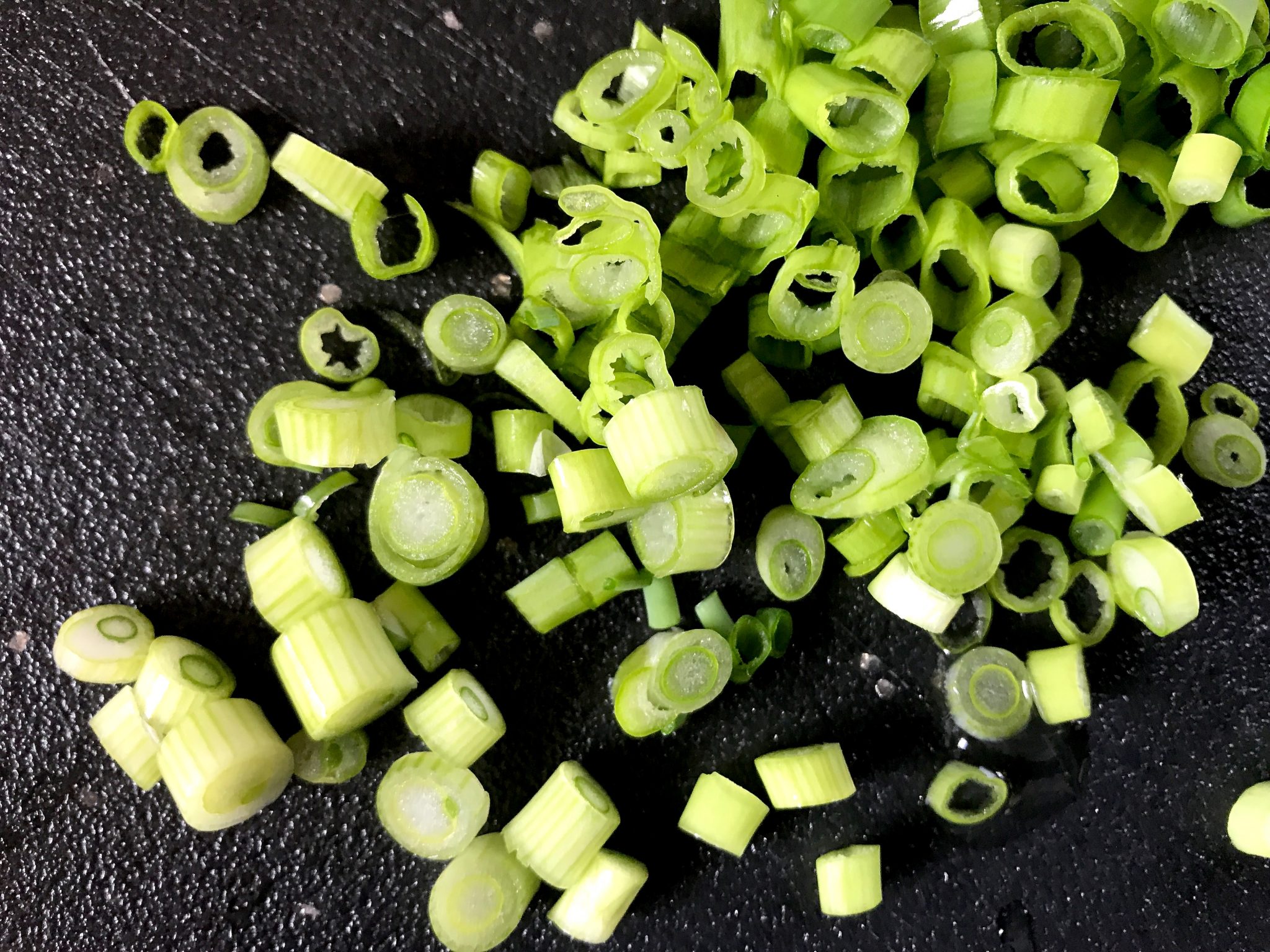 Now grab some green onions (chives will work here too) and chop 'em up! I usually do about 1/4 cup worth, sometimes a little more if I'm feelin' it. Throw'm in with the eggs.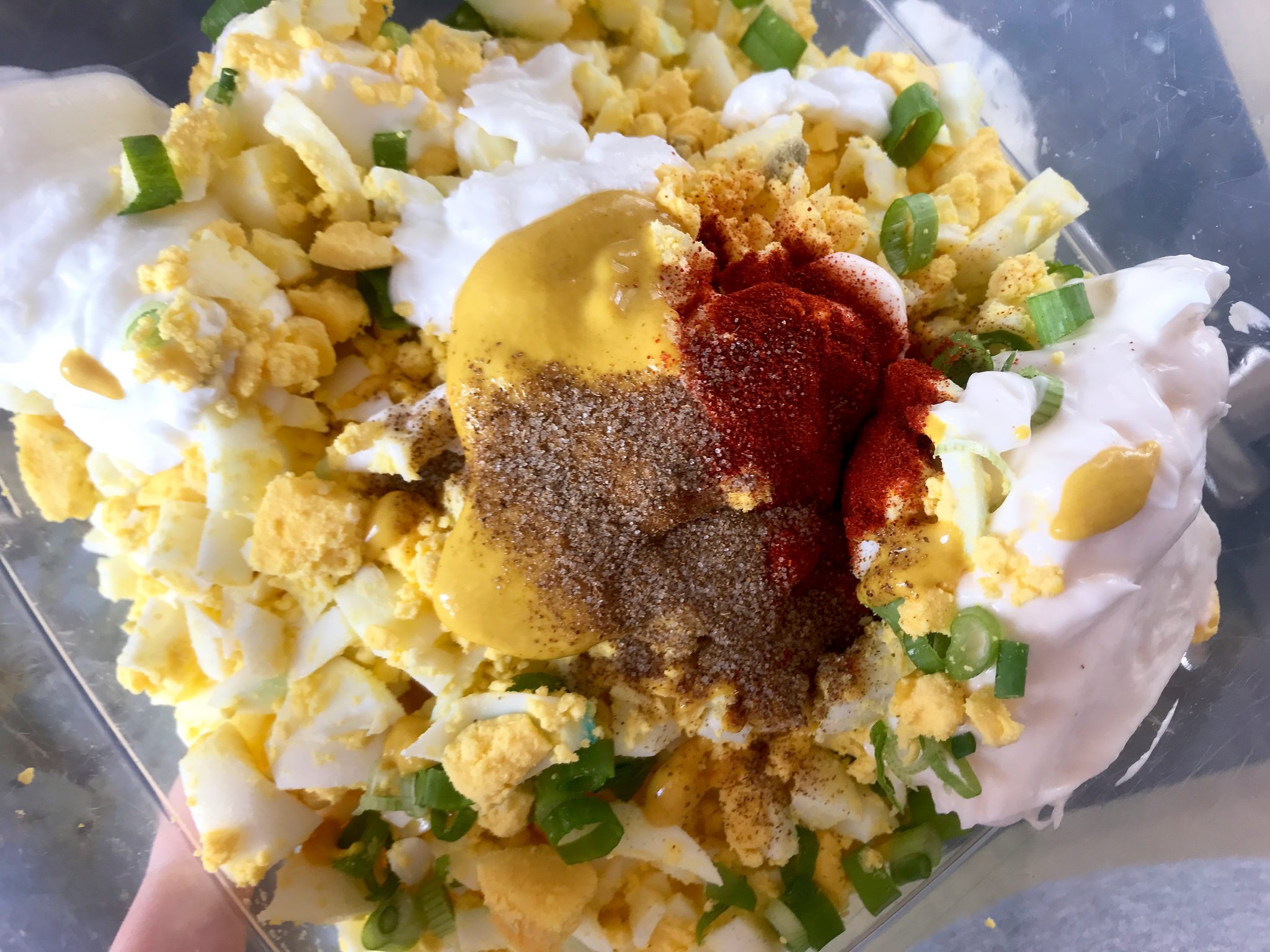 Add 1/4 cup of Hellmann's light mayo, 1/4 cup + 2 tbs of nonfat greek yogurt, 1 tbs yellow mustard, 1/4 tsp smoked paprika, 1/2 tsp celery salt, aaaaand drum roll please…….. 2 tsp of sugar. Just do it. It helps give it the most perfect, slightly sweet taste. If you don't have sugar in the house (which I know some of ya might not), It's not essential to add it. You can add a bit of any sweetener if you'd like. Honey works pretty well too! I added the hint of sweetness mostly to get Eric off my back about not using that Miracle Whip crap. Don't even get me started on egg salad & miracle whip… or for that matter, using Miracle Whip ever.
Stir it all together real well! Cover it up & refrigerate it for at least 25 minutes, to let those flavors mingle and get to know each other a lil better.
Salt & Pepper, to taste.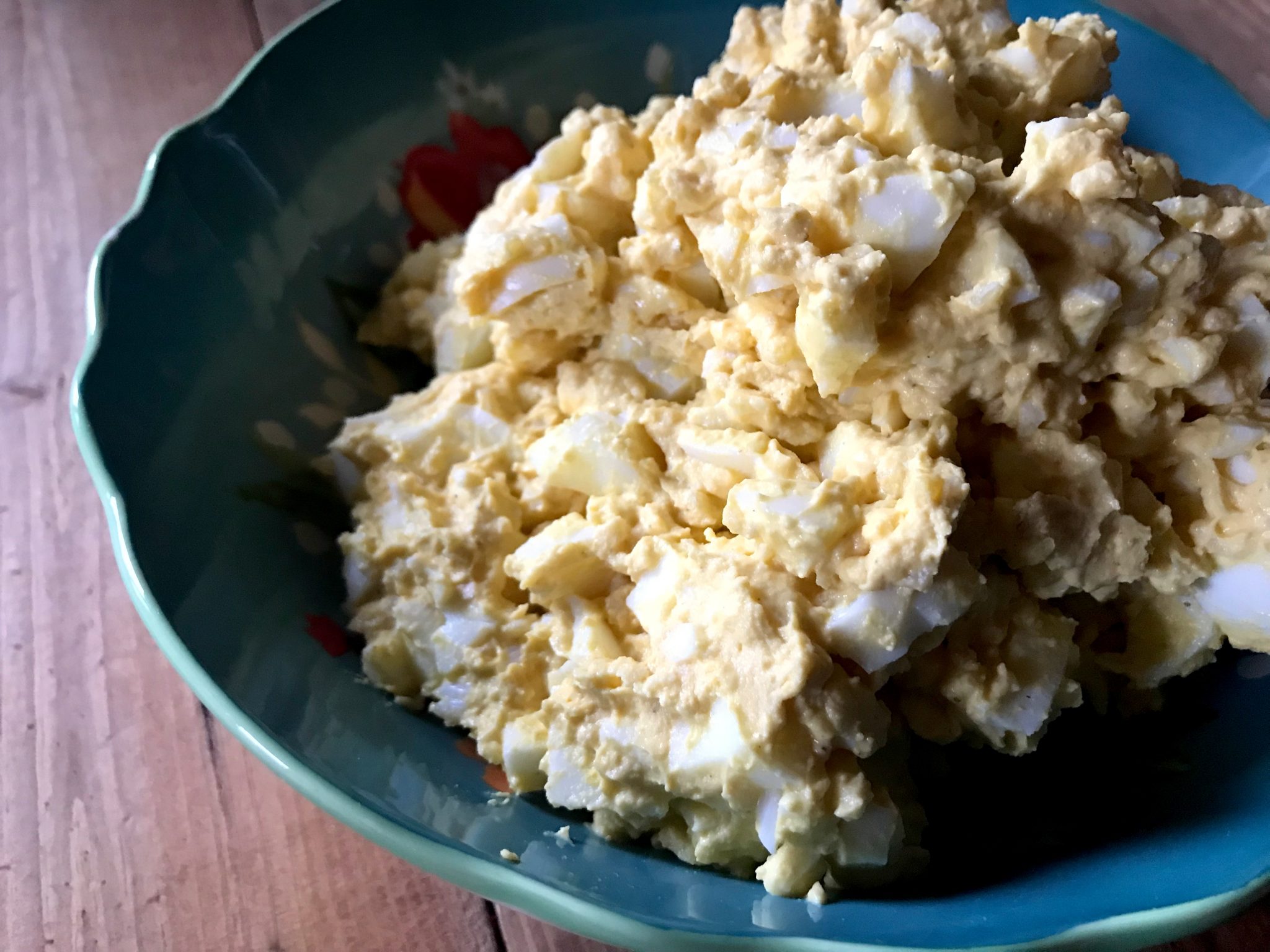 Ta-daa!
Egg Salad!
Okay, Let's talk real quick here about how to make the ultimate egg salad sandwich. I'm not saying you have to eat it this way… I'm simply saying you have to eat it this way.
Grill yer bread! What's that, you say? YES. GRILL THAT BREAD, FRIENDS! Just get an indoor grill pan- It doesn't have to be fancy. You can get the same one I have, or run to Target and grab one there if ya don't have one. The one I have is awesome and I use it for multiple things, but I am pretty sure grilling bread for sandwiches is its number one purpose. Click here for link to grill pan. (affiliate link)
How to grill the bread: Spray it with just a bit of olive oil cooking spray, and lay it on the grill pan over medium heat. Press down on the bread every so often, then flip it over once you've got some fantastic grill marks. This really only takes about 2-3 minutes, if even.
Plop some egg salad on that beautiful grilled bread with a bit of shredded lettuce. Eat and love, my friends.
Okay, you don't have to grill your bread to make this awesome egg salad. It also tastes fantastic on a soft bakery roll, or even with a spoon, straight out of the bowl.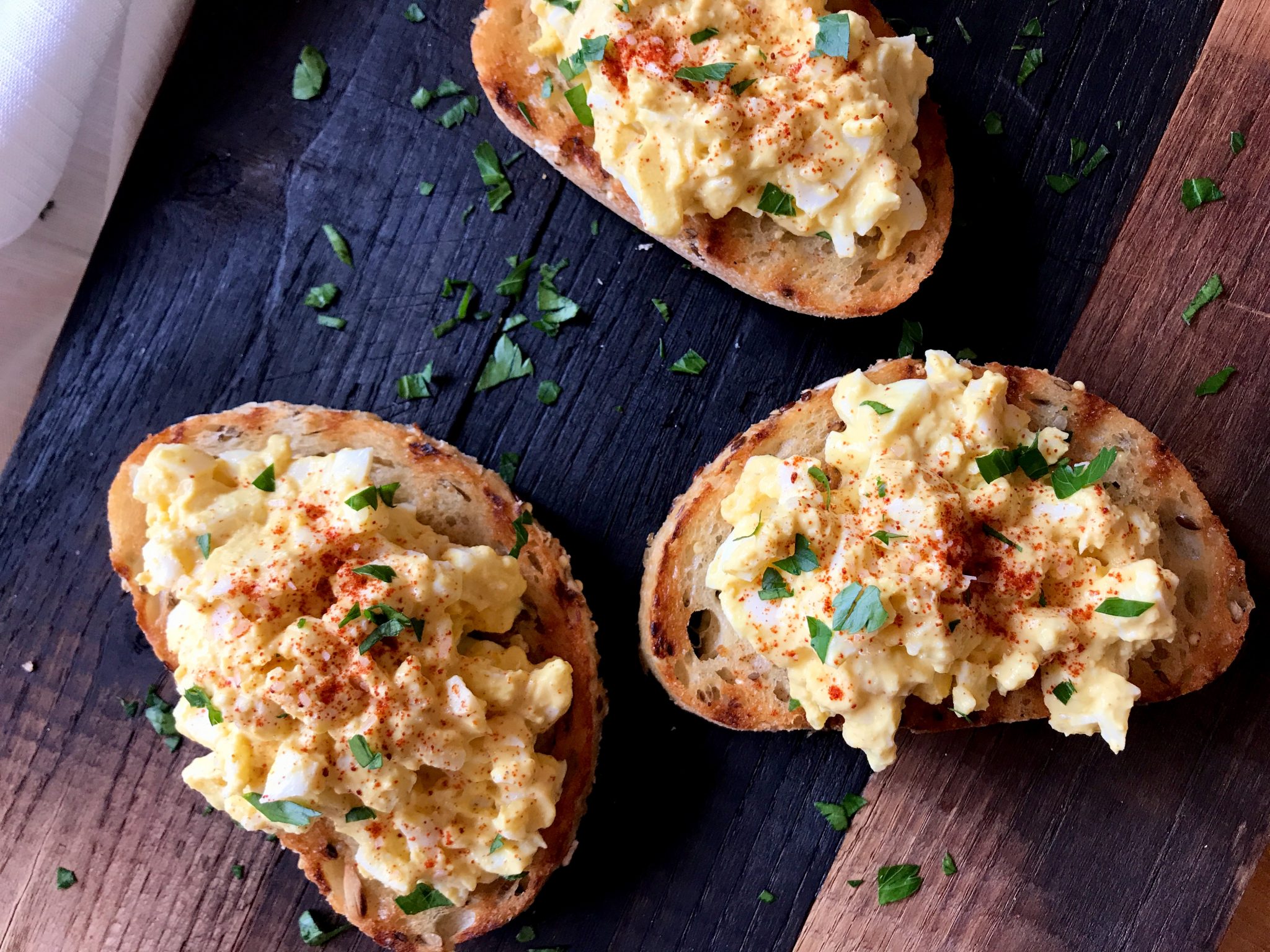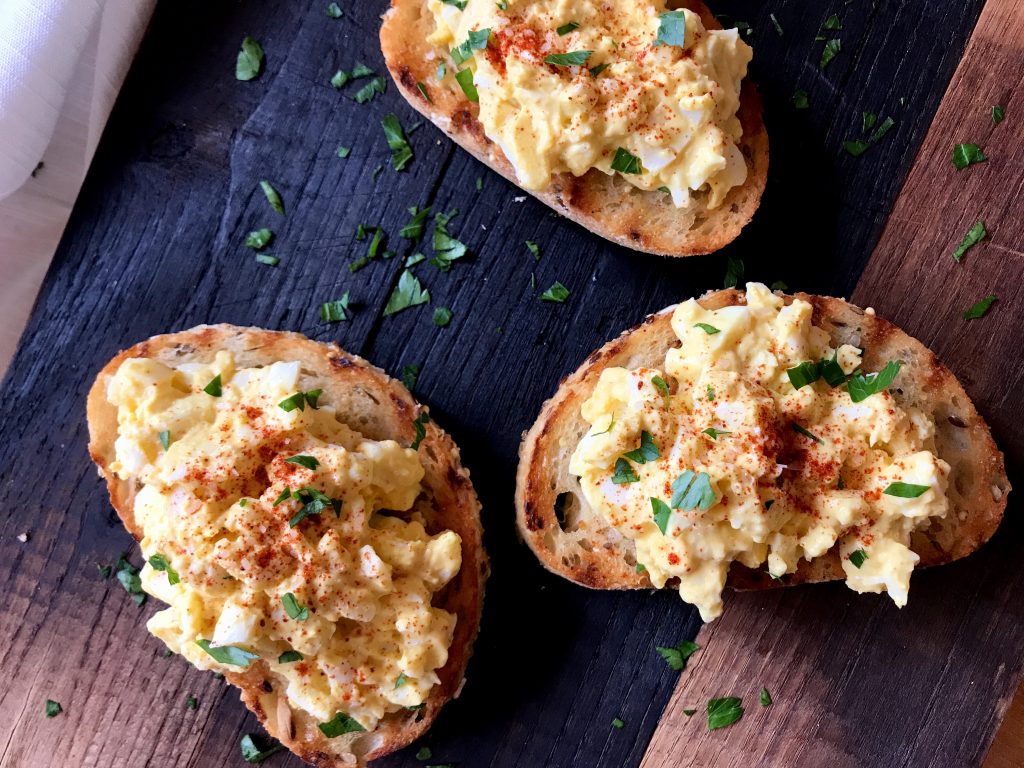 so good, so simple, so classic… so easy.
Y'all will love it up!
I hope you make it. Please let me know if ya do!
With love from my kitchen to yours,
Star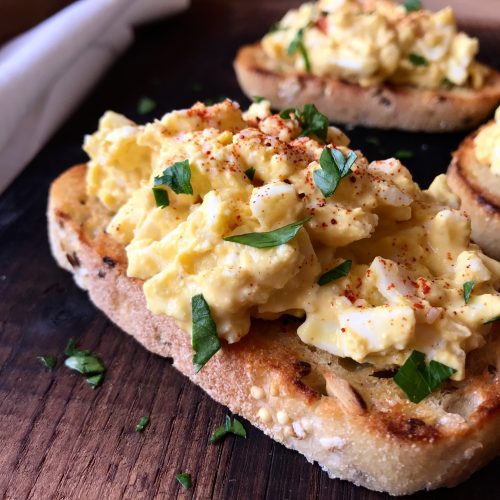 Print
Classic Egg Salad
A skinny-ish version of a tasty classic egg salad. It's perfect for sandwiches, salads, for scooping up with crackers, or all by itself.
Materials
10

hardboiled eggs

roughy chopped

1/4

cup

Hellman's light mayo

1/4

cup

non fat plain greek yogurt

(+ two tablespoons)

1

TBSP

yellow mustard

1/4

cup

green onions

chopped, more or less depending on preference

1/2

tsp

celery salt

1/4

tsp

smoked paprika

2

tsp

sugar

or honey (or sweetener of choice!)

salt & pepper, to taste
Instructions
In a bowl stir together all ingredients until combined fairly well. Cover and refrigerate for at least 20 minutes to let the flavors mingle. After refrigerating salt & pepper, to taste.
Notes
Makes 3 cups. Serving size: 1/2 cup
Weight Watchers Points: 1 Point
139 calories, 2g saturated fat, 9g fat, 3g carbohydrates, 0g fiber, 2g sugar, 11.5g protein
SaveSave