Roasted Vegetable Pasta Primavera
This post may contain affiliate links (meaning I earn a small comission if you purchase an item through a link I provide) I only provide shoppable links to items I love and are helpful. As an Amazon Associate, I earn from qualifying purchases.
Pasta Primavera is loaded with extra tasty roasted vegetables and tossed with perfectly cooked garlick-y parmesan pasta! I love this pasta because it's totally delish, but I love love it because I can use left over odds and ends of vegetables that have been forgotten in the veggie drawer. It's perfect as is or you can add in different proteins based on what you feel like! Steak, Chicken, Shrimp, or keep it vegetarian!
This pasta is truly one of my new favorite pasta recipes. My version of pasta primavera features a light, but creamy garlick-y sauce. The noodles and sauce simmer away while the vegetables roast away in the oven for a MAJOR flavor boost and ease! One pot, one sheet pan. Done! If for whatever reason you aren't a big fan of vegetables, have you tried roasting them? Roasting vegetables brings out incredible flavors that just don't seem to pop otherwise.
When I was little my dad LOVED broccoli, cauliflower, and asparagus….. boiled, but not just lightly boiled. Boiled to mush (bleh). And that's the only way my mom would make them. I love my mom, but oh my gooooosh I hated vegetables up until I was like 20 years old because I thought that was the only way you ate vegetables. I thought why in the world would anyone suffer through eating boiled mush even if it was healthy. In a nutshell, no thanks. I have no idea how I figured out that I could throw them on a sheet pan, pop'm in the oven, and roast them into fantastic lil flavor bombs. Life is forever changed because now I love just about any vegetables as long as I can roast'm (or grill'm!).
Here's one of my first attempts at a vegetarian friendly recipe. I love this Roasted Vegetable Pasta Primavera just as is because it's so delicious, BUT if you love meat, like me, you can easily add any protein to it! Eric grilled steak and shrimp the other night and I made this inside. It was the perfect meal all together!
My favorite part about this recipe is that it helps aid in combating food waste in this house! You can use up odds and ends of vegetables that you may have siting in the fridge just waiting to go bad which is exactly how I came up with this recipe in the first place. Necessity is the mother of invention, yall.
How to make Pasta Primavera with Roasted Vegetables:
Preheat oven to 450 degrees. Start out but cutting vegetables into bite size slices or small strips if doing carrots/red pepper. I love the combo of broccoli, zucchini, yellow squash, red pepper, and carrots. Honestly that's normally what I have in my fridge so it works out that way. Asparagus would also be delicious! And if you like mushrooms, I guess you can add them too. Haha!
Toss vegetables with two tablespoons of olive oil, 1 tsp seasoned salt, 2 tsp Italian seasoning, 1 tsp garlic powder, and 1/4 tsp pepper. Roast for about 20 minutes and take care to mix them around about half way through the cooking time. Be sure to roast until golden brown and tender, but watch out for burning them. That can ruin the whole dish!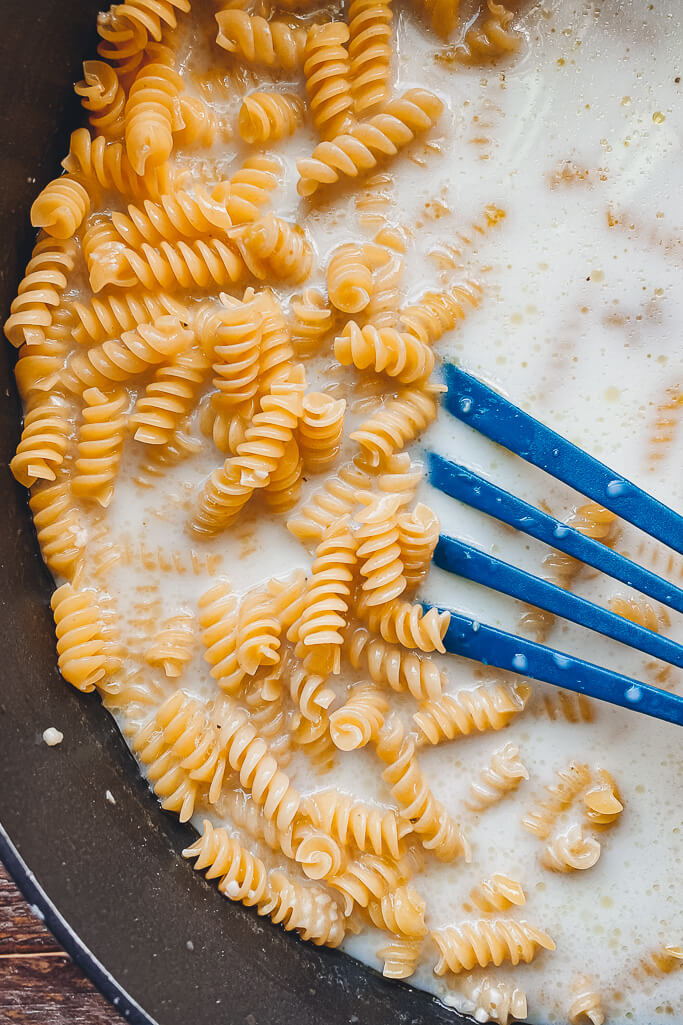 In a large skillet heat 1 tsp of olive oil. Cook about 6 cloves of minced (or pressed garlic) until fragrant. Add in 2 cups water and plain unsweetened almond milk, 2 tbsp chicken better than bouillon and 12 ounces dry rotini pasta. Bring to a boil and then reduce to a simmer. Cook, uncovered, stirring every so often until liquid has reduced ALMOST completely and noodles are al dente (should be about 10-12 minutes).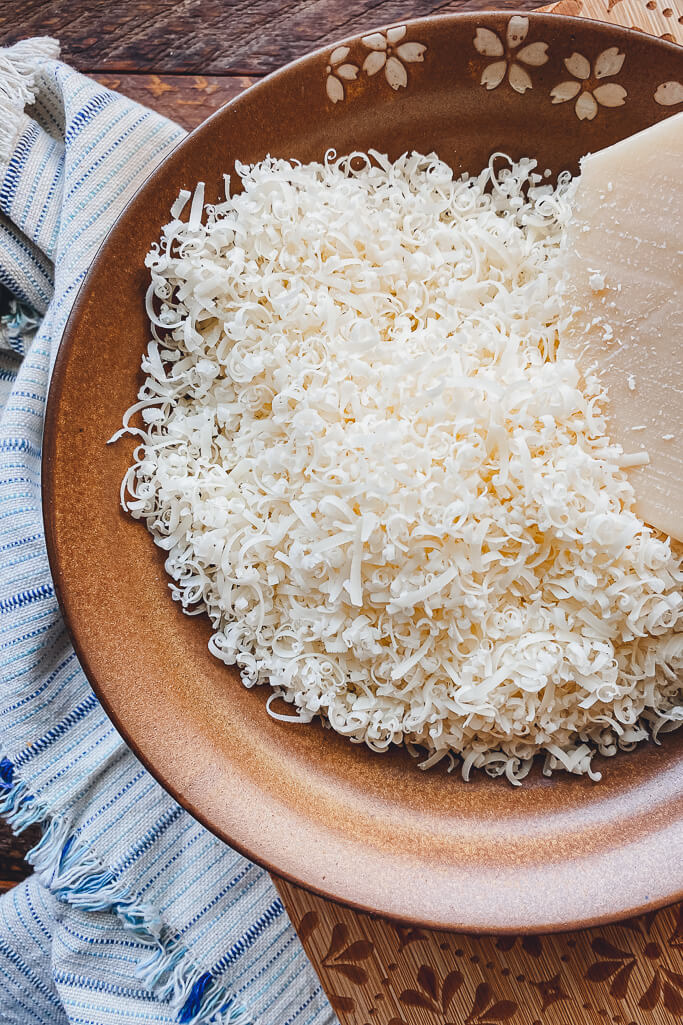 While the noodles are cooking, grate 1 oz of parmesan. You can use already shredded. However, shredding it yourself results in the best flavor and melts into the sauce so much better! There's just nothing better than fresh parmesan, and guess what else? If you use fresh you can save the rind to make the ultimate creamy chicken noodle soup recipe 100% better!
When the liquid has mostly reduced. Add in one cup frozen sweet peas and cook all together for a few minutes until they are heated through.
Remove pan from heat and add in parmesan cheese and one tablespoon lemon juice. The lemon juice isn't totally necessary, but it adds just a really nice bright layer of flavor. I only use it about half the time when I have a fresh lemon.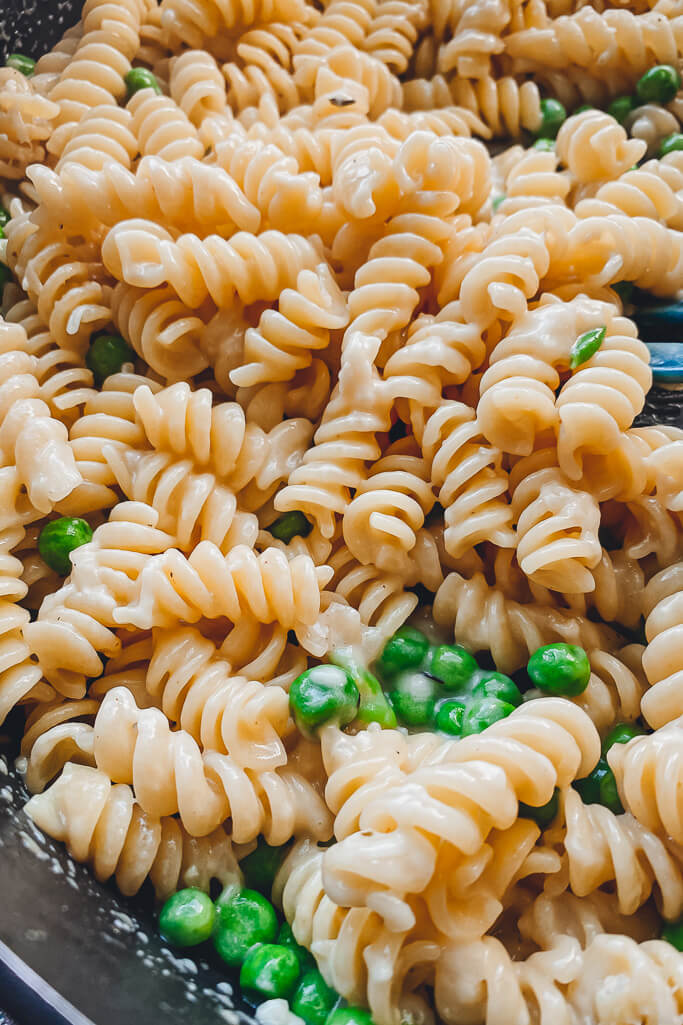 Up close and personal. AH it is just SO good y'all. Here's where you can salt and pepper it to your own perfection, but I think it's juuuuust right!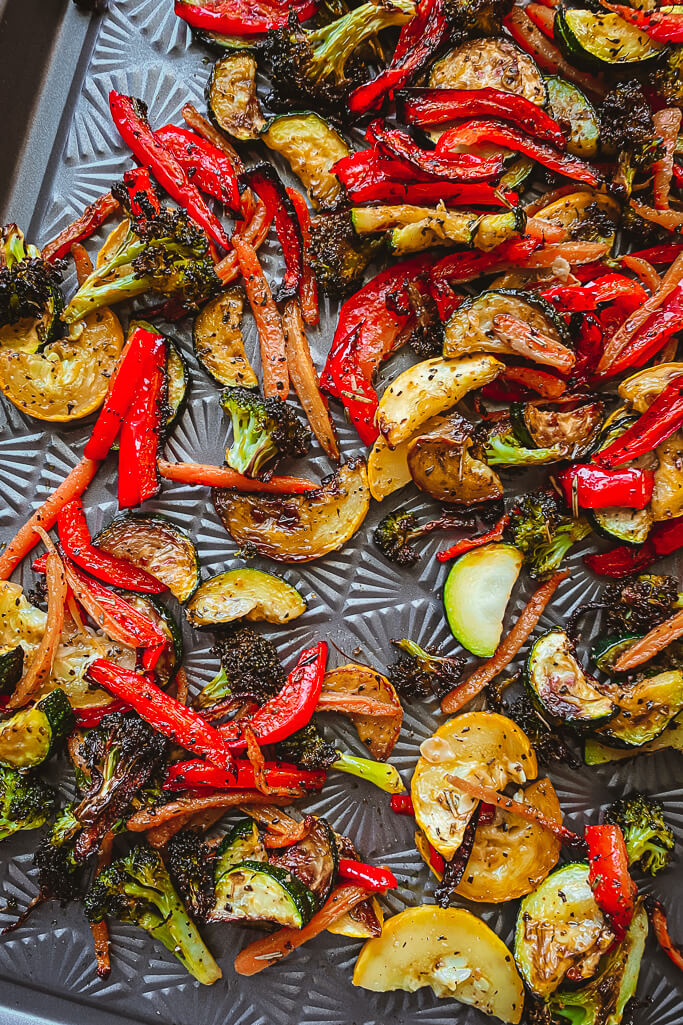 Now grab your veggies! How gorgeous are these? See. Roasted perfection!
Stir in the roasted veggies and dig in! This Roasted Vegetable Pasta Primavera can easily be a perfect weeknight vegetarian friendly meal. I love to add a piece of chicken or steak to round out the meal!
Pasta Primavera is known for being more of a spring time recipe, but I think it's just perfect for fall because the roasted vegetables bring such a huge level of cozy vibes.
I hope you love it, yall. Have a great week!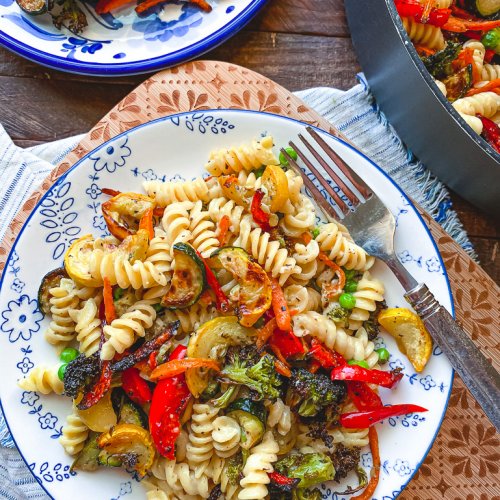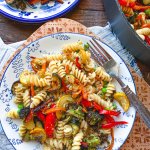 Print
Roasted Vegetable Pasta Primavera
Perfectly roasted vegetables tossed into a pasta with a light creamy garlic parmesan sauce
Materials
Roasted Vegetables
2

lbs total

raw fresh vegetables cut into strips/small pieces/slices such as broccoli, red pepper, zucchini, carrots, tomatoes, asparagus, etc

2

tbsp

olive oil

2

tsp

Italian Seasoning

1½

tsp

Lawry's Seasoned Salt

(or just salt)

1

tsp

garlic powder

1/2

tsp

pepper

1/4

tsp

red pepper flakes (optional for a spicy kick)
One Pot Garlic Parmesan Pasta and Sauce
1

tsp

olive oil

6-8

cloves

garlic

minced or pressed

12

oz

rotini, uncooked

2

cups

unsweetened plain almond milk

(be sure to use plain not vanilla- this also works with regular milk)

2

cups

water

2

tbsp

better than bouillion roasted chicken base

(btb vegetable base for vegetarian)

1

cup

frozen sweet peas

1

oz

fresh grated parmesan cheese

(heaping 1/4 cup)

1

tbsp

fresh lemon juice
Instructions
Roasted Vegetables
Preheat oven to 450 degrees. Spray a large sheet pan with cooking spray. (if you don't have a large sheet pan use two small sheet pans if you try to roast all on one pan the veggies will steam)

In a large bowl toss together the vegetables, oil, and spices. My secret to the best roasted vegetables is to really get the oil and spices into the vegetables by kind of "massaging" them lightly so it's evenly distributed.

Throw vegetables on the sheet pan(s). Roast for about 20 minutes or until they're golden brown. I like to give them a good mix about half way through cooking time for more even cooking.
One Pot Pasta with Garlic Parmesan Sauce
In a large skillet over medium heat add oil and garlic. Cook just until garlic is fragrant. Add in unsweetened plain almond milk, water, better than bouillon, and rotini pasta. Bring to a boil and then reduce to a simmer. Continue to cook, uncovered, and stir every once and awhile until noodles are done and liquid is mostly reduced. Add peas and stir and heat them all together for just a minute or two.

Remove from heat and stir in parmesan followed by lemon (if using) followed by the roasted vegetables. Salt and Pepper to to taste, serve, and enjoy!
Notes
Serves 6. Serving size: 1 and 3/4 cups. (Take note this may vary a bit due to size of the vegetables and what vegetables you use exactly)
325 calories, 9g fat, 1g saturated fat, 400g sodium, 51g carbohydrates, 5g dietary fiber, 5g sugar (0g added sugar, 0g sugar alcohol), 46g net carbs, 13g protein (Take not this may very a bit depending on the exact vegetables used)
WeightWatchers Points: 8 Points