This post may contain affiliate links (meaning I earn a small comission if you purchase an item through a link I provide) I only provide shoppable links to items I love and are helpful. As an Amazon Associate, I earn from qualifying purchases.
The Best Meatloaf recipe that I've ever had! With a handful of easy ingredients and just a few minutes of prep, you're on your way to comfort food heaven!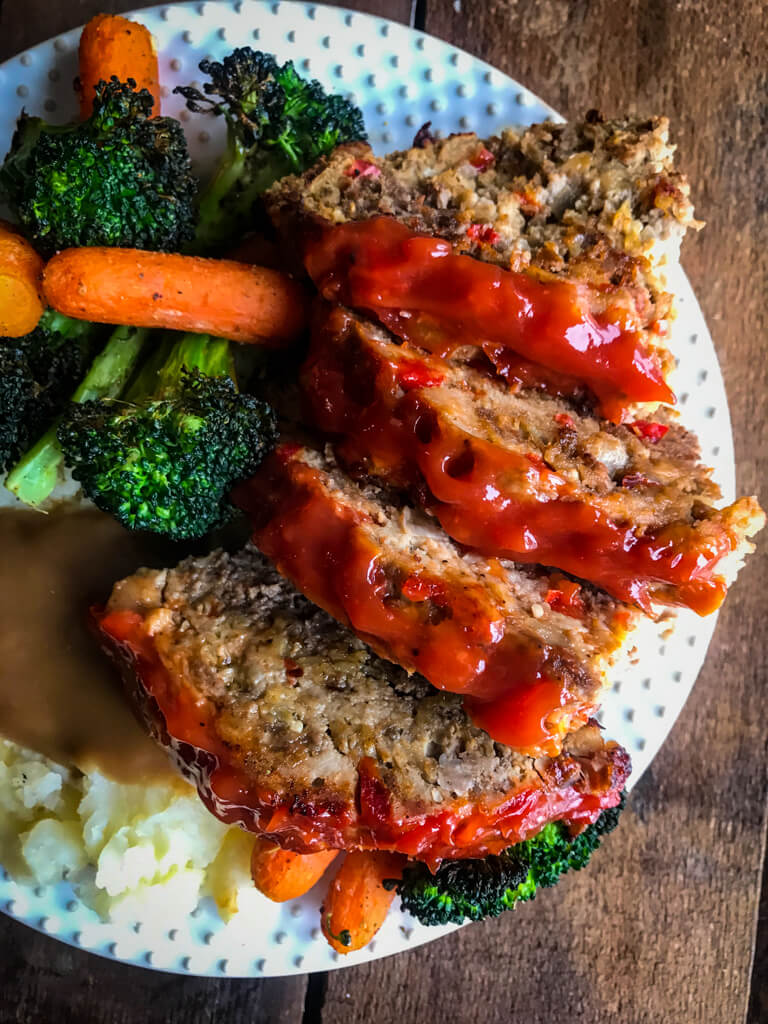 Meatloaf. What a word! It's definitely not my favorite word. In fact, for most of my childhood and into early adulthood. I refused to eat the stuff … just because of what it was called. And the way it looks? Man, meatloaf just needs a makeover. So, I gave it one in the flavor department. I took my mother-in-law's classic meatloaf recipe, which is totally delicious, but I kicked it up a notch because y'all know i'm a lil' extra when it comes to flavor.
This meatloaf is drop dead delicious. I honestly can't believe how much I love it! Eric begs met to make it because he can never get enough. I think Meatloaf gets a bad rep, honestly. Between it's name and the way it looks. Poor loaf doesn't stand a chance. I know it can be a "love it or hate it kind of meal", but I hope if you're kind of on the line of the "hate it" side and you think maybe you could like it with the right kind of recipe, I hope you'll give this a try because it's kind'a epic.
Epic meatloaf? It's possible staying at home so much has gotten to me, but trust it's REAL good.
One more thing, you absolutely cannot have Meatloaf without mashed potatoes. It's comfort food rule number one. Google it. You should make my Homestyle Cauli-Tater Mash to throw on the side because after you do that you'll love this meal so much you'll wanna put a ring on it.
How to make The Best Meatloaf: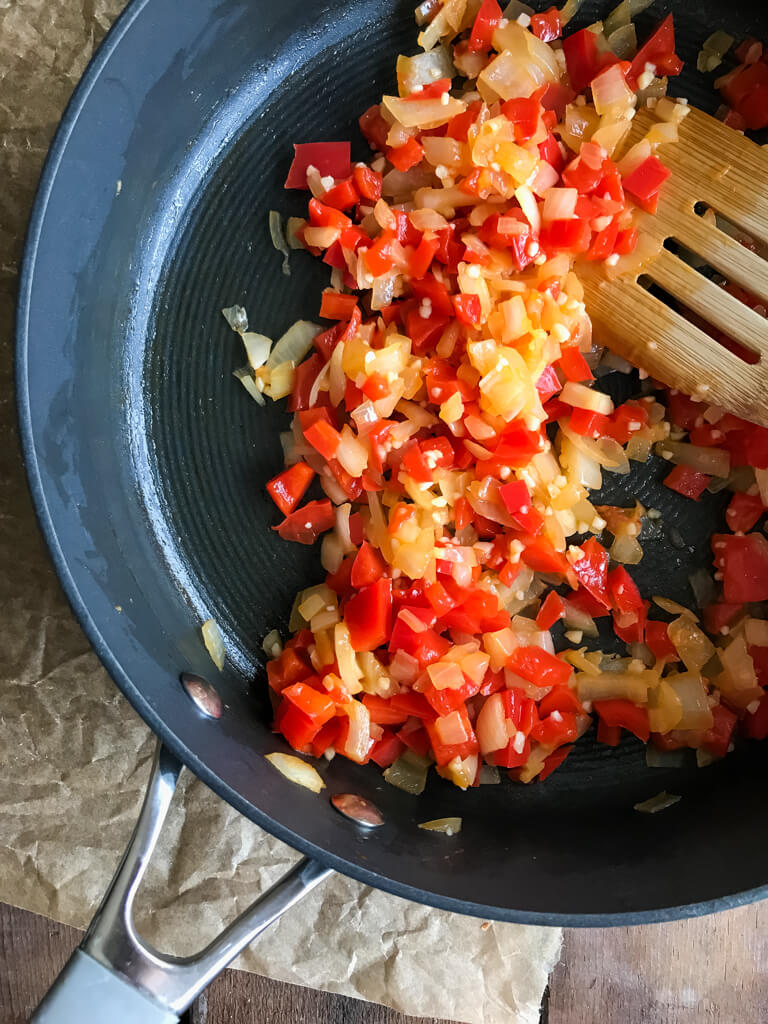 First up, you're gonna chop up an onion and red bell pepper. Mince a few cloves garlic while you're at it (or use the stuff in the jar, shh I won't tell anyone). Throw the peppers and onions in a pan with 1 tsp of oil. Sauté over medium heat just until softened. When they're about done add in the garlic and cook for about 30 seconds or until garlic is fragrant. Remove the veggies from the pan and set aside. Allow to cool for at least 5 minutes before adding into raw meat.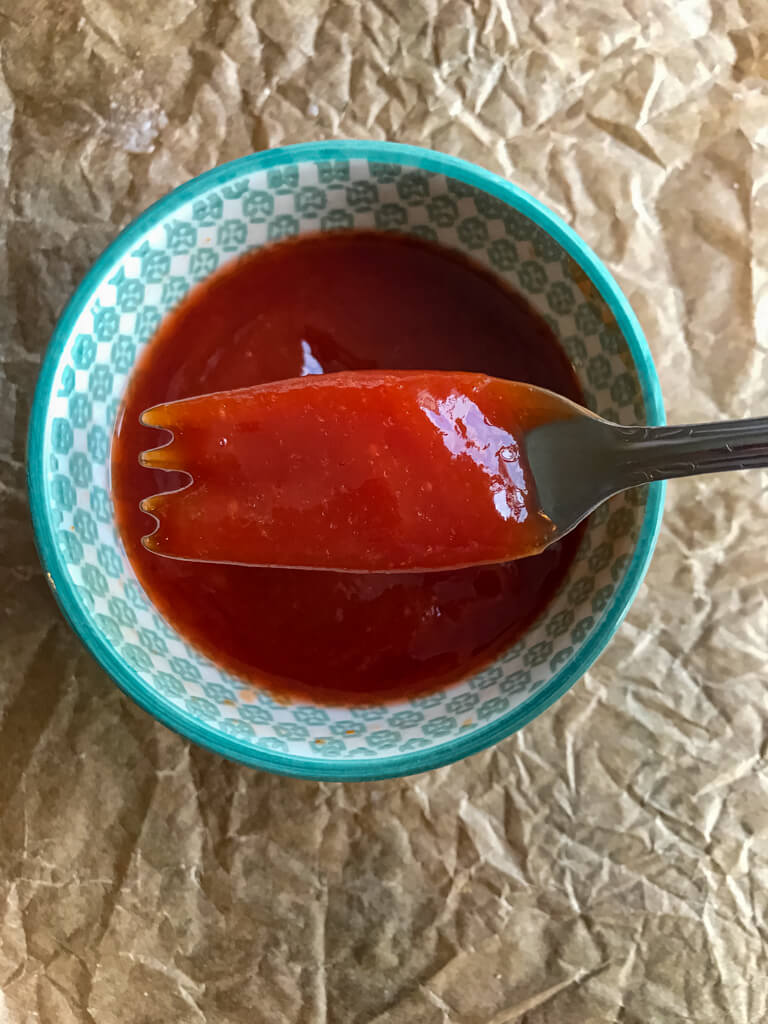 While waitin' on the peppers and onions to cool off a bit. Grab a small bowl and add in 1/4 cup reduced sugar ketchup, and 1 tbsp red wine vinegar. Stir together well and set aside for lil later.
A little note about the glaze: I decided to include the ketchup glaze in this recipe because I do make it with the glaze more often than not because Eric loves it and it's much closer to a classic meatloaf recipe that you all know and probably love. But, I prefer eating it without the glaze and I make a super quick brown gravy to pour over it when its finished. I'll update this post with the official link to the brown gravy recipe soon, but in the mean time here's what I do:
In a small sauce pan add 1-1/2 cups water and add 1 tbsp of better than bouillon beef broth base (you could also use a bouillon cube or two depending on the size of them) and let it come to a boil. While that reaches a boil in a small bowl add 3/4 cup water and then 1/3 cup all purpose flour. Whisk it extremely well (like your life depends on how well you whisk this mixture). When your done slowly pour it into the boiling beef broth while whisking constantly until thickened. And, voila! Easiest gravy ever and I honestly prefer it over most other kinds. It'll probably be salty enough, but I like to add a little pepper. If it seems too thick for your taste add more water(little at a time) over low heat while whisking constantly. The end.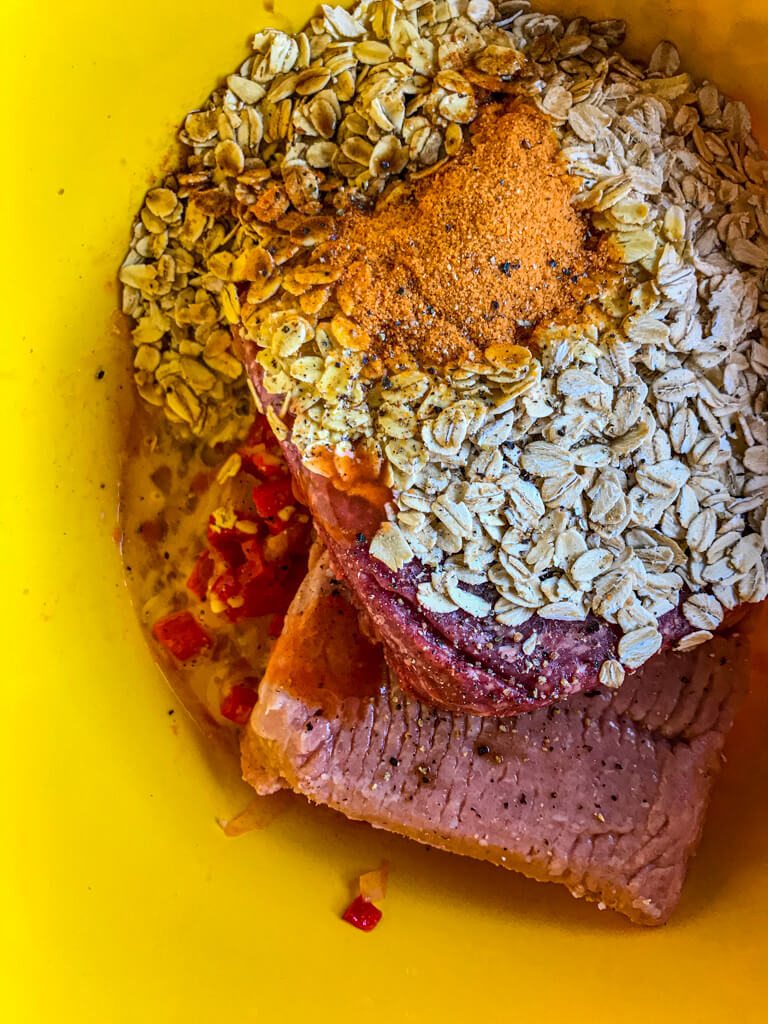 In a large bowl add in 1 lb of lean ground turkey (don't use extra lean. It's too dry for this particular recipe), 1 lb of lean ground beef, 1 cup oats (old fashioned or quick cooking will work), 2 eggs (beaten before added to the bowl), 2 tbsp Worcestershire sauce, 1 tsp Lawry's Seasoned Salt, and about 1/2 tsp pepper. Also, add in the sautéed peppers and onions once they're cooled off.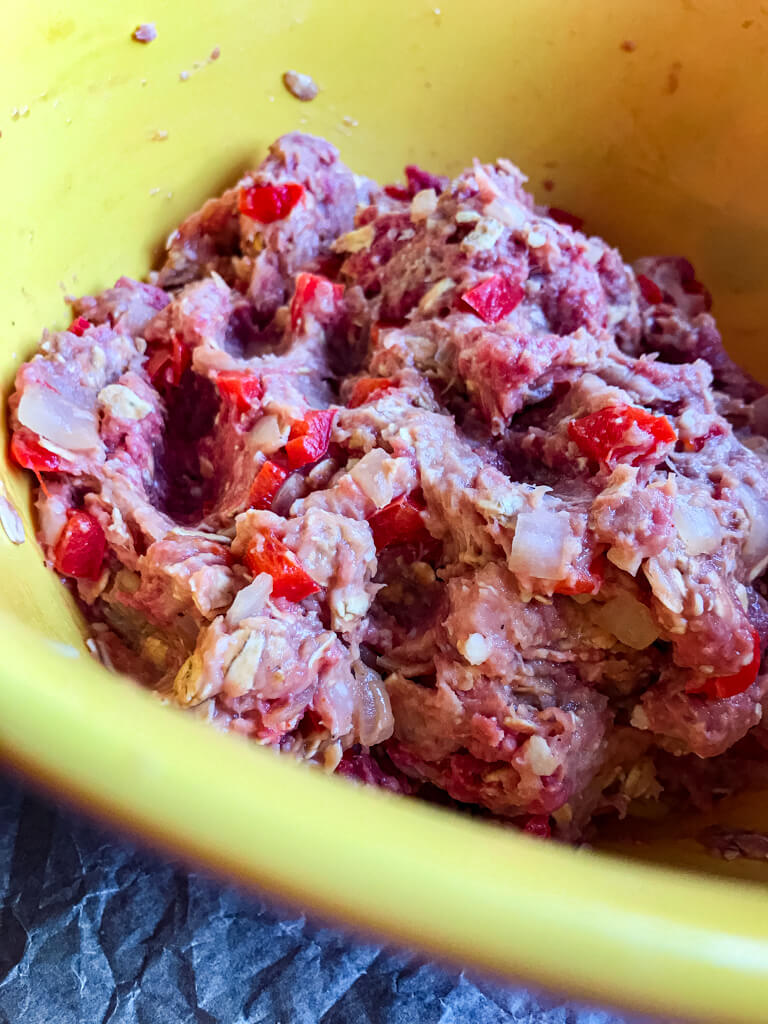 One, two, three… mash it up! With your hands. It's for the best. I know, it's kind of yuck, but it's meatloaf and it's the easiest way to combine it without over mixing. Oh that's a rule too… Combine it well, but take care not to over mix it because otherwise it'll be dry and just not as good as it should be and you'll hate me… especially if you're not 100% team meatloaf in the first place and are trusting me to change your mind.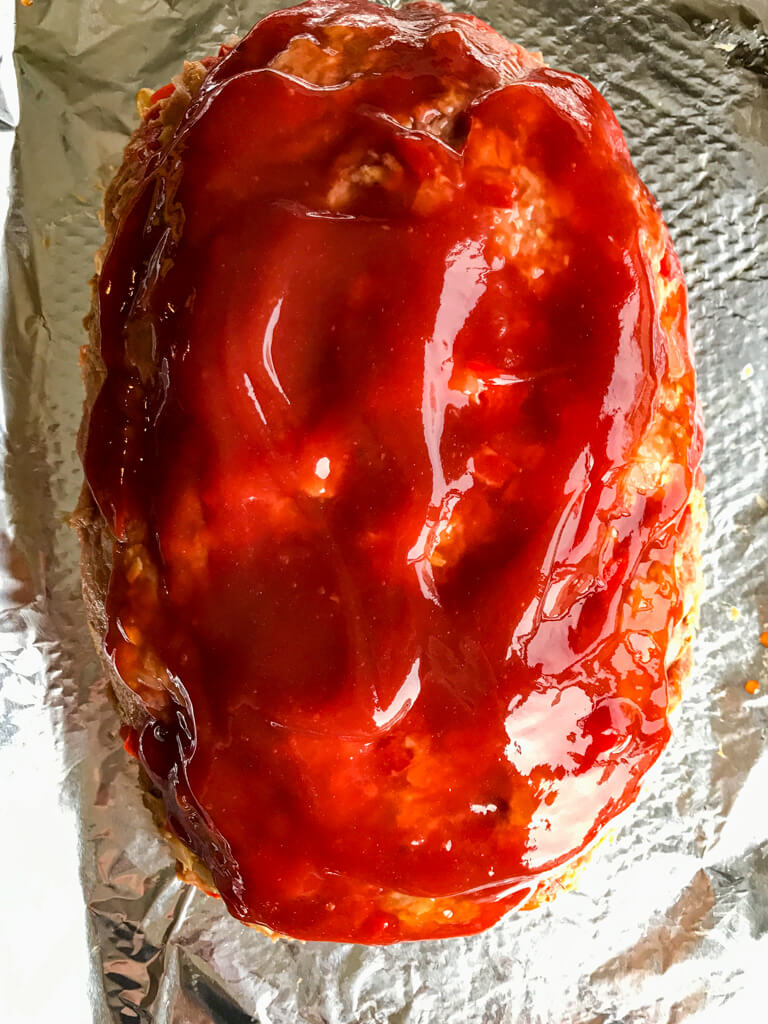 Now dump the meatloaf mix onto a sheet pan. I line it with aluminum foil for extra ease in the clean up department. There is gonna be some not so pretty stuff on the pan after it bakes and it's best just to throw it in the trash and pretend it never happened.
Shape the the meat mix into… a loaf. Ha! This just keeps getting better. Some people put their meatloaves into a loaf pan, but I never have and I don't know why.
Anyway, brush the ketchup-y glaze all over it and throw'r in a preheated 350 degree oven for an hour.
After it's done let the meatloaf sit for about ten minutes before cutting into and serving.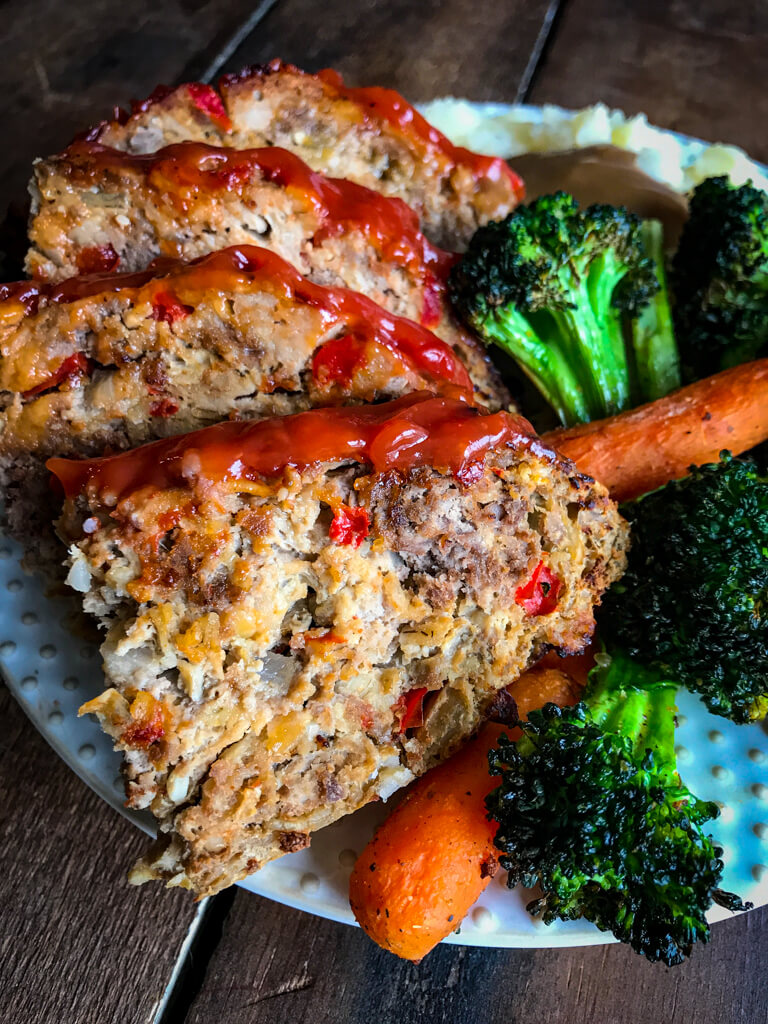 As ugly as meatloaf is… this photo makes my drool! It's the perfect plate of comfort in my opinion.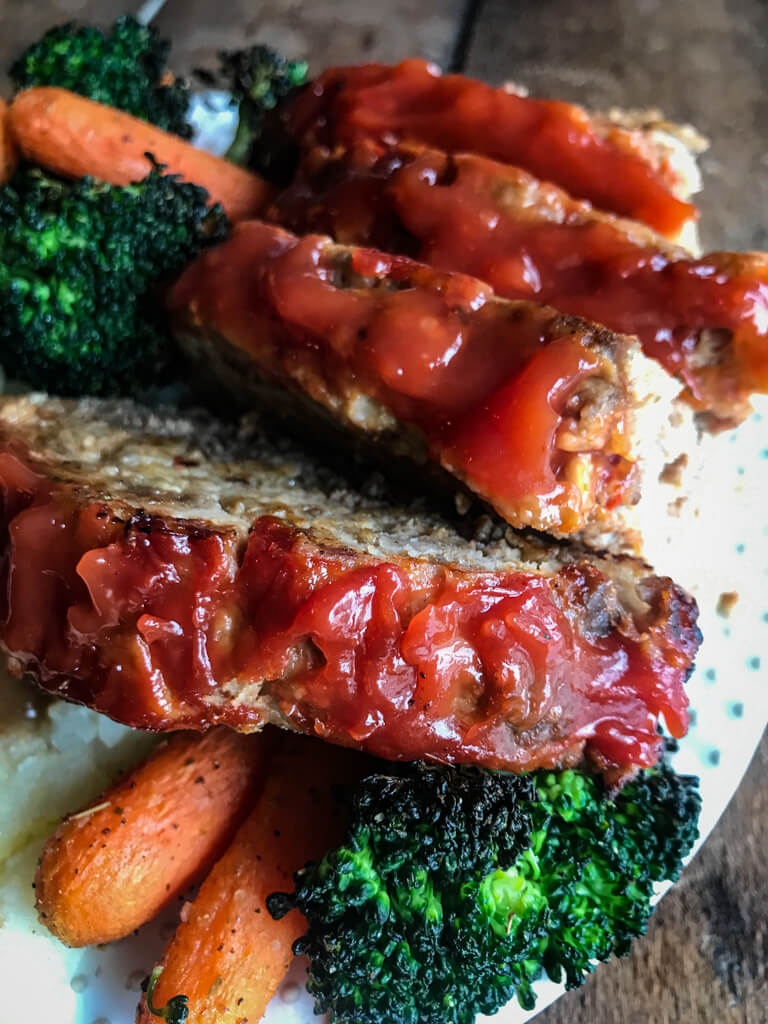 Time to dig in and enjoy! I hope y'all love it as much as I do. Let me know how it goes in the comments below.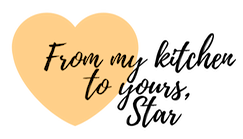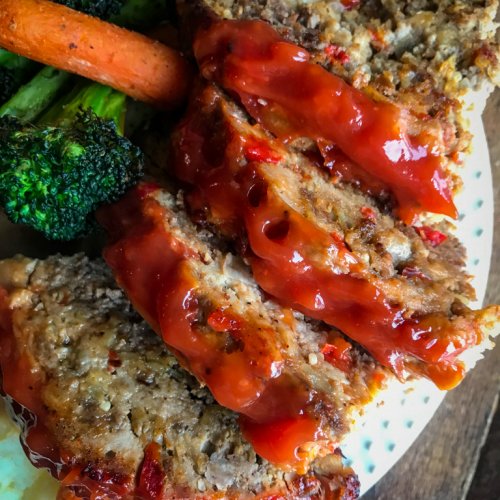 Print
The Best Meatloaf
The best tender, juicy, and flavorful meatloaf recipe!
Materials
Meatloaf
1

tsp

olive oil

1

large

red pepper

diced

1

large

yellow onion

diced

3

cloves

garlic

minced (or 1 tbsp jarred minced garlic)

1

lb

raw lean ground beef

(93% lean, 7% fat)

1

lb

raw lean ground turkey

(93% lean, 7% fat)

1

cup

oats

(old fashioned or quick cooking work)

2

tbsp

Worcestershire Sauce

2

large

eggs

(beaten before added to the meatloaf mix)

1

tsp

Lawry's Seasoned Salt

1/2

tsp

Pepper
Ketchup Glaze
1/4

cup

reduced sugar ketchup

(I use Heinz)

1

tbsp

red wine vinegar

(I've also used apple cider vinegar)
Instructions
Preheat oven to 350 degrees. Line a sheet pan with aluminum foil.

In a medium skillet heat olive oil over medium heat and add onions and red peppers. Cook until softened and then add minced garlic. Continue to cook for about 30 seconds or until the garlic becomes fragrant. Remove from heat and from the pan so they can cool off for about 5 minutes.

In a small bowl add ketchup and vinegar. Mix together and set aside.

In a large bowl add ground turkey and beef, oats, Worcestershire sauce, beaten eggs, cooked onions/peppers/garlic, and salt & pepper.

Mash together with hands until combined well, but take care not to over mix the ingredients otherwise you'll have dry meatloaf.

Dump the meatloaf mix onto sheet pan and form a loaf and spread glaze all over it.

Place into oven and cook for 1 hour. Remove from oven and let it sit for 10 minutes to let the juices distribute. Serve warm and enjoy!
Notes
Serving size: 5.25 ounces (makes 9 servings)
209 Calories Fat: 9g, Saturated fat: 2.5g, Carbohydrates: 10g, Fiber: 2g, Sugar: 2g, Added Sugar: 0g, Protein: 21g
WeightWatchers Points: 5 Points