This post may contain affiliate links (meaning I earn a small comission if you purchase an item through a link I provide) I only provide shoppable links to items I love and are helpful. As an Amazon Associate, I earn from qualifying purchases.
Firecracker Meatballs are my version of the hello fresh recipe that has become super popular! The meatballs are Asian flavor inspired with a kick then tossed into an addicting creamy sauce. This recipe includes BOTH oven and air fryer instructions because I love them so much either way!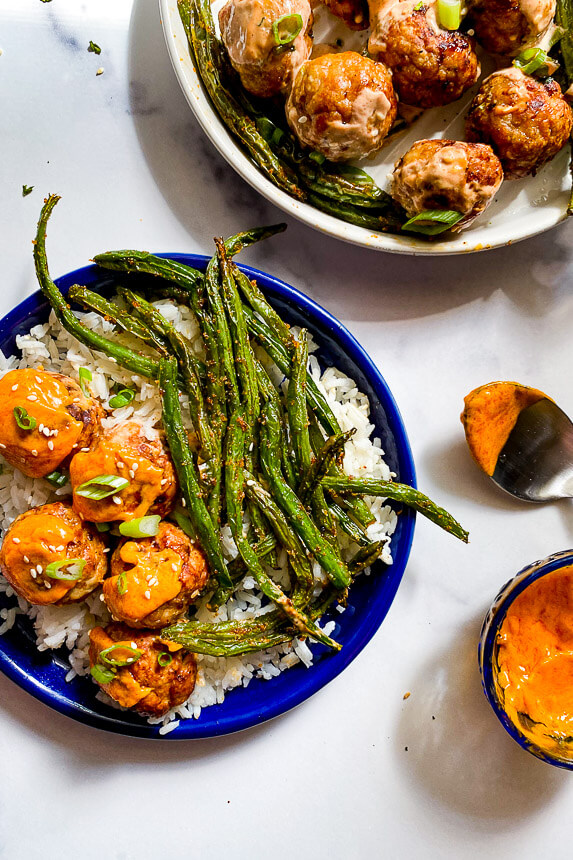 Hello Fresh Inspiration!
Last year we were gifted hello fresh meals from a friend. One of the weeks we received the meal kit box, Eric chose these Firecracker Meatballs. Truth, I wasn't super excited about them. Then, I made them and WOW! Epic flavor. So delicious.
Meal kits aren't a normal thing for us so I just filed the recipe away as a fave and knew that if we wanted it on a normal basis that I would need to give it the ol' skinny(ish) dish twist. So that's what I did and it's become one of our favorite meals to make!
These Firecracker Chicken Meatballs are so very easy to make and the sauce to pair them with takes seconds to whisk together too! I originally made them in the oven just like the original recipe, but as the summer months crept in and we still craved'm I decided an Air Fryer method was a must too!
Just like the hello fresh version we love this recipe pair with rice and my favorite Air Fryer Green Beans!
What are Firecracker Meatballs?
This recipe for Firecracker Meatballs is an Asian flavor inspired meatball packed with green onion, ginger, garlic, sriracha, panko breadcrumbs, and a little soy sauce too! You can either dip or cover the meatballs with a super yummy spicy Firecracker sauce that kind of reminds me of "yum yum sauce" with a little extra flair. Warning: you might want to put this sauce on everything.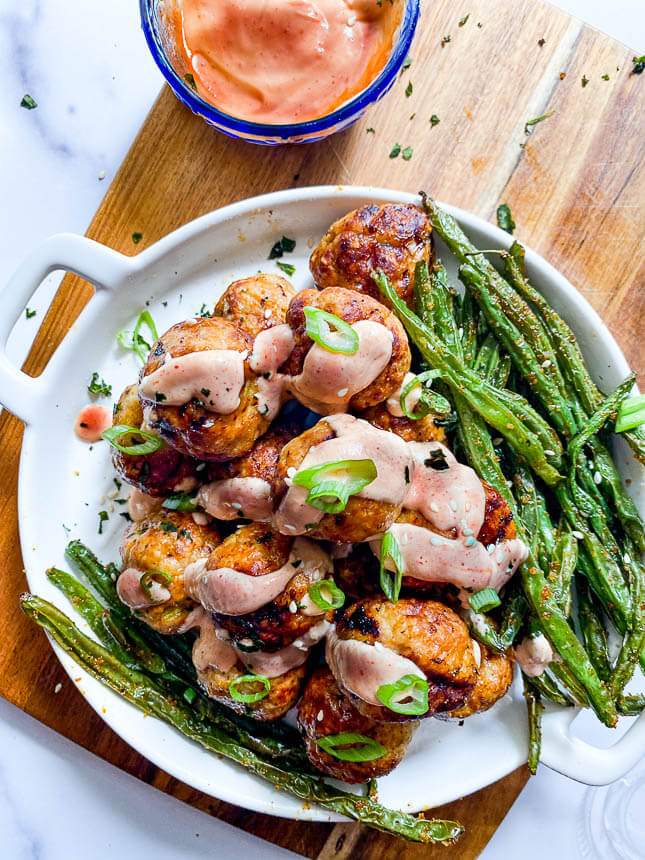 Ingredients for sauce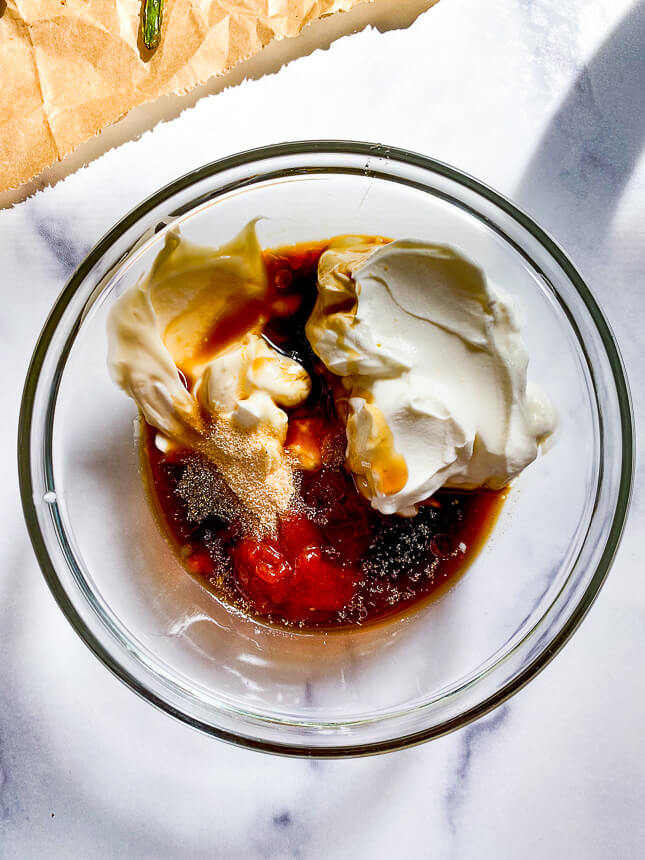 3 tablespoons mayo (I use dukes mayo made with olive oil to make it a little lighter)
5 tablespoons sour cream (I use light sour cream)
2-3 tablespoons water- to thin out the sauce a bit. I like to add enough to create an easy drizzle consistency
1 tablespoon sriracha- you can add more or less depending on spice level preference
1 teaspoon honey- a good way to balance the spicy kick and round out the sauce
1/4 teaspoon smoked paprika- adds a little smokiness that I love
1/4 teaspoon garlic powder
How to make sauce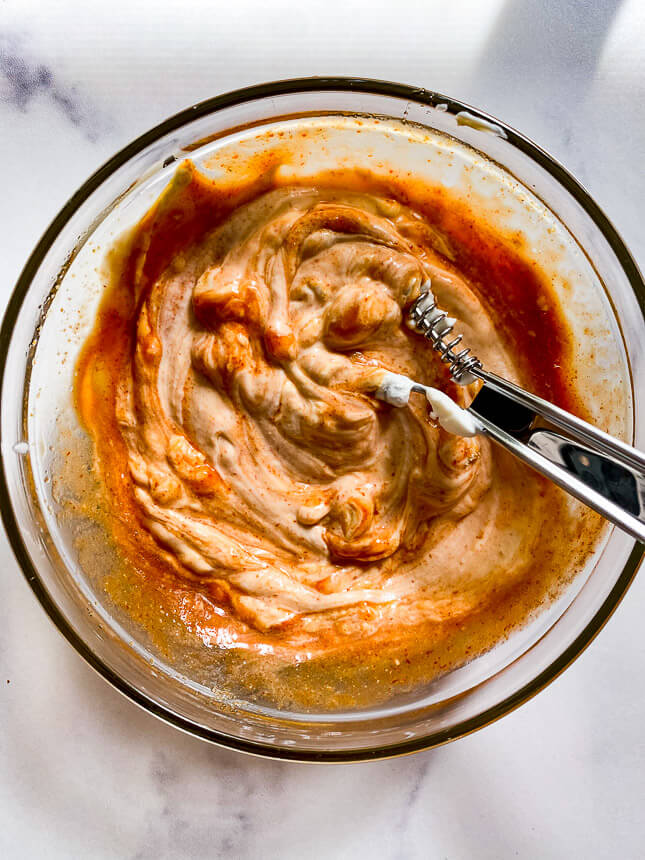 Mix together mayo, sour cream, honey, smoked paprika, garlic powder, sriracha, soy sauce, and water.
Check the consistency and if it needs it, add a little more water a small spoonful at a time until its a good drizzle consistency. Add salt and pepper to taste.
Cover and set in fridge so we can use it when the meatballs are done.
Optional: you can either use the sauce cold or heat it up quickly in the microwave. Heating it up in the microwave was a happy accident. Eric thought that he was supposed to put his in the microwave- so he did with leftovers and really enjoyed it that way!
Meatball Ingredients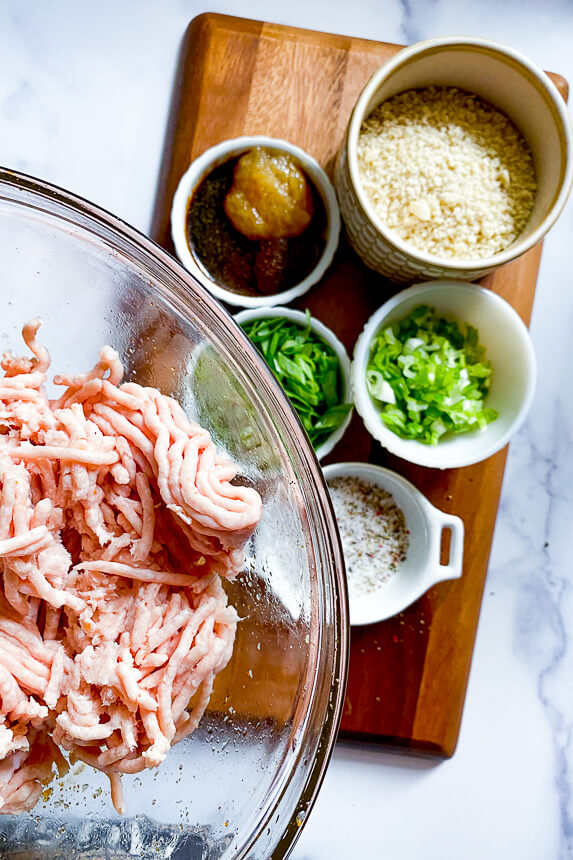 1 pound raw lean ground chicken (you can use ground turkey, ground pork, or ground beef)
about 3 tablespoons minced green onions (whites/bottom part only)
about 2 tablespoons diced green onions (greens only-for garnish)
1 tablespoon ginger paste (found in the produce section) or about one thumb (aka inch) of fresh ginger finely minced (you can also use the frozen ginger cubes)
2 teaspoons low sodium soy sauce
1 teaspoon sriracha hot sauce
1/2 teaspoon smoked paprika
1 teaspoon garlic powder
1/2 cup panko breadcrumbs (do not use fine bread crumbs!)
about 1/2 teaspoon kosher salt and 1/4 teaspoon black pepper
How to make meatballs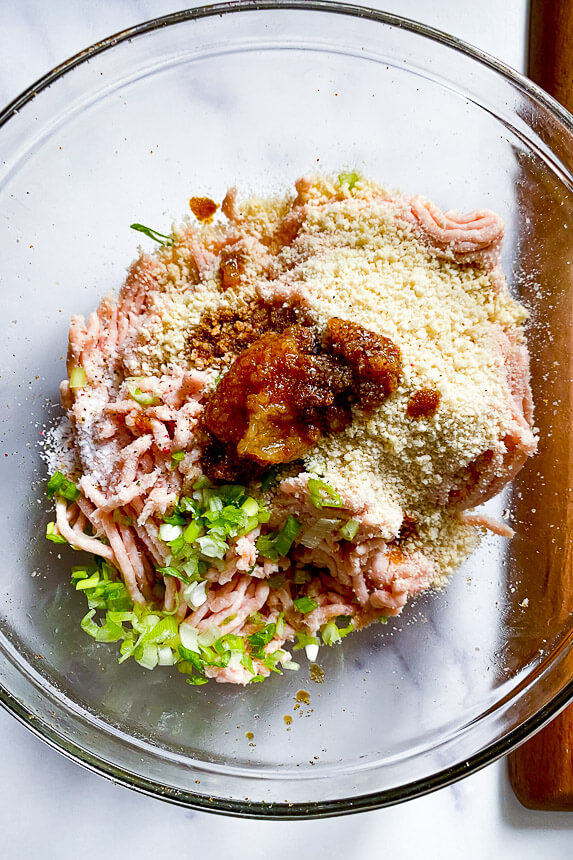 In a large bowl add ground chicken, diced green onions (whites only), panko breadcrumbs, sriracha, soy sauce, smoked paprika, garlic powder, and salt and pepper.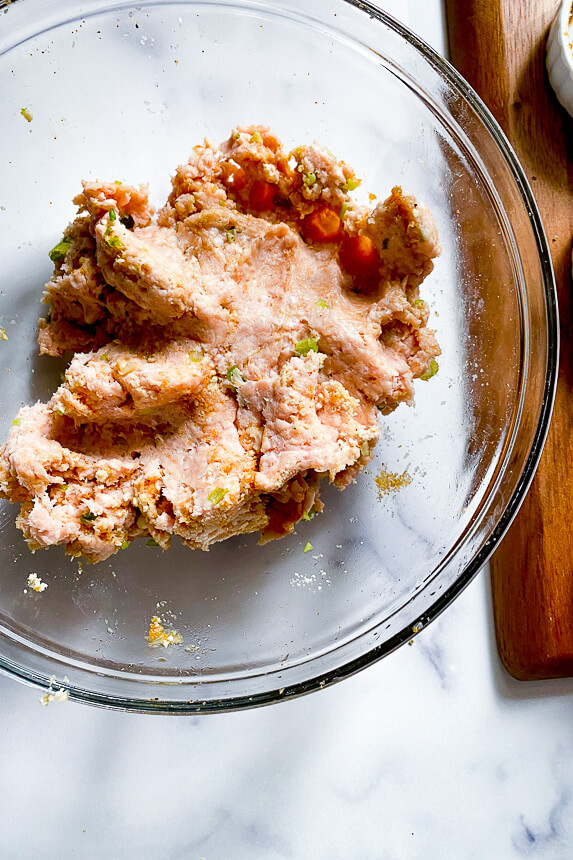 With a bowl or your hands mix meat and other ingredients together REALLY well. You want to make sure the spices, onion, and ginger are distributed properly. I have a standard rule when it comes to mashing meat together. Counting to 45 and that seems to be the magic number for me so that the meat mixture is mixed together perfectly.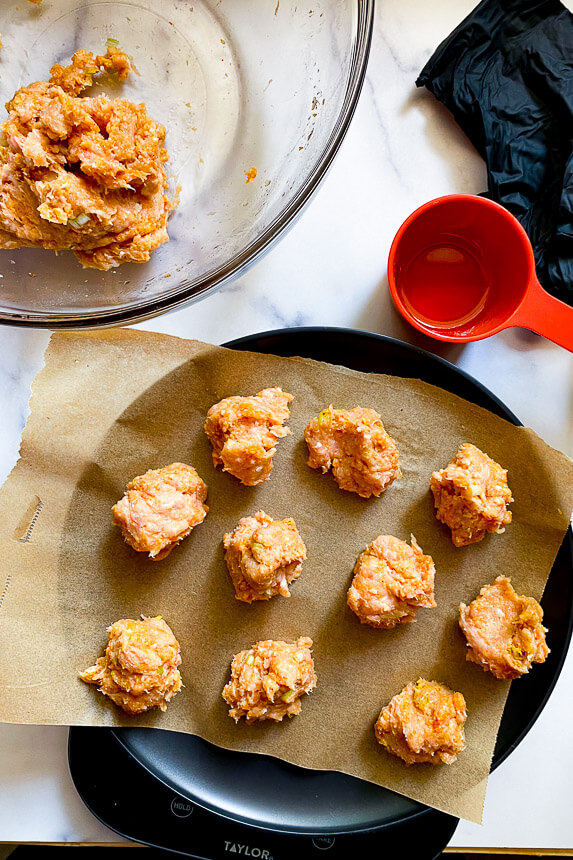 Perfect Meatball Making Tips!
There are two reasons I try to make my meatballs each about the same size. They all cook evenly and for exact nutrition reasons. When each meatball is the exact same size- it will have the same nutrition/calories/ww points.
Make them each one ounce! I grab my food scale, place a plate on top, zero it out, then add little meat mounds one at a time. The scale should go up one ounce each time a meaty mound is placed on the plate. Add or take away a pinch of meat when necessary. I make as many fit on the plate THEN roll them into balls at once. This is a much quicker process that weighing each one at a time. However, if you don't care as much about the exact nutrition you can eyeball about 18 meatballs out and that'll do.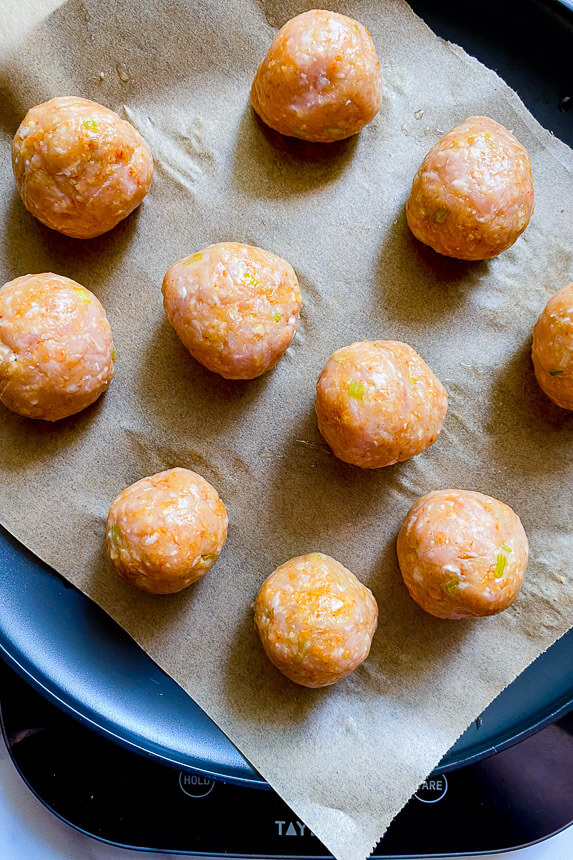 Next, roll them into smooth balls. I really like to make my meatballs this way. You can use gloves or just your bare hands.
Spray gloved hands or bare hands with cooking spray.
Grab a meat mound, place in palm of one hand, gently roll meatball between both hands until it is smooth and resembles a small ball.
helpful tip: if meat starts sticking and its harder to shape the ball- change gloves and spray with cooking spray again (if someone can't spray original gloves with cooking spray again for you). Be sure not to touch the cooking spray with raw meat hands! Additionally, you can use a small dish of water to keep hands wet while forming.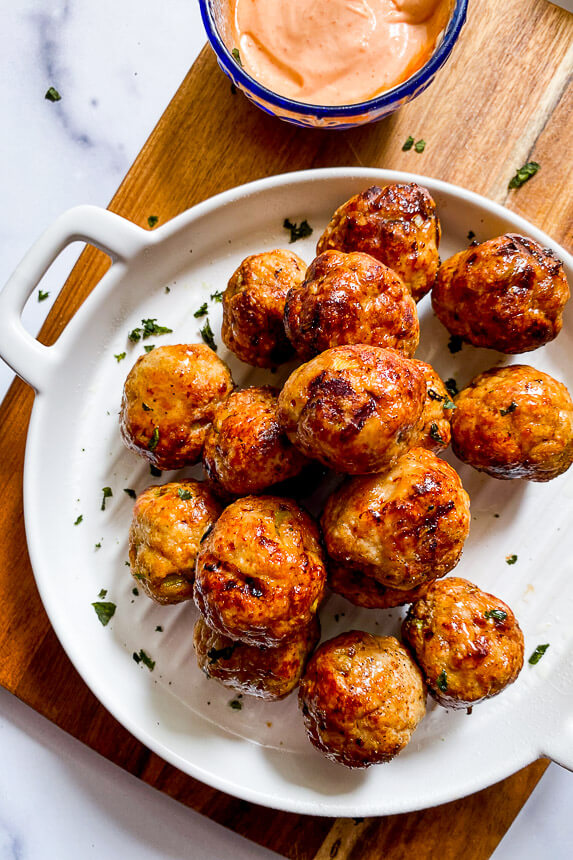 How to cook meatballs
Firecracker meatballs are so good that I needed to share two different cooking methods! If I'm being honest, I prefer the Air Fryer method because the nature of the Air Fryer helps the meat get golden brown evenly. The oven baked meatballs tend to only get golden brown on two sides. To the average person, this absolutely doesn't matter. They taste incredible both ways!
Oven instructions
Preheat oven to 425 degrees.
Line baking sheet with aluminum foil or parchment paper then add the meatballs leaving about an inch space between each of them, spray tops with cooking spray.
Bake for 14 minutes. Flip the meatballs over with a tongs about halfway through the cooking. This helps create a golden brown crust on each side.
Air Fryer instructions
Preheat Air Fryer to 400 degrees.
Spray basket with cooking spray.
Add meatballs.
Cook for 9 minutes total, pause cooking half way through, and shake the basket.
You will more than likely need to do two batches because you want to leave enough space between meatballs so that they can cook properly and become golden brown in color.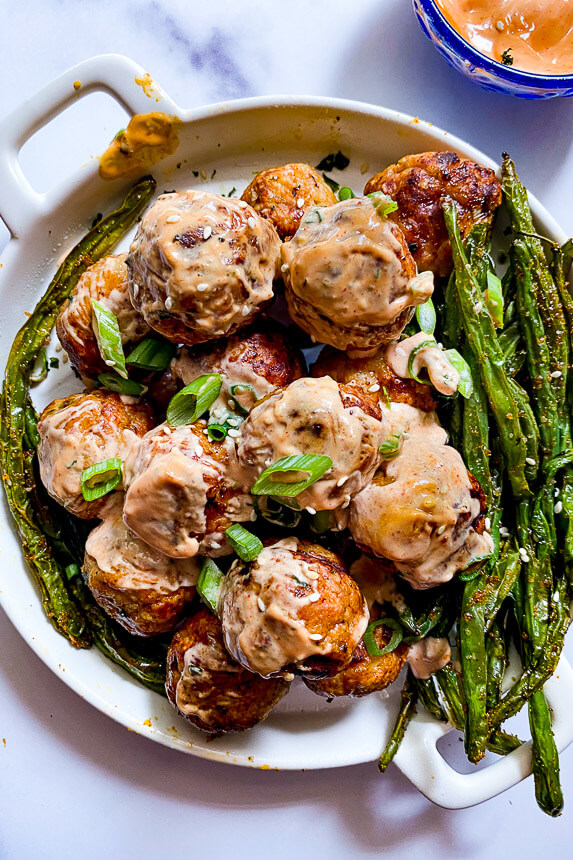 How to serve
These meatballs are a great meal or appetizer! To serve as a meal I like to make bowls by adding white rice, meatballs tossed in firecracker sauce, and a side of green beans, carrots, or broccoli. Garnish with toasted sesame seeds, red pepper chili flakes (if you're feeling extra spice-y), and diced green onions.
As an appetizer, Serve them piled on a small platter, stick each meatball with a toothpick, and have a big bowl of the firecracker sauce on the side. This would be perfect for football season and the holiday parties coming.
How to store and reheat
Store any leftover meatballs separate from the sauce. Place both in an airtight container. These should stay good in the fridge for 4-5 days.
Reheat meatballs in the microwave (45-60 seconds) or Air Fryer (350 for 3-5 minutes).
How to freeze meatballs
Meatballs freeze and reheat so well. This recipe makes about 18 meatballs so freezing leftovers might be a great option for you. Then you'll have a healthy dinner mostly prepared a few weeks from now. Look at you, you're killing it!
Make sure meatballs are cooked and cooled completely before freezing.
Place them on a sheet pan or in a Tupperware and place them in the freezer for at least two hours.
Add to a ziplock bag, label, and place in freezer. They will stay good for 2-3 minutes.
If you have a food saver you can freezer them this way which will help them stay good even longer.
You can thaw in the fridge over night before you use them and heat them up with reheat instructions above.
Other meatball recipes you'll love!
How do you keep meatballs moist?
Do not over mix the meat when mixing the mixture together.
The addition of "moist" ingredients also helps- in this case: soy sauce, ginger, and sriracha helps. Don't overcook!
Should you sear meatballs before baking?
Searing meat helps add flavor and color, but also adds additional steps, dishes, and time. I don't think it's necessary for this recipe.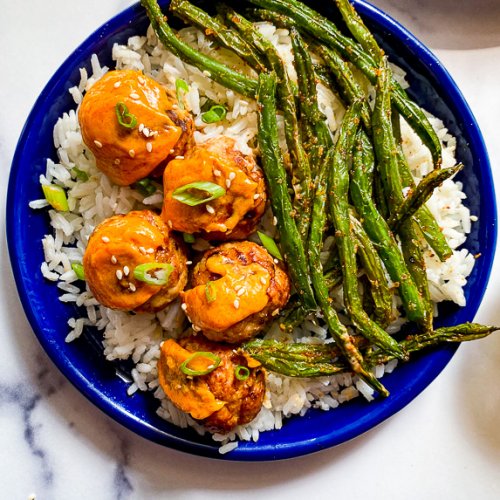 Print
Firecracker Meatballs
Meatballs with Asian inspired flavors tossed in a creamy spicy sauce.
Materials
Firecracker Meatballs
1

lb

lean ground chicken

1

tbsp

finely minced ginger

see notes*

2

tsp

low sodium soy sauce

1

tsp

garlic powder

1/4

tsp

smoked paprika

1

tbsp

sriracha sauce

1/2

cup

panko breadcrumbs

do not use fine bread crumbs

3

tbsp

minced green onion whites

about 2 green onions, dice the green parts for optional garnish

1/2

tsp

kosher salt
Firecracker Sauce
3

tbsp

mayo

(I use Dukes made with olive oil for a lighter version)

5

tbsp

light sour cream

2-3

tbsp

water

(plus more if needed)

1

tbsp

sriracha hot sauce

1

tsp

honey

1/4

tsp

EACH garlic powder and smoked paprika

2

tsp

low sodium soy sauce
Instructions
Sauce
In a small bowl add all of the ingredients for the firecracker sauce together and whisk together until mixed well. Adjust taste with salt, pepper, and sriracha for spice level. Cover and set in fridge while you prepare and cook meatballs.
Meatballs
In a large bowl add ground chicken, ginger, minced green onion whites, breadcrumbs, soy sauce, garlic powder, kosher salt, smoked paprika, sriracha. With clean hands, mix meat together SUPER well. I usually hand mix for about 45 seconds. Take care to not over mix as this can result in tough meatballs.

Form eighteen meatballs about one ounce each.

Tip: when forming meatballs spray hands with olive oil cooking spray or keep a dish of water to wet your hands every so often. This makes forming the meatball easier and won't stick. More meatball making tips in post.

Oven instructions: Preheat oven to 425. Line a baking sheet with parchment paper. Add meatballs, leaving space between each one, spray tops with cooking spray. Cook for 14-15 minutes, turning once halfway through cooking time. Air Fryer Instructions: Preheat at 400 for 5 minutes. Spray basket with cooking spray. Add meatballs leaving space between. Cook for 9 minutes. Shaking the basket halfway through cooking time. You may need to cook in batches depending on size of air fryer.

Serve meatballs with firecracker sauce. We like to toss the meatballs in a little sauce or drizzle it on top. Then, garnish with toasted sesame seeds, diced green onions, and red pepper flakes for an extra kick.

Store meatballs and sauce separately in airtight containers for 4-5 days in an airtight container.
Notes
Firecracker Meatballs nutrition/ww points is figured per one meatball because appetites range and I find this is easier so you can as many or as little meatballs you'd like.
18 meatballs total (about 1oz each)
10 tablespoons Firecracker sauce total (1-2 tablespoons sauce is plenty to toss with 4-5 meatballs) If I'm making a rice bowl- I tend to have 3-4 meatballs tossed with 1-2 tablespoons of sauce and add a vegetable too.
Each meatball: 44 calories, 2g fat, 0g saturated fat, 1g carbohydrates, 0g fiber, 0g sugar (0g added sugar, 0g sugar alcohols), 1g net carbs, 4.6g protein
WW Points: 1
1 tablespoon Firecracker sauce: 26 calories, 2g fat, 0.5g saturated fat, 75g sodium, 1g carbohydrates, 0g sugar (0g added sugar, 0g sugar alcohol) 0.5g protein
WW Points: 1
Ginger- You can use ginger paste (found in the produce section), about one thumb (aka inch) of fresh ginger finely minced, OR you can also use the frozen ginger cubes found in the freezer section.