Slow Cooker Best Ever French Onion Soup
This post may contain affiliate links (meaning I earn a small comission if you purchase an item through a link I provide) I only provide shoppable links to items I love and are helpful. As an Amazon Associate, I earn from qualifying purchases.
Good Morning! I am bringing the post to you courtesy of some peace and quiet and lots of coffee.
How does one make such a statement? Best. Ever. I try not to. I really do. Sometimes it slips out, but the truth is I'm quite positive there's probably somewhere in the world that has a better one. Plus, there's a few times I've made others recipes that have said best ever IN the title and I was sorely disappointed. So, I'm going to take quite a risk here, I'm going to use the words 'best ever' in the title and I am going to tell you that this is the best ever.
but not without a short little disclaimer: I do not like French Onion Soup. I do not! I want to. I want to really badly. I go to restaurants and while I am taking annoyingly too long to make any decisions on what I would like to eat. (Eric says it's annoyingly cute. He just doesn't understand me. Ha!) I see these bowls of French Onion soup with that gob of heavenly melted cheese on top being carried off and served to different tables. I look at the menu in the soup section and there it is, I see it "Best Ever" or "Famous" French Onion Soup and I take the plunge because I don't listen to my heart. And when it comes to french onion soup, my heart says NO! The server brings me a too good to be true delicious looking little bowl of heaven, but I don't like it. I take one bite and push it aside. This is the story of Star and French Onion Soup. It's not a very exciting one, but it's mine!
Over the holidays my sister, Hope, and her big ol' family came to visit for about a week. We had loads of laughs, lots of fun, and too much food. (I can't believe I just said too much food!) I'm working on getting myself back to pre-holiday glory in the weight department. I always take holidays off. It's totally worth it. Anyway, back to my sister. Yes, this is the same sister I was talking about who paid me to cook for her family when I was younger. (See Chicken & Broccoli Alfredo Stuffed Shells) So, I can't believe that I am not only sharing her recipe here, but I AM SAYING IT IS THE BEST EVER! (Ha! I love ya, Hope!) She told me the other day it's not that she doesn't know how to cook. It's mostly that she doesn't like to. Okay, I believe you now.
After I was quite hesitant about having the soup because of all the disappoints French Onion Soup has given me in my life. She served me this French Onion Soup with a toasted baguette and gob of melted swiss cheese on top…. and it was a dream. I ate three bowls.
I had to change just one or two things so that it could be lightened up for y'all to enjoy every day of the week if you wanted to. Last week, I may have eaten it every single day, and I was just fine with that!
I'd also like to add that even though you have to do a couple things on the stove and in a bowl before it goes into the slow cooker for the day. It's still easy peasy! It takes less than 10 minutes. The hardest part is cutting the onions up, and it's really not that hard…. except I'll most definitely never have a cooking show because I can't seem to hold it together while cutting up onions. It's like an ugly cry without the crying. I'm rubbing my eyes. I have the sniffles. If I have my make up on, forget about it! Any tricks for cutting onions? I pop a piece of gum in my mouth when I think of it, but I normally don't and the gum really only takes the edge off. I'm not trying to sway you from this recipe. I promise. Why am I still talking?
Here's what's going to happen in the kitchen!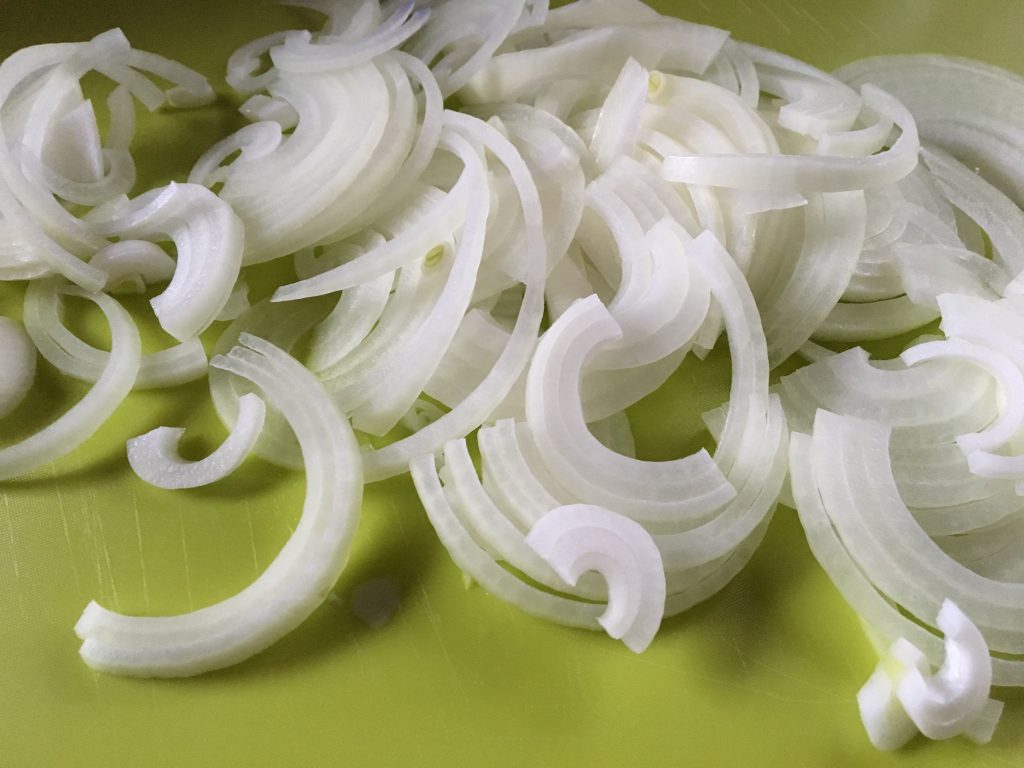 Chop up two sweet yellow onions into thin slices! Make sure they are sweet onions. I don't know what it tastes like if you don't use sweet onions. Hope insisted that I remember to use sweet yellow onions. I'm guessing she must have made it without sweet onions once. I'm guessing it wasn't so good.
Grab a large skillet and over medium-high heat add one tablespoon olive oil and a half a stick of butter. Melt.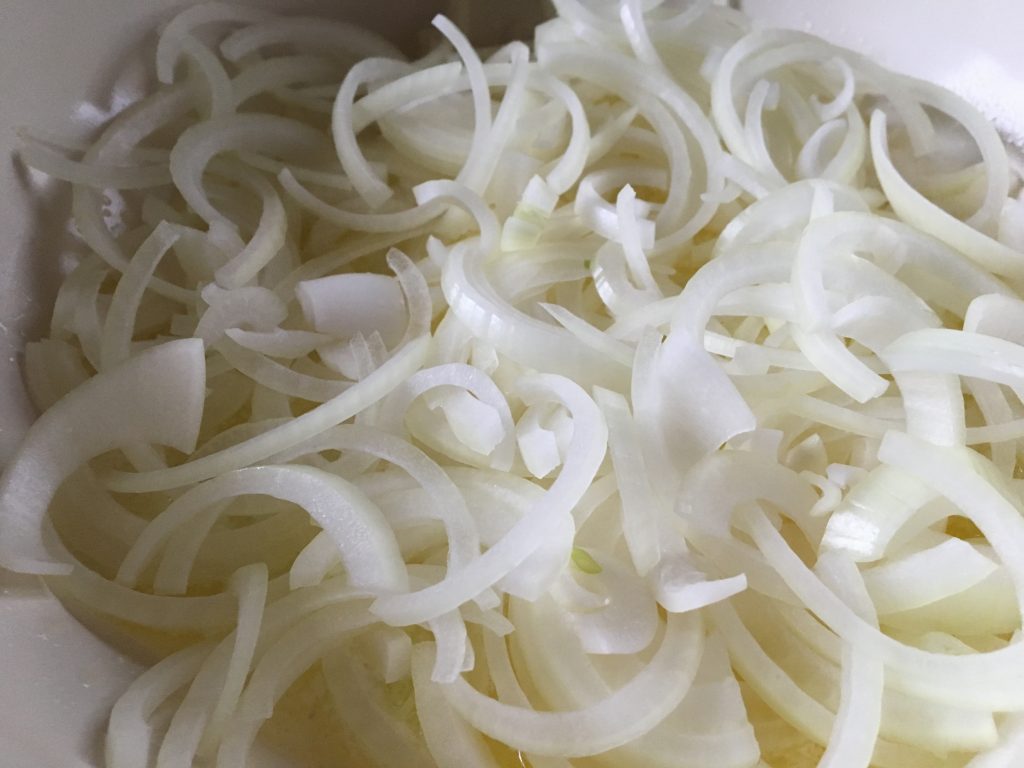 Throw the onions in with that skillet! Toss them nicely in the butter and oil. Cover and let them cook until really soft. (About 7-8 minutes)
While the onions are cooking, In a small bowl whisk together three tablespoons of flour with two tablespoons of Worcestershire sauce. (Raise your hand if you hate spelling that word) (Raise your hand if you actually almost raised your hand)
These are how the onions will look when your all done cooking them up. Mmmm…..
Add onions to your slow cooker, followed by 10 cups low sodium beef broth
Whisk in your flour and Worcestershire mix. Add a couple cloves of minced garlic here too! (I'm a ditz. forgot the photos!) Add some salt and pepper! (I like mine a bit salty. So I was pretty generous with the salt grinder. You can wait to do after it has been cooking for awhile too.)
Cook on low for 7-8 hours.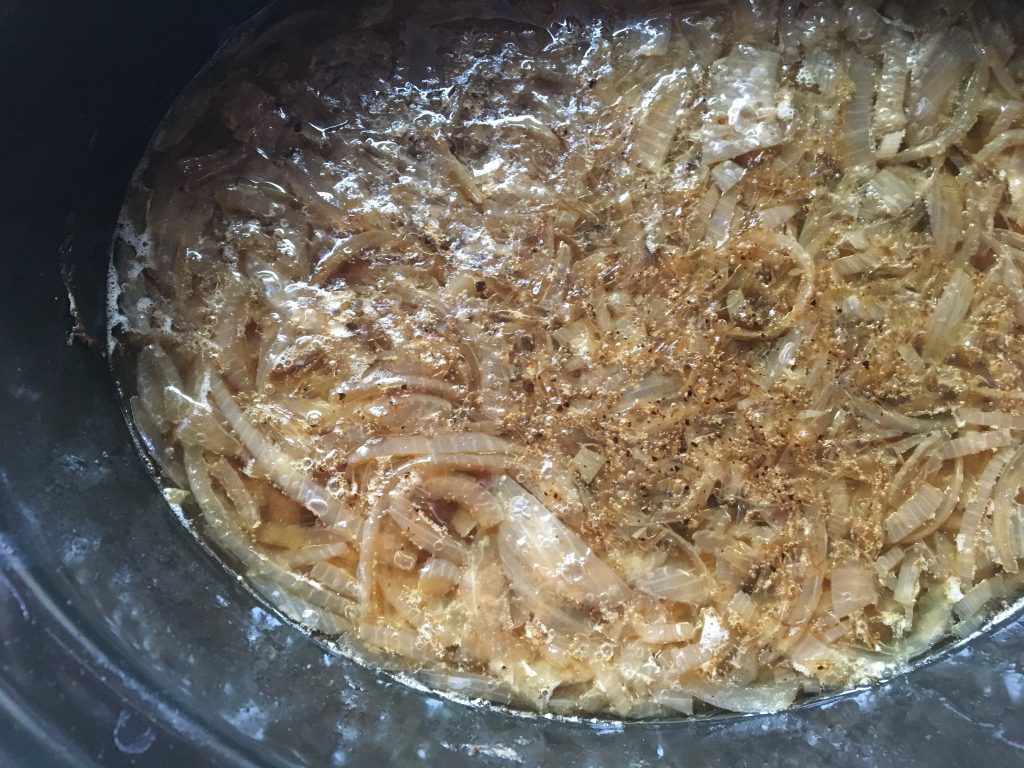 In about 7-8 hours you can open up your slow cooker. You'll smell it way before you see it. It's so good! If you haven't added salt and pepper yet. Add some and adjust to personal taste.
To top this delicious little bowl of soup off you'll need a baguette and some cheese! I use swiss cheese. You can use mozzarella. You can use gruyere! (swoon!) I also use the real stuff. No reduced fat cheese here. (Feel free to use it to cut back on points & calories though!) Don't mind me. I promise, it's still calorie friendly.
Slice the baguette into thin slices, lay on a sheet pan, and bake at 425 for about 5 minutes to crisp them up a bit before putting on the soup.
I also hate swiss cheese! I don't even trust myself anymore. It's good with this soup. I promise. IT'S AMAZING WITH THIS SOUP.
Grab some oven safe bowls. I'm using my little ramekins. They just fit one cup of soup inside, which is exactly what I needed. Many bowls are oven safe, but check the bottom of the bowl to be sure. However, my sister used whatever bowl she wanted and put it in the oven. She lives by no rules. Do what you want, but don't say I didn't warn you if something ungodly messy happens!
Caution: bowls will be HOT when you take out of the oven! Take care to use oven mitts and to let cool a bit.
Top with a slice of baguette.
Or if you're me and you want two slices of baguette.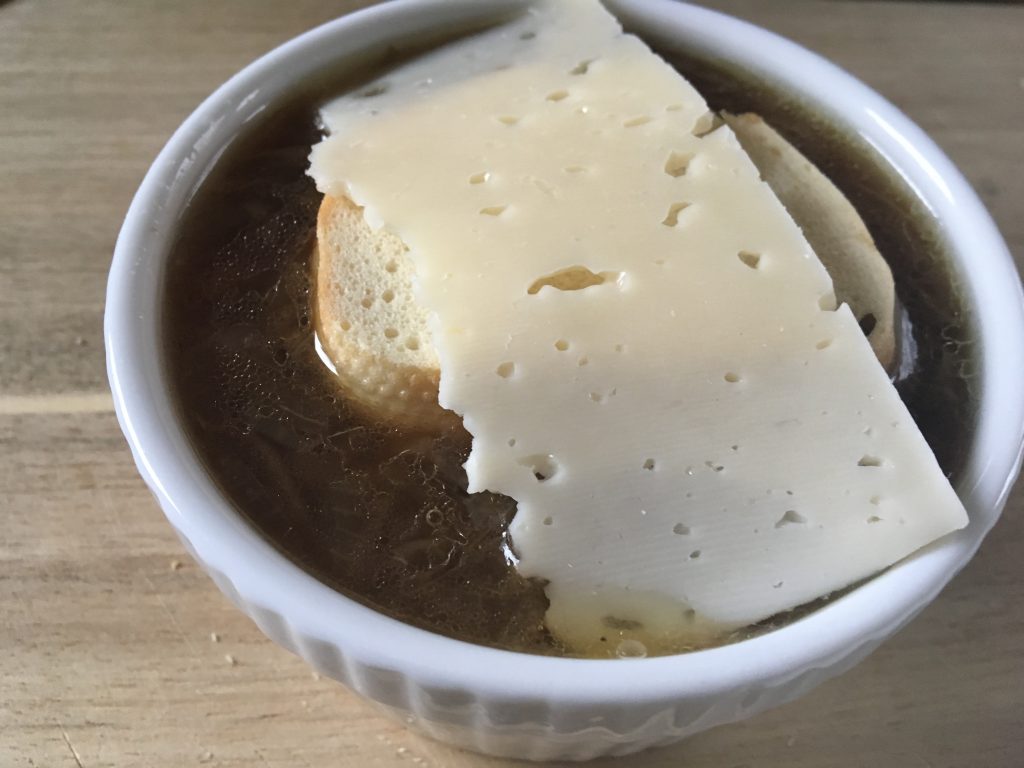 Top the baguette with some cheese. Here's 1/2 slice of swiss cheese.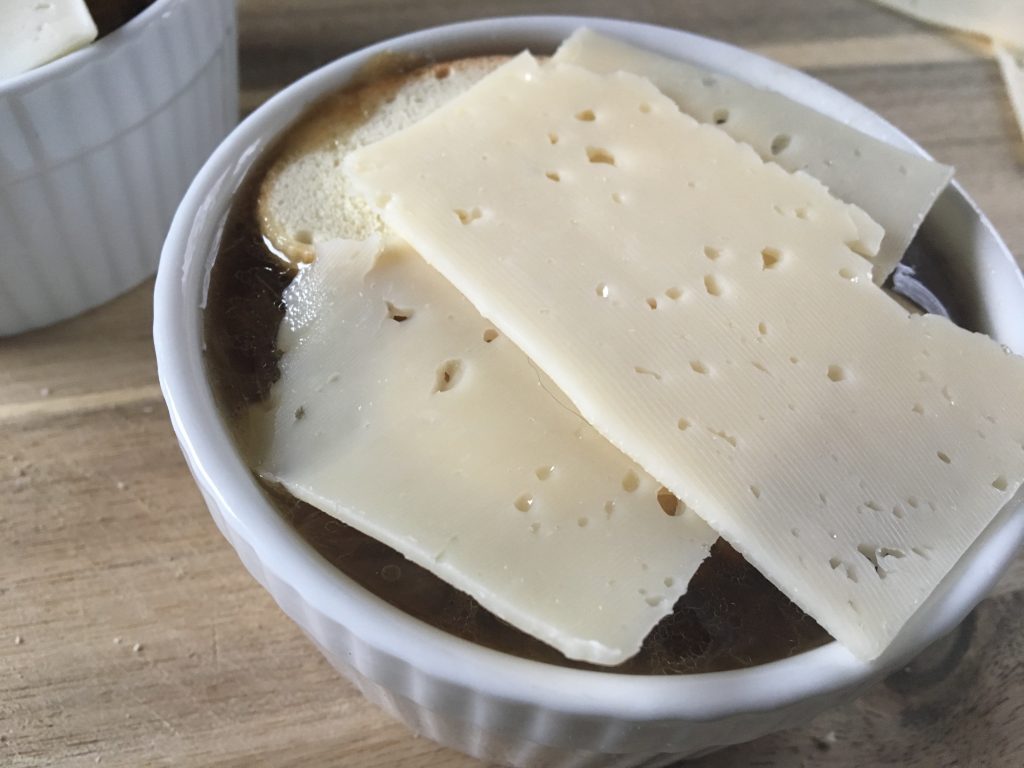 Or if you're livin' a little on the wild side like me, use the whole dang slice!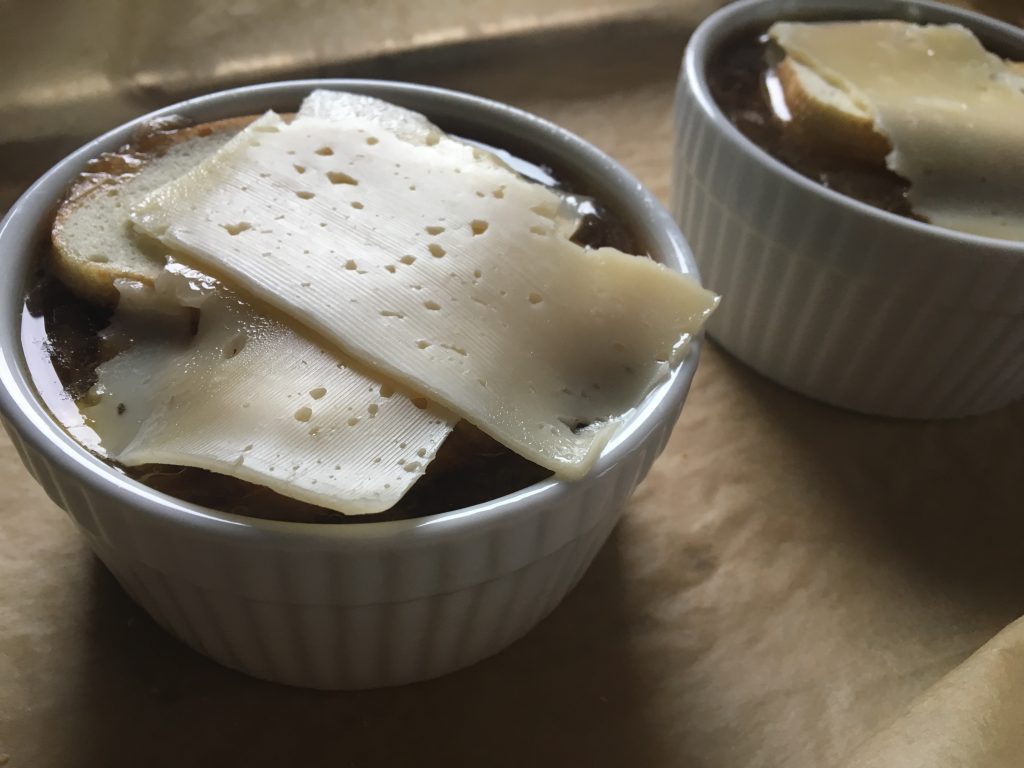 Place on a sturdy sheet pan. I just used the same one that I crisped the baguette on.
Bake at 425 for 8-10 minutes until the cheese is nice a melted. If you can (I can't) You could wait for it to brown up a bit. Again, I can't, It tastes perfect this way.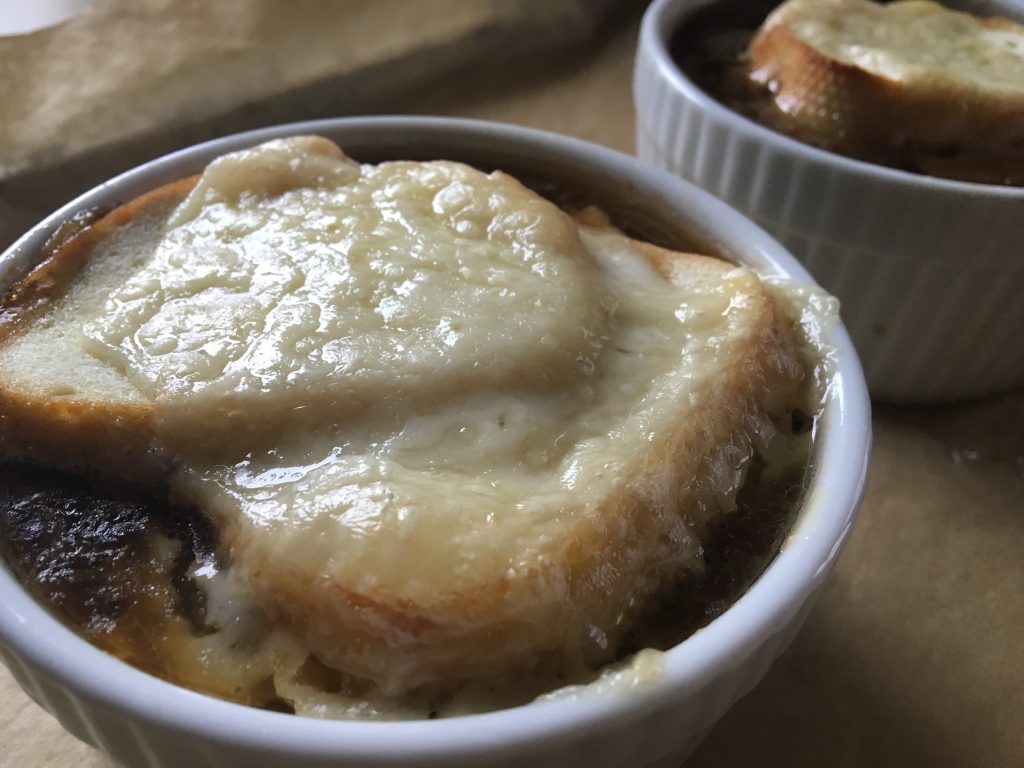 And there ya have it! A dreamy little bowl full of French Onion Soup. This will be the only French Onion Soup I eat for the rest of my life.
Caution: The bowls will be HOT! Take care to use a oven mitt and let cool for a few minutes before handling.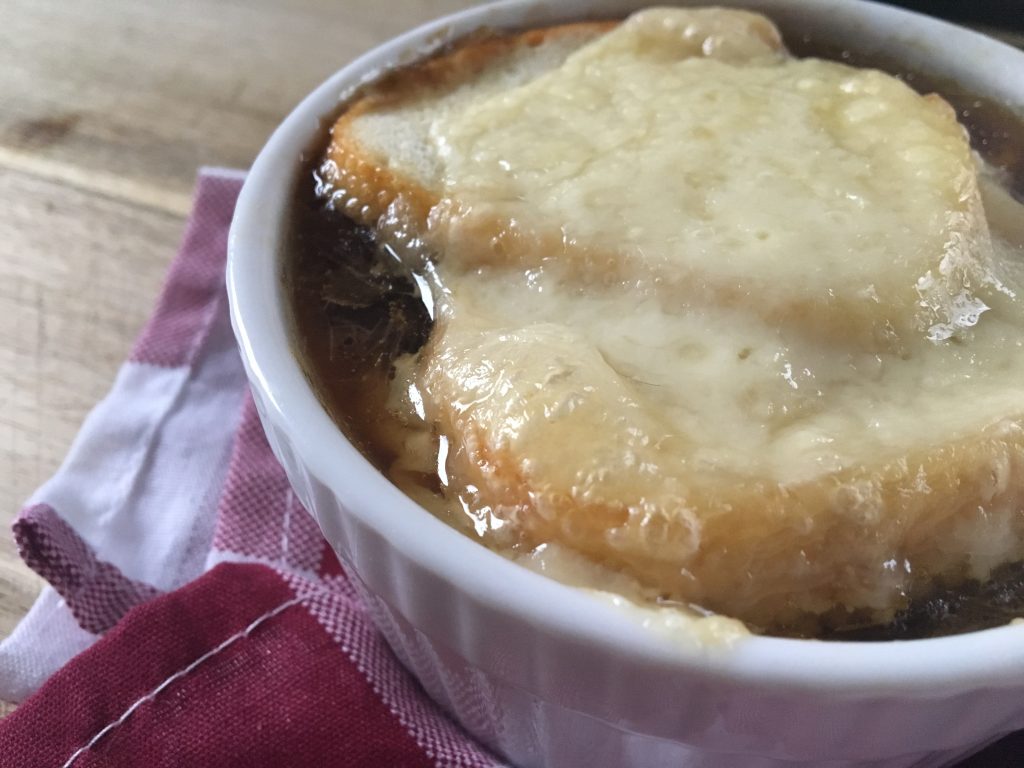 Go ahead and dig in!
A little tip from Hope when she doesn't remember to get a baguette. She has three children, I have no idea how she remembers anything. She uses croutons then tops them with cheese, and says it is AMAZING. I have yet to try it so I don't know for sure, but I'm pretty sure she's probably right.
I hope you Enjoy!
With love from my kitchen to yours,
Star
Print
Slow Cooker Best Ever French Onion Soup
Best French Onion Soup, Ever.
Materials
2

large yellow sweet onions

1/2

stick of butter

1

tbs

olive oil

3

tbs

all purpose flour

2

tbs

Worcestershire sauce

3

cloves

garlic

, minced finely

10

cups

low sodium beef broth

salt & pepper
Topping
Baguette

, Sliced thinly

Cheese

, such as swiss, mozzarella, gruyere!
Instructions
Halve and then cut onions into thin slices. In a large skillet over medium high heat add olive oil and butter. When the butter is melted add the onions. Cover and cook for about 8 minutes until the ovens are very soft. While the onions are cooking whisk together Worcestershire sauce and flour. Set aside. When the onions are done add to the slow cooker followed by minced garlic and the beef broth. Whisk in the flour and Worcestershire sauce. Salt and Pepper to taste. Cook on low for 7-8 hours.

When the soup is done. Preheat oven to 425 degrees. Ladle soup into a oven safe bowl. Top with a slice or two of toasted baguette and your choice of cheese. Place bowls onto a sturdy sheet pan and place in oven for 8-10 minutes until the cheese is melted and slightly golden brown.

Caution: Bowls will be very hot coming out of the oven. Take care to use a oven mitt and let cool slightly before handling.
Notes
Serving Size: 1 Cup Soup (toppings not included)
85 calories, 7g fat, 3g saturated fat, 5g carbohydrates, .5g fiber, 0g sugar, 1.5g protein.
WeightWatchers Points: 3 Points