This post may contain affiliate links (meaning I earn a small comission if you purchase an item through a link I provide) I only provide shoppable links to items I love and are helpful. As an Amazon Associate, I earn from qualifying purchases.
Hi! You need to make this Chicken Noodle Casserole right this minute, okay? okay.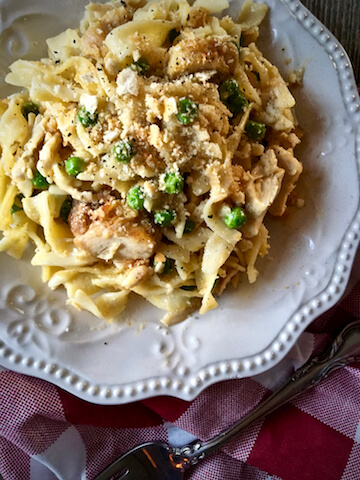 I know I'm basically all about comfort all the time.
I know I've told you a billion times that (insert name of recipe here) IS the ultimate comfort food.
I know you're probably like, 'Okay Star, not everything can be the best comfort food ever."
But it can, and it is, and it will be.
It's winter, y'all. I basically want to live in my bed and eat mashed potatoes all day long. I am livin' off this stuff!
I'm like a mama bear who needs to go into hibernation.
Except, I can't. Pepper has other plans every single day. I might have bribed her to snuggle with me in bed the other day with a orange and about 78 goldfish crackers…. I might have. Ultimately, it didn't last. She is on the go! What is she doing? Where does she have to be? I don't know, but she has to be standing up and walking running around for precisely 11.5 out of the 12-13 hours she's awake every single day. It's like ever since she learned how to walk she can't sit down out of fear that she may forget how to. It makes me laugh, it makes me cry. I just want her to stay little and snuggle me forever.
This is a public service announcement to anyone who has a newborn and is struggling with life. Just breathe and embrace. Breath and embrace, my friends. I love Pepper with my whole dang heart and I love getting to see a whole new world through her eyes every single day, but I miss the days where she would ONLY fall asleep in my arms so I wasn't able to get up and do, well, really anything. I really do. and you will too. So just breathe and embrace. You are in the first season of motherhood and in the next season, you'll probably never sit down. ever again.
Why am I off on this tangent? I don't even know. If you read my little blog here, you probably already know that I like to do that, but at least I almost always end it with a delicious recipe for y'all to make, right?
Now about this recipe… I ditched the cream of chicken canned soup. Some people will be pleased, I won't name names, but some people have quite a distaste for the stuff. I'll admit it's not the best ingredient in the world. But, I use it in some of my recipes because I like to make good food and I like to make good food extra fast from time to time. Now, if you're here and disappointed that I didn't use a short cut. Don't worry! This "sauce" is 1-2-3 easy peasy. And I'm pretty positive you have everything on hand to make it. Milk. Chicken Broth. Flour. Assorted Spices. (That's it!) If you have about 3 extra minutes and don't mind dirtying an extra small sauce pan, you can do this! Also, you could sub a couple cans of cream of chicken/celery soup and It would work just as well. (maybe not quite as flavorful so add the spice mixture still!) I've used both in this. I've been making this Chicken Noodle Casserole for Eric for a very, very long time. I've had days where I didn't want to dirty a extra pot. I've had days where I felt like being Julia Childs. It's all the same. It's good food. It's comfort. Everyone will love it. and I'm sure of that!
Let's get cooking!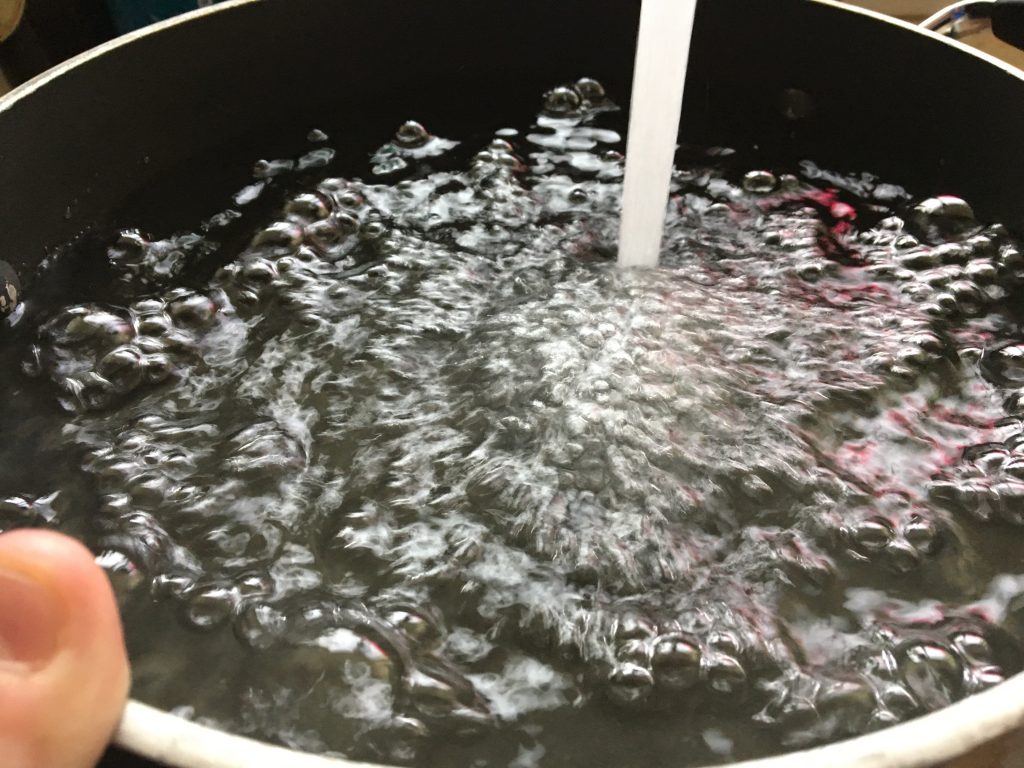 I'm pretty sure that the thing that takes the longest in this entire recipe is waiting for the pot of water to boil and then boiling the noodles. So let's just get that pot filled up with water right off the bat, put a 4-5 tsp of kosher salt in there, and let it boil. If you've been reading my recipes for awhile. You know that I highly believe in salting water before putting noodles in the water. Please don't skip this step. You'd be quite surprised how much it actually makes a difference in a dish.
Alright, now that you've got the water on it's way to boiling. Let's make a quick seasoning mix for your "sauce". I say sauce in quotations because this is basically homemade creamy condensed soup with some yummy flavor added to it. Grab 1/2 each tsp of garlic powder, celery salt, crushed rosemary, and thyme. While you're at it, add about 1 tbs of minced dried/chopped onion and mix it up. I eyeball all of these usually, but the last time I made it I used these exact measurements and it was perfect.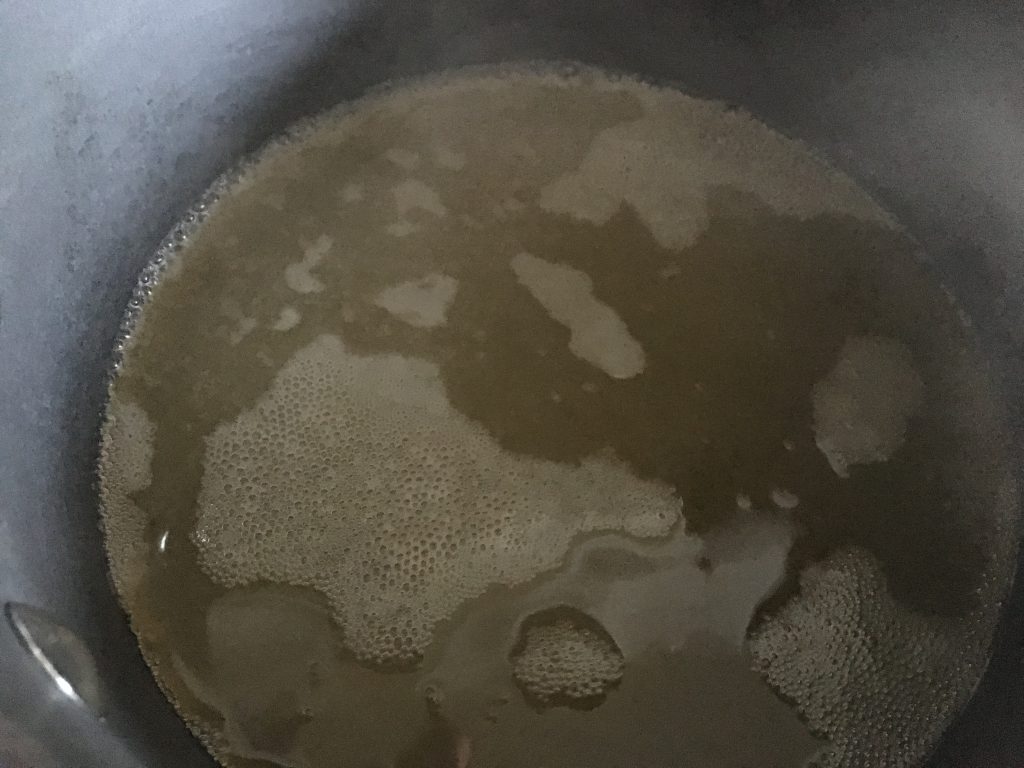 Now in a medium sized sauce pan over medium-high heat. Pour in 1 1/2 cups of chicken broth and boil.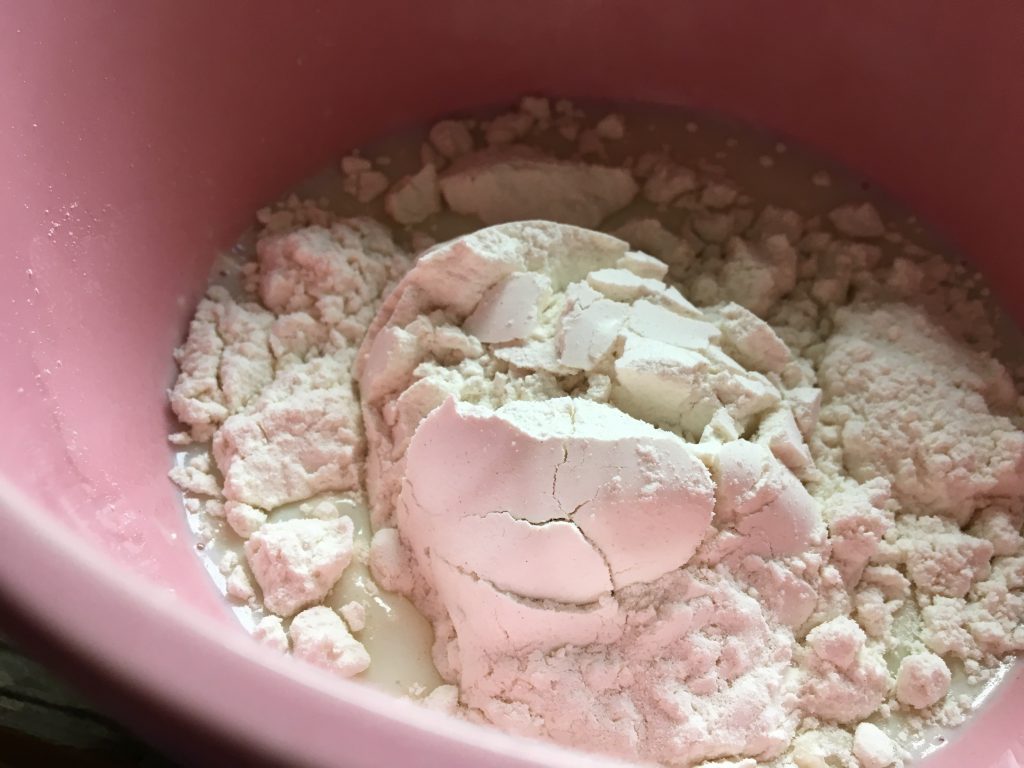 In a bowl create a slurry using 3/4 cup of milk and and 1/2 cup of flour.
What the heck is a slurry? Well, I didn't even know what it was until reading a cookbook a few months ago. I always called this, "What my mom taught me to do to thicken a soup late in the game." But, I guess the technical terms sounds a bit more professional. Ha! It's basically a thickener for soups. It's like a roux except it doesn't use any fat, which cuts way down on calories, and it's added at the end of the process instead of the beginning. I'm sure there are other far more technical reasons, but hey, such is life!
Slurries are kind of super awesome.
Not to be confused with flurries. Those are cool too.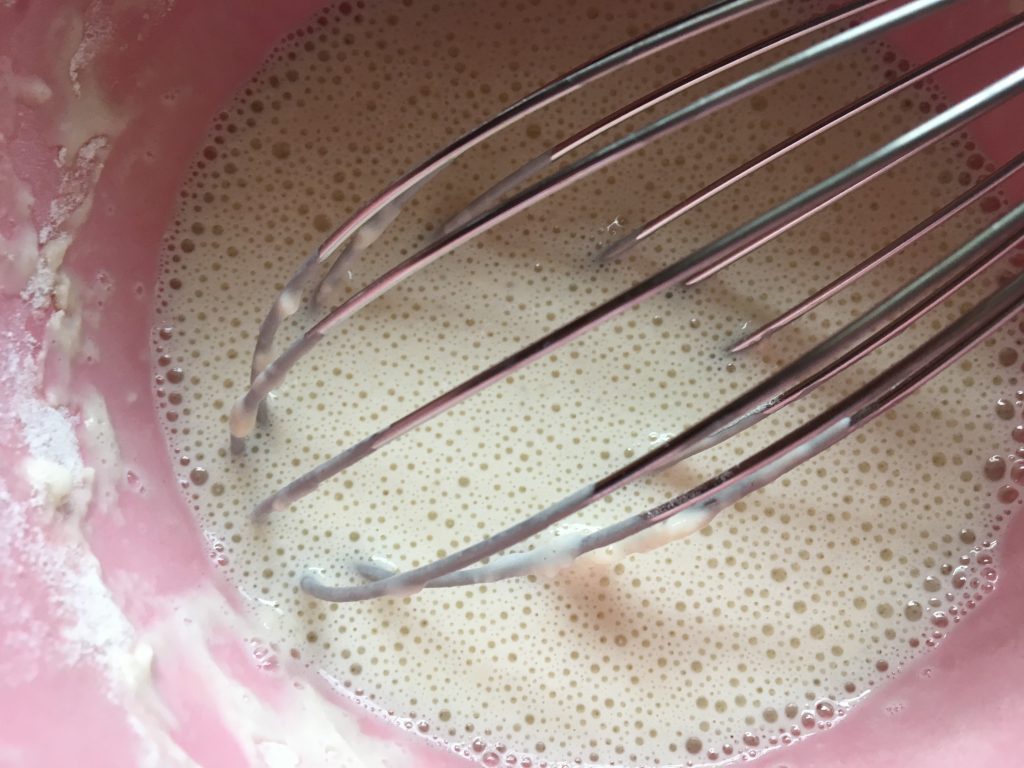 Whisk together until the flour completely dissolves.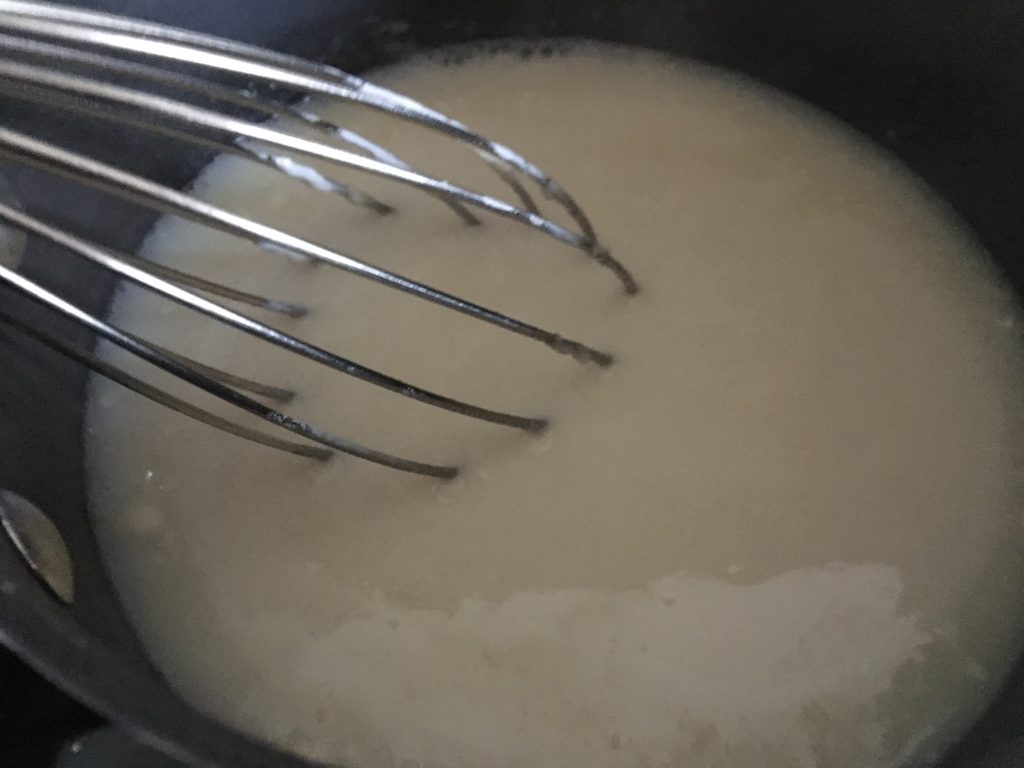 Slowly add the slurry into boiling chicken broth, followed by your spice mixture. Bring mixture to a slight boil, then reduce heat to low. Whisk constantly for a couple of minutes until thickened.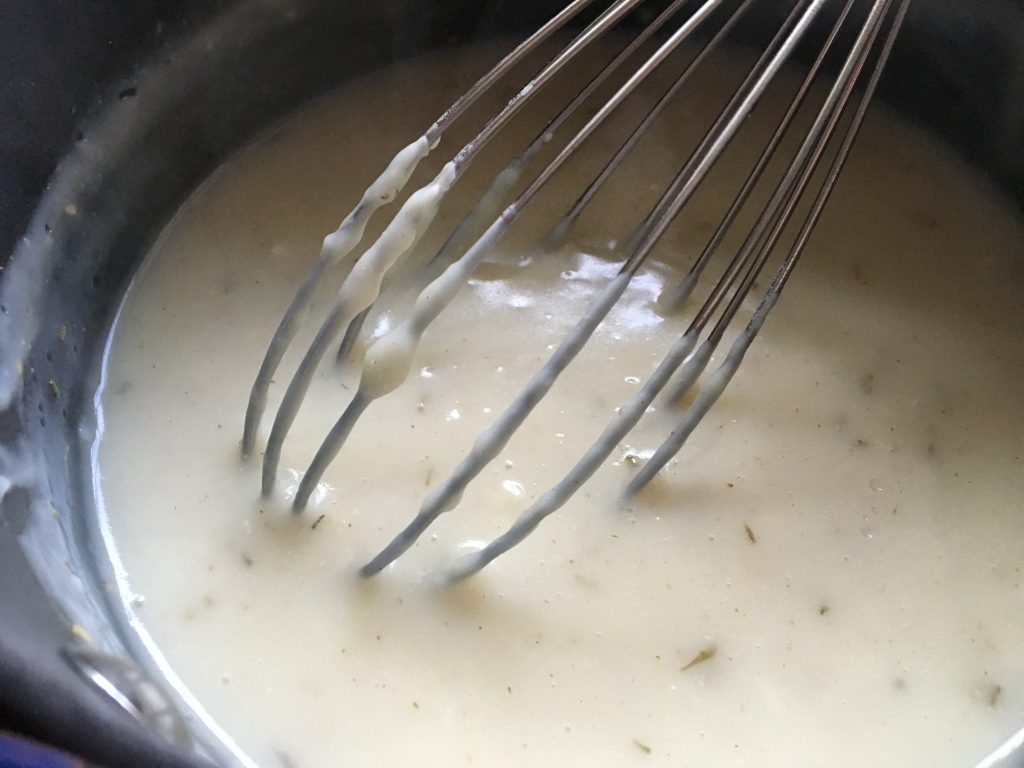 Yum! Taste and adjust with salt and pepper! Set aside.
Add noodles to boiling water. Cook according to package directions.
In a large bowl add the "sauce", 1/2 cup chicken broth, 1/2 cup light sour cream, 2 cups frozen veggies…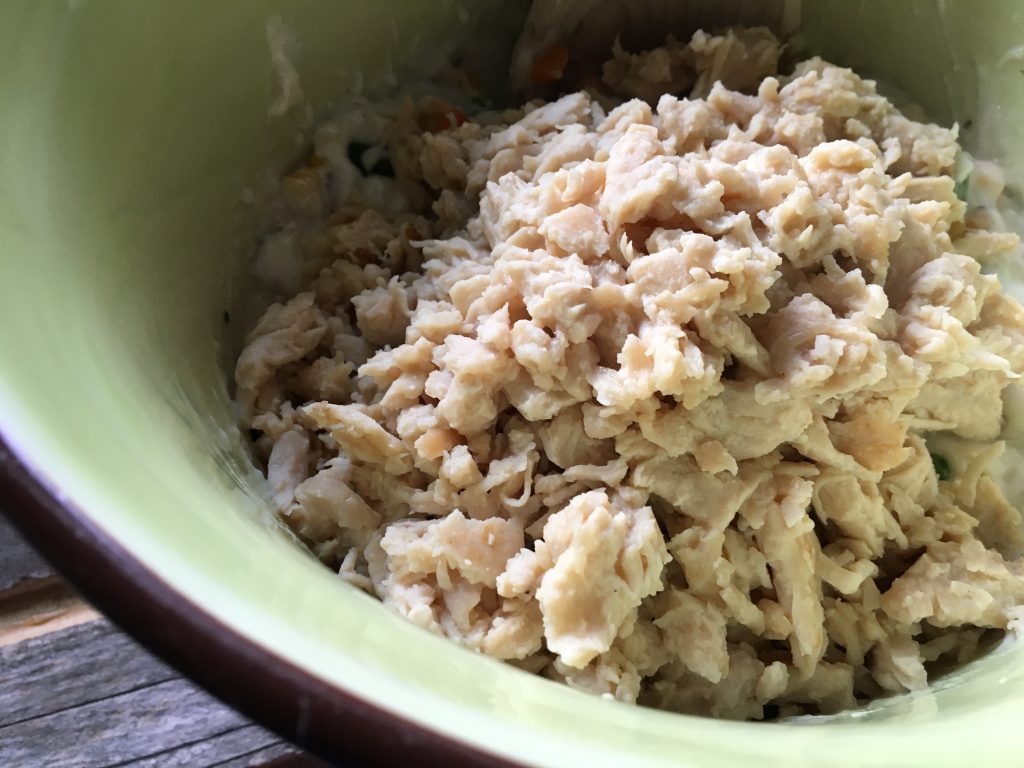 and three cups of cooked shredded chicken!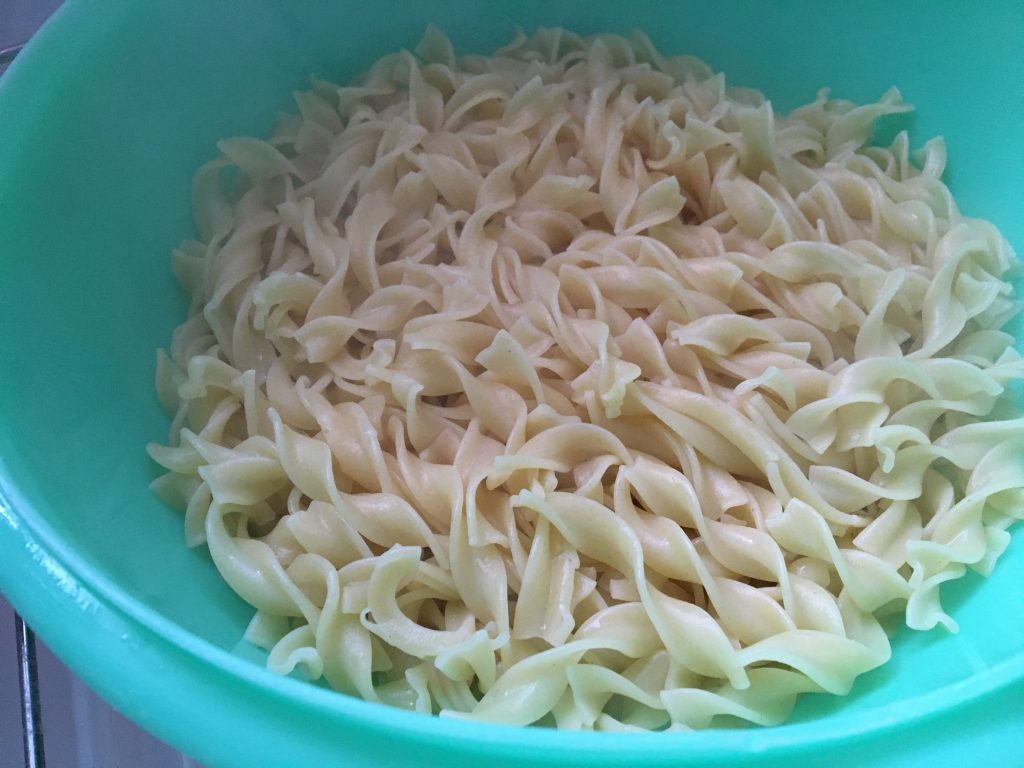 When the noodles are finished. Drain and add to a large casserole dish.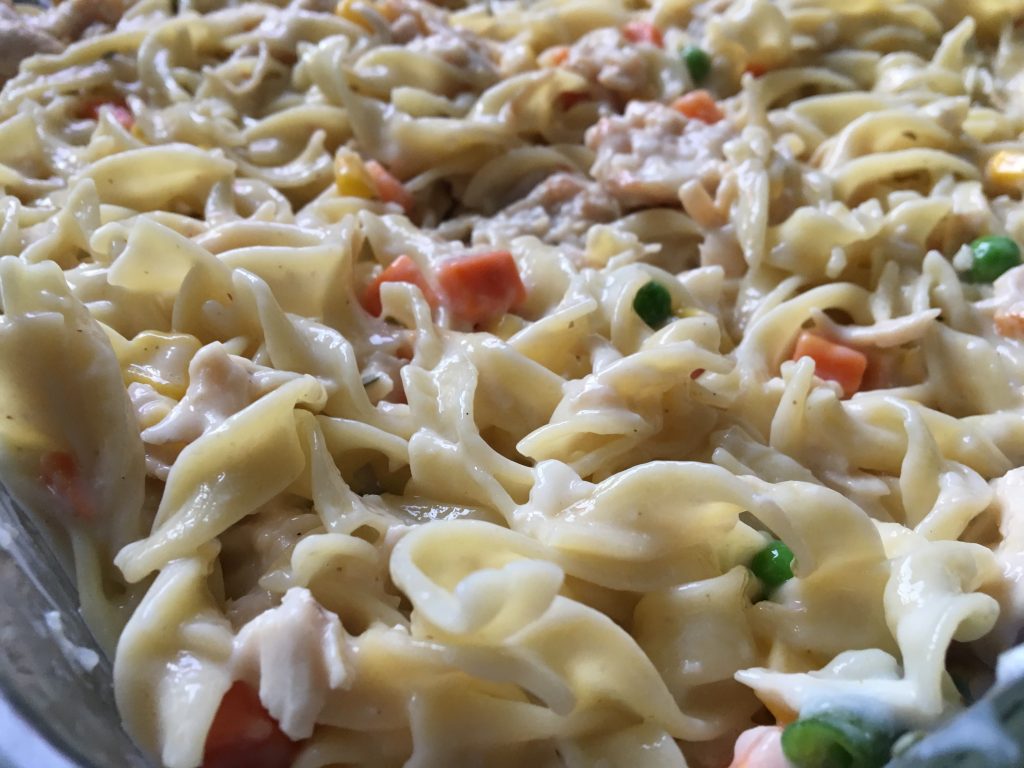 Add the chicken, veggies, and sauce! Mix up real good!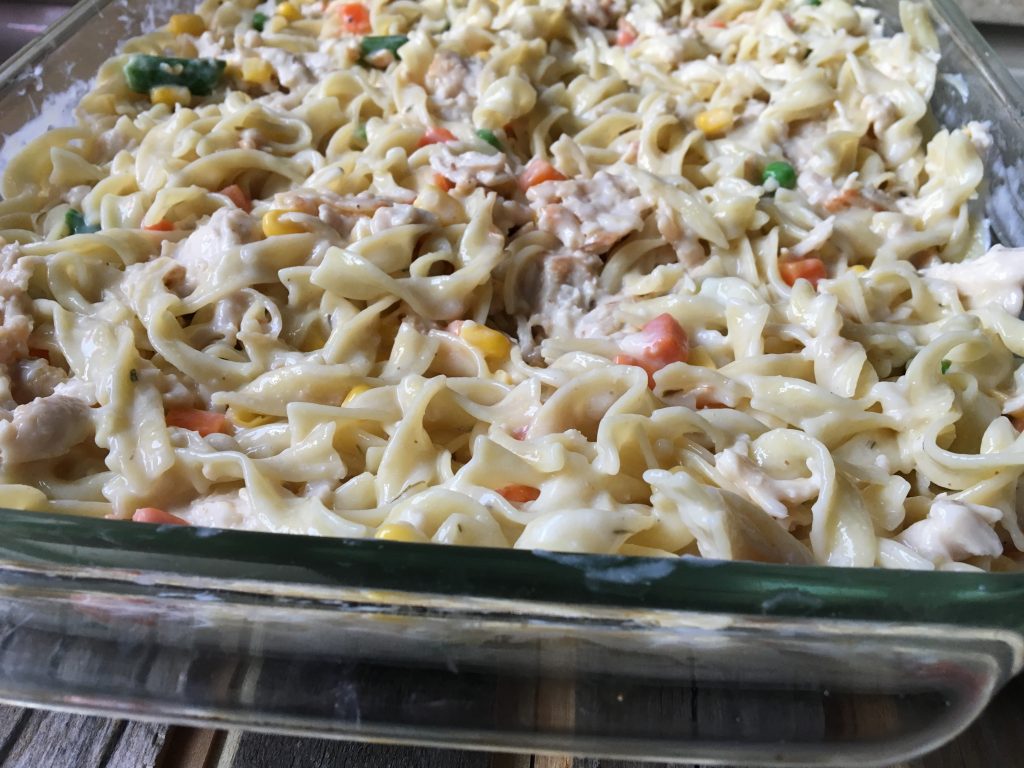 Oh My… and if you can't wait. (like me) try some. It's good. It's real good. Also, this is a great time to adjust to your taste with salt and pepper!
And.. Last but not least. I love a little crunch on top! You don't have to do this, but you should do this.
Crush up some crackers and evenly distribute thorough out the casserole dish. Ohmylanta! I use Ritz Whole Wheat Rounds. They have become somewhat of a life line to me in the past few months.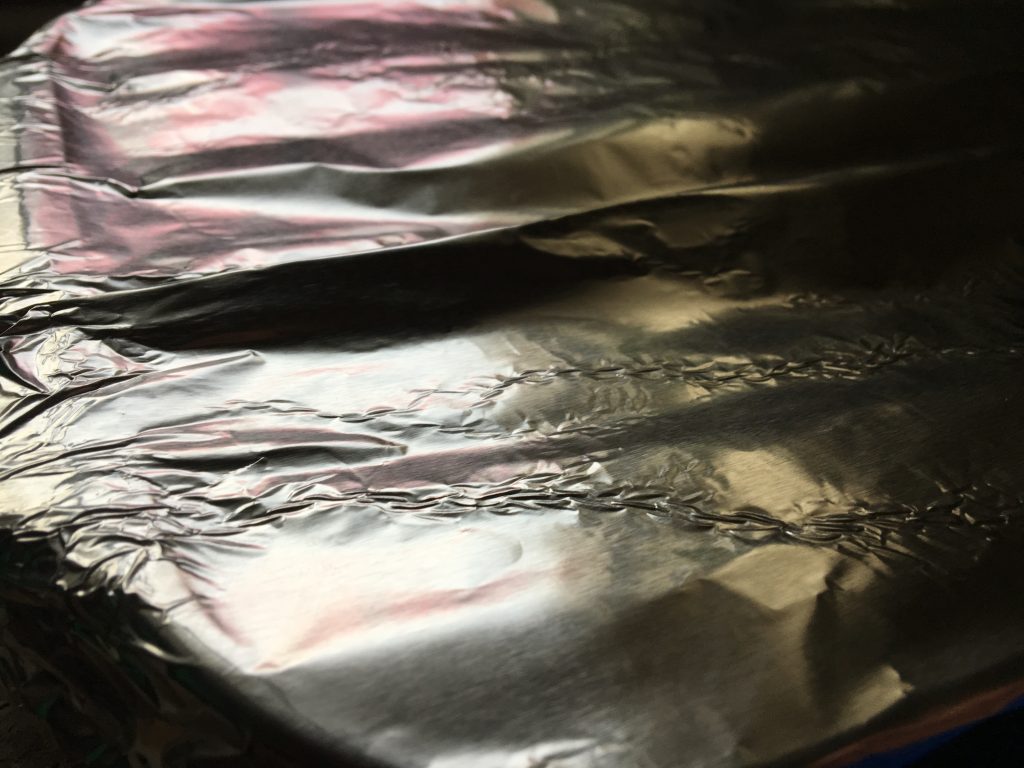 Cover with tin foil! Pop in the oven for about 25 minutes at 350 degrees.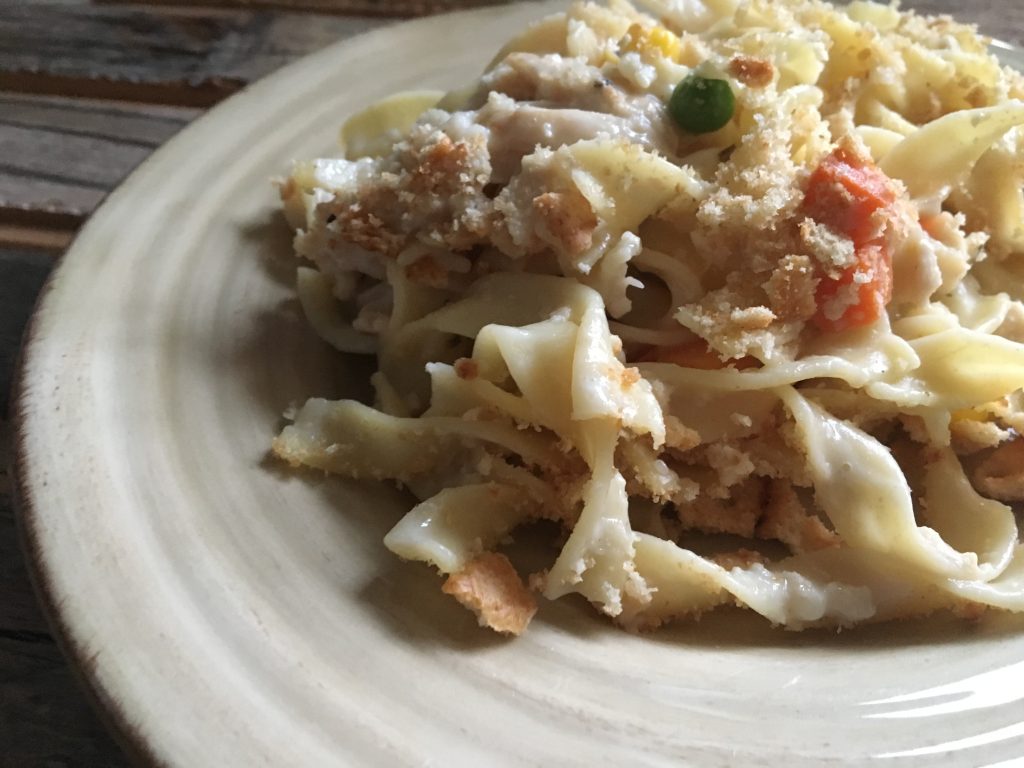 And voila…. It's perfect. It's comfort. It's delicious. and for all you canned cream soup haters out there, there isn't any!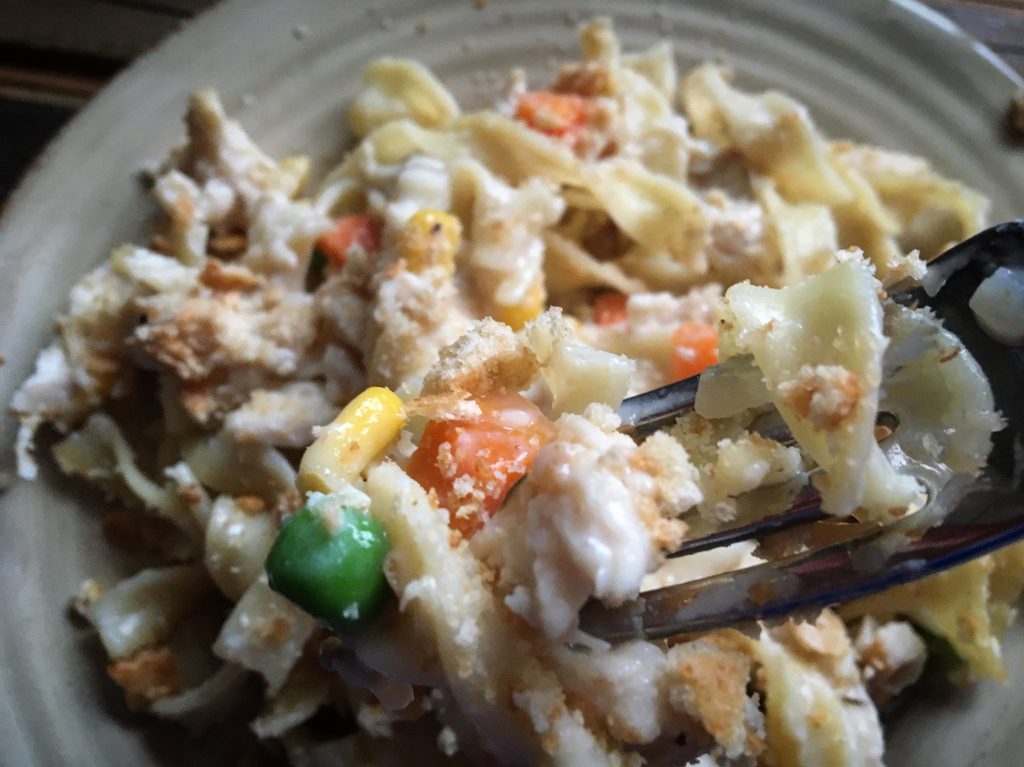 A perfect bite.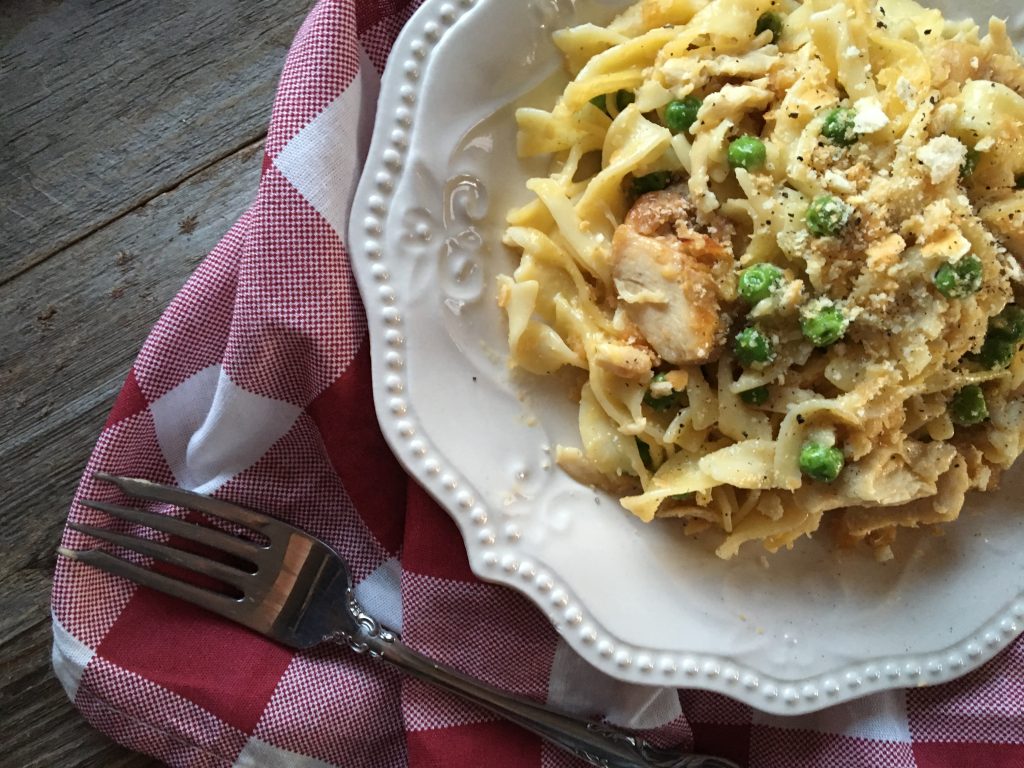 Also, 100% Pepper Approved. She eats almost an entire serving to herself (which by the way is a huge serving)!
I hope y'all enjoy. I hear it's supposed to be crazy cold and icy all around the states this weekend.
Stay safe, warm, and eat lots of lightened up comfort food!
With love from my kitchen to yours,
Star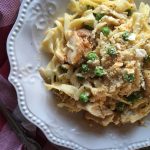 Print
Chicken Noodle Casserole
a hearty casserole filled with chicken, vegetables, and a from scratch creamy sauce with a cracker crumb topping.
Materials
10

oz

No Yolk Egg Noodles

(dry)

3

cups

cooked shredded chicken

2

cups

frozen mixed vegetables

(corn, peas, carrots, green beans)

1/2

cup

light sour cream

2

cups

chicken broth

(1/2 cup reserved)

3/4

cups

skim milk

1/2

cup

flour

1/2

tsp

garlic powder

1/2

tsp

celery salt

1/2

tsp

crushed rosemary

, dried

1/2

tsp

thyme

, dried

1

tbs

minced onion

, dried

salt and pepper

15

whole grain ritz crackers
Instructions
Preheat oven to 350 degrees. In a large pot bring salted water to a boil. To make your sauce, In a small bowl combine garlic powder, celery salt, crushed rosemary, and minced onion. Set aside. In another bowl prepare a slurry by adding milk to your flour. Whisk until the flour dissolves completely. In a small sauce pan boil 1 1/2 cups chicken broth. When the broth comes to a boil slowly add the slurry to the broth, followed by the spices, and continue whisking until the mixture is thickened. (about a minute or two) Reduce heat to low and whisk for about one more minute. In a large bowl add the sauce, light sour cream, remaining chicken broth, frozen vegetables, and shredded chicken. Stir until combined. Boil noodles according to package, drain, and add to a 9×13 pan or large casserole dish. Pour chicken mixture over the noodles and mix until combined well. Add crushed crackers evenly on top, cover with tin foil, and bake for about 25 minutes.
Notes
Serving Size 1 and 1/4 cups
255 calories 3g fat, .2 saturated fat, 34.5g carbohydrates, 2.5g fiber, 4.5g sugar, 19g protein
WeightWatchers Points: 6 Points