Chicken and Broccoli Alfredo Stuffed Shells
This post may contain affiliate links (meaning I earn a small comission if you purchase an item through a link I provide) I only provide shoppable links to items I love and are helpful. As an Amazon Associate, I earn from qualifying purchases.
Hey guys! We've got these insanely delicious Chicken and Broccoli Stuffed Shells happenin' tonight! You're going to want to make these soon. So very sorry I haven't posted in awhile. Things have been a bit crazy around here, with Halloween and just normal stuff going on, also I've been struggling to beat a nasty cold, but you can't keep this girl down!
I made a number of new recipes over the past month, and Eric has been singing their praises, but with the cold I felt like I couldn't trust my taste buds. I wasn't sure about taste or smell or anything in life! I was lost in the kitchen at times, but apparently I did okay for myself, because my clothes aren't falling off —-I haven't dropped two sizes—- or anything.
In other news, Pepper has officially learned how to give the best hugs in the entire world. When I pick her up, she wraps her little hands around my neck and squeezes. I wish I could explain how precious this is in words, but I can't. It's too good to talk about. I said to Eric the other day, "I didn't think anything could be better than her, but it turns out her hugs are."
This is Pepper when she was exactly ONE MONTH old. Can you believe it? I actually went to load a photo onto here from today, but this popped up and I couldn't resist it!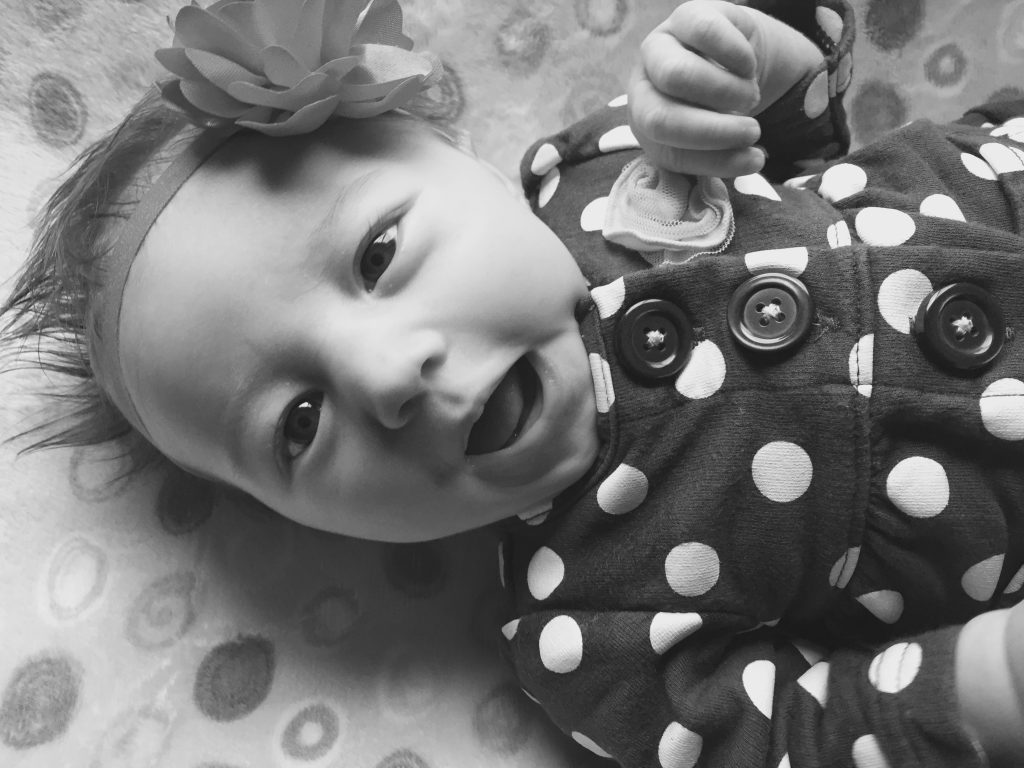 Okay, back to this whole recipe writin' thing most of you all come here for.
(but really, who can resist a photo of a cute baby gal?)
Once upon a time, in a faraway land, I made stuffed shells with my sister, Hope. We made alfredo-type sauces a lot. My sister is known for a lot- her smarts, her creativity, her sarcasm.. but she's not really known for her cooking (God love her). She used to actually pay me to cook for She and her family when I was 18-20 years old, and poor as the day I was born. Well the joke's on her, it just gave me another reason to cook! So, I was getting paid to do what I loved to do. But i love it so much It's never been a job for me. She's moved quite a ways away since then, or else i'm 99.9% positive that I would still occasionally be paid to cook a big meal for her family.
So back to my sister and her Alfredo sauce. It's delicious, and I think it's one of only about things that she cooks. She would make a mean steak with a side of fettuccine and this sauce, and it was TO DIE FOR. I can still taste it to this day! She also used about 12 sticks of butter, because butter is betta, baby.
But unfortunately, 12 sticks of butter and this body don't agree. So, I basically I took her sauce and completely changed it into something that's still incredible, and MUCH lighter in calories!
I love me some stuffed pasta. Tortellini, Ravioli, Manicotti, Shells.. You name it, I'll take it. There's just something about them. I feel like this is the type of meal I like to make on a Sunday, for a more hands-on approach and a nice sit down meal with the family. It's also a dish that can and will impress! It's not really difficult… it requires a couple extra minutes to stuff the shells, but that's really it. The alfredo sauce comes together in just a few minutes. It's really a delicious mixture of ingredients, and what's better? I don't skimp on even an ounce of flavor, you FEEL like you're eating the real thing for a 1/4 of the caloric intake- and NO ONE WILL EVER KNOW. I've made this lightened up version quite a few times for the family, and the worst part about it? I feel like it went too fast. I really was looking forward to leftovers every single time, but it didn't last long enough in the fridge. Pepper and Eric both love it, and I even made it one night while staying with my mama, and she LOVED it.
Now let's get right to it with what goes on in the kitchen!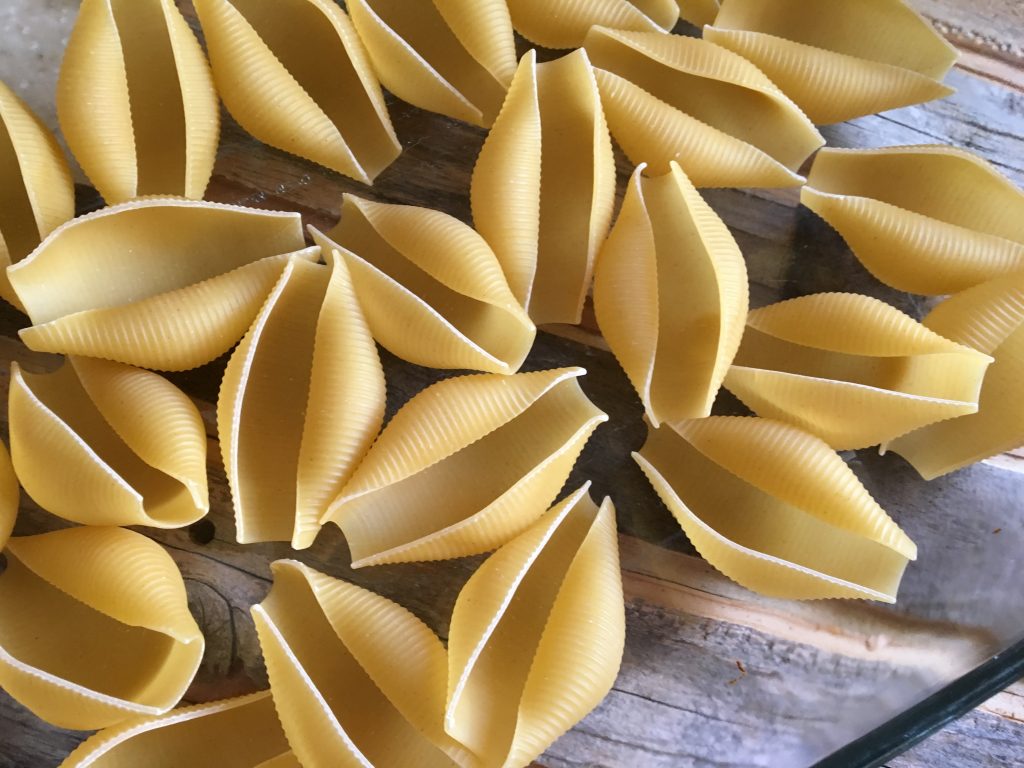 Grab a pot and boil yourself some water. Add SALT. (1-2 TBS depending on how much water you put in) If you want to know if the water is salted enough, just taste it- you should barely be able to detect the saltiness. If there's one thing I took away from learning how to cook from my mom, it's that you salt the water for noodles and potatoes. You'd be very surprised how much of a difference it can make in the meal.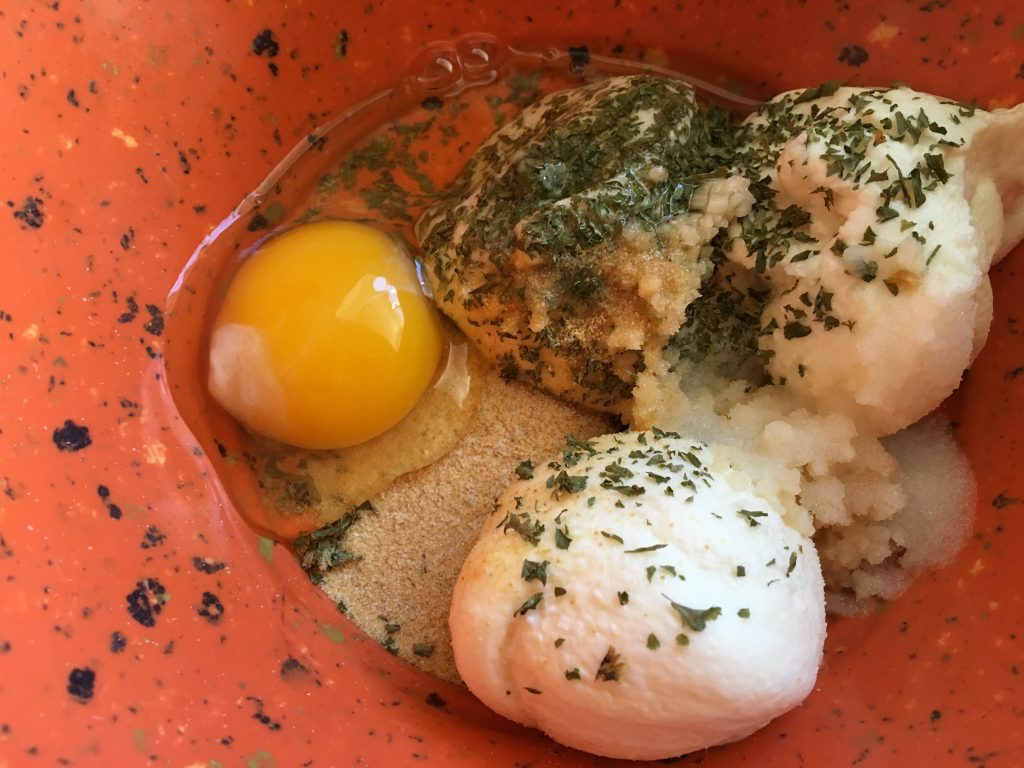 Now when it comes to these, waiting for the water to boil is normally what takes the longest. So let's get the stuffing mixed up and ready to go.
Grab a bowl, Add ricotta, garlic, 2 tsp parsley (optional), salt, pepper, and an egg.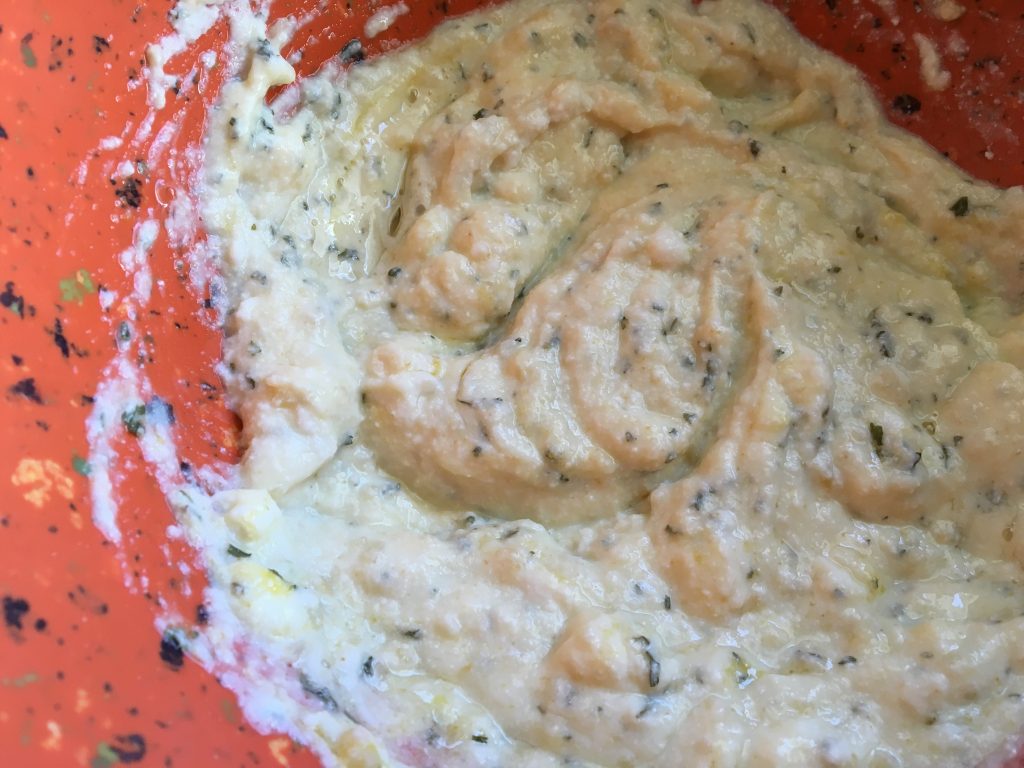 Mix together thoroughly.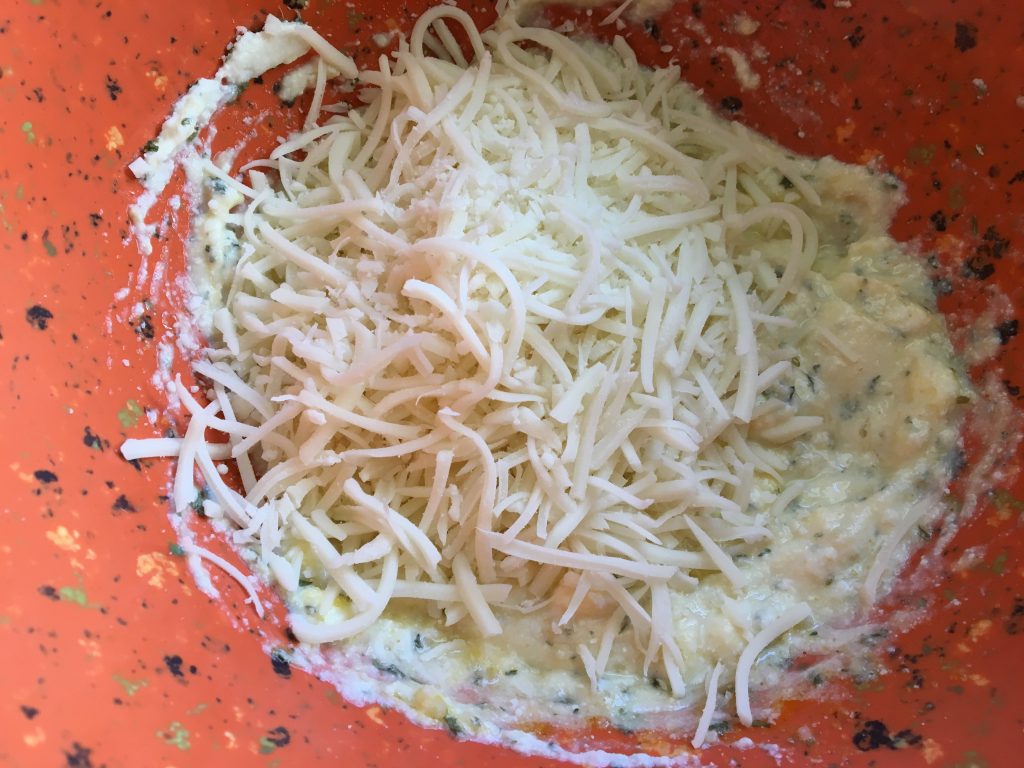 Add the mozzarella! And if you want yell it from your kitchen like this, "and some MOOT-ZA-DELL-A", and your family will think you're funny! …and maybe a little crazy.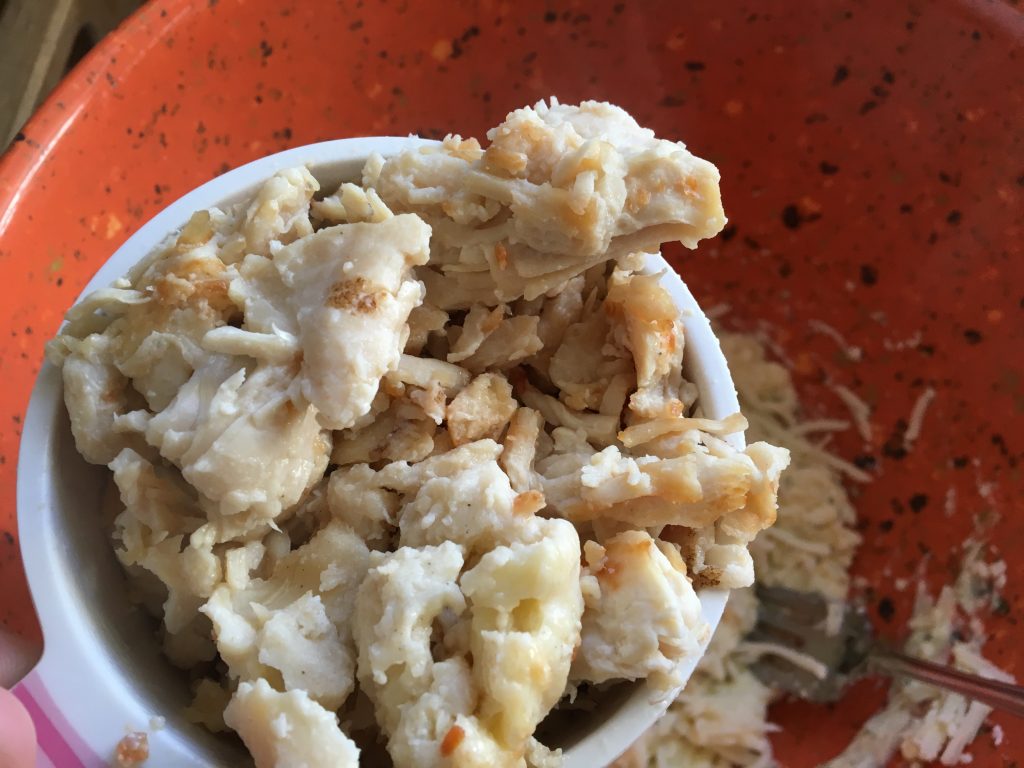 and Chicken! I simply grilled up a couple slices of chicken really quick and chopped it up. You can also use my super yummy shredded chicken recipe, or whatever chicken you please! Just make sure it's about 2 cups, and that it's chopped or shredded.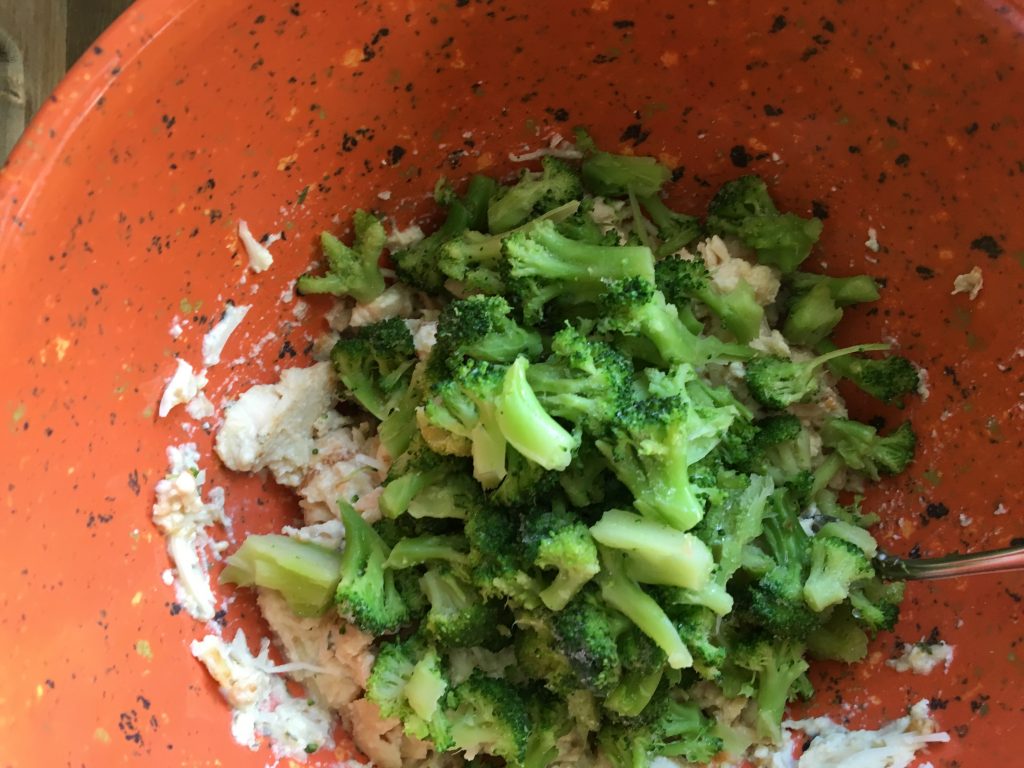 Now add some chopped frozen broccoli (or break it up with your hands real quick like I do, because you absolutely do not want to dirty another dish!). I have used both frozen and fresh in this recipe. If you have only fresh on hand, quickly blanch it and then add it to the mixture, because it just doesn't taste all that awesome when it's just thrown in there raw… but at the same time I'm a pretty picky vegetable eater, so it might just be me.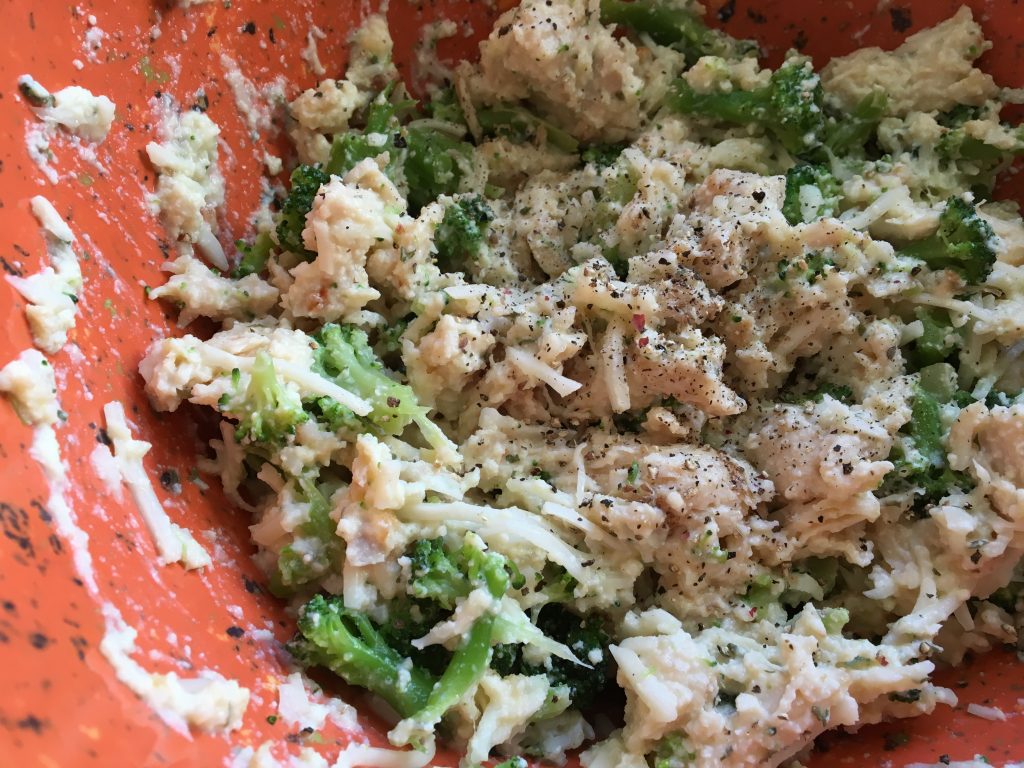 Now stir it all up! In this photo, I realized I had forgotten to add my freshly cracked pepper so I added it just then. It doesn't matter when you add most of these ingredients. They can all be mixed up at once, honestly. I just make my life more difficult at times for fun.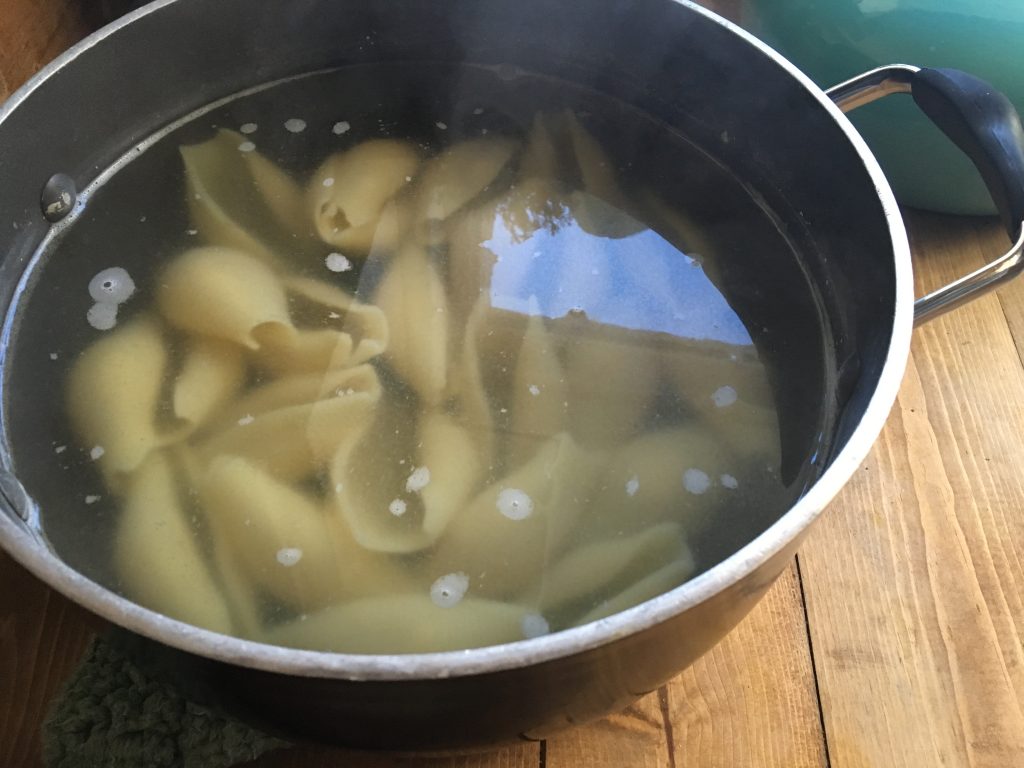 Now, when the water is boiling, add your noodles. This recipe calls for 21 jumbo shells. Apparently I have trust issues with noodles, because I literally have to cook like 24. This is up to you. I have never actually needed another shell because one broke or was unusable, but you never know… you just never know.
Also, I cooked mine for exactly 9 minutes at they were perfect.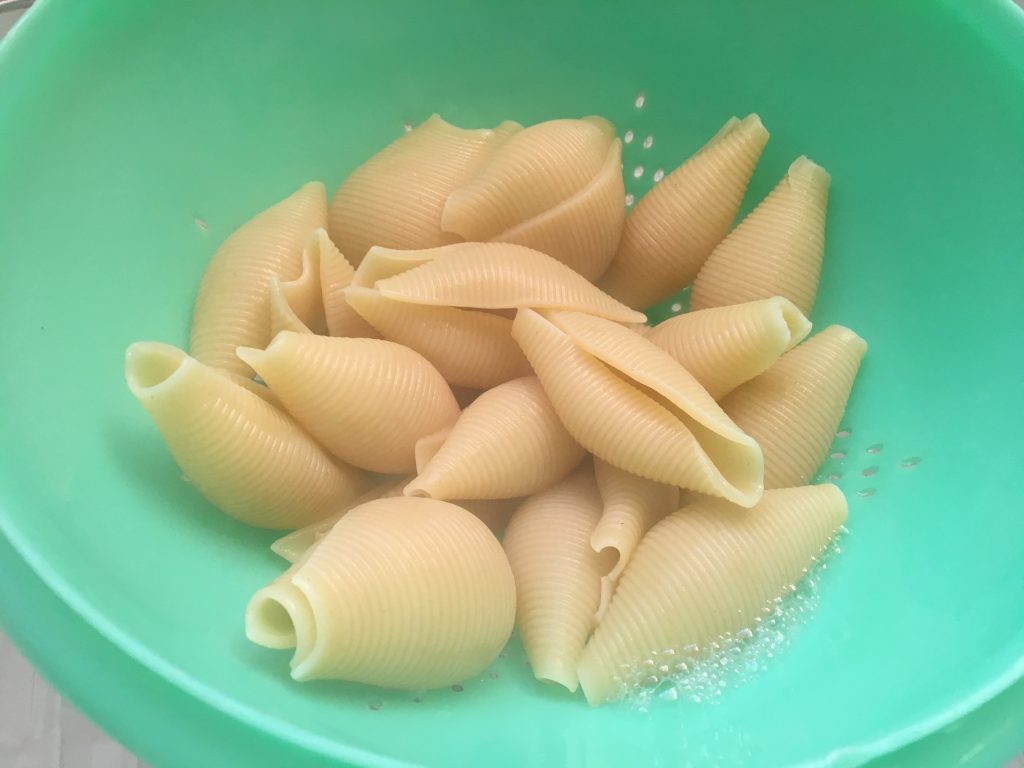 Strain.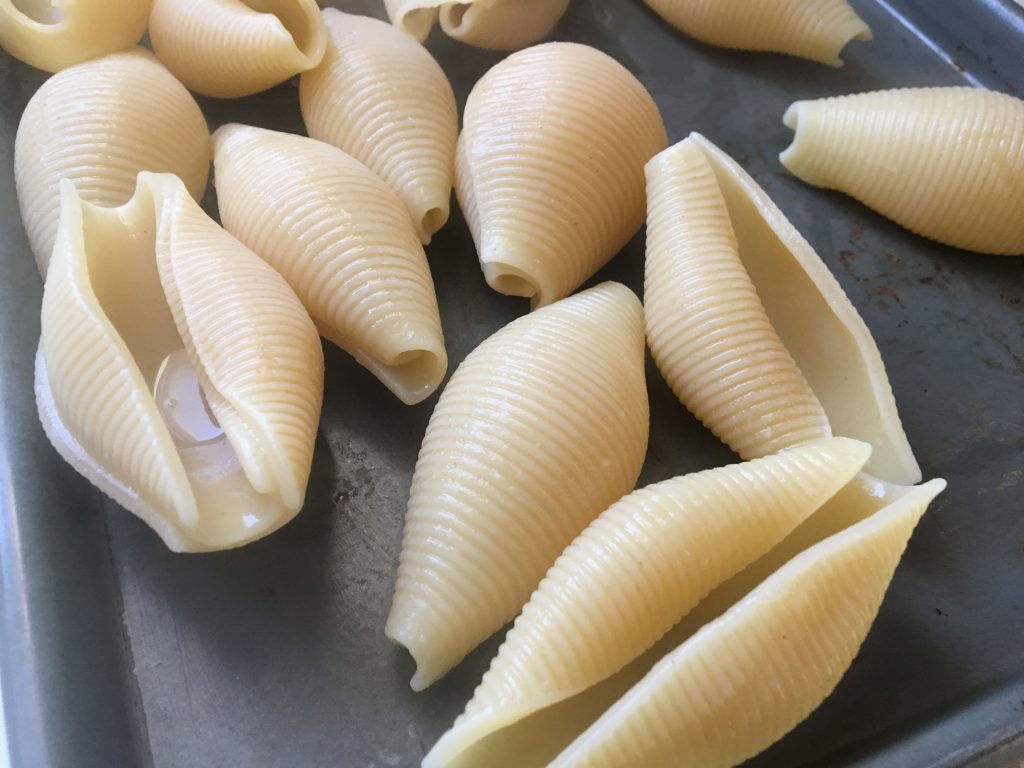 Now lay them out on a plate or a sheet pan to cool. As you can see, some noodles stick together or inside of each other while boiling. Once they cool you should be able to simply pull them apart.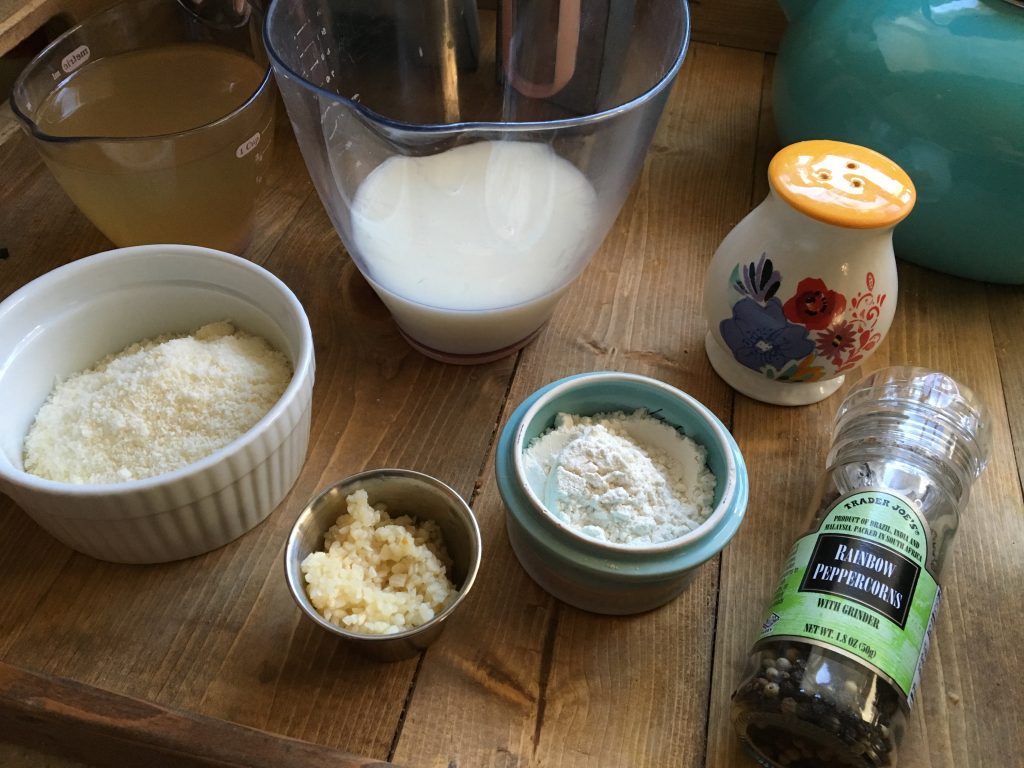 While those shells are cooling down, let's get the Alfredo going. You'll need 1% milk, chicken broth, garlic, grated parmesan, flour, pepper, salt, and olive oil. I really like to have these ingredients measured out and ready to go. Because once you start the sauce you'll want to be prepared, because it moves right along.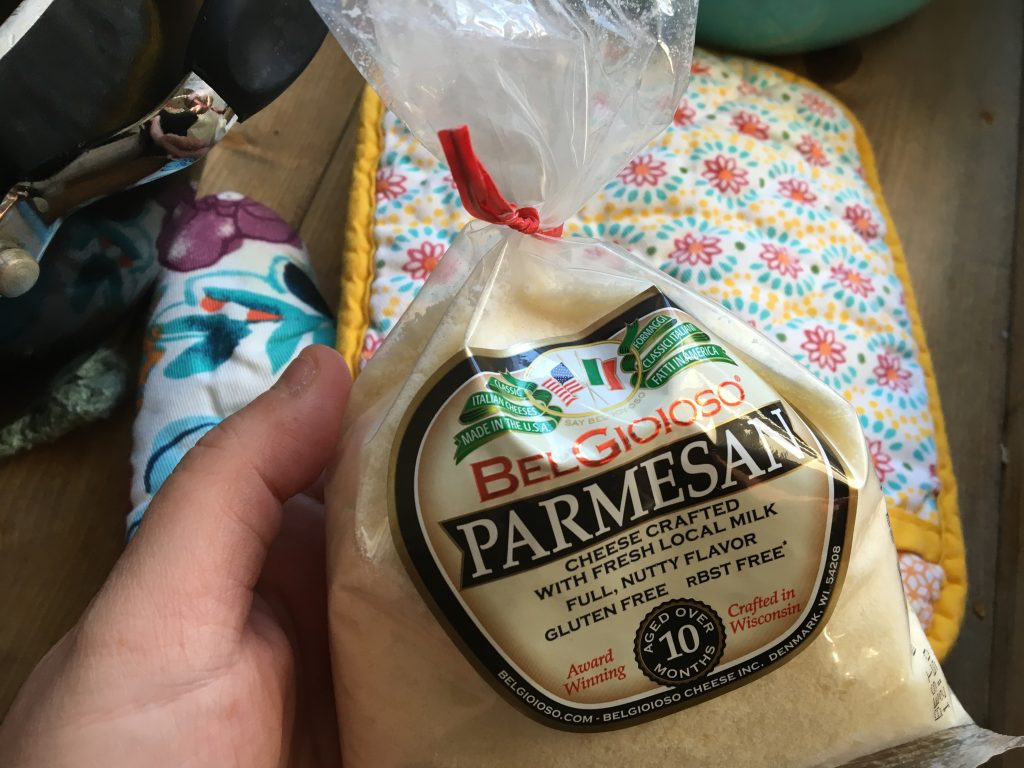 Here's the cheese that I used this time around. I was at the store grabbing some ingredients because I knew I needed to photograph this, and I'm going to be honest with you, I really didn't feel like grating parmesan. So I grabbed this instead… and this last dish of shells might have been the best Alfredo sauce I've ever made!
BTW, Please don't mind my nails. I quite literally almost chewed my fingers off while watching the World Series game last week.
Also BTW, Go Cubs Go!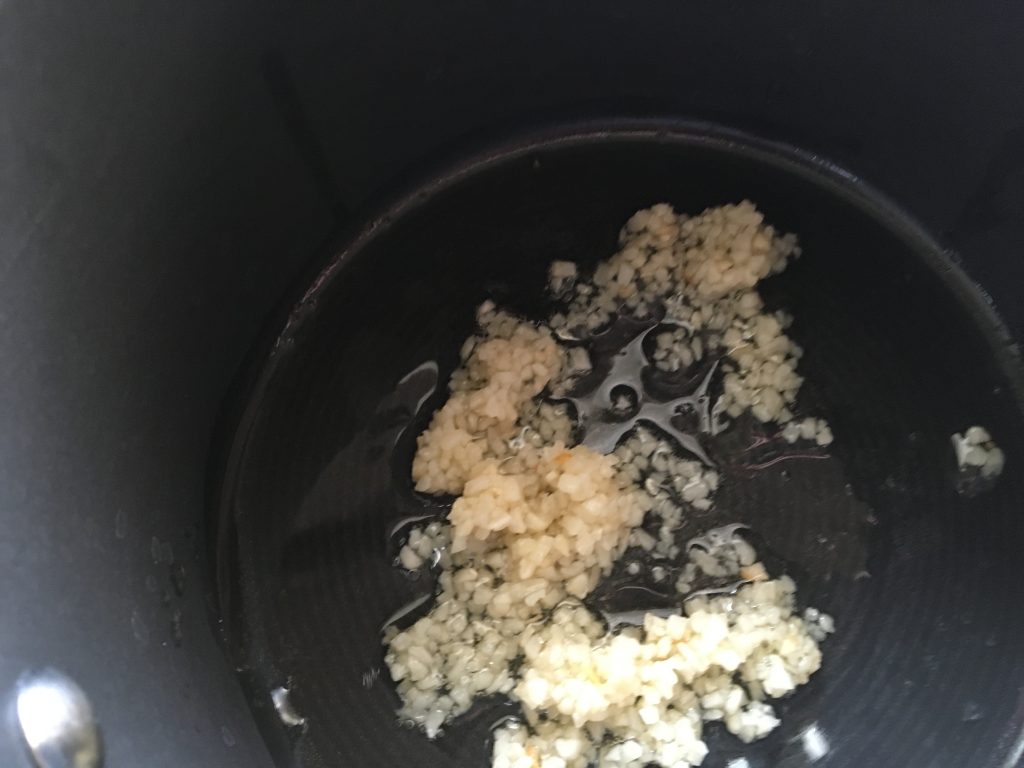 In a pan add two heaping tablespoons of garlic and two tablespoons of olive oil. Let the oil and garlic cook together over medium heat for a couple of minutes until the garlic becomes fragrant and is a golden color.
Sprinkle in about 3 tablespoons of flour, whisking constantly.
*This is probably one of the worst photographs I've ever taken. Honestly, I shouldn't have been trying to take a photo while making this sauce. Like I said, It moves along quickly!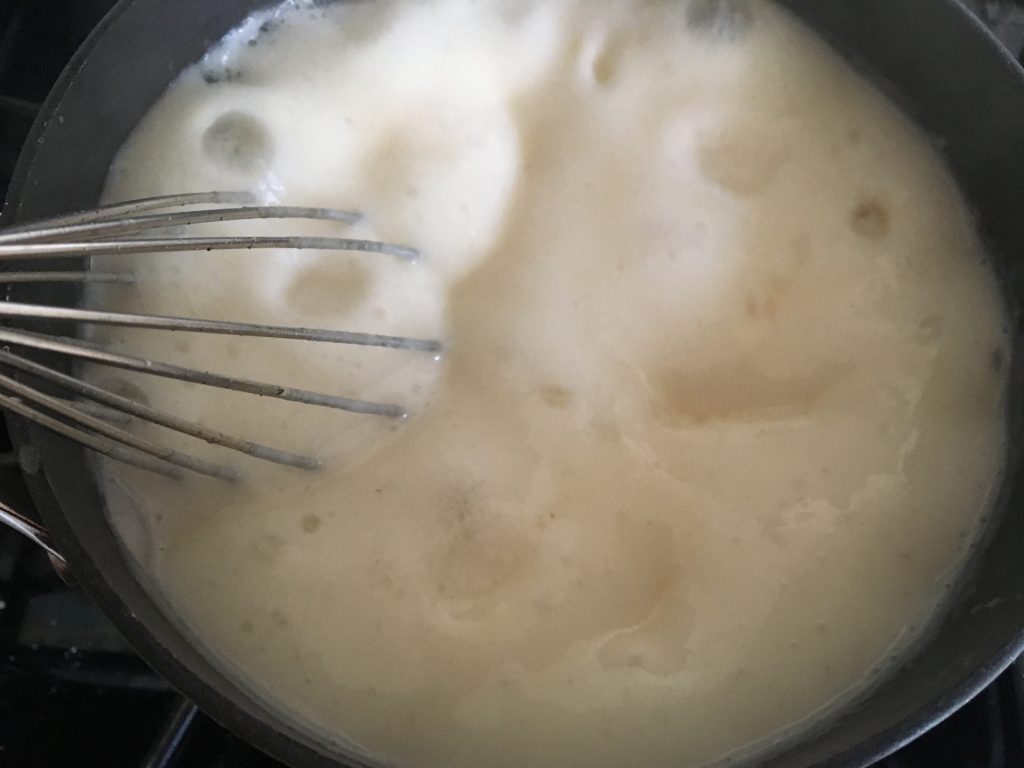 Add one cup chicken broth followed by one cup of milk, and whisk constantly over medium-high heat until brought to a slight rolling boil. Reduce heat and simmer, constantly whisking, until thickened.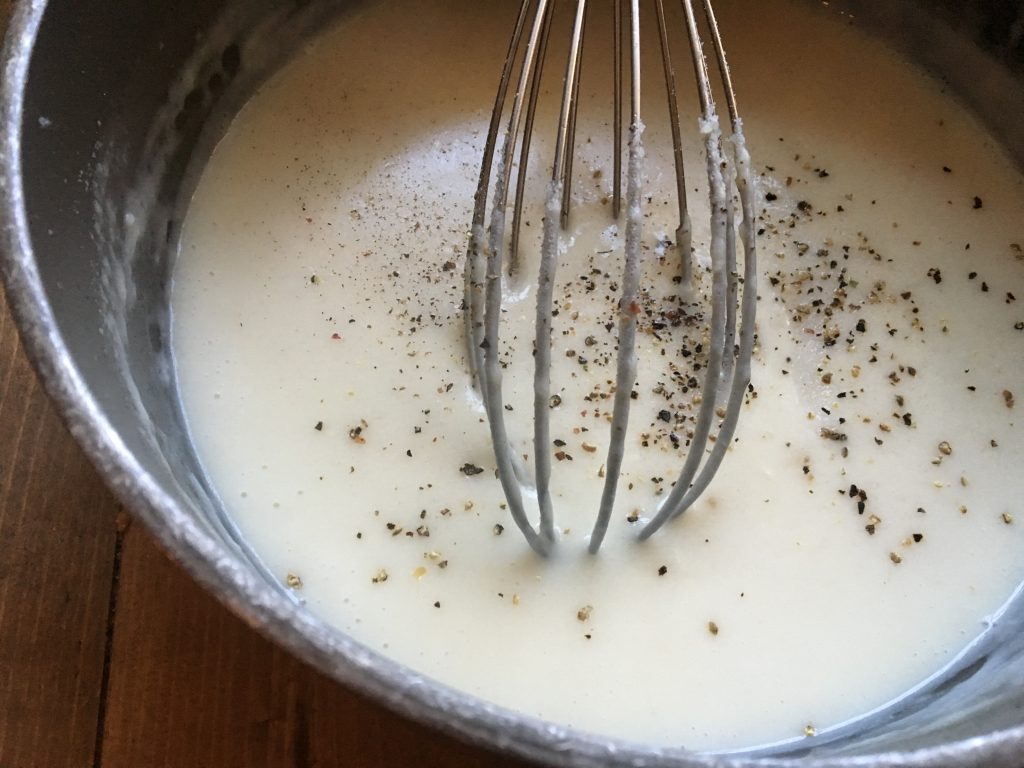 Now stir in the Parmesan, then salt and pepper to taste. Now take a deep breath, because you just made one killer sauce, and probably burned 47 and a half calories with all that whisking!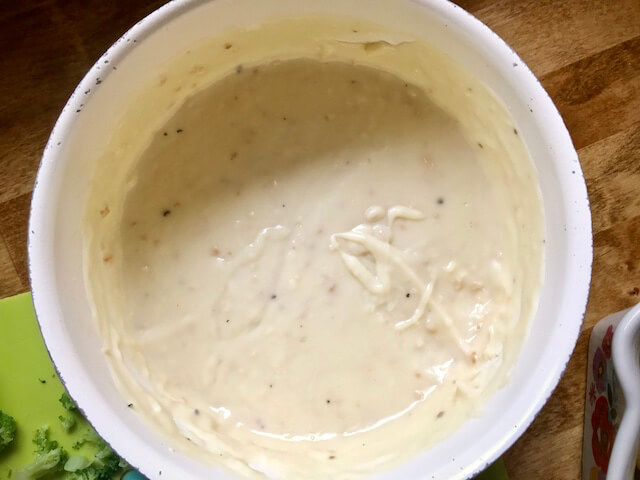 MMMMM… This is what dreams are made of, y'all.
Set aside for a few minutes.
Stuff the shells up! Like, over stuff them so they are exploding with deliciousness.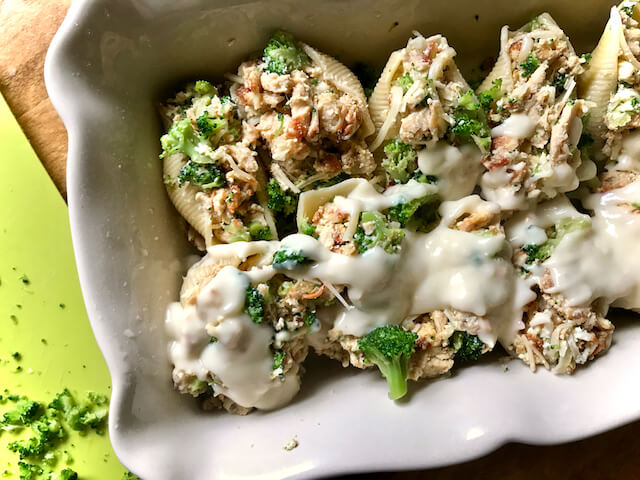 …and pour on the sauce. oh my gah.. so many delicious things happening right now!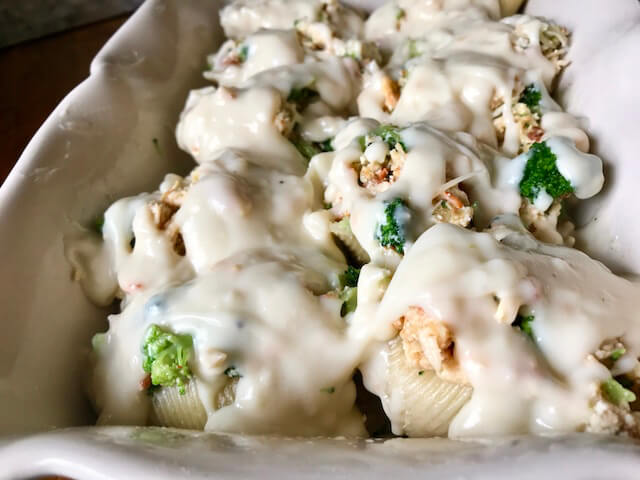 Take them out of the oven. If you want, go ahead and dip the tip of a spoon in the Alfredo and have a taste. It's fine, I do it every single time!
Serve them up with a crisp green salad, and maybe a nice baguette.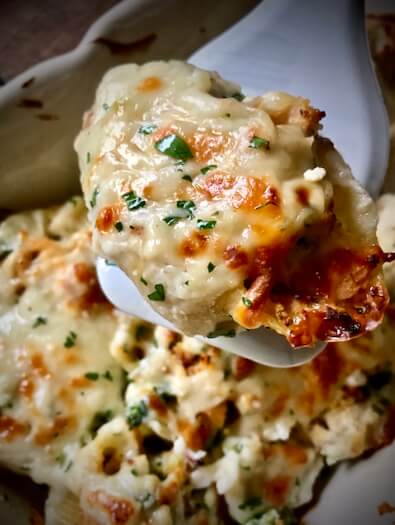 Seriously, this is such a good dish. I can't even tell you how many times Eric has requested this for dinner…
in just the last week.
So good.
I hope you enjoy these incredibly delicious, heavenly stuffed shells!
With love from my kitchen to yours,
Star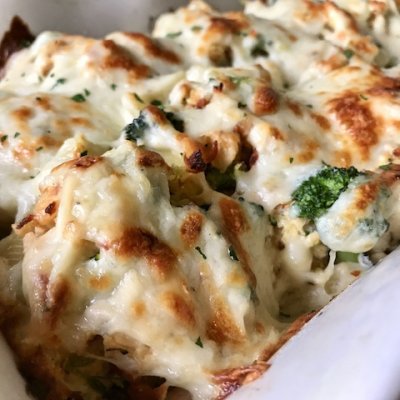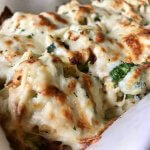 Print
Chicken & Broccoli Alfredo Stuffed Shells
Jumbo pasta shells exploding with broccoli, ricotta, mozzarella, chicken, and spices, and covered in a creamy Alfredo sauce.
Materials
For the Shells
21

jumbo shells

3/4

cup

part-skim ricotta cheese

3/4

cup

reduced fat shredded mozzarella

2

cups

frozen broccoli

(thawed and chopped into small peices)

2

cups

chicken breast

(cooked and chopped)

1-2

tsp

dried parsley (optional)

2

tbsp

minced garlic

(about 2-3 cloves minced)

1

large

egg

1/4

tsp

EACH salt & pepper

cooking spray
For the Alfredo Sauce
3

tbsp

flour

1

tbsp

olive oil

2

tbsp

minced garlic

(about 2-3 cloves minced)

1

cup

chicken broth

1

cup

1% milk

1 ½

ounces

parmesan

(finely grated)

salt & fresh cracked pepper

(to taste)
Instructions
Shells and Chicken Broccoli Mixture
In a large pot, boil salted water for the shells. When the water comes to a boil, add the shells, and cook for approximately 9 minutes. When the noodles are done cooking, strain and set on a cookie sheet to allow them to cool for a few moments before stuffing with the chicken mixture.

Meanwhile, in a mixing bowl, add ricotta, egg, salt, garlic, and pepper. Mix together until combined well. Then add mozzarella, chicken, and chopped broccoli. Mix together.

When the shells are cool enough to handle stuff each one evenly with the chicken and ricotta mixture and place into a lightly sprayed 9×13 casserole dish. Preheat the oven to 350 degrees. Set aside and make sauce.
Alfredo Sauce
In a medium saucepan, over medium-high heat, heat garlic and olive oil until garlic becomes light golden brown and fragrant. Sprinkle in flour and whisk constantly. Add milk, followed by chicken broth, continue whisking constantly until brought to a gentle rolling boil. Reduce heat to low and continue to stir until thickened. Add Parmesan cheese and salt & pepper to taste. Pour over the stuffed shells evenly. Cover with tin foil. Place into preheated oven for 30 minutes.

Garnish with fresh parsley if desired.
Notes
Serving size: 3 Jumbo Stuffed Shells with sauce
400 calories 13g fat. 37g carbs. 1.5g fiber, 6g sugar, 27g protein
WeightWatchers Points: 9 Points