This post may contain affiliate links (meaning I earn a small comission if you purchase an item through a link I provide) I only provide shoppable links to items I love and are helpful. As an Amazon Associate, I earn from qualifying purchases.
Poor Man's Meal is probably my favorite comfort food in the entire world. There's not much to it. It's pretty simple. It's easy to make and require just a handful of ingredients. It won't be winning any awards for most distinguished culinary dish ever, but that's not why I love it so much.
The holidays bring lots of memories and they always, always make me think of my dad. This was our third Christmas without him and I always get a little weepy thinking about it. I miss him so much. He was real salt of the earth type of man. He was a good man. He worked hard every single day of his life to make sure that his family was taken care of, that we had everything we needed and a lot of what we wanted. It wasn't always like that though. My parents had some tough times when they were first married, my dad was a welder and he was laid off many times before he found serious stability around the time my older sister was born. This was a meal that he and my mom made because back then apparently ground beef was about 50 cents per pound. How amazing would that be now? I've heard my mom say many times that she had to get super creative to feed the two of them. Now-a-days, all groceries are expensive so I don't feel like the title is perfect, but It's what I grew up calling it so, I'll continue to call it Poor Man's Meal. Even when things got much better for my parents my dad stayed fairly true to himself. He was a simple man who was happy with food in his belly, t-shirts and jeans, socks, peanut butter & crackers, and his girls by his side. Honestly, that's all he really ever wanted if I really had to pin point it. He'd be a little annoyed with you if you got him anything more than a nice card for a gift. To see his girls taken care of was all that mattered to him. I admire him for that. I really do, and I think we could all take a page or two from his book and think about how sometimes, Simple is just perfect. All in all, this meal continued to be one of his absolute favorites for his entire life. Simple meat & potatoes! He didn't like a lot of spices. He didn't like a lot of fuss. He just wanted a hot plate of food after a long days of work. There was a certain delicious smell that comes from the kitchen when my mom would make this and I remember always being so excited about it the moment it hit my lil nose.
Fast forward, 15-ish years and here I am making this dish for my family. Pepper loves it! I found that not only is it insanely easy to throw together on busy nights, it's super easy to keep the ingredients on hand, and to my surprise by using lean ground beef instead of ground chuck it's quite calorie/weight watchers friendly! I always figure anything in my life that I used to eat on a regular basis is terrible for me, but that's so not the case. Sometimes I just need to change one or two things up and I'm able to revisit childhood favorites with no problem. And sometimes, I just need to use a measuring cup!
How to make Poor Man's Meal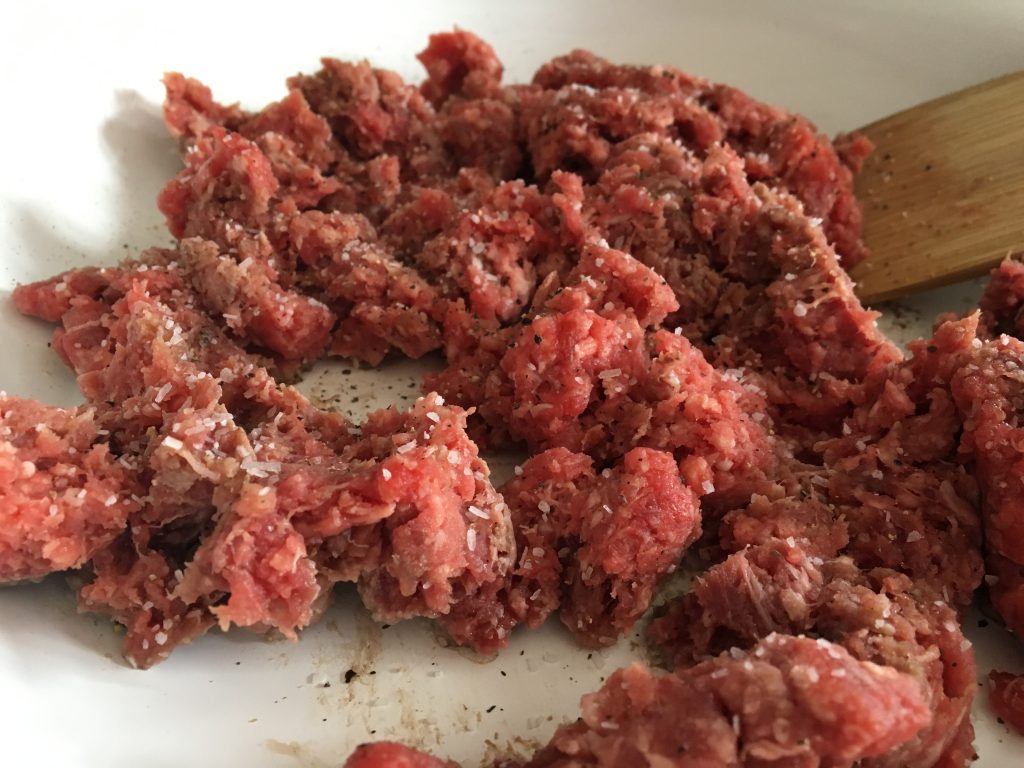 Throw a pound of lean ground beef in a large skillet and generously salt and pepper it before it browns.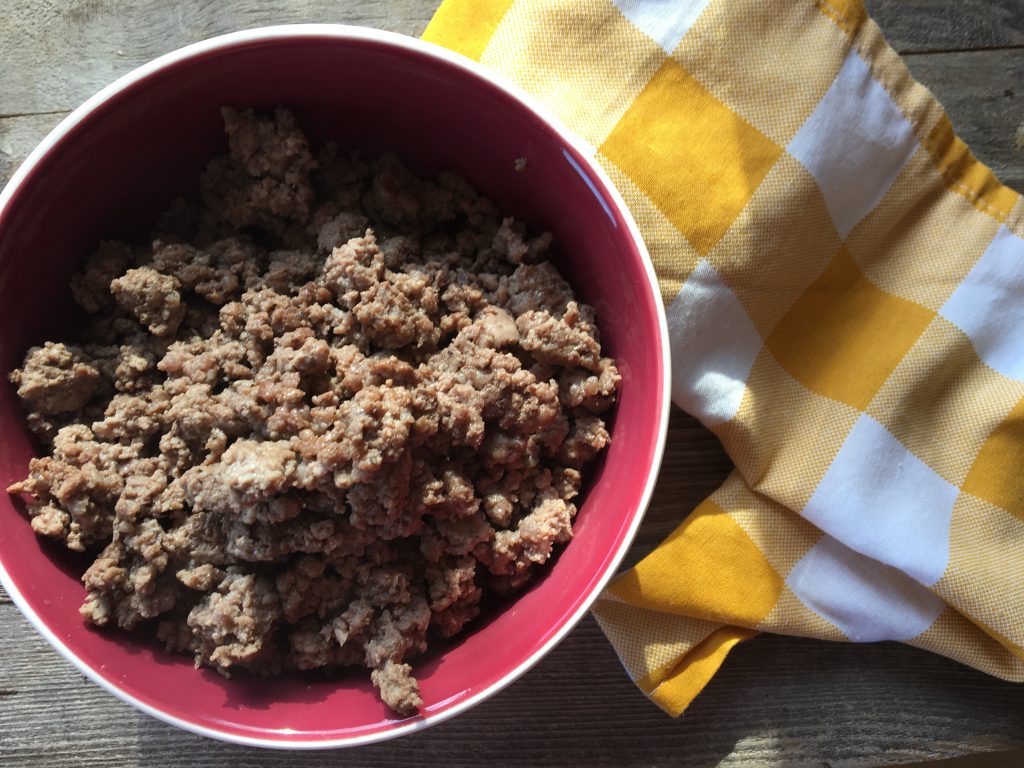 When the beef is browned. Set aside. The ground beef I use on a regular basis is not very fatty at all. It's 93/7. I left a little of the grease which probably wasn't even a teaspoon in the pan to cook the potatoes with along with the vegetable oil.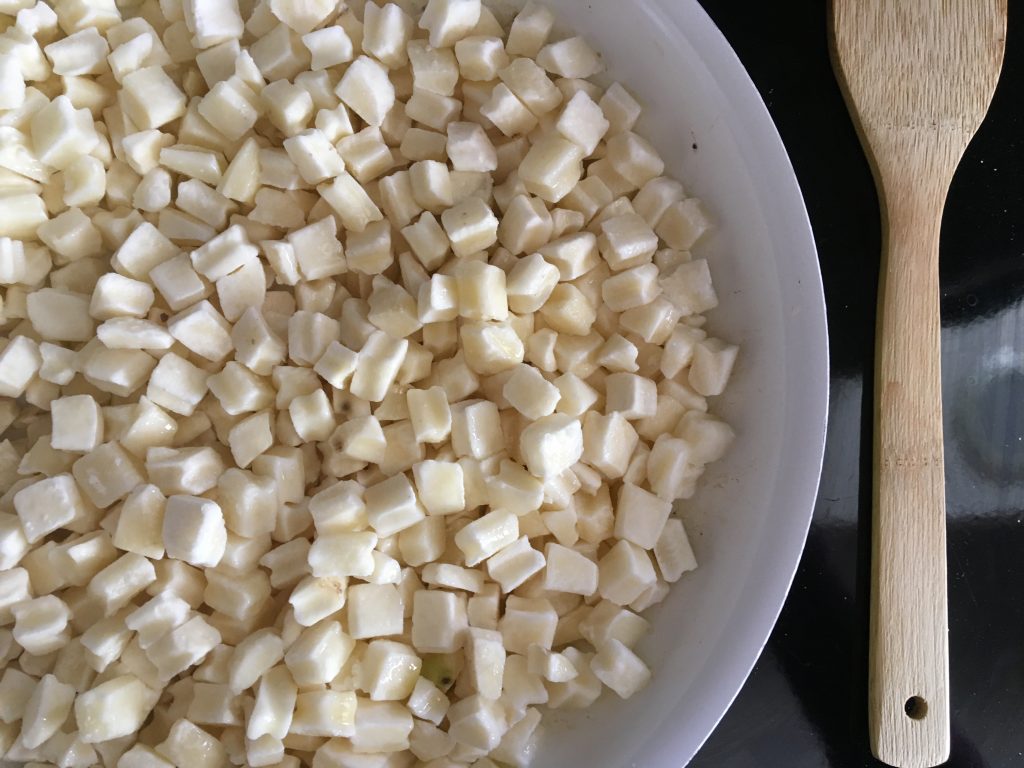 Add one tablespoon of vegetable oil into the skillet along with your frozen hash brown potatoes. I also lightly spray the top of the potatoes with cooking spray because it's a lot of potatoes so you want them all to get a little oil to cook up nicely.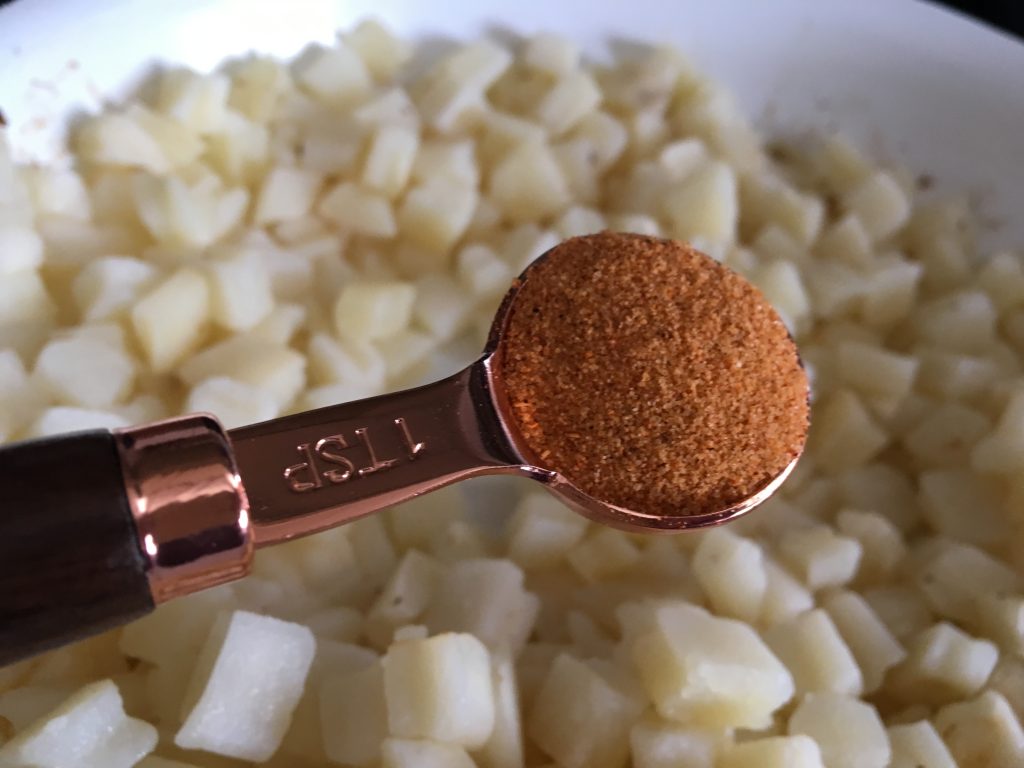 Add about 2 teaspoons of Season Salt. (Yep, that's the only seasoning you'll need for this one, folks! (okay, besides a little pepper!) Season Salt was a staple in my house growing up. It was simple. It was good. It was easy. I still use it in a lot of my cooking. It's honestly perfect. I do try to watch my salt intake while eating healthier, but honestly… I just drink more water if I'm eating something with higher sodium. It works for me!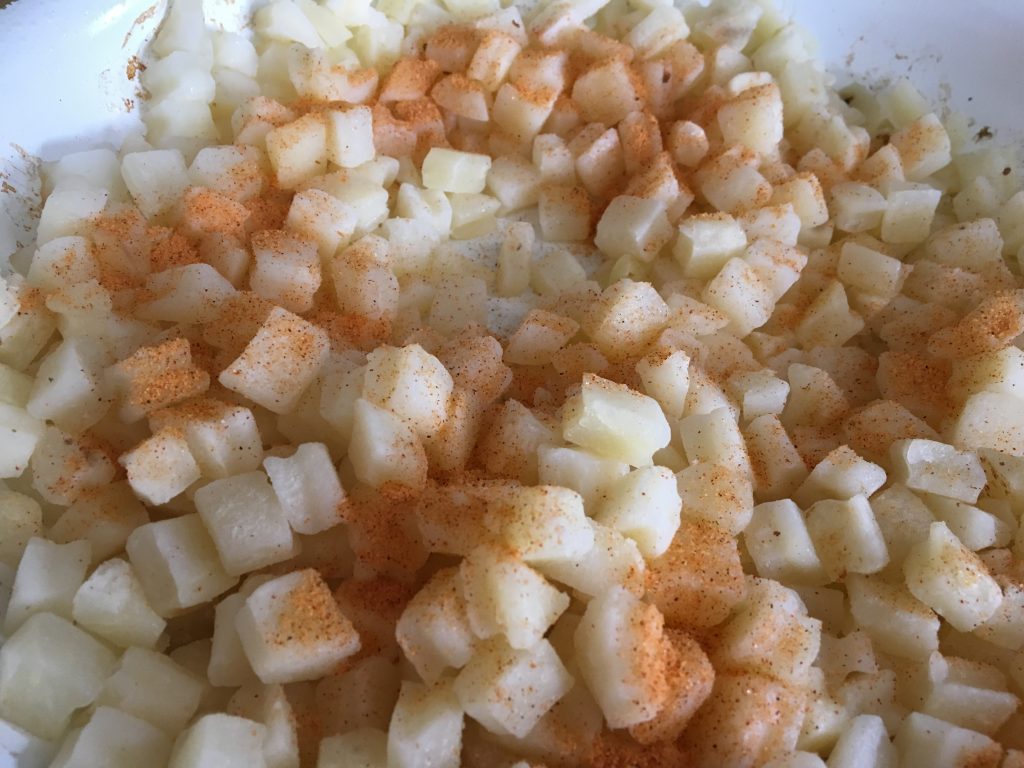 Continue cooking the potatoes until cooked through and a little brown. About 10-12 minutes over medium-high heat.
Add in some corn with the potatoes when they are done cooking. Stir it up a cook another couple minutes.
Add your ground beef back in with the corn and potatoes. Salt & Pepper to taste!
And that's it! You're all done. It's simple, it's quick. It tastes like my childhood. It's something my meat and potato lovin' midwestern heart really needs every once and awhile!
And… well, if you have been reading this little ol blog for awhile. You might know that I love cheese. I add cheese on top of just about everything I eat. So in true DDOP fashion… I topped it with a couple tablespoons of reduced fat Colby Jack! Ahh… Perfection. BUT, It doesn't need it. You don't have to do it!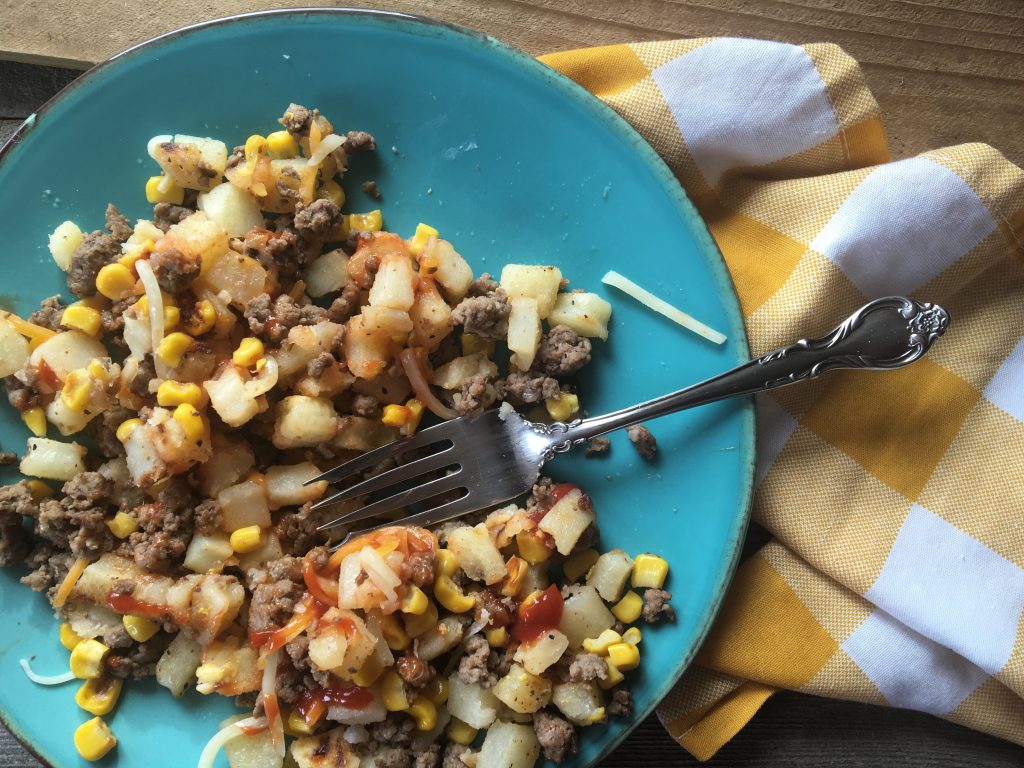 And on top of that? a little ketchup, because it's perfect that way.
I hope you enjoy this simple little skillet meal! I've made it so much that I figured I share it with you all. I've been thinking about my dad a lot more than usual lately and I really wanted to put one of his favorites on here for other families to enjoy!
With love from my kitchen to yours,
Star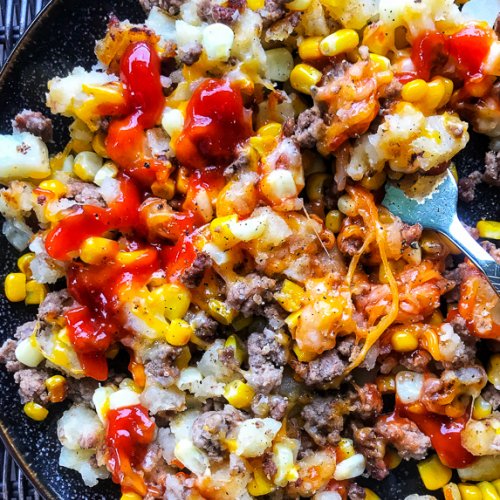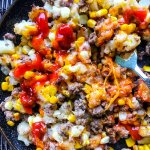 Print
Poor Man's Meal
A hearty midwestern skillet full of flavorful ground beef, corn, and potatoes
Materials
1

lb

lean ground beef, raw

93% lean/ 7% Fat

7

cups

frozen hash brown potatoes

I use Ore Ida

1 ½

cups

corn

fresh or canned

3

tbsp

olive oil

2-3

tsp

Lawry's Seasoned Salt

or your favorite all purple seasoning blend works

Salt & Pepper

to taste

Cooking Spray
Instructions
In a large skillet over medium-high heat brown the ground beef and break it up with a spatula. Generously season the beef with kosher salt and pepper while the meat is cooking.

When cooked thoroughly remove from heat and set aside in a dish. In the same skillet over medium heat, add oil and hash brown potatoes. (I also spray a bit of cooking spray on top of the potatoes) Cook on medium high-heat until the potatoes are lightly crispy and cooked through- about 10 minutes. Sprinkle season salt and pepper onto the potatoes and add corn. Cook for a couple minutes until corn is warm. Add ground beef back into skillet and mix thoroughly. Salt & Pepper to taste. Top with some cheddar, optional. Enjoy!

Cook on medium high until the potatoes are lightly browned with some crispy edges (don't expect lots of crispy potatoes) and cooked through. This will take about 10 minutes.

Sprinkle seasoned salt and pepper onto the potatoes and add corn. Cook for a couple more minutes or until corn is warm. Add ground beef back into skillet and mix thoroughly until everything is warmed through.

Salt & Pepper to taste. Top with some cheddar and ketchup if you want to!
Notes
Serving Size: 1 and 1/2 cups WW Points: 6 Points
328 Calories 12g fat, 3g saturated fat, 35g carbohydrates, 4g fiber, 4g sugar (0g added sugar, 0g sugar alcohols), 30g net carbs, 20g protein, 403g sodium