Slow Cooker Chicken Carnitas
This post may contain affiliate links (meaning I earn a small comission if you purchase an item through a link I provide) I only provide shoppable links to items I love and are helpful. As an Amazon Associate, I earn from qualifying purchases.
Slow Cooker Chicken Carnitas is a fresh and delicious take on the classic carnitas made with pork. Slow cooked in lime and orange juice, adobo sauce with chipotle peppers, onions, and spices. Then broiled to aid in drop dead delicious and slightly crispy bits. These Chicken Carnitas will become your new obsession! Throw this chicken into a taco, burrito, burrito bowl, or salad and dig in.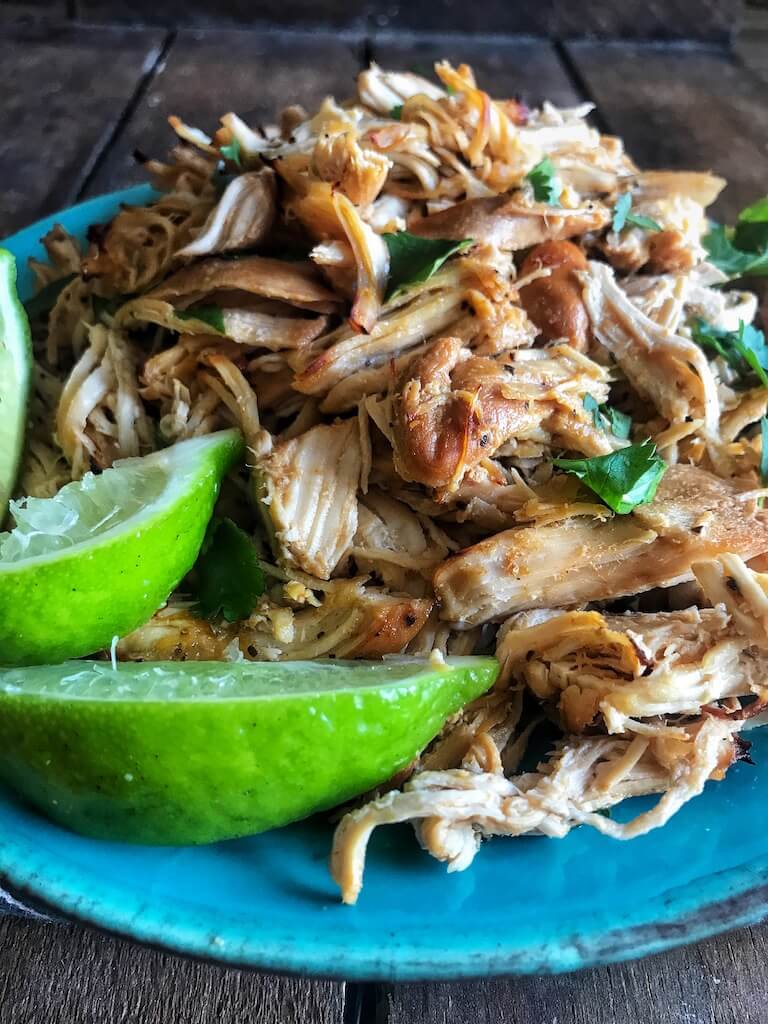 I've had a list of recipes that I'd like to test since before I even started The Skinnyish Dish and couple'a weeks ago I decided to look back on some of the oldest ones that I'd written down. From what I could tell, one of the first things I'd ever written down was… Pork Carnitas! One of the best Mexican meats on the planet, right? Right. I live for carnitas!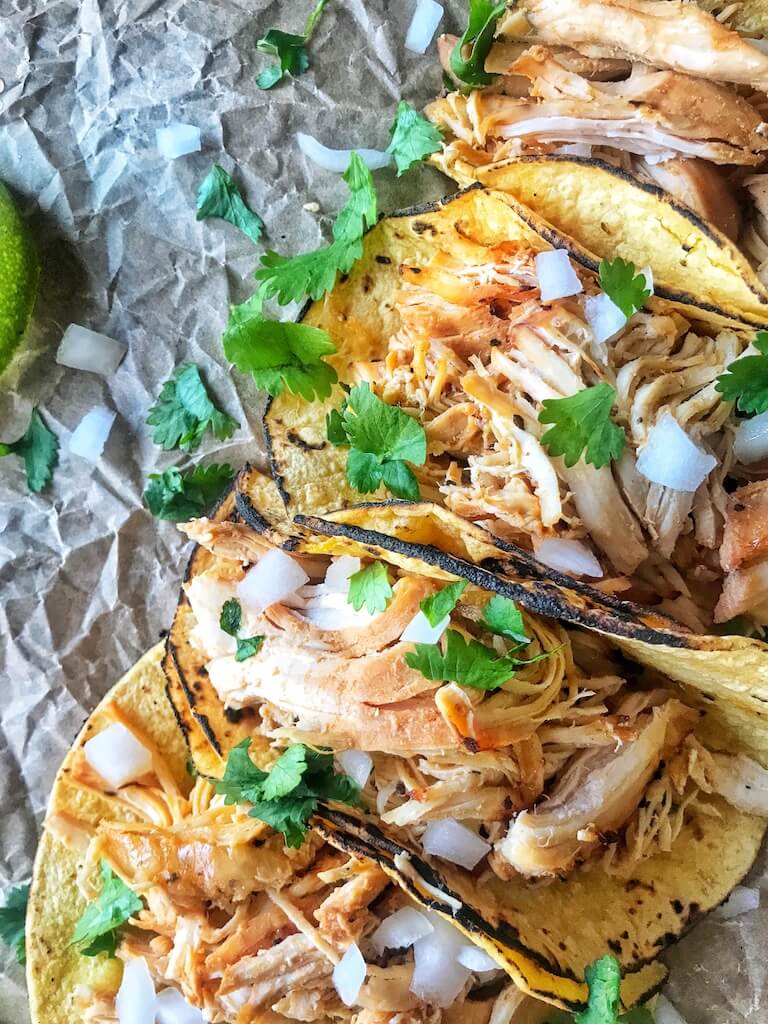 A few days ago, I had everything ready to go and I was going to start the slow cooker so that we could have pork carnitas for supper. Guess what? *face palm* I forgot to take the pork out of the freezer. So, it's either toss out all the seasonings, juice, and broth I had ready to go or come up with a quick back up plan. Chicken. I have raw chicken! CHICKEN CARNITAS!? Is that a thing? It is now!
Holy smokes y'all.. this was the best "accident" ever. I normally test a recipe at least few times before I photograph and post a recipe, but no. I don't need to mess with perfection. The only change I would make?
Double it.
Let's make some Slow Cooker Chicken Carnitas!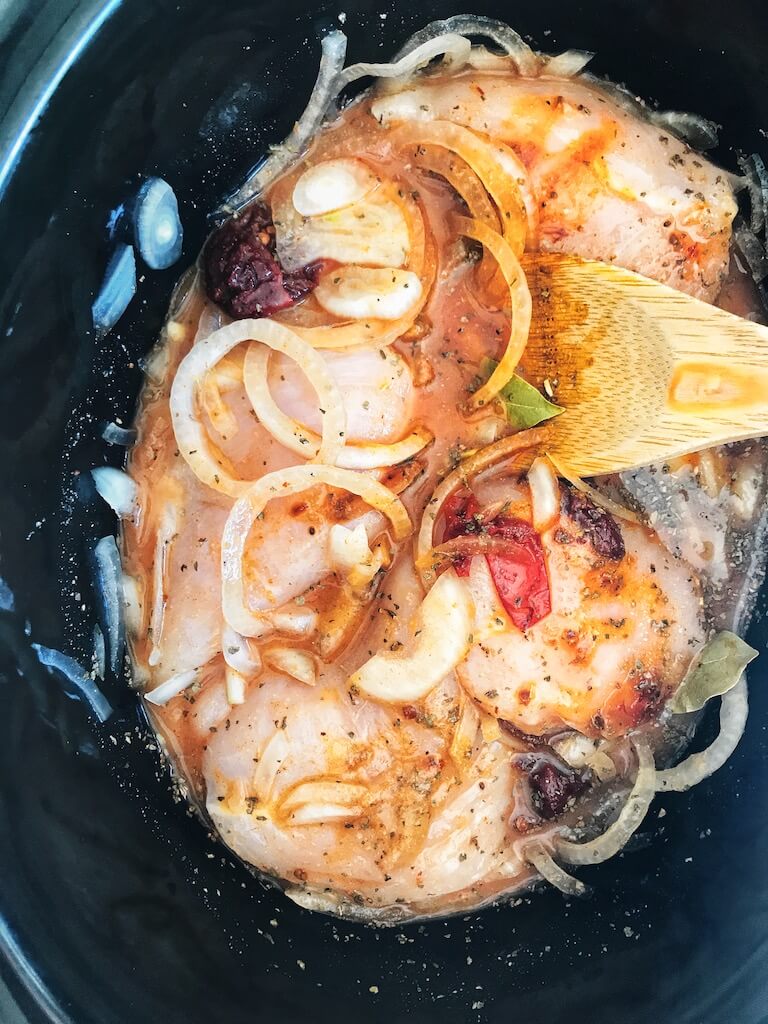 First, all you really need to know about this recipe is that it's incredibly easy. It's so easy that the second batch I made to take photographs with the other day was put in the slow cooker before 8 am and before I had my coffee. Now, I know you don't know me before 8 am and a giant cup of coffee, but trust me… it ain't pretty and I am not the sharpest tool in the shed right away in the am. Ha! I juiced fruit before 8 am.
In the slow cooker add 2 lbs of raw chicken breast, 3/4 cup chicken broth, juice of one large orange (about 1/4 cup), juice of two limes (about 1/4 cup), 1 large thinly sliced onion, 1 bay leaf, 1 heaping tsp cumin, 2 tsp garlic powder, 1/2 tsp oregano, 1 tsp of coarse kosher salt (reduce by half if using fine salt or table salt), and 1-2 chipotle peppers from a can along with 2 tbsp of adobo sauce that the chipotle peppers are packed in. Stir together and set the slow cooker to low for 7-8 hours or high for 4-5 hours.
You can easily find canned chipotle peppers in adobo sauce in any grocery store. They are normally located in the Hispanic food section along with salsas, beans, tortillas, green chiles, enchilada sauce, etc.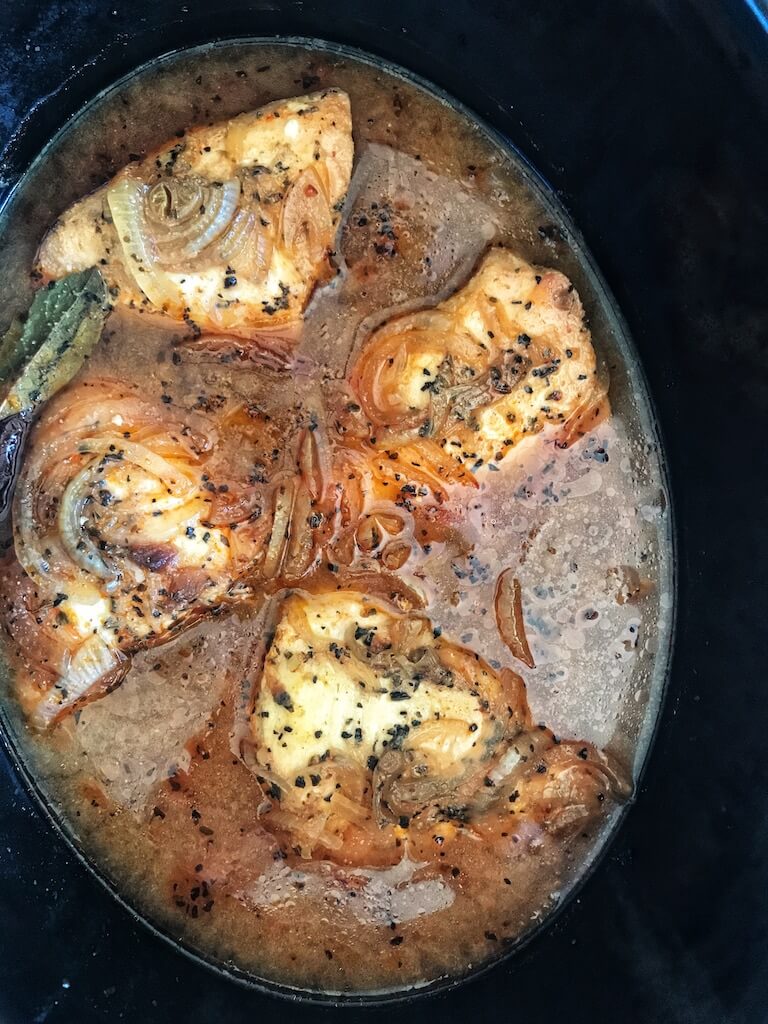 Several hours later… and you've got this and oh my goodness, your kitchen will smell so good and everyone will be begging for dinner time.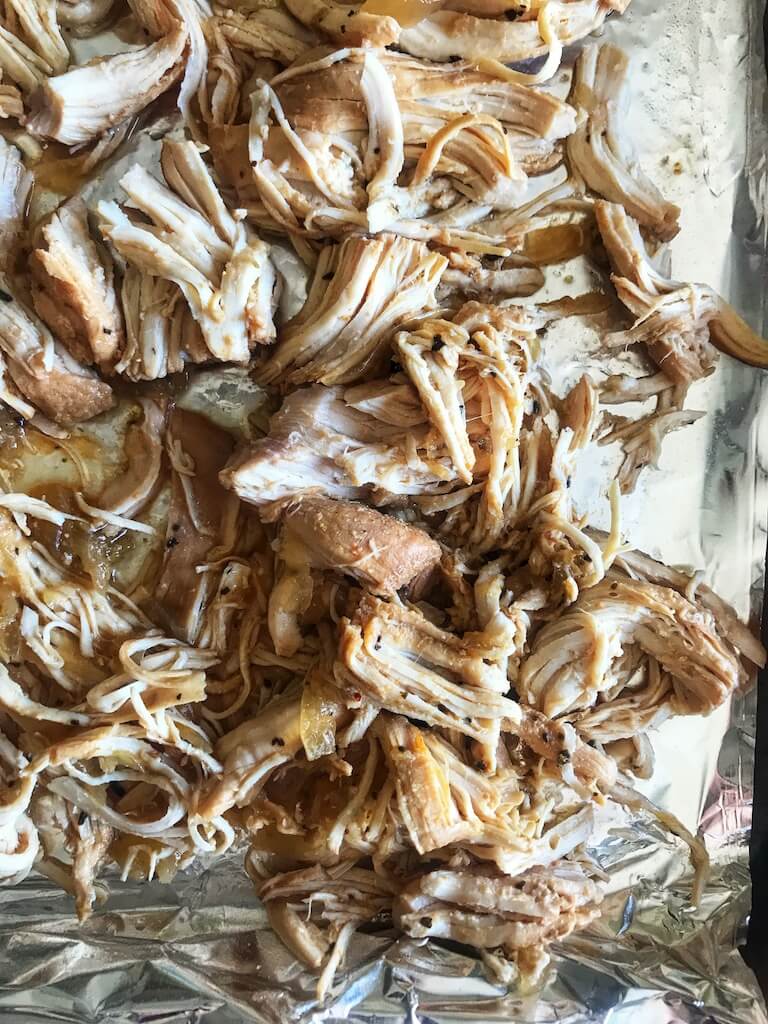 Almost done! The most important parts in this recipe will be shredding it lightly and crisping it up a bit in the oven. I actually didn't even shred this. I gently pulled it apart with tongs while placing it onto the sheet pan. It's fall apart tender and maxed out on flavor.
Pour about 3/4 cup of the cooking juice that's been left over in the slow cooker over the chicken. Now, set the oven to broil and place the sheet pan in. Let it broil for about 5-10 minutes or until lightly browned and crispy.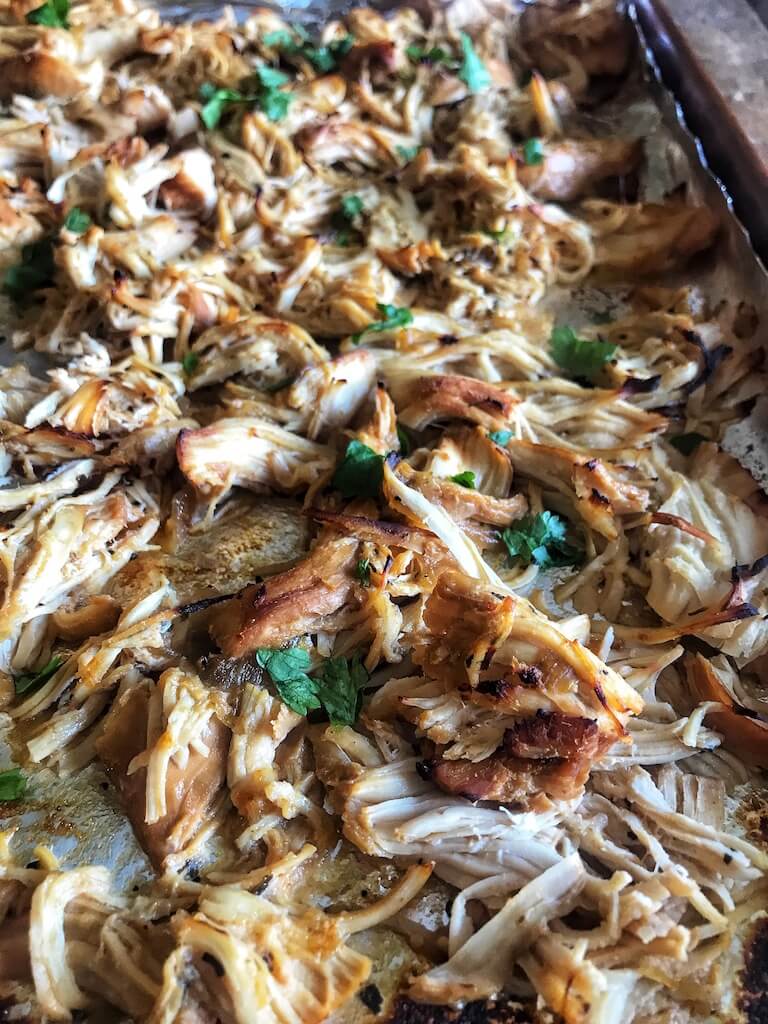 Now, I'm going to add this little tid bit in here because when I was first starting to learn how to cook, recipes that ended or began with the word "broil" intimidated me. I honestly have no idea why. It's probably the easiest thing in the cooking world to, but it did. And, I usually ignored that part of the recipe, but I'm going to ask you to not ignore that part if you can help it. I truly think it really rounds out the entire thing and gives it the "carnitas" feel.
If you're really not a fan of the broiler like I wasn't, for whatever reason, years ago then you can crisp them up in a pan on the stove over medium high heat with a little cooking spray. You'll more than likely need to do this in two batches because if the pan is too crowded then it won't get crispy.
Optional, but also stupid good: Chop up fresh cilantro and toss with the meat. Squeeze a little more fresh lime all over too!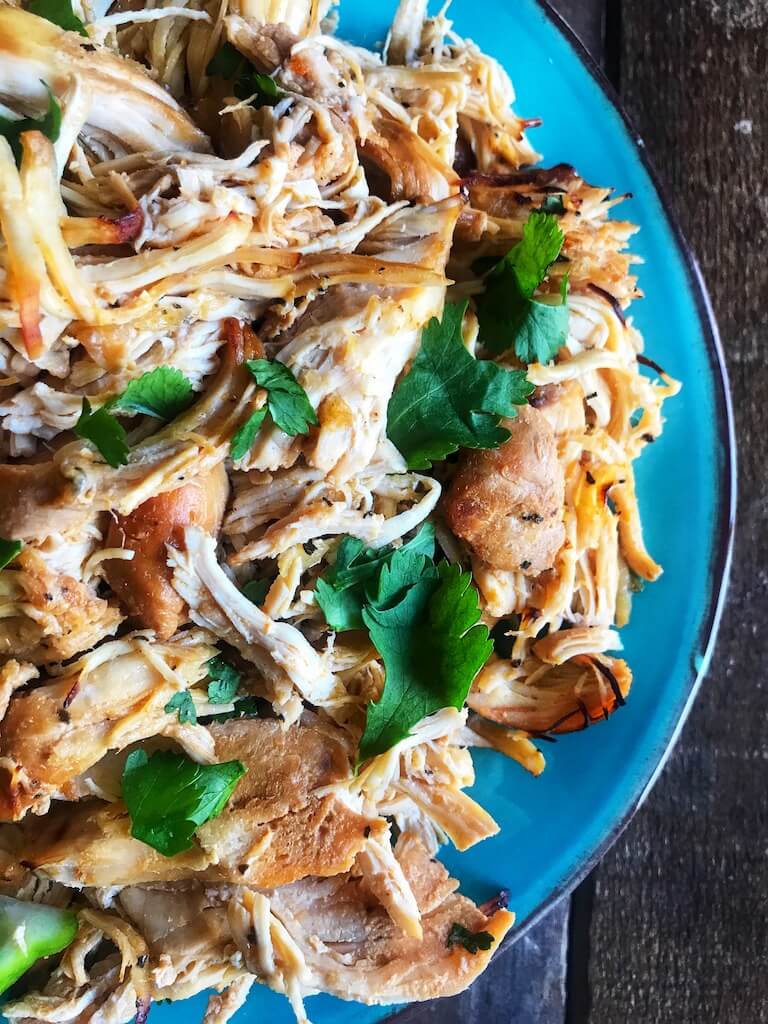 What to do with these Chicken Carnitas?
Tacos! Heat up some tortillas and add whatever toppings you love!
Make some bowls! Add my Quick Chipotle Beans and Cilantro Lime Rice to a bowl of these Chicken Carnitas and some finely chopped romaine. You'll be in heaven. Extra credit if ya throw some sliced avocado in there.
With a fork by itself in the middle of the night while everyone is fast asleep because it's that good.
Throw it in a big salad and use my Chipotle Ranch for the dressing.
The possibilities for a really delicious chicken like this are practically endless. What do you think you'd do with it? Or, let me know if you've done something awesome with it!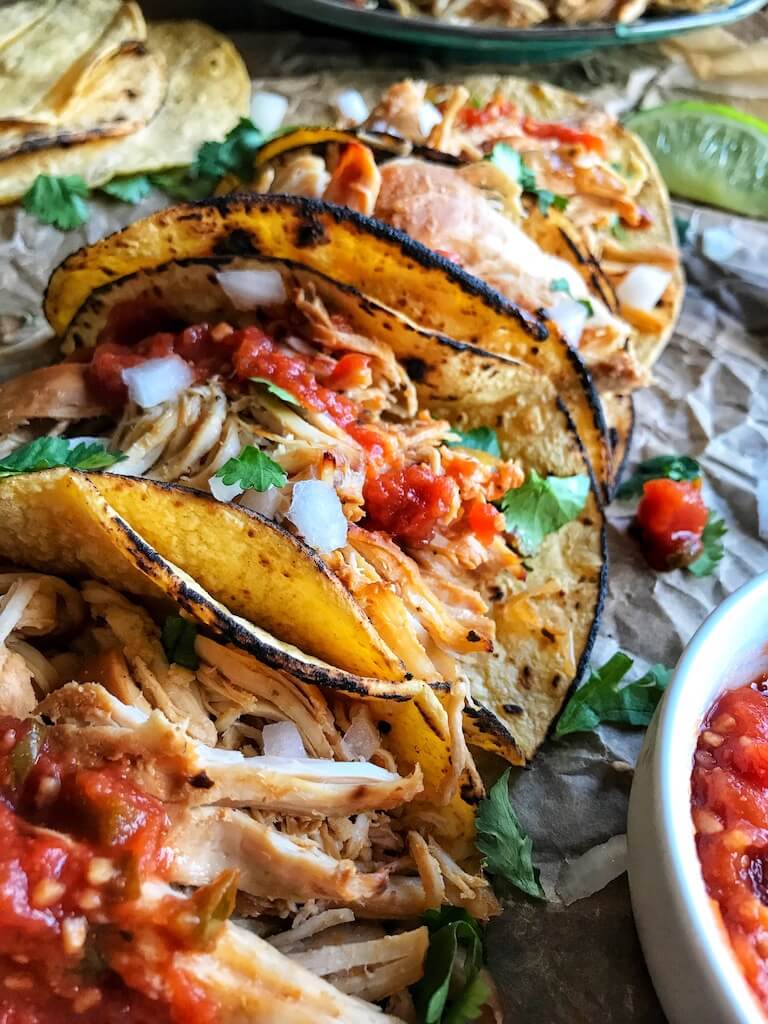 Make these Chicken Carnitas as soon as humanely possible! They're tender, but crispy and oh so, so, so yummy. I love them so much and I think you will too.
Don't forget to leave a comment and let me know how it goes, friends.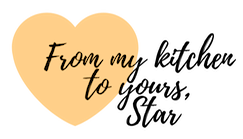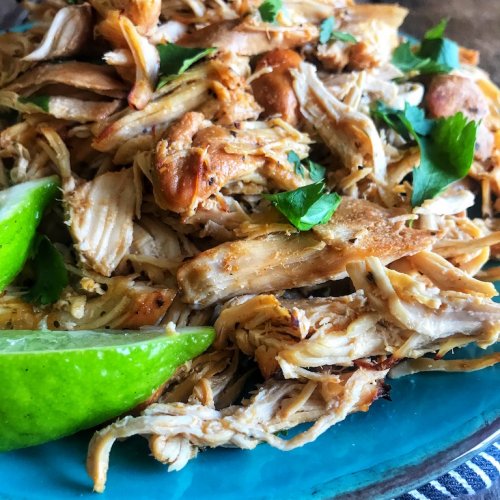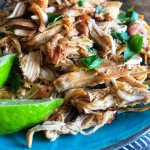 Print
Slow Cooker Chicken Carnitas
Slow Cooker Chicken Carnitas are so easy that anyone can make them! Broiling them after removing from the slow cooker makes them lightly browned, a little crispy, and extra delicious. Perfect for tacos, burritos, salads, and burrito bowls!
Materials
2

lbs

chicken breast, raw

1

large

onion

thinly sliced into rings

3/4

cup

chicken broth, low sodium

juice of two limes

(about 1/4 cup)

juice of one orange

(about 1/4 cup)

1

tsp

cumin

1/2

tsp

oregano

2

tsp

garlic powder

1

tsp

coarse kosher salt

(reduce by half if using fine salt or table salt)

bay leaf

1-2

chipotle peppers from the can

(use 1 for less spice or 2 for more spice)

2

tbsp

adobo sauce from the can of chipotle peppers

cooking spray

avocado or coconut oil spray will work best with high cooking temps.
Instructions
Place chicken breast in a slow cooker followed the rest of the ingredients on the list except for cooking spray. Stir together well and set slow cooker to low for 7-8 hours or high for 4-5 hours.

When the chicken is done gently pull apart the cooked chicken breast, but do not shred. Spread out onto a sheet pan that's been lined with aluminum foil and then sprayed with cooking spray.

Remove about 3/4 of cooking juices from the slow cooker and pour all over the top of the chicken. Spray the top of the chicken with a little bit more of cooking spray.

Broil for 5-10 minutes or until you get lightly browned edges on the chicken.

Serve with tacos, burritos, salads, or burrito bowls! Enjoy!

optional: sprinkle with freshly chopped cilantro and squeeze with extra lime.
Notes
Makes about 5 cups. (about 1/2 cup serving)
WW Points: 0
115 calories | 1g fat, 0.3g saturated fat, 1g carbohydrates, 1.5g fiber, 0g sugar, 0g added sugar, 28.6g protein