Cheesy Chicken and Biscuit Casserole
This post may contain affiliate links (meaning I earn a small comission if you purchase an item through a link I provide) I only provide shoppable links to items I love and are helpful. As an Amazon Associate, I earn from qualifying purchases.
Hey there friends!
Lemme ask ya a quick question…. Is there anything better than Chicken and Biscuits? How bout Cheesy Chicken and Biscuits? Okay, Easy Cheesy Chicken and Biscuit Casserole chock-full of veggies and gravy? I just can't think of anything right now. As long as you've got some precooked chicken ready to go. This recipe can be prepped in no time and on the table within 30 minutes for an almost homemade, easy, cheesy, soul warming, dinner. I'm pullin' out all the short cuts in this recipe because y'know what? Sometimes we just need'm. The biscuits aren't from scratch, but they sure are delicious and the gravy might be from a jar on the store shelf, but every once and awhile that's the way it goes in our house. It's healthier than fried chicken take out and that's a fact. This has been a family favorite for years and I know it'll quickly become a quick n' easy weeknight delicious dinner staple for you too!
We sorta kinda had a rough one this past week. I won't bore you with all the details, but we were all sick, and none of us got very much sleep.
I pretty much took the week off from the kitchen, because my energy was zapped, so it was a week of quick and easy meals, most of which came out of the freezer. But on Saturday, I got right back in the kitchen. Since I hadn't really gone grocery shopping, there wasn't much to chose from. I had chicken that needed to be used up, so all I really knew was that chicken would be the base of the meal. I asked Eric what he would like, and he basically said, "Whatever you make will be good." Thanks for the help, babe.
I decided comfort food was in order after the week we had… Easy Cheesy Chicken and Biscuits needed to be made! If you're feelin' extra hungry I love pairing this meal with a big ol' spoonful of my Cauli-Tater Mash. It takes a bit of time to cut the potatoes and cauliflower up, but other than that this recipe is easy peasy too.
This recipe came together from a memory I had of how my aunt used to make her Chicken Pot Pie for family gatherings. I lightened it up quite a bit, and of course, I added cheese. I'm sure she also made a delicious homemade gravy. I thought about making up a homemade gravy, and perhaps I still will someday and add it in the future, but I wanted to make this here recipe super yummy, quick, and easy enough for any night of the week, but especially those busy ones! I hope y'all love it up.
Let's get into the kitchen!
Fiiiiiirst, Preheat yer oven to 375 degrees.
Now, you're gonna add one chopped red onion into a large skillet that's been lightly sprayed with some cooking spray. Sauté for a few minutes over medium-low heat until onions are softened up a bit.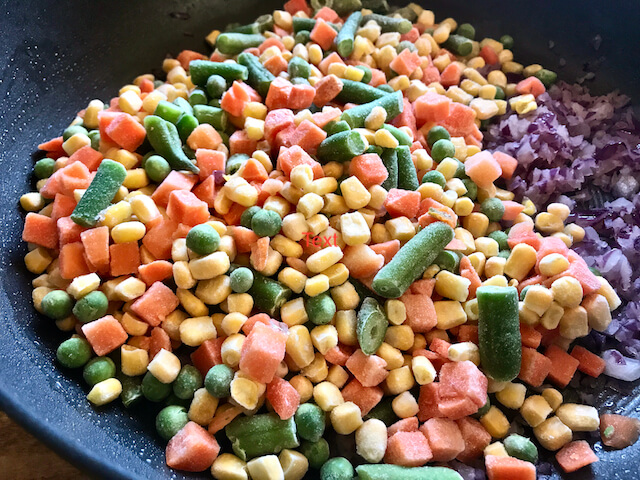 Add in four cups of frozen veggies. See, how easy is this? Stir together and heat them for a couple of minutes.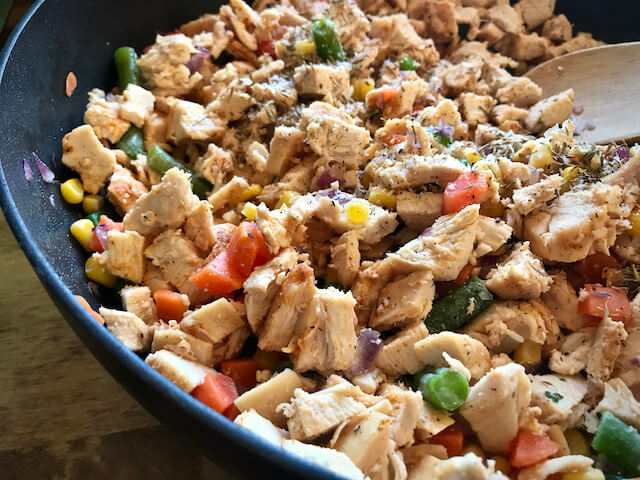 Get some chopped and cooked chicken, 1/2 tsp of thyme, and salt and pepper to taste!
You can use this shredded chicken recipe, rotisserie chicken, leftover chicken breasts, or Thanksgiving is coming… leftover turkey breast definitely works! Make it a Easy Cheesy Turkey and Biscuit Bake! Here, I'm using some quickly roasted chicken breast that I diced up. I am going to get the recipe up for some perfectly roasted chicken breasts soon and I'll link it then.
Now, let's get down to business with the yummy biscuit part. In a large bowl, add 2 cups of the mix and a 1/2 tsp of garlic salt. Stir together.
I'm a super big fan of homemade biscuits, but these really do the trick. I keep a box of this Bisquick on hand for a few different things so it's a good go to when I want to make this casserole.
I use the Heart Smart Bisquick Baking Mix which is lower in calories and fat, but using regular Bisquick is fine too. You can also use the recipe for my Garlic Parmesan Drop Biscuits on top of this. It works wonderfully and deliciously! Adjust the points and/or calories if you care about that sort of thing accordingly if switching things up.
Add 3/4 cup of milk. Stir it together really well.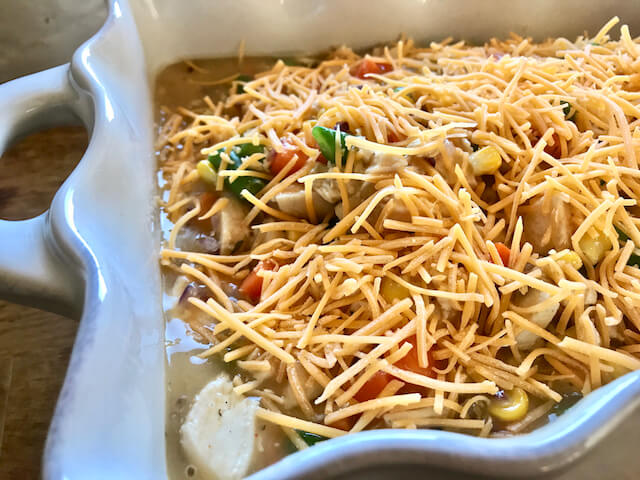 In a 3 quart casserole dish, add chicken and vegetable mixture and pour gravy all over. Stir together and then top with 3/4 cup of shredded sharp cheddar.
On top of the cheese scoop and drop biscuits onto the top of the casserole with a metal spoon. There should be 12 drop biscuits total. Place into the preheated oven, uncovered, and bake for about 23 minutes or until the tops of biscuits are golden.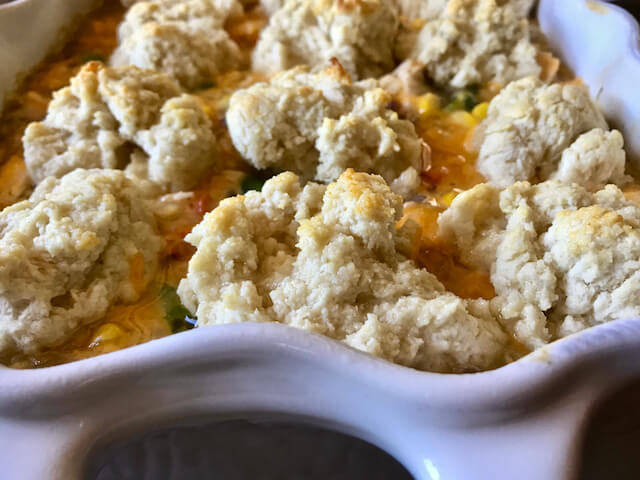 Oh, heaven.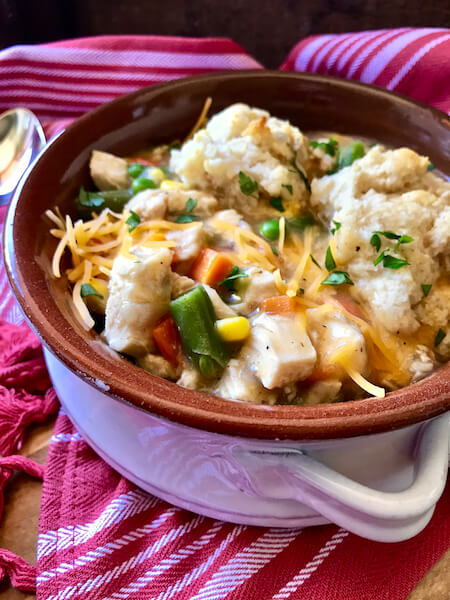 Dig in and enjoy!
I really don't think it needs much. It's simple. It's delicious. And the family absolutely loves it! In the colder months, I truly make this once every couple of weeks. You know what? It hits the spot every time! If you're not in the mood to make up Cauli-Tater Mash… a good ol' fashioned salad on the side is perfect too to make your meal complete.
With love from my kitchen to yours,
Star
Print
Easy Cheesy Chicken and Biscuit Casserole
Chicken and veggies mixed up in a delicious gravy and topped off with sharp cheddar and semi-homemade drop biscuits.
Materials
1

medium red or yellow onion

chopped

4

cups

chicken breast

cooked and shredded/diced

3

cups

frozen mixed vegetable

(peas, corn, green beans, carrots)

1/2

tsp

thyme, dried

2-

12 oz

jars Heinz Classic Chicken Gravy

3/4

cup

reduced fat shredded sharp cheddar

salt and pepper

to taste
Drop Biscuits
2

cups

Bisquick Heart Smart Baking Mix

3/4

cup

skim milk

1/2

tsp

garlic salt
Instructions
Preheat oven to 375 degress. Lightly spray 3 quart (9×13) casserole dish with cooking spray.

In a large skillet, lightly spray with cooking spray and sauté onions for a few minutes until softened. Add frozen veggies to pan and stir together until the veggies are warmed. Add cooked chicken, thyme, and then salt & pepper to taste.

Add the chicken and vegetable mixture to the casserole dish, pour chicken gravy into the dish and stir until combined well. Evenly sprinkle with the shredded cheddar on top.

In medium bowl add Bisquick mix and garlic salt. Stir together. Then, add the milk. Mix until a soft dough forms. (If mixture does not seem moist enough add one or two tablespoons of water)

With a metal spoon drop biscuit dough on top of the cheddar. You will have enough to make 12 biscuits.

Bake for 20-23 minutes or until biscuits are golden on top. Let sit for a few minutes before cutting into. Enjoy!
Notes
Serving size: 1/6 of casserole dish.
Calories: 350. fat: 12g, carbohydrates: 38g, fiber: 2g, sugar: 6g, protein: 37g
WeightWatchers Points: 9 Points