Make Ahead Freezer Friendly Pizza Sandwiches
This post may contain affiliate links (meaning I earn a small comission if you purchase an item through a link I provide) I only provide shoppable links to items I love and are helpful. As an Amazon Associate, I earn from qualifying purchases.
Ya'll! I am obsessed with pizza and I'll tell you right now the number one reason I go off track from this lil weight loss journey o' mine is because I want PIZZA and I want it RIGHT NOW. I've been making english muffin pizzas on and off for years and I think we all have, but one afternoon after I had gotten one made up for Pepper's lunch I had a lightbulb go off and I decided that these little sandwiches would be such a perfect grab and go item to have in the freezer or fridge. They are PERFECT for meal prep because who doesn't want to have pizza every single day for lunch? I know I sure do. I'll keep it short and simple just like this recipe because all I really want to do is go eat another one right now. So yummy! I like to reheat'm in the oven because that will make them much more crispy, but they are still super delicious in the microwave. My Make Ahead Freezer Friendly Breakfast Sandwiches are such a huge hit that I thought this was the perfect addition to the blog now that Fall is here and life gets a little busy while all the kiddos are in school, right? right! I hope you love these as much as I do. Pepper LOVES them too! She is NOT a sandwich lovin' kid, but she scarfs these like there's no tomorrow. Also, you can totally add some of your favorite veggies! I have added thin slices of onion and green pepper on mine and it added even more deliciousness. You'll notice the process is a lot like the breakfast sandwiches so if you've been making those.. these will be a walk in the park for ya. (Really, they are super easy even if you haven't made the breakfast sandwiches) All you really need is 4 ingredients (well 5 if you count cooking spray) and about 12 minutes of free time and at the end of it you'll have a batch of Pepperoni Pizza Sandwiches for lunches and/or snacks throughout the week! (I eat them for snacks probably more than I should.)
Let's get down to it!
Preheat the oven to to 400 degrees, and grab your ingredients. Light english muffins. I am using Thomas's Light multi grain english muffin. Any light muffin will do to keep your points/calories in check. 60 Turkey Pepperoni Slices, about 3/4 cup of marinara or pizza sauce. I use my "almost famous" Slow Cooker Marinara recipe! It's delicious. You can also grab a jar of pizza sauce, the points will stay the same, I believe, but nutrition information will change so make sure to double check if you need to! And, last but not least some mozzarella because it wouldn't be pizza without cheese.
Cut the muffins in half and throw'm on a sheet pan.
Spray'm with a bit of cooking spray and toast'm up in the oven for about 8 minutes.
Add the marinara on each side of all the muffins. (About a tablespoon on each!)
Spread the marinara all about.
Add the cheese evenly. (three tablespoons of cheese on each total sandwich)
Add five slices turkey pepperoni on each half!
Close those babies up. See? Wasn't that easy? Seriously, this post takes longer to write than it takes to make'm up, but that's okay.
All set.
Now wrap each sandwich up in some tin foil.
There! One more step.
Pop'm in the english muffin bag from which the muffins came from. This helps for two reasons 1) It's a extra layer in the freezer. It helps keep'm from getting that soggy freezer thing that happens. 2) It keeps them all nice and organized in the fridge! I need at least ONE thing in the freezer to look nice. It's a dang mess in that thing.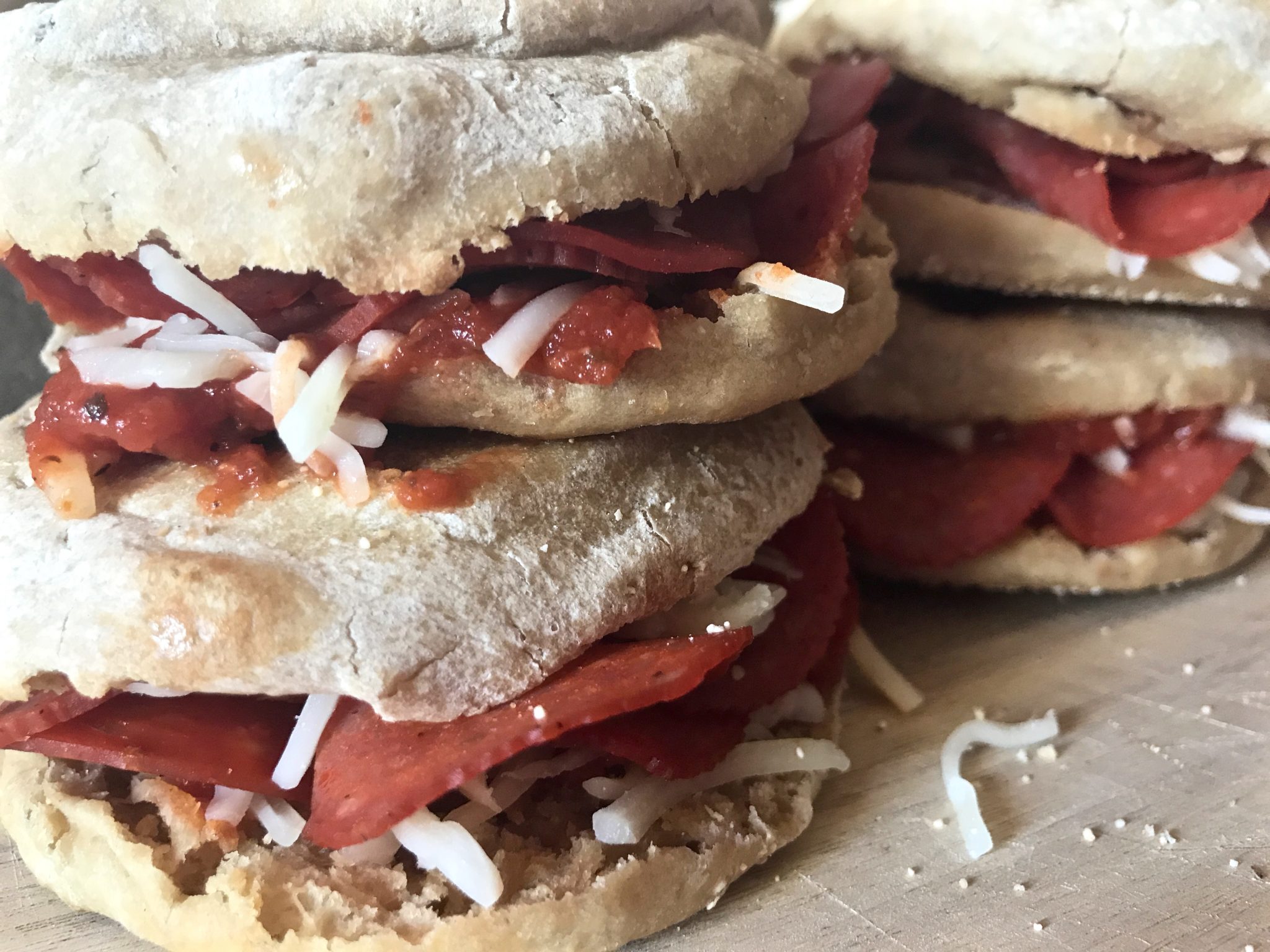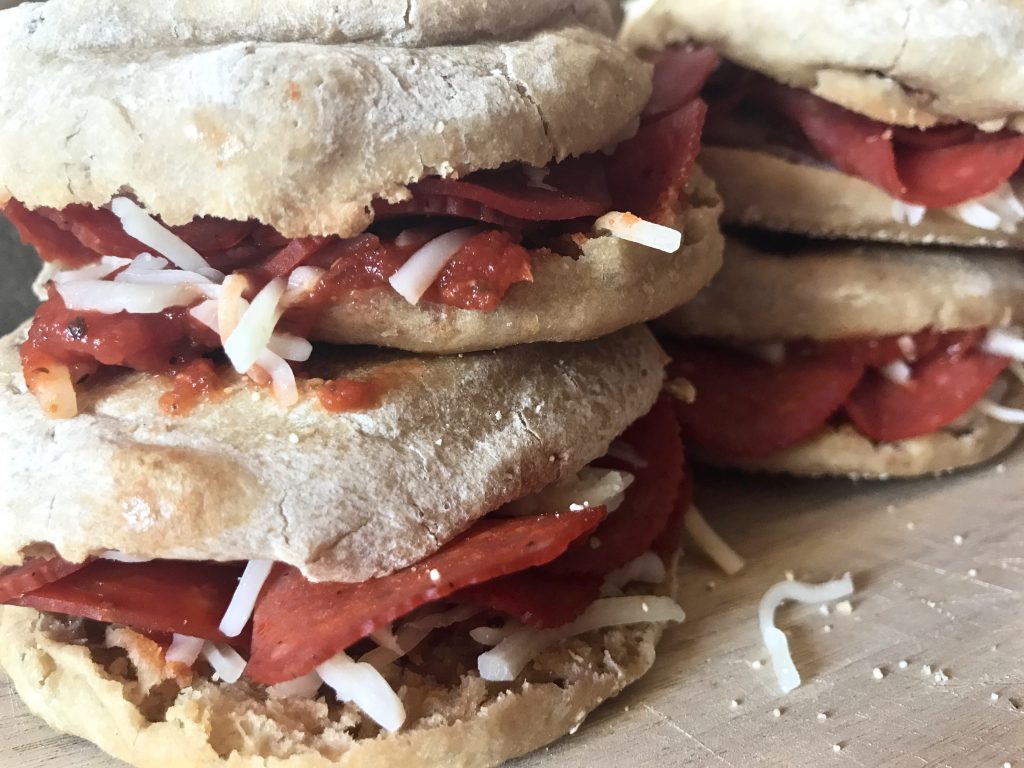 These are just plain good. and convenient. and easy. and calorie/point friendly. and delicious. Did I already tell you that they're delicious? Oh well. They really are.
Reheated and ready to eat!
Now, take a bite. You earned it. I know I did. Man, I love these things.
Okay, so everyone is going to want to know the heating instructions. I took one for the team and happily gobbled up four of these babies just last night to test all the different ways to heat'm up. I prefer the oven, but I prefer the oven with EVERYTHING. Eric uses the microwave with just about anything and everything and he was completely satisfied with them in the microwave. I was too, but I prefer the oven. They stay much crispier in the oven.
Also, I've seen a lot of people reheating my freezer friendly breakfast sandwiches in their air fryers!? I had no idea. I don't own one of those yet. If anyone does this, please let me know how ya reheated them in there!
From Frozen
Microwave: Wrap in paper towel and Defrost 45 seconds. Place on plate and cook 55 seconds.
Oven: Keep wrapped in foil. 375 degrees 23 minutes.
Thawed in the fridge
Microwave: Place on a plate. Cook for 55 seconds.
Oven: Keep wrapped in foil. 375 degrees. 12 minutes.
Note: Oven times may varies so when the sandwiches come out simply pull the top off and if the center is still cool it'll need a few more minutes.
I hope you love these!! Let me know if ya make'm.
With love from my kitchen to yours,
Star
Print
Make Ahead Freezer Friendly Pepperoni Pizza Sandwiches
A delicious sandwich light in calories and filled with sauce, cheese, and turkey pepperoni. Perfect for meal prep!
Materials
6

light english muffins

sliced in half

1

cup

shredded part-skim mozzarella

plus two tablespoons

60

slices

turkey pepperoni

3/4

cup

DDOP Marinara

or favorite pizza sauce

cooking spray
Instructions
Preheat oven to 400 degrees. Place english muffin halves on a sheet pan. Lightly spray with cooking spray, and bake for about 8 minutes or until they are crispy.

Scoop one tablespoon of marinara or pizza sauce onto each muffin half and spread out.

Pile on the mozzarella cheese evenly onto each muffin half. (3 tablespoons per sandwich)

Place 5 slices of turkey pepperoni on each half.

Fold up each sandwich and wrap in tin foil.

Place all wrapped sandwiches back into the english muffin bag or plastic baggie of your choice. Place into freezer for up to 3 months or in the fridge up to 7 days.
Reheat Instructions:
(From Frozen)

Microwave: Wrap in paper towel and Defrost 45 seconds. Place on plate and cook 55 seconds.

Oven: Keep wrapped in foil. 375 degrees 23 minutes.

(Thawed in the fridge)

Microwave: Place on a plate. Cook for 55 seconds.

Oven: Keep wrapped in foil. 375 degrees. 12 minutes.

Keep in mind oven times may vary so to just your sandwich. If the center is still cold it'll need a couple extra minutes!
Notes
Suggested Serving size: 1 Sandwich 212 calories 7.9g fat, 3.5g saturated fat, 28g carbohydrates, 9g fiber, 2g sugar, 16g protein. WeightWatchers Points: 4