A Trip Down Halloween Lane
This post may contain affiliate links (meaning I earn a small comission if you purchase an item through a link I provide) I only provide shoppable links to items I love and are helpful. As an Amazon Associate, I earn from qualifying purchases.
Happy Halloween!… er, umm.. Happy 3rd of November!
Let's just go ahead and call attention to the fact that I'm probably the world's worst blogger. Okay? I know this. I'm the queen of distractions, and second guessing, and etc and etc and etc. My favorite motto is, "better late than never!"… but it could probably be "Never do today, what you can put off until tomorrow!" 😀 I literally just saw a blogger posting about how to decorate a Christmas Tree… and I'm over here like "Hey friends- here's some Halloween stuff after Halloween!" Ha! Y'all, It's been a crazy month… Y'know what? It's been a few crazy months actually. And I won't bore y'all with many of the details, but… mama's tired, we'll just leave it at that. But right here and now I promise y'all, I'm not gonna give up! I have the coolest job in the world. I get to share things that I dream up in the kitchen, tell bad jokes, laugh at my own bad jokes, and y'all even make the recipes that I put out on this ol' blog. All in all, I'm pretty dang lucky- but man alive, I'm tired today.
Okay, so here's the deal. I'll set the scene for ya. On June 10, 2018, I threw the biggest Halloween party on this side of the Mississippi, for the sweetest little three year old there ever was. When I thew the party I held back photos from y'all because I thought to myself, "Hey! This would be a perfect Halloween post. I'm just gonna tuck these babies in my back pocket… and I have like four months to write it, so I'm totally good to go!" Which must be why I am writing this post at 3:26 pm on November 2nd, two days after Halloween… Gotta love me, right?
I know some of ya apparently already have your Christmas trees up, but I like to shake things up and forget about any and all rules. So, here's my Halloweenie post three days after Halloween. Oh, and… you might be wondering, "Why on earth did you throw a Halloween party in June?" If you met Pepper, you'd understand. She's a bit of a spitfire, and she definitely marches to the beat of her own drum. (Girl after my own heart!) Eric and I swore up and down that we were going to keep this year's birthday party small and sweet, since her first two parties were big celebrations. We kept saying a cake, maybe some balloons, and just some family- That's it. Ha! Well, at the very end of May I found myself hunting down any and all bright orange, purple, and green platters n' bowls, digging through Halloween decorations, and hopping on the Amazon app in the middle of the night, buying packages of Halloween candy for about 10 times the price when it's in season. Yeah, that one hurt. Especially when I bought a package of candy corn for about 12 bucks, and then just yesterday saw the same package on the clearance rack at Target for about 75 cents. Ohhh lawdy!
But y'know…Pepper only turns three once. She's only little for so long. And, seeing her sweet face light up like the sun when she walked into a house full of friends and family in costumes, and all the awesome Halloween the decor out… it was just priceless.
Well, not totally priceless. The 15 packages of Halloween themed candy from Amazon definitely had a price.
Here's some photos for you to enjoy!
I took to Pinterest with finding so many ideas and combined them with my own ideas.
I knew I wanted to do a fun Halloween fruit tray. Because believe it or not, fruit is Pepper's favorite food. She'd take fruit over cookies and/or candy any day of the week. I guess we're doing something right! I found inspiration for this adorably spooky fruit platter from Kitchen Fun with My Three Sons! All of these goodies were such a big hit with both the adults n' kids. I made up my own fruit dip, which is pretty close to the recipe that my mama has been making for forever, which is simply just a jar of marshmallow creme, eight ounces of cream cheese, and one cup of vanilla yogurt. I added purple food coloring for fun! It's not the healthiest of fruit dips, but life is about balance, right? right. There was fruit involved.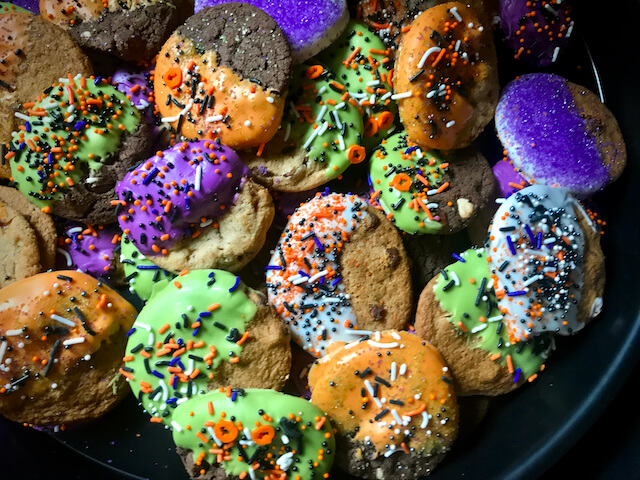 These cookies were so yummy, and they couldn't have been any easier. All you need to do is prepare your favorite chocolate chip cookie recipe or buy'm- I won't judge ya. Melt down white chocolate (add favorite food coloring colors), and then sprinkle with so many sprinkles. They were practically effortless and full of Halloween cheer!
I had multiple Halloween treats for all the kiddies, but these might have been my favorites… especially since it was a Halloween party in the middle of summer. Little personal s'mores treat bags! A Peeps Halloween marshmallow, a fun size Hershey candy bar, and graham crackers. If you're wondering, the only thing I was able to find in a store that was Halloween themed at the end of May was this ribbon that tied up the bags! Ha!
I'm a little bummed because I didn't actually get photos of the best part – The trick or treat station! By the time I remembered, It had already been taken over by everyone. Basically, I just bought a bunch of random goodies and threw'm in a bunch of big bowls. There was candy, glow sticks, stickers, bubbles… basically everything Pep loves.
Every Halloween party needs some fun Photo Booth props.
(Amazon truly saved my butt while putting this party together!)
Little pumpkin treat bags with cheeseballs inside!
Hey, it's a party. Cheeseballs were non-negotiable.
Serioussssly. This is my favorite part.
The old-school classic Graveyard Dirt Cake turned into little mini Graveyard Dirt Cake Cups! My family is obsessed with Dirt Cake. It's one of the best dessert recipe inventions ever, and I thank whoever came up with it every single time I indulge. We adults like to say say "Oh, that's for the kids." But let's be honest – the adults finish off 70% of it every dang time. The dirt cake recipe I follow is super simple and it contains every single thing that I probably shouldn't eat, but you know what? A couple times a year ain't gonna hurt a darn thing. I promise I'll share this recipe with ya sooner or later, but honestly- it's probably not much different from something you'll find online already. It's a classic Midwestern staple dessert that's been around for generations; I simply just divided it up into little cups that I grabbed at the dollar store, crumbled crushed Oreos on top, added mellow creme pumpkins, and a Milano cookie that I made into a little grave marker with black glitter frosting.
And if you throw a halloween party without mummy dogs, then I don't even want to go to that party. Ha! I'm kidding, but seriously, between these mummy dogs and the dirt cake cups, I couldn't even keep them on the table long enough… which proves that we're all just kids at heart. Because I promise you that the kiddos were more focused on playing than the fun party food!
Side note: I put black glitter frosting on the hot dogs for mummy eyes. Nobody complained. Success!
To be totally real with y'all… once the party started, I lost my phone, my camera, and my mind. I didn't get many photos of anything else, because I do really try to be in the moment, and also to fill the food back up as it's emptied… I didn't really think that I'd be bloggin' bout it all.
I made another family favorite which isn't pictured. Loaded Walking Tacos! What are Loaded Walking Tacos? They are the classic walking tacos (essentially deliciously taco seasoned ground beef piled in a fun size bag of Fritos or Doritos, then topped with lettuce, tomato, and cheese).. but to make'm even better, I made both my homemade salsa and roasted corn salsa, and guacamole to pile in the bags too! I also think there was home made queso, but I can't remember. There was so much delicious food!
Food equals love.
And here's sweet Pepper as Minnie Mouse, with her Ninja Turtle cousins. They are just 9 months apart, and they're already the best of friends!
I wish I had more pictures of everyone in costume at the party, but I did drop the ball on that.
I hope she remembers this party forever, because I sure will.
And before I go, just a little trip down Halloween memory lane…
Halloween '16. Her sweet babe face!
I'm not crying, I swear.
Peace, Love, n' Mummy Dogs,
Star