This post may contain affiliate links (meaning I earn a small comission if you purchase an item through a link I provide) I only provide shoppable links to items I love and are helpful. As an Amazon Associate, I earn from qualifying purchases.
Today, I've got this dreamy Roasted Tomato Soup, folks. It's made with so many fresh ingredients. I love bulking it up with a ton'a tomatoes, a few carrots, a big red pepper, onions, and enough garlic that you'll never have to worry about vampires. It's almost effortless! And, most importantly- It's delicious! Step back in time with this grown up version of tomato soup & grilled cheese!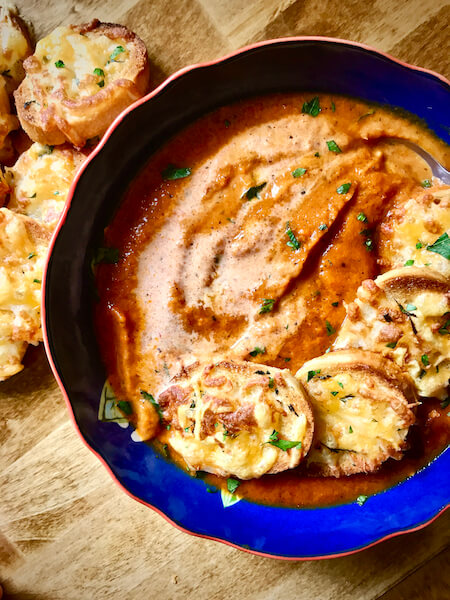 This soul-warming Roasted Tomato Soup is scrumptious, and full of so much dang flavor. It's a great thing to have when you get the hankerin' for a big ol' piping hot bowl of tomato soup. I also made sure it was freezer friendly! This means you can have it ready and on the table very quickly… and hopefully, you can ditch that boring and bland, red-label-can brand stuff once and for all! (For the record, I do respect that red-label-can brand. But in my opinion, when it comes to tomato soup, the recipe we're about to make is thicker, richer, healthier, and better in every way… it's worth every bit of the time and effort!)
Do you remember when ya were a bit younger, and Grilled Cheese and Tomato Soup was everything? There really was just somethin' about it that made the cold and dreary days special. A handful and a half of years ago, I decided that I wasn't a fan of tomato soup anymore. It just seemed so plain, ya know? Granted, I was buying the canned stuff, and just adding a few splashes of milk. So that was probably my problem. I started experimenting, making my own kind of tomato soups when the season and the weather were right for it. Sometimes I was successful- sometimes not so much. But now, y'all, I think I finally hit the nail on the head. Believe it or not, I even got toddler approval, after begging miss Pepper to take a bite. She says to me, "it's not so bad!" Can you believe that? She's already a little critic.
I hope you'll agree with me that the soup is yummy. But I think all the little "cheese toasties" that I throw on top of it might just make the whole thing even better! These cheese toasties are my grown up/lazy version of grilled cheese, and they are crazy addicting… I've even included the quick steps to make them below! Of course, you can make a regular ol' grilled cheese too. Are you a sandwich dipper, or do you usually prefer a handful of crackers or croutons tossed in? Either way, you're going to love this recipe!
Now let's get into the kitchen, and make some soup!
First off, preheat the oven to 450 degrees. On a large baking tray, throw on some tomatoes (I used Romas- I prefer them with the core and seeds scooped out with a spoon, but you can just cut'm in half), 1 red pepper cut in half, 2 onions cut in half, 2 large carrots cut into four pieces, and about 5 cloves of peeled garlic. Drizzle it with olive oil and sprinkle with Salt and Pep, then place in the oven and let'm get all roastalicious and caramelized. (While you're at it… close your eyes, take a deep breath, and bask in the incredible scent that now fills your kitchen!) Let'm hang out in there for about 35-40 minutes. I know that's kind of a while, but that's it. You can go read a book, or watch a tv show, or- ughhh- do laundry. (my life)
Remove from the oven when they look a lil like this.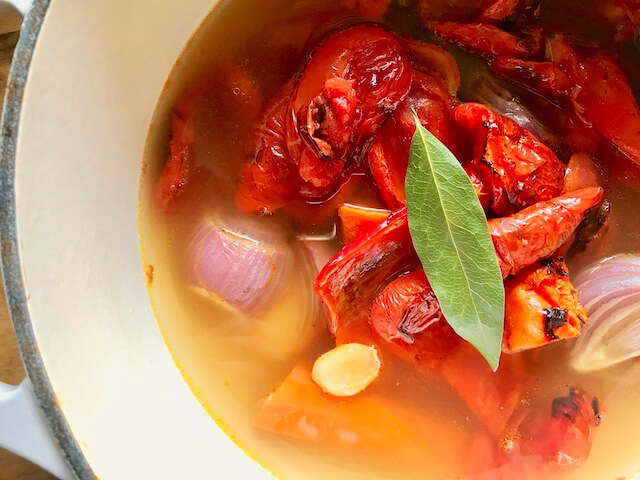 Toss everything from the baking tray into a large stock pot or dutch oven with 2 cups of chicken broth, vegetable broth, beef broth- whatever you've got on hand will do. Also, go ahead and throw in about a tablespoon each of Worcestershire sauce and some dried basil, and one bay leaf. Bring to a boil, then let simmer, uncovered, for another 20 minutes on the stove.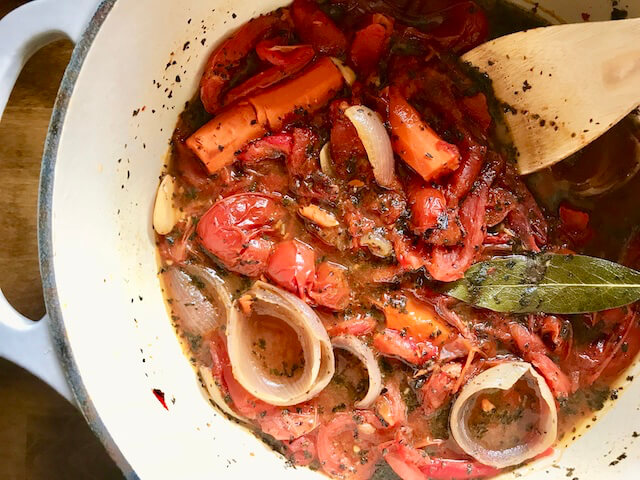 I know that many of you are like, "goodness- this seems like a lot of work for some tomato soup!" But y'all, you know me, and you know I wouldn't steer you wrong. It's almost hands off time. I'm telling you, it's worth it. And like I said a lil bit ago, it's freezer friendly! So if we do just a lil extra work now, you'll have insanely delicious, homemade tomato soup on hand for a few months!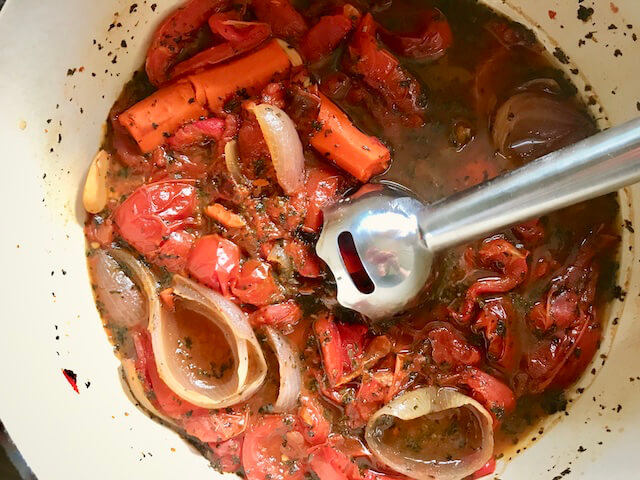 Remove from the heat n' grab a handy dandy immersion blender. Don't have one? Click right here for the one I use! It's also handy when you make my yummy recipe for Crockpot Marinara.
If you don't have an immersion blender right now and you want to make this tomato soup, you can use your trusty blender to puree the soup. But please please, pleease- Remember to divide it up and blend it in a few smaller portions, because if you try to blend up too much hot soup at once, you'll have a big ol' steaming mess on your hands!!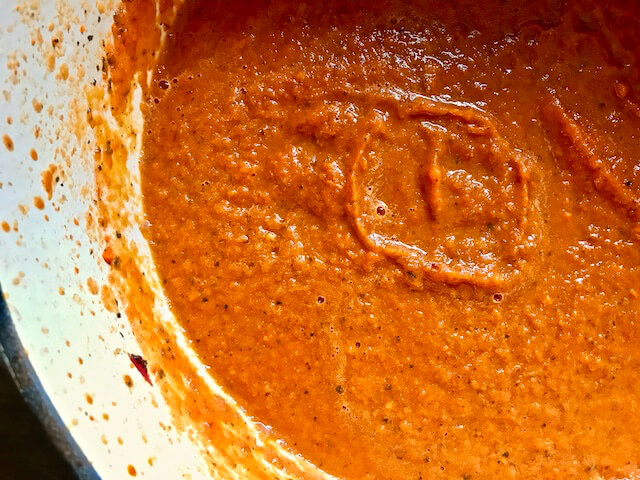 Puree until it's nice and smooth. Return the pot to low heat. Add the remaining broth. There's room for customization here… If you prefer your soup a bit more on the thin side, add a little extra! I do like a thicker tomato soup… Probably because It's better to dip my cheese toasties in! 🙂
And, because it's the right thing to do, add a little half n' half to balance it all out… and, you know, to make it just a lil' creamy.
Stir it all up, and there it is- you're good to go!
Bonus recipe
Cheese toasties! Okay, you don't have to make these, but you really should make these. When I was younger and my sister would babysit me, she would always make something like this. She'd take a piece of bread and spread some butter on it, sprinkle it with garlic salt and then a mountain of cheese, and then she'd broil it. And it… was… glorious! This is my version of those Cheese Toasties. They're totally a great companion for the recipe, the perfect vehicle for delivering this soup to your tummy. They're quick and easy, which we can all appreciate, and I know you're gonna love'm.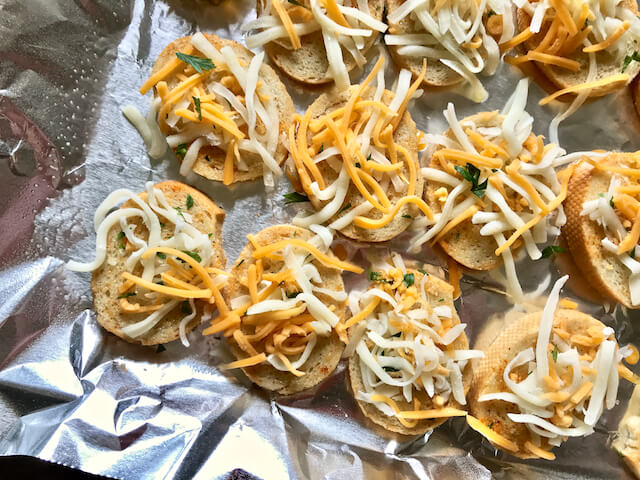 There's about three steps to these, and one of them is to eat'm up… so that's good, right? You're gonna grab a baguette and slice it into thin slices, spray the tops with a little olive oil or avocado oil cooking spray, sprinkle a little garlic salt on'm, then top with the amount you choose of your cheese of choice. (I mixed together reduced fat sharp cheddar with some Mozzarella.) I pile about one tablespoon of the cheese mixture onto each little slice of baguette.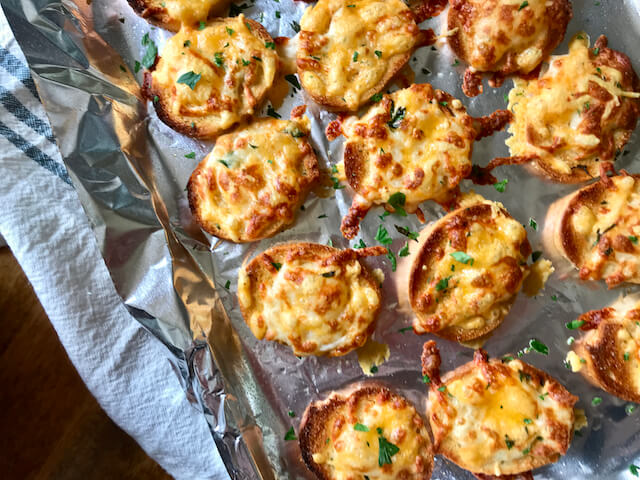 Broil'm for about 5-6 minutes. Just keep an eye on them, okay? Because if you forget, it doesn't take long at all for them to get a little too dark!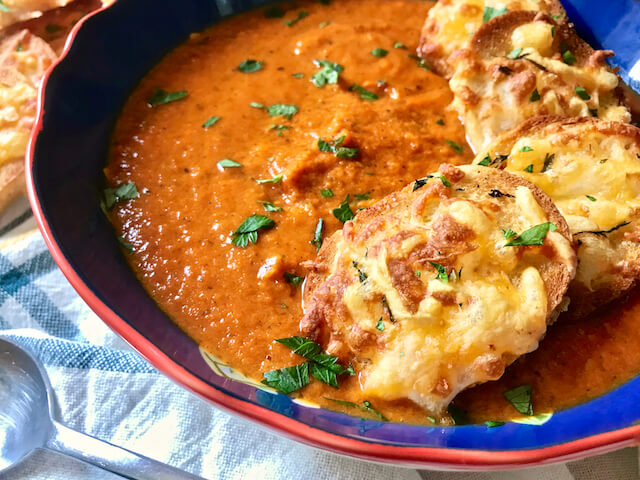 And there ya have it! A dreamy little bowl of perfectly flavored tomato soup, and we've even got some crunchy cheese toasties on top.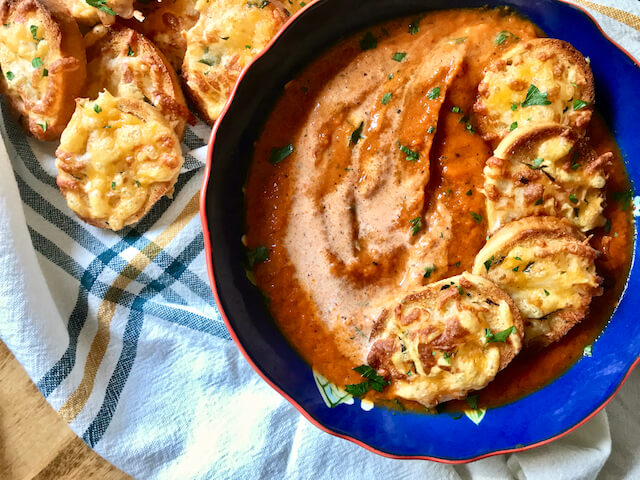 ahhh, just the best.
My friends, you may never grab a can of that stuff on the shelf again.
Are you thinking what I'm thinking? That this would make a great Halloween dinner!
Hope you make it soon. I can't wait to hear how it goes!
With love from my kitchen to yours,
Star
Print
Roasted Tomato Soup
A creamy homemade tomato soup chock-ful of fresh tomatoes, onions, garlic, carrots, red pepper, and spices.
Materials
2.5

lbs

fresh roma tomatoes

sliced in half, seeds and core scooped out

5

cloves

fresh garlic

peeled

2

large

carrots

chopped into large chunks

1

large

red bell pepper

deseeded and cut in half

2

medium

onions (red or yellow)

cut in half

1

tbsp

olive oil

6

cups

vegetable or chicken broth

extra if you want a thinner tomato soup

1

tbsp

dried basil

1

tbsp

Worsteschire sauce

1

bay leaf

1/2

cup

half and half

sea salt & pepper

olive oil or avocado oil cooking spray
Instructions
Preheat oven to 450 degrees.

On a large baking sheet lightly sprayed with cooking spray. Spread tomatoes, onions, carrots, garlic cloves, and the red pepper onto the pan. Drizzle with olive oil and sprinkle with salt & pepper. Toss together to coat everything. Place into oven and roast for 35-40 minutes or until everything is lightly caramelized.

Remove from oven and toss everything into a large stock pot or dutch oven. Add 2 cups of broth, bay leaf, basil, and worsteshire sauce. Bring to a boil. Reduce and simmer 15-20 minutes.

Remove from heat and remove bay leaf. Use an immersion blender to puree the soup until smooth.

Return pureed soup to stove over low heat. Stir in half and and half and the remaining broth.

Add extra broth if you like your tomato soup a little thinner. I personally enjoy it a bit thicker. Better for dipping cheese toasties or sandwiches!
Notes
Serving Size: 1-1/2 cups.
Calories: 135. Total Fat: 4.5g, Saturated Fat: 1.5g, Carbohydrates: 14g, Fiber: 4g, Sugars: 5g, Protein: 5.5g
WeightWatchers Points: 2 Points
*You do not have to scoop the seeds and core out of the tomato, but I personally prefer it that way. If you decide not to scoop the seeds and core you will have a little extra soup!