Garlic Parmesan Drop Biscuits
This post may contain affiliate links (meaning I earn a small comission if you purchase an item through a link I provide) I only provide shoppable links to items I love and are helpful. As an Amazon Associate, I earn from qualifying purchases.
Happy Tuesday, y'all! Let's make some Garlic Parmesan Drop Biscuits using that two ingredient dough stuff today that everyone's obsessed with right bout' now, alright? How's your week going so far? It's been a heck of a few days around here. I've barely sat down in several days and we are finally getting back into a routine. I should be doing the couple hundred loads of laundry that have piled up, but I like doing this better. Much better.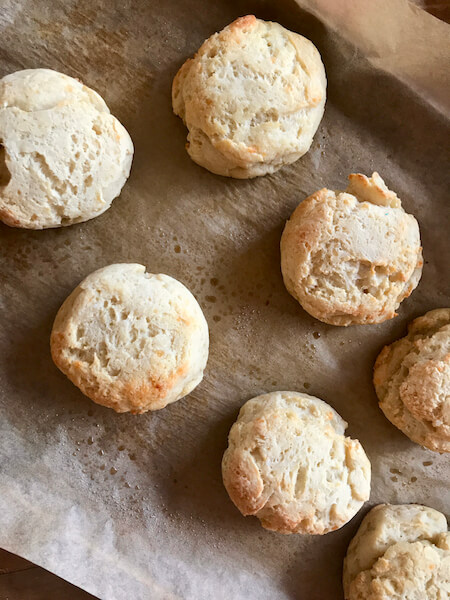 Alright. By now, I am sure you've made the two ingredient pizza dough originally posted by The Slow Roasted Italian.It kind of blew up in the Instagram/Weight Watchers community last year because my lovely friends Wendy and Jennifer … aaand I was stubborn as a mule and wouldn't make it because I figured it was too good to be true and it was just one of those things that would be extremely popular for a little while and then burn out. You know what I mean? I'm kind of a jerk. I know. I'm mostly just stubborn, I promise. After a few weeks of pizza dough all day every day I started seeing people making bagels and sandwich rolls. I was like what in the world?! Is this stuff actual magic? So, I broke down and tried to make some garlic cheddar biscuits. They didn't work out. They were tough. They were pretty flat. They were underwhelming and I assumed that the whole two ingredient dough thing was a farce.
Fast forward to two weeks ago: I made my Chicken Pot Pie Soup and really wanted some biscuits with it. I decided to grab that darn tub of non fat greek yogurt out of the fridge and give these babies another go and for whatever reason, biscuits worked out. The only difference was that I did drop biscuits instead of cut out biscuits because personally, I grew up on drop biscuits and prefer them usually especially with soup. They were pretty dang good. They were so good that Eric, Pepper, and I proceeded to eat all NINE biscuits at dinner. WHAT? Okay, fair warning. Eric ate 50% of them, but he REALLY liked them. A LOT! Especially with soup. He couldn't believe that they were essentially made out of self rising flour and non fat greek yogurt. (Well, and my addition of a bit of extra salt, garlic powder, and parmesan cheese because why on earth not!?)
To be frank, I don't know why they work and work so well. I'm sure I could google a few things and figure it out, but I haven't and I probably won't. I'll just sit and enjoy these delicious little drop biscuits and stop questioning them, because all in all, that's all that matters. Do they taste good? Yes. Are they easy to make? Yes. Should you make them right now? Absolutely.
Now, I don't want you to be under the impression that these are going to taste like your grandmas buttery, flaky, biscuits because they won't. They are DIFFERENT, but they are a very good different in my opinion. I just love'm and I also love that they are so healthy and packed with protein! Make these soon and not to sound bossy, but pile a couple on top of Chicken Pot Pie Soup because you'll be SO happy you did.
Let's get in the kitchen because after just a few steps you're going to have some yummy biscuits!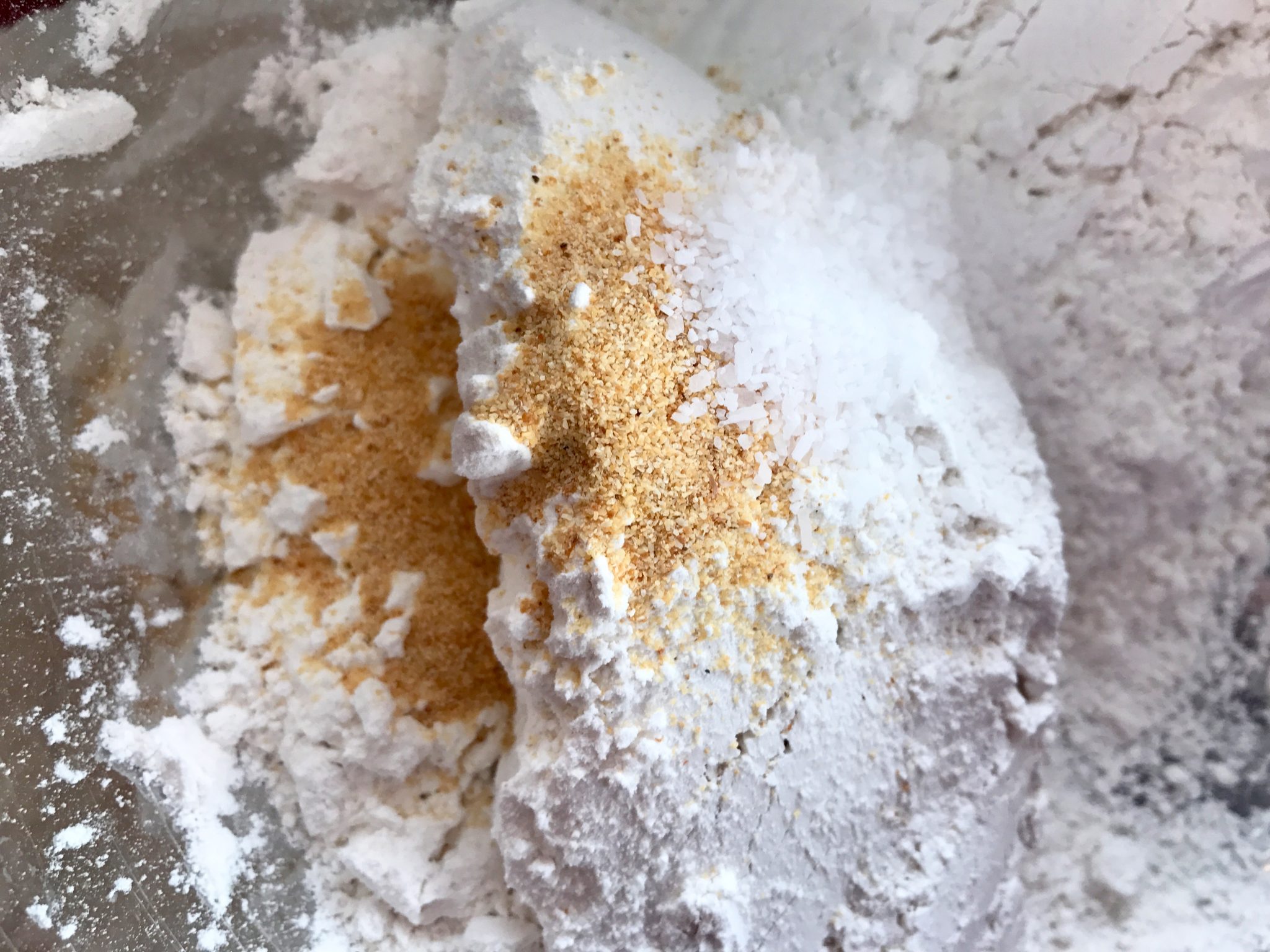 Grab a bowl and add 1 and 1/2 cups self rising flour. I don't know if brands matter, but I use Gold Medal Self-Rising Flour. Add 1 tsp garlic powder and 1/2 tsp salt to the flour.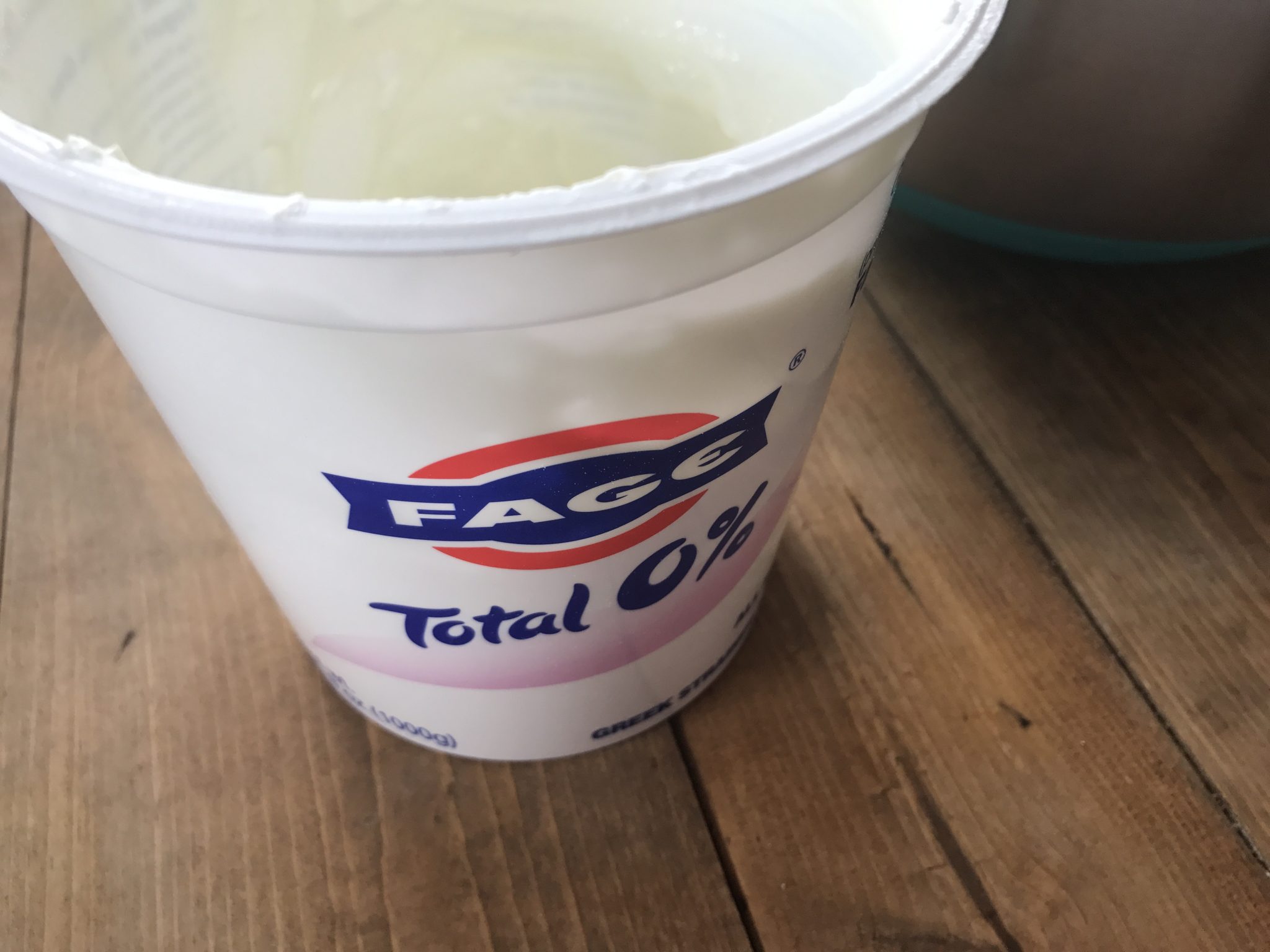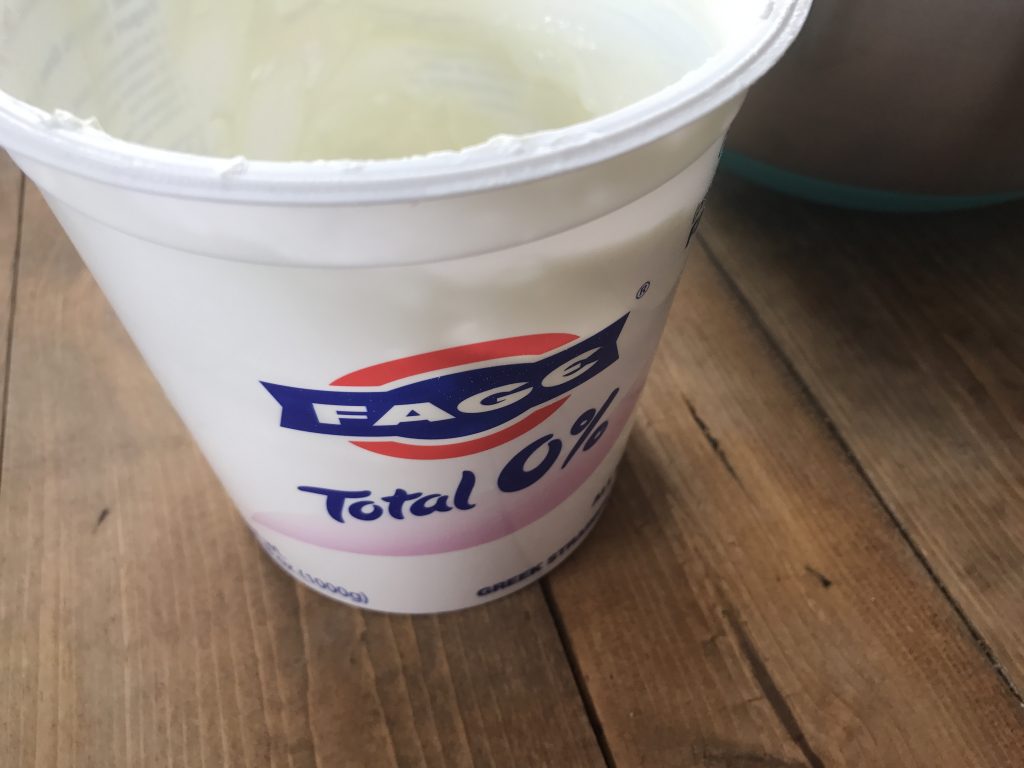 Now, I do think the brand of greek yogurt might matter. The first time I did the dough for the cut out biscuits I used a store brand of non fat greek yogurt and it was a total flop. I normally use Fage greek yogurt because it has the best taste in my opinion in any of the recipes I use it in. So, if ya can. Use this stuff.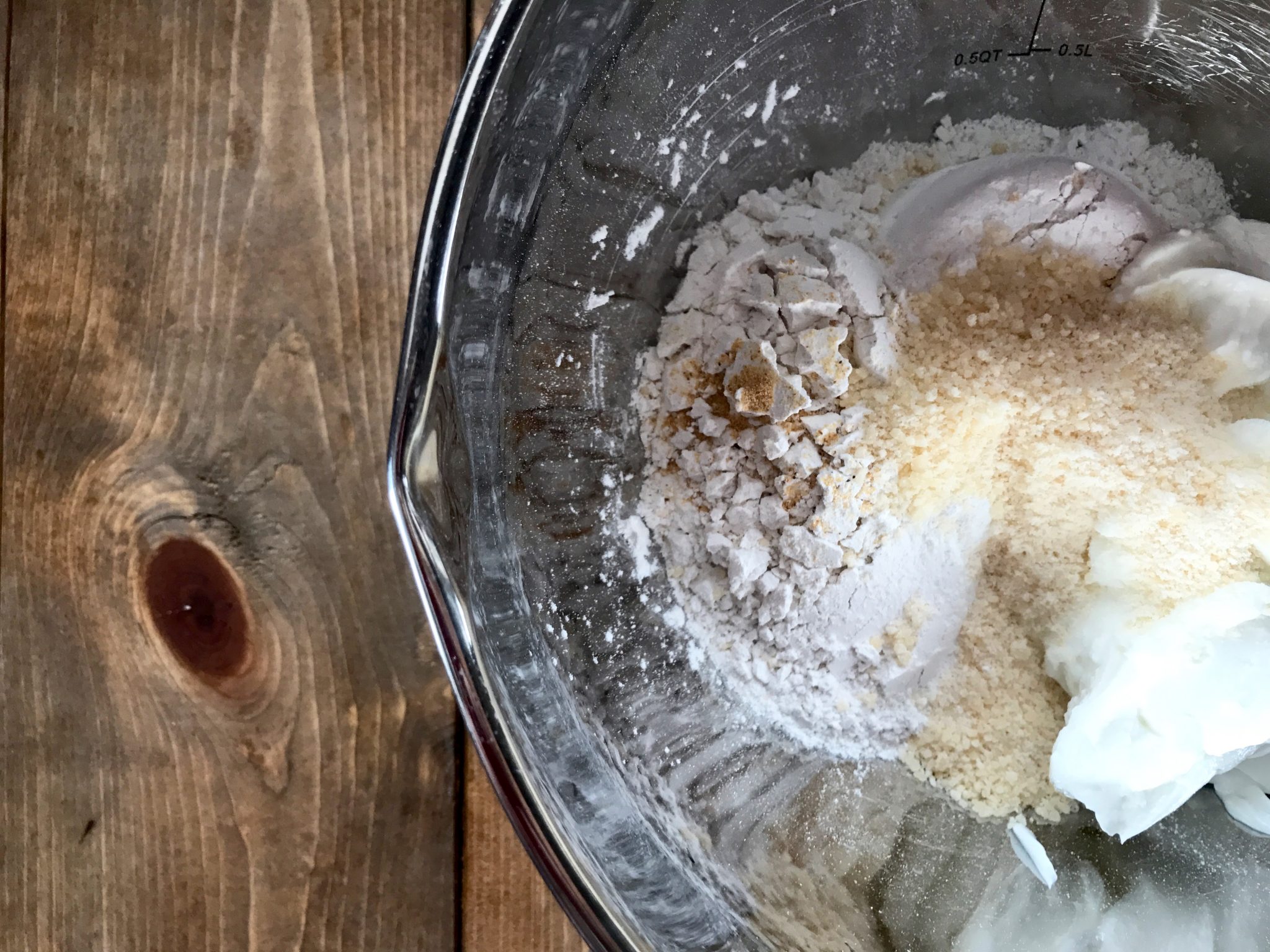 Now, add 1 and 1/2 cups of the greek yogurt and 1/4 cup plus two tablespoons of parmesan cheese. You can use the stuff in the green jar that you find on the store shelf, but i'll be honest that's the stuff that's in this picture and while it's still super yummy and does it's job, the first time I made these I used some freshly grated parmesan cheese and the taste was just out of this world. Either way, they'll be good, but use the really good stuff to kick the recipe up a notch.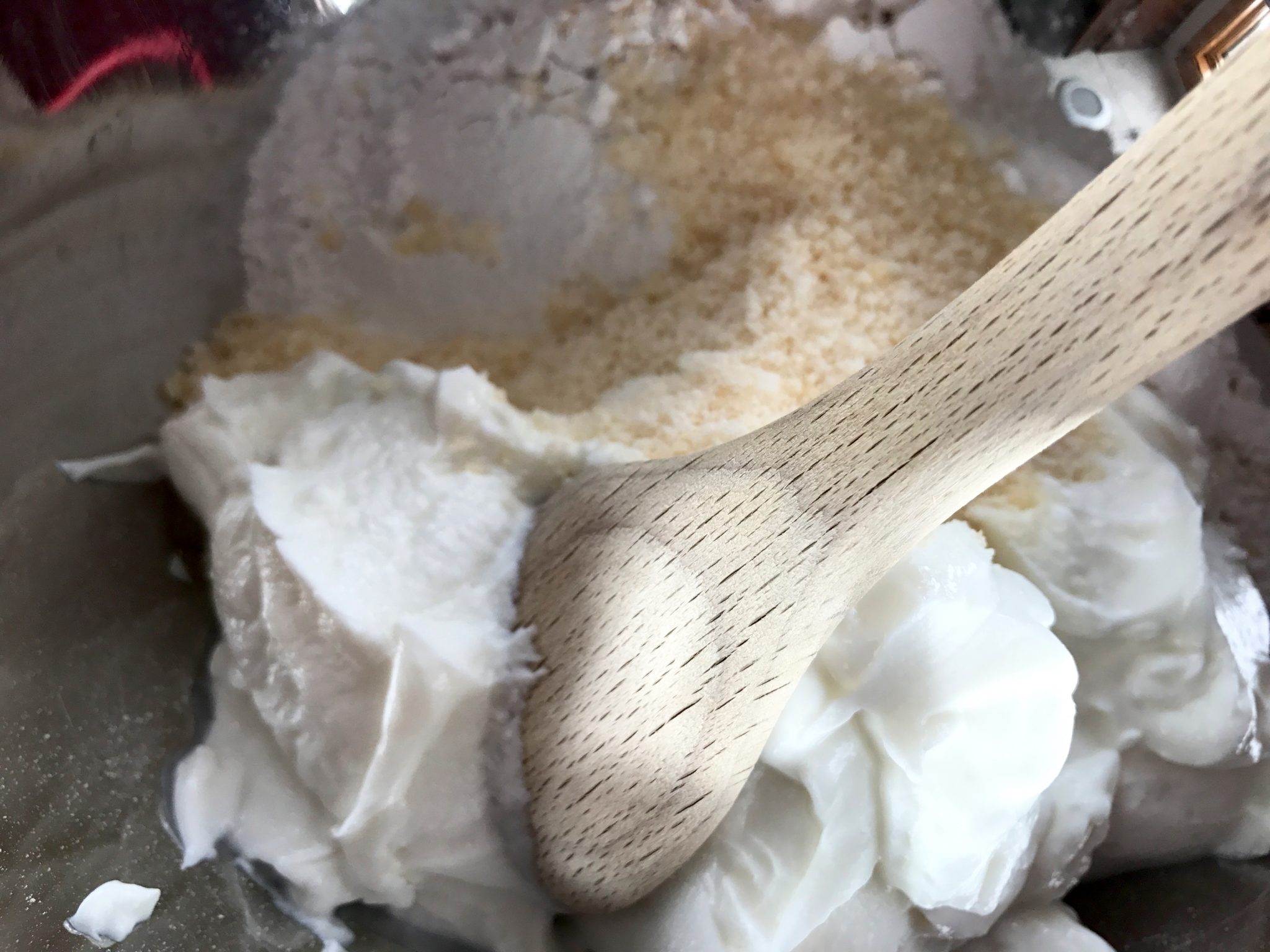 Start mixing it.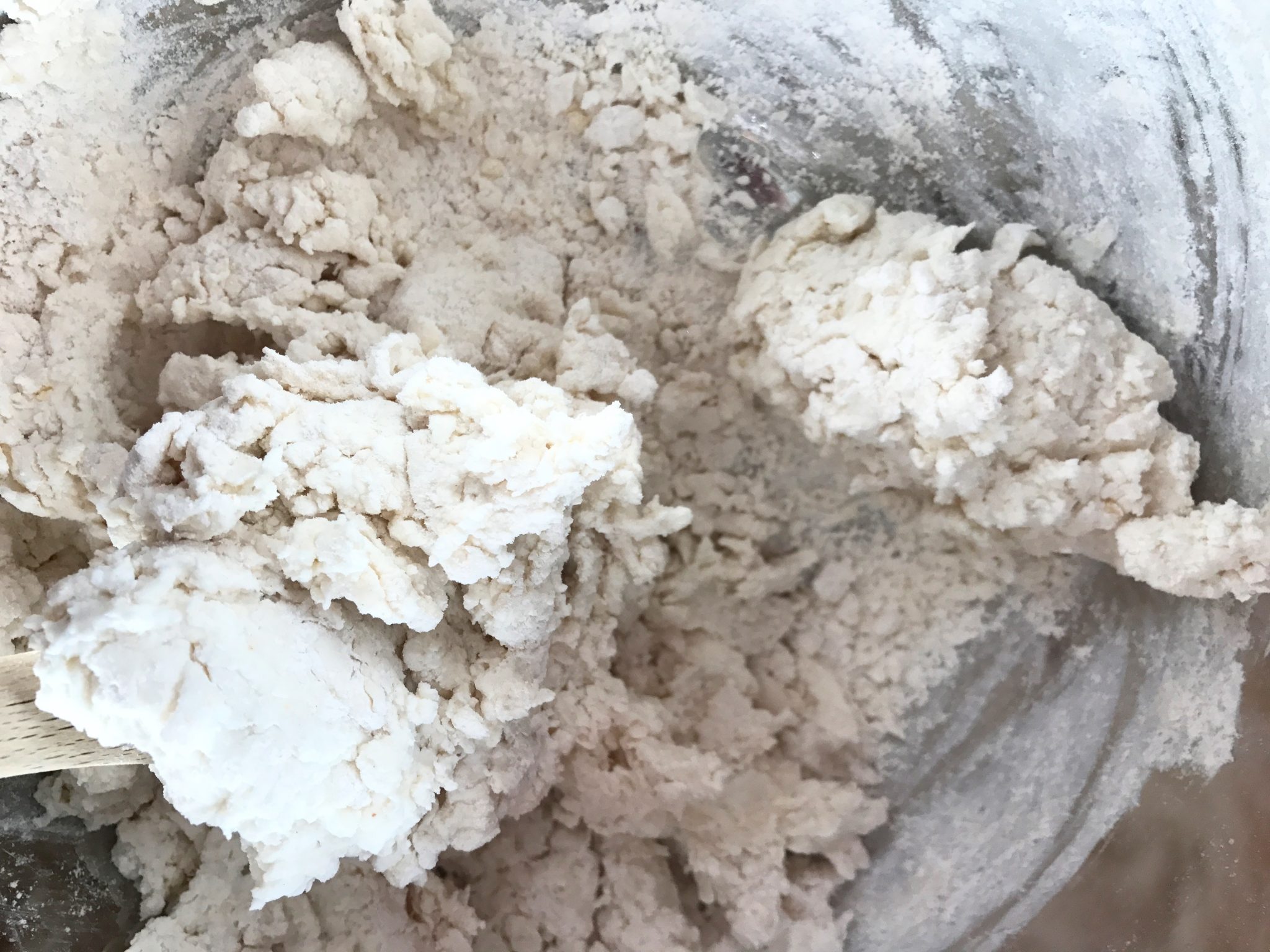 Mix it real good.
Mix it so good that you feel like your arm might fall off. Notice how in each picture they flour/dough pieces on the side of the bowl gets gradually less and less?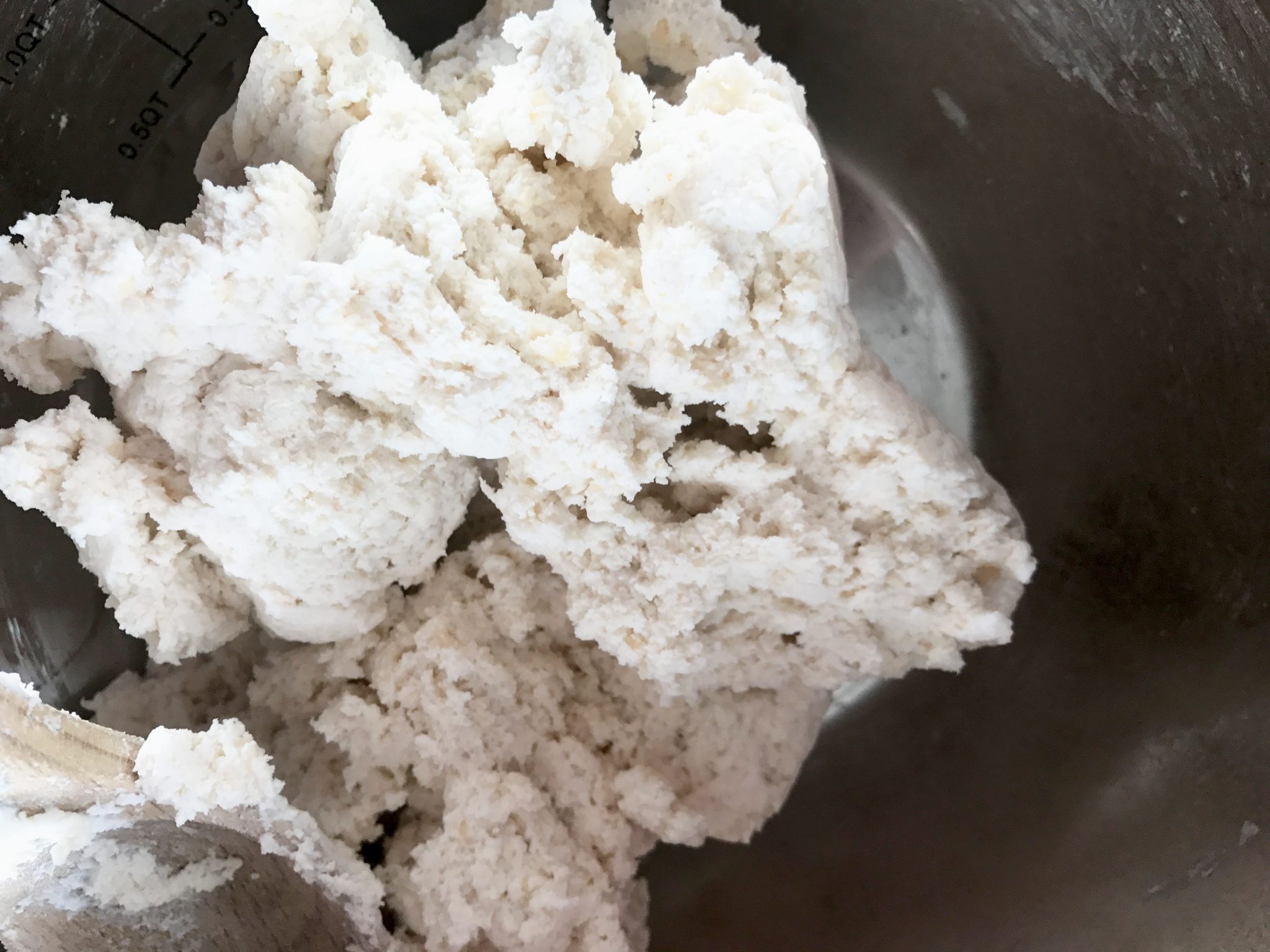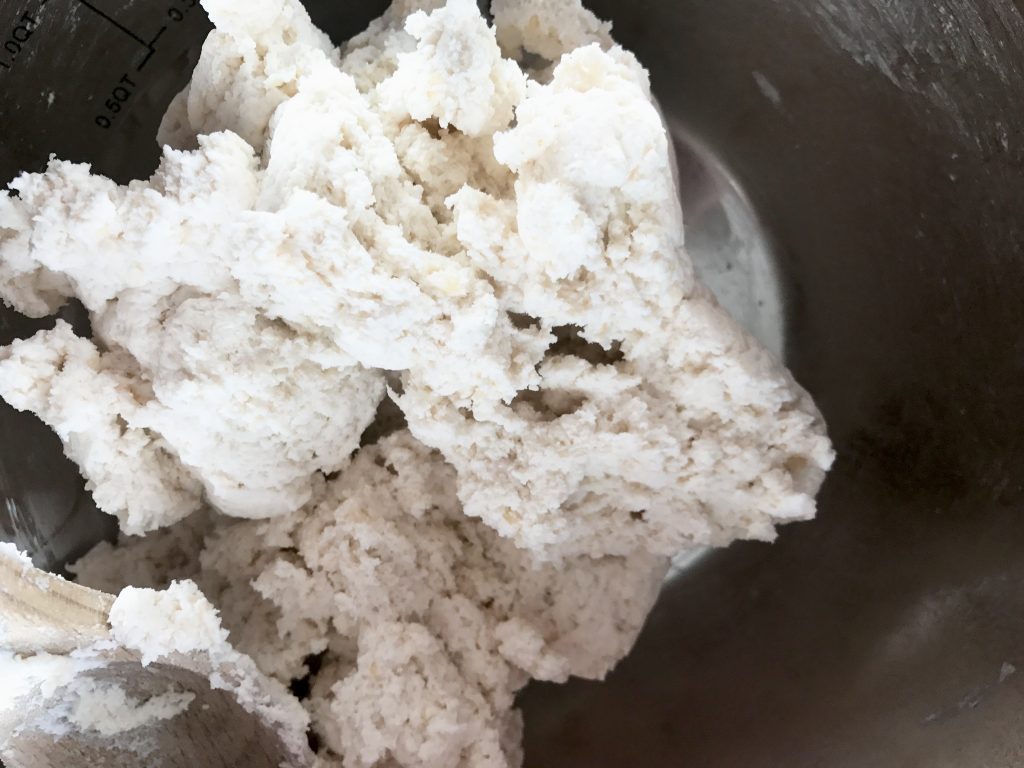 You basically want to mix until there are NO pieces of flour/dough stuck to the bowl at all an the dough in the center forms kind of a lumpy ball.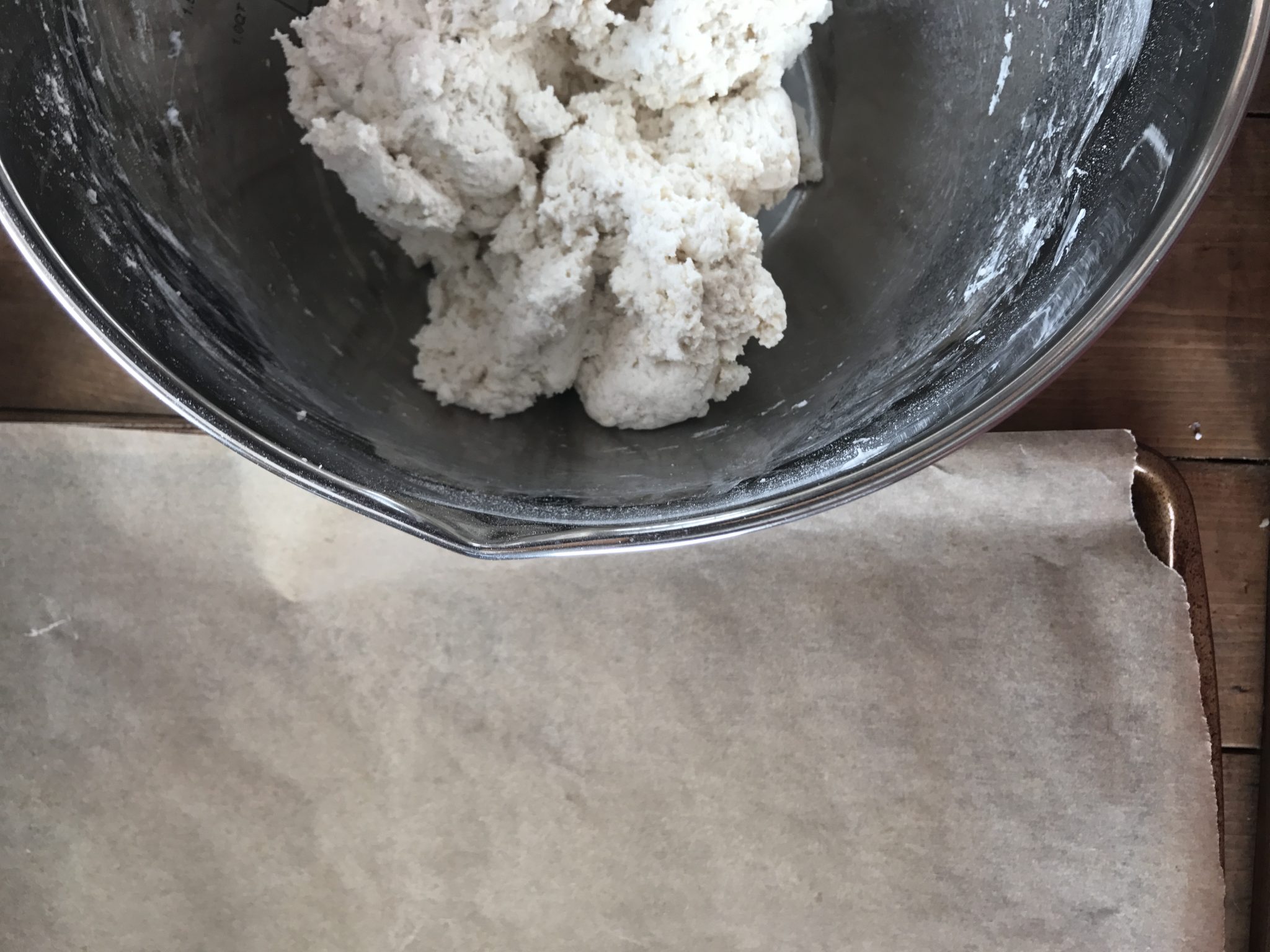 See, like this!
Also, line a sheet pan with some parchment paper.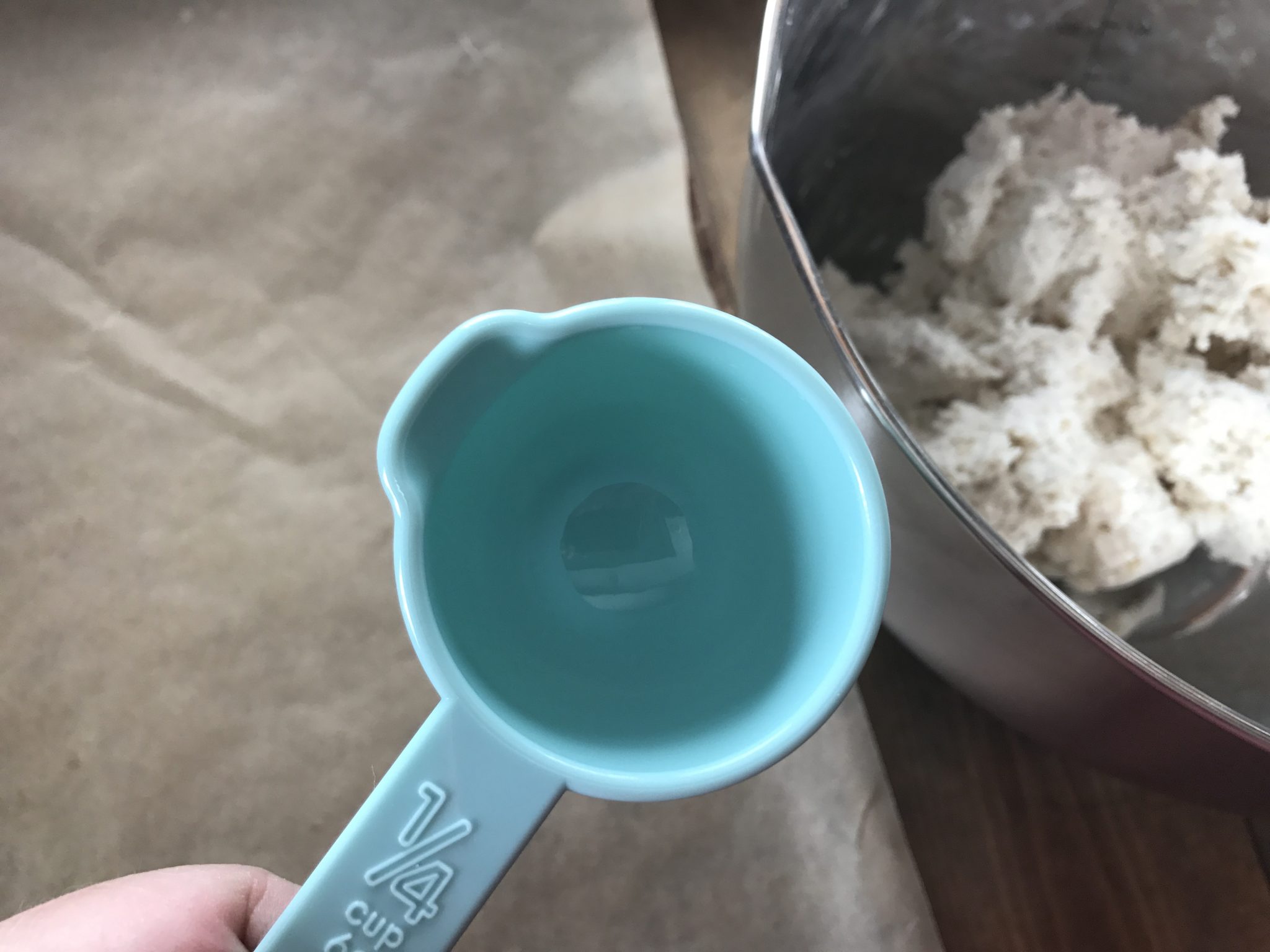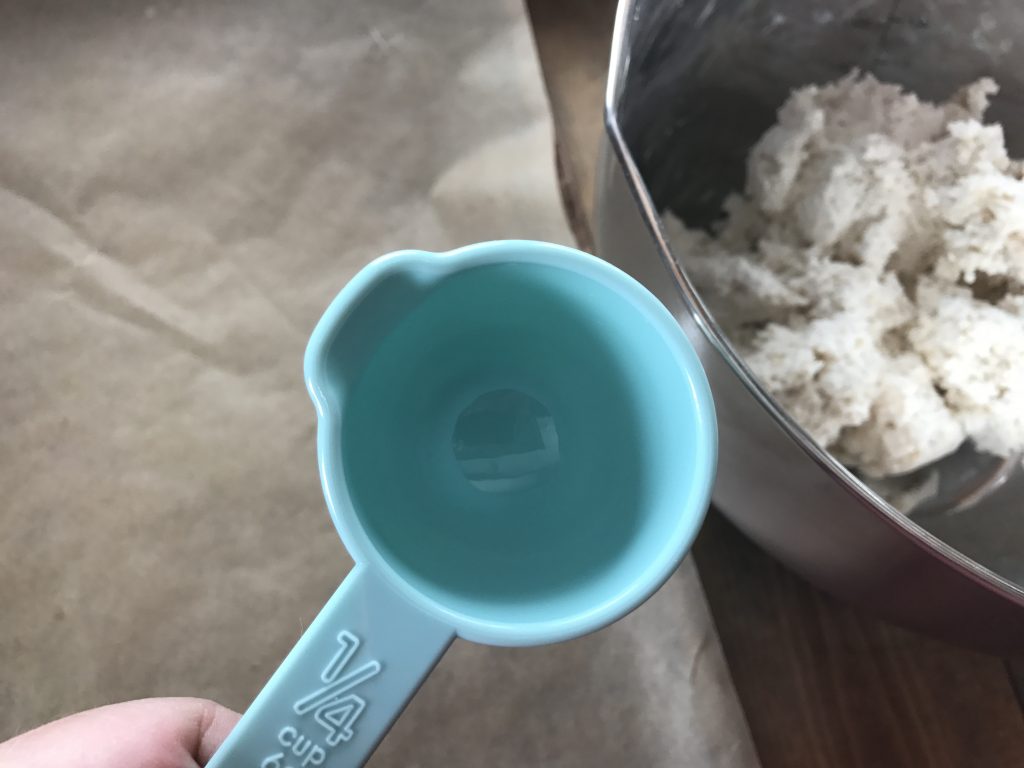 Now grab a 1/4 cup measuring spoon.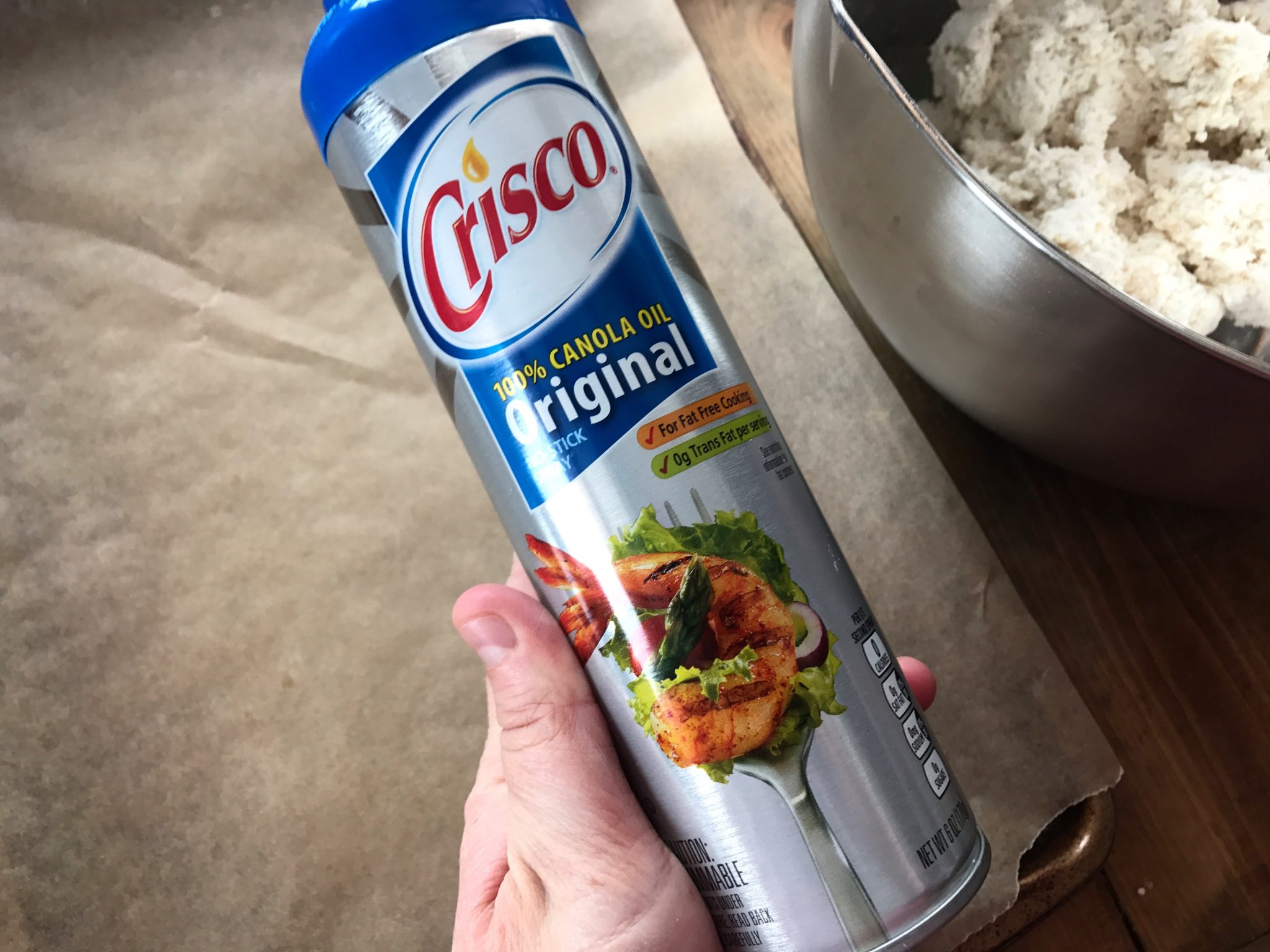 Spray the measuring cup with quick spritz of cooking spray. You might have to do this a couple of times. It just helps the process of "dropping" the biscuits with very little effort.
Fill it up with some dough.
Aaaand, drop it! Give the biscuits some breathing room.
Pop the pan into a preheated 400 degree oven for 20-23 minutes or until the very tops of the biscuits are golden brown.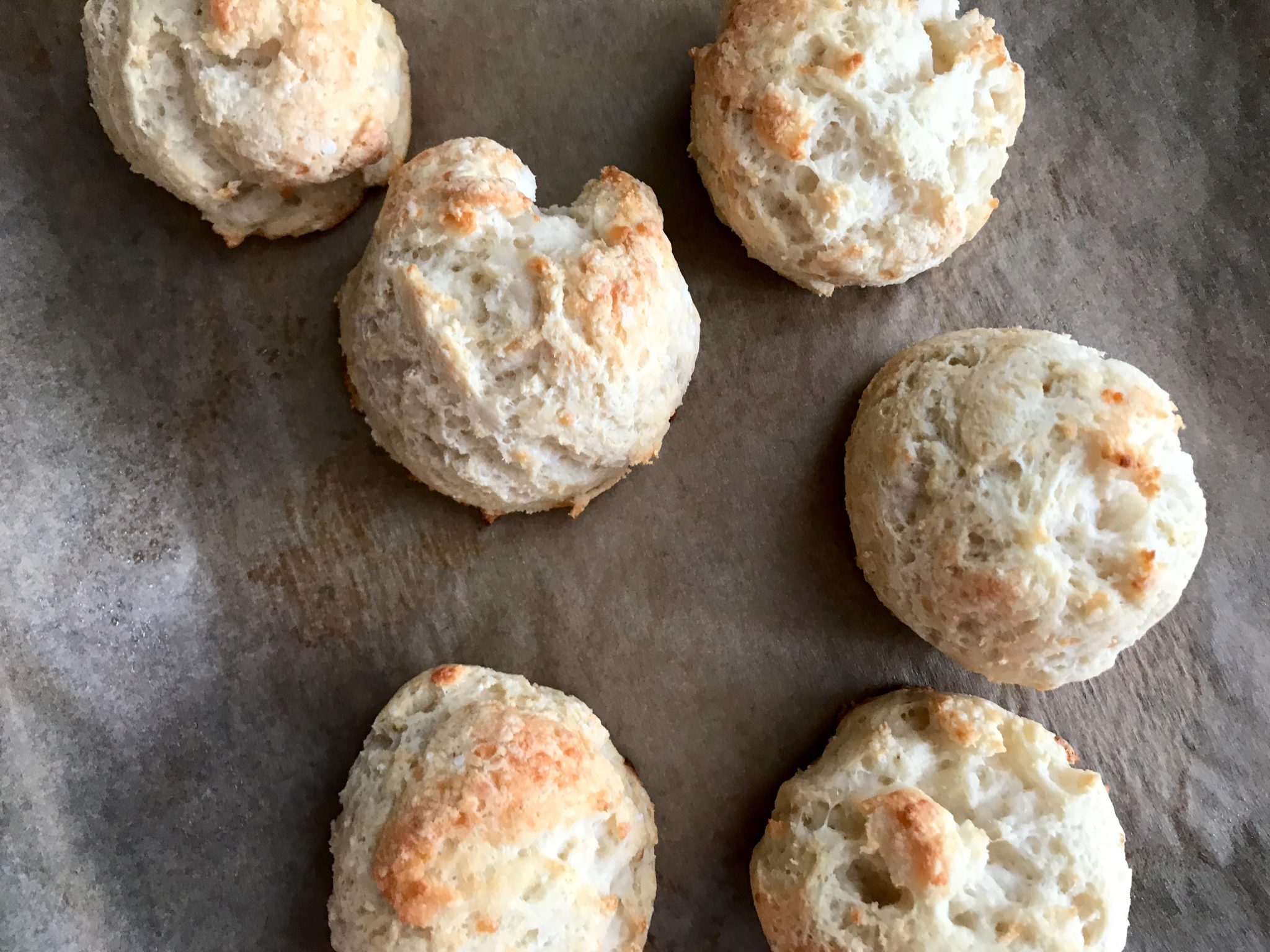 And here we go, aren't they perdy? I really, really like'm.
I like'm even more on top of some soup.
especially my Chicken Pot Pie Soup. Have y'all tried that one yet? If not, make it and then make the biscuits to go with it and you'll just love it!
Mm..Mm.. Mmm….
Make'm, Bake'm, Love'm.
Let me know if you try these. I hope you enjoy.
With love from my kitchen to yours,
Star
Print
Garlic Parmesan Drop Biscuits (using Two Ingredient Dough)
A delightful drop biscuit made with two ingredient dough with a couple extra goodies like fresh parmesan and garlic for added flavor.
Materials
1½

cups

self rising flour

1½

cups

non fat Greek yogurt

(I like to use the brand Fage)

1/4

cup

parmesan cheese

(freshly grated if possible, it just tastes better/has much more flavor)

1

tsp

garlic powder

1/2

tsp

seasoned salt

(i prefer lawry's)

cooking spray
Instructions
Preheat oven to 400 degrees. In a bowl combine flour, greek yogurt, parmesan cheese, salt, and garlic powder.

Mix with a wooden spoon until a lump of dough forms in middle of bowl. Make sure it's mixed very well and that there are no flour bits on the bottom or sides of bowl. (See pictures above in blog post for the best description.)

Line a baking sheet with parchment paper. Spray a 1/4 measuring cup with cooking spray and scoop and drop biscuits on baking sheet about 1 inch apart. Repeat until you have 9 drop biscuits. Spray tops of biscuits with cooking spray.

Place in preheated oven and bake for about 22 minutes or until the top of biscuits are golden brown. Enjoy!
Notes
Serving size: 1 Biscuit
100 calories .9g fat, .5g saturated fat, 17g carbohydrates, 1g fiber, 1.5g sugars, 7g protein
WeightWatchers Points: 3 Points