Slow Cooker Shredded Chicken
This post may contain affiliate links (meaning I earn a small comission if you purchase an item through a link I provide) I only provide shoppable links to items I love and are helpful. As an Amazon Associate, I earn from qualifying purchases.
About every two weeks on Sunday, I make a big batch of slow-cooked shredded chicken. Honestly there's not too much to say about shredded chicken, except it's tender, moist, and flavorful, just like chicken should be!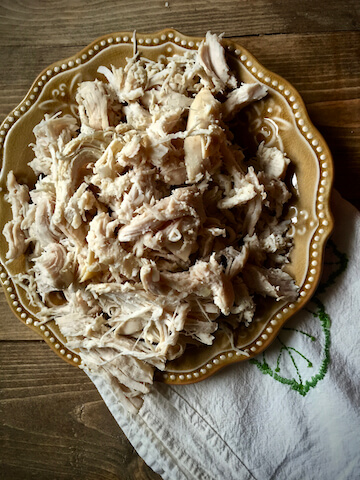 But this is the beginning of a lot of my recipes, such as Cheesy Chicken Bacon Bombs, Tex-Mex Cheesy Chicken Spaghetti, Skinny Chicken Salad, and many others.
I can't tell you how much I love having a fresh bag in the fridge and few bags in the freezer, especially on nights when I have no plans for dinner. I can easily make a number of meals just starting with a couple cups of shredded chicken.
A lot of people had been asking exactly how I make my shredded chicken, so by popular request, here it is!
Here's what you do: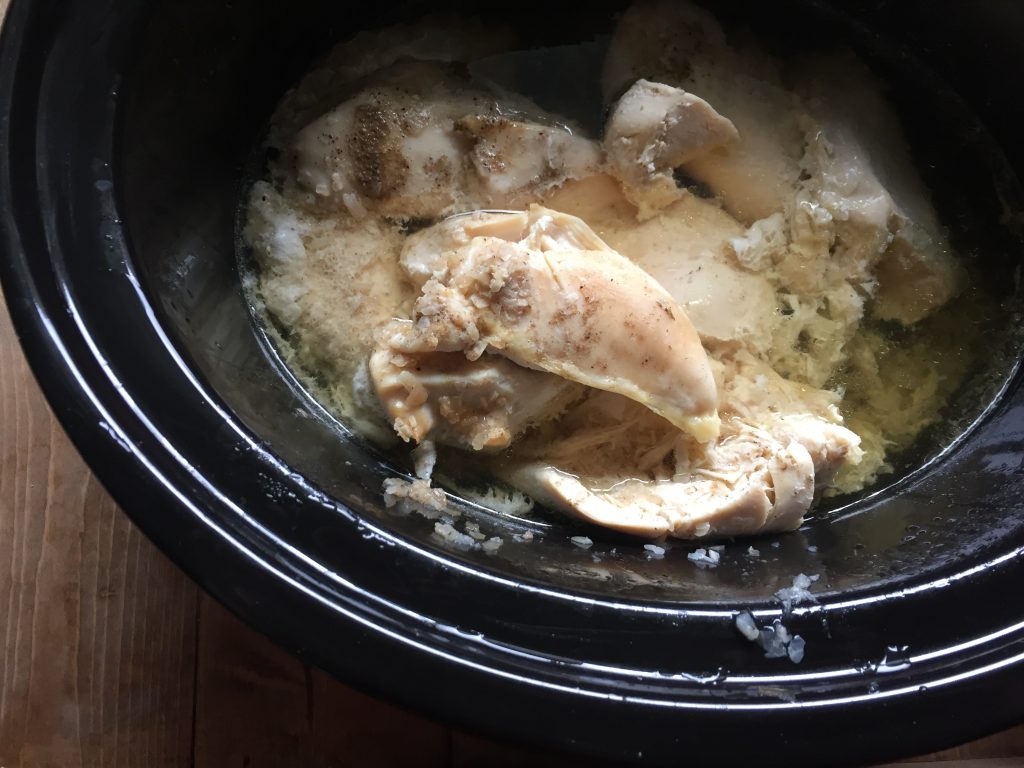 Put a desired amount of raw chicken breasts in a crock pot. I usually do about 2-3 lbs. Remember you can always freeze some! Pour some low sodium chicken broth over the chicken. Then I add dried minced onion, celery salt, garlic powder, and pepper. Stir it up.
Cook on low for about 6 hours or high for about 4 hours.
When it has finished cooking, transfer to a bowl and add about 1/2 cup of the broth that it cooked in. Let it cool off for a few minutes or else you'll burn your fingers, it may still be hot inside!
Take a couple forks and get shreddin'. You can also use a hand mixer if you like it super shredded, but I tend to like more of natural pulled/chopped pieces.
and Voila!
Tender, Juicy, Flavorful Shredded chicken to do with whatever your heart desires.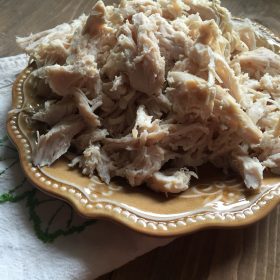 Print
Slow Cooker Shredded Chicken
Materials
2

lbs

raw boneless skinless chicken breast

1½

cups

low sodium chicken broth

*see notes

2

tbsp

dried minced onion

*can also use a 2-3 tsp on onion powder or one fresh onion diced

2

tsp

garlic powder

1

tsp

celery salt

1

tsp

pepper

1

tsp

smoked paprika (optional)

1/2

tsp

oregano (option)
Instructions
In a slow cooker, add chicken breasts, broth, and seasonings.

Cook on low for about 6 hours or high for 4 hours.

Remove chicken and 1/2 cup of the broth nd place into a bowl. Shred with two forks or a mixer (for finely shredded chicken). Enjoy! To freeze let the chicken cool completely and then place it into a freezer friendly container or bag.
Notes
MAKES 4 CUPS COOKED CHICKEN
(essentially its just chicken breast & seasoning so you can just track cooked chicken breast for your points/calories)
131 CALORIES 1G FAT, .3G SATURATED FAT, 0G CARBOHYDRATES, 0G FIBER, 0G SUGAR, 36G PROTEIN (1/2 cup)
WeightWatchers Points: 0 (any amount)
You can easily double this recipe if needed. The original recipe was a lot bigger, but I had some feedback that it made almost too much. If you need more, just double it up!
Note on chicken broth: you can use 2 teaspoons of better than bouillon in place of the broth/stock. I like to get a big jar of better than bouillon from Costco (smaller jars available at any grocery store near the stock/broth aisle) and use that in place of cans/cartons of broth. It takes up less space, is more cost efficient, and its delicious!