Blueberry French Toast Casserole
This post may contain affiliate links (meaning I earn a small comission if you purchase an item through a link I provide) I only provide shoppable links to items I love and are helpful. As an Amazon Associate, I earn from qualifying purchases.
Blueberry French Toast Casserole is a simple and delicious breakfast recipe for a crowd that everyone loves! It can be made the night before or the day of which makes it perfect for a brunch or Holiday breakfast.
Y'all life is all sorts of weird right now and I'm having troubles writing posts, but I've still got recipes for ya so I guess if anything I'll stop annoying the ones who don't love to see a few paragraphs before you just "get to the recipe"! haha. The other day I found myself with an extra loaf of bread and I wanted to use it up. I threw a poll up on Instagram asking my lovely readers if they wanted a "Blueberry French Toast Casserole" or a "Breakfast Strata" the French Toast Casserole won by a landslide. Don't worry for all of you that voted the other way, I'm sure I'll make up a Strata soon too.
One more thing, I want to help with giving you options on how to make things right now and not make extra and unnecessary stops at the grocery store for one little thing. I'm providing a lot more information on using different ingredients within the blog post and how to photos below. If you have any other questions on substitutions on this recipe or any other recipe on here. Please leave a comment below! I get on every morning and every evening to check comments and I'm happy to help as best as I can.
How to make Blueberry French Toast Casserole: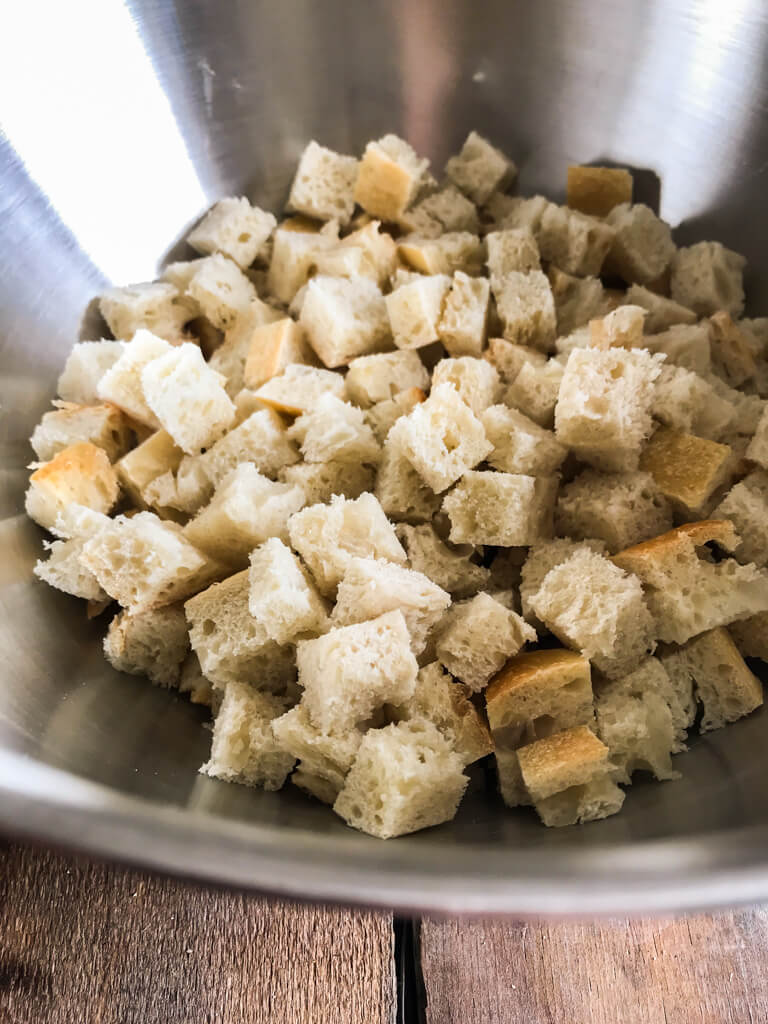 You're gonna grab some bread and cut it into small cubes. I really like sourdough or a rustic Italian loaf for this Blueberry French Toast Casserole, but honestly, I've made it with just about every kind of bread right on down to whole grain sandwich bread. It all works. I weighed out 16 ounces for this and that'll bring you to about 10-ish cups.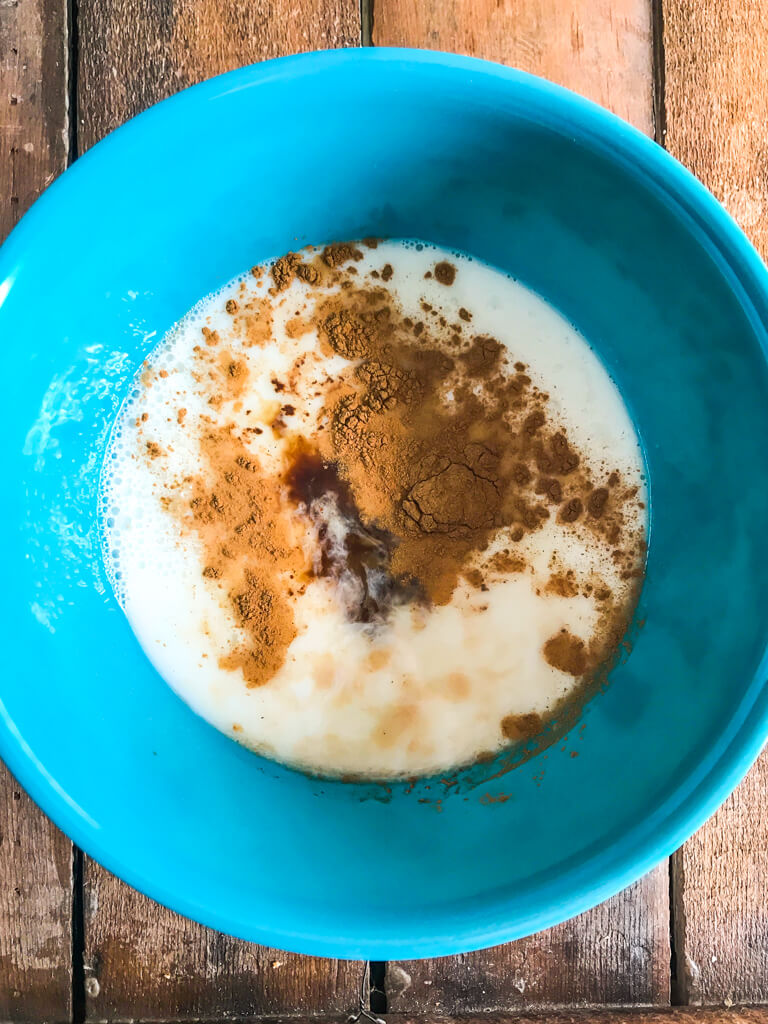 In a small bowl add 1-1/2 cups unsweetened almond milk (vanilla or plain is fine and really any milk will work, but the points/calories will change), 6 eggs, 1/4 cup Swerve Sweetener*, 2 tsp cinnamon, 1/4 tsp salt, 1 tsp vanilla extract, and 2 tsp maple, pistachio, OR almond extract. I switch between all of these extracts depending on my mood, but I love that they add delicious hints of flavor without extra points/calories! Whisk well!
*I really like Swerve as a sugar replacement. It doesn't upset my stomach and it measures pretty much exactly as sugar would which is nice. You can also use whatever sugar replacement you use normally. If using something like Splenda or Stevia remember that they can be super sweet and you probably want to use a bit less. You can also use honey, maple syrup (don't use maple syrup extract if using maple syrup), or sugar!*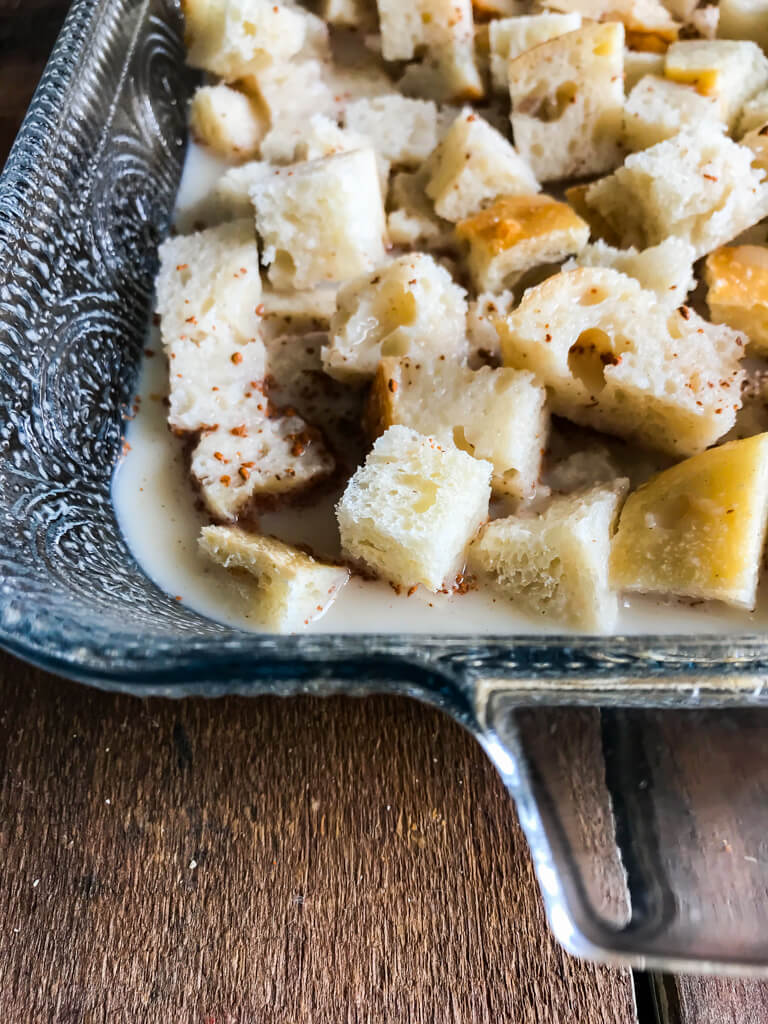 Throw the bread into a casserole dish and pour the milk and egg mixture all over. Toss it together well with a spoon. So, you can go two ways here. You can let it sit for about 30 minutes (allowing the bread to do a good amount of soaking the egg/milk) or you can cover it and let it hang out in the fridge overnight. I prefer overnight because the texture is a bit better, BUT I've made this many times "right away" and it's still darn good!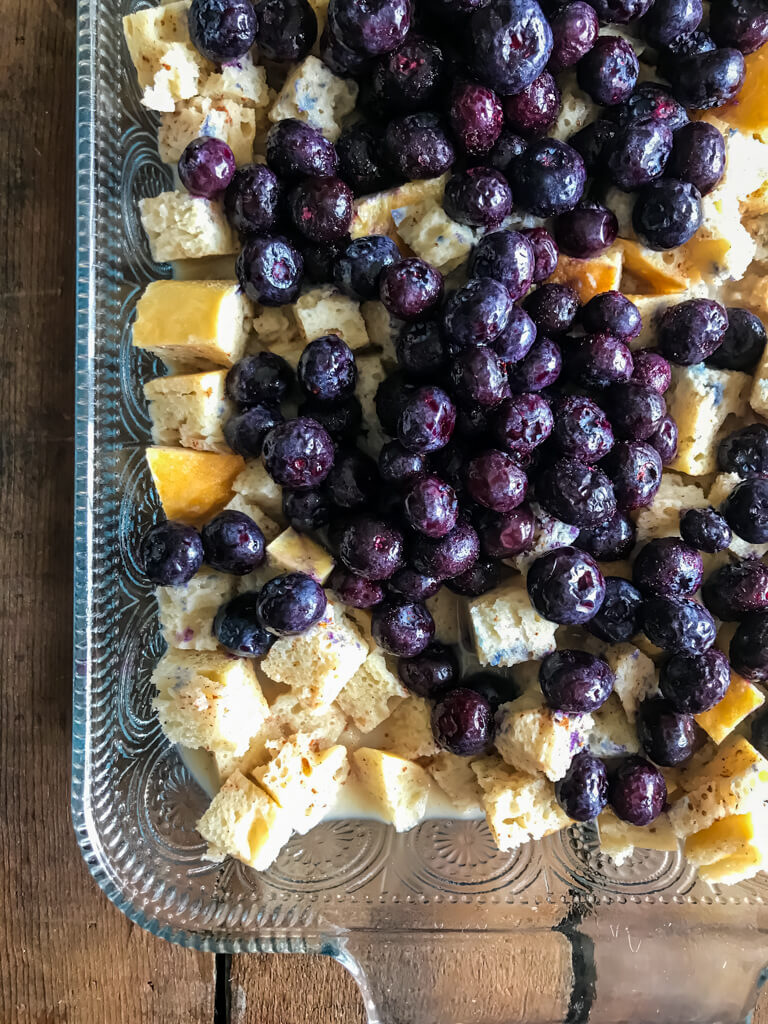 Now just before you throw it in the oven grab a couple'a cup fulls of blueberries and stir them in to combine with the bread! I had a bag of frozen blueberries that had been in the freezer for well, far too long, so I wanted to use them up because I'm on freezer/pantry clean out right now. You can definitely use fresh here too!
Place casserole dish into a preheated 375 degree oven for about 40 minutes. When it's all done, remove it from the oven, and let it sit for about 5 minutes before cutting into it.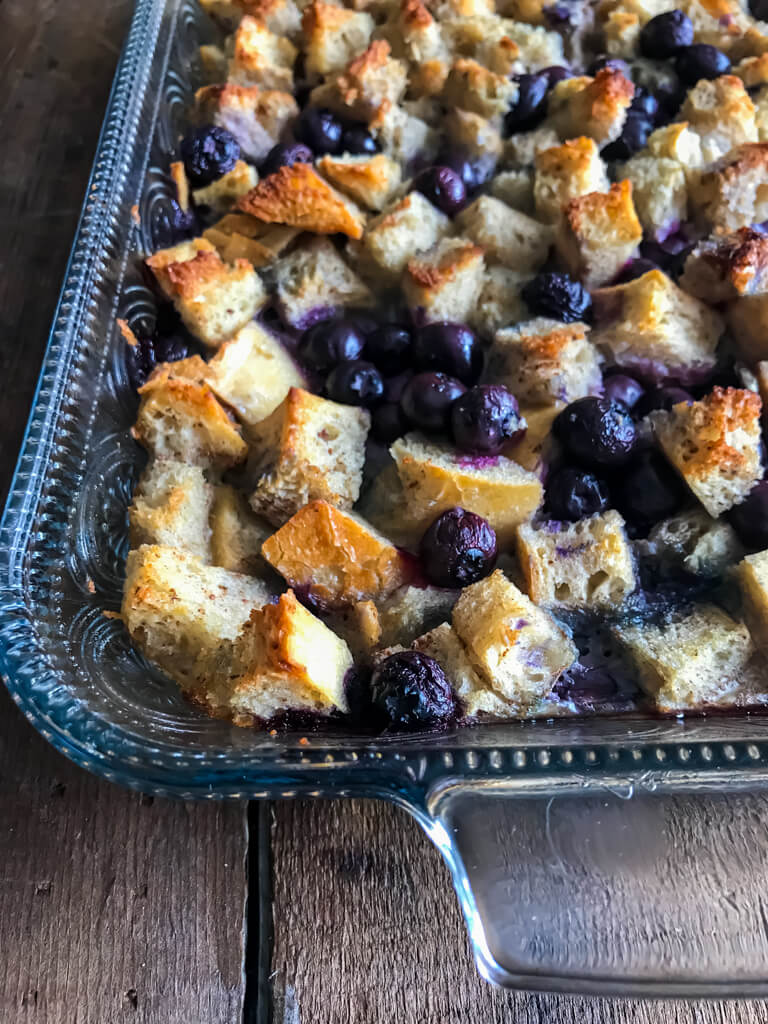 She's done and she's a beaut, folks.
Cut yourself a nice piece and drizzle with a little maple syrup! I usually melt down some light butter and drizzle with some maple syrup to make it every bit of extra perfection.
I can't put my finger on why, but Eric and I are not big fans of traditional french toast. Maybe I'm not making it right (completely possible!), but it's just something I literally never want. We find that we enjoy French Toast in casserole form a whole bunch more! Plus, it's easier than flipping individual slices of bread. I make a couple variations with different toppings, but the base is always the same. You can definitely experiment with different toppings/flavors and please let me know how it goes!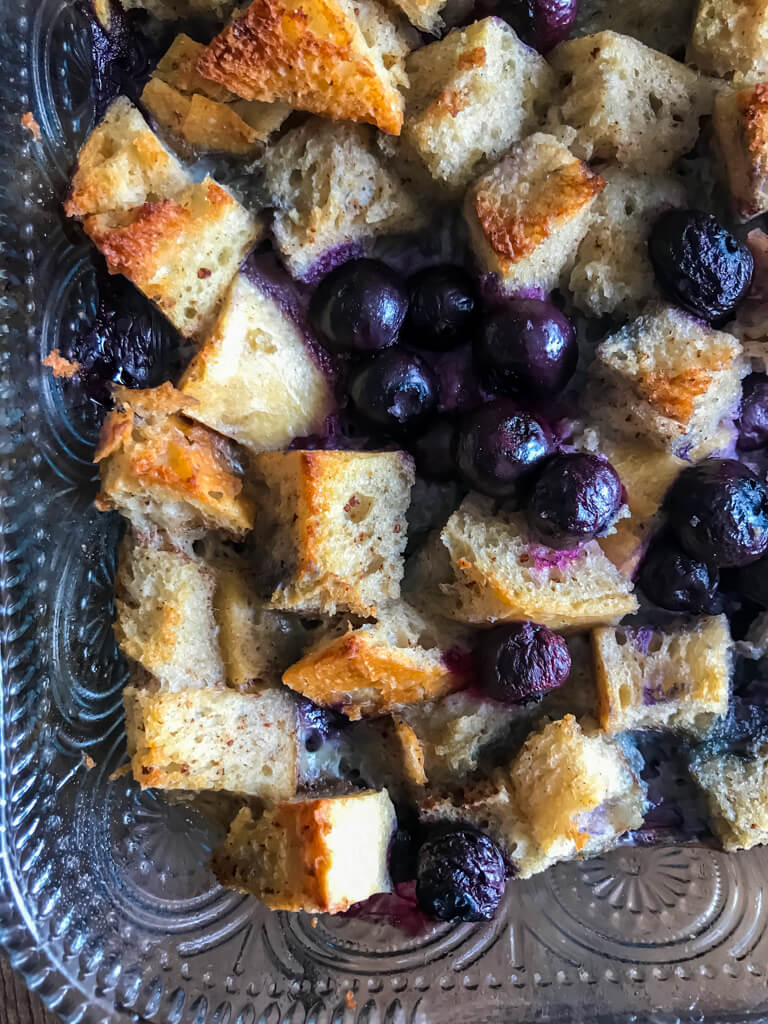 I hope you love this Blueberry French Toast Casserole as much as we do! Remember to let me know how it goes by leaving a comment below and if you'd be so kind to leave a rating, I'd appreciate that too.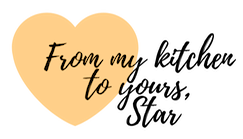 Blueberry French Toast Casserole
Blueberry French Toast Casserole is an easy and healthy breakfast casserole that is perfect for an extra special breakfast.
Print Recipe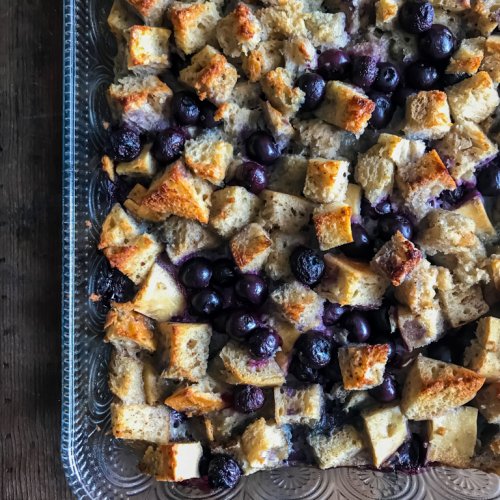 Ingredients
10

cups

Sourdough/Italian/French bread cut into cubes (about 16 oz)

(best if the bread is not fresh and a little dry)

6

large

eggs

1-½

cups

unsweetened almond milk (plain or vanilla)

(regular milk will work too)

2

tsp

cinnamon

1

tsp

pure vanilla extract

2

tsp

maple, almond, or pistachio extract

¼

c.

Swerve granulated sugar replacement

*see notes for subs

2

cups

blueberries

fresh or frozen

1/4

tsp

salt

cooking spray
Instructions
In a small bowl add almond milk, eggs, vanilla extract, sugar replacement of choice/sugar, flavor of choice extract, salt and cinnamon. Whisk together well.

Spray a 3 quart casserole dish with cooking spray, add bread cubes, and pour egg/milk mixture evenly over bread cubes. Stir together until everything is coated.

*For the best texture results cover casserole dish and let it sit overnight in the fridge. You can also let it sit for about 30 minutes before baking to let it soak up a bit and then bake the same day. We enjoy it either way!

Just before you're ready to bake add blueberries and stir into the bake.

Place Blueberry French Toast Casserole into a preheated 375 degree oven for 40 minutes.

Let set for about 5 minutes before cutting into. Add toppings of choice on top like maple syrup and/or butter/light butter.
Notes
Serving size: 1/8 of casserole dish
231 Calories. 4g fat, 1g Saturated Fat, 42g carbohydrates, 8g Fiber, Sugar 5g (Added Sugars 0g, Sugar Alcohols 0g) Protein 10g
WeightWatchers Points: 5 Points
*I really like Swerve or Lakanto as a sugar replacement. It doesn't upset my stomach, tastes sweet with no weird after taste, and it measures pretty much exactly as sugar would which is nice. You can also use whatever sugar replacement you use normally. If using something like Splenda or Stevia remember that they tend to be extra sweet and you probably want to use a bit less. You can also use honey, maple syrup, (don't use maple syrup extract if using maple syrup), or white sugar! Please keep in mind using different ingredients will may result in different WW Points and Nutritional information*