One Pot Chicken Con Broccoli
This post may contain affiliate links (meaning I earn a small comission if you purchase an item through a link I provide) I only provide shoppable links to items I love and are helpful. As an Amazon Associate, I earn from qualifying purchases.
Happy Sunday, friends! I know some of you have been anxiously awaiting this recipe since I teased that I was in the recipe testin' stage on Instagram a few weeks ago. Guess what! We're gonna make "One Pot Chicken Con Broccoli" today and you're gonna LOVE it.
Today just so happens to be kind of an extra special kind of day. It's Eric's birthday! I bet if y'all wished him Happy Birthday he'd feel extra special. I mean, He wouldn't admit it, but he totally would. Eric's a pretty great guy. He's the best daddy to our little girl. And to be completely honest, he was the one who believed in me most when it came to this blog. He was the one who bought the domain name and set it all up for me almost three years ago now! He helped my dream become a reality. He's also the one who continues to assure me that I am doing a good job with balancing life, motherhood, and this whole blogging thing especially when I forget to show myself some grace and I lose my confidence, sanity, etc. He's pretty fantastic most of the time. I kinda like him and I think I'll keep him. I don't think any relationship is perfect, but ours is pretty darn good. We've been through a lot together and life just keeps getting sweeter with him by my side. Cheers to many, many, many more years!
Here's some of my fav photos of the handsome birthday boy.
Starting with my absolute favorite photo of my two people ever: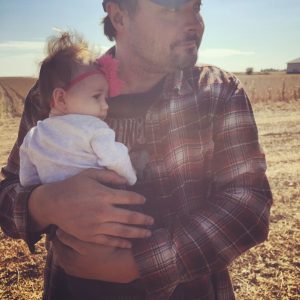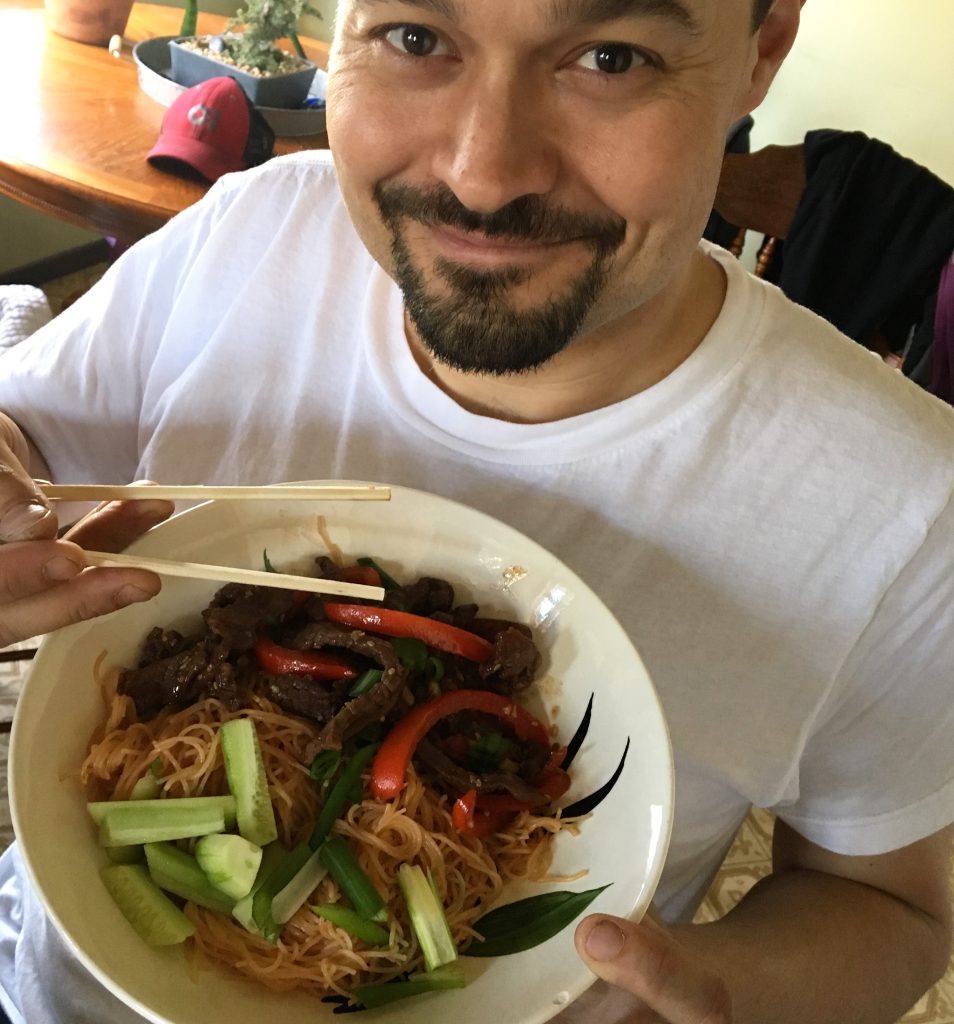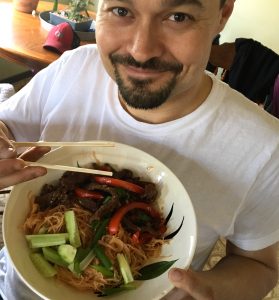 Since today is Eric's birthday I thought I would share a fairly special recipe with ya'll. It's honestly so incredible that I surprised myself with how good it turned out lightened up. Haha! I asked Eric what he would like for his birthday breakfast this morning. I was prepared for homemade blueberry waffles, homemade blueberry muffins, Farmer's Omelets, and/or my "famous" Biscuits N' Gravy Bake, but he smirked and simply said, "leftovers of that chicken pasta with creamy sauce works for me." Um, what? leftovers of a pasta dish that I made two nights ago for your birthday breakfast? Okay! As you wish. We had this One Pot Chicken Con Broc for Dinner on Friday and again for Breakfast this morning. It's that good. You need it in your life, just trust me.
The inspiration behind this dish actually came from the Chicken Con Broccoli from Olive Garden. Do you guys remember that? It's been years since they've had it on their menu! It was truthfully the only dish that I really loved from the restaurant and my heart broke a little when they discontinued it. Why did they do such a thing?! I pretty much boycotted the place after that happened and I've probably only been back a handful of times for the soup, salad, and breadsticks because okay, they do have the best salad and breadsticks on the face of the planet probably. When they discontinued it I started making my own version and that version had… heavy cream, lots o' butter, a LOT of olive oil and even more parmesan cheese. Do you guys have any sacred recipes that you just don't want to lighten up? You feel like you'd be doing it a injustice if you tried? Well, this is among the handful of them that I haven't wanted to lighten up. It might make me feel a little bit more comfortable in approaching the others that are on the list now because this turned out so darn yummy!
Anyhow, what makes this even better is that it's really not going to take you hours to make this. It'll only take you about 30 minutes from start to finish. Have you tried my One Pot Alfredo Pasta with Bacon and Peas? Well, the recipe kind of goes the same way as that one. If you've made that, which I hope you have because it's so darn delish, it'll be extra easy for ya to follow this one! I feel like something this good should take at least one hour, but it doesn't and that makes me happy. I know it'll make you happy too! It's also not going to dirty a bunch of dishes. In the craziness of motherhood I have learned that while I love spending my time in the kitchen like I always have, I really do apprieciate when dinner is easy, done in one skillet/pot (so I don't have a buttload of dishes to clean up), and absolutely delicious. OH! let's not forget, a meal that EVERYONE loves. Pepper CANNOT get enough of this one. If I've it once, I've said it a thousand times: I am not a short order cook. So, having meals that everyone loves is a total win for this mama.
Let's get in the kitchen.
Mince up bout 8 cloves of garlic. Yeaaaaah, probably don't make this if you're cooking for a new boyfriend or something. It's kind of garlic heavy which means it's extra delicious, but I wouldn't plan on slappin' a smooch on anyone after eating. Ha!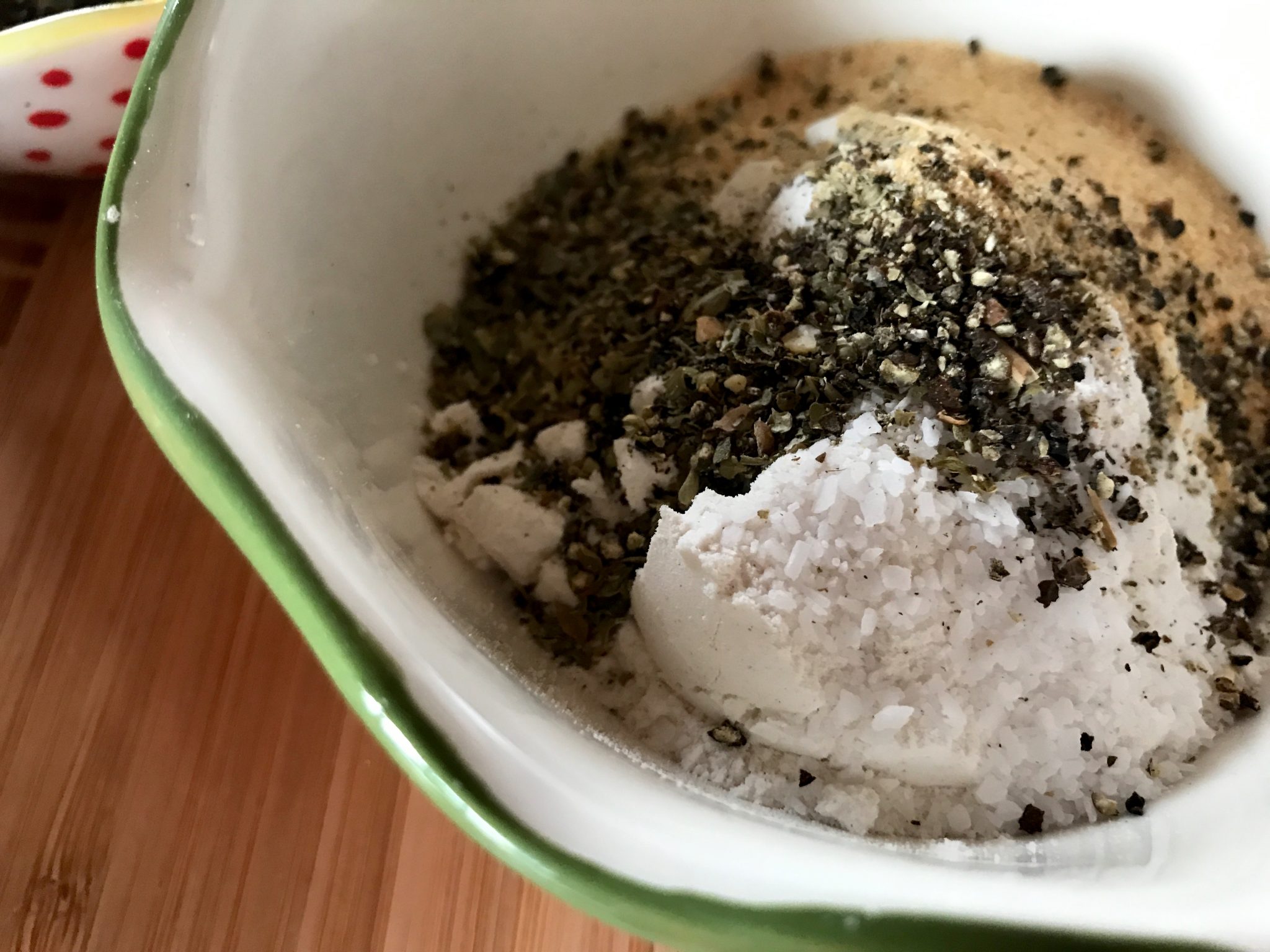 Grab a small bowl, add 1/4 cup flour, 2 tsp italian seasoning, 2 tsp garlic powder, 1/4 tsp pepper, and 1/4 tsp kosher salt. Stir it all up.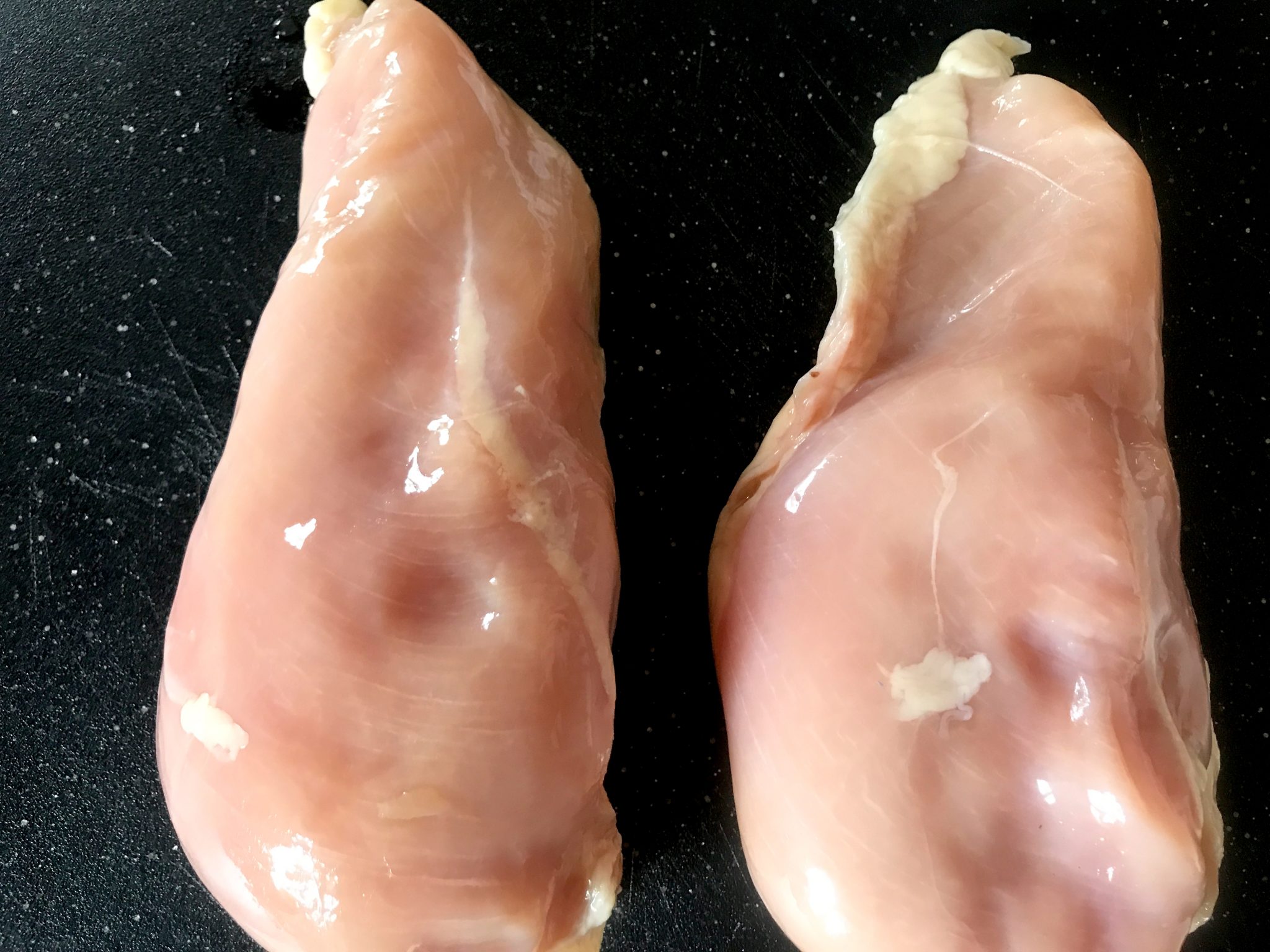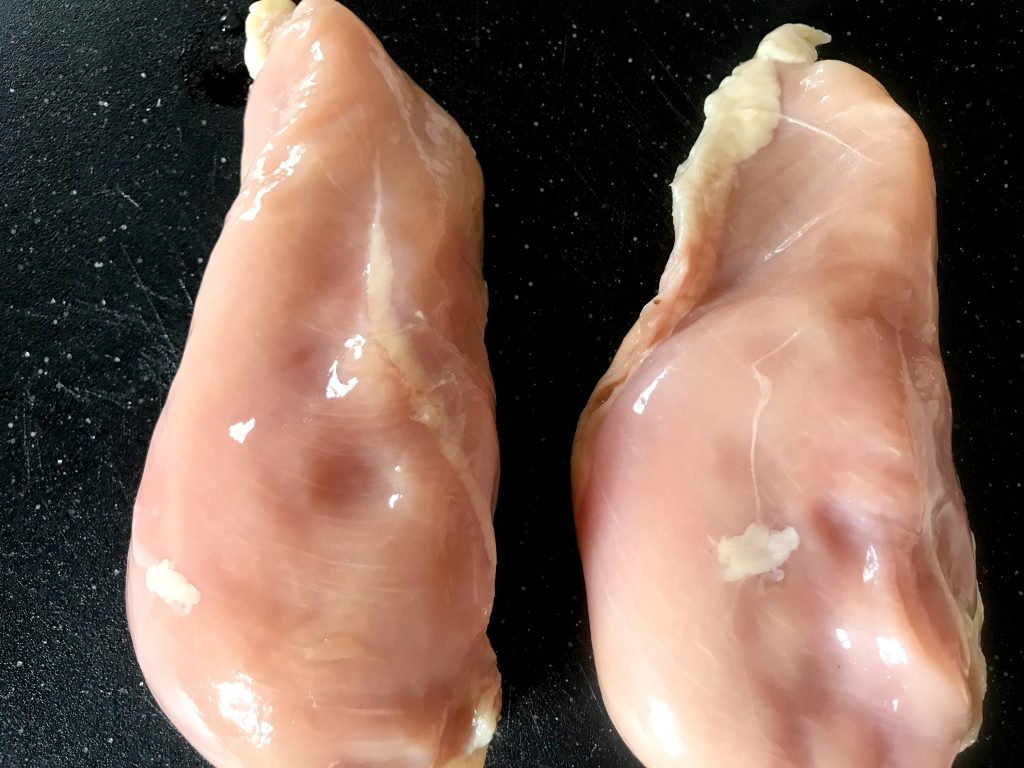 Now grab one and a half pounds of chicken breasts depending on the size of'm this could be 2-3 breasts. You'll need to cut these babies in half to make it a bit easier grab a paper towel and dab the chicken to dry it. With one hand, press down, and with a sharp knife cut the breast in half.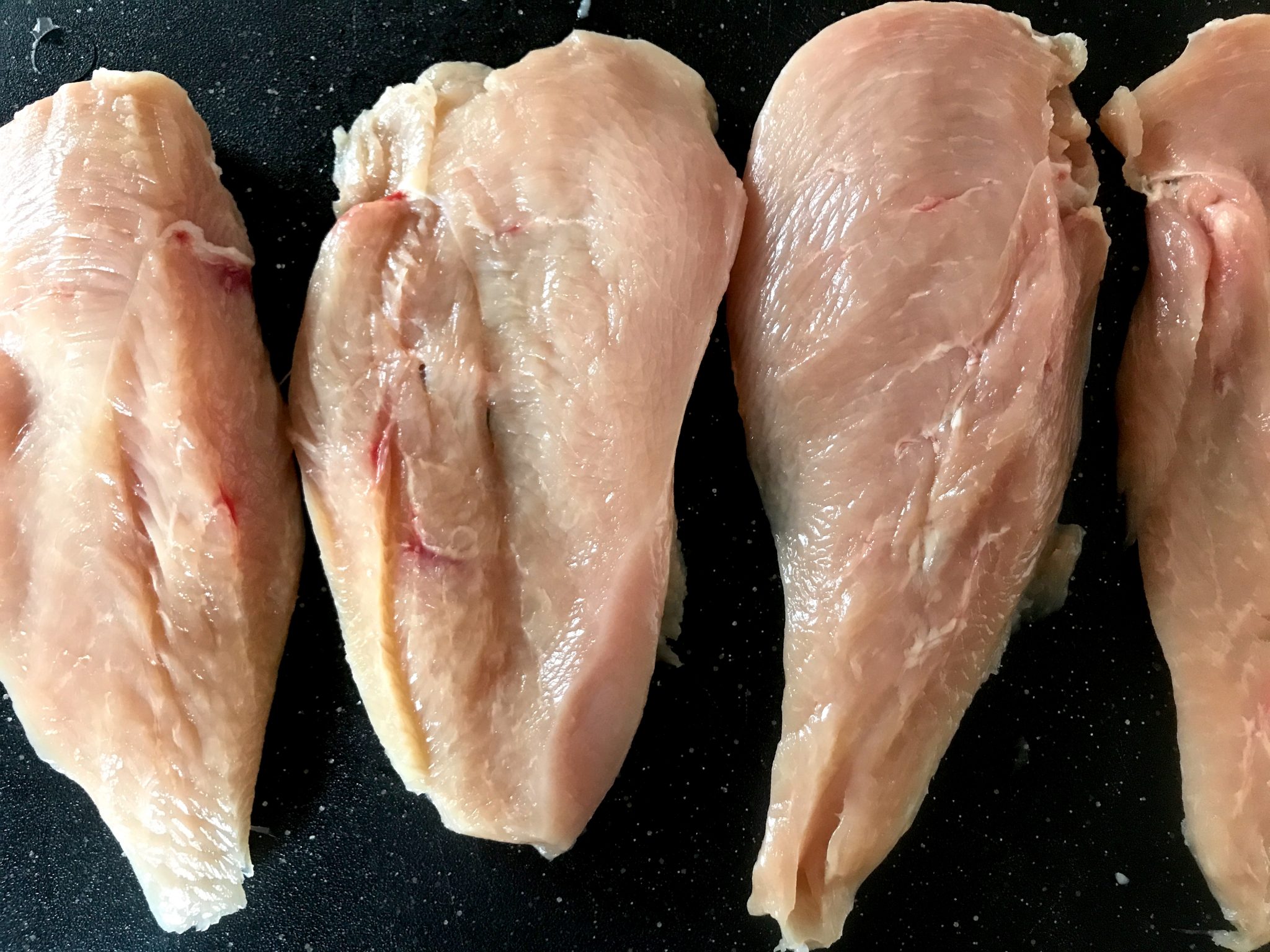 I know this is just not appetizing looking whatsoever. I'm sorry, but they'll look a little somethin' like this after being cut in half. Don't worry about cutting them exactly in half. I don't think it can be done.
Also rub the chicken breasts with about 2 teaspoons of olive oil and sprinkle with kosher salt on each side. (I had a photo of this, but it seems to of disappeared. Sorry!)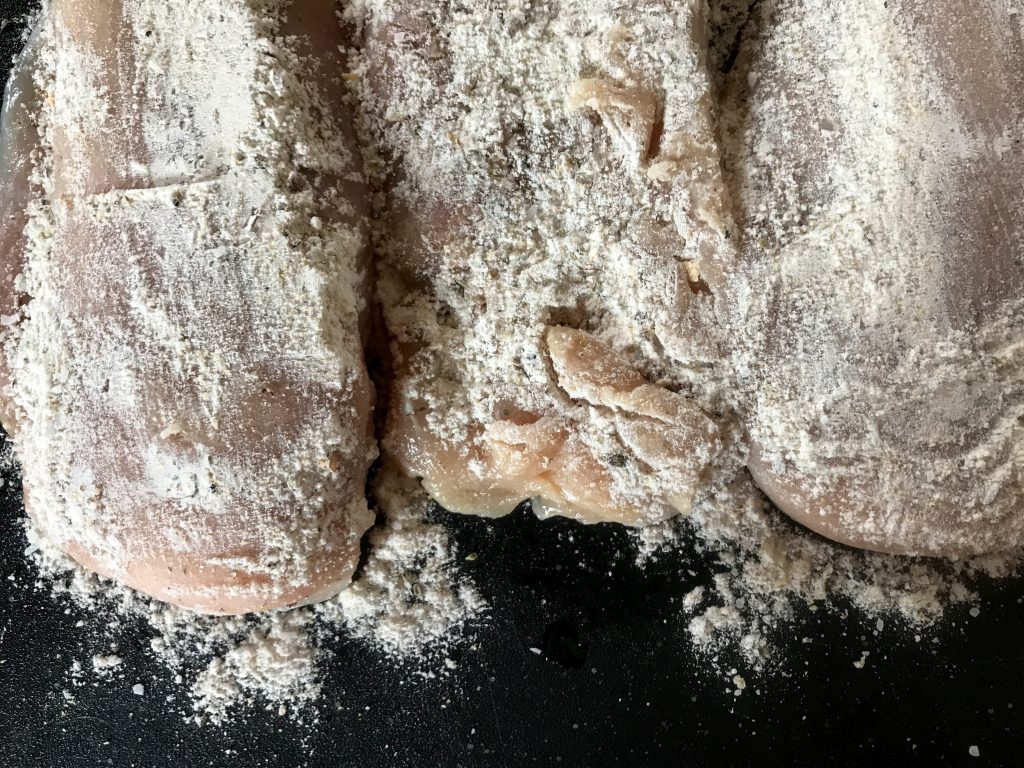 Cover each side with flour/spice mixture. It's really easy to actually pop the chicken in a gallon size bag and really shake it around. I planned on doing this for my photo process, but fancy that, we were outa those bags so I did it this way. Honestly, either way works. I do think adding it to the bag and shakin' it all about coats the chicken just a bit better.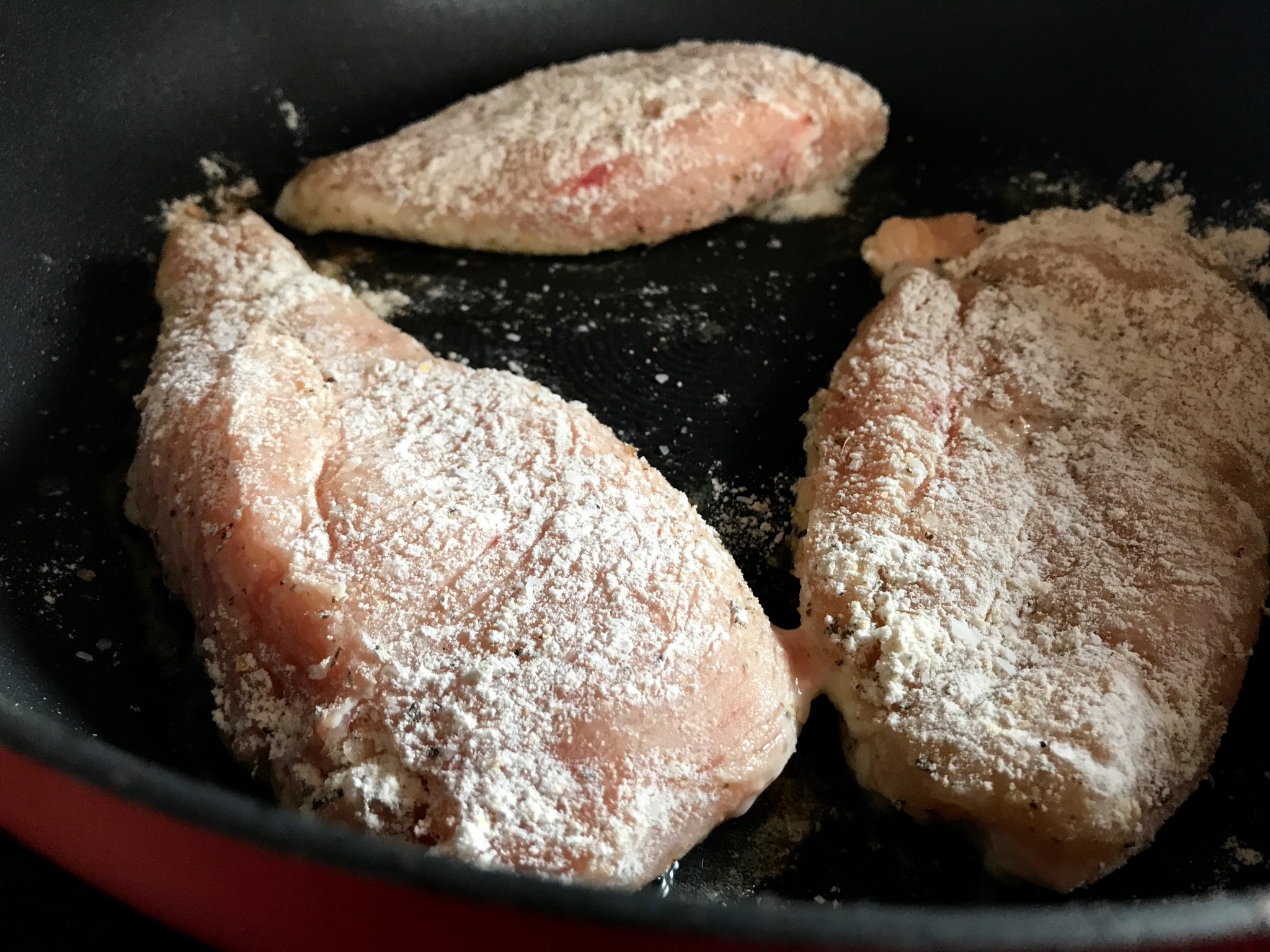 Place the chicken in a hot skillet with two teaspoons of olive oil cook for about 4-6 minutes (depending on thickness of chicken) over medium heat. Be sure not to crowd the pan. Spray the top of chicken breasts with olive oil cooking spray. Also, make sure the skillet has a tight fitting lid so you can use this skillet to cook the pasta in a few minutes here.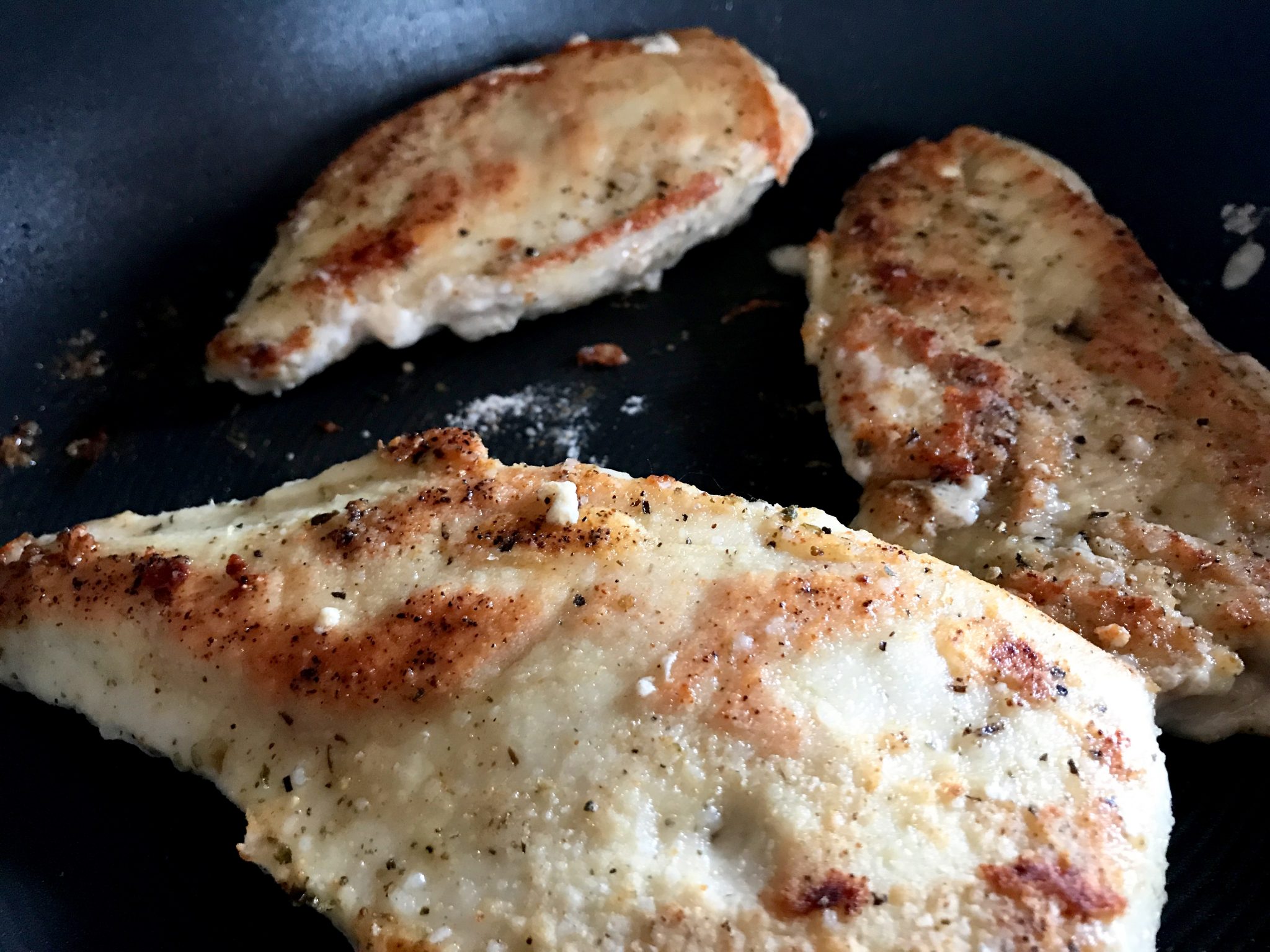 Flip'm and cook'm for an another 4-6 minutes or until the chicken is cooked through. I always temp my chicken to about 160 and then let it rest.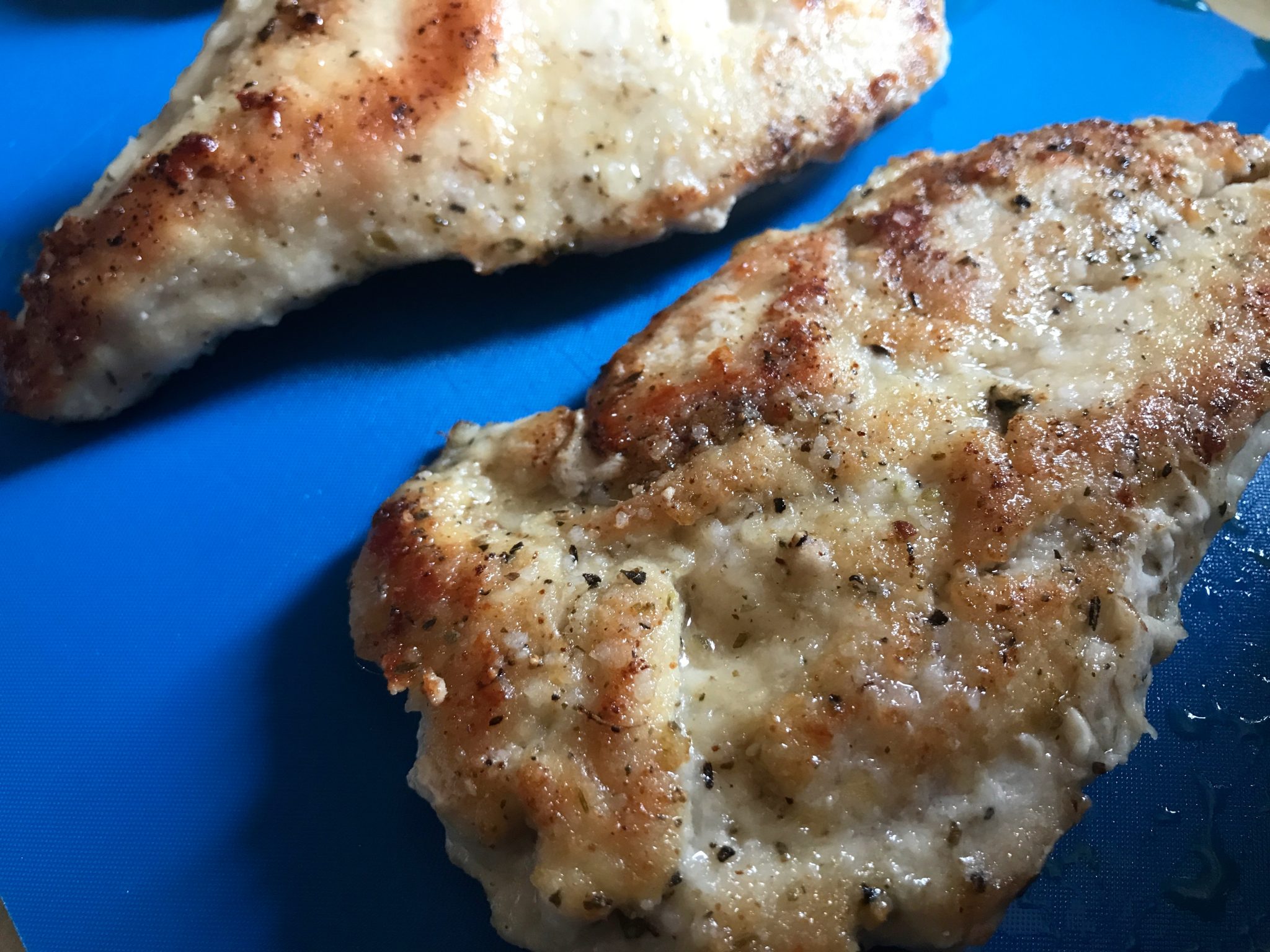 Take it out of the skillet and set aside. Depending on size of skillet you'll probably have to cook in a couple batches. Repeat the same steps as before.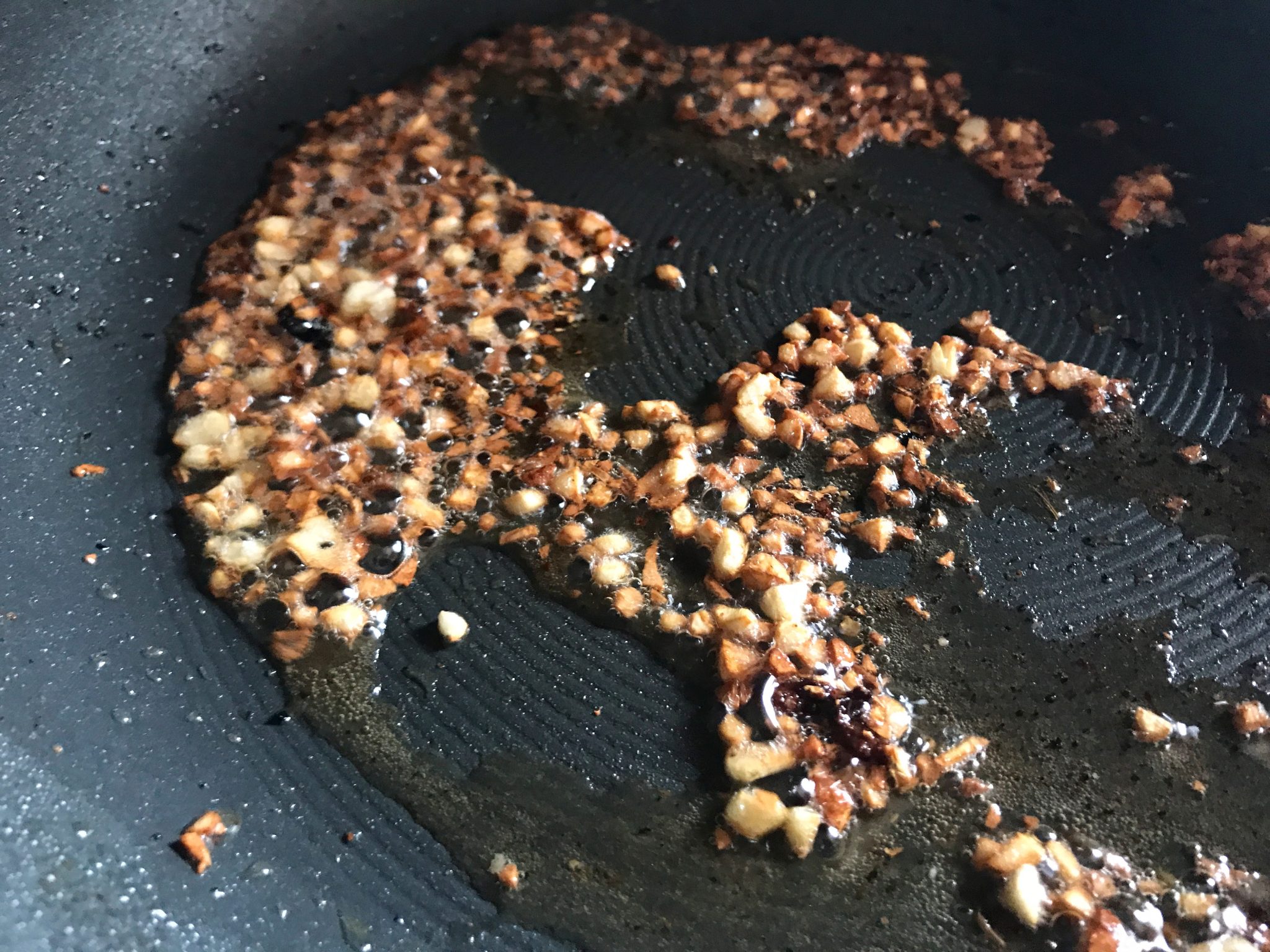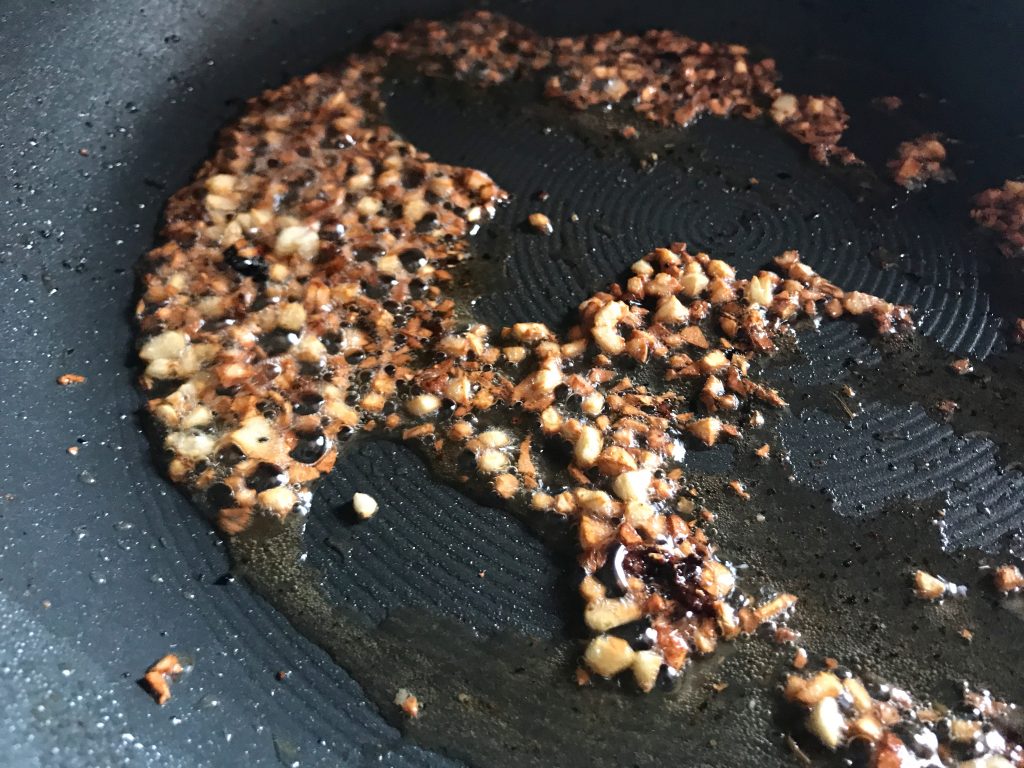 In the same skillet with all those little cooked leftover delicious chicken bits, add 1 tsp olive oil and add your minced garlic. See how they got a lil dark there? Try not to do that, but truthfully, it still tastes glorious even when you accidentally burn a few bits of garlic. We'll just call this intentionally browned garlic. You know, like browned butter, except garlic. That's my story and I am sticking to it. If you don't want browned garlic- you'll want to cook it for about 30 seconds or until the garlic is fragrant.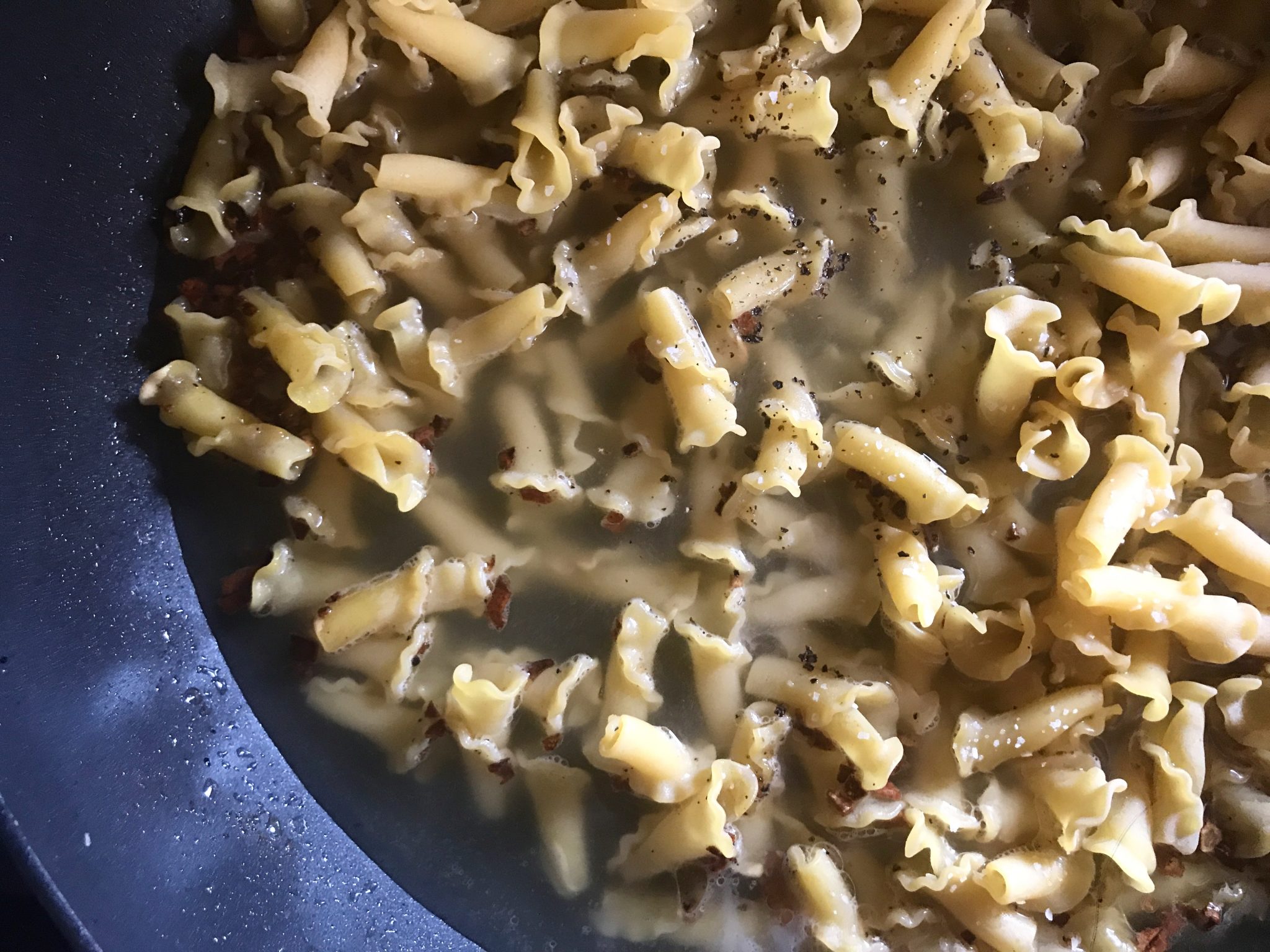 Add 8 ounces of pasta, 2 cups of chicken broth, 1 cup of water, and a pinch of salt and pepper to the skillet.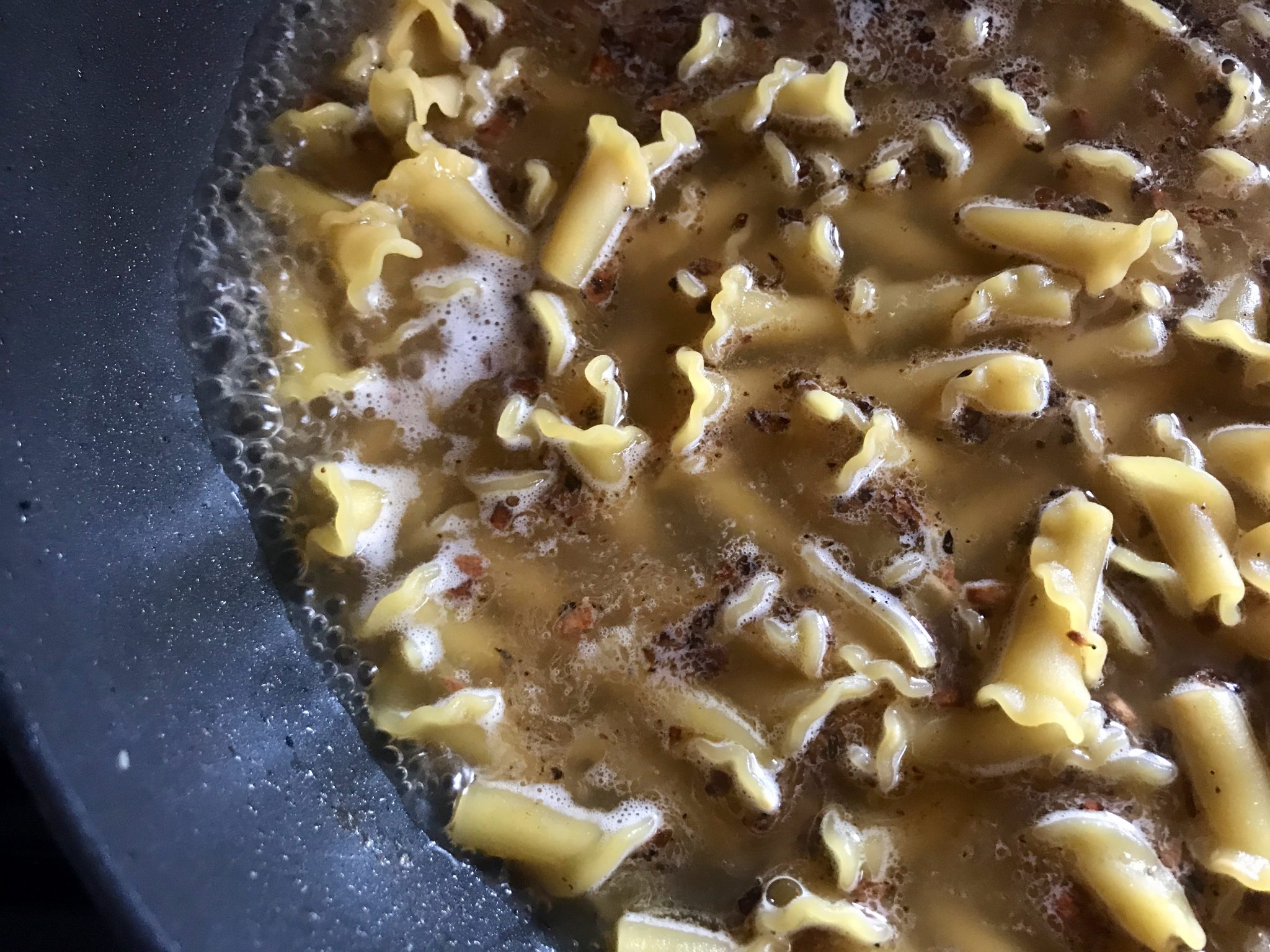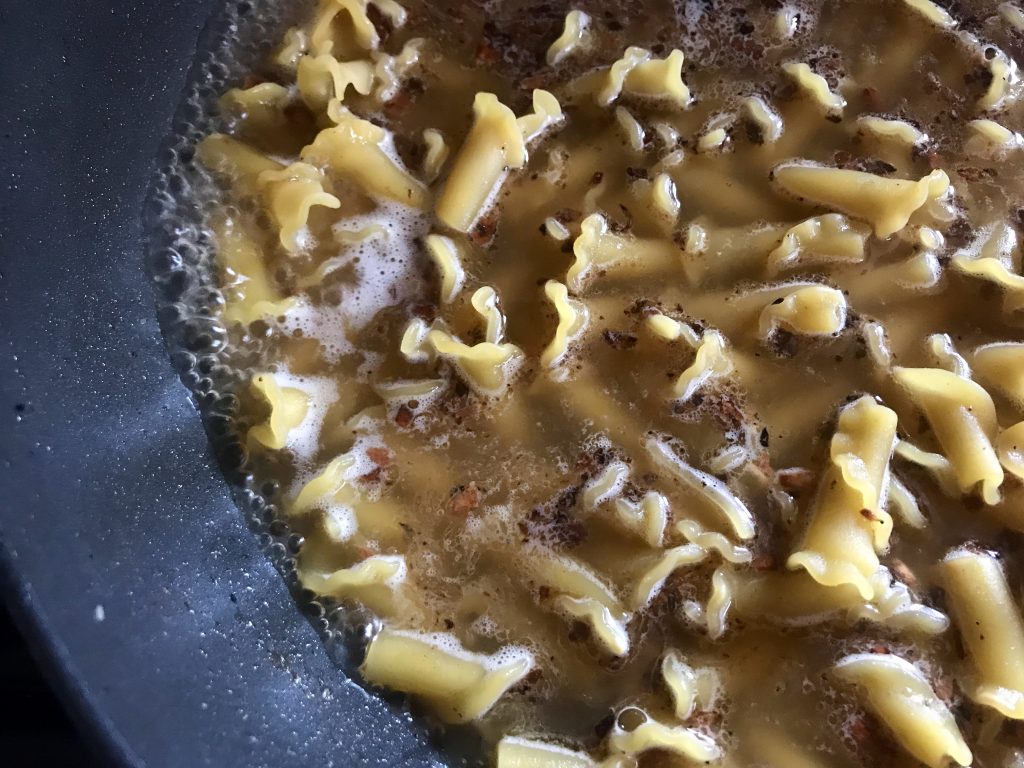 Bring to a boil and cover with a tight fitting lid. Reduce heat to low and continue to cook pasta for 12-14 minutes until it's done.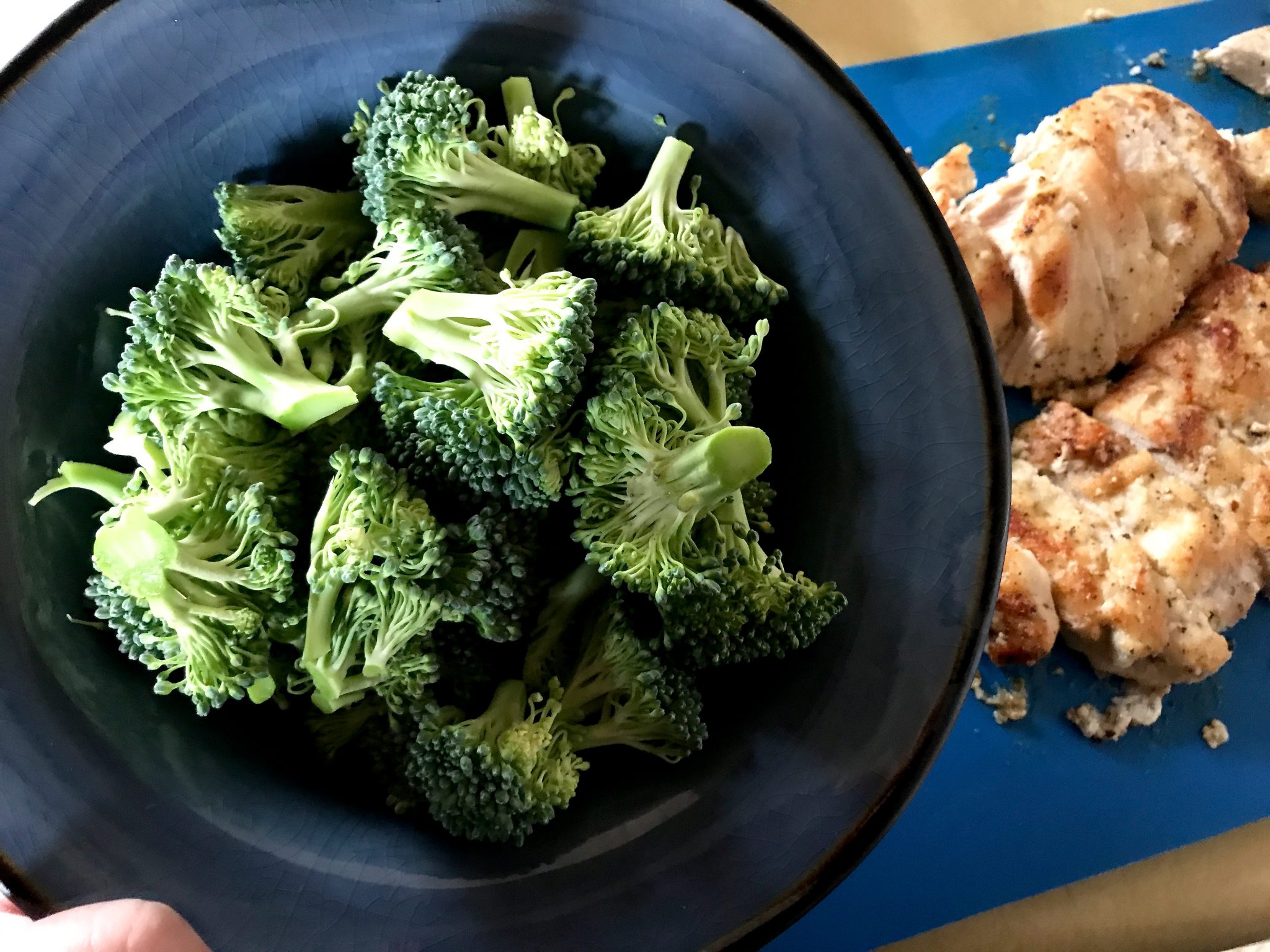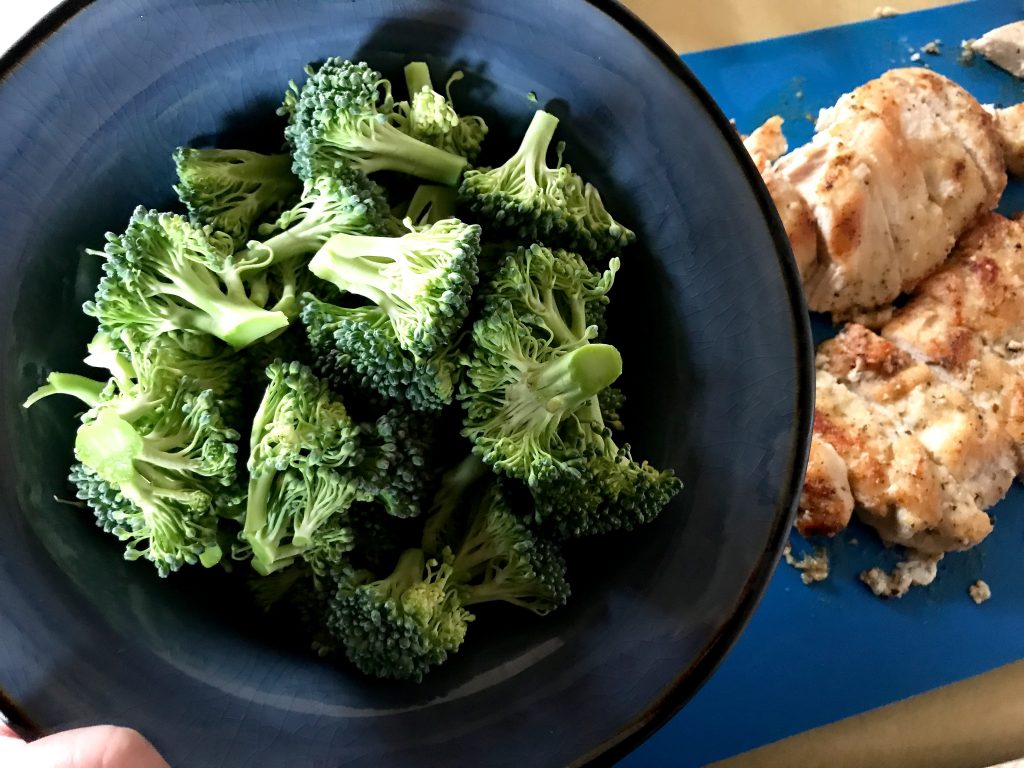 While the pasta is cooking chop up 3 heaping cups full of some fresh broccoli. (You can also use frozen broccoli, but make sure it's thawed out a bit so it only needs a few minutes to cook with the pasta in the skillet)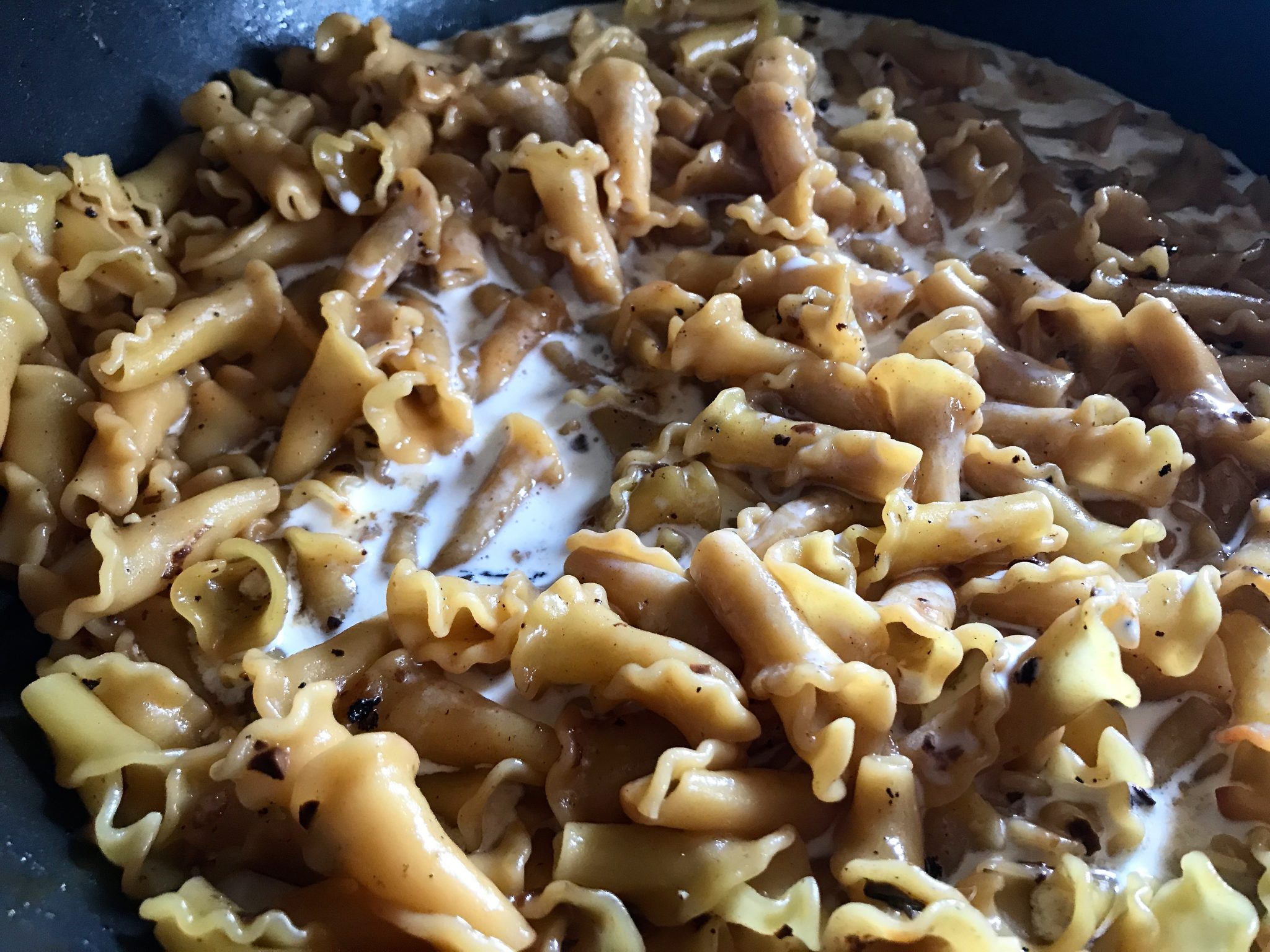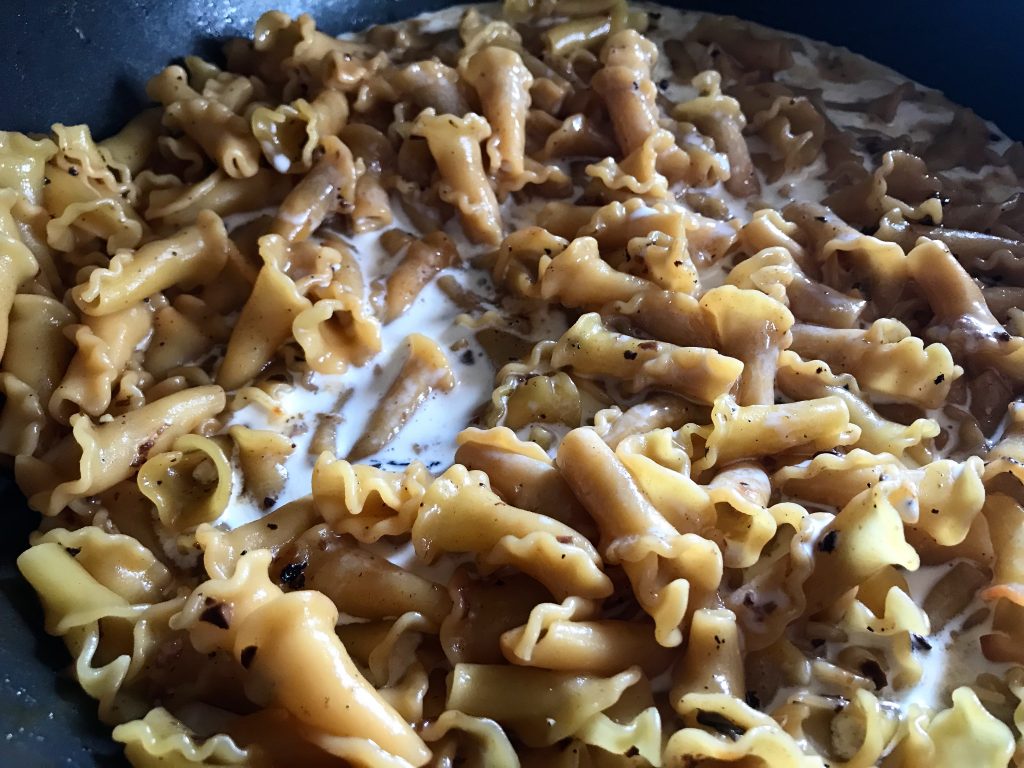 After the pasta is done cooking there will be a bit of water/chicken broth that wasn't absorbed by the noodles. That's perfect! Add in your half and half.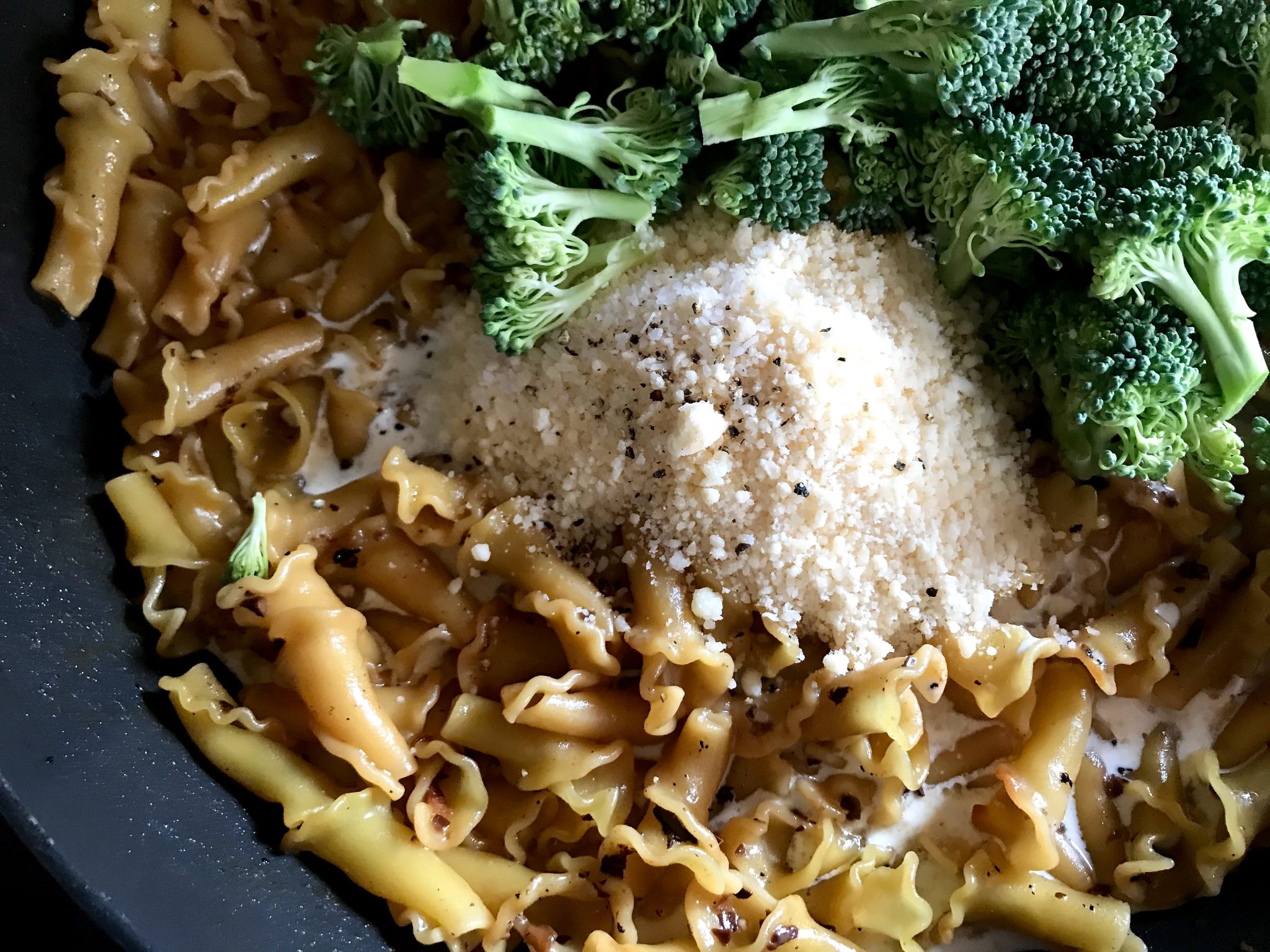 Add in parmesan cheese, chopped broccoli, a pinch of pepper, and couple pinches of kosher salt.
Stir constantly over medium-high heat until sauce begins to thicken. It should thicken up after about 2-3 minutes. Put the lid back on and let the broccoli cook up for 1-2 minutes or a little longer depending on how you like your broccoli cooked. I prefer mine bright green, warm, and with a bite. In other words, just barely cooked.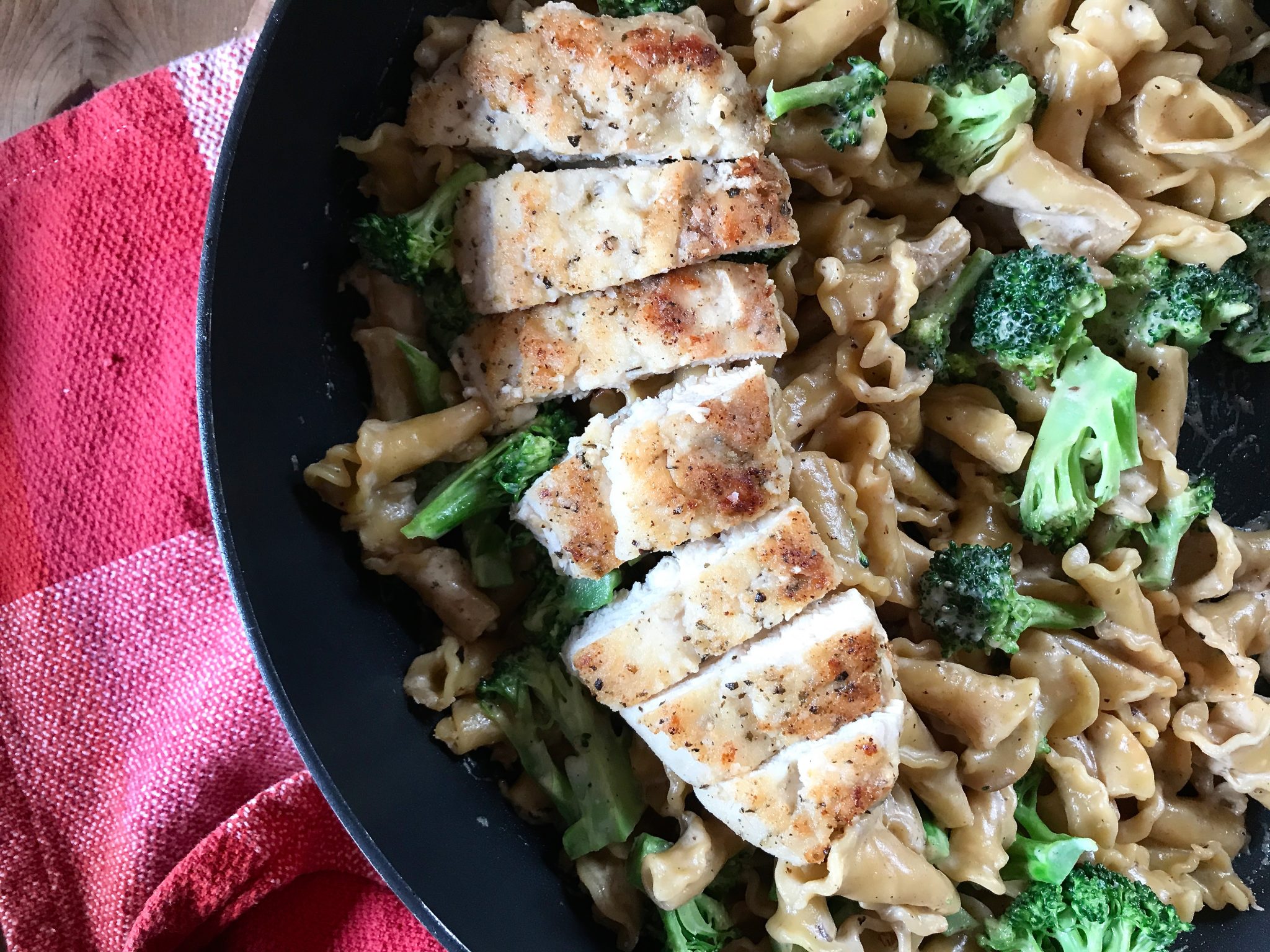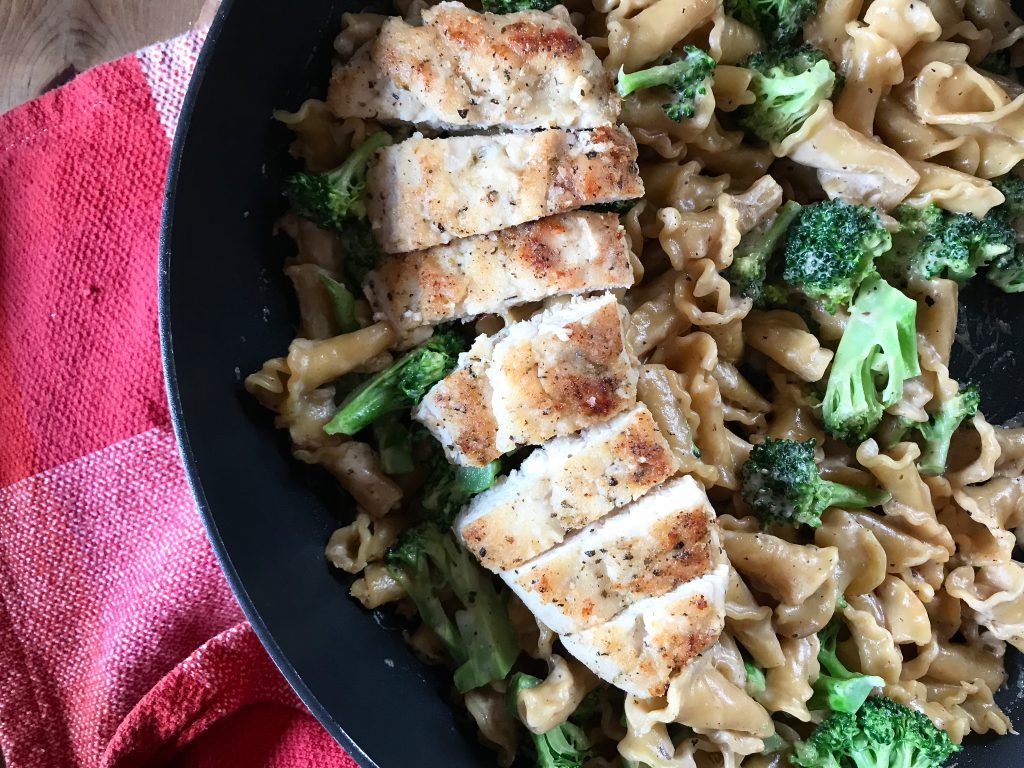 And you're done! Are you as excited as I am?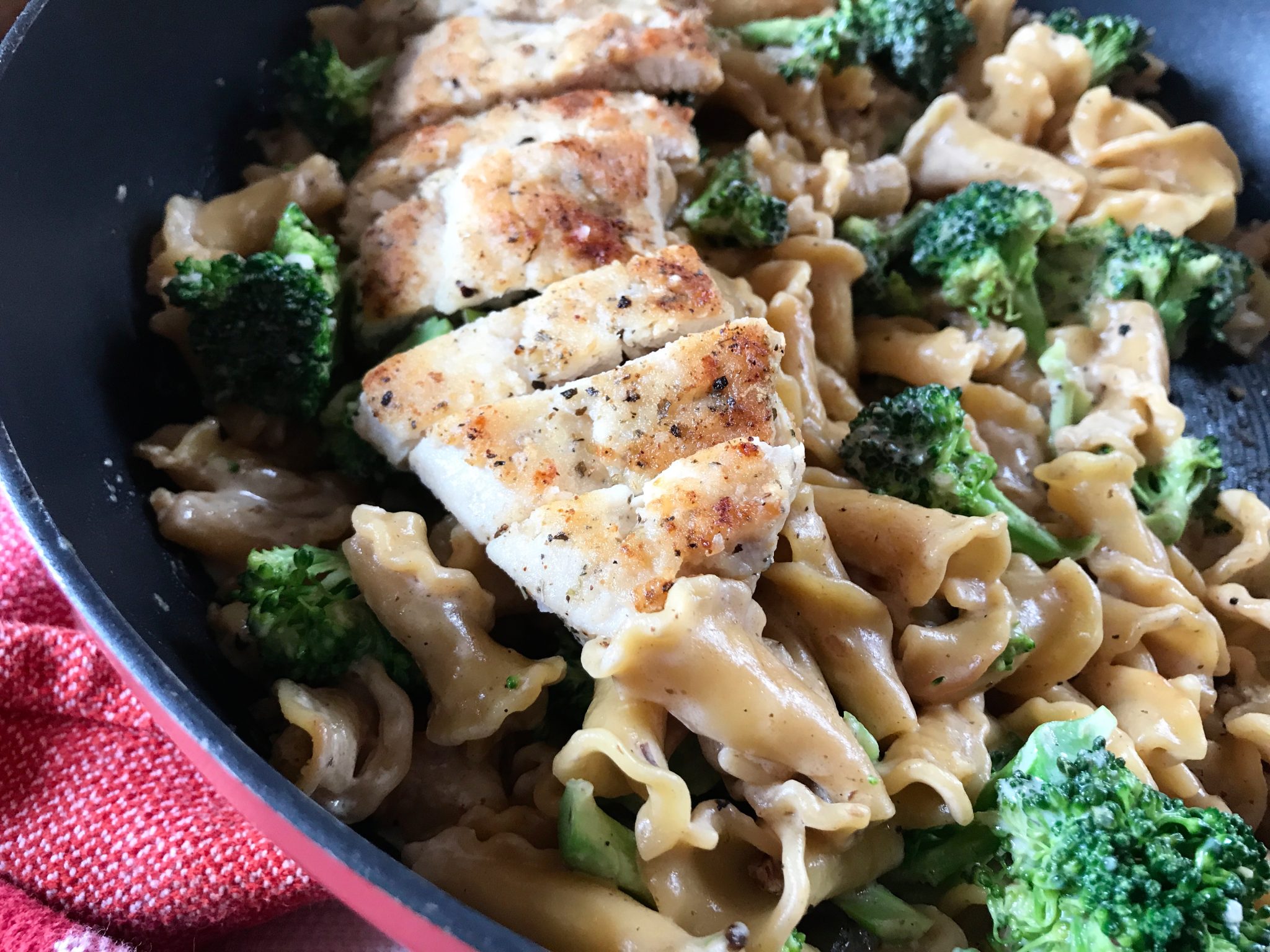 I prefer to keep the chicken separate rather than cutting it up and mixing it in mostly because it looses it's light, crispy breading and I feel like it tastes better being this way. However, when I reheat it- I reheat it all together and it's perfect. Have I told you lately that I'm kind of weird about food? I am.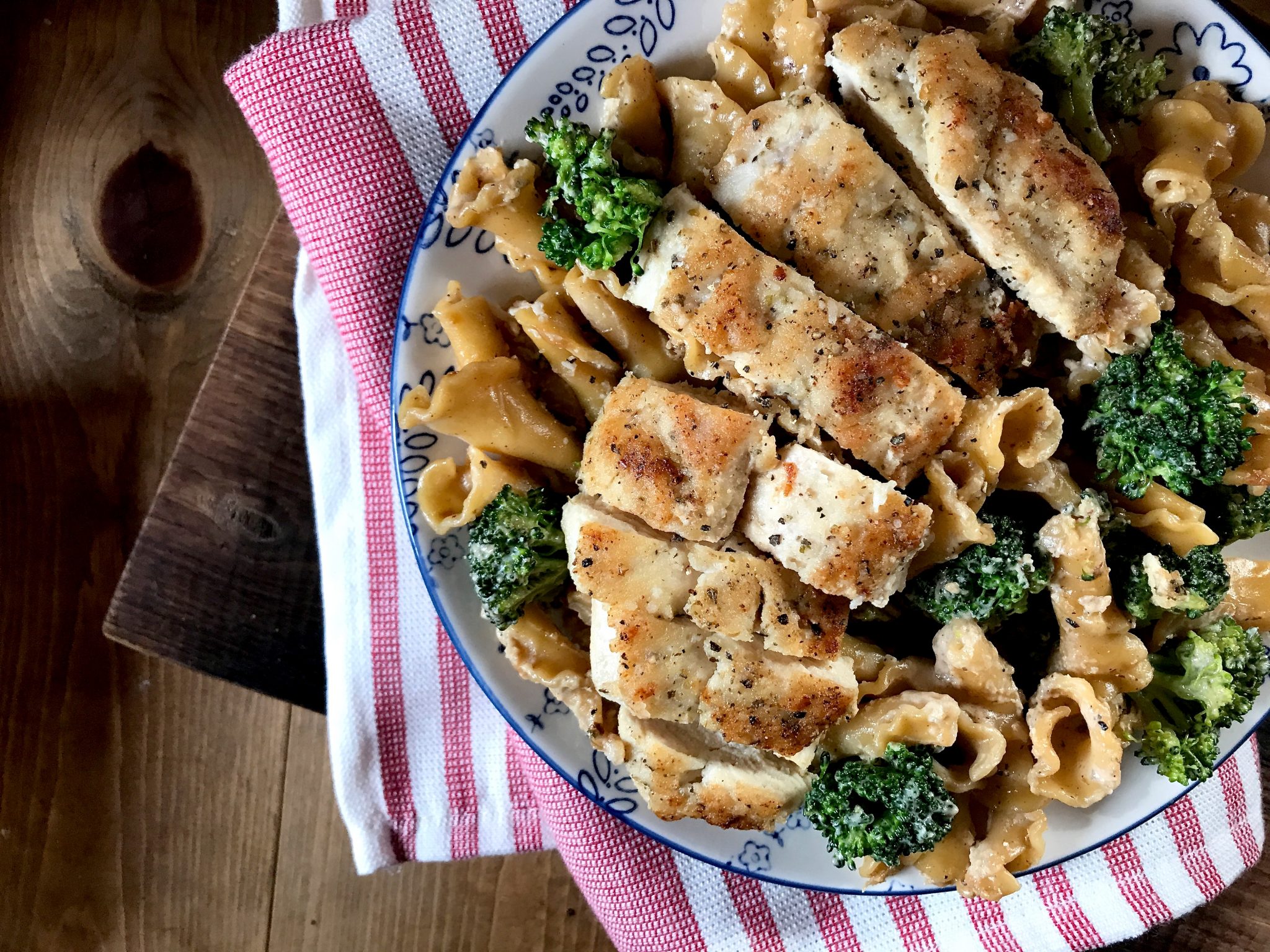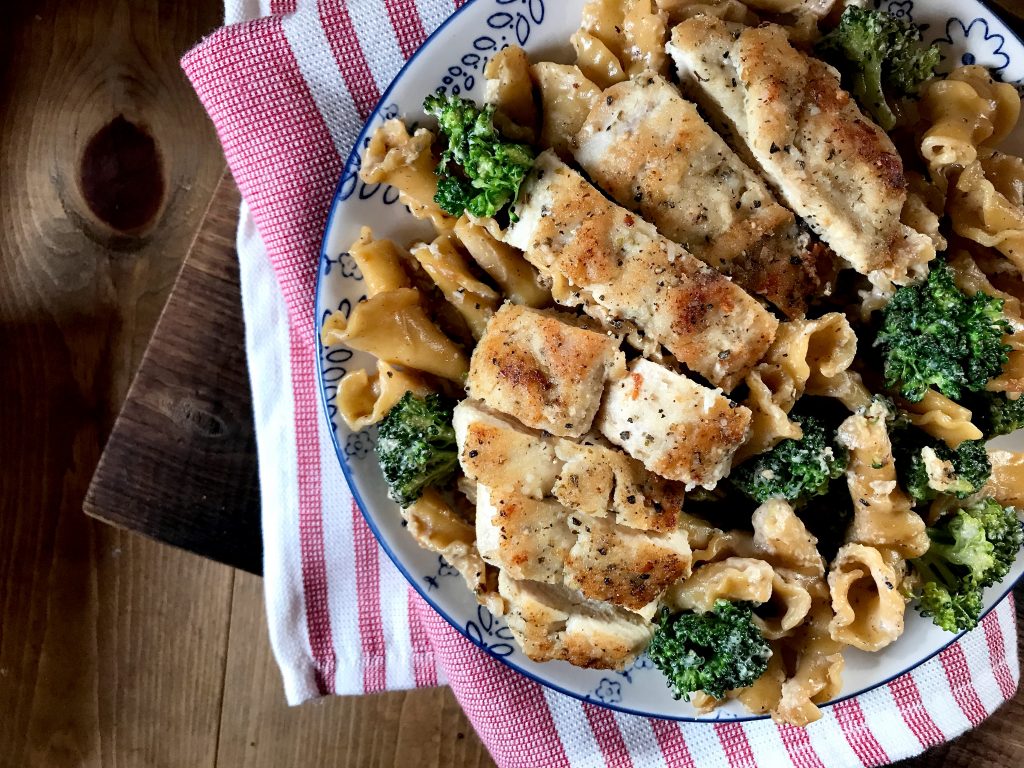 It is perfect.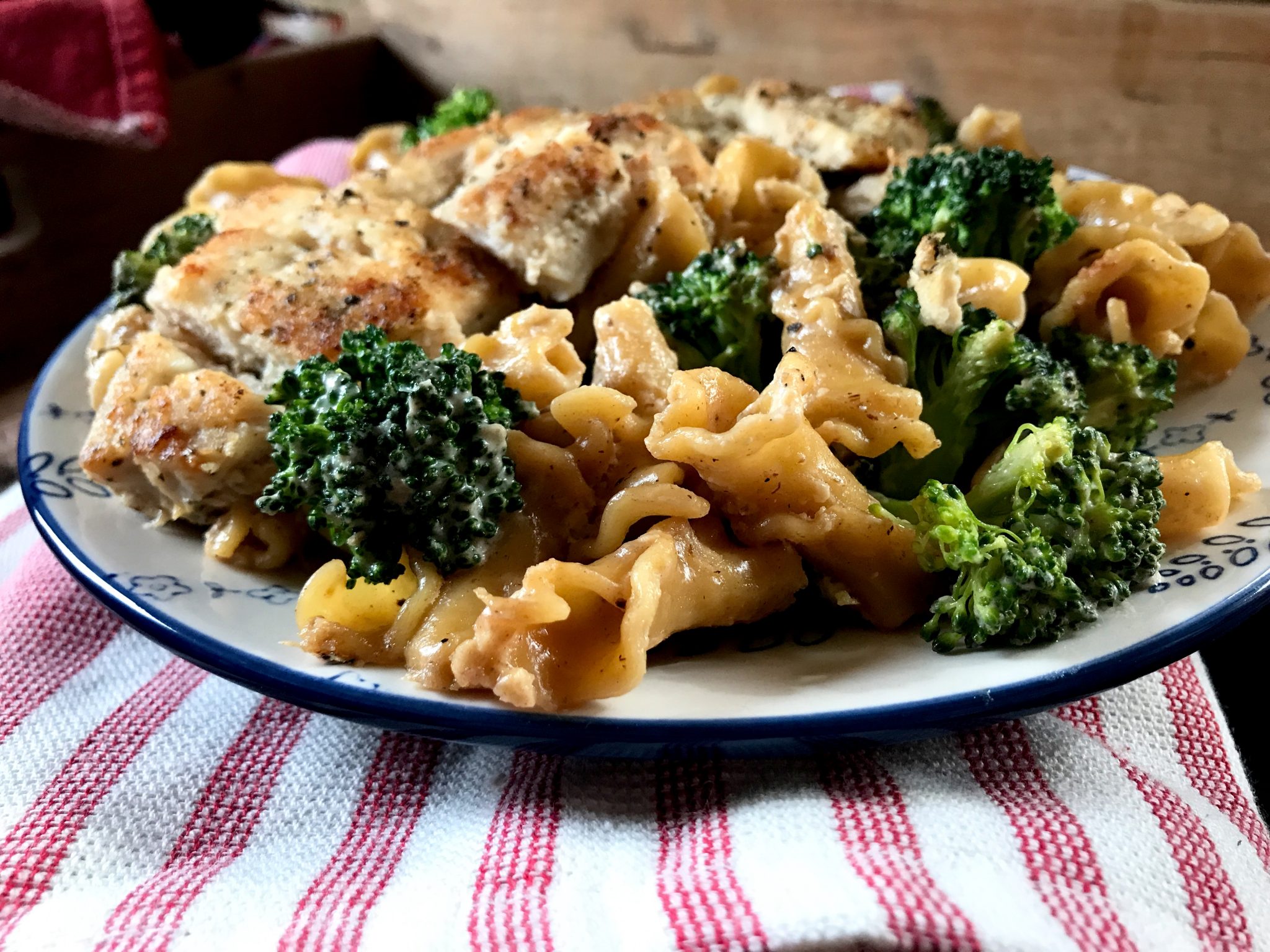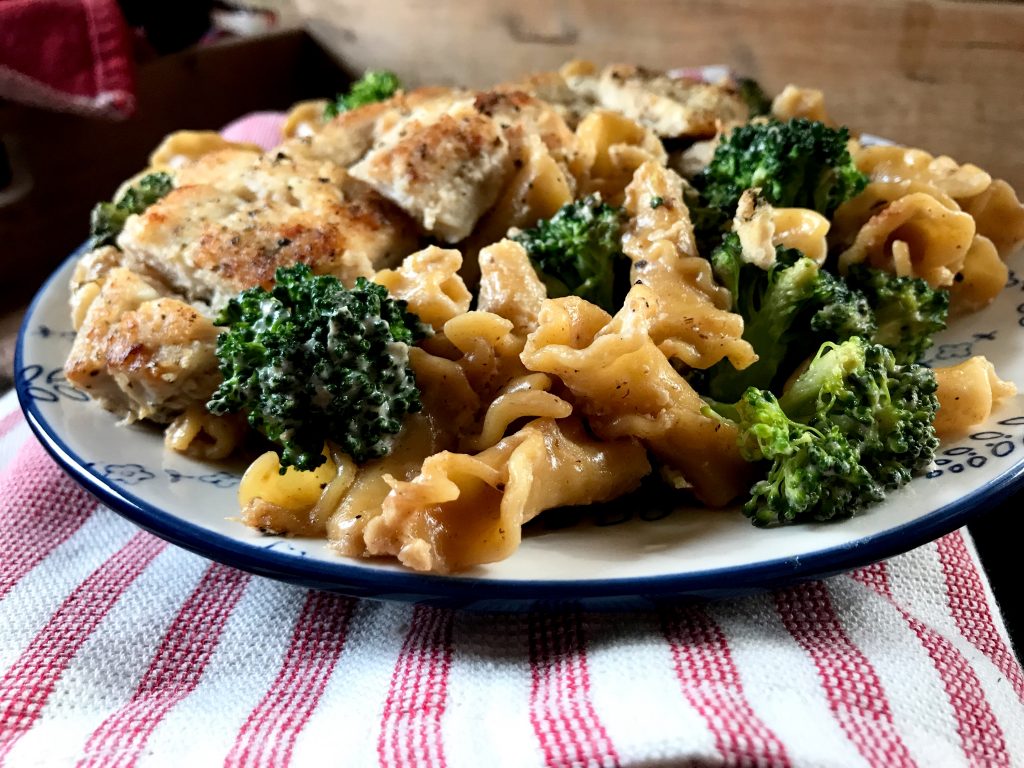 If you remember the original dish from the OG than you're probably wondering why I am not using the Orecchiette pasta. Well, the normal grocery store I go to actually doesn't carry it so I rarely use that type of pasta. I usually use something fun like this campanelle, shells, or I've even used fettuccine. I recommend not using rigatoni, it just doesn't hold the sauce well.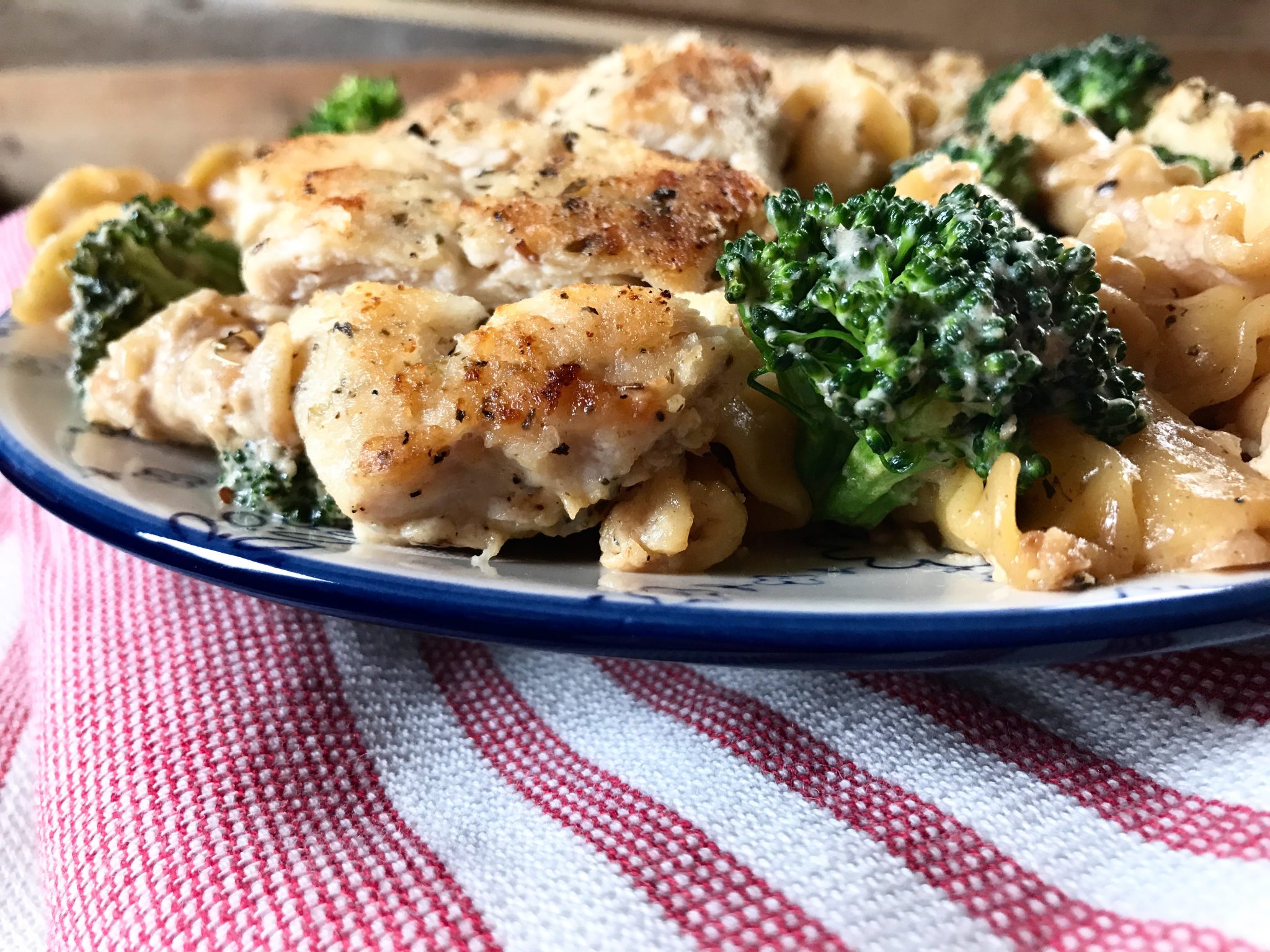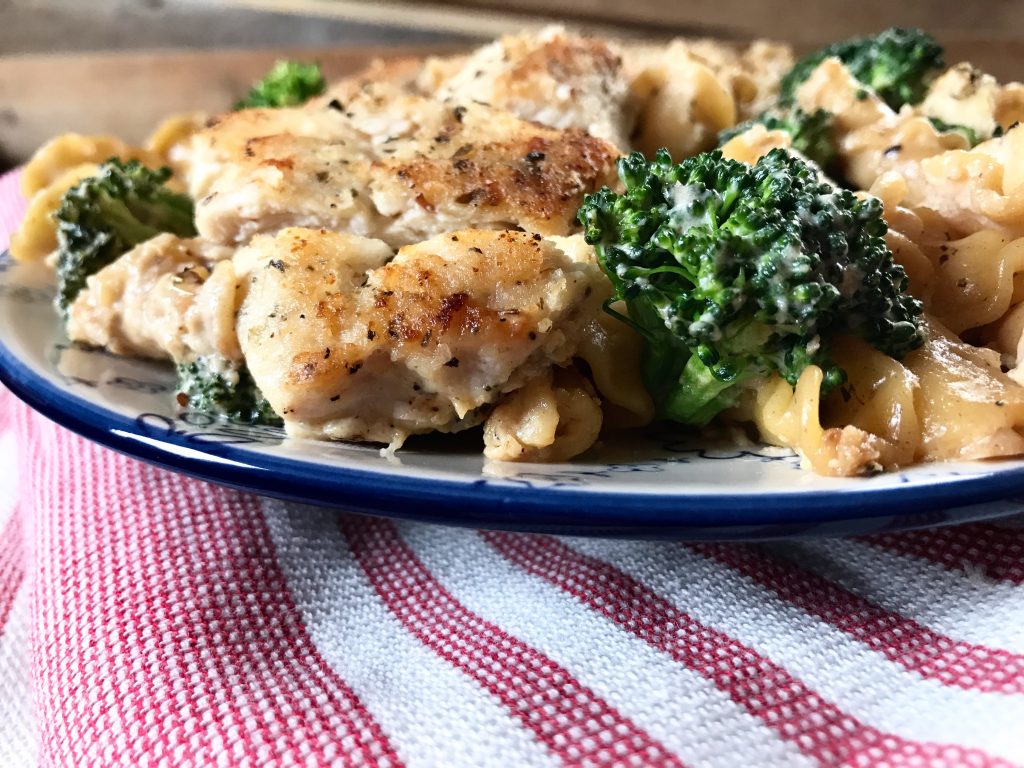 The chicken has a light, garlic herb-ey, yummy crust on it. It makes me oh so very happy. It's hard for me to compare if it's EXACTLY like the OG version because It's been YEARS since they've had it on their menu, but I'm confident that it's just as good, if not better, and it's definitely much more friendly to your waist line.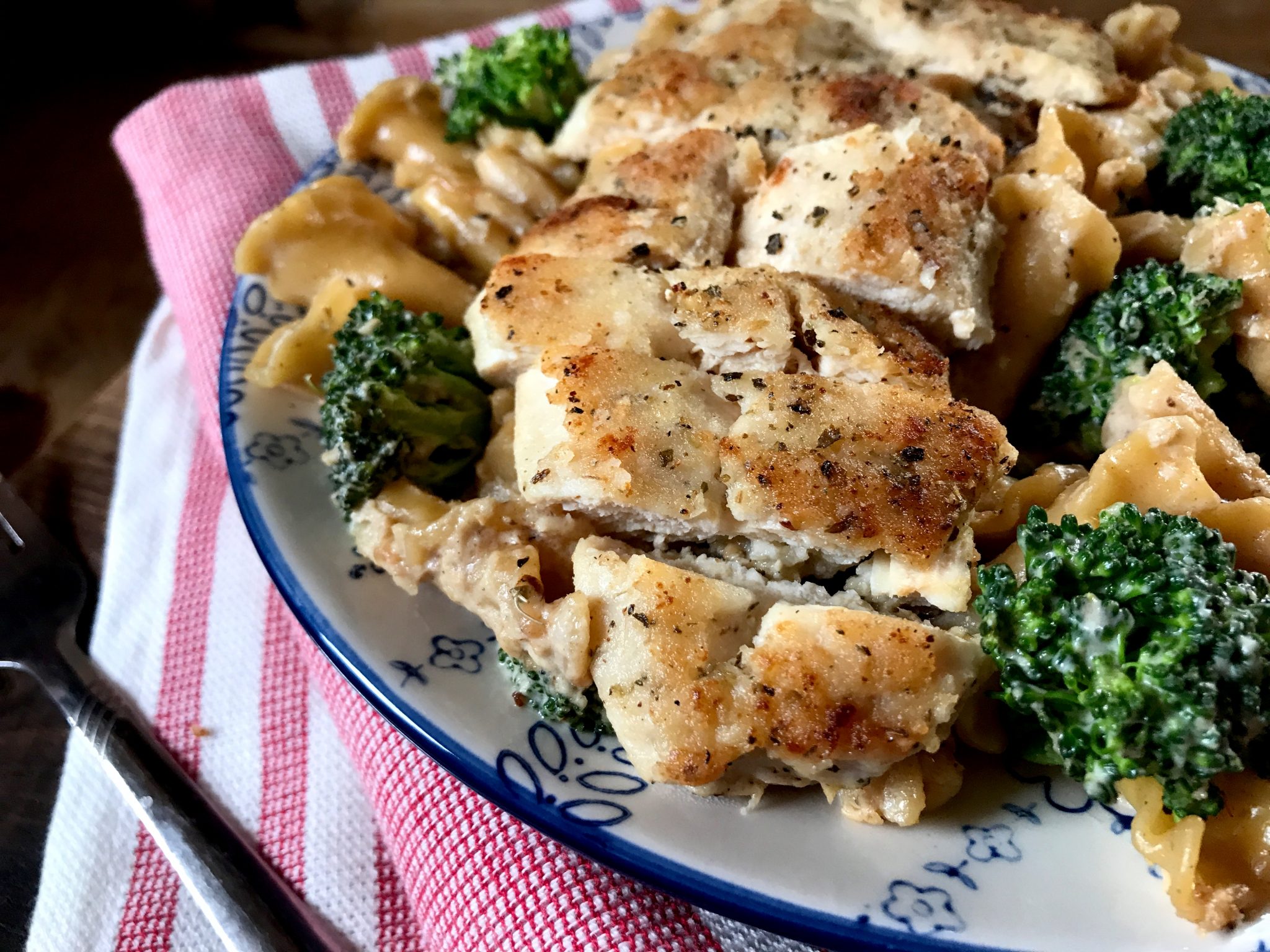 I probably got carried away with the photos for this one, but I just couldn't not take several hundred photos of something that tasted THIS darn good.
Make this yesterday! (and don't forget to let me know how it went!)
Now, if you'll excuse me I have some birthday celebrating to do with one of my favorite people in the world.
With love from my kitchen to yours,
Star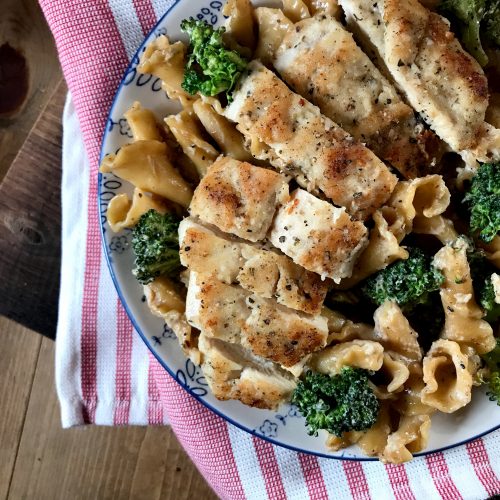 Print
One Pot Chicken Con Broccoli
Garlic herb crusted chicken with a creamy garlic sauce over pasta and broccoli.
Materials
For the Garlic Herb Crusted Chicken:
1.5

lbs

chicken breasts (2-3 breasts)

raw, cut in half

2

tsp

italian seasoning

2

tsp

garlic powder

¼

tsp

pepper

¼

tsp

kosher salt

plus extra 1/4 tsp for chicken

¼

cup

white flour

6

tsp

olive oil

divided

olive oil cooking spray
For the Creamy Pasta and Broccoli:
1

tsp

olive oil

5

cloves

garlic

minced

8

ounces

Campanelle, dry

or any pasta that holds sauce well

1

cups

water

2

cups

99% fat free chicken broth

low sodium if available

¾

cup

half and half

regular

½

cup

parmesan cheese, grated

the higher quality, the better

4

cups

broccoli

fresh, roughly chopped

½

tsp

kosher salt

¼

tsp

pepper

salt & pepper, to taste
Special Equipment
large skillet with tight fitting lid
Instructions
For the Garlic Herb Crusted Chicken:
In a small bowl stir together flour, spices, salt, and pepper.

In a gallon size ziplock bag add chicken, 1/4 tsp kosher salt, 2 tsp olive oil. Shake bag to coat chicken with oil. Add flour mix and shake bag to coat the chicken with flour.

In a large skillet over medium heat, add 2 tsp olive oil, add chicken and spray top side of chicken with olive oil cooking spray. Be sure not to over crowd skillet- you'll probably need to cook in two batches. Cook chicken for 4-5 minutes until crispy, flip, and continue to cook until cooked through. (I temp to 160, remove from pan, and let it rest) Repeat same steps for second batch of chicken.

Please note: Let all of the cooked chicken rest on cutting board or plate and then continue to make creamy pasta and broccoli separately.
For the Creamy Pasta and Broccoli:
In the same large skillet with the cooked chicken bits add 1 tsp of olive oil and minced garlic. Cook until fragrant. (About 30 seconds)

When garlic is fragrant add dry pasta, 1 cup water, 2 cups chicken broth, and a pinch of salt & pepper. Bring to boil and the cover with a tight fitting lid, reduce heat to low, and continue to cook on low for about 12 minutes or until pasta is cooked through.

When pasta is done cooking add in half and half, parmesan cheese, and broccoli. Stir constantly for 2-3 minutes over medium high heat until sauce has thickened then reduce heat back to low. Put cover back on skillet to cook broccoli for another 1-2 minutes depending on how you like your broccoli cooked. Serve warm. Enjoy!
Notes
Serving size: 4 ounces chicken, cooked and 1 cup pasta and broccoli
360 Calories | 11g fat, 4g saturated fat, 29g carbohydrates, 2.5g fiber, 2g sugar, 0g added sugar, 40g protein
WW Points: 8 Points