This post may contain affiliate links (meaning I earn a small comission if you purchase an item through a link I provide) I only provide shoppable links to items I love and are helpful. As an Amazon Associate, I earn from qualifying purchases.
Chicken Tamale Bake is an easy and delicious twist on classic Chicken Tamales. This stuff is so crazy good that I even licked my plate clean! With just a handful of ingredients this can be on your dinner table in no time tonight!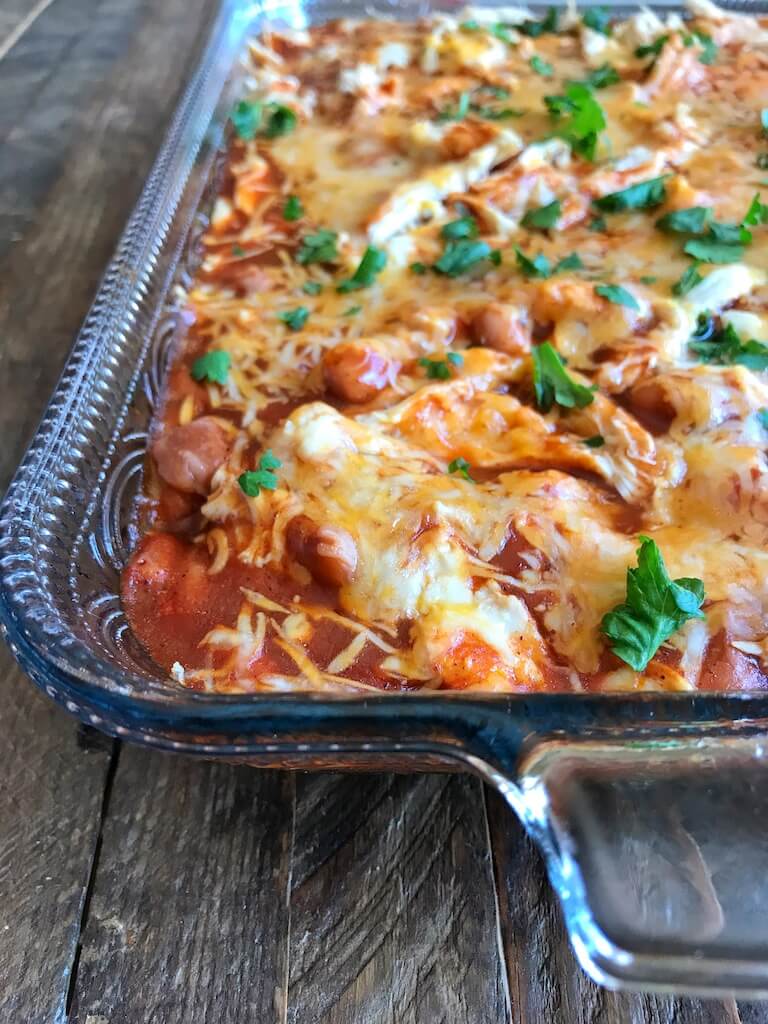 A couple'a weeks ago I had such'a hankerin' for chicken tamales that I didn't even know what to do with myself and unfortunately, we don't really have a place in town here that has real good tamales. I've never made tamales on my own and the whole process sounded a bit intimidating for even me, especially on a Tuesday afternoon an hour before I had to pick up Pepper from preschool.
So what's a girl to do? I saw this recipe on delish.com and knew I needed it in my belly! Changed it up a bit to do my own thing, made it skinny-ish, used chicken breast, etc. I hoped to make a lil somethin' that kinda sorta reminded me of tamales. So, I crossed my fingers n' toes and threw it in the oven.
Oh lawdy, it was good. AND SO EASY, almost too easy. The only thing that would have made this Chicken Tamale Bake better is if I would have had some homemade enchilada sauce on hand. The canned stuff does the trick, but if you like to make your own. Do it! I'm actually going to make a batch up next time I make this bake. I'll share that recipe with y'all sometime soon too!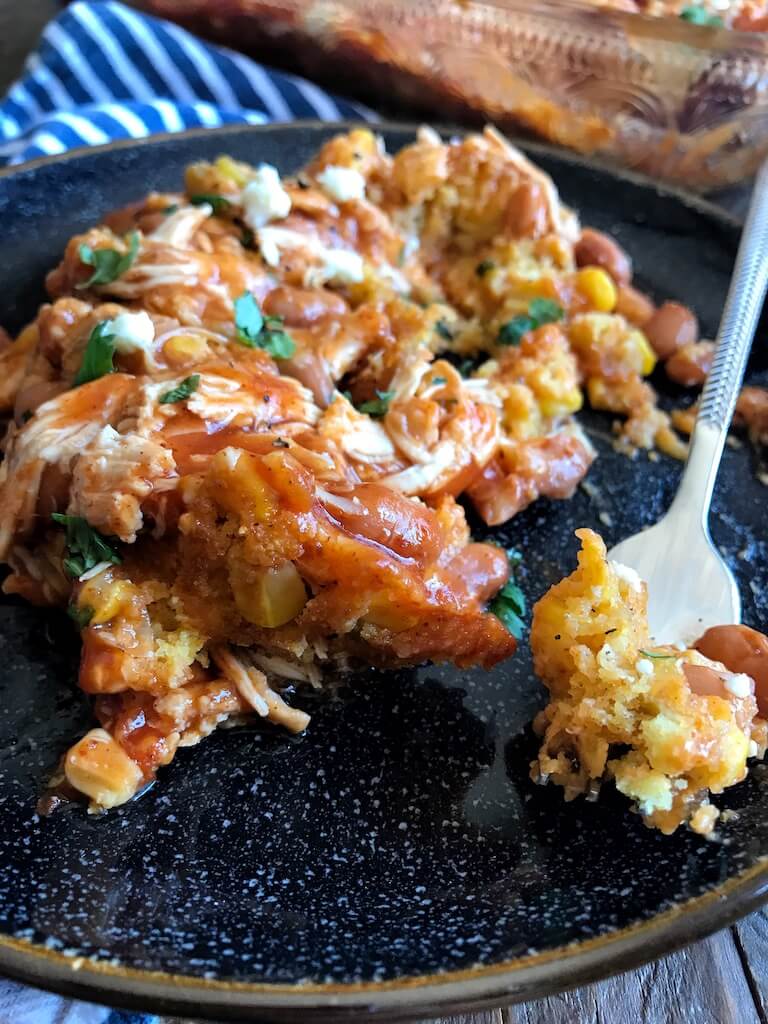 This Chicken Tamale Bake makes for the BEST weeknight dinner, friends. You know those nights you have no idea what you're doing, don't want to eat out, and it's 6 o'clock? I feel like that's my actual life lately. Yeah, this was made for one of those nights with the help from a box of Jiffy, rotisserie chicken breast, and a few pantry staples. You can have this on the table in under an hour with mostly hands off time!
Let's get in the kitchen and make this Chicken Tamale Bake!
First things first, preheat oven to 400 degrees. Then, grab yourself a mixing bowl and add one box of Jiffy Cornbread mix, 1 can of sweet corn, 1 egg, taco seasoning, 1/2 cup skim milk, and 1 can fire roasted chopped green chiles (mild or hot depending on spice preference).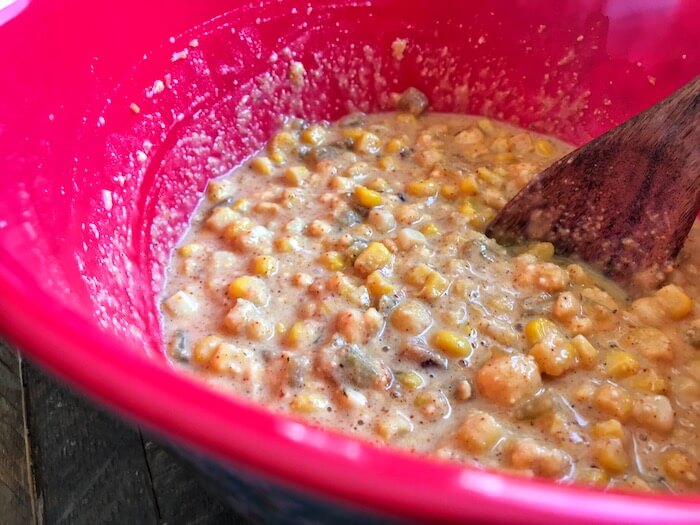 Stir it up until then ingredients are combined.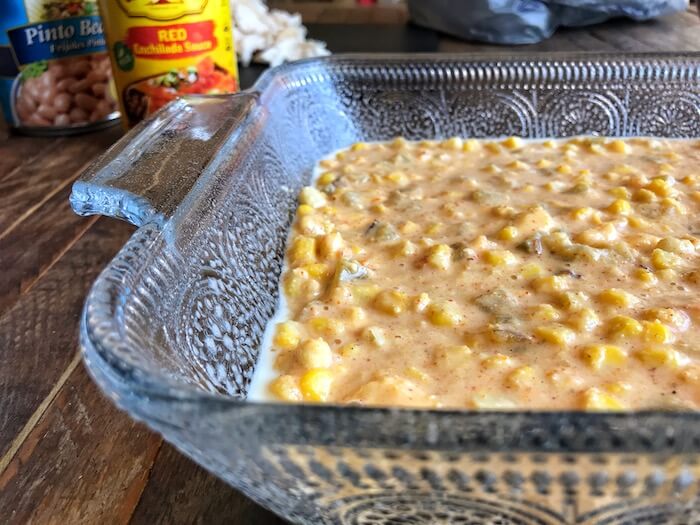 Add cornbread mixture into a 9×13 casserole dish that's been sprayed well with cooking spray. Pop it into the oven for 25 minutes.
*While the cornbread is baking. Stir together two cups of rotisserie chicken breast or diced cooked chicken breast (my Easy Baked Chicken recipe would also be perfect for this!) 1 can pinto beans (drained, but not rinsed), 1 teaspoon garlic powder, 1 teaspoon onion powder, 1/4 teaspoon salt, and a pinch or two of cayenne pepper (for heat, optional!)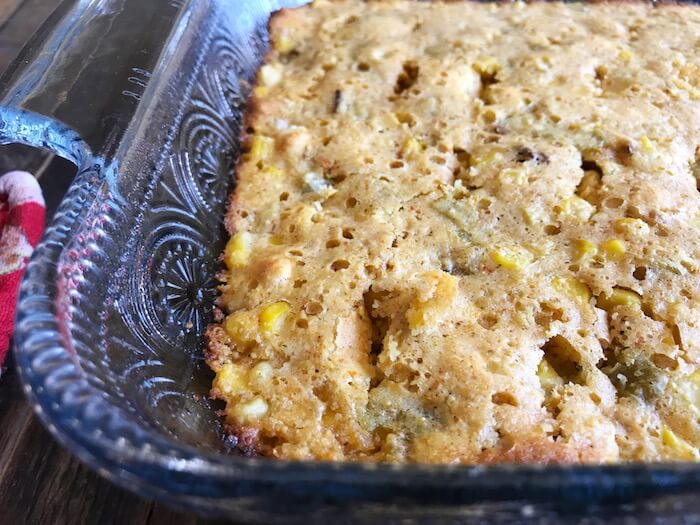 When the "cornbread" is done remove from the oven and poke a bunch'a holes into it.
Drizzle a can of enchilada sauce on top of the cornbread.
Add chicken and beans then drizzle a whole can over that.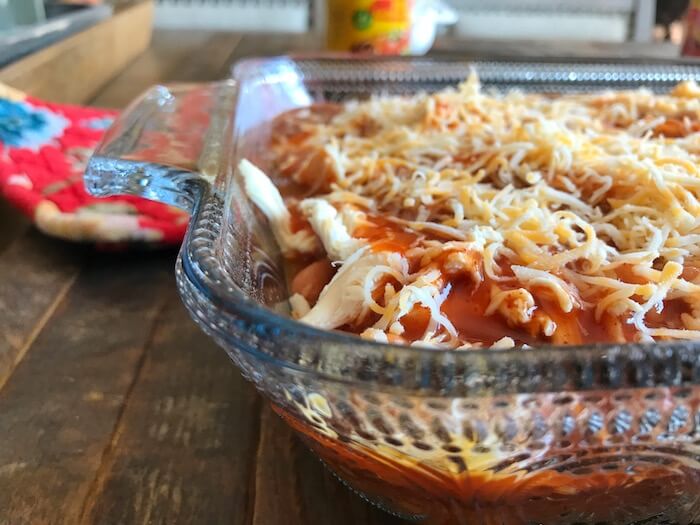 Add cheese, naturally.
I've got about 1/2 cup here of Colby Jack made with 2% milk. Place it back into the oven for about 15 minutes, uncovered.
Drrrrrrrrrrroooool. Add fresh cilantro, especially if you aren't one of those folks who thinks it tastes like soap. Ha!
I'm also going to say that we enjoyed leftovers EVEN more with a dollop of light sour cream (not greek yogurt), diced tomatoes, and lettuce on top. This reheats really well in the microwave or in the oven which makes it a good one for meal prep!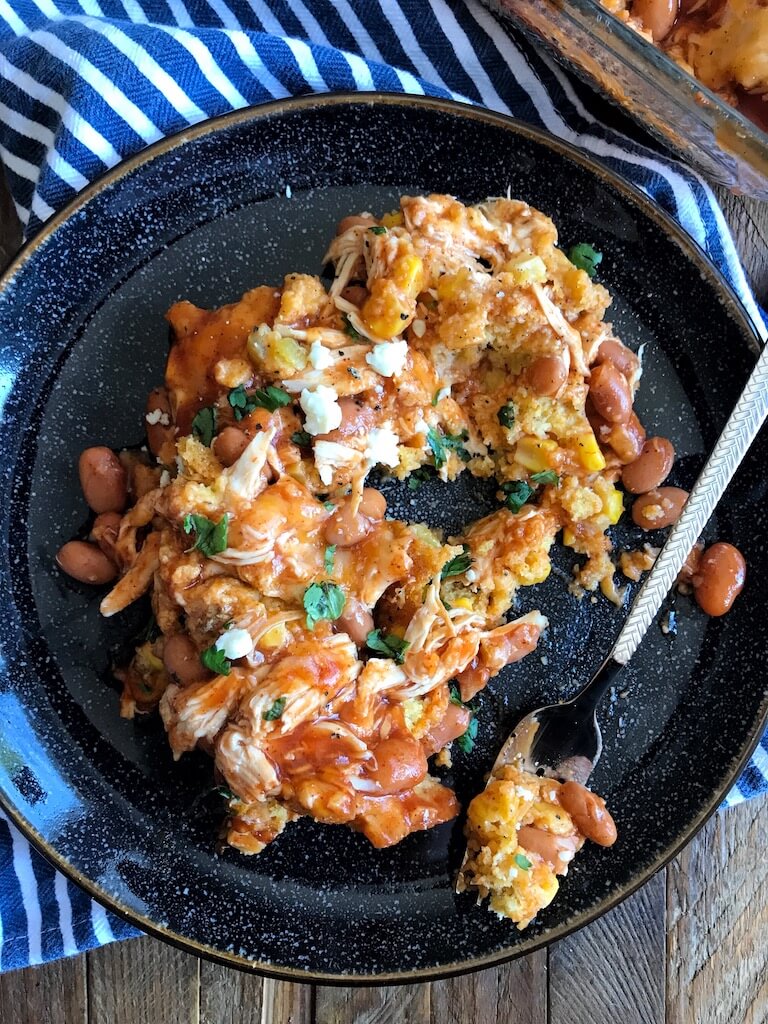 It's not the most photogenic and it's kind of a mess once it goes on a plate, but man it's good eatin' so who even cares!?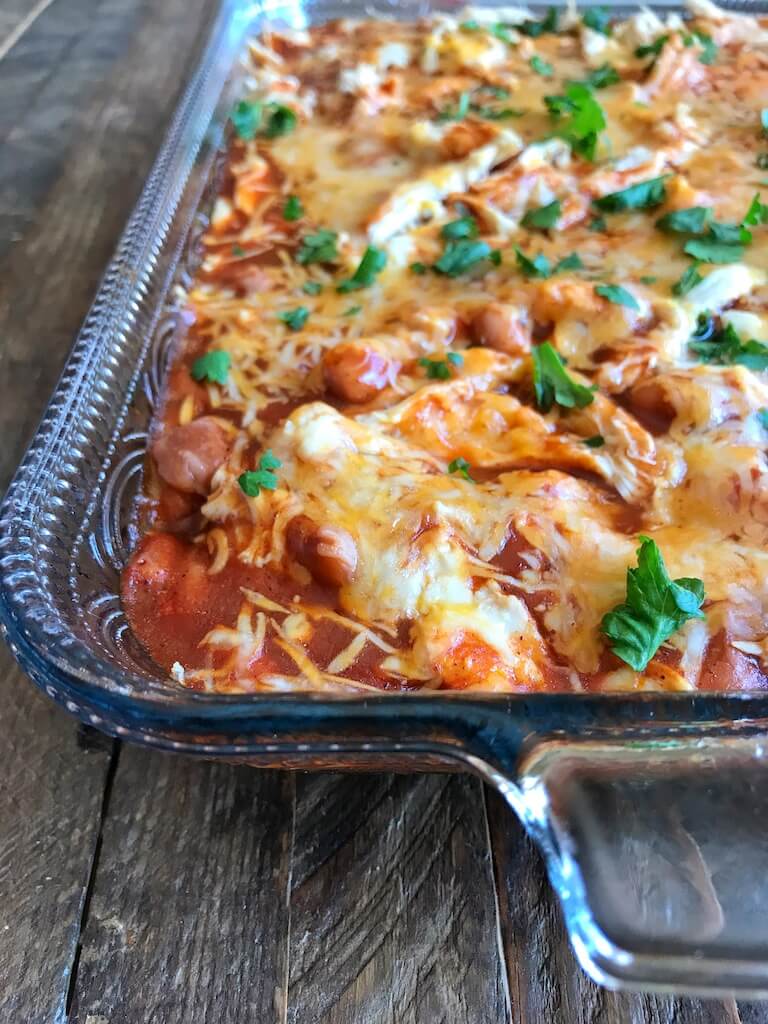 I hope y'all love this Chicken Tamale Bake as much as we did! Be sure to leave me comment and let me know it went or post a photo on Instagram and tag @theskinnyishdish!
With lots'a love from my kitchen to yours,
Star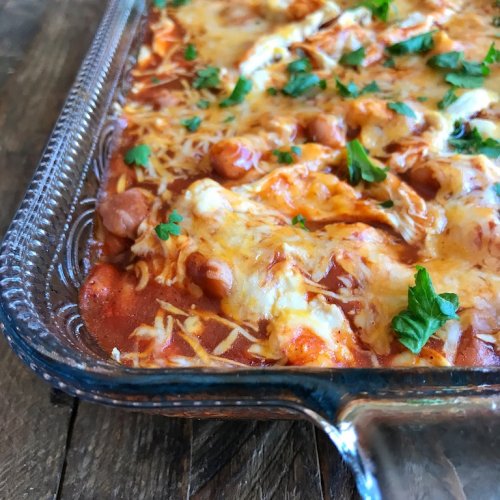 Print
Chicken Tamale Bake
Chicken Tamale Bake is a easy and delicious twist on classic chicken tamales.
Materials
1-

8.5 oz box

Jiffy Cornbread mix

½

cup

skim milk

1

large

egg

1

tbsp

taco seasoning

1-

4 ounce can

green chiles

1-

15.5 ounce can

Pinto Beans

drained, but not rinsed

1-

15 ounce can

corn

drained

1

tsp

garlic powder

1

tsp

onion powder

¼

tsp

kosher salt

2

cups

shredded chicken breast

I used Rotisserie chicken breast

⅛

tsp

cayenne pepper

optional for an extra kick

2-

10 ounce cans

red enchilada sauce

½

cup

shredded Cheddar cheese made with 2% milk

cooking spray
Optional goodies to top it off with
chopped cilantro

light sour cream

pickled Jalapeños

chopped tomatoes

lettuce
Instructions
Preheat oven to 400 degrees.

In a bowl add cornbread mix, milk, egg, taco seasoning, corn, and green chiles. Stir together. Pour mixture into a 9×13 casserole dish that's been sprayed well with cooking spray.

Bake, uncovered, for 25 minutes. While the cornbread mixture is baking. Season the chicken and pinto beans with garlic powder, onion powder, salt, and cayenne pepper (if using).

When the cornbread mixture is done baking poke a bunch of holes into it and pour one can of the enchiladas sauce on top then add the chicken and beans on top followed by the second can of enchilada sauce and cheese.

Place bake into the oven, uncovered, for about 12-15 minutes. Slice into 6 servings and top each serving with whatever toppings you desire. Enjoy!
Notes
Serving size 1/6 of pan
355 Calories, 8.5g fat, 4g saturated fat, 46g carbohydrates, 4g fiber, 11g sugar, 0g added sugar, 22.5g protein.
WeightWatchers Points: 9 Points
Please note if you are calculating the WW points you will need to use the recipe builder in the app or on their website. If you calculate the nutritional information then it will not add up the same because the nutritional information includes all ingredients including those that WW says are zero points.