Southwest Chicken Egg Rolls
This post may contain affiliate links (meaning I earn a small comission if you purchase an item through a link I provide) I only provide shoppable links to items I love and are helpful. As an Amazon Associate, I earn from qualifying purchases.
Hi y'all! So, lots and lots and lots of cooking has happened this past week which makes everyone in this house super happy. I think these Southwest Chicken Egg Rolls are our absolute favorite. We've basically been snowed in so before the big storm hit Eric and I packed Pepper up and we loaded up on a bunch of groceries last weekend so that I could work on some new recipes because I knew I wouldn't have to worry about running any errands of any sort. There's something about cooking up a storm and being snowed in that warms my heart a bit. I decided to step a little bit out of my comfort zone last week and make some Southwest Chicken Egg Rolls!
I have never in my life attempted to make an egg roll, but I have literally wanted to make homemade southwest egg rolls since having them while out to dinner over a year ago! When the new Weight Watchers plan hit and it made chicken, corn, and beans zero points these guys moved from the bottom of my "I wanna make these someday" list straight to the top. In fact, over the last few months I've bought multiple packages of egg roll wrappers with every intention of working on this recipe, but let them expire because I was down right intimidated by the whole dang "egg roll" concept.
To be honest, I'm writing this part of this post after I've already written everything below and this recipe intimidates me a little… and I WROTE IT. So, I think I just need to step up and assure y'all that there's a lot of words written here, one or two extra steps, a main ingredient you may have never worked with before, and it may seem a little out of your wheel house, but I promise you- THESE EGG ROLLS ARE EASIER AND QUICKER THAN THEY LOOK. I put this recipe off for MONTHS because I wasn't sure what I was doing and I perfected the dang recipe on the first try. THIS RARELY HAPPENS, GUYS.
These egg rolls are one million percent bursting with flavor. I love them! They make for the perfect lunch, dinner, or appetizer. Got a girls night planned? book club? movie night with your favorite guy? Make these! (and pair them with some Southwest Chipotle Ranch, Salsa, or Guac!)
These are perfect to make ahead of time and then reheat in the oven or air fryer!
Let's get in the kitchen: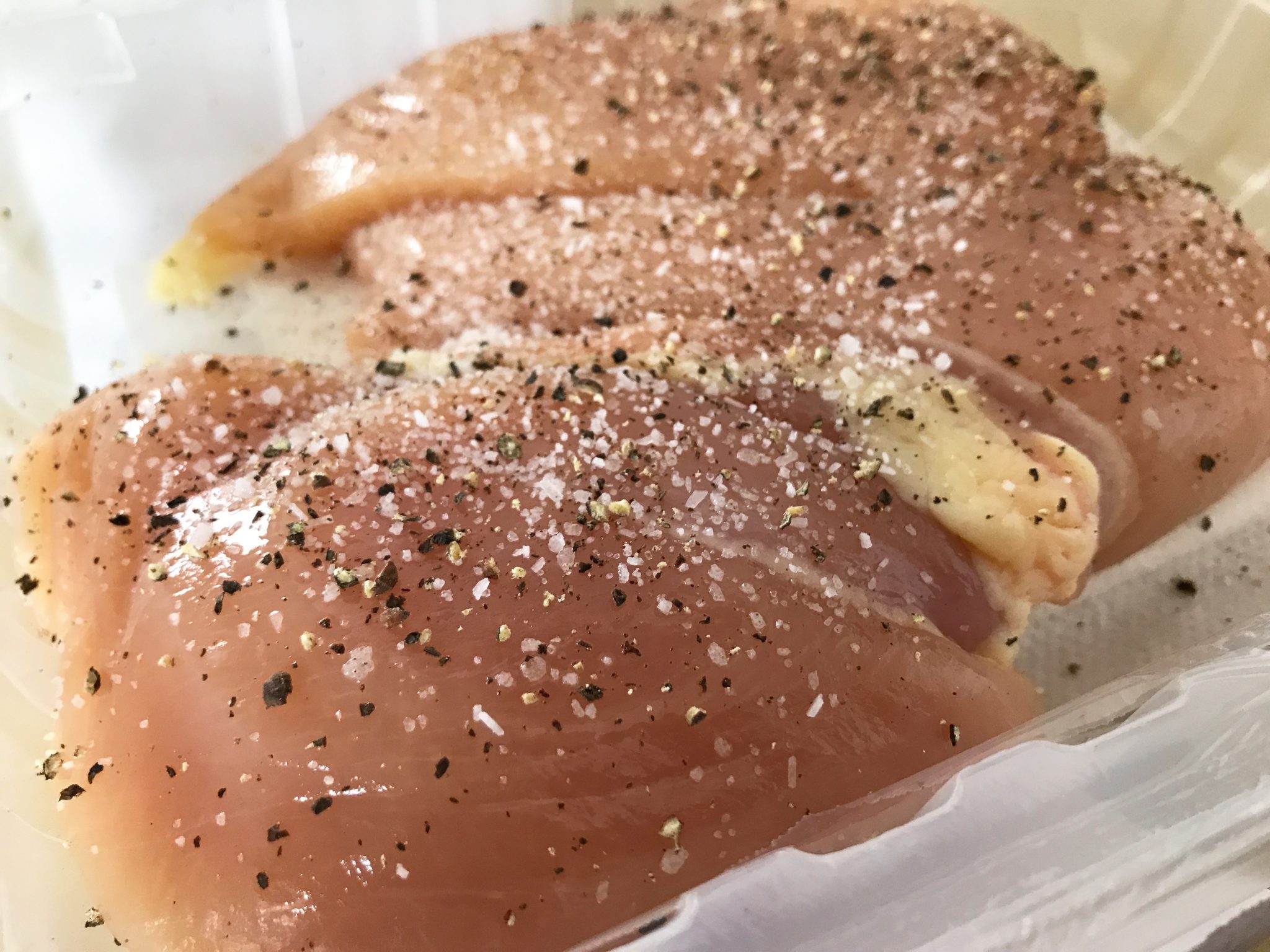 First things first, these first few steps are sort of optional. If you have some leftover shredded chicken, grilled chicken, or wanna make it super easy and grab a rotisserie chicken from the store. That's totally fine! You'll need about 2.5 cups of diced chicken for these delicious little egg rolls.
These are just some quick and easy peasy sauteed chicken breasts that I use for recipes like this. I've got 1 pound of raw chicken here sprinkled with kosher salt and pepper. I really recommend using kosher salt instead of table salt when seasoning meat. It's easy to find in any grocery store and it's not expensive.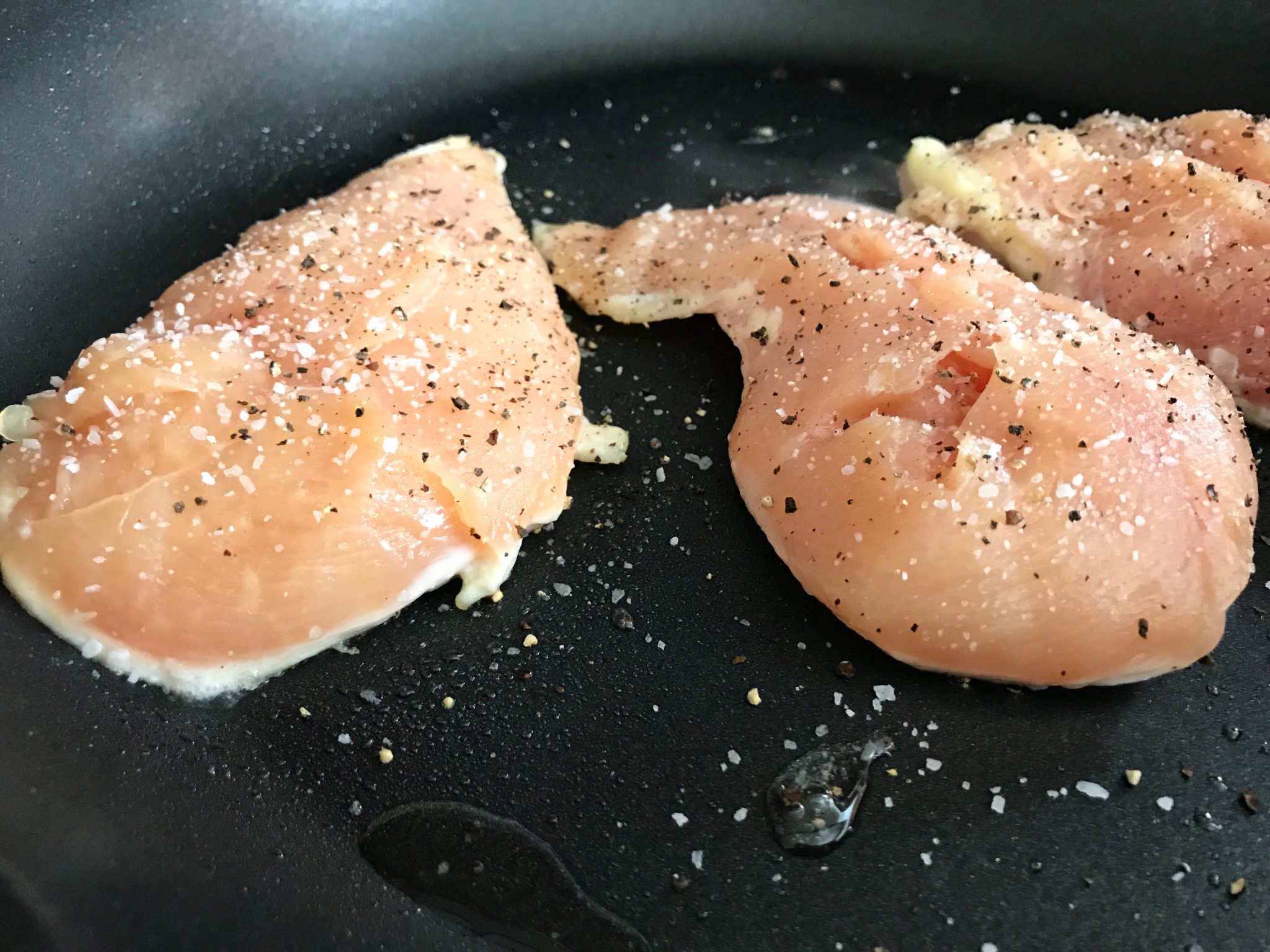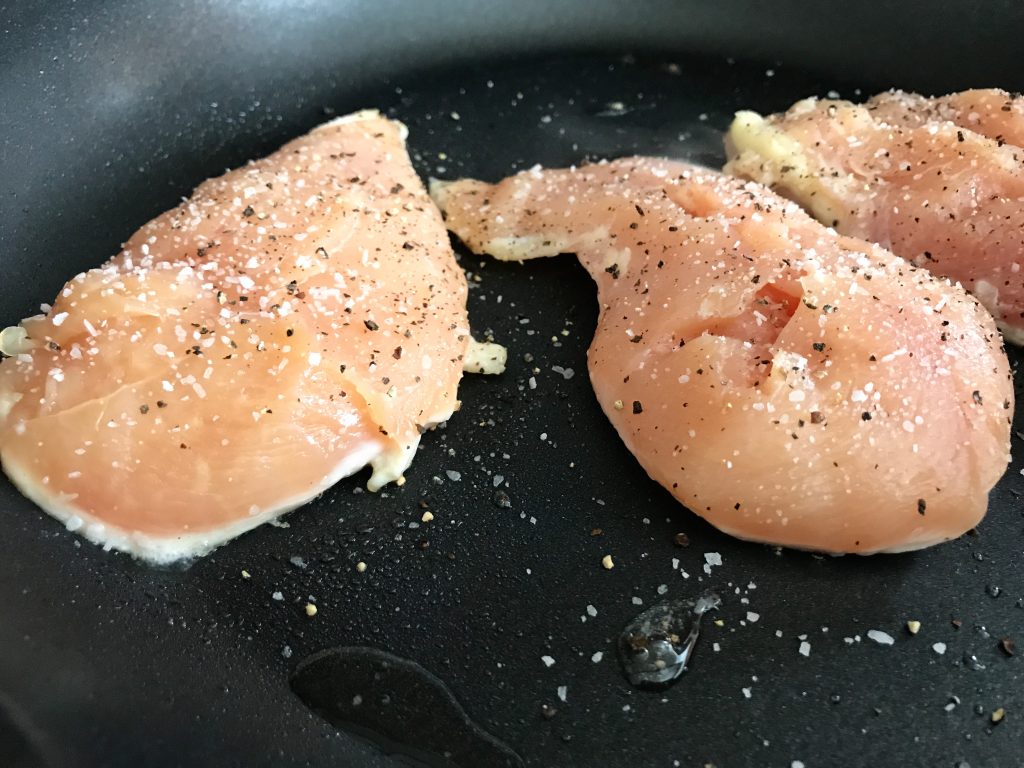 In a hot skillet add one teaspoon oil and gently lay chicken breasts in the pain. Cook over medium heat.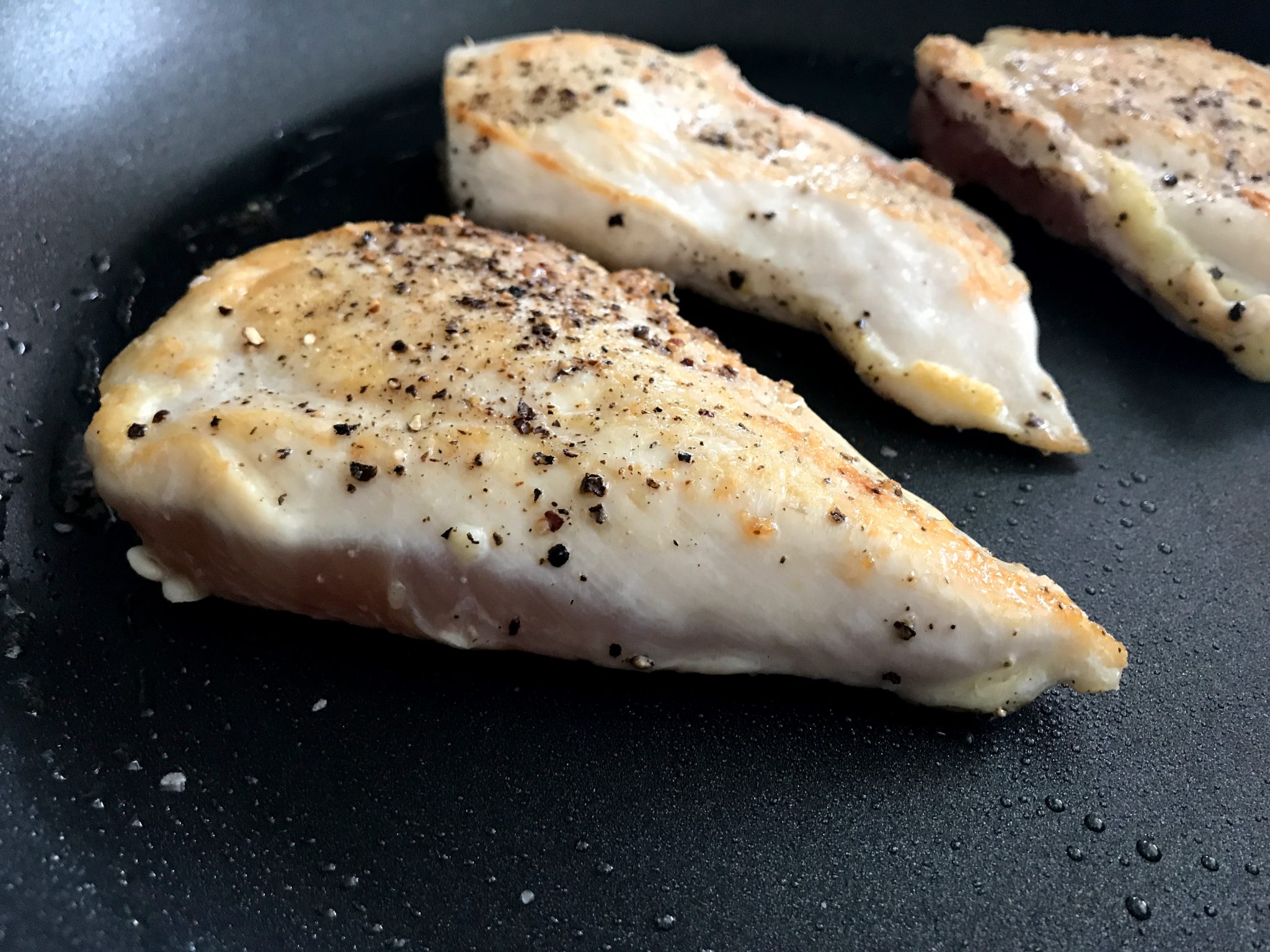 Cooking chicken is not very difficult in my opinion, but it does require a few things so that it's perfectly done and not over cooked and dry as all get out or under cooked and cause for concern. Most recipes will tell ya… Cook chicken breast for 5-8 minutes on each side, but it really depends on the thickness of the chicken… and the heat.. etc. I mean, if you cook a bunch of chicken you get a feel for when it's done, that's true, but I follow a couple steps for perfect chicken every single time. I'll actually do a seperate post sometime all about chicken and stuff, but for now.. Here's a few tips.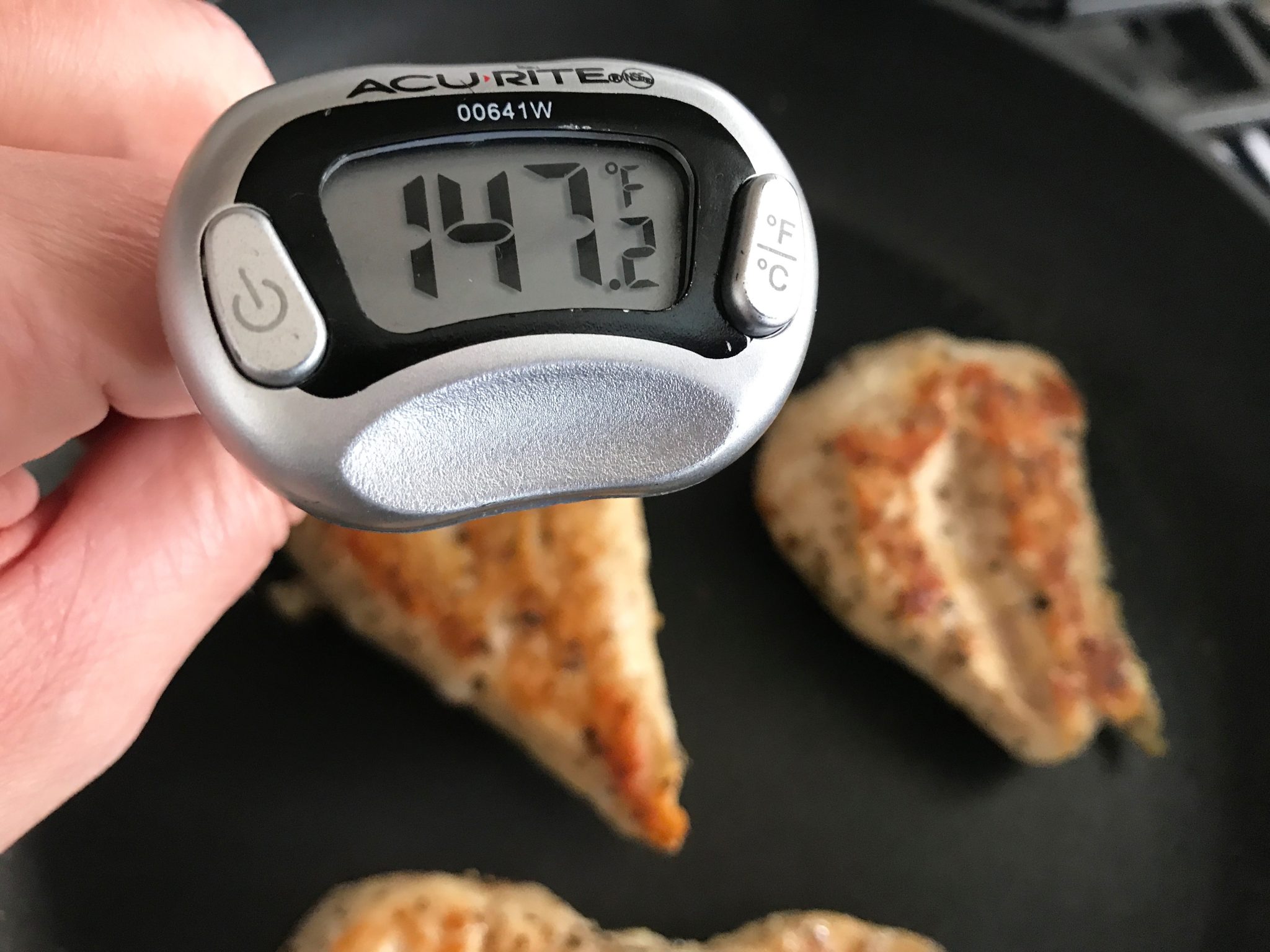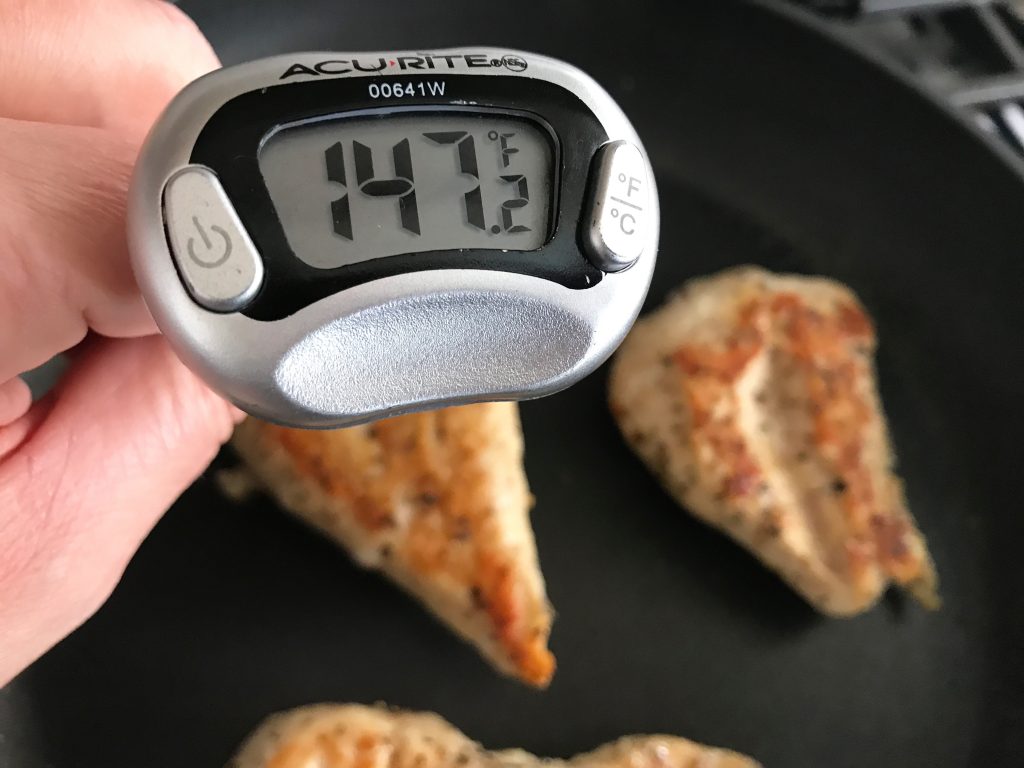 I temp my chicken pretty much every single time I make the full breast. I temp it to about 155 and take it off the heat and lay it on a cutting board or a plate.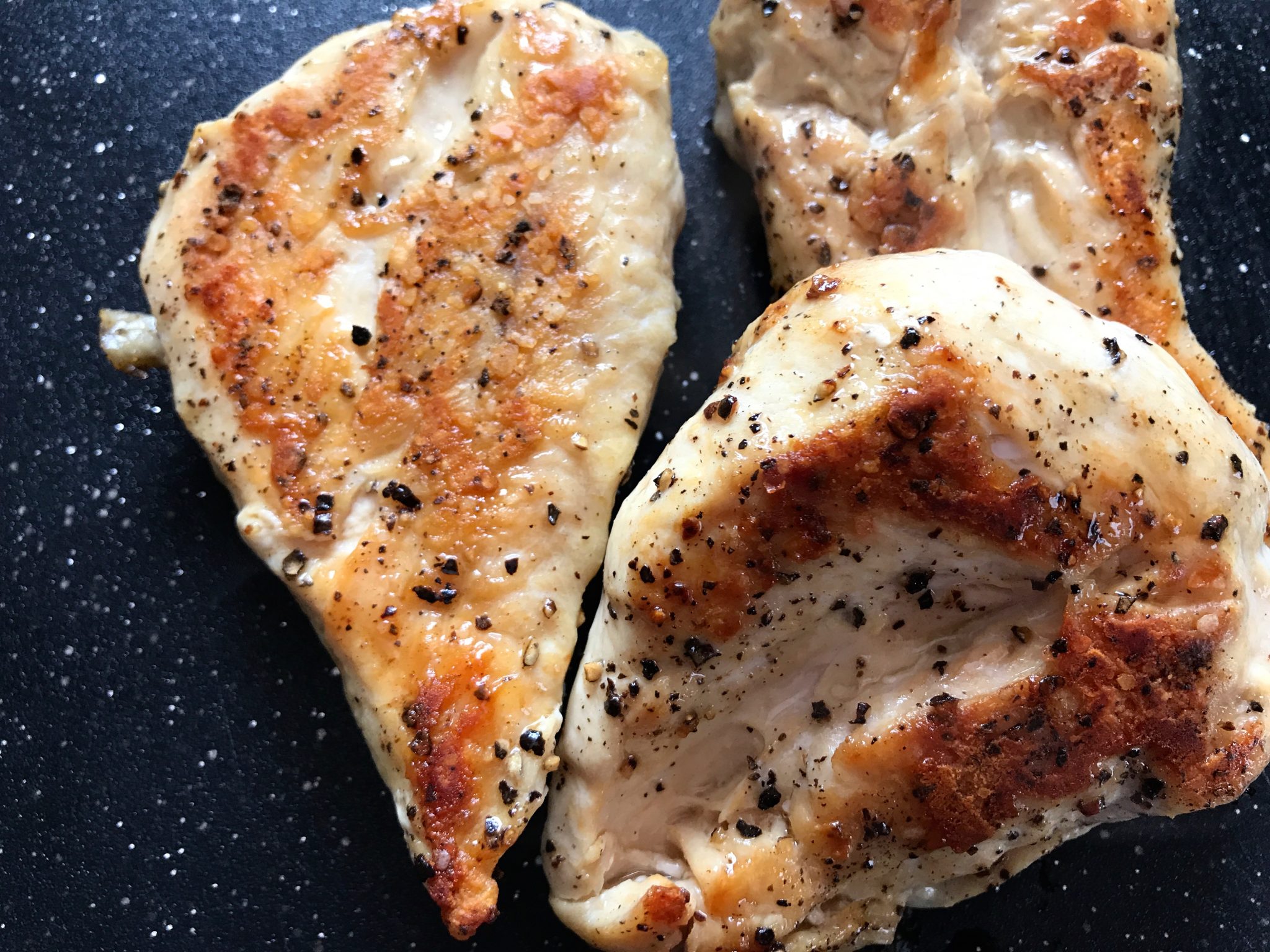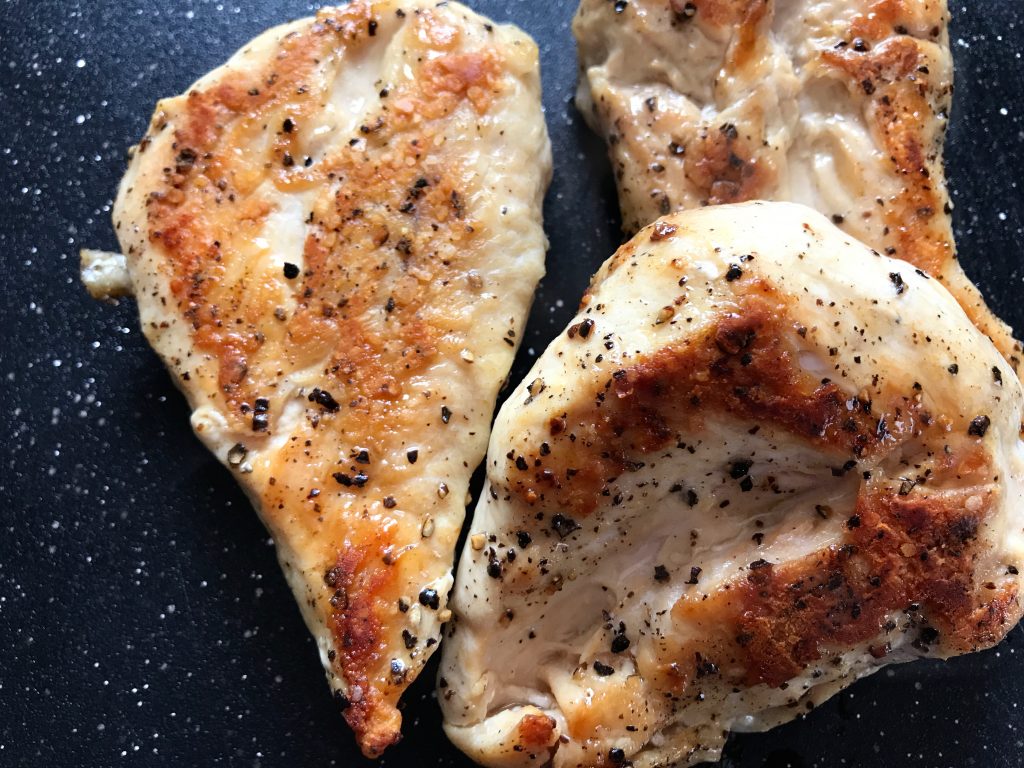 I proceed let it rest for 8-10 minutes before cutting into it. Why? Two reasons. If you let the chicken rest it'll actually continue cooking for a few more minutes bringing it to 165 so it'll be fully cooked without over cooking it. Also, If you cut into the chicken breast before letting it rest all of the juices will run out and that's what makes the chicken moist and delicious.
I don't know if this is the best method or if it's considered the correct method, but it's what I have done for years now to ensure the best chicken. So, let your chicken rest and go about your business prepping other things.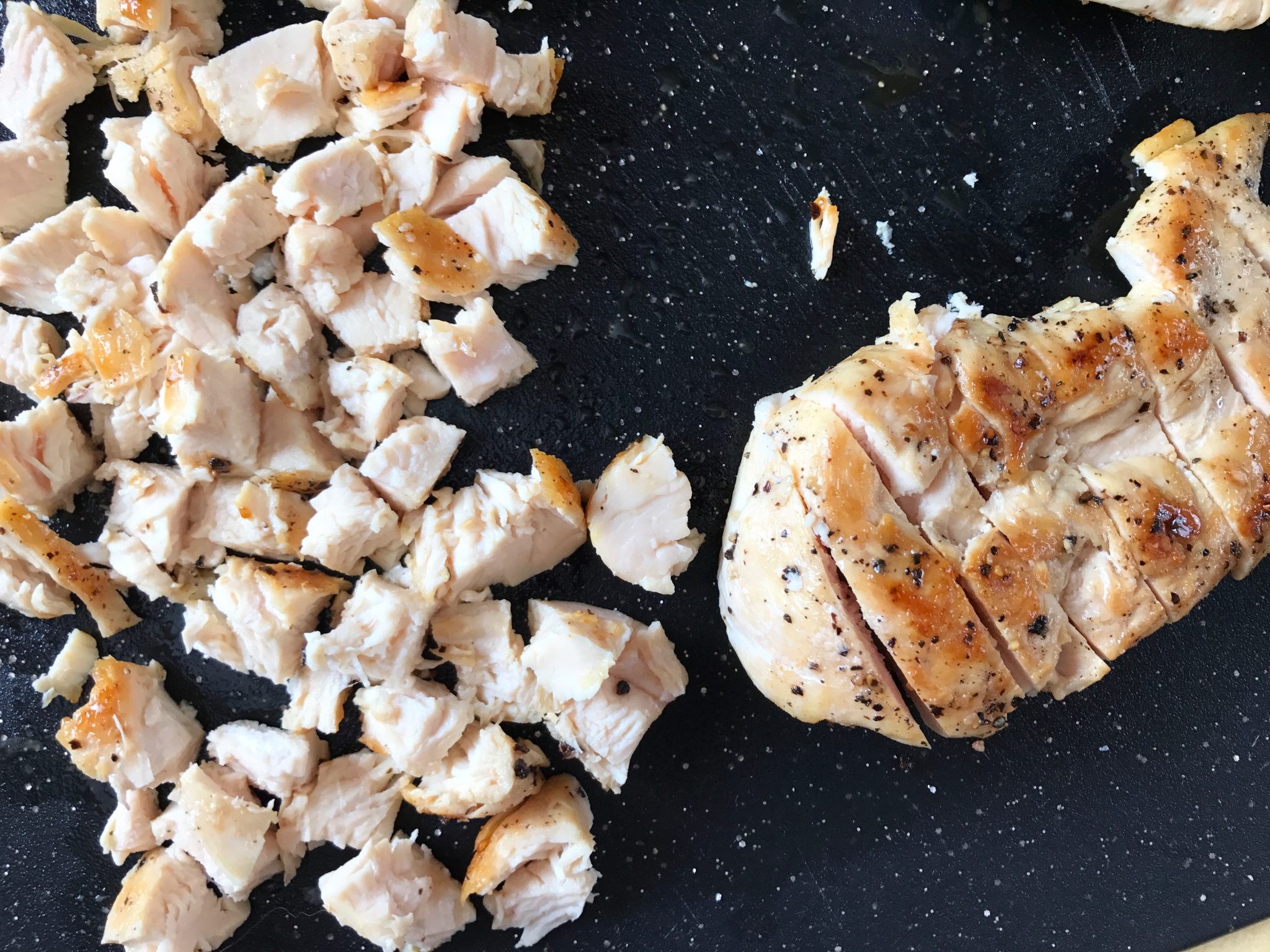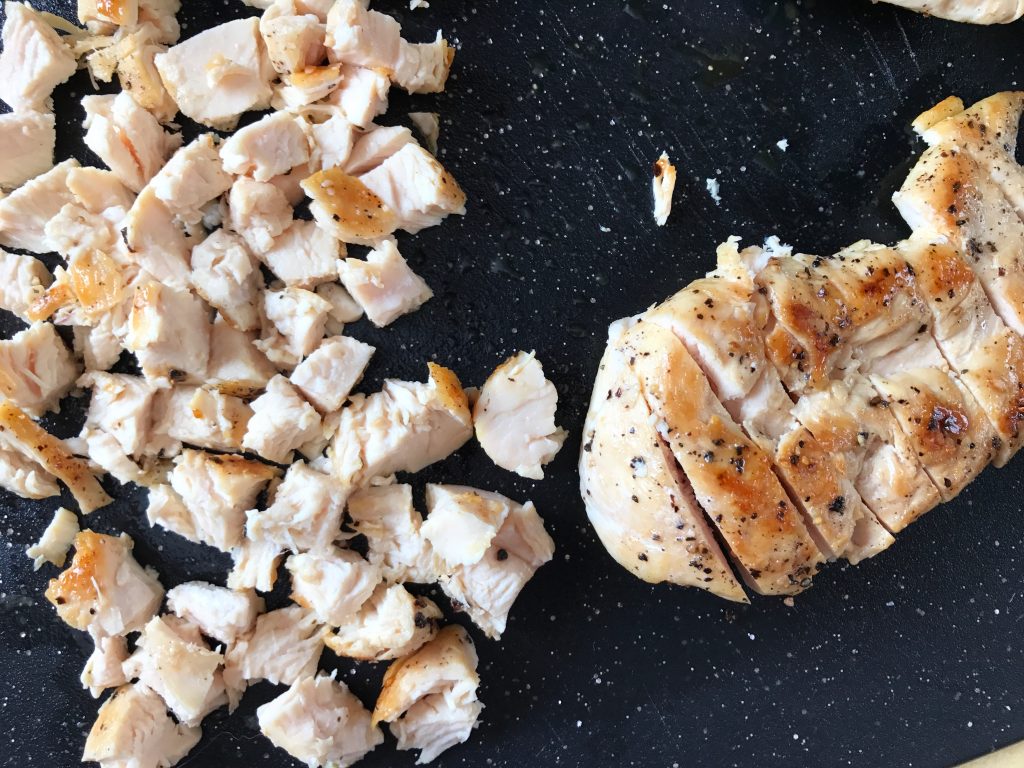 For this recipe, you'll just need to let that chicken rest for a few then dice it up into smaller peices real quick.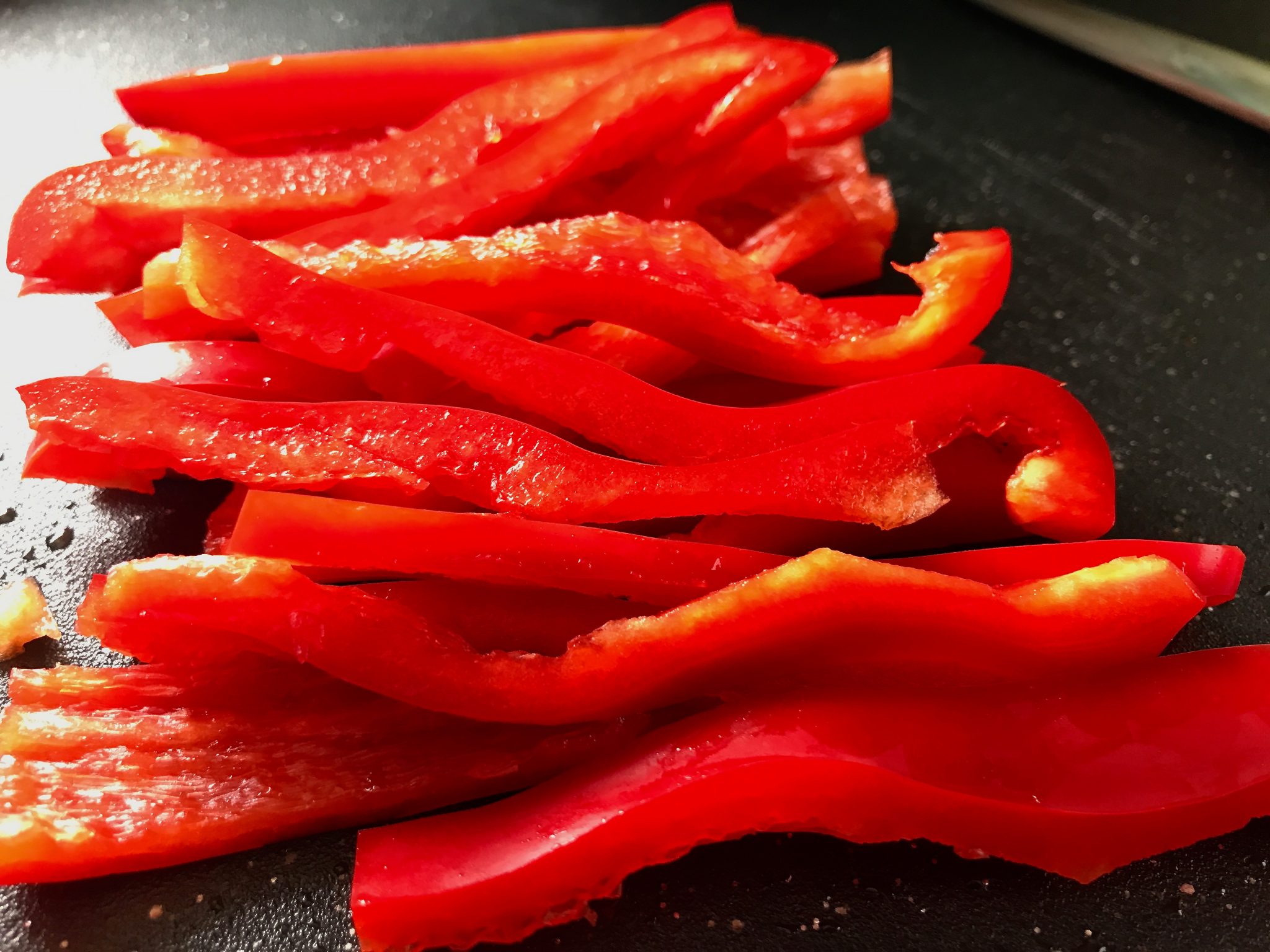 Now, grab a red bell pepper and slice it into thin strips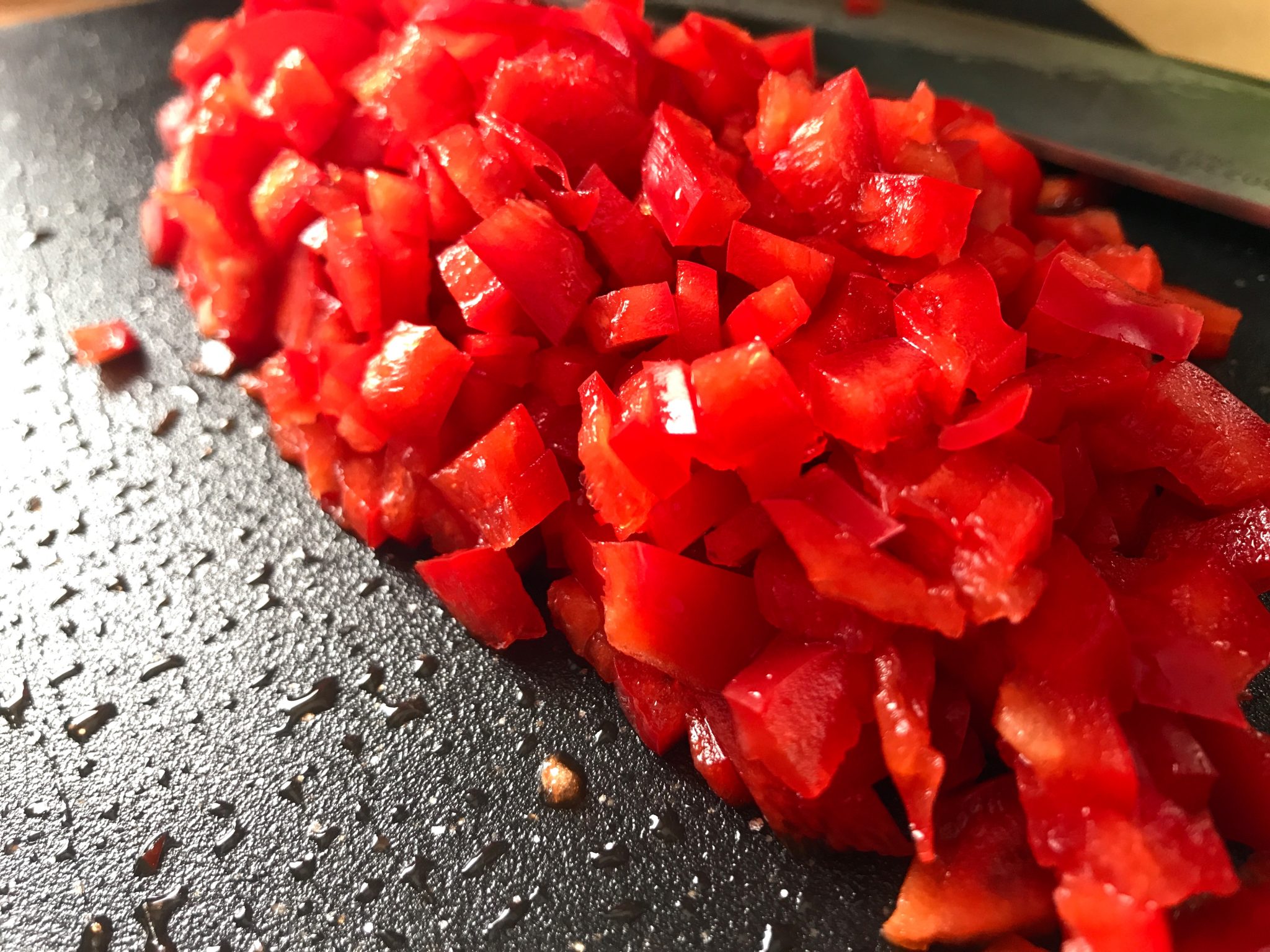 dice it up pretty small.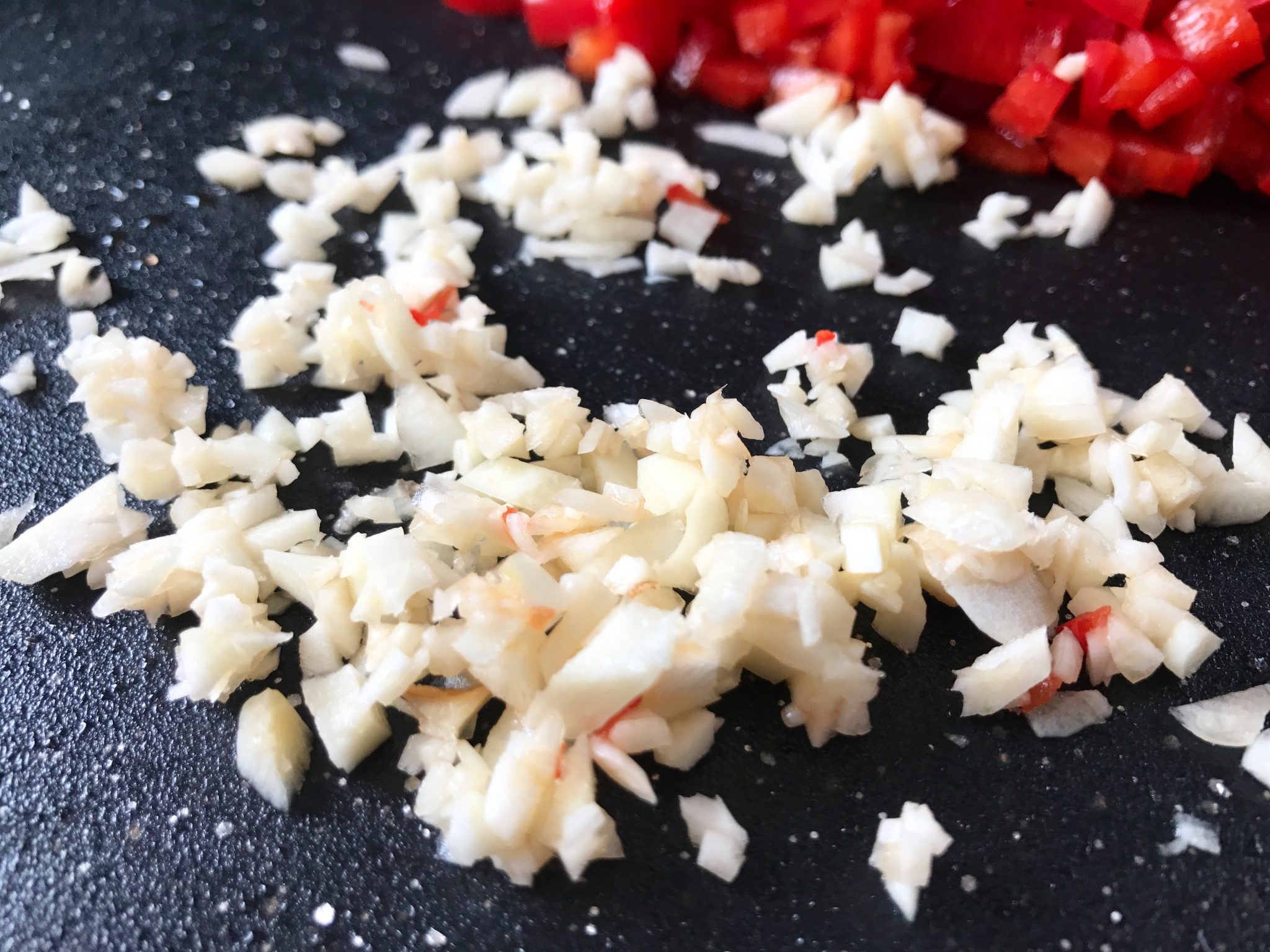 Now, mince up a few cloves of garlic.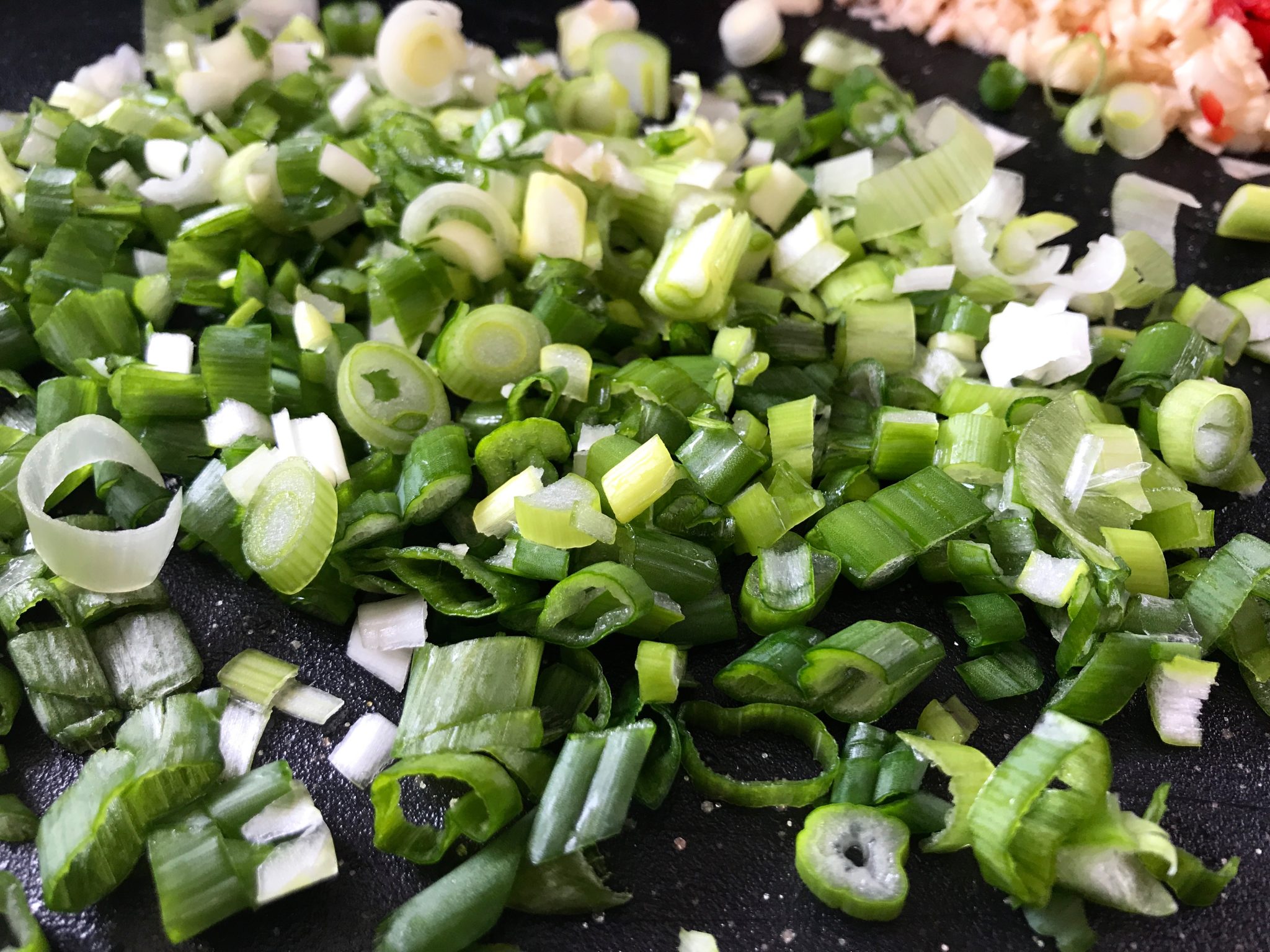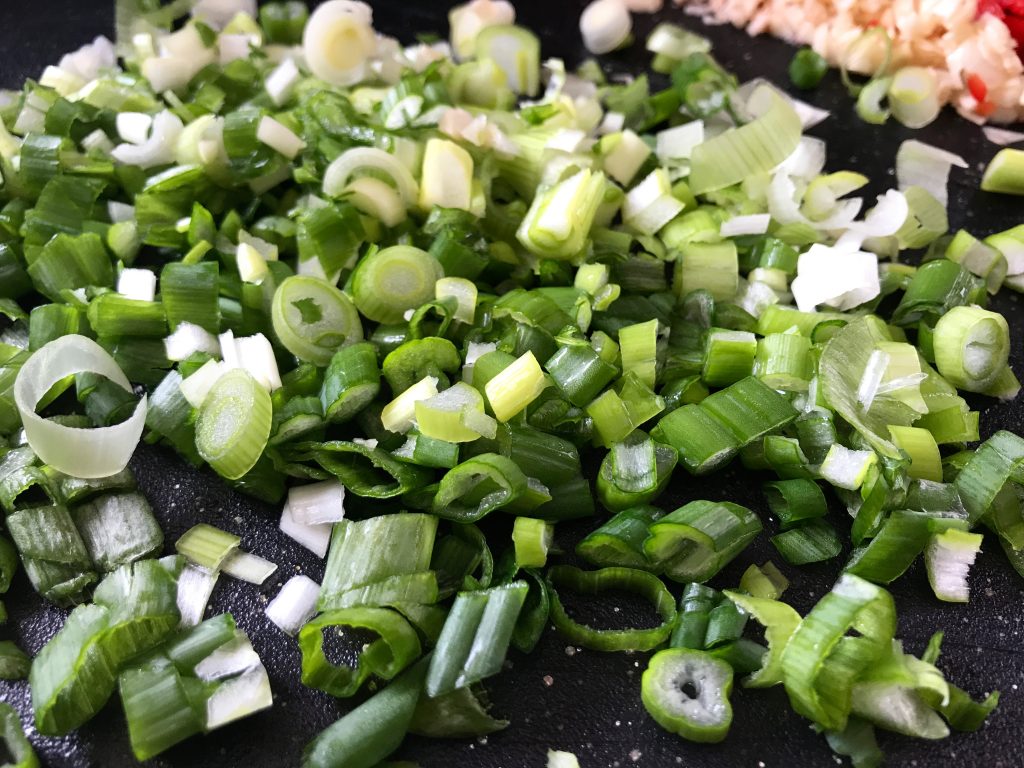 dice up a few stalks of green onions.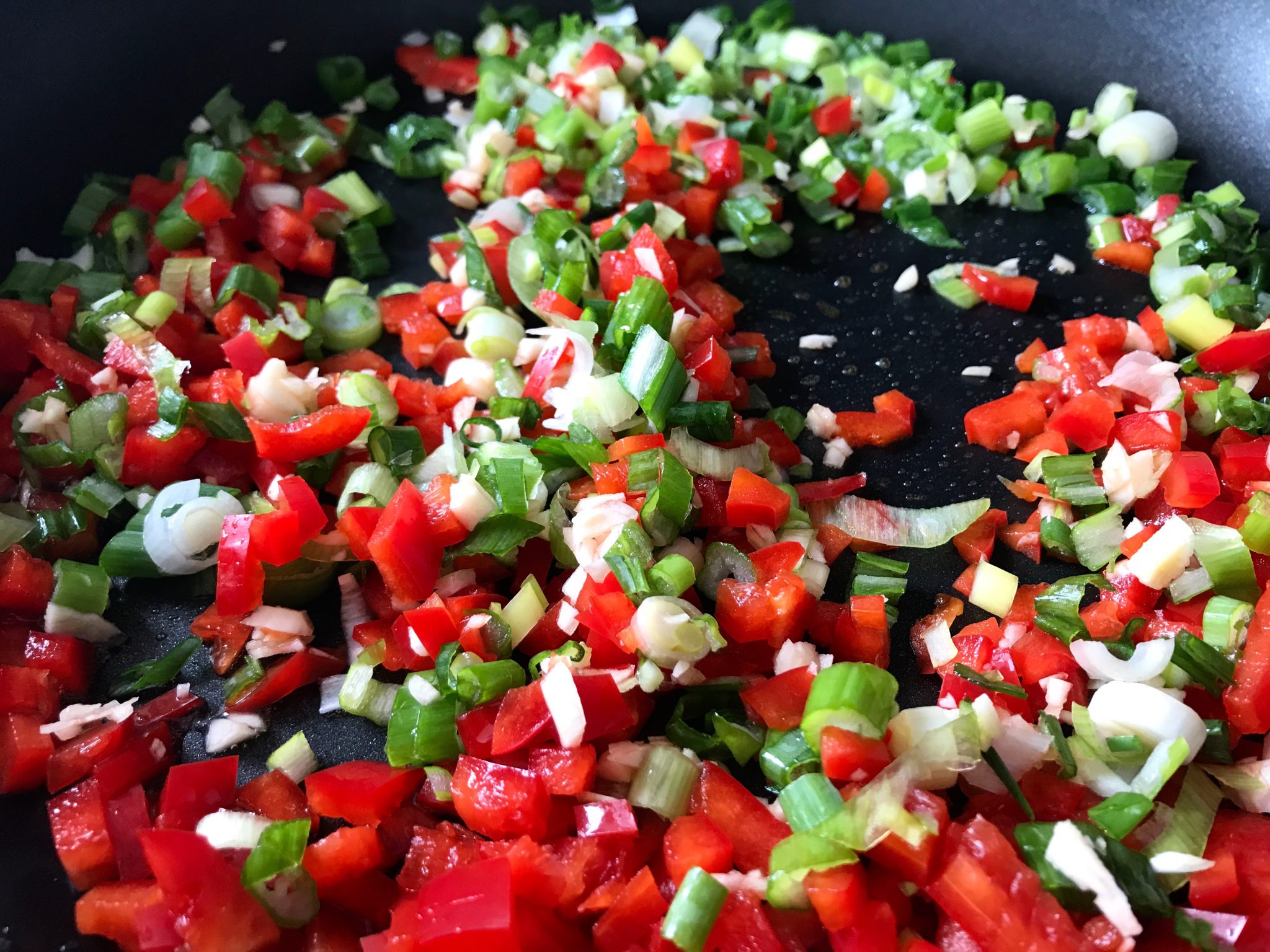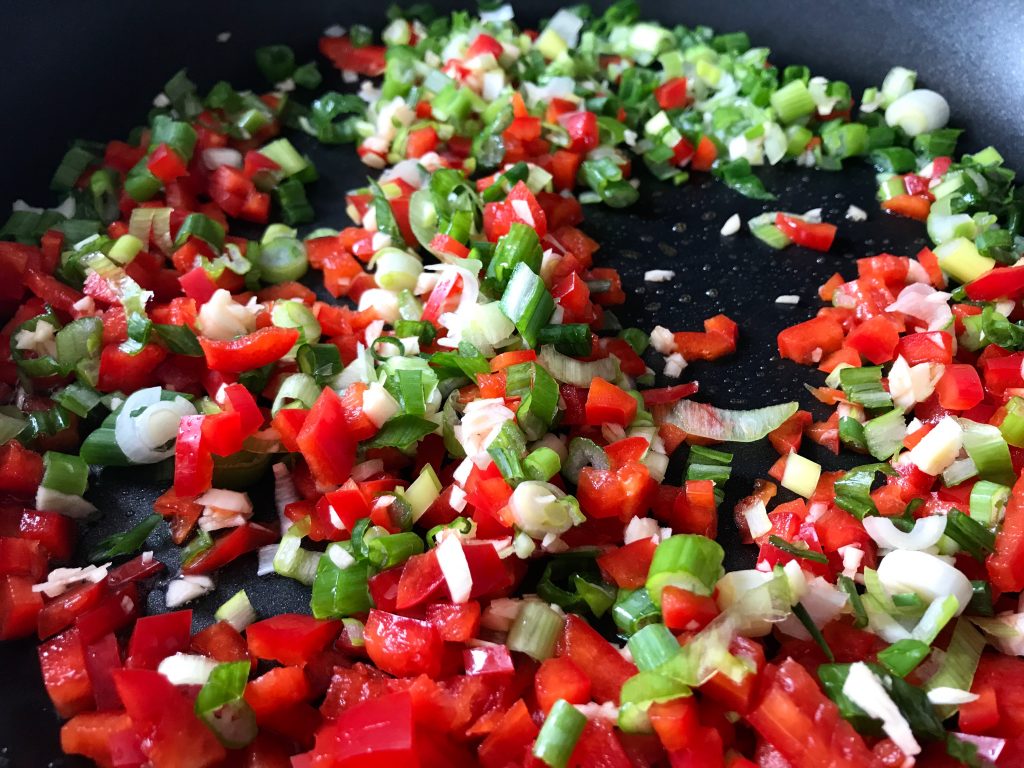 Add the red peppers, green onions, and garlic into a hot skillet with one teaspoon of oil. Cook until tender.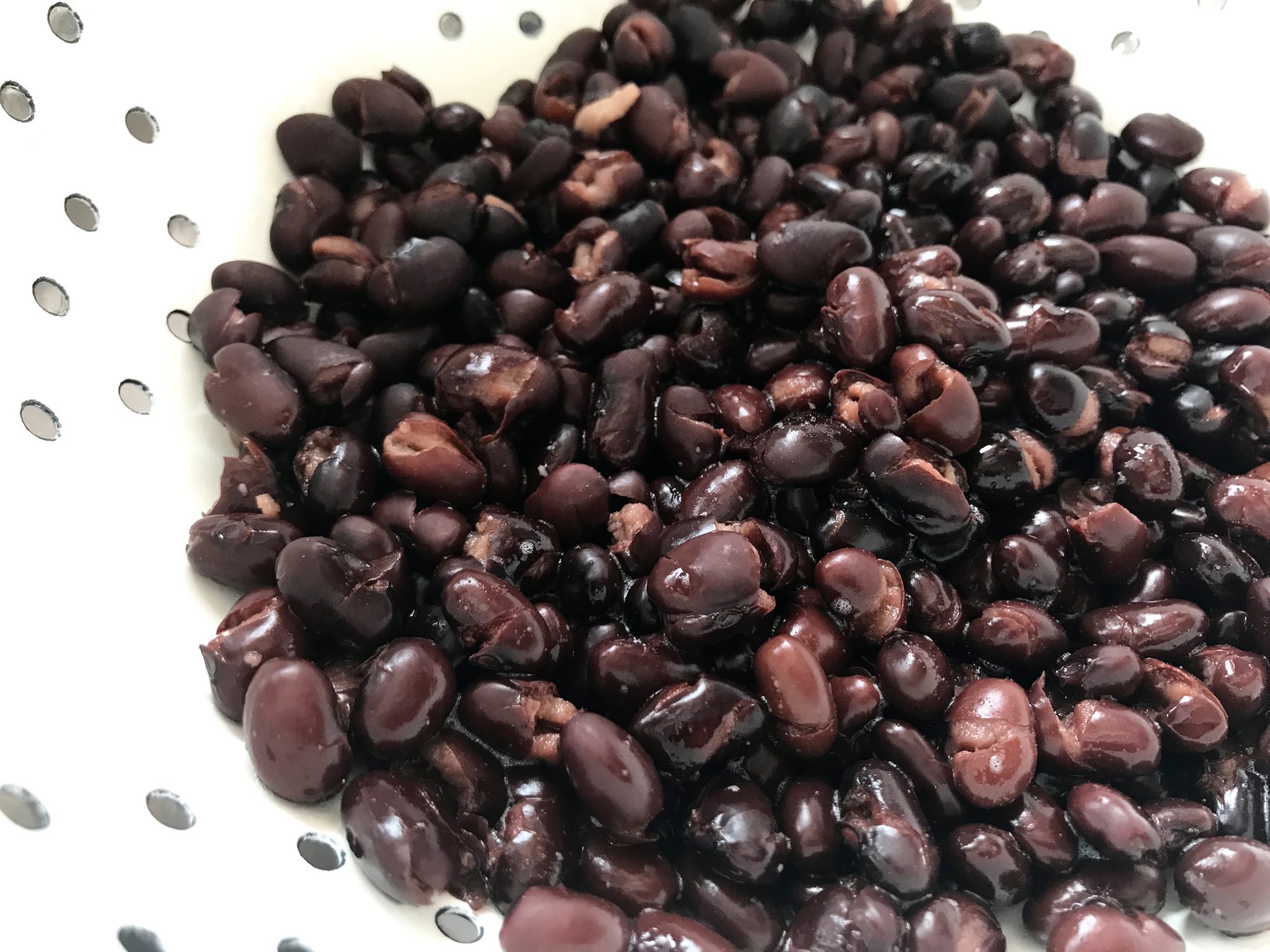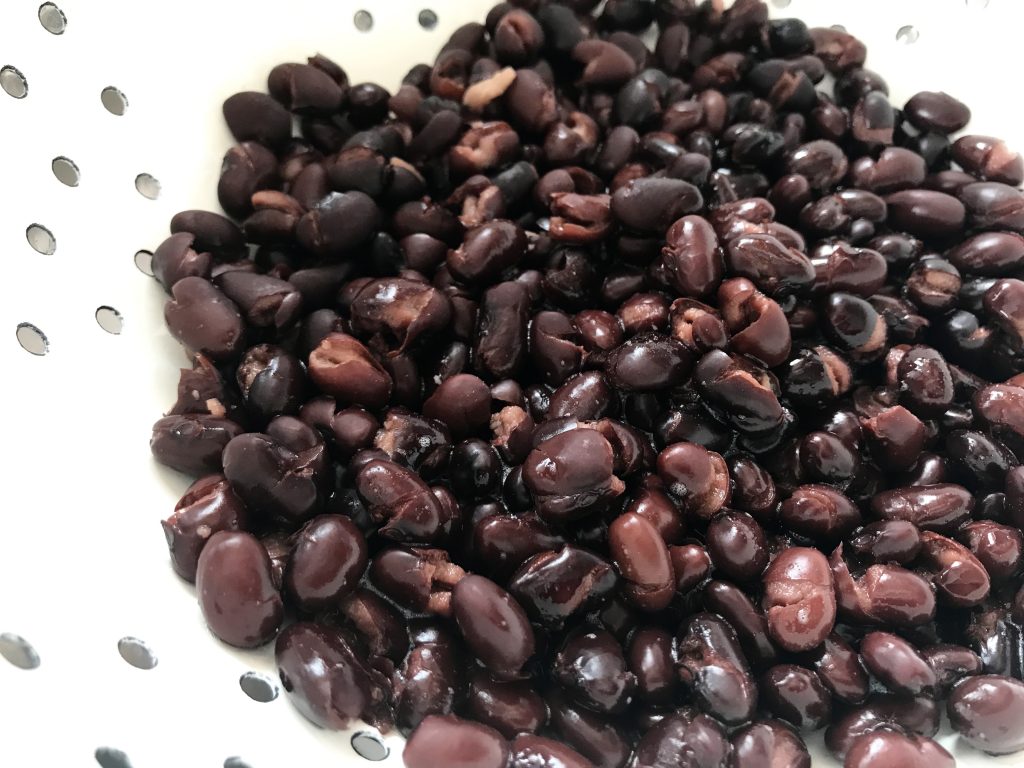 While the veggies are cooking grab a can of black beans. Rinse and drain'm well.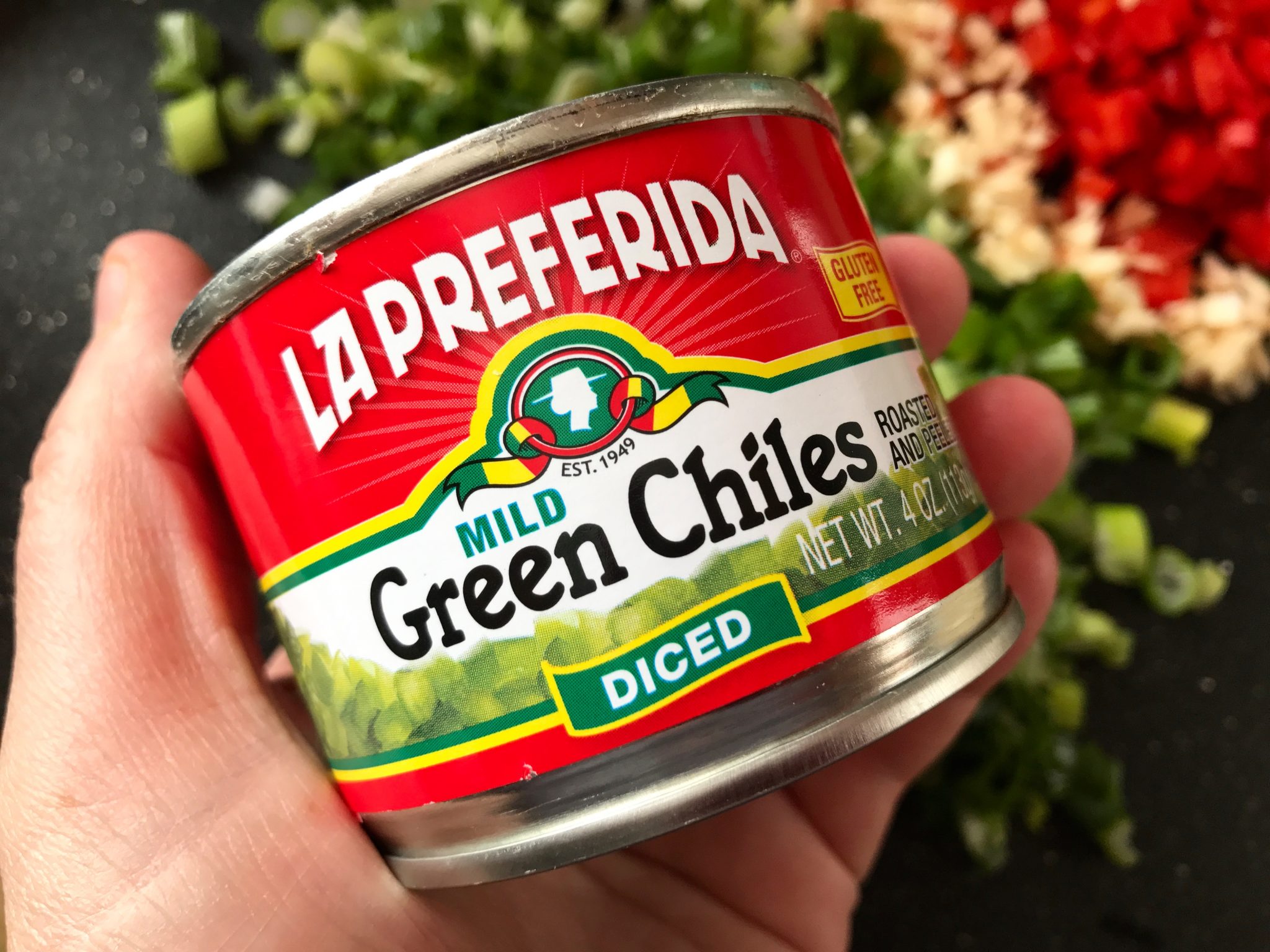 Grab a can of green chiles and open it.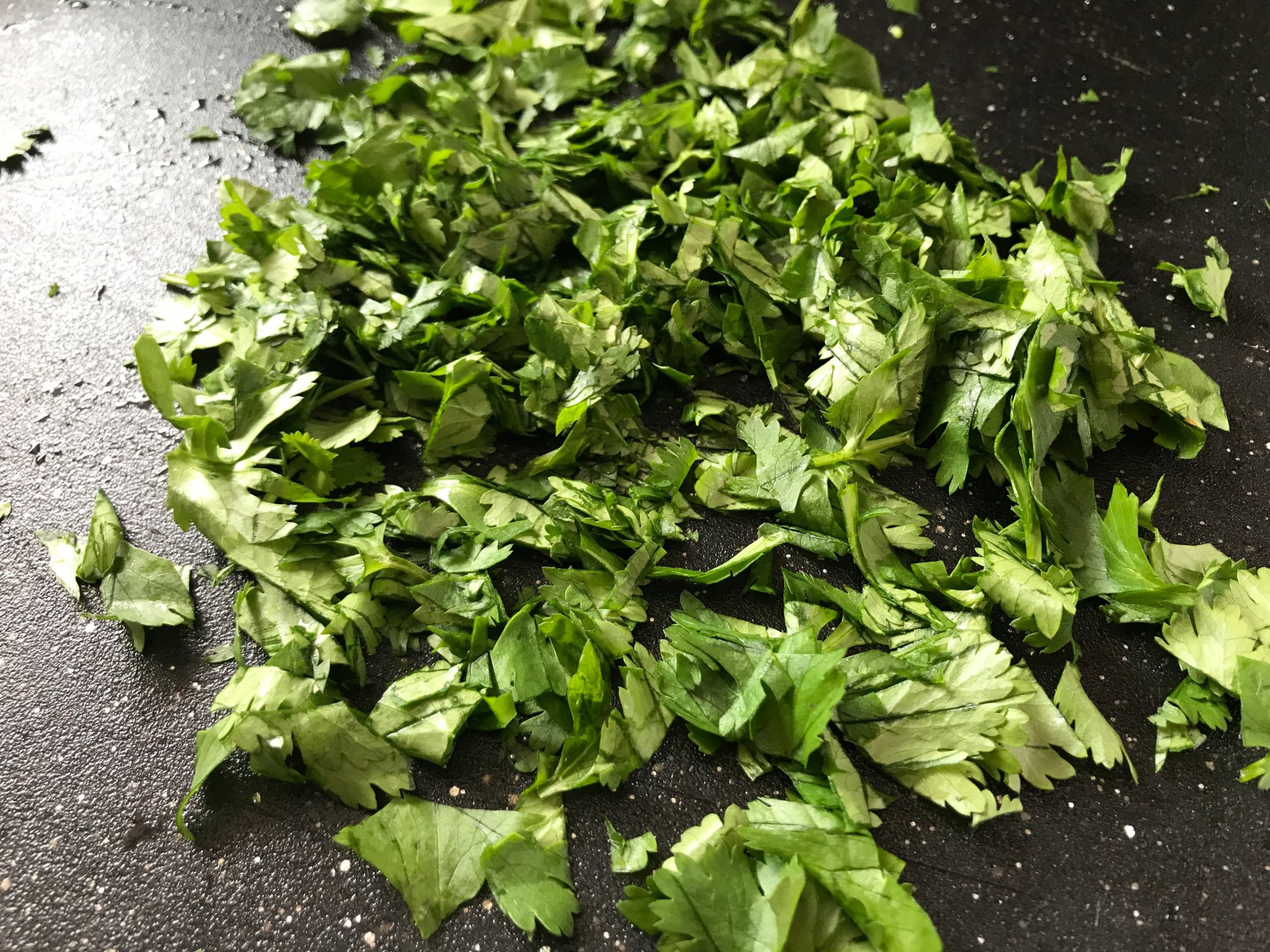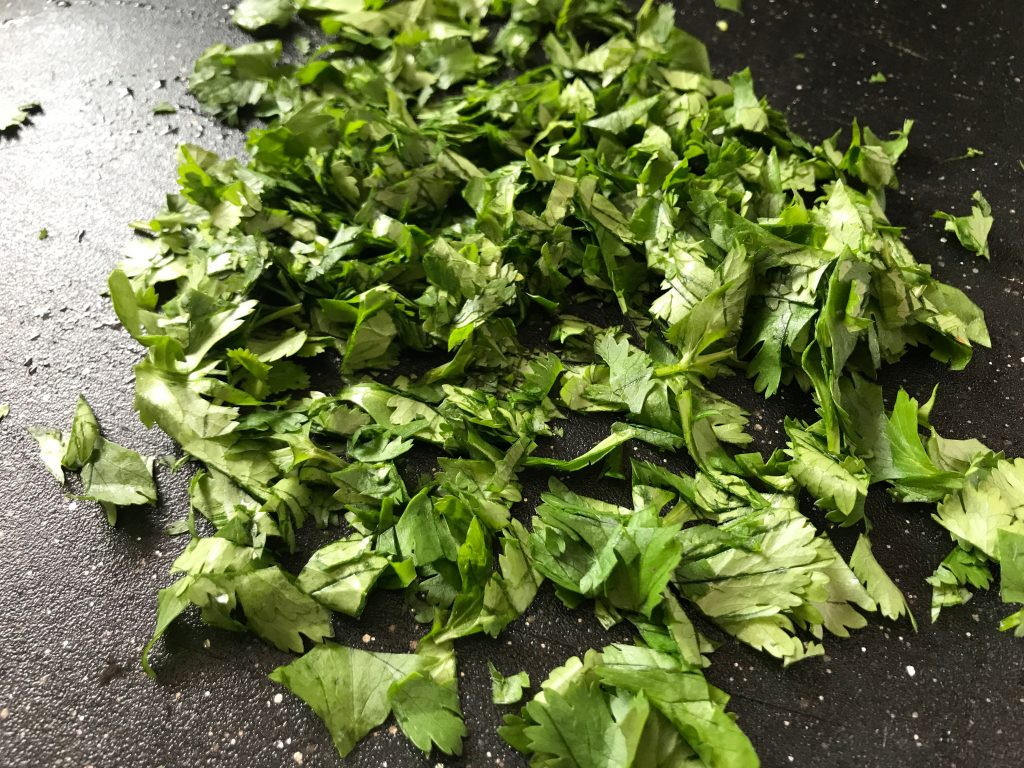 Grab some cilantro and finely chop it up. You'll need bout 1/4 cup worth. If you happen to not like cilantro then don't use it. No pressure!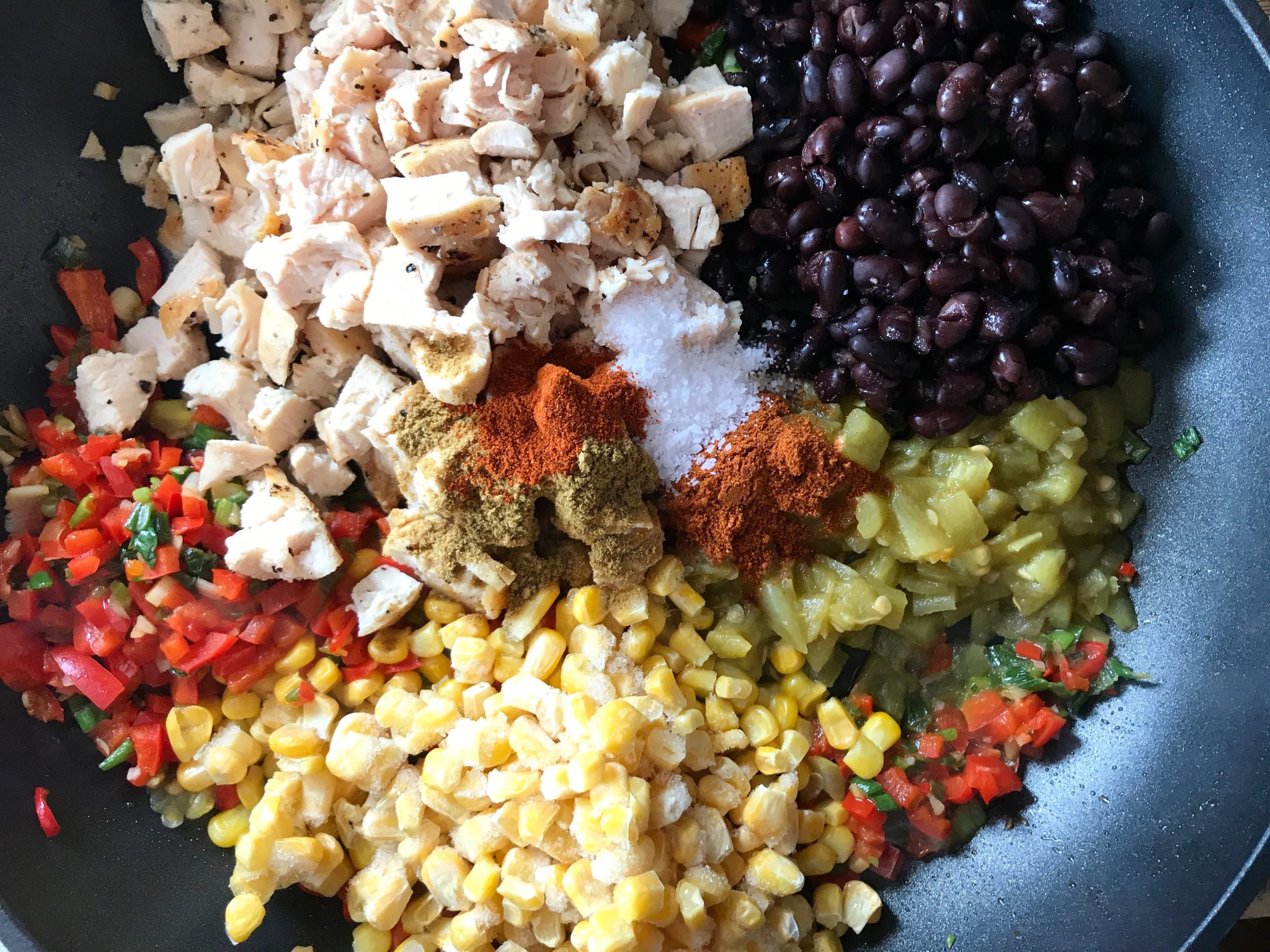 Now add ALL the goodies to the skillet and cook over medium heat until warm. In no particular order you'll throw in: diced green chiles, 1 cup drained black beans, cooked and diced chicken, 1.5 cups corn, 2 teaspoons cumin, 1.5 teaspoons chili powder, 1/8 teaspoon cayenne pepper, and 1 teaspoon kosher salt.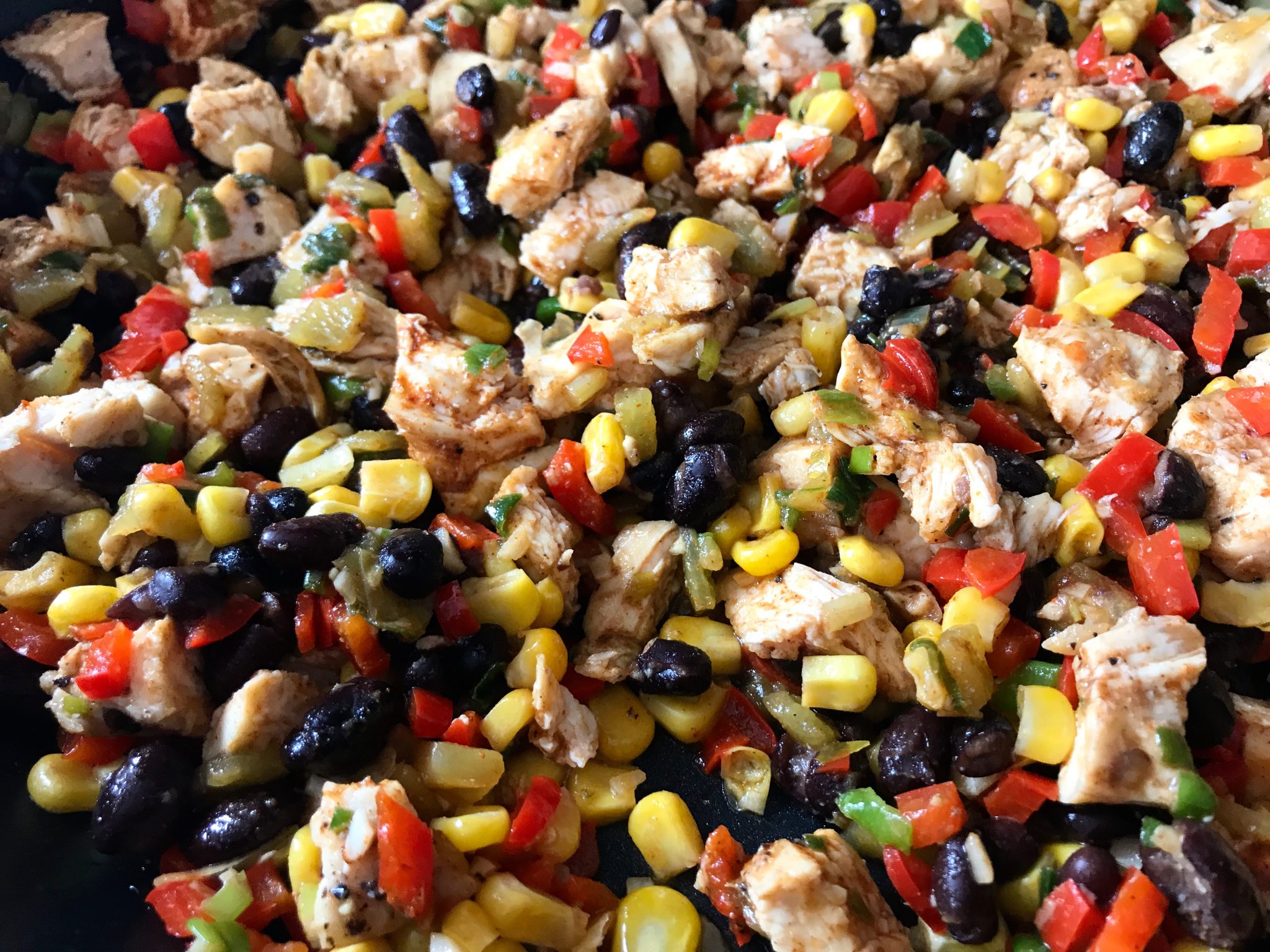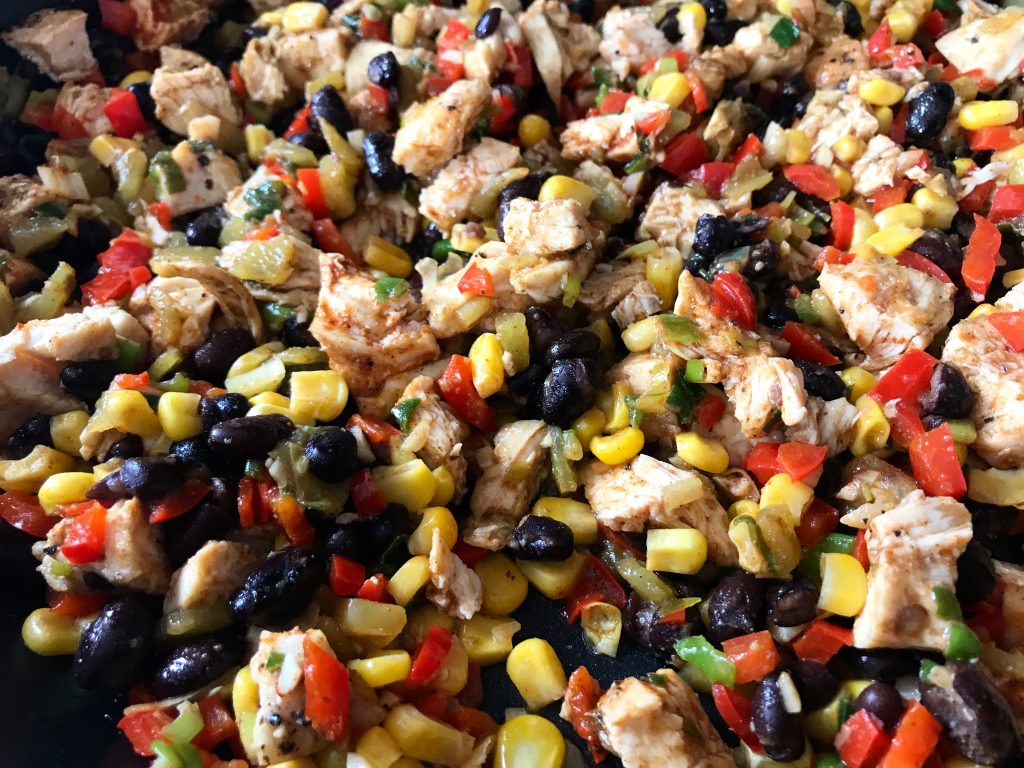 Stir it all up and continue to cook for just a couple minutes.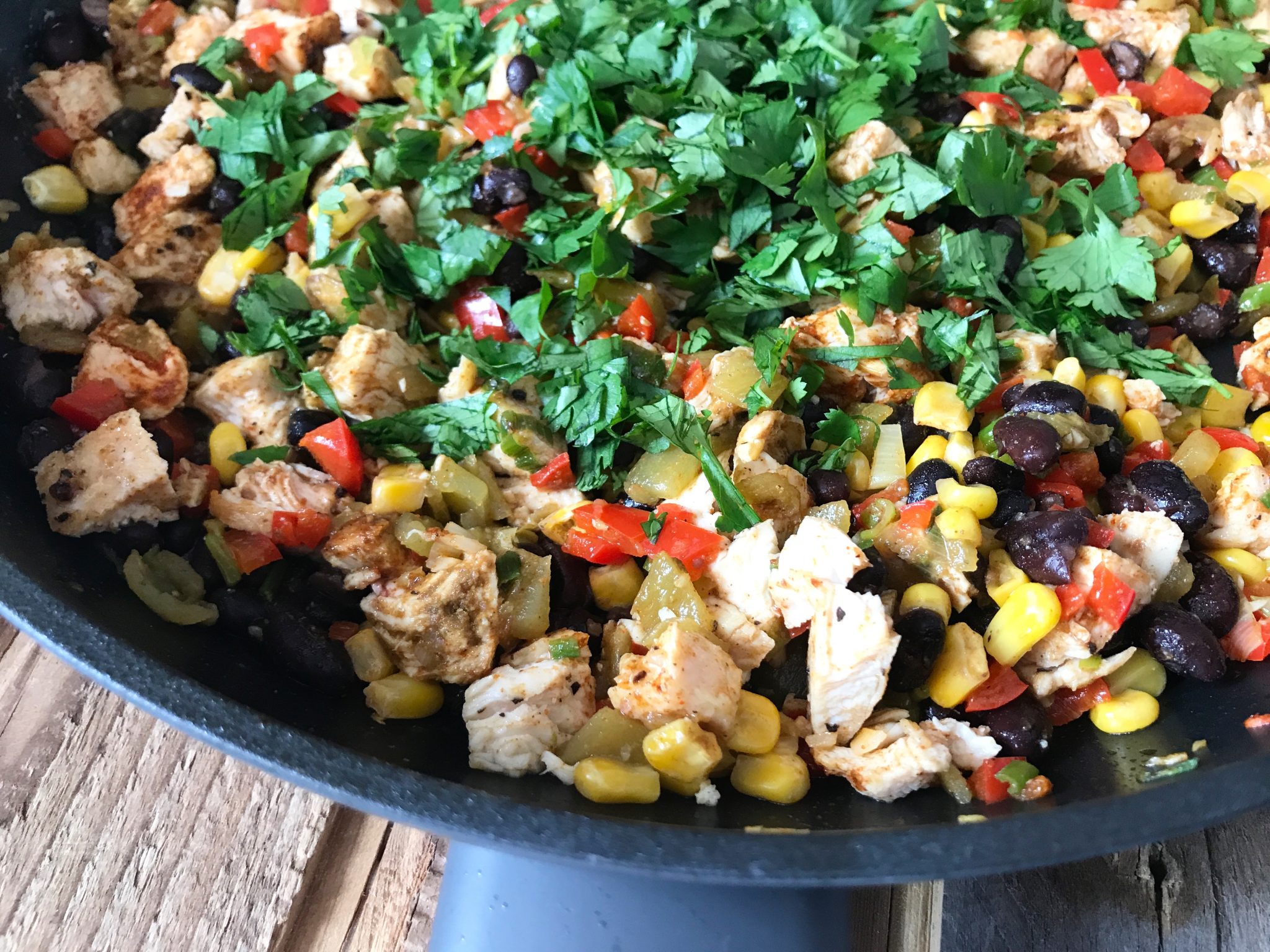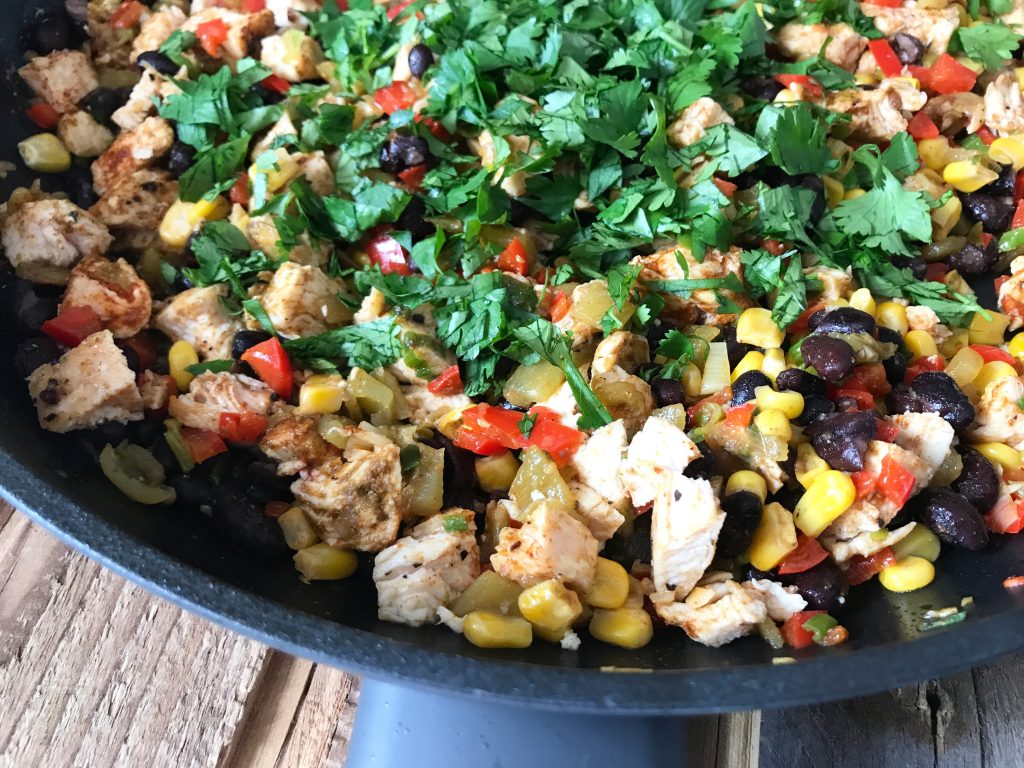 Stir in the cilantro. (cilantro haters need not do this)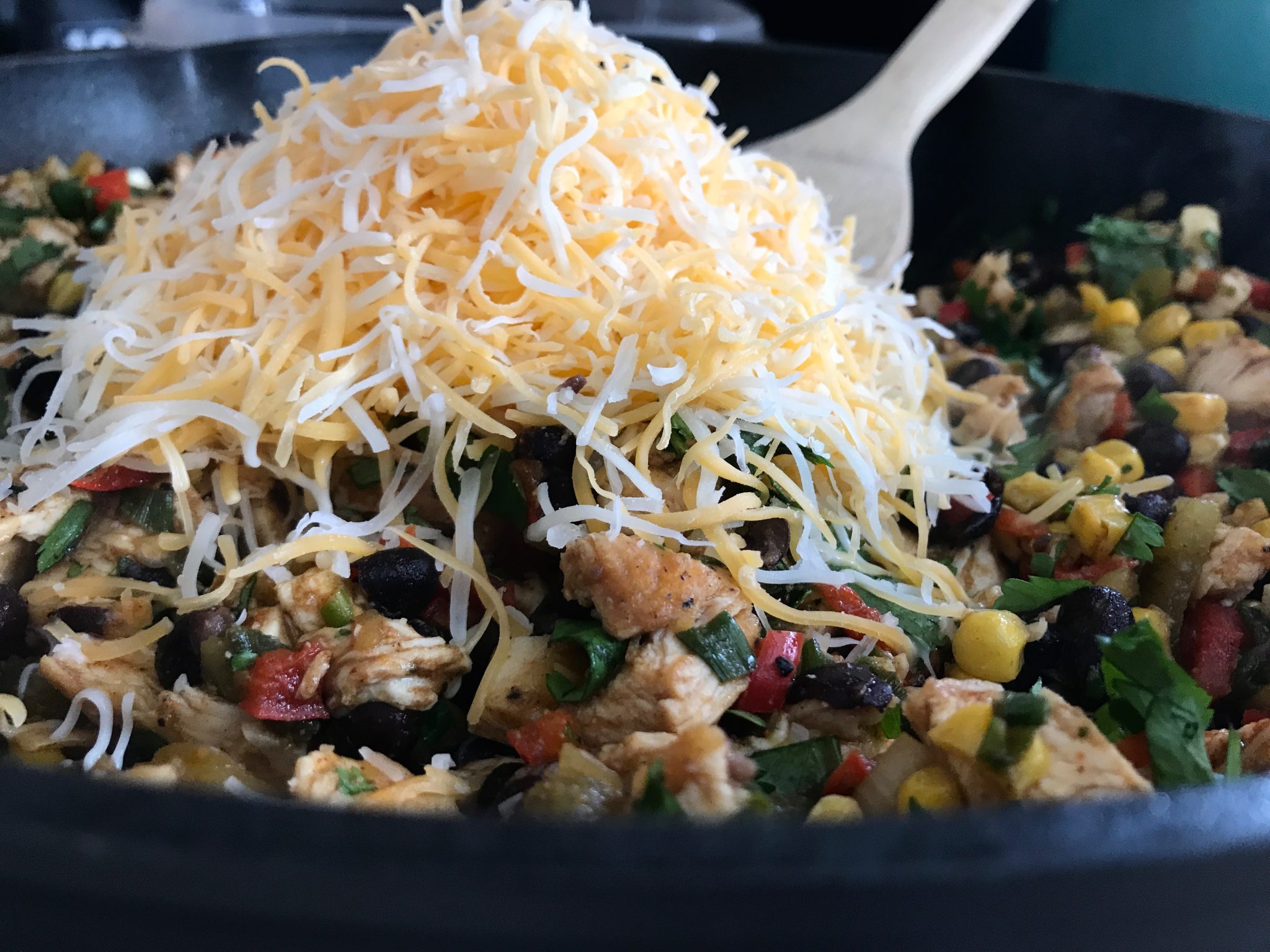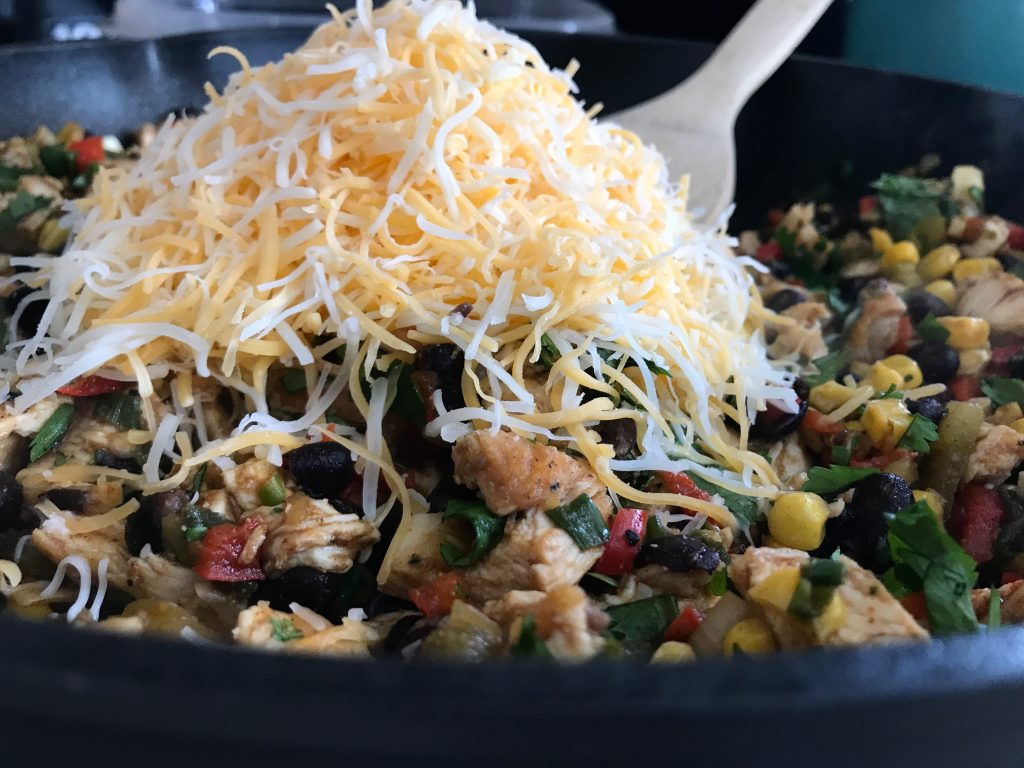 Stir in shredded cheese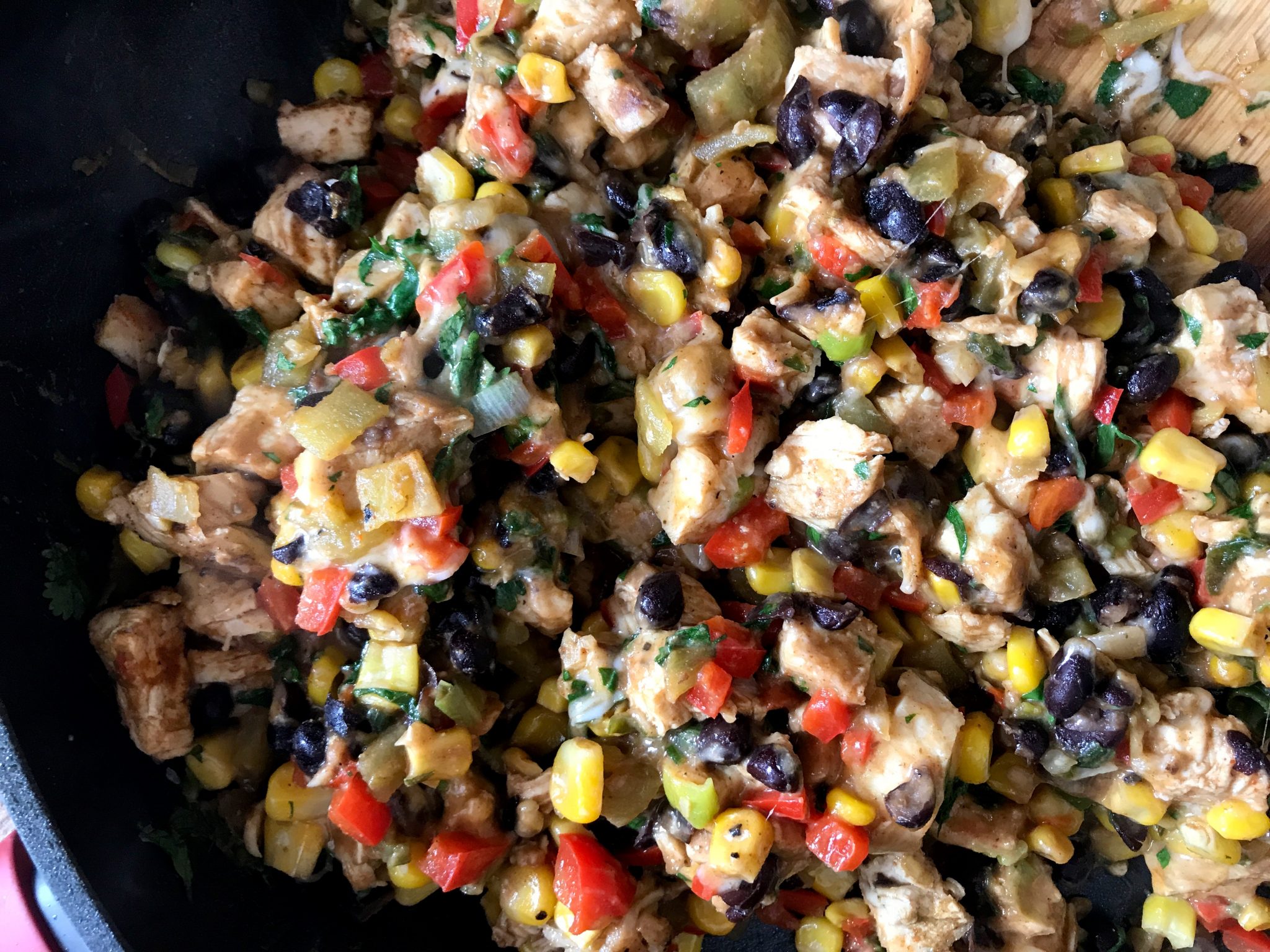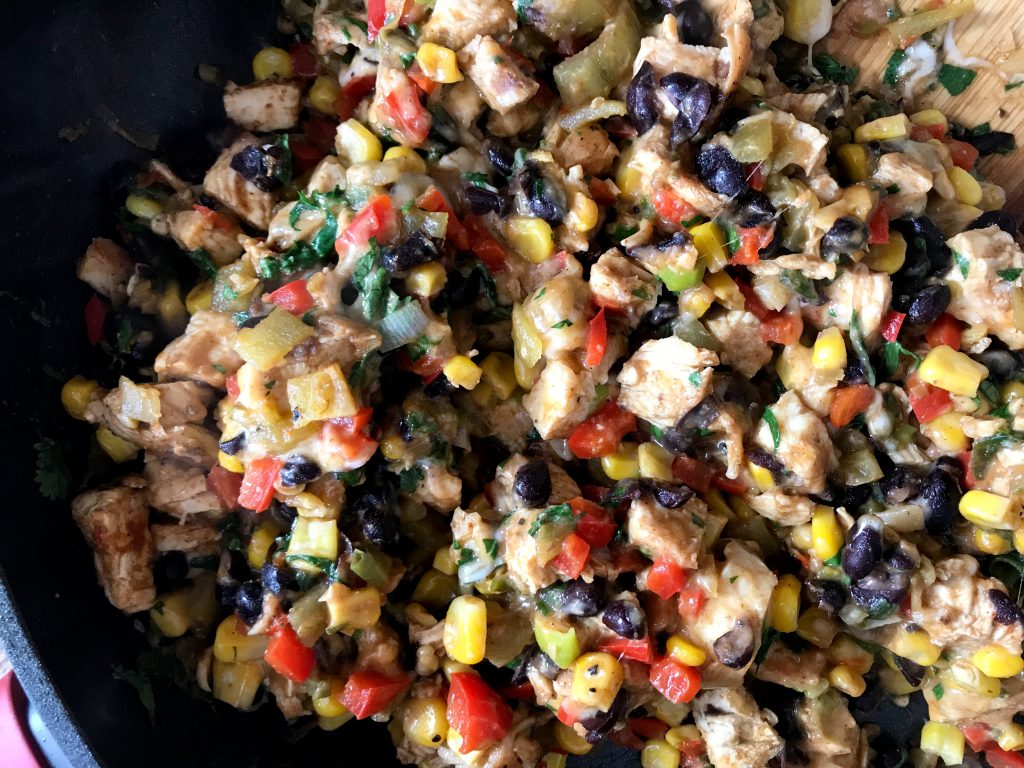 and heat just until melted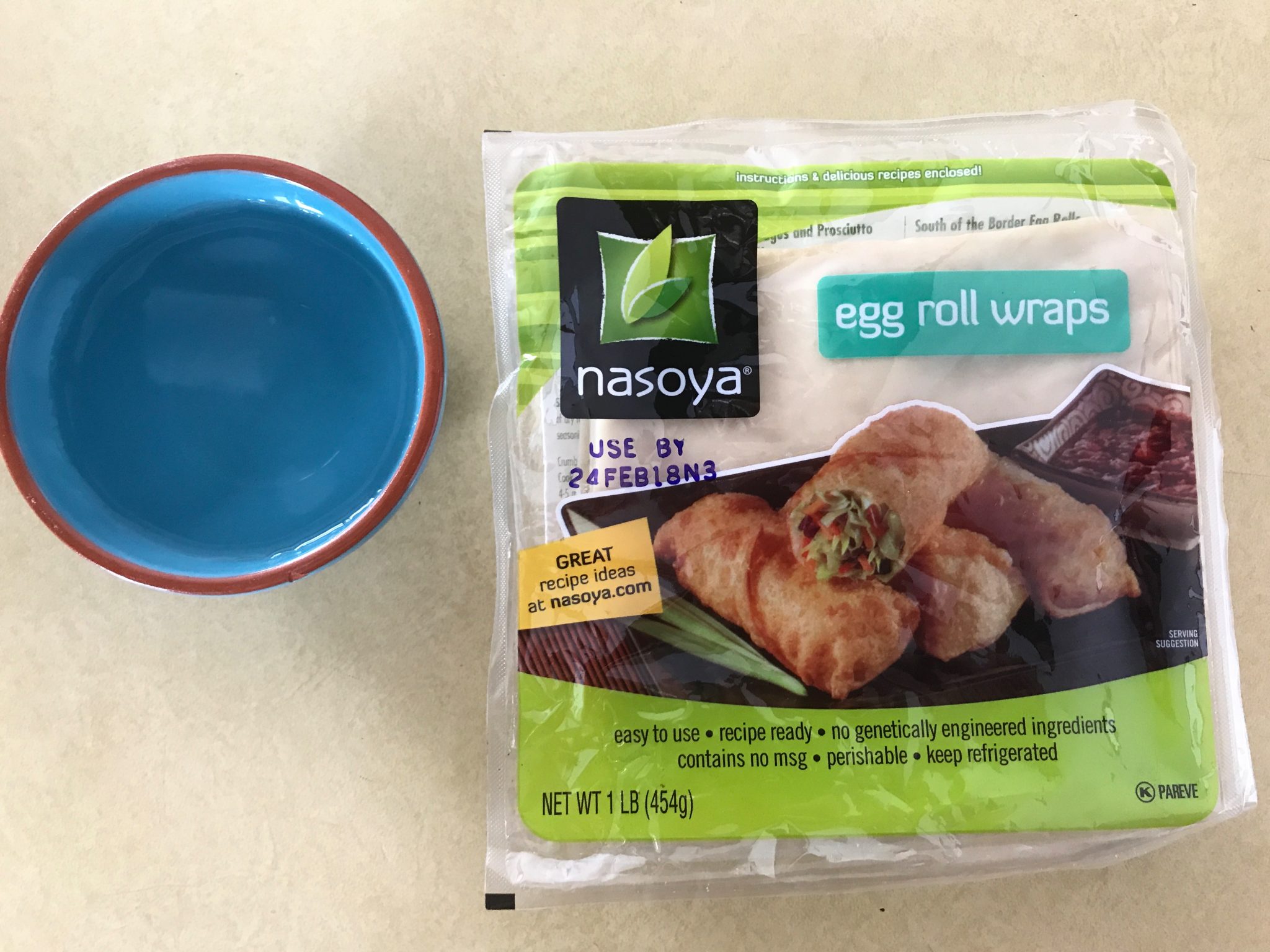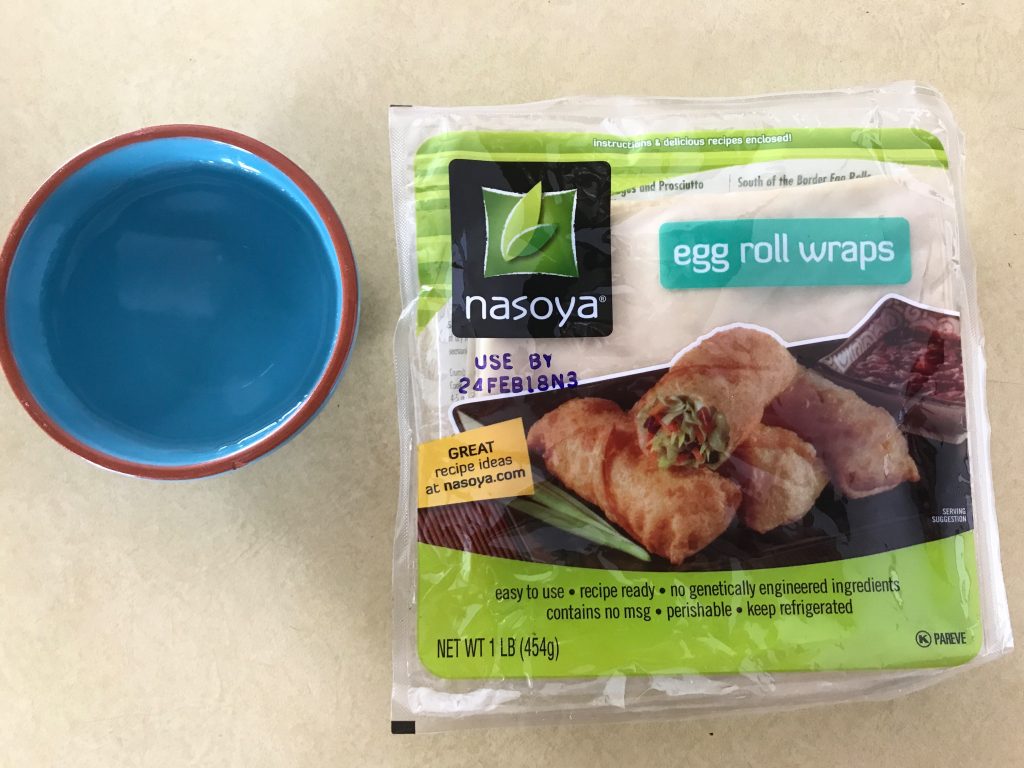 Now, you'll need a small bowl of water (or cup) and some egg roll wrappers. These are very easy to find in ANY grocery store in the produce section.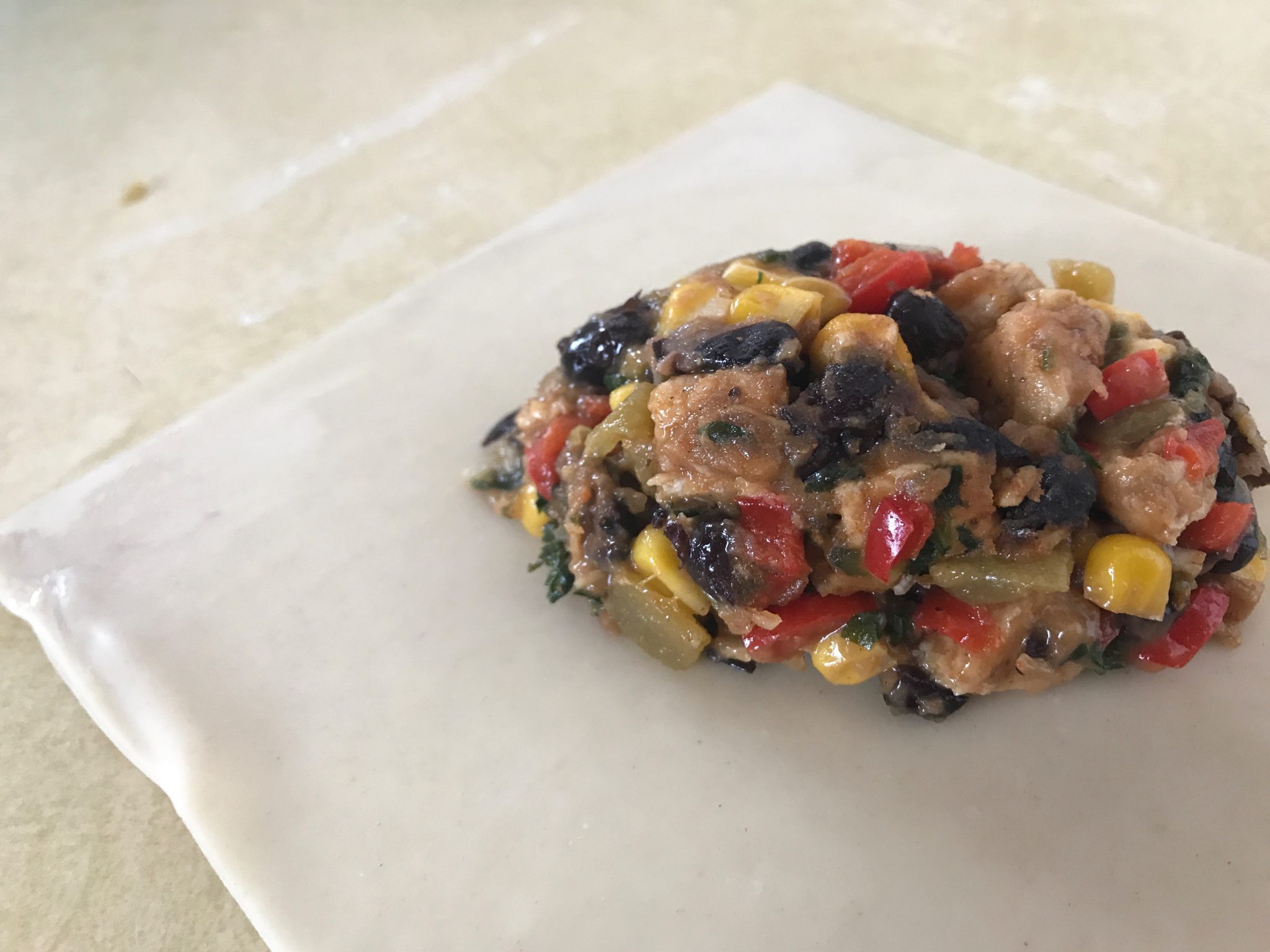 Honestly, I had NO idea what I was doing at first. I have never in my life rolled up an egg roll before. I took the package of egg roll wrappers, flipped it over, and *gasp* followed directions!
So, I'm basically going to repeat from memory what the directions said because I threw said directions in the garbage and can't remember exactly what they told me to do. (Your egg roll wrapper package will probably have directions too. You can follow those because they will probably explain this part better than I will!)
Lay wrapper flat on a clean surface. Wet the corners of the wrapper with water. In the middle of each wrapper fill with 1/4 cup southwest mixture. Be careful not to overstuff!
This is the "hardest" part of the entire recipe and it's not hard at all. It's just different especially if you're like me and have never done it before, but after your first one- you'll be a pro! I promise.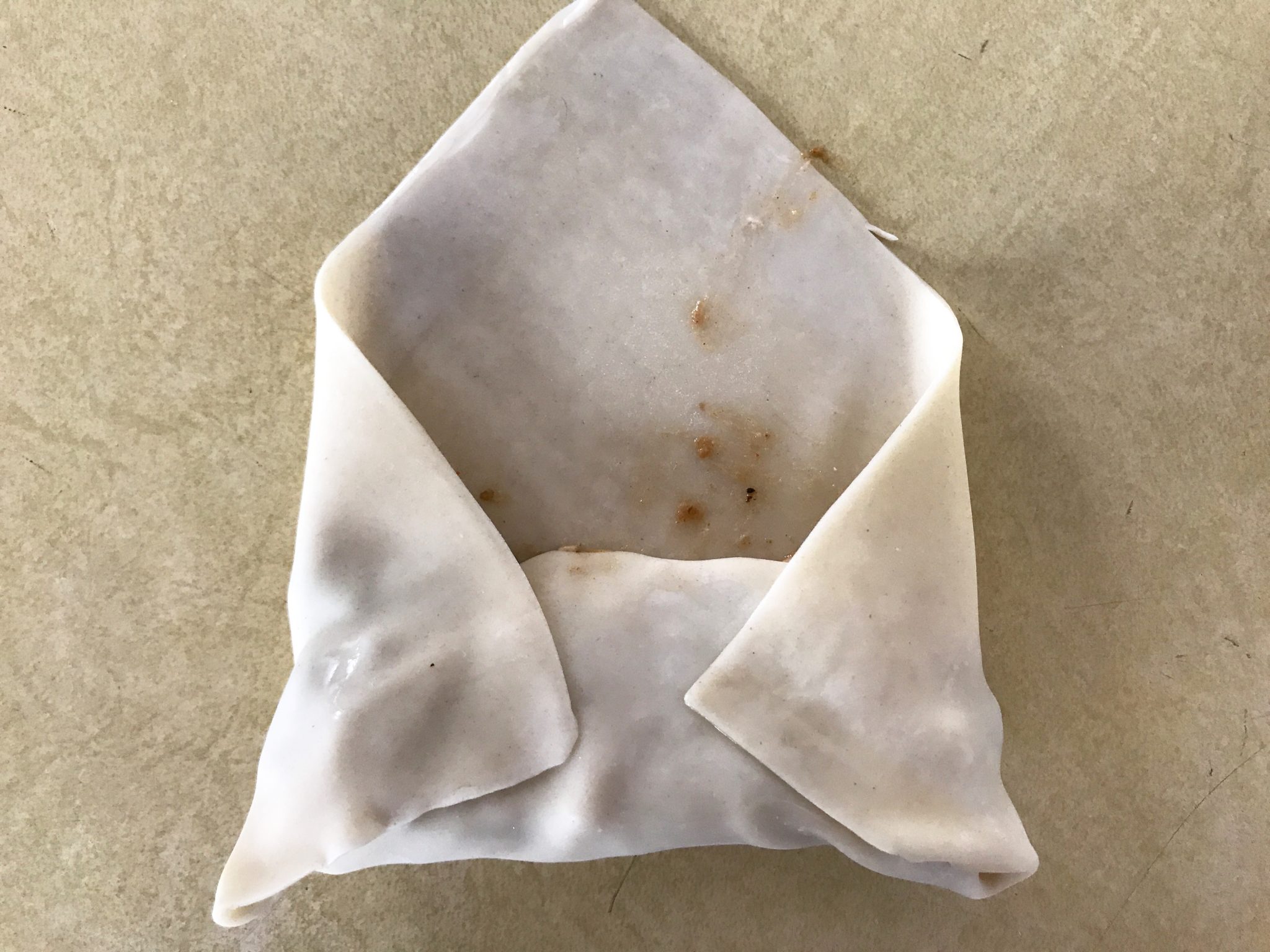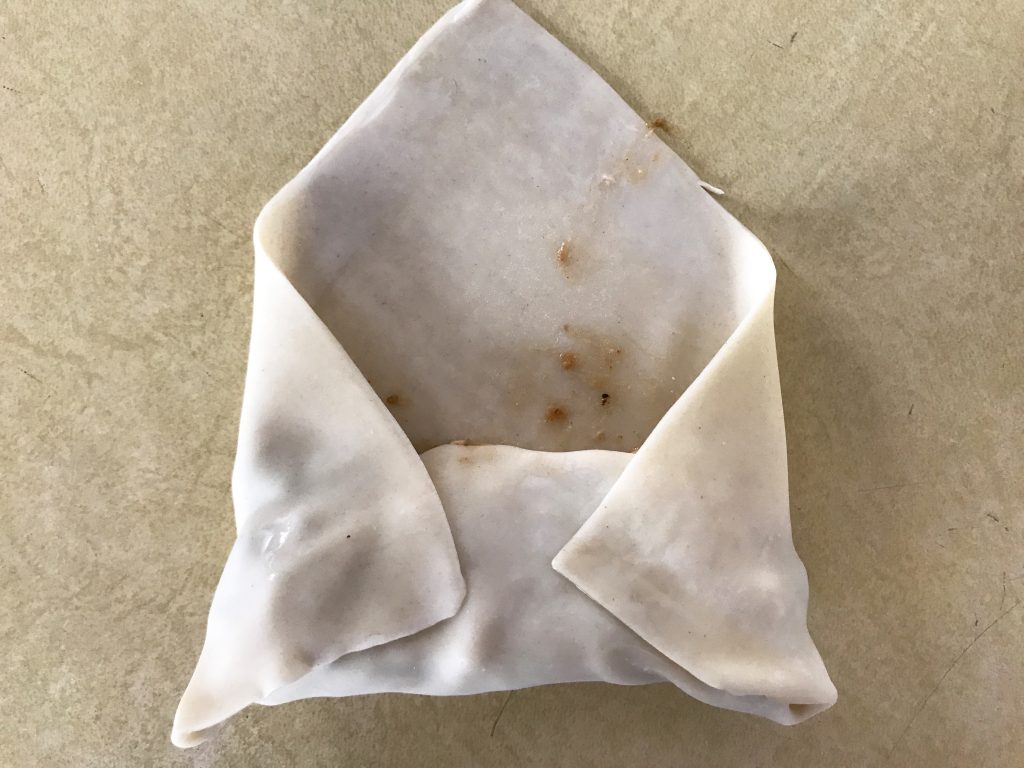 Roll the bottom up and tuck under the mixture. Fold the sides and wet the seams with water and fingers.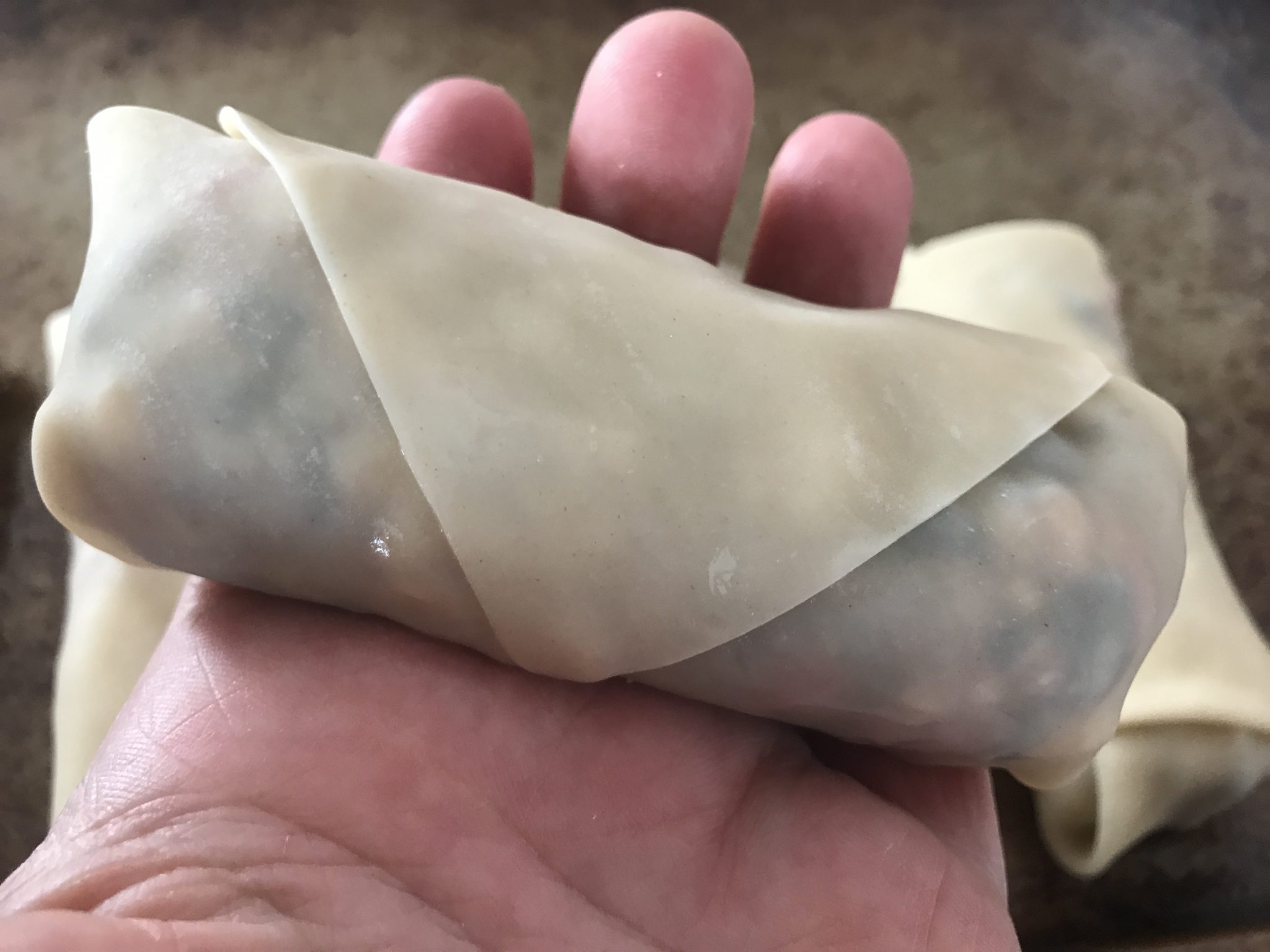 Then roll the top and seal with a bit of water.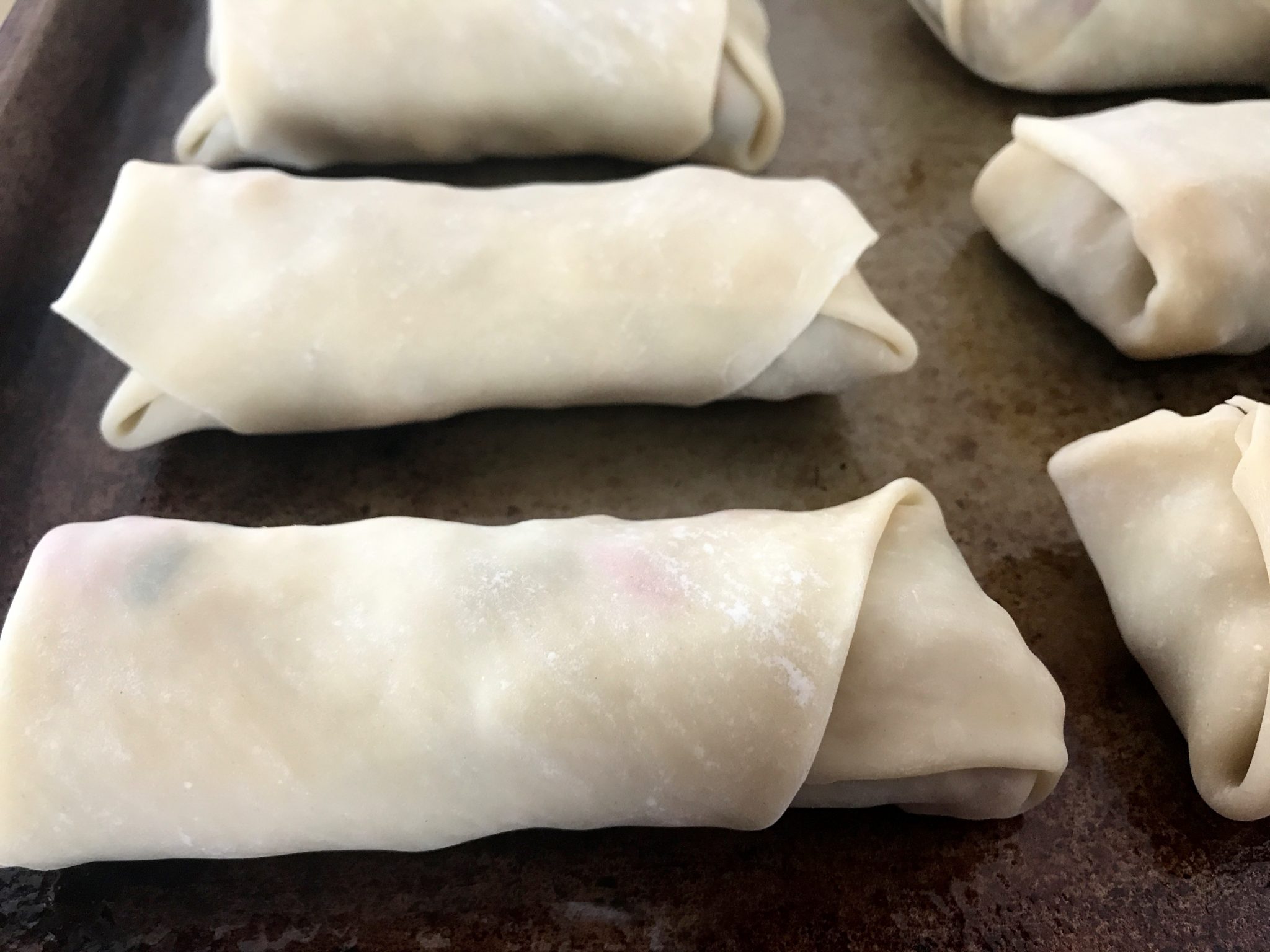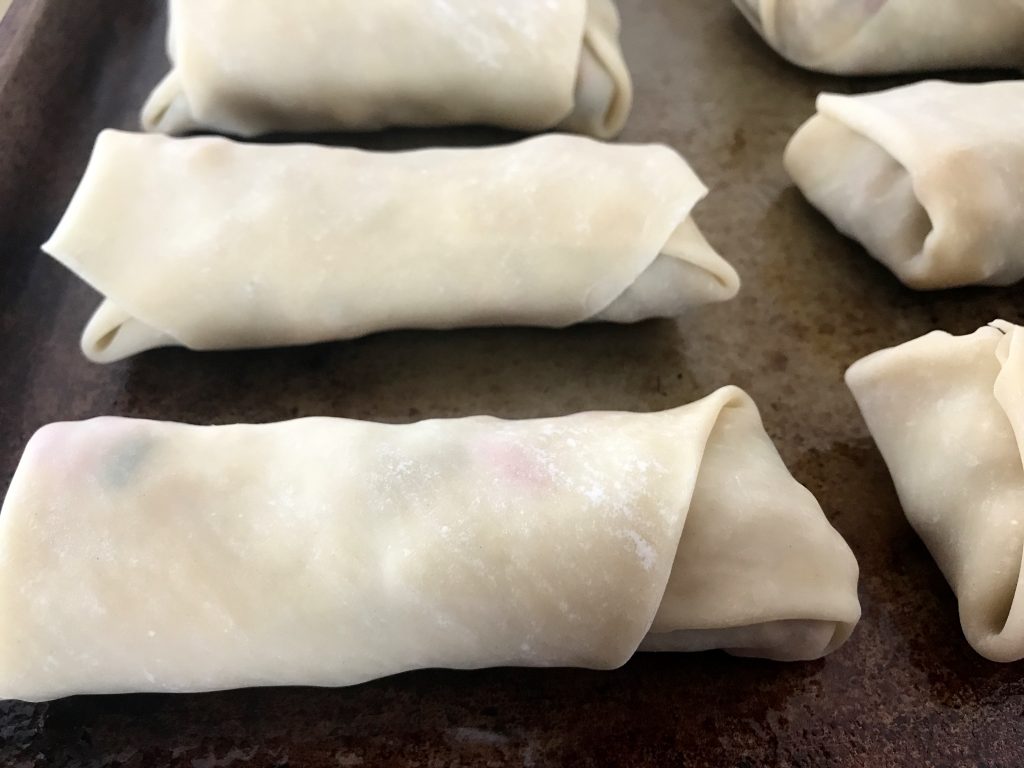 Repeat until finished. Lay them on a sheet pan.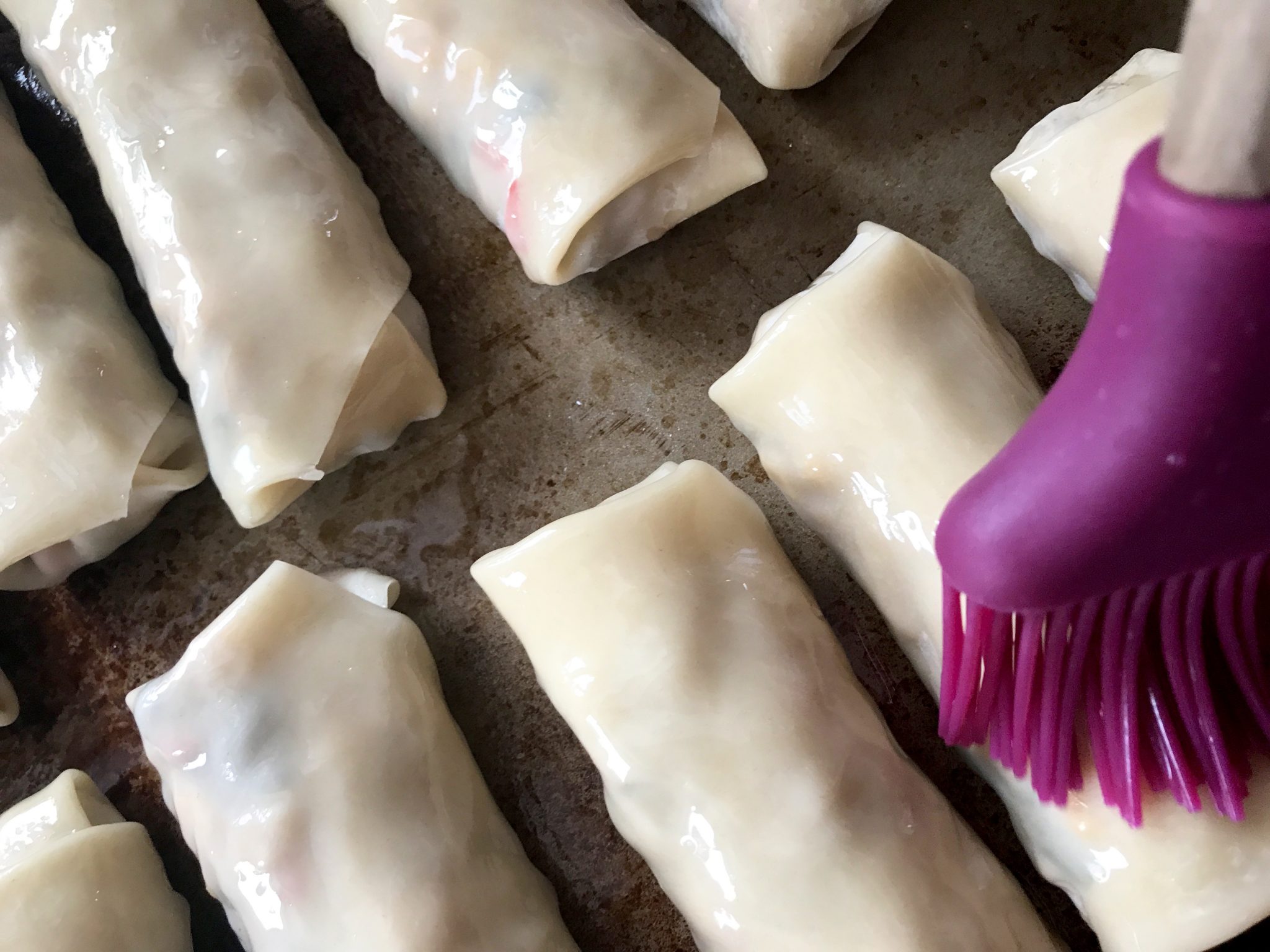 Brush each one with a bit vegetable oil.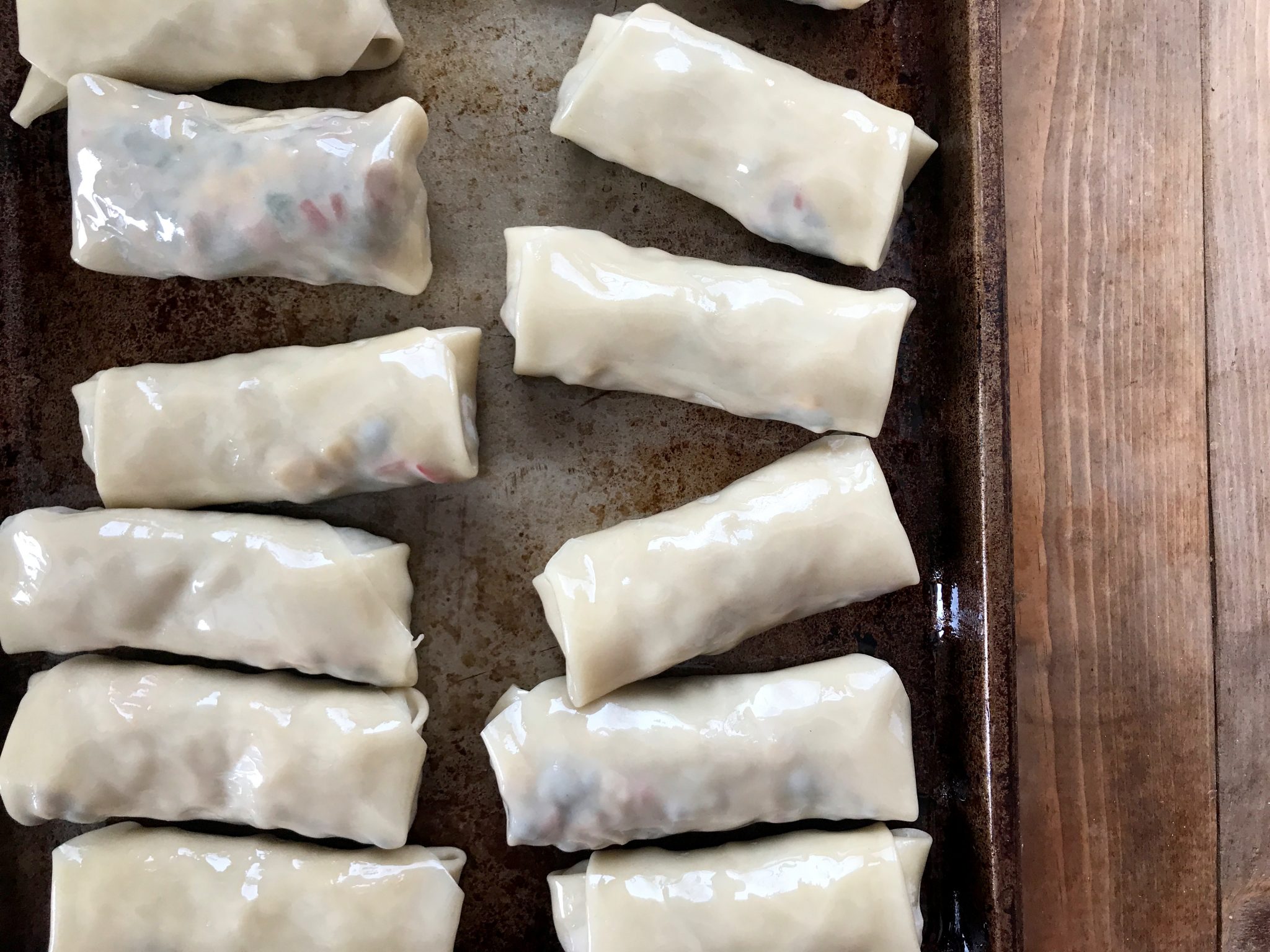 Okay, here's where things get fun: I went ahead and tested two different methods of cooking these egg rolls. I tried these babies in the Air Fryer and also did them in the good ol' oven. BOTH ways work well. The Air Fryer gives them more of a "fried" texture and take less time. But, You have to cook in multiple batches. I recommend either method truthfully. They are delicious!!
Oh! Real quick: See that one up in the left hand corner? It's over stuffed. Don't do that.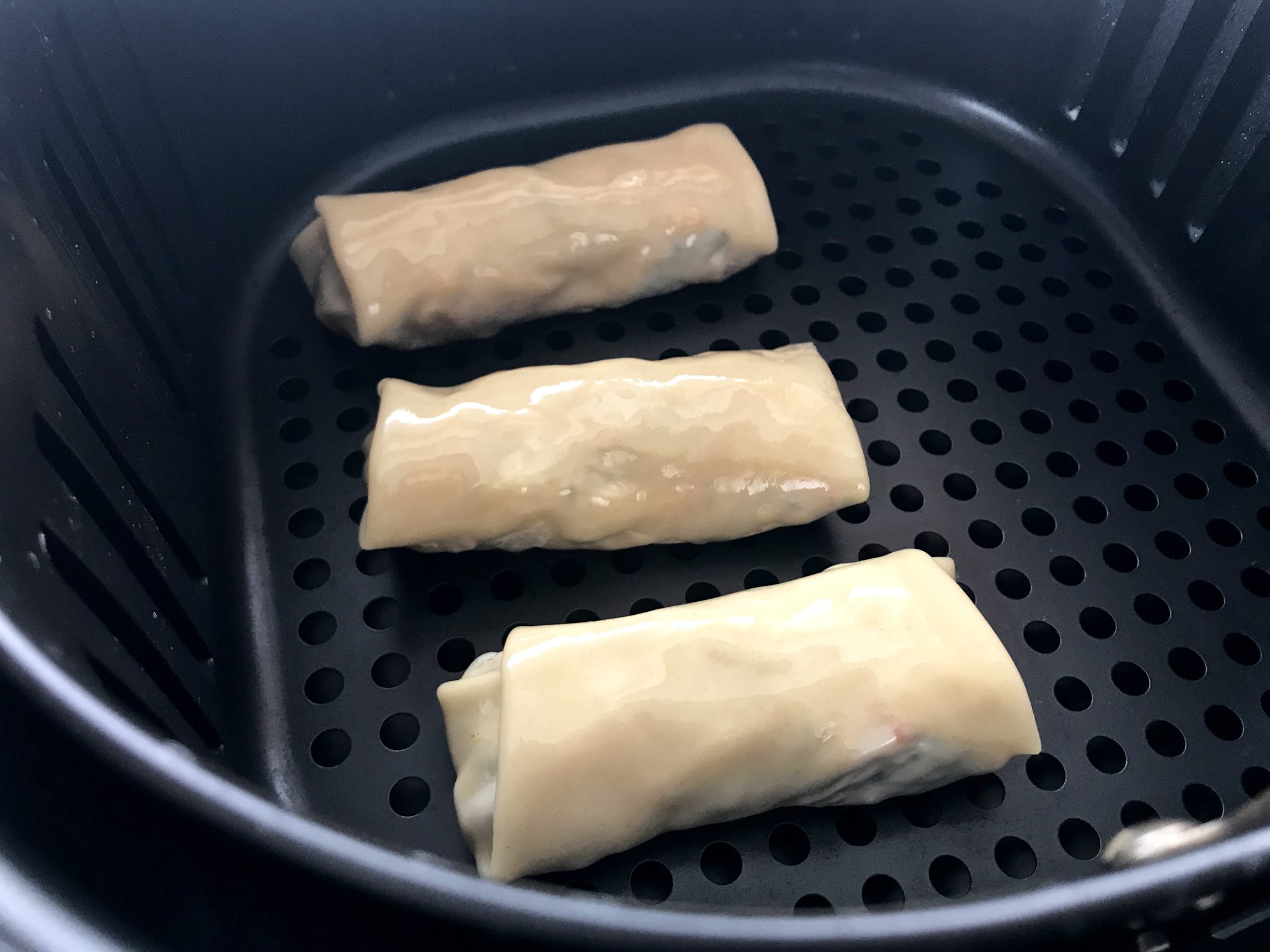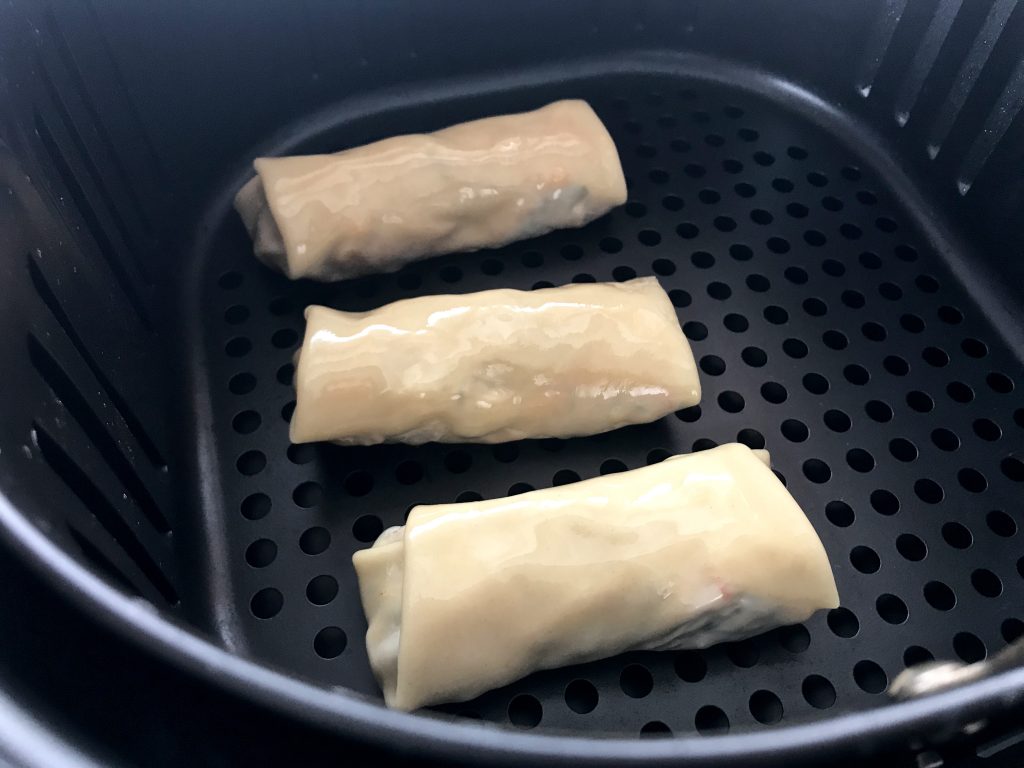 Alright, if using the Air Fryer. Preheat your air fryer to 400 degrees. Place them in there and cook for 6-8 minutes or until golden brown flipping half way through. They may take a couple minutes more or less depending on your brand of Air Fryer.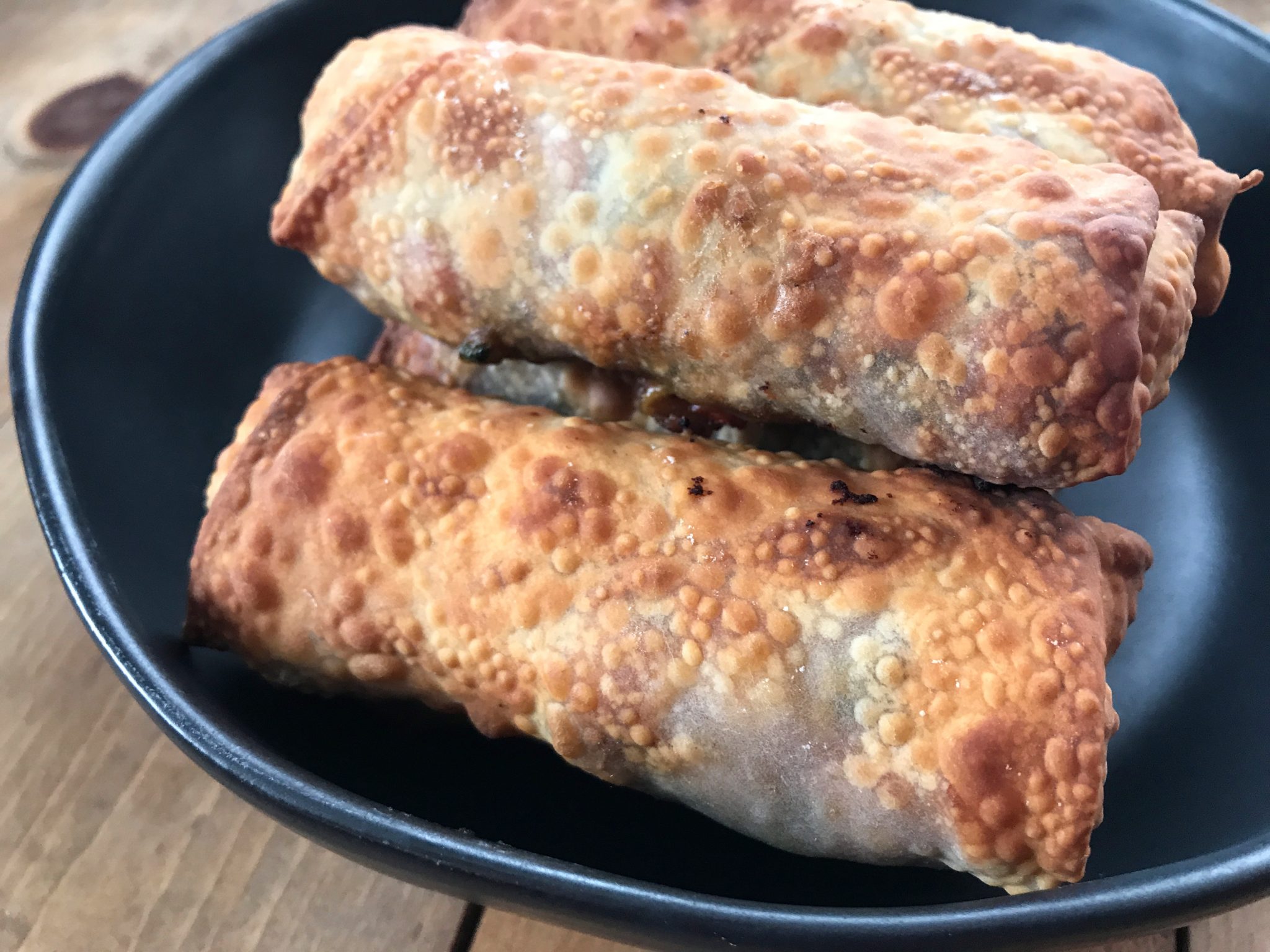 When you take them out of the Air Fryer they will have a texture to them that is much more like your traditional fried egg rolls, but they won't be nearly as many calories as the fried ones are and they aren't dripping with grease either! They are perfection!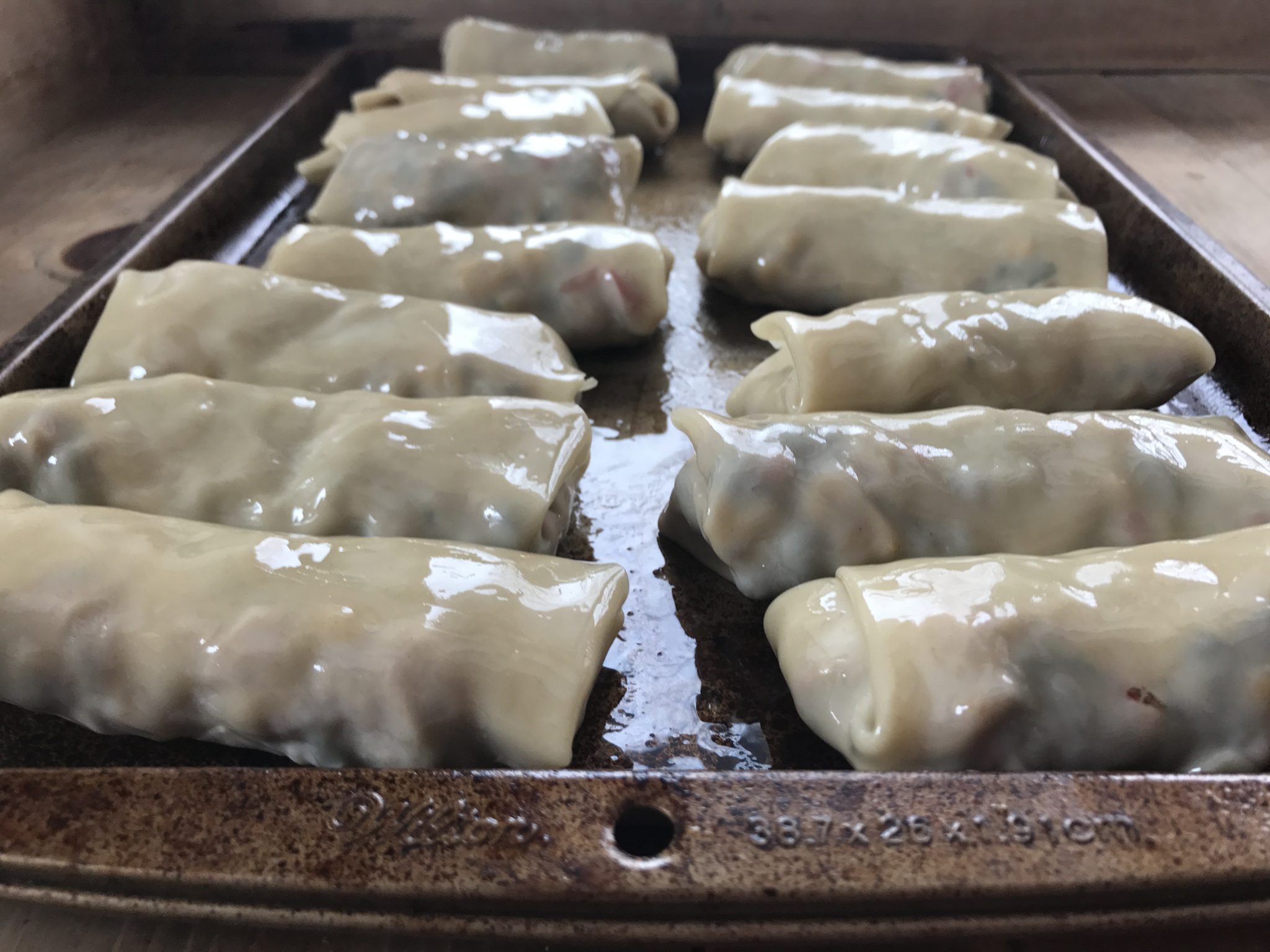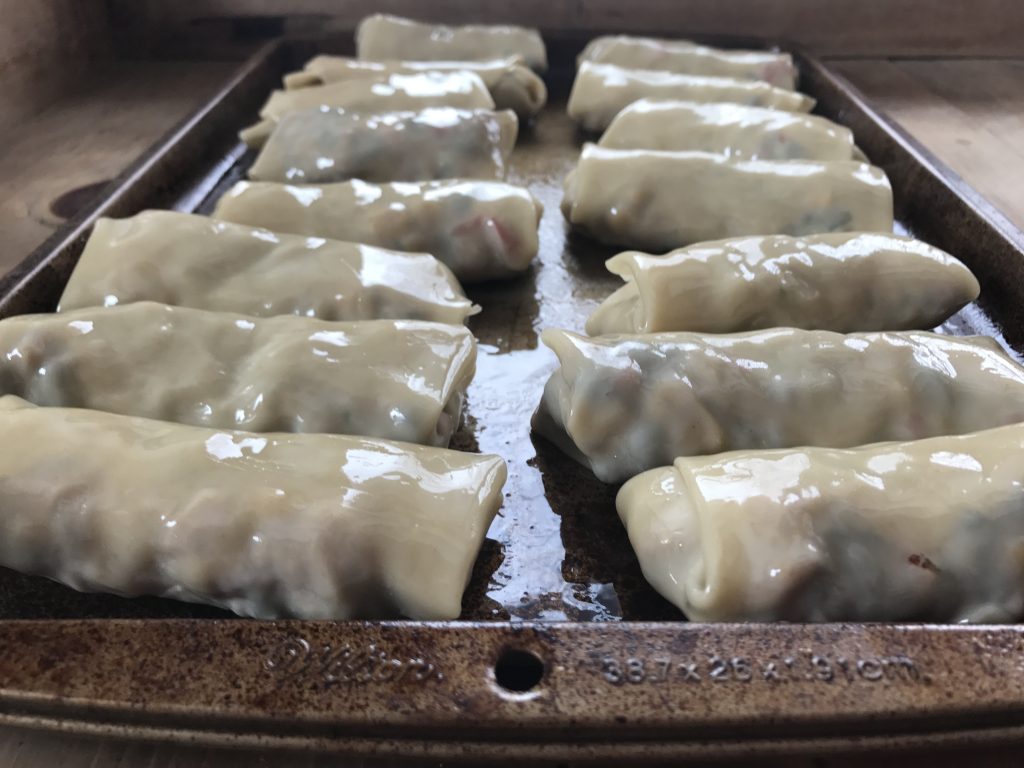 Oven method: Lay on sheet pan. Preheat oven to 425 degrees and bake for 15-20 minutes until golden brown.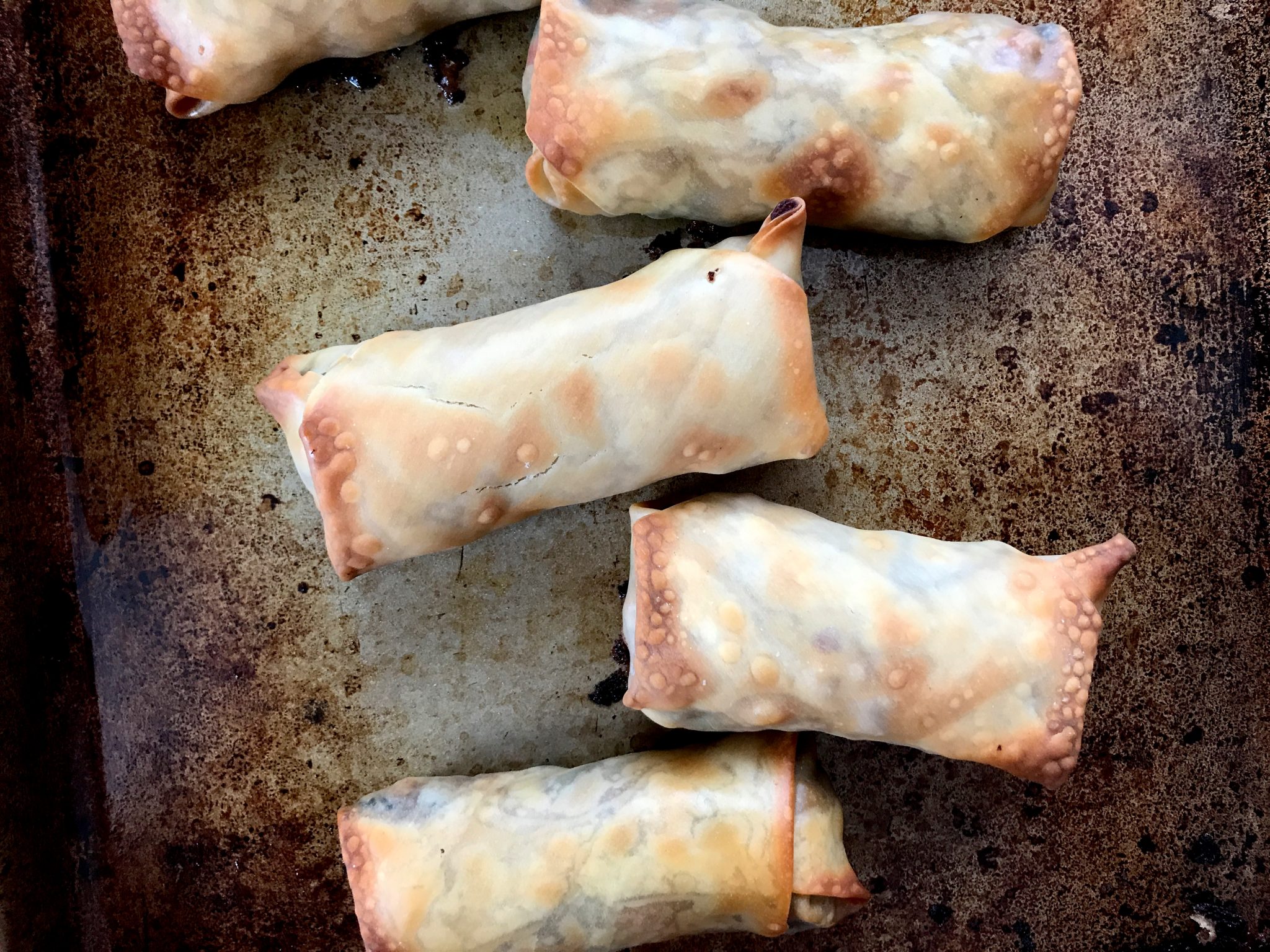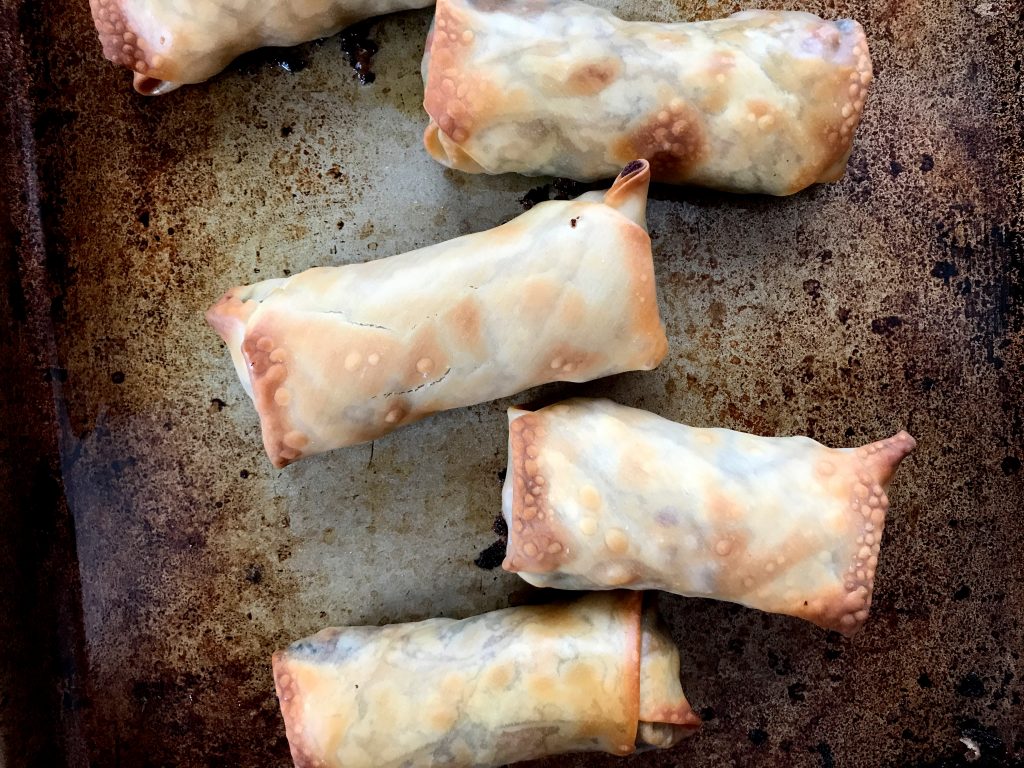 See? They look smoother. A little different, but still totally yummy. So- If you don't happen to have an Air Fryer. Don't fret! Pop these babies in the oven and ENJOY!!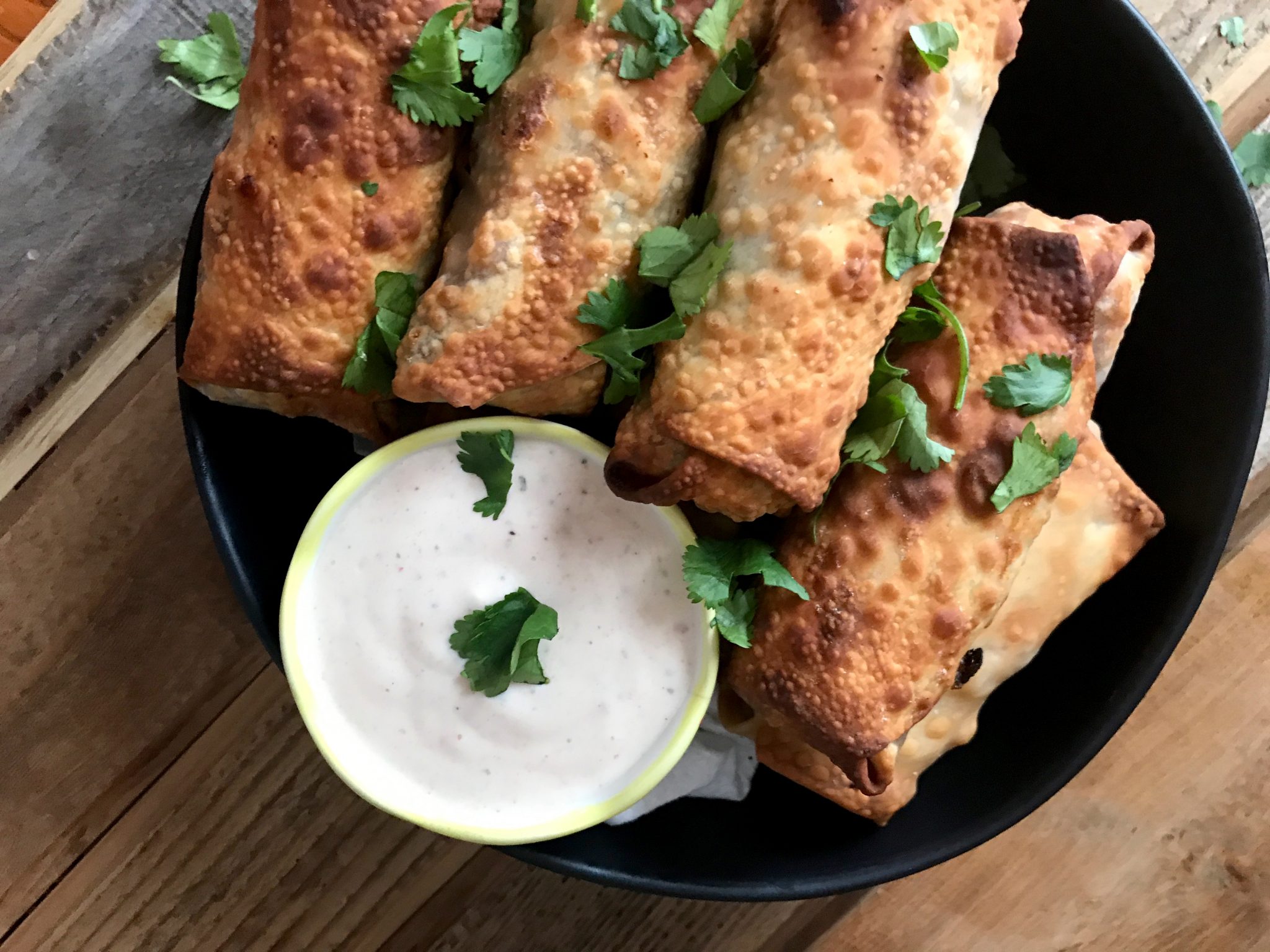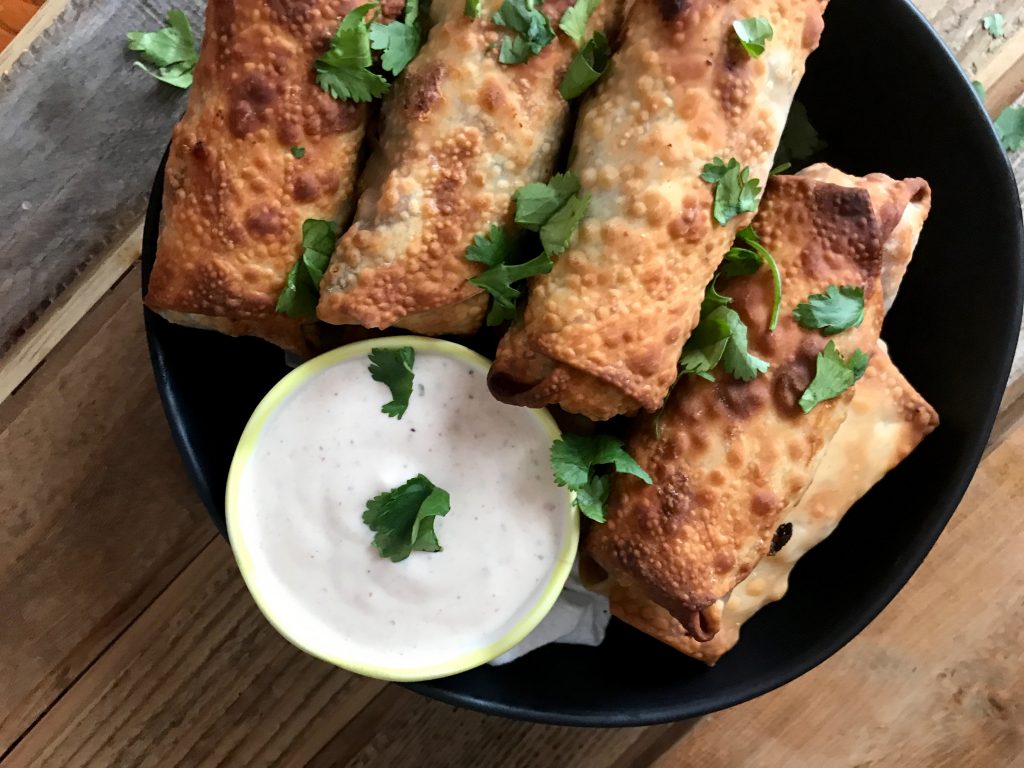 OH MY…….YUM!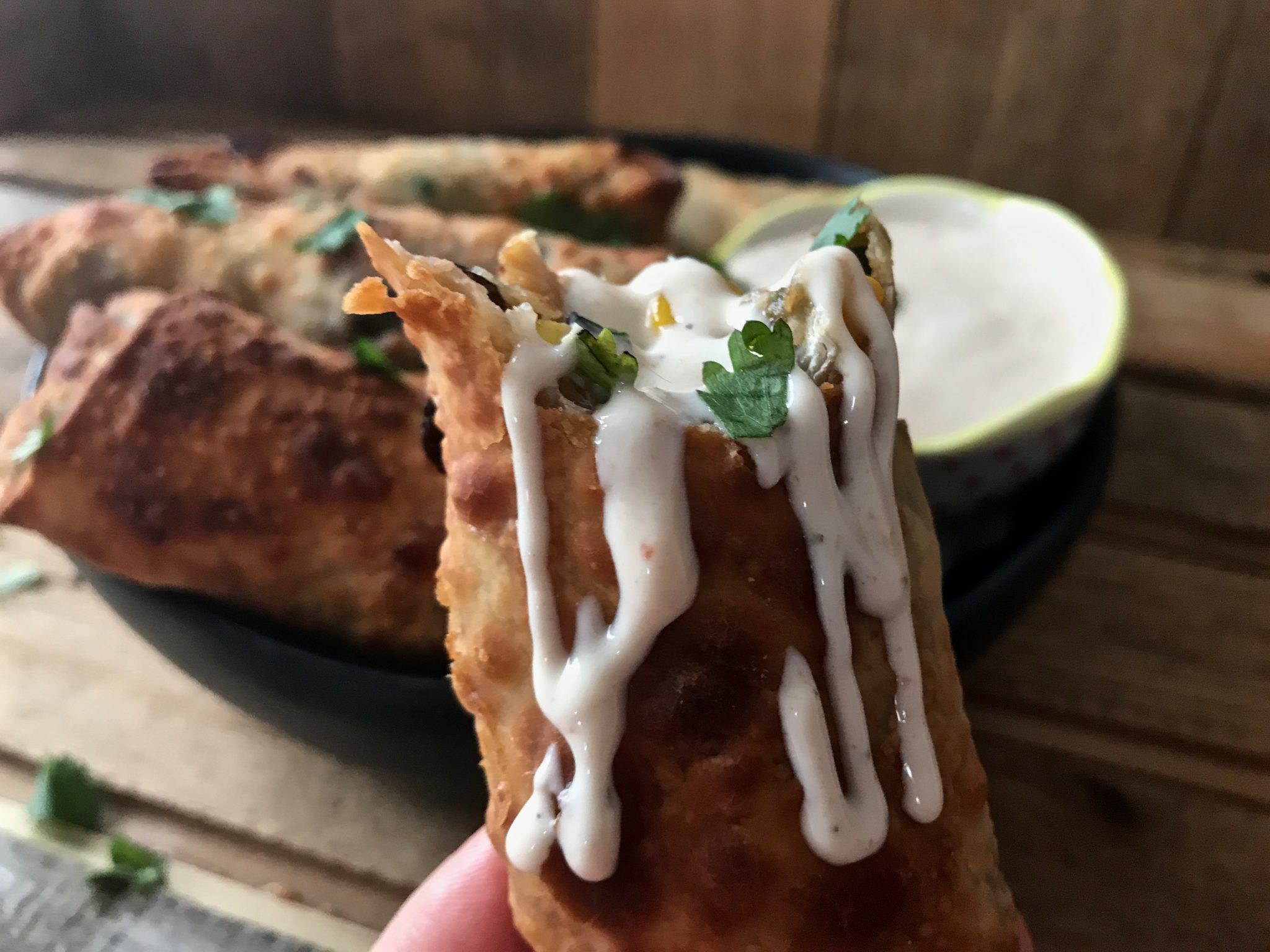 DON'T FORGET TO DIP THEM INTO SOME HOMEMADE SOUTHWEST CHIPOTLE RANCH! OR TRY MY HOMEMADE EASY PEASY SALSA OR MAKE SOME GUAC OR NOTHING AT ALL BECAUSE THEY ARE JUST AS DELICIOUS ALL BY THEIR LONESOME…
I'M SORRY I WAS SHOUTING.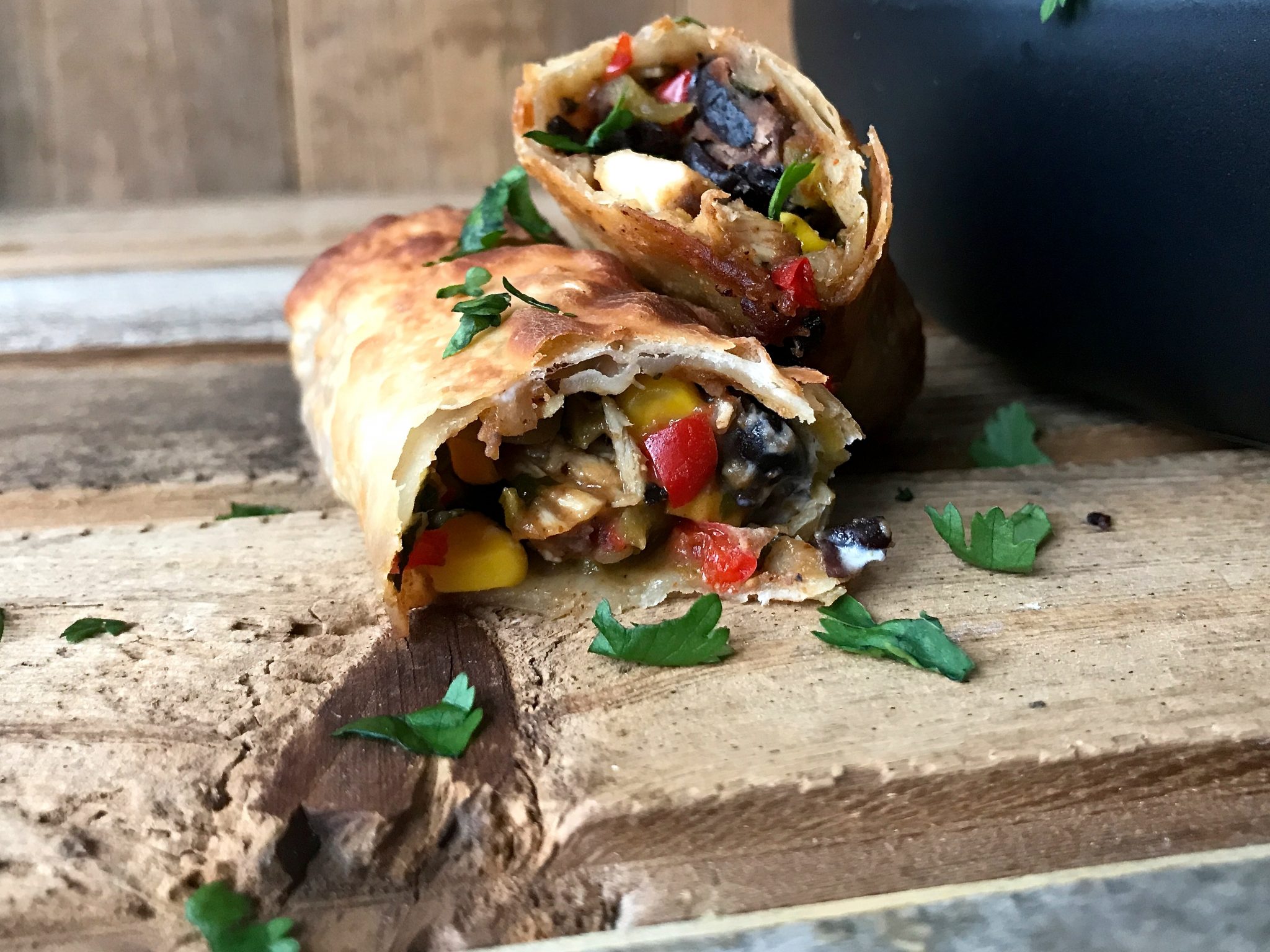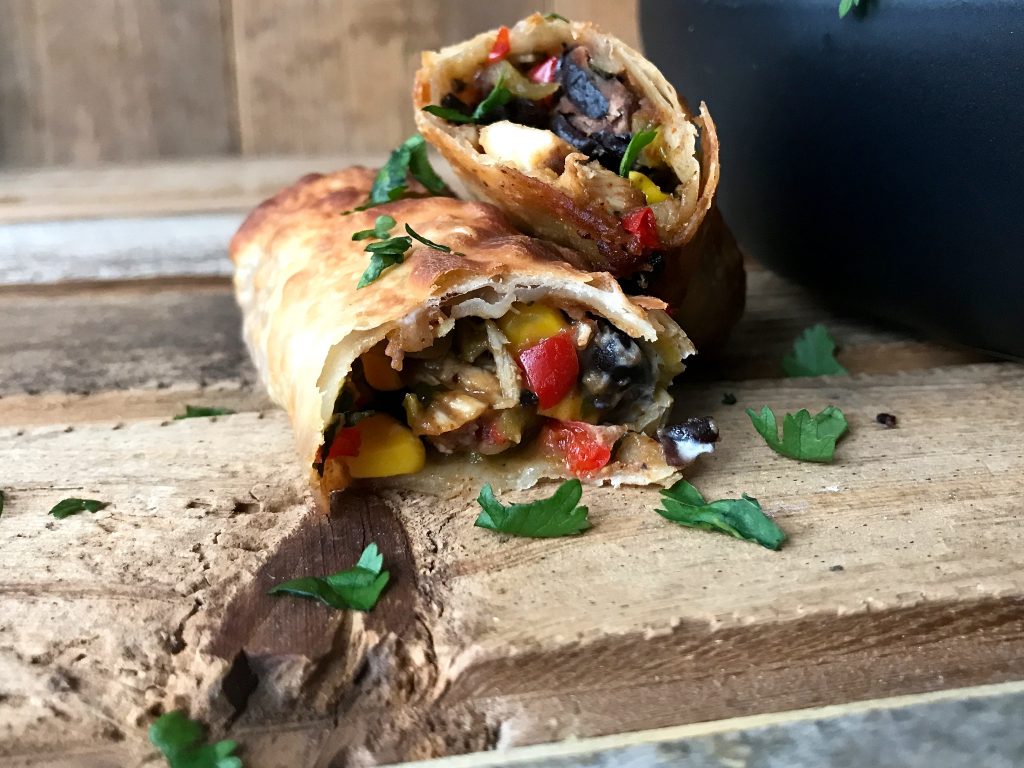 I'm not going to beat around the bush… there's so much perfection in just a few little bites. I absolutely adore these and know that they will become a staple item around our house for fun meals to make and parties!
YOU MUST MAKE THESE!
Sorry.. shouting again.
With love from my kitchen to yours,
Star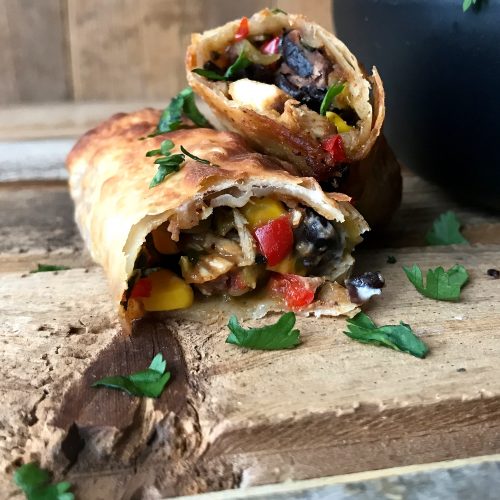 Print
Southwest Chicken Egg Rolls
Crispy egg rolls filled chicken, black beans, corn, red peppers, garlic, cilantro, and cheese AND bursting with flavor. Not your ordinary egg roll!
Materials
1 lb

chicken breasts, raw

(or you can use 2.5 cups cooked diced chicken)

1

medium

red pepper

diced

4-5

green onions

diced

4

cloves

garlic

minced

1.5

cups

sweet corn

frozen, fresh, canned

1

cup

black beans

rinsed and drained well

1

4 ounce can

diced mild green chiles

1/4

cup

cilantro

chopped, optional

2

tsp

cumin

1.5

tsp

chili powder

1/8

tsp

cayenne pepper

1

tsp

kosher salt

salt & pepper to taste

1

tbs

vegetable oil

(plus 2 tsp divided)

16

egg roll wrappers

small bowl water

for moistening finger tips

1

cup

reduced fat shredded mexican or colby jack cheese
Instructions
For the chicken: Sprinkle both sides with kosher salt & pepper. Add 1 tsp vegetable oil to a hot skillet. Gently lay chicken breast in skillet and cook over medium heat for 5-8 minutes on each side. Temp chicken to 155 degrees, remove from skillet, place on plate/cutting board and let rest for 8-10 minutes. After resting, dice into small pieces. (See post above for tips on perfectly cooked chicken)

*You can skip this step and use already cooked and diced chicken.

Egg Roll Filling: In a large skillet add 1 teaspoon vegetable oil and add diced red pepper, garlic, and green onions. Cook over medium low heat until vegetables are tender. Add chicken breast, black beans, corn, diced green chiles, cilantro (if using), cumin, chili powder, and kosher salt. Stir together until combined and cook together for a couple of minutes. Stir in shredded cheese and heat until melted.

To Assemble Egg Rolls: Spray a sheet pan with cooking spray. Have a small bowl of water set out to moisten finger tips. Lay one egg roll wrapper out at a time on a clean surface. Moisten the edges with your finger tip. Scoop 1/4 chicken, bean, and corn mixture into center of egg roll wrapper- Fold the bottom of the egg roll over and under the mixture, fold the ends over and moisten with water, and roll into an egg roll shape. Place on the sheet pan. Repeat until finished. Brush each egg roll with the remaining tablespoon of vegetable oil.

Air Fryer Method: Preheat Air Fryer to 400 degrees. Lay egg rolls in tray. Do not over crowd the tray. Cook for 8-10 minutes or until golden brown flipping half way through. You will need to make these in multiple batches!

Oven Method: Preheat oven to 425 degrees. Place egg rolls on sheet pan and bake for 15-20 minutes or until golden brown.
Notes
Serving size: 2 Egg Rolls
305 calories, 6.5g fat, 2g saturated fat, 3g fiber, 35g carbohydrates, 2.5g sugar, 24.5g protein
WeightWatchers Points: 5 points