Buffalo Chicken Stuffed Zucchini
This post may contain affiliate links (meaning I earn a small comission if you purchase an item through a link I provide) I only provide shoppable links to items I love and are helpful. As an Amazon Associate, I earn from qualifying purchases.
These Buffalo Chicken Stuffed Zucchinis are simple, savory, spicy, and perfect for a low carb dinner! They are stuffed with lean ground chicken, ranch seasoning mix, onion, garlic, buffalo sauce, and then generously topped with shredded cheese. Whether you're interested in low carb eating or not, you'll sure love these babies!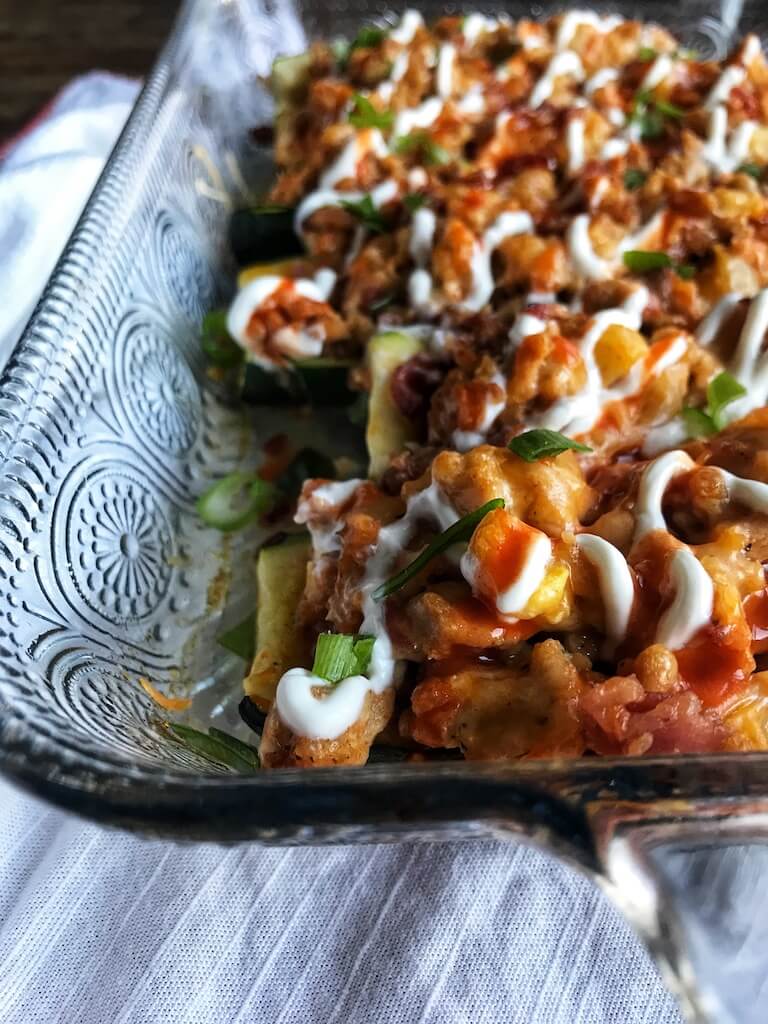 Are your friends and family shovin' garden zucchini into your kitchens? If so, y'all have got to try this Buffalo Chicken Stuffed Zucchini! Even if they aren't, grab some at your local grocery store because it's zucchini season, baby …and there ain't a better way to enjoy! Well, except maybe these Zucchini Corn and Bacon Fritters OR my Skillet Zucchini Lasagna. Those are REAL good too.
Let me just start off by saying… Eric does not like when I make recipes that lack…. carbs. He's a meat and vegetable with a starch or grain of some sort kinda man and I love'm dearly, but y'know sometimes it makes recipe testing tough because I get "scared" to make him eat something that *gasp* doesn't have a grain to be seen. Luckily, I shoved the plate in front of him at dinner time a few weeks ago along with a bag of kettle cooked potato chips (ha!) and told'm to give me his honest opinion. His honest opinion goes as follows: "I really, really, really like them, but I wish you could add some rice or something." Eyeroll. Okay thanks babe. I won't be adding rice because the whole idea is to have somethin' a bit lower in carbs and still delicious. I love it. He really, really likes it (I mean really likes it leftovers were gone in a day). Pepper saw me put hot sauce on top and ran 7 houses down because don't even show her that bottle of hot sauce. I think she thinks if she looks at it she'll just burst wide open.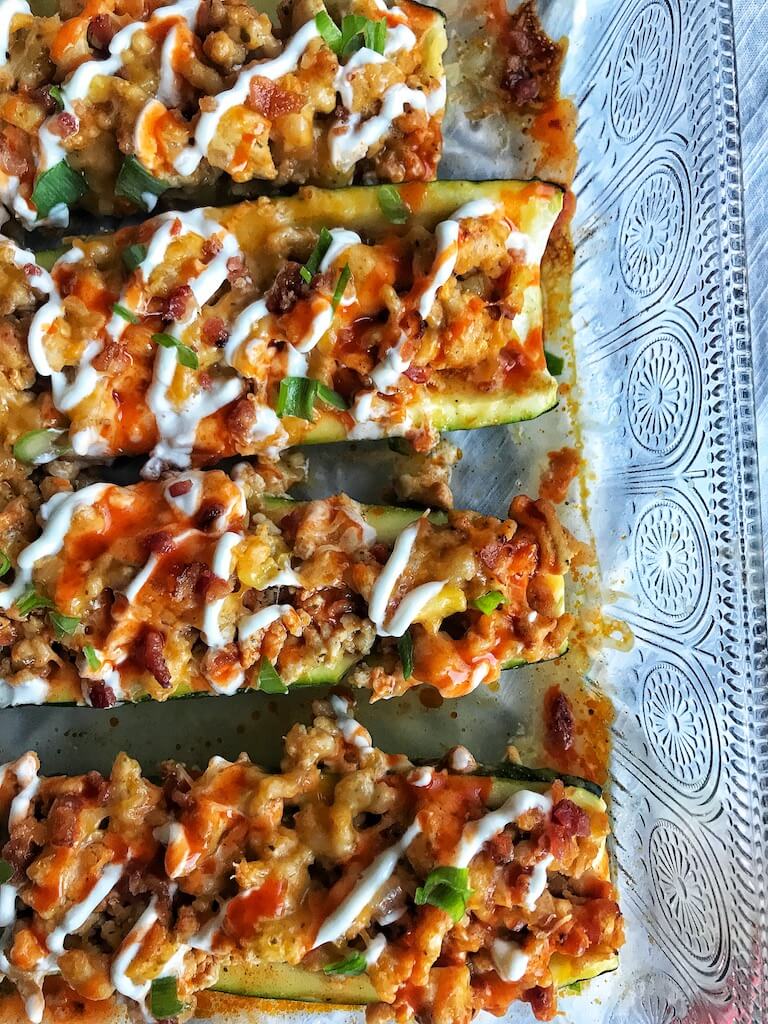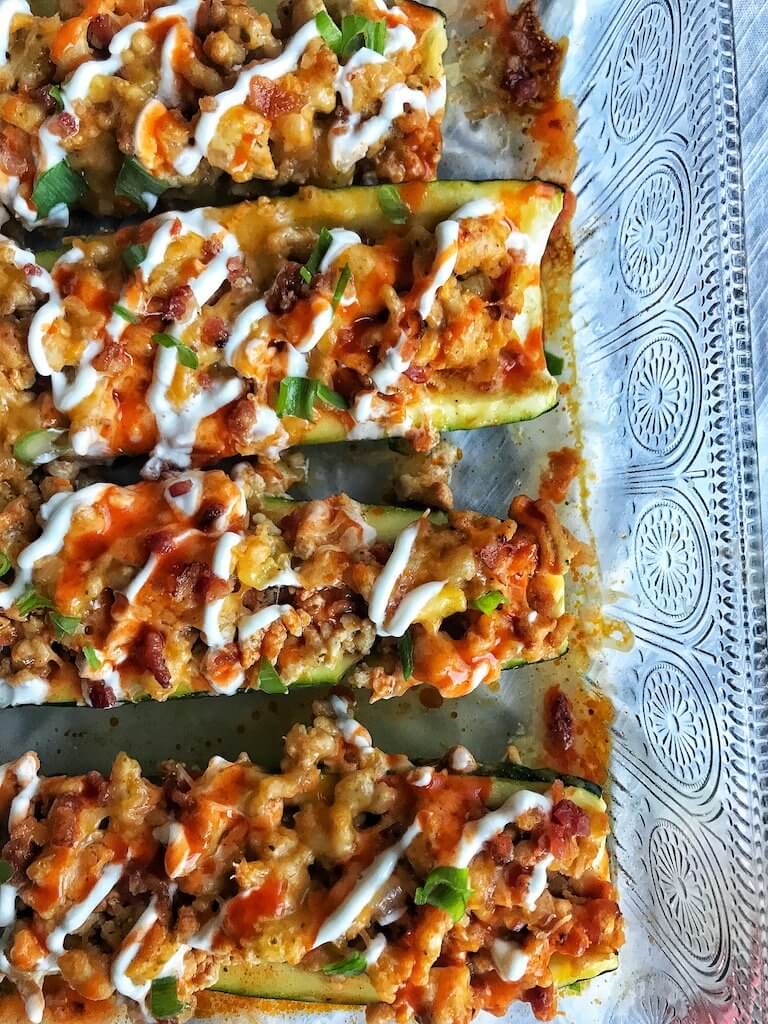 Anyway, I know, went and got myself off track. I'm happy to report that this recipe for Buffalo Chicken Stuffed Zucchini is a new summer favorite. They are super easy to throw together and make for a delicious and light week night meal! Enough talk, let's get into the kitchen!
First things first, grab three medium/large zucchini and slice in half. Scoop out the inside of the zucchini and reserve half (about one cup) of the zucchini that you scooped out. Discard the rest of the zucchini. Also, If you can see in the back there I got a little rambunctious scooping and it cut through. No big deal if this happens to yours too. It tastes the same, promise.
Tip: Instead of throwing away the rest of the zucchini.. toss it in a baggie, toss it in the fridge, and add it into a soup/casserole/salad that you're making later in the week. It won't be much, but I hate wasting perfectly good food.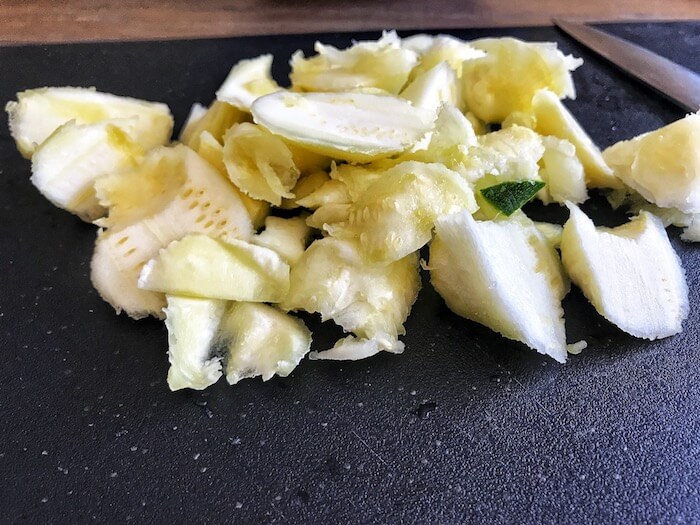 Roughly chop up the reserved zucchini.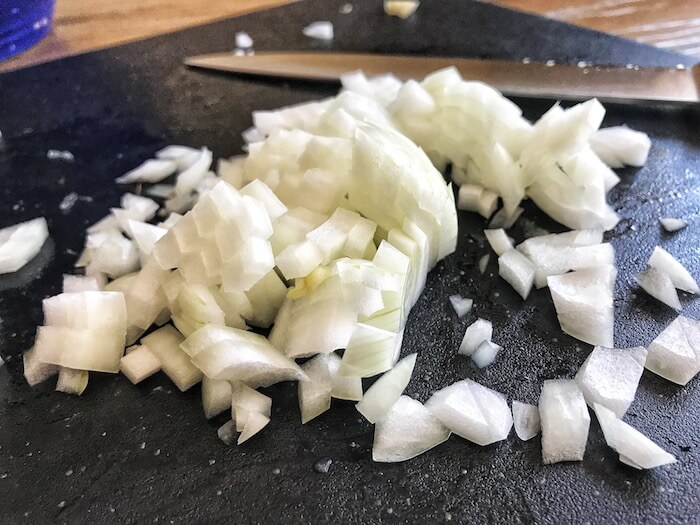 Along with a medium yellow onion.
Preheat your oven to 400 degrees. Heat up a large frying pan, spray with cooking spray, and add ground chicken. Break apart and don't forget to season it with a bit of Kosher Salt and pepper.
Note: I don't use 99% lean ground chicken breast. I'm just not a use fan of it really in stuff like this. I use regular ol' lean ground chicken.
After breaking up the ground chicken a bit with a spatula add in the chopped zucchini, onion, and one tablespoon of minced garlic (about 3-4 cloves). Stir together and cook until ground chicken is cooked and onions are softened.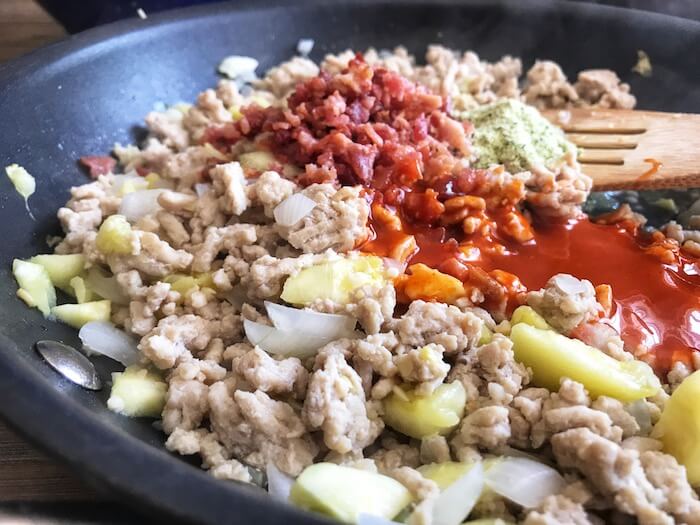 Toss in one tablespoon of ranch seasoning mix (I prefer the Hidden Valley brand and "Buttermilk" recipe), 1/4 cup crumbled real bacon bits, and 1/4-1/2 cup of Frank's Buffalo Sauce. Please be sure to use Buffalo sauce and not just plain ol' hot sauce. It's a huge difference! Use more or less buffalo sauce dependin' on yer spice preference.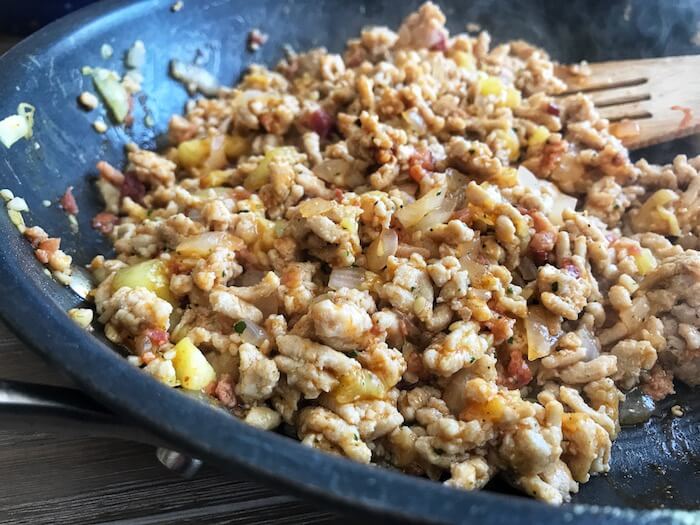 Let it cook all together for just minute or two, mmmk? And sneak a spoonful into your mouth because it's REAL good! Salt n' Pepper to taste if needed, but I don't really think it needs salt after the ranch seasoning mix is stirred in.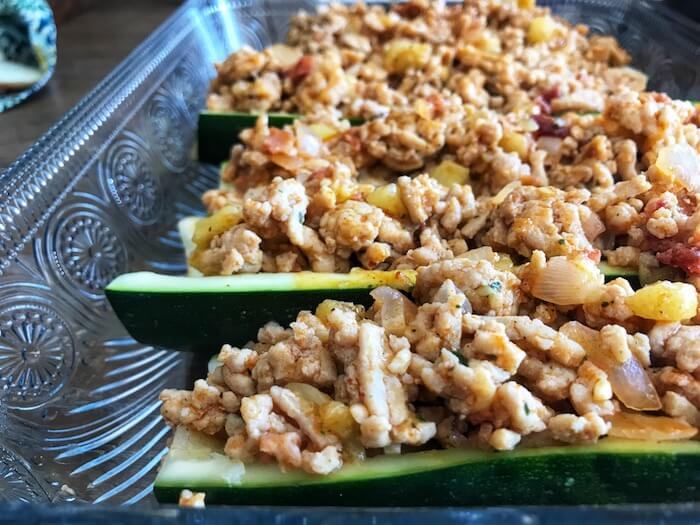 Now place the buffalo chicken mix right into those zucchini's. There's a heapin' half cup in each of these.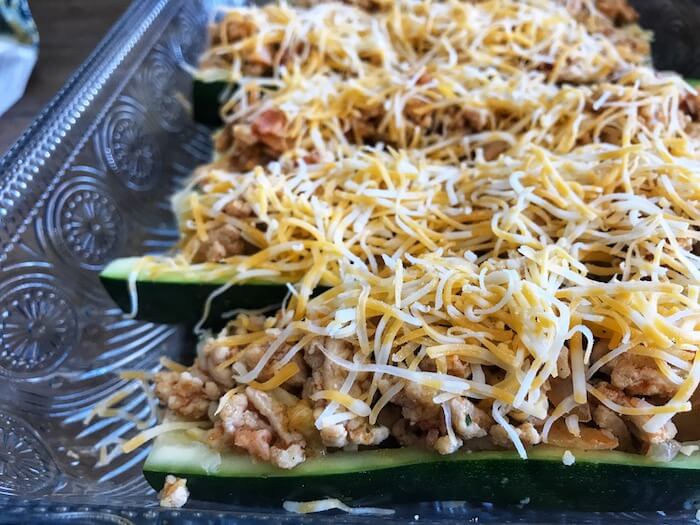 Now top it off with the good stuff. Spray a little cooking spray over the cheese so that when you cover this with tin foil it won't stick and rip off a that beloved cheesy goodness.
Pop it into a preheated 400 degree oven for 30 minutes. I uncover it about half way through the cooking time.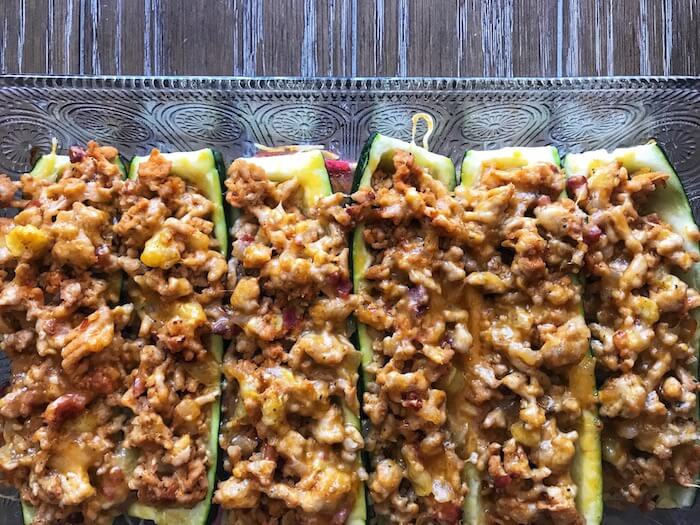 Aaaaandd, hello. All done, folks. Doesn't it look good?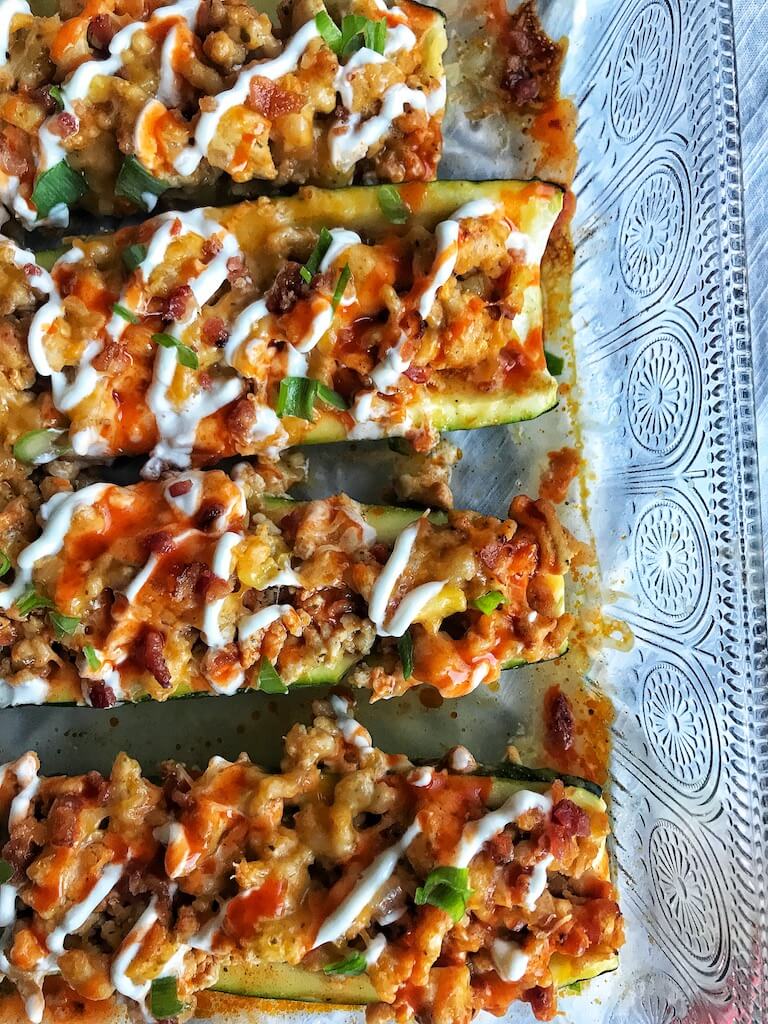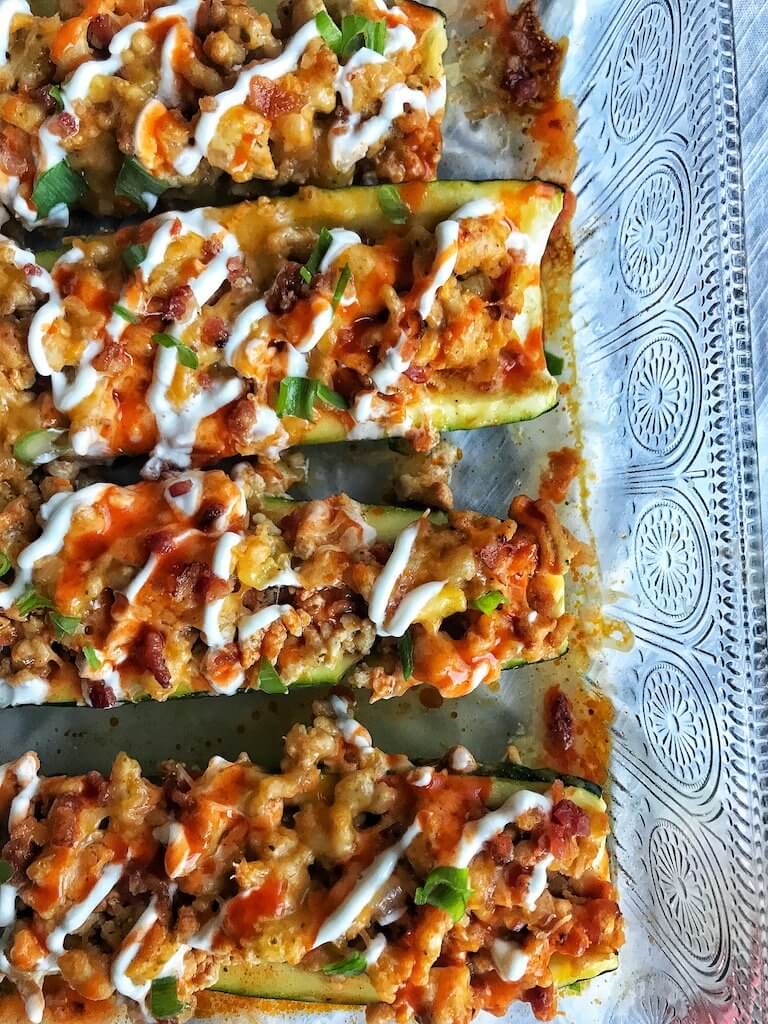 Make it look and taste even better by drizzlin' a lil bit of sour cream (or maybe some Skinny Ranch!) on top along with some diced green onion. I add a lil extra Frank's Buffalo Sauce because well, I could probably drink a glass of that stuff and still not be fully satisfied.
I made the serving size on these babies just one stuffed zucchini half because it was super filling along with a side of… potato chips (ha! don't judge me), but you could obviously eat two of them if you wanted to because they're pretty dang guilt free.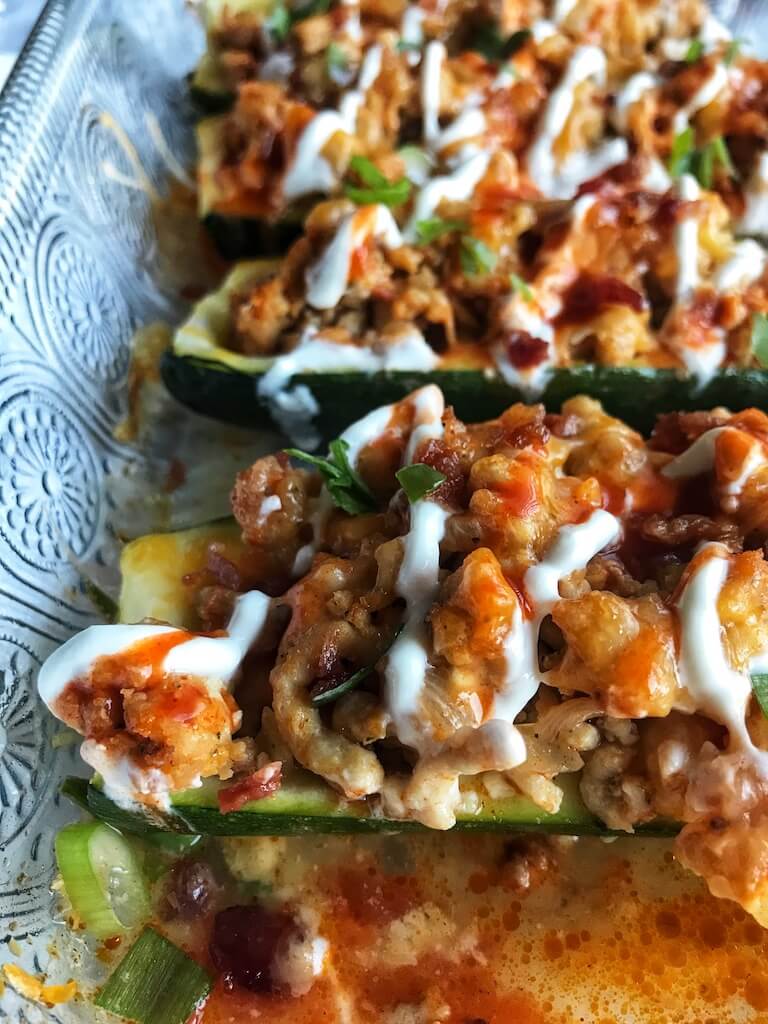 Oh friends, I hope you love these as much as I do! Remember to let me know how it goes by leaving a quick comment and/or rating on this here blog post or by sharing and tagging @theskinnyishdish on Facebook or Instagram!
I hope y'all have been having the very best summer!
With love from my kitchen to yours,
Star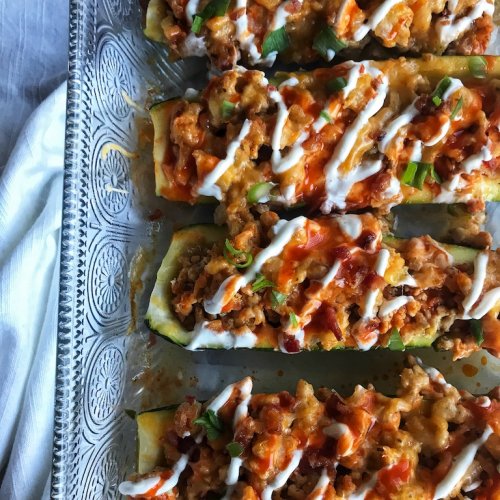 Print
Buffalo Chicken Stuffed Zucchini
These Buffalo Chicken Stuffed Zucchinis are simple, savory, spicy, and perfect for a low carb dinner! They are stuffed with lean ground chicken, ranch seasoning mix, onion, garlic, buffalo sauce, and then generously topped with shredded cheese.
Materials
3

medium

zucchinins

1

lb

lean ground chicken

not extra lean, using extra lean ground chicken may result in a dry meat.

1/4

cup

crumbled real bacon bits

i use the Kirkland or Oscar Meyer brand

1/4-1/2

cup

buffalo sauce

preferably Frank's, add more or less depending on your spice preference

1

tbsp

Ranch dressing seasoning mix

Preferably the "buttermilk recipe" hidden valley packet, but whatever you love most works!

1

medium

yellow onion

chopped

1

tbsp

minced garlic

about 4 cloves

2/3

cup

reduced fat colby jack or cheddar shredded cheese

Cooking Spray

I use Avocado oil spray

Salt & Pepper

to taste
Instructions
Prepare the zucchini by slicing in half and using a spoon to scoop out the inside. Reserve half of the zucchini "insides" (about 1 cup) and roughly chop up. Set aside.

Preheat the oven to 400 degrees.

In a large non stick pan coat with cooking spray and add ground chicken. Season with salt and pepper and break up meat.

Add chopped onion, minced garlic, and the reserved chopped zucchini to the pan with the ground chicken and continue to cook until the onions are soft and meat is cooked.

Add crumbled bacon, ranch seasoning mix, and buffalo sauce to the ground chicken and stir together well. Continue to cook for a minute or two. Salt and Pepper, to taste.

Scoop a heaping half cup into each zucchini half and place into a 9×13 casserole dish. Add shredded cheese. Spray top of the cheese with a little cooking spray and cover with tin foil.

Bake for 30 minutes. After 15 minutes remove the tin foil and continue to cook.

Optional: Add diced green onions and drizzle with sour cream/ranch and extra Buffalo Sauce.
Notes
Serving size: 1 stuffed zucchini half

179 calories Fat:7.5g, Saturated Fat: 2.5g, Carbohydrates: 7.4g, Fiber: 1.2g, Sugar: 2.6g, Added sugar: 0g, Protein: 15.5g
WeightWatchers Points: 4 Points
Note: If your zucchini's are on the smaller side you may need an extra one or two!