Turkey Cheddar Broccoli Stuffed Potatoes
This post may contain affiliate links (meaning I earn a small comission if you purchase an item through a link I provide) I only provide shoppable links to items I love and are helpful. As an Amazon Associate, I earn from qualifying purchases.
Hi guys! Sorry I've been a little absent. In mid May we had a bout of storms come through that felt as if they lasted for weeks. During one of the many rainy, windy storms our internet got royally messed up, and I wasn't able to do much blogging at all. Actually, I wasn't able to do any. I posted about it on social media, but if you missed the post, there's the reason for y'all! I'm here, don't worry. We got it all fixed up so hopefully that means I can start posting just about everything I have been photographing for the last month. First up are these deliciously filling, Turkey Cheddar Broccoli Stuffed Potatoes!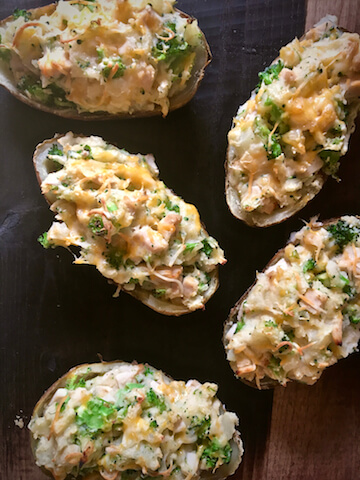 The folks over at Jennie O sent me these incredible premium portioned fully cooked turkey breasts in the beginning of May for the switch circle blogger program. They sent very generous packages of turkey and let me tell you, between Eric and I they didn't last more than a week and a half. We tried the hickory sun-dried tomato basil seasoned breast, a hickory smoked cajun breast, and an oven roasted breast all of which were absolutely amazing. It's fully cooked which makes it perfect to add to meals for a flavorful and lean protein. I used it on sandwiches, in salads, and in these delicious loaded potatoes. I'll show ya what I did in just a minute here so you can make them for yourselves too. These guys make a delicious fuss-free dinner that everyone can enjoy, are perfect to reheat for lunches throughout the week, and I'll be honest, they even taste pretty yummy straight out of the fridge, in my hand, and cold. Since I've been away for a bit I feel like it may take a post or two to really get back into he swing of things, but I'll be honest blogging seems to be a lot like riding a bike. Once I opened the computer, signed into my page, and clicked 'create post' the words started flowing a lot easier than I anticipated. I can't wait to share some real goodies in the next few weeks. Being unable to work on the blog made a lot more time for cooking and eating. Lots of eating. I need this blog to keep my hands busy, that's for sure.
Let's get in the kitchen and make some of these glorious stuffed baked potatoes, shall we?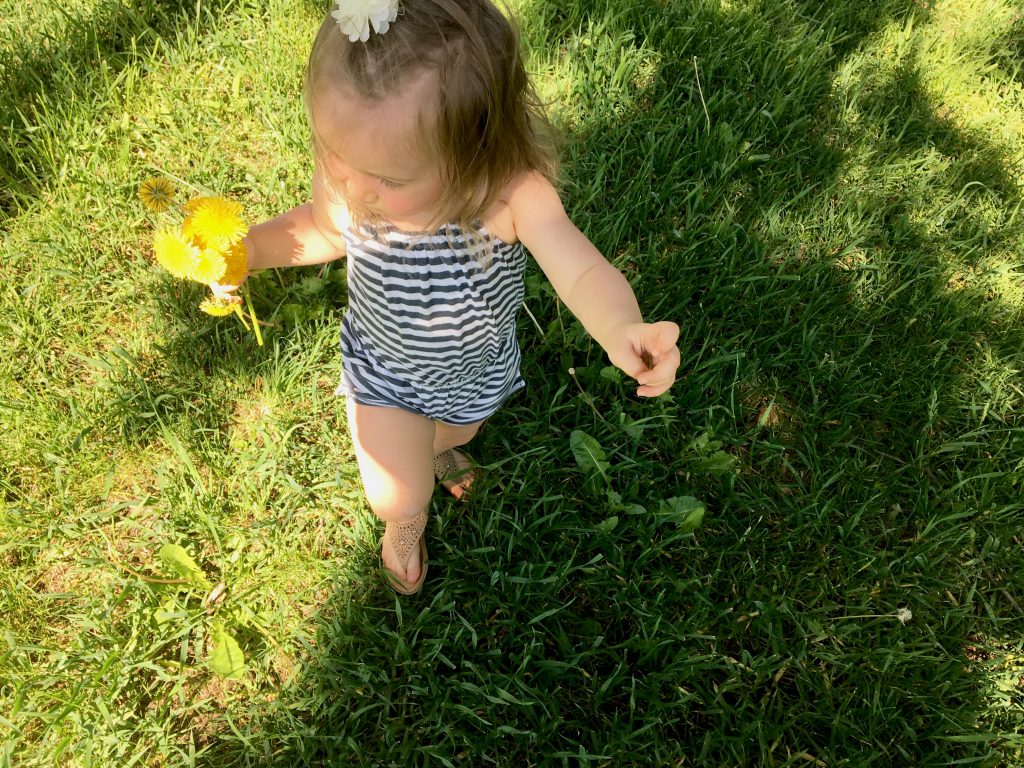 Buuuut first, can we talk about how a bouquet of flowers will never compare to a little fist full of weeds? Gees. My heart. We spend almost every morning outside that we can and almost every morning I am given a little fist full of dandelions. It's just perfect.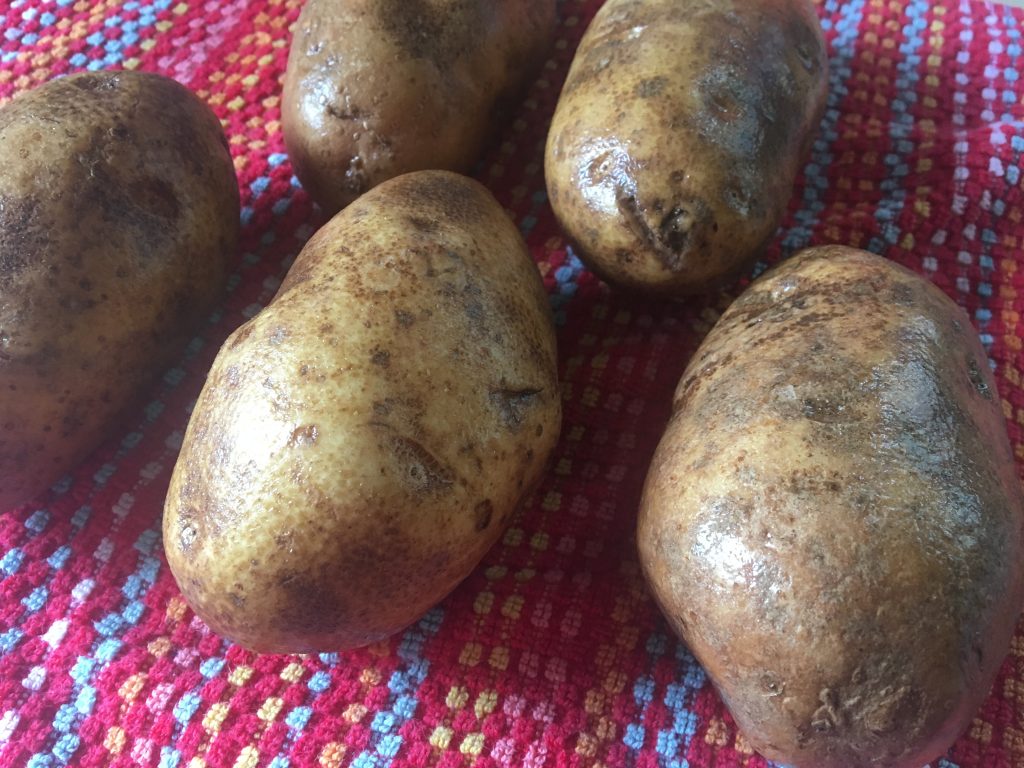 Okay, first things first! Scrub your taters with a brush and some water then spray them with a little cooking spray, sprinkle with a lil salt, and pop'm in the oven at 400 degrees for about an hour or until they are done.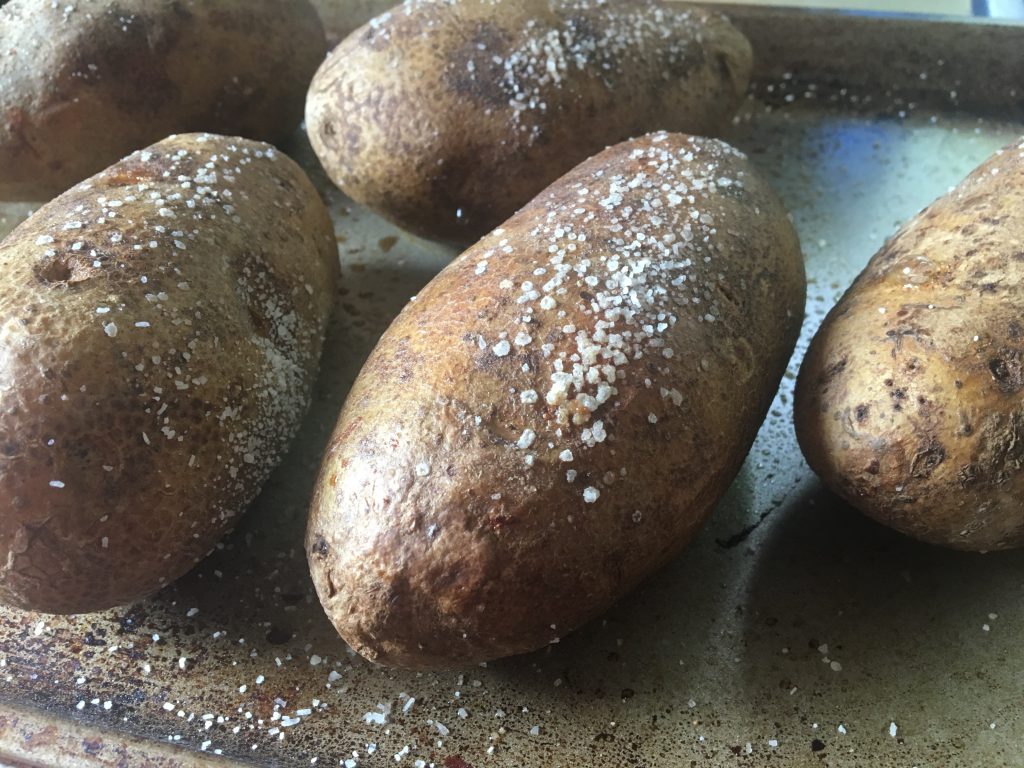 When they are done cooking remove from the oven and let them cool for a bit before handling. I usually start prepping the other ingredients when there's about 10 minutes left to cook the potatoes then I start the whole stuffin' potato process.
Grab some turkey breast, for this recipe I used Jennie O Premium Portions Oven Roasted Turkey Breast, and let me tell ya, this stuff is scrumptious. I could just take a big bite out of it. I might have.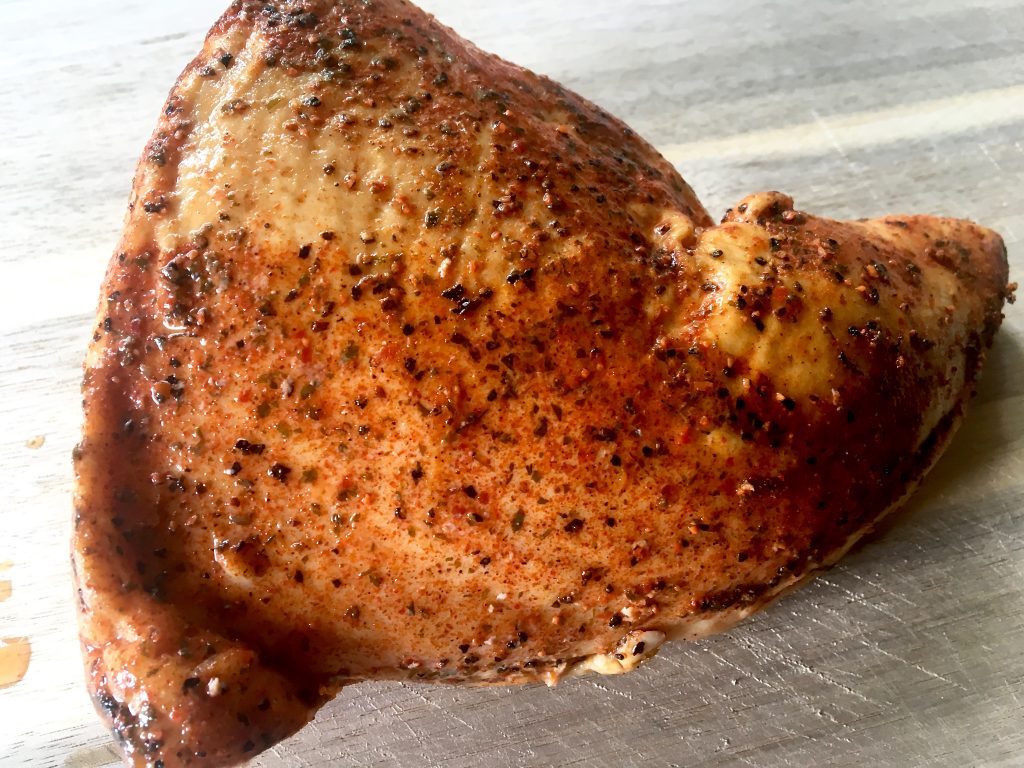 Look at all that flavor on the outside.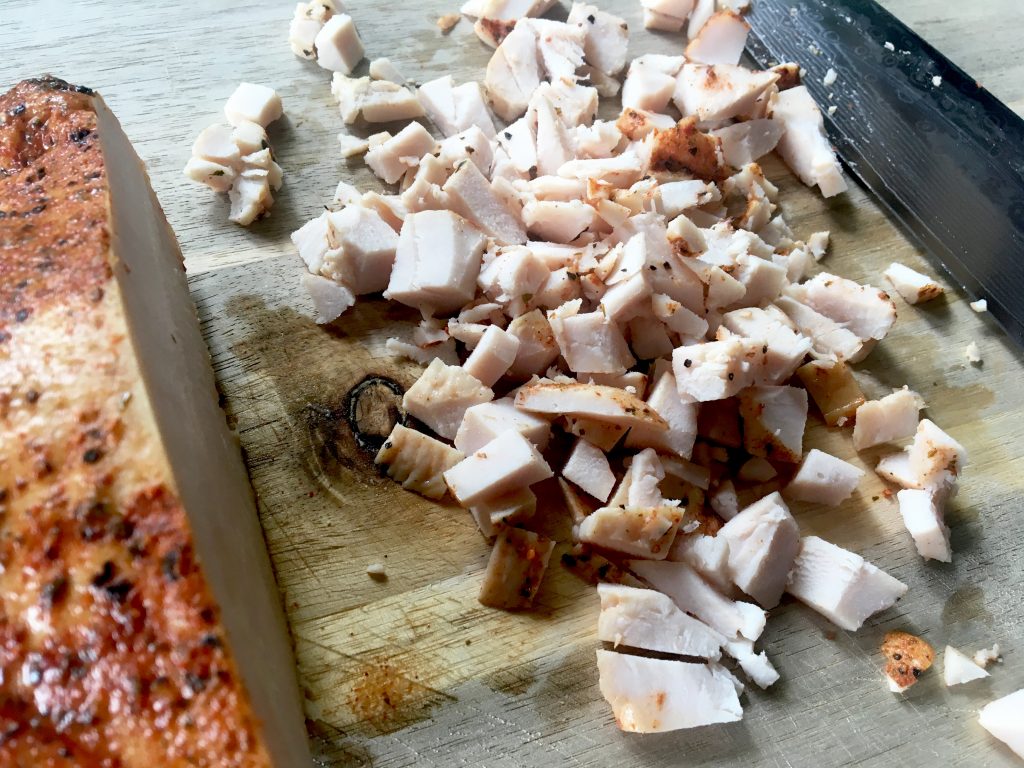 Chop it up into small bite size pieces. You'll need 10 ounces or about 1 1/2 cups!
Next chop up about 2 cups (2 crowns) of broccoli. Green Goodness! (You can also grab frozen broccoli, let it thaw just enough so you can chop it up and you can skip the steaming process) Use whatever is easiest for ya!
If using fresh broccoli, quickly steam it up just enough about 2-4 minutes. I actually steamed this stuff about a minute too long. So, don't do that.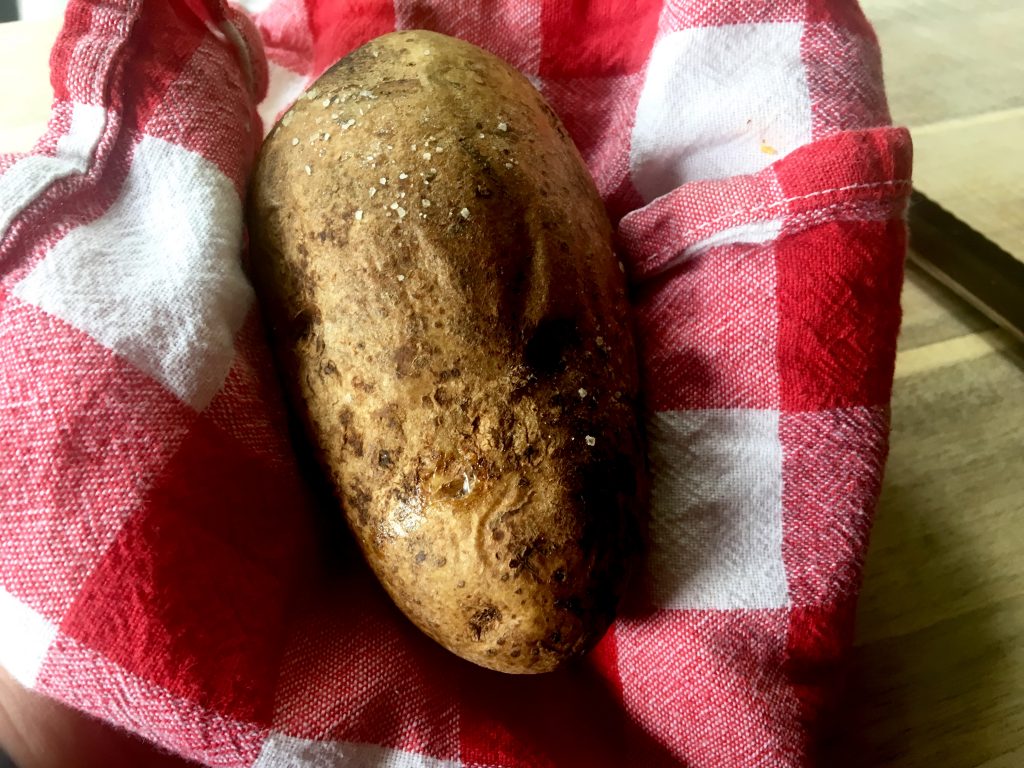 Now the taters should be cool enough to handle. They will still probably be fairly warm, I always fold a dish cloth and hold it in my hand to cut the potato to make two halves.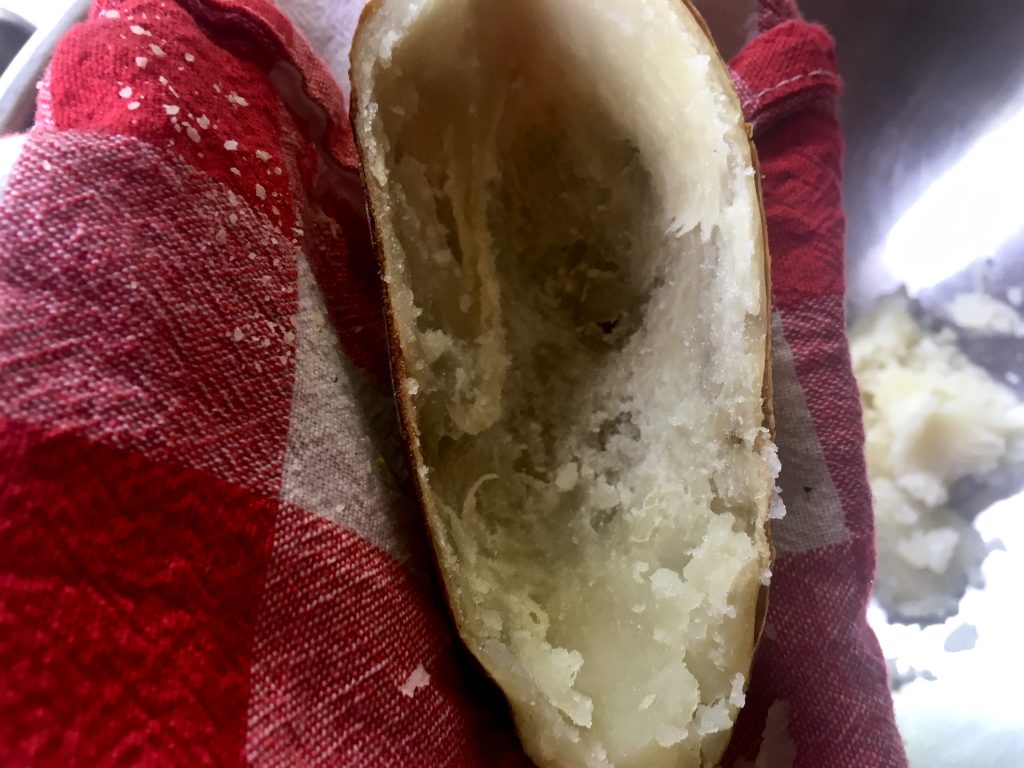 Scoop the insides into a bowl and leave just enough potato for a lining so the skin doesn't break apart. Repeat this step until done cutting and scooping.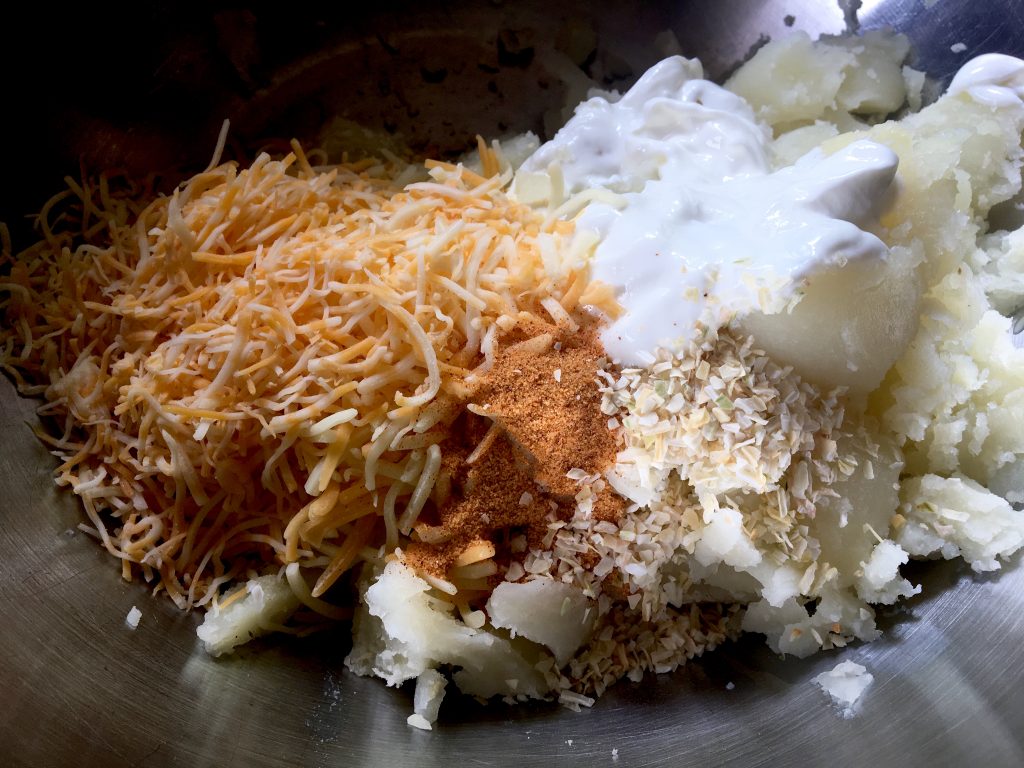 Now dump the rest of the goodies in with the potatoes. You'll add 2 tbs dried minced onion, 1 tsp garlic powder, 2-3 tsp Lawry's Seasoned Salt, 1/2 cup light sour cream, 3 tbs 2% milk, and about 1 1/4 cups of cheese made with 2% milk.
Mash it all up!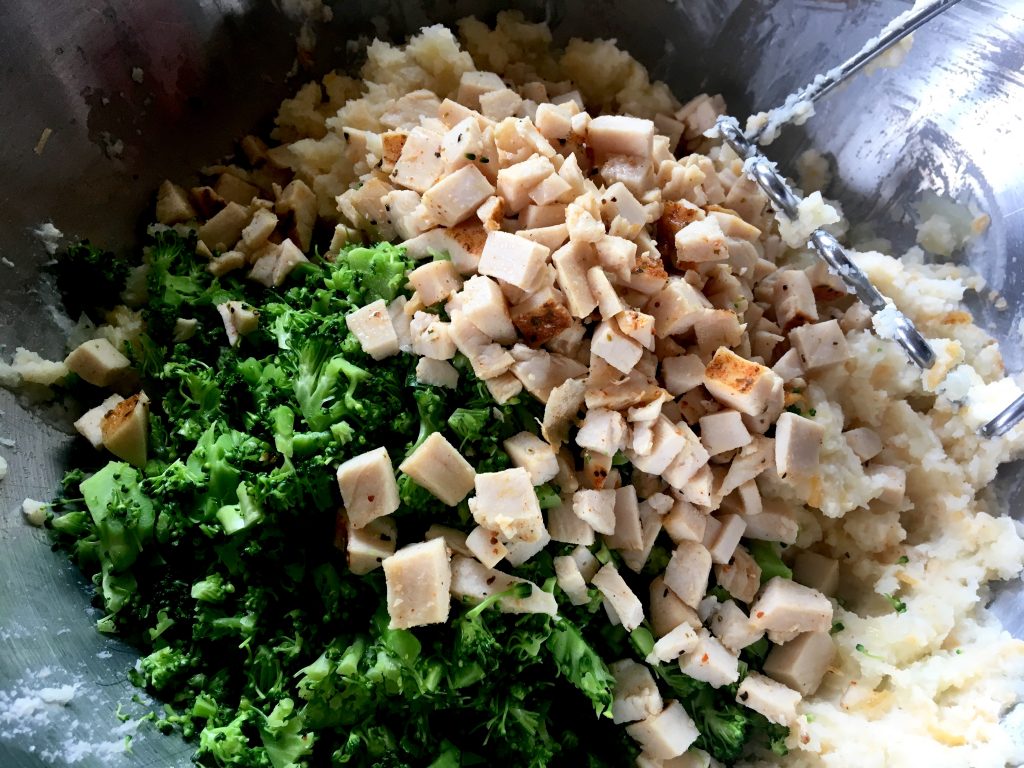 Fold in the chopped turkey breast and broccoli!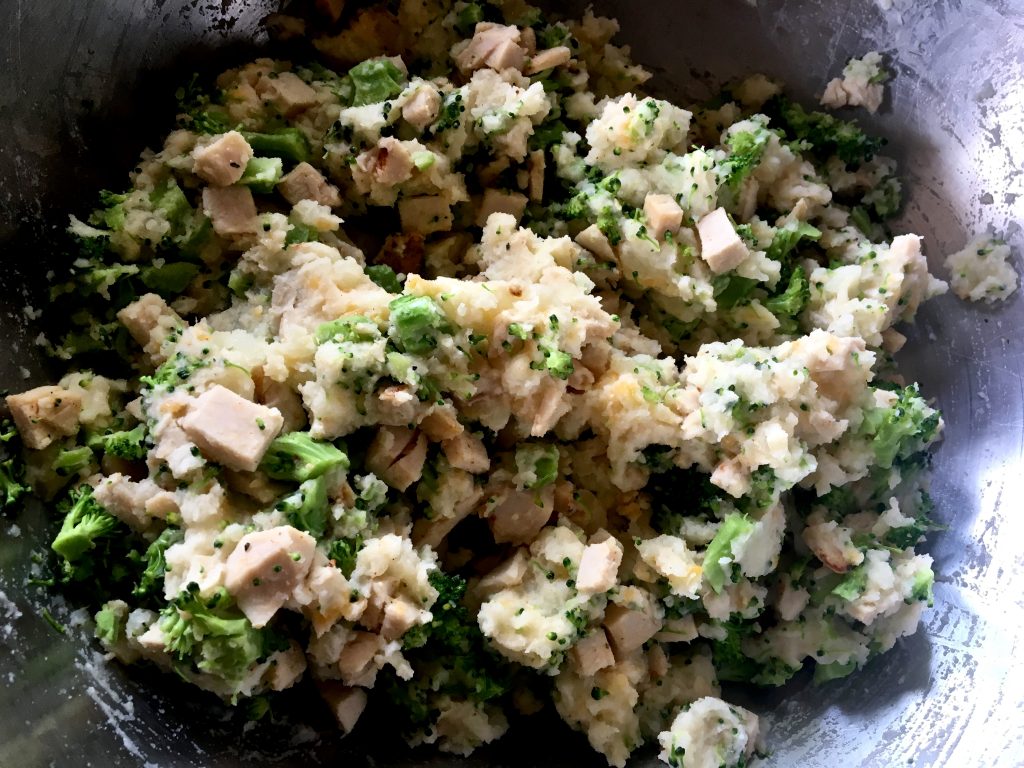 Mmmmm… Take a tiny little bite and add some salt and pepper to taste.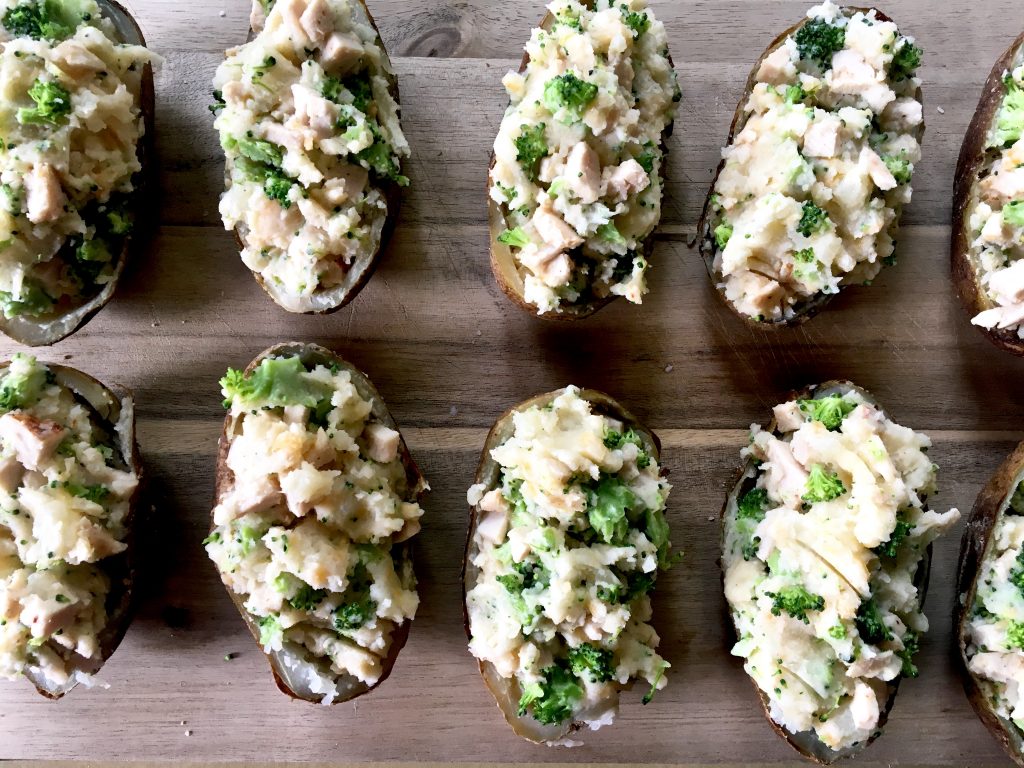 Stuff your spuds!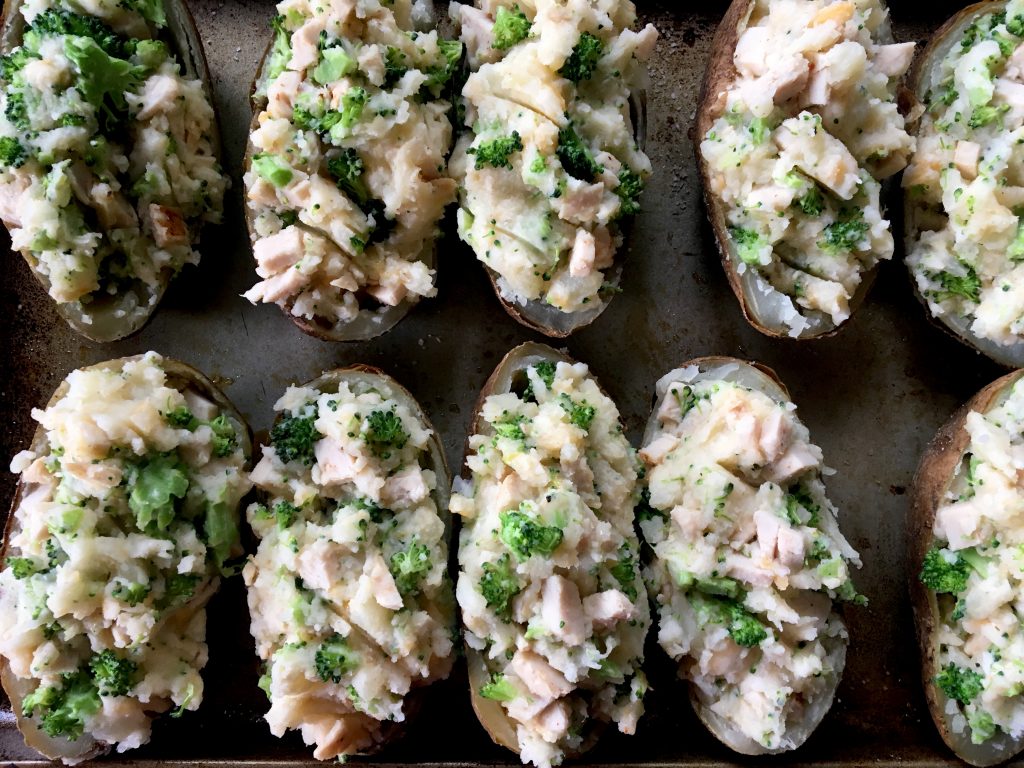 Pop'm back in the oven for about 20 minutes.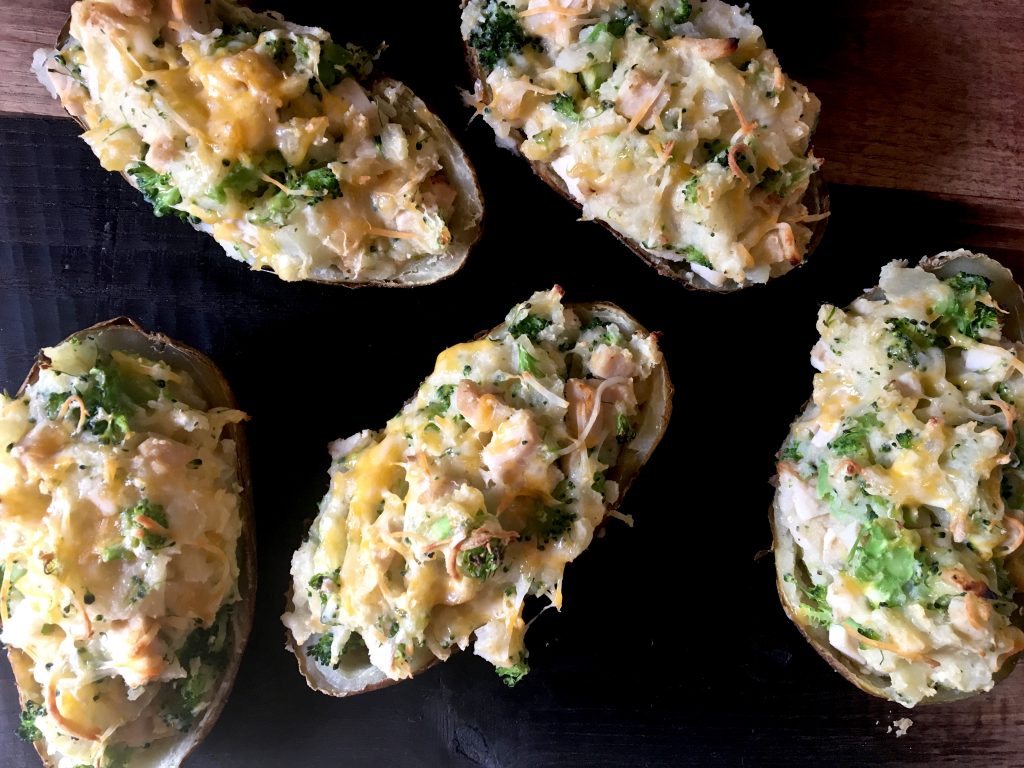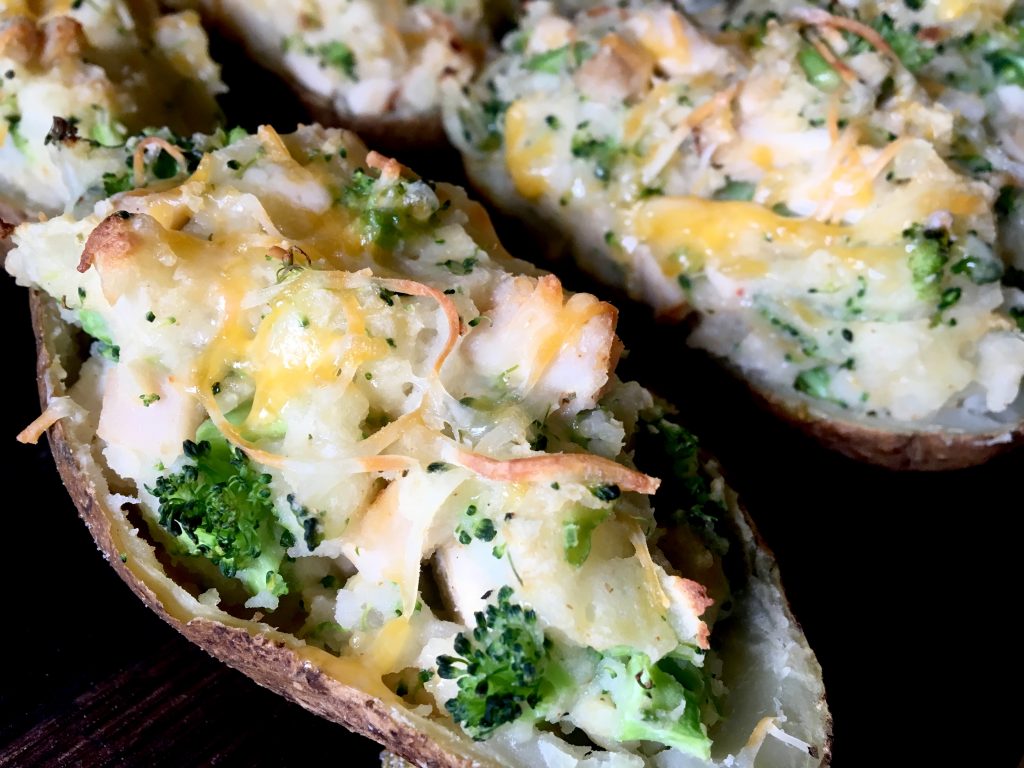 These complete me.
Kick these tasty taters up a notch by drizzling them with some of my Skinny Ranch!
Make these yesterday. Make these tomorrow. Make these right now!
Lots of love from my kitchen to yours,
Star
*This post is sponsored by the Jennie-O Switch Blogger Program. Recipe and opinions are my own.*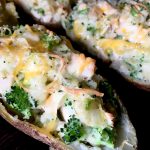 Print
Turkey Cheddar Broccoli Stuffed Potatoes
Twice Baked Potatoes overly stuffed with a turkey, broccoli, and a cheesy mash.
Materials
5

medium russet potatoes

(about 10 ounces each, uncooked)

course sea salt or kosher salt

cooking spray

1/4

cup

2% milk

1/4

cup

light sour cream

1 1/4

cup

reduced fat colby jack or cheddar cheese

10

oz

(about 1 1/2 cup) diced Premium Selection Jennie O Oven Roasted Turkey Breast

2

cups

broccoli

, chopped, lightly steamed

2

tbs

dried minced onion

2-3

tsp

Lawry's Seasoned Salt

1

tsp

garlic powder

Salt and Pepper

, to taste
Instructions
Preheat the oven to 400 degrees. Wash uncooked potatoes with a brush and water. On a sheet pan place potatoes, lightly spray with cooking spray, and sprinkle with kosher salt. Bake for 45 minutes to 1 hour, or until done. Remove the potatoes from the oven and set aside. Reduce the oven temperature to 350 degrees. Chop up turkey breast and broccoli. Lightly steam the broccoli until bright green (2-4 minutes). When the potatoes are cool enough to handle, cut into halves and scoop out the potato flesh into a bowl. Add cheese, sour cream, milk, dried minced onion, seasoned salt, garlic powder, and salt and pepper to taste. Mash together well. Mix in the chopped turkey and broccoli. Evenly distribute the mash into the potato shells. Return the potatoes to the oven for 15-20 minutes.
Notes
Serving size: 1 stuffed potato half
235 Calories 1.8g fat, 1g saturated fat, 46.5g carbohydrates, 4g fiber, 3g sugar, 12g protein
WeightWatchers Points: 5 Points
*For less prep work lightly chop slightly thawed frozen broccoli instead of using fresh