This post may contain affiliate links (meaning I earn a small comission if you purchase an item through a link I provide) I only provide shoppable links to items I love and are helpful. As an Amazon Associate, I earn from qualifying purchases.
This Bacon Cheeseburger Chili is everything you know and love about a big ol' juicy cheeseburger and piping hot bowl of chili. In this recipe, you'll find that they got married and had a delicious little baby. Bacon Cheeseburger Chili might just be a new family favorite.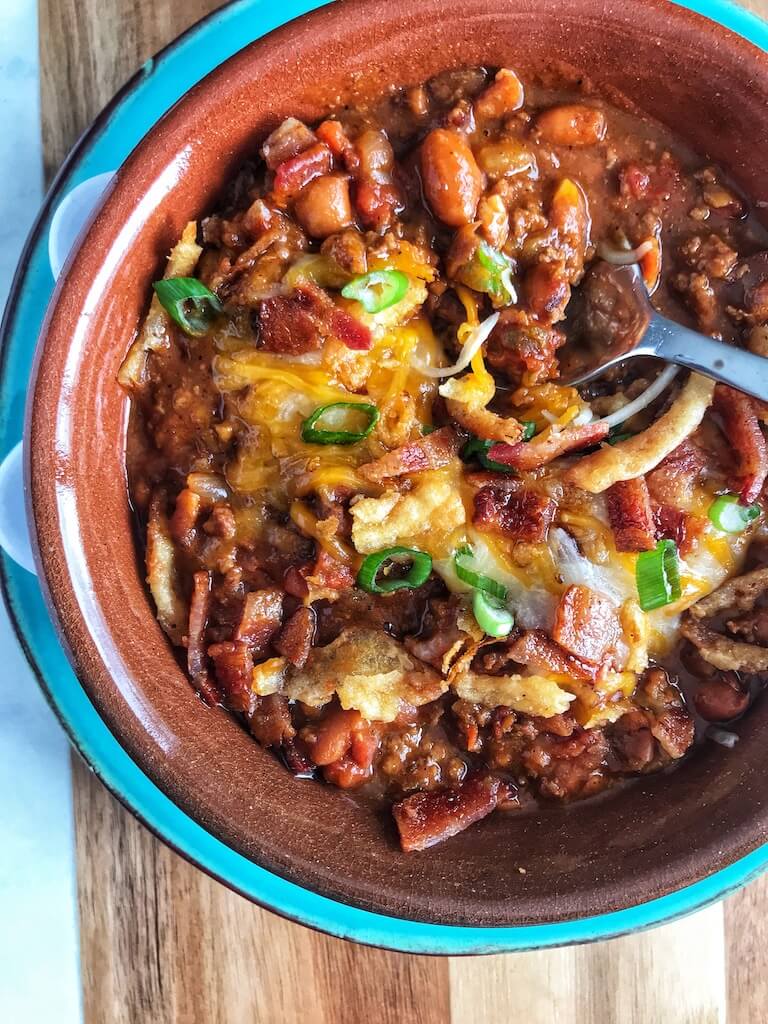 I'll be honest this chili is the result of a crazy delicious entirely off track meal I had one night at Chili's. Chili's? Yes. Don't knock it. Chili's is GOOD eatin'. It also happens to be one of the handful of restaurants in my town so…. our choices are a bit limited. Anyway, so one night I was soooo over dishes and I told Eric, 'Hey lets just do chili's" and so we went and I got the biggest baddest burger ever. I think it was called the Chili's 1975 Chili CheeseBurger and it was glorious.
But, It was also probably almost 1,000 calories, like 60 points on WW, and made my tummy feel not all that great after indulging. I went to bed that night and thought to myself hey if it's so good all together in burger form then why wouldn't in be good all together in a bowl, ya know? Eric thought my idea was weird, but thankfully, I don't listen to him that often. Haha kidding! But really, If I think I've got a good food idea I generally ignore what others think until I try it for myself.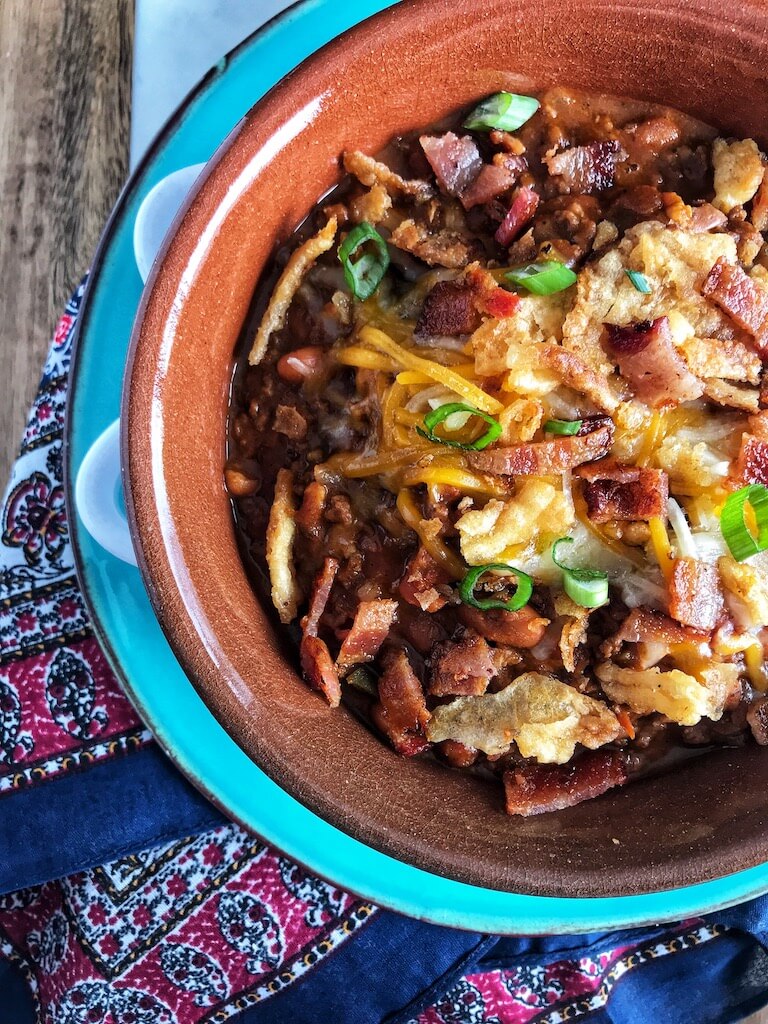 So I made it. I loved it. I made it two more times. Loved it even more. I'm making it again this week because I love it so much. I know, I know chili is kind of sacred and some of ya are going to be like what? No girl. This recipe won't work. But, before you close this post and think to yourself, "That Star. she's gone a lil crazy" I'm telling you… it's stupid good and you need to make it immediately.
Eric also thought I was nuts when I made my One Pot Bacon Cheeseburger Pasta a couple years ago, but it's one of my most popular recipes to date. He's one of those people that is all like, "chili is chili, a cheeseburger is a cheeseburger.. blah blah" Thankfully, At the end of everyday he loves me for making his life more interesting and mashing up his favorites while destroying his outlook on how food should be. Ha! After all life as a food blogger would be awfully boring if I didn't try new things. I even ate mushrooms for you all!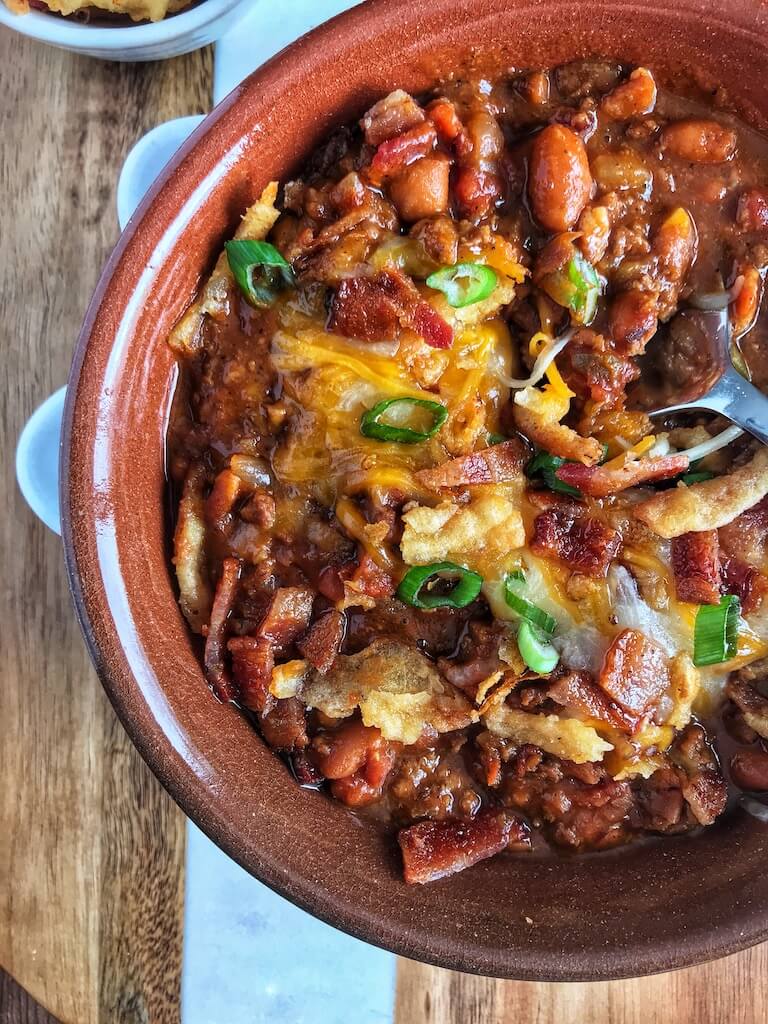 Let's get in the kitchen, folks!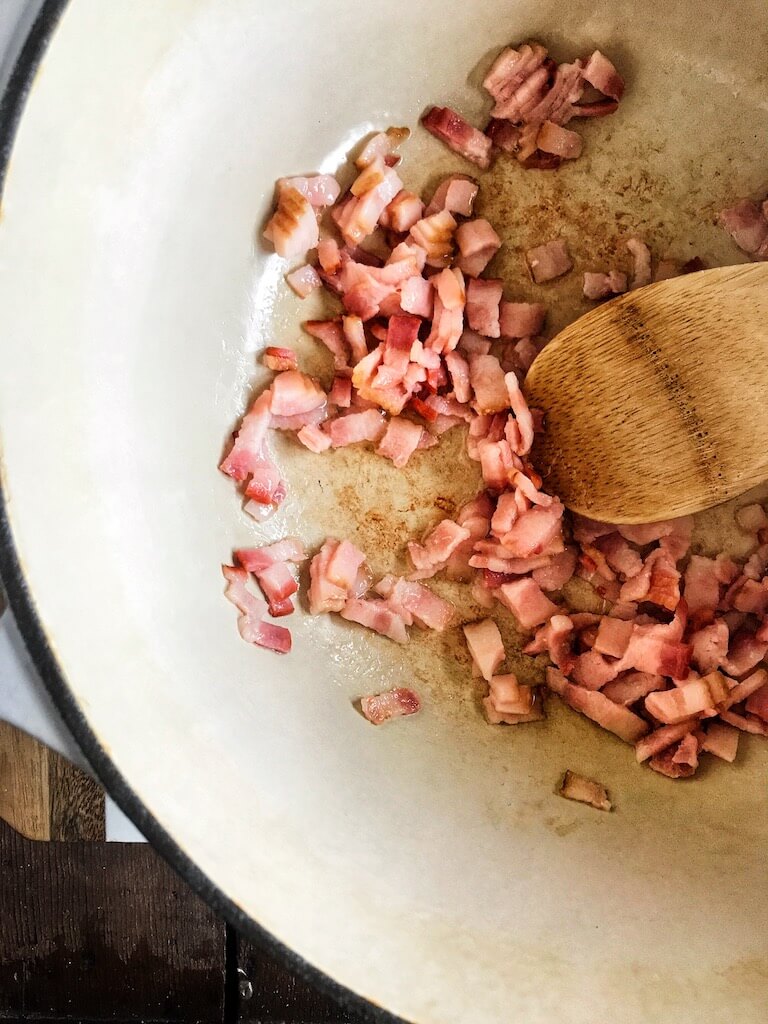 Grab a big ol' pot or dutch oven. Add diced center cut bacon (6 slices) and cook until crispy. If needed, drain excess fat.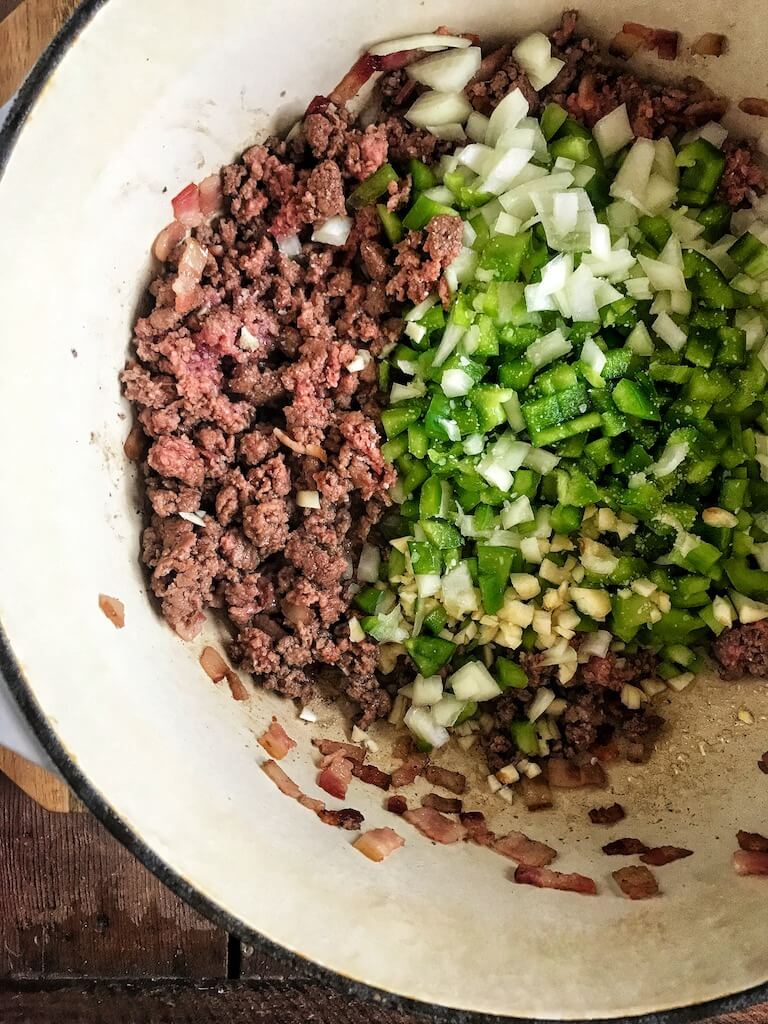 When the bacon's all done gettin' crispy add in one pound of extra lean ground beef, break it up with a spatula, and cook until mostly cooked. Stir in a diced green pepper (red pepper will work too), 1 large yellow onion, and 4-5 cloves of garlic. Sprinkle with a pinch or two of salt! Cook all together over medium heat until soft.
When the vegetables are soft throw in 3 tbsp chili powder, 1 tsp cumin, and 1 tsp smoked paprika to the ground beef mixture. Stir it all up and cook for about a minute. Then, add in the 1/4 c. reduced sugar ketchup, 3 tbsp dill pickle relish (not sweet relish!), 2 tbsp Worcestershire sauce, 2 tbsp yellow mustard, and franks hot sauce to taste (I use about a tablespoon). Stir all together.
I know this ingredients list is weird, just trust me.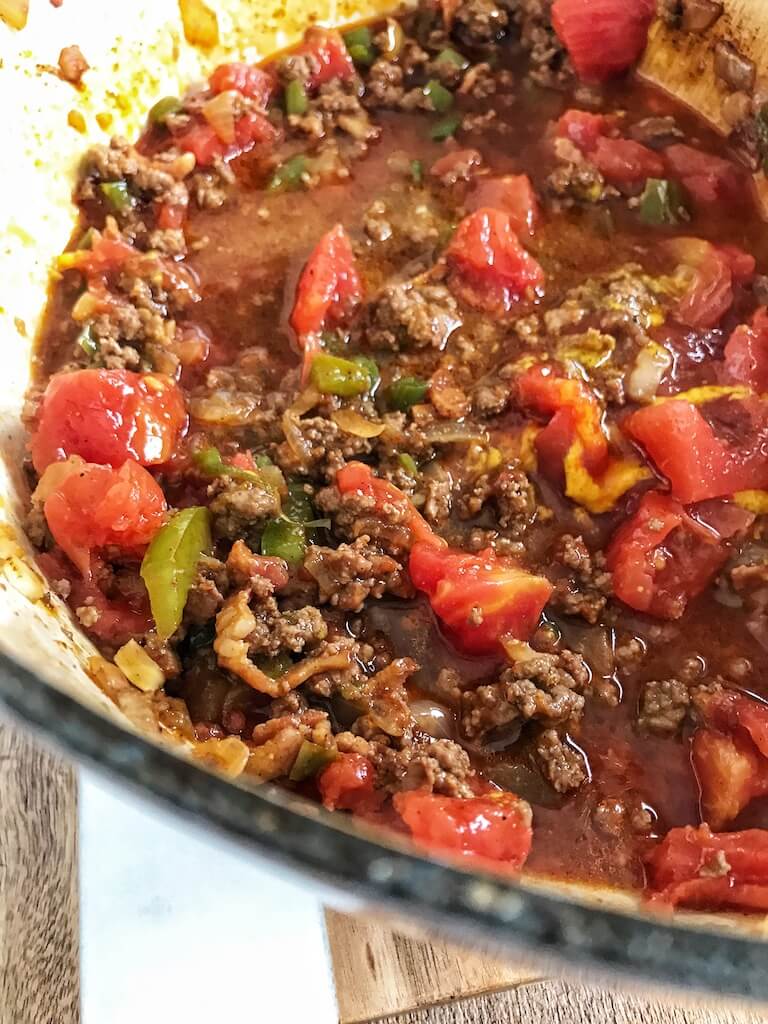 Now add in 1-1/2 cups of beef broth and a 14.5 ounce can of fire roasted diced tomatoes that hasn't been drained. I actually kind of smash the tomatoes while stirring so they disappear a bit. You could also add in crushed tomatoes or petite diced tomatoes.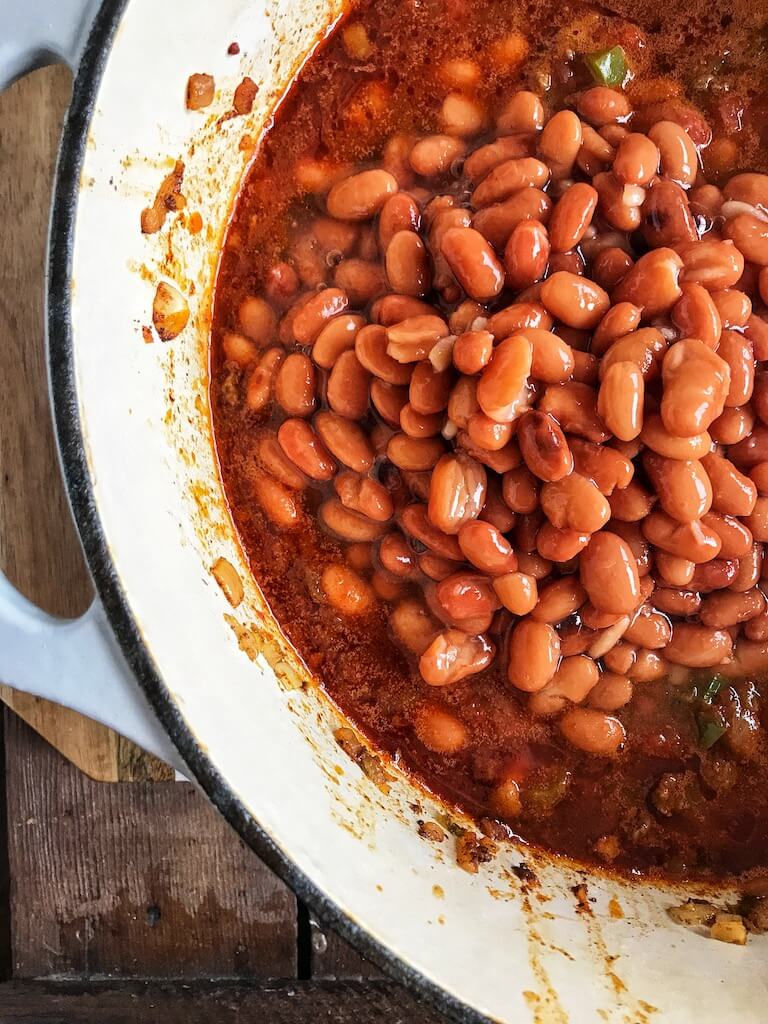 Time for the beans! Throw in 2 cups of beans that have been drained (but not rinsed) from the cans. I prefer pinto beans in my chili. If Eric had his way I would mix in some kidney beans, but I cannot do kidney beans so you'll probably never find those things in a recipe of mine. You could totally throw black beans in too, but in my "professional" opinion, pinto beans taste best.
Reduce the heat to medium low and continue to cook, partially covered, for about 20-25 minutes. As the chili cooks it will thicken up. If you like a little more liquid in your chili you can add a bit of beef broth, but I like that this is pretty thick!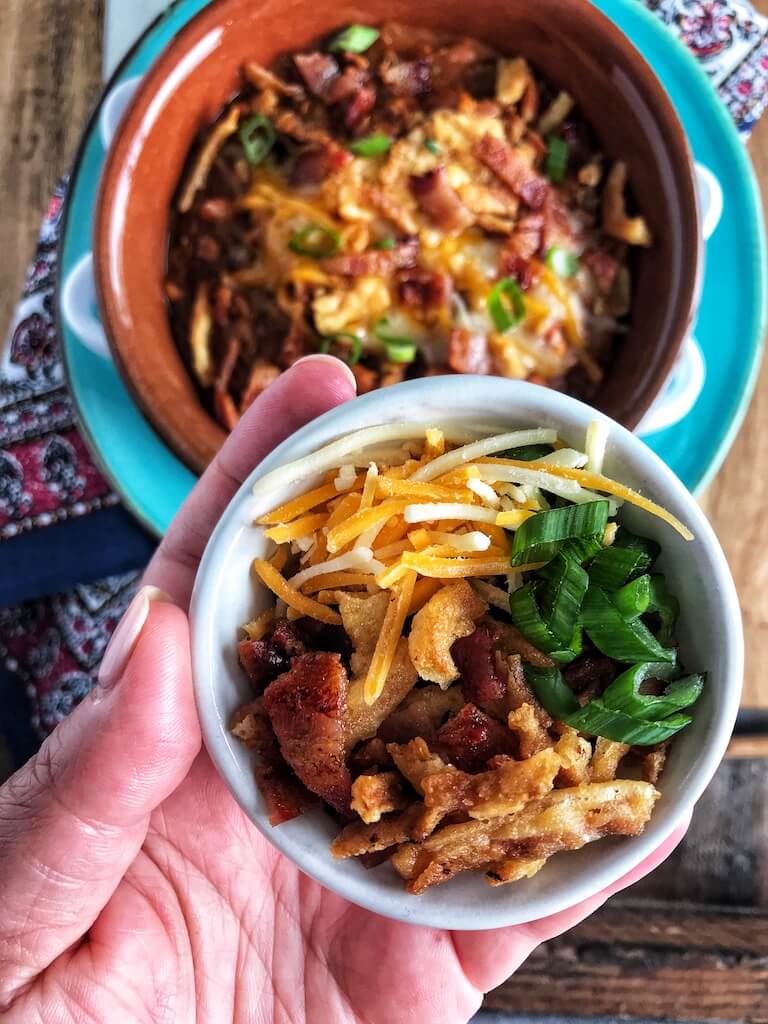 Bacon Cheeseburger Chili Toppings
Cheese. You kinda need it. I usually add 2 tbsp of reduced fat Colby Jack or Sharp Cheddar.
Green onions. They add color, a little extra flavor, and somethin' fresh. Minced red onions taste great too! Or, make it a lil spicy by adding thinly sliced jalapeños.
Extra bacon. It's not completely necessary, but totally good. I usually cook up a few pieces on the side and crumble it.
Crispy Onions. You know the things in that red and white container that you buy once a year in November? You're gonna need'm again. I toast them up in a pan with a little cooking spray and add them to the Chili toppin's spread. The perfect crunch! I didn't try it, but Eric said potato chips crushed up also tasted muy bueno.
You totally don't need all these toppings. The chili alone tastes amazing, but y'all know, I'm always a little extra with my food.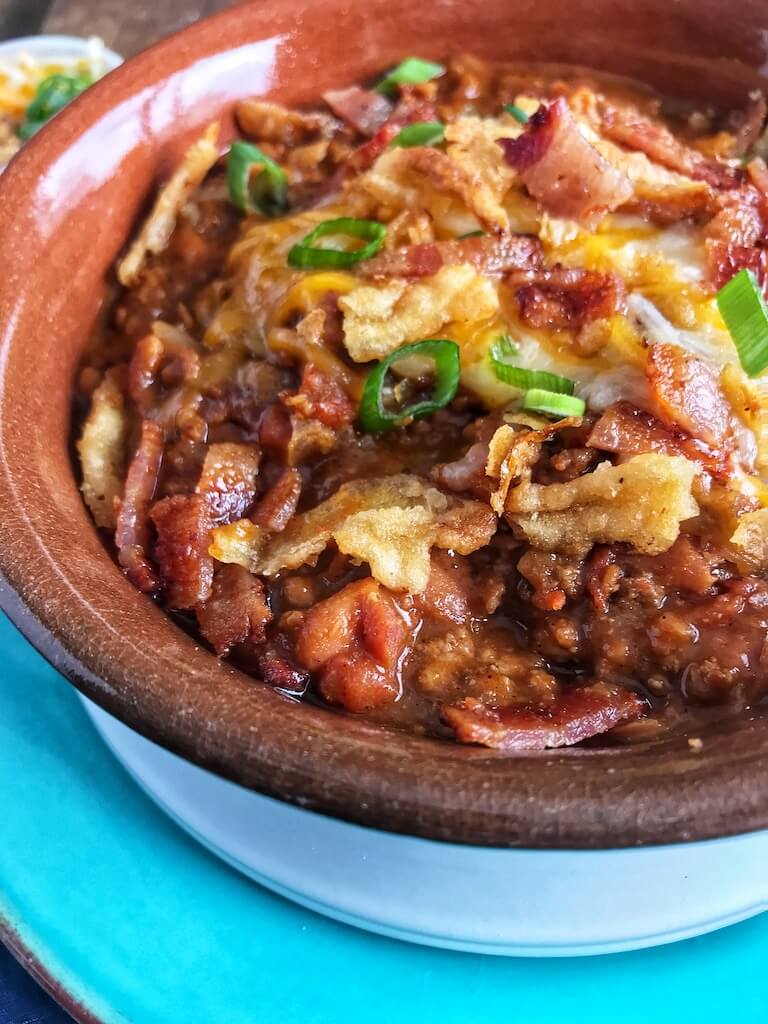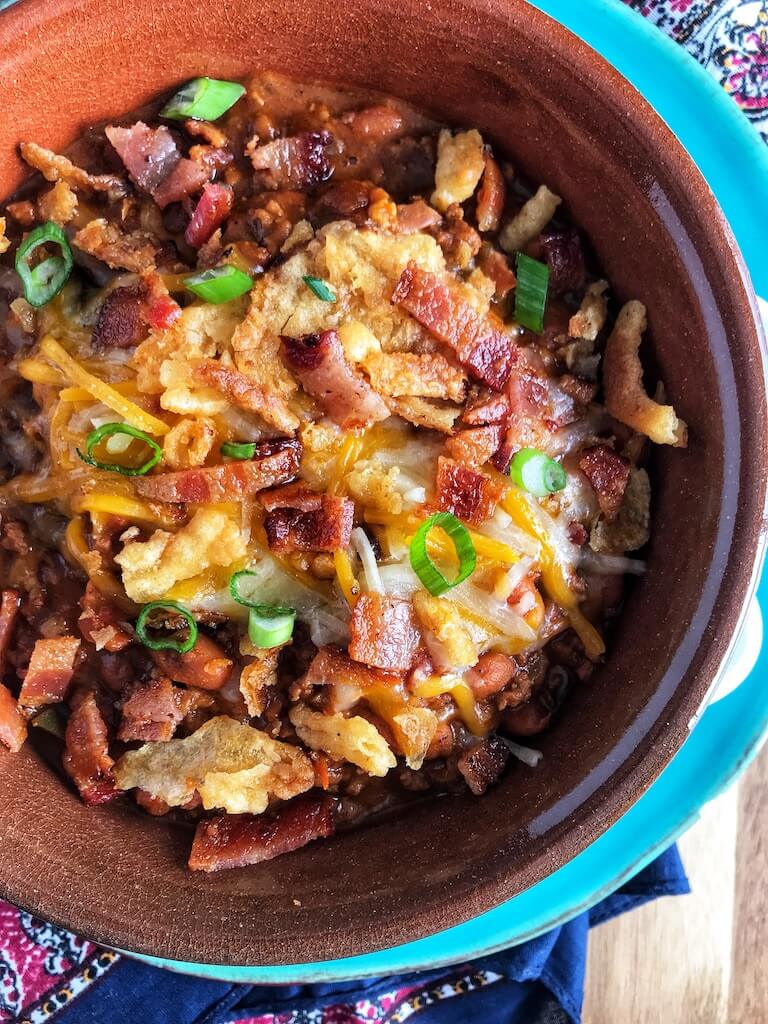 As with most chilis, this tastes even better after it's left alone in the fridge overnight. If you can wait, plan to eat it the next day! It's perfect for meal prep.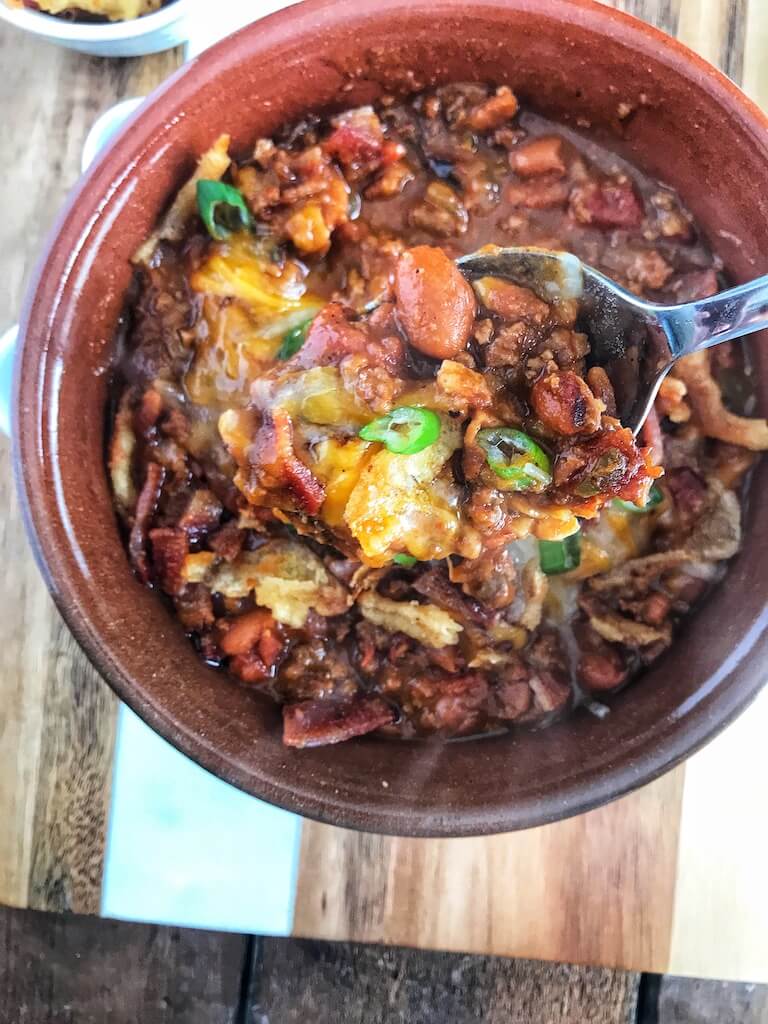 This honestly might be my new favorite food for February. A super delicious twist on chili. I couldn't believe how much I loved it the first time I made it, and I really hope you do too! If you try it let me know if you like it!
With love from my kitchen to yours, Star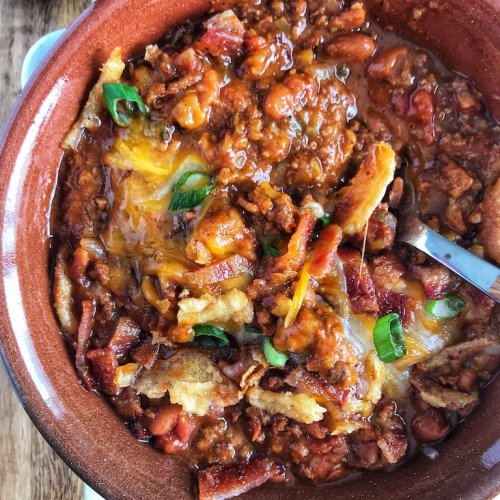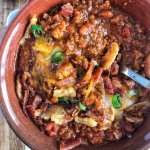 Print
Bacon Cheeseburger Chili
Chili with all the taste of a Bacon Cheeseburger
Materials
6

slices

center cut bacon

(diced and uncooked)

1

lb

extra lean ground beef, raw

1

large

green pepper, chopped

1

large

yellow onion, chopped

4-5

garlic cloves, minced or pressed

1

tsp

cumin

1

tsp

smoked paprika

3

tbsp

chili powder

(I use McCormick. Make sure you use a chili powder that you know and love. Some chili powders can be super spicy!)

¼

cup

reduced sugar ketchup

2

tbsp

Worcestershire Sauce

3

tbsp

dill pickle relish, not sweet relish

2

tbsp

yellow mustard

1-½

cups

low sodium beef broth

1

14.5 oz can

fire roasted diced tomatoes

(can also used petite diced tomatoes or crushed tomatoes)

2

cups

pinto beans, canned, drained, but not rinsed.

kosher salt & pepper,

to taste

Frank's hot sauce

to taste, I use about a tablespoon
Optional (Delicious) Toppings
extra cooked bacon, crumbled

diced green onions, red onions, or jalapenos

crispy onions toasted in a pan with cooking spray

(i use french's brand)

cheese

(i use reduced fat shredded colby jack or shard cheddar)
Instructions
In a large pot or dutch oven over medium heat add center cut bacon and cook until crispy. Drain extra grease. Add in ground beef and break apart with spatula and cook until mostly done. Add in green peppers, onions, and garlic sprinkle with a pinch or two of salt. Stir all together and cook until veggies are softened. Stir in cumin, chili powder, and paprika. Cook for another minute.

Throw in ketchup, mustard, dill relish, worcestershire sauce. Stir until combined then add in tomatoes, beef broth, and pinto beans. Stir together well. Mash tomatoes if you want them blended more. Reduced heat to medium low and cook, partially covered, for about 20-25 minutes. Chili will thicken during this time. If you like a little more liquid in your chili feel free to add a bit more broth. Enjoy!

As with most chili, this stuff tastes better the next day so this would be a perfect meal prep option!

Optional: Add cheese, a little extra crumbled bacon, onions, and crispy onions.
Notes
Serving size: 1-1/4 cup (you will need to add additional points/calories if you choose to add toppings) 275 Calories. 10g fat, 3g saturated fat, 22g carbohydrates, 6g fiber, 0g sugar, 23g protein.
WeightWatchers Points: 3 Points