Loaded Chicken Bubble Up Bake
This post may contain affiliate links (meaning I earn a small comission if you purchase an item through a link I provide) I only provide shoppable links to items I love and are helpful. As an Amazon Associate, I earn from qualifying purchases.
Man oh Man, am I excited to bring you guys this recipe. If any of you reading this have been following my Instagram for awhile, or if you know me in real life, you know how much I love to load things up with bacon, cheese, and green onions!
It's become an obsession of some sort… a delicious obsession that I am totally okay with!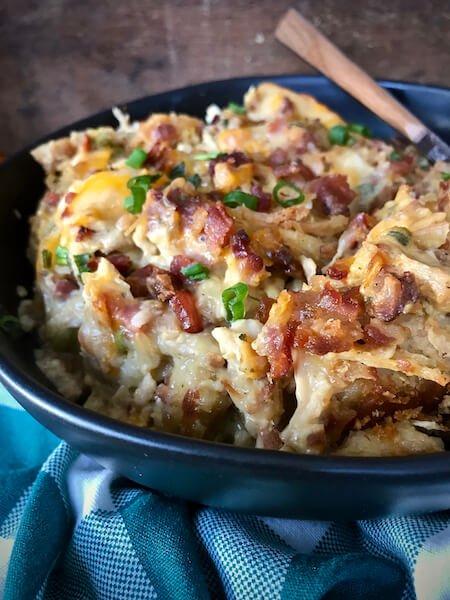 This three-way combination is probably the BEST combo of all time.
Okay, Peanut butter & Jelly, Fall & Pumpkin Spice, Macaroni & Cheese… those are all amazing combinations also.
But I'm telling you- Green Onions, Bacon, and Cheese are everything. It's been awhile since I came up with another bubble up creation. I just love those little biscuits, their bubble-up-ness, and their destiny to transform into so many different lightened-up creations!
This happy accident of a bubble up bake happened because I had some shredded up chicken that needed to be used up, and a can of biscuits that were about to expire, so I knew I wanted to do something with those two items. I wasn't sure what exactly, so I just started grabbing some stuff. I was thinking out loud to myself about how much I just wanted a loaded baked potato. Then I was like "hmm…BUBBLE UP + LOADED BAKED POTATO TOPPINGS!!" I could hardly wait for this concoction to get out of the oven.
Truth be told, I ate it straight out of the pan with a fork and said MMM about 52 times. I finally decided to share some with Miss Pepper, who was dancing around my heels at the time. She doesn't actually talk yet, but this is how I know she likes what she smells, and approves of what she's just eaten. You can see her eyes light up, and then she starts making lots of excited noises and smacking her lips… this means she likes it! This means I have to share with her. I have only seen her this excited about one other thing that I have made: Biscuits & Gravy Bake. You know what that means, y'all, and if you don't, go make that bake as soon as you possibly can!
I didn't even let Eric have any of the first pan.
I actually hid it in the fridge from him. Shh, don't tell him. It's fine. I still fed him.. I think.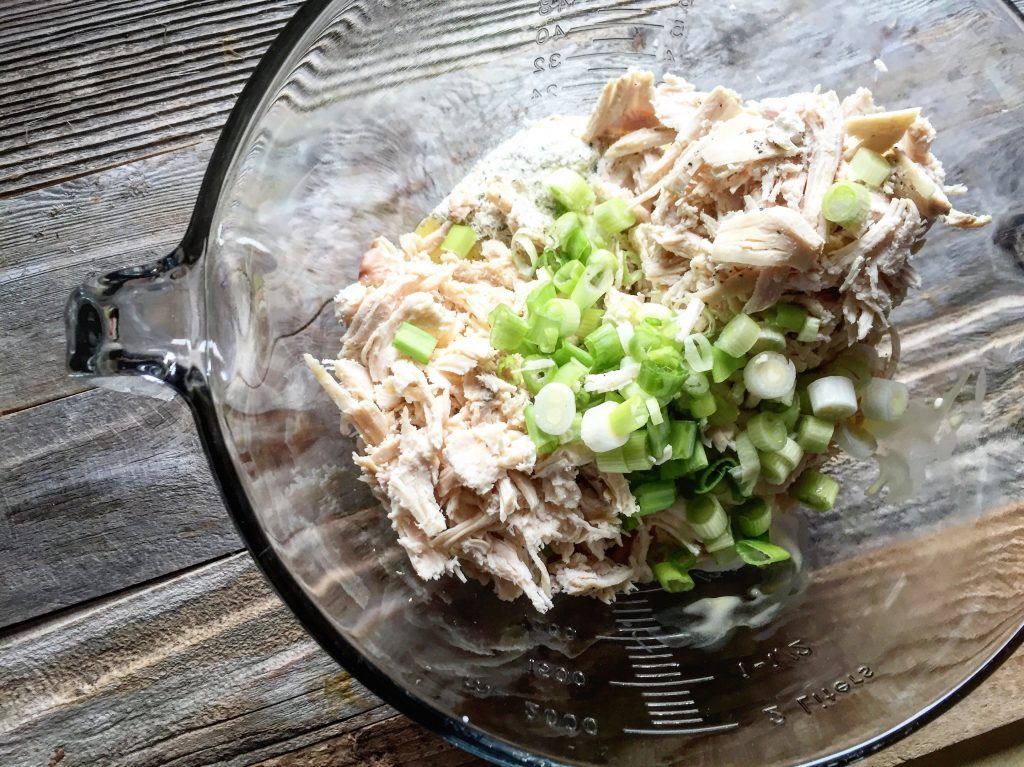 Let's start off by throwing some shredded chicken, green onions, sour cream, cream of chicken soup, and ranch seasoning mix into a bowl. (Daily Dose Tip: I always have shredded chicken either in the fridge ready to go or divided into baggies in the freezer. Here's how I prep a bunch of shredded chicken to have on hand every few weeks!)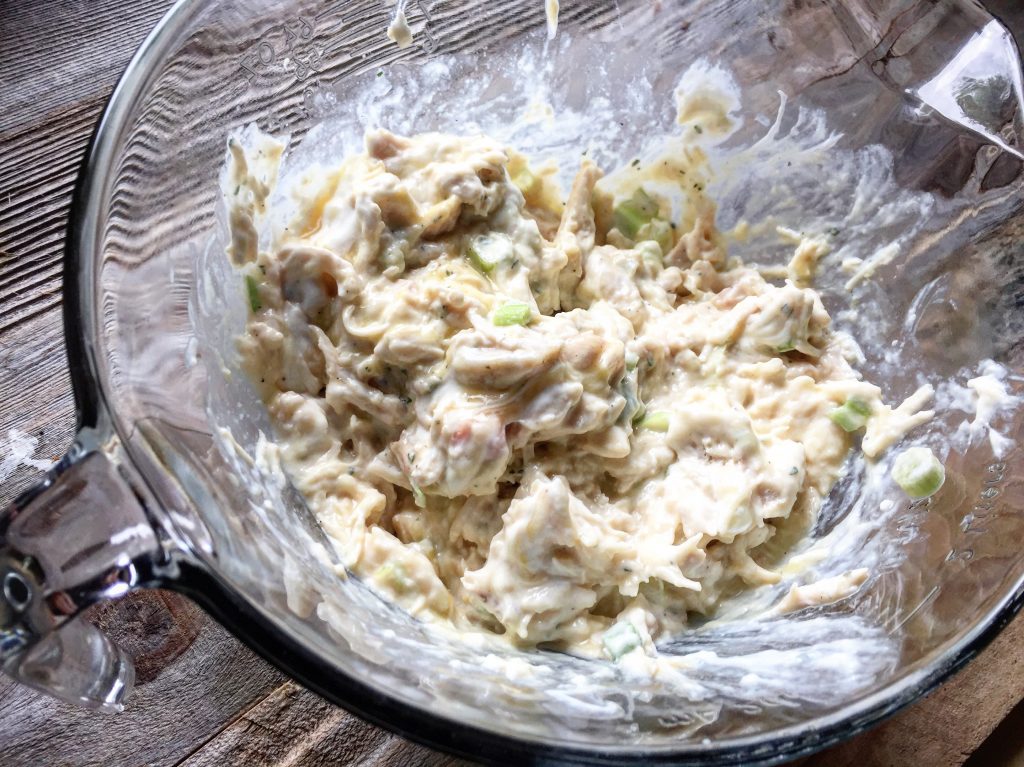 Mix it all up and Set aside.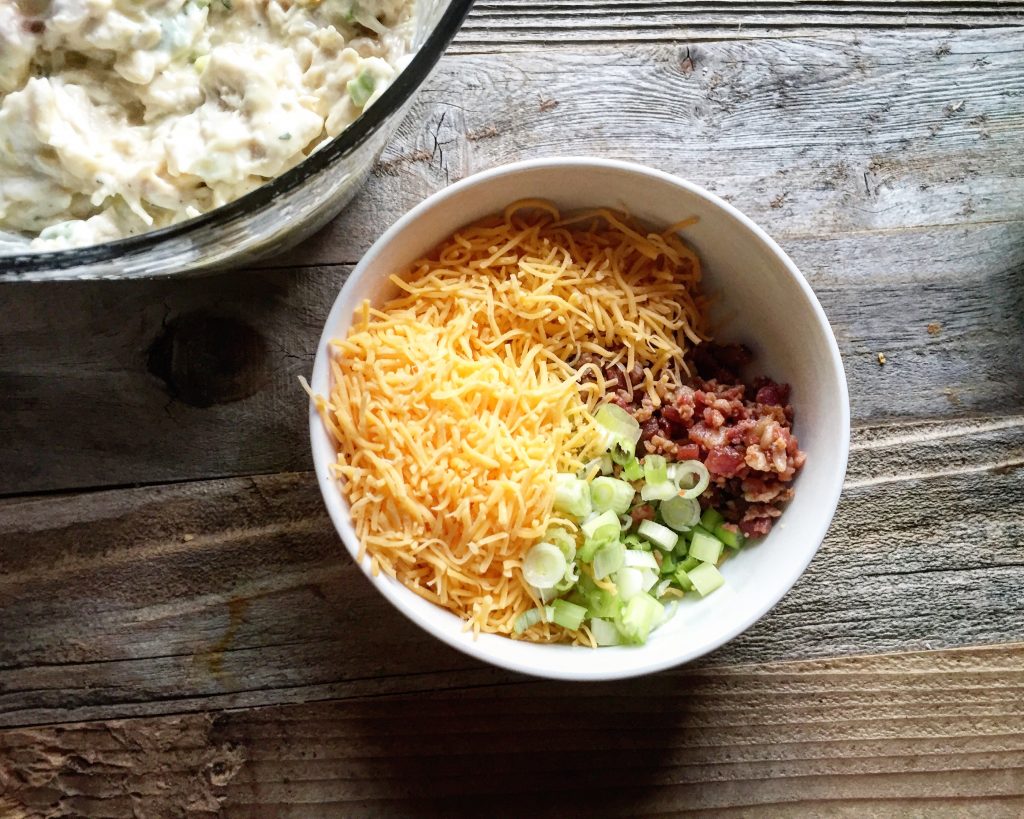 Now grab some more green onions (feel free to use a little less if you don't have a small obsession like I clearly do), shredded cheddar, and real bacon bits (or crumbled bacon strips if you wanna fry some up and make your own! I didn't have any bacon on hand the first time I made it, so I stuck with the bits.)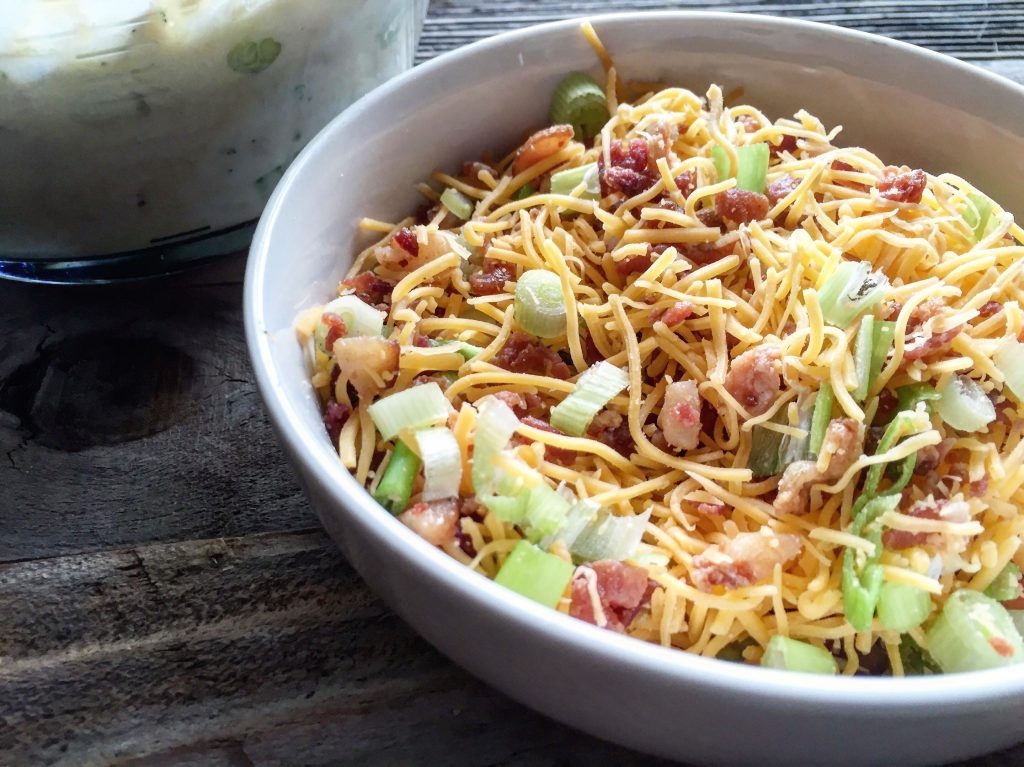 Now mix this heavenly combination all up and set this aside too.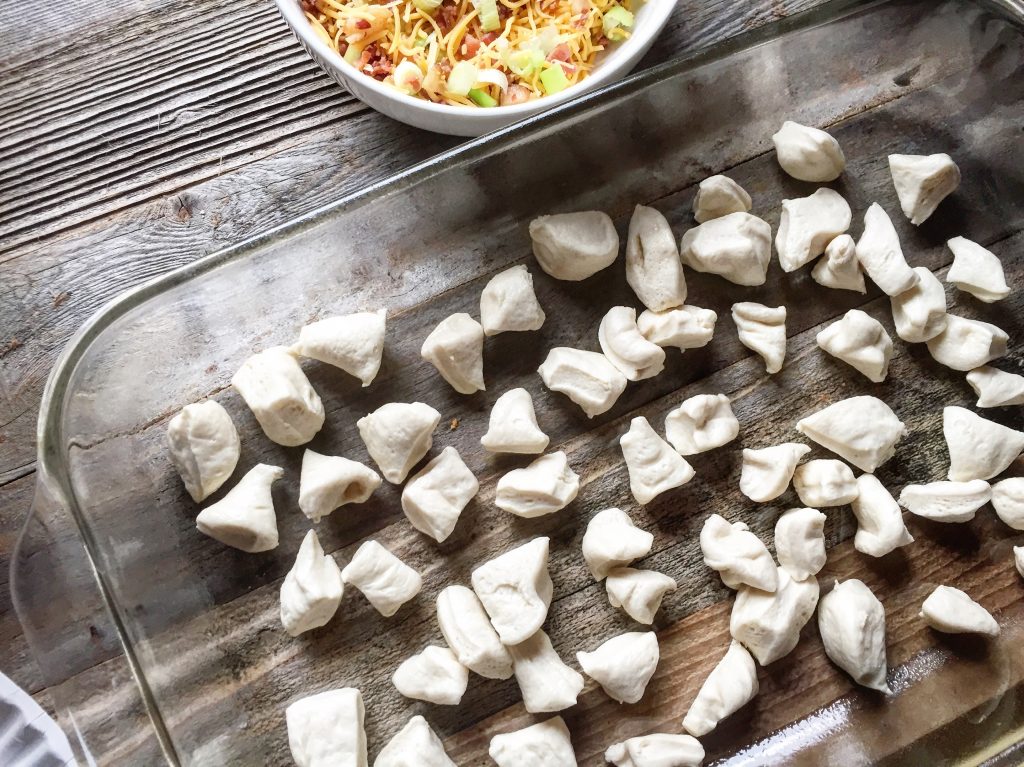 Now grab a 9×13 baking dish. Lightly spray it with some cooking spray, and then spread your cut up biscuit pieces onto the bottom of the dish.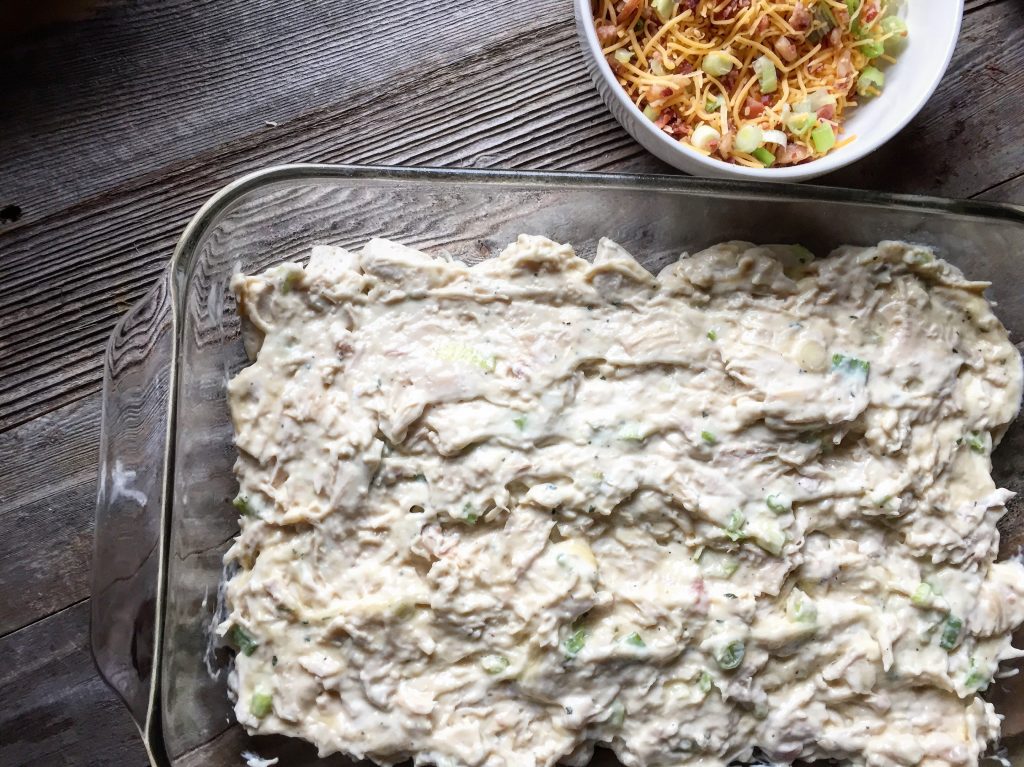 Spread the chicken mixture evenly on top.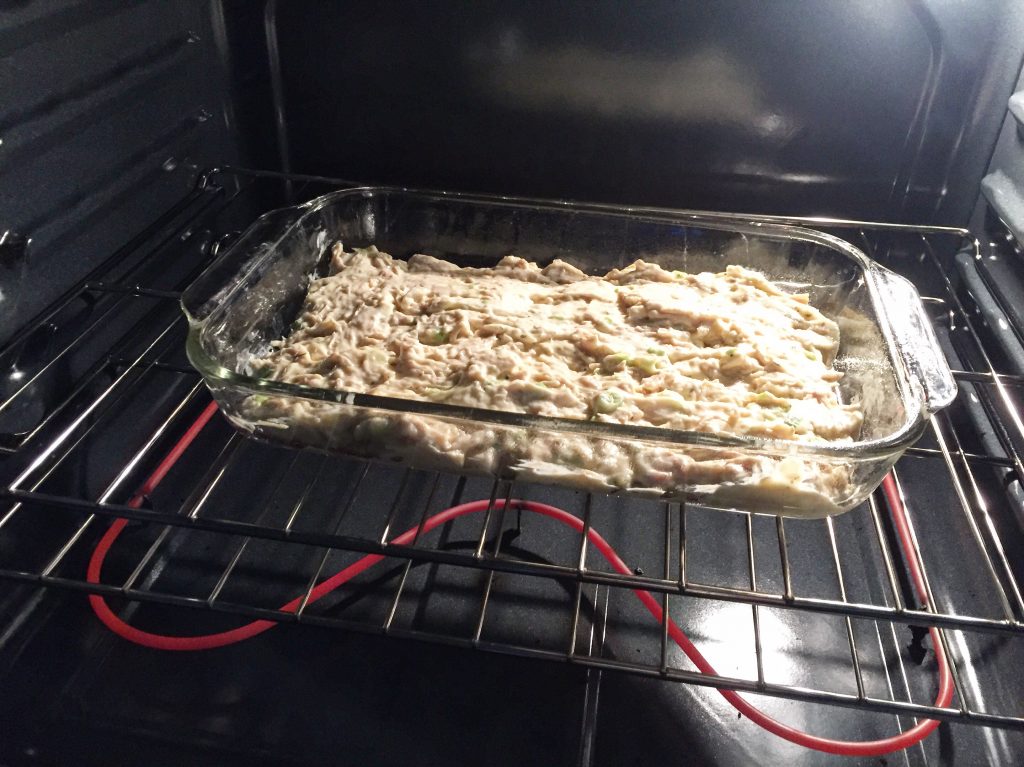 Pop into a preheated 350 degree oven, and heat uncovered for 20 minutes.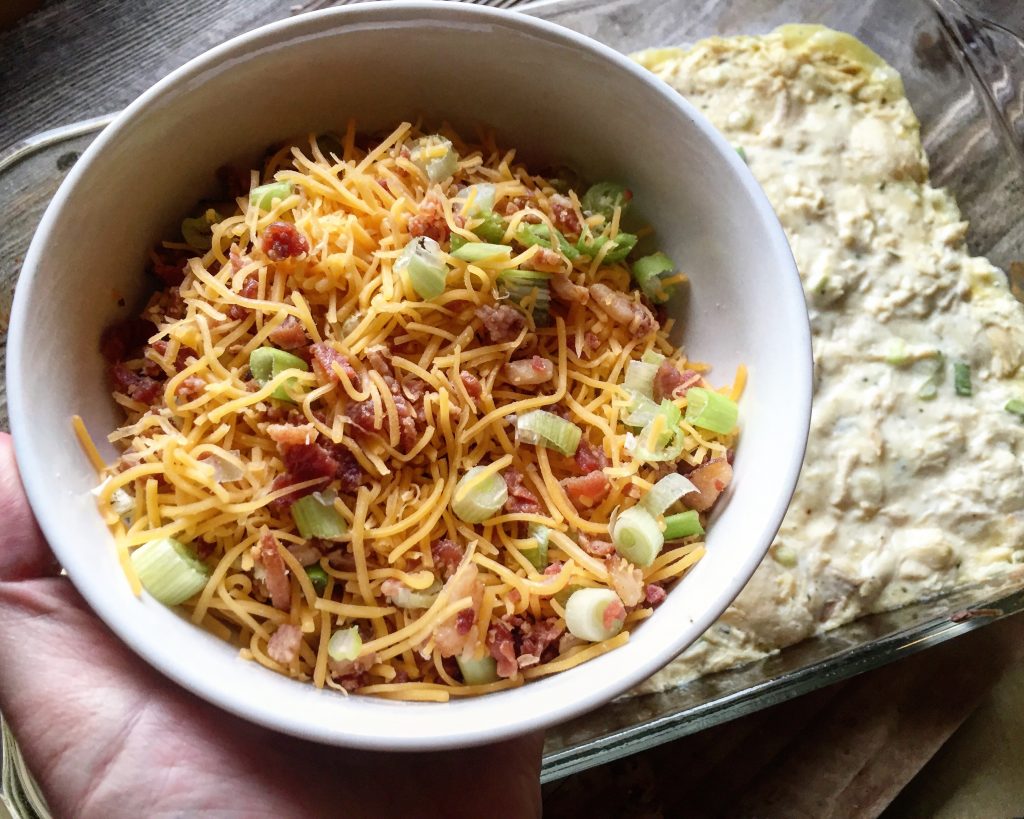 After 20 minutes take it out of the oven, and here's the best part: Top with this heavenly mixture!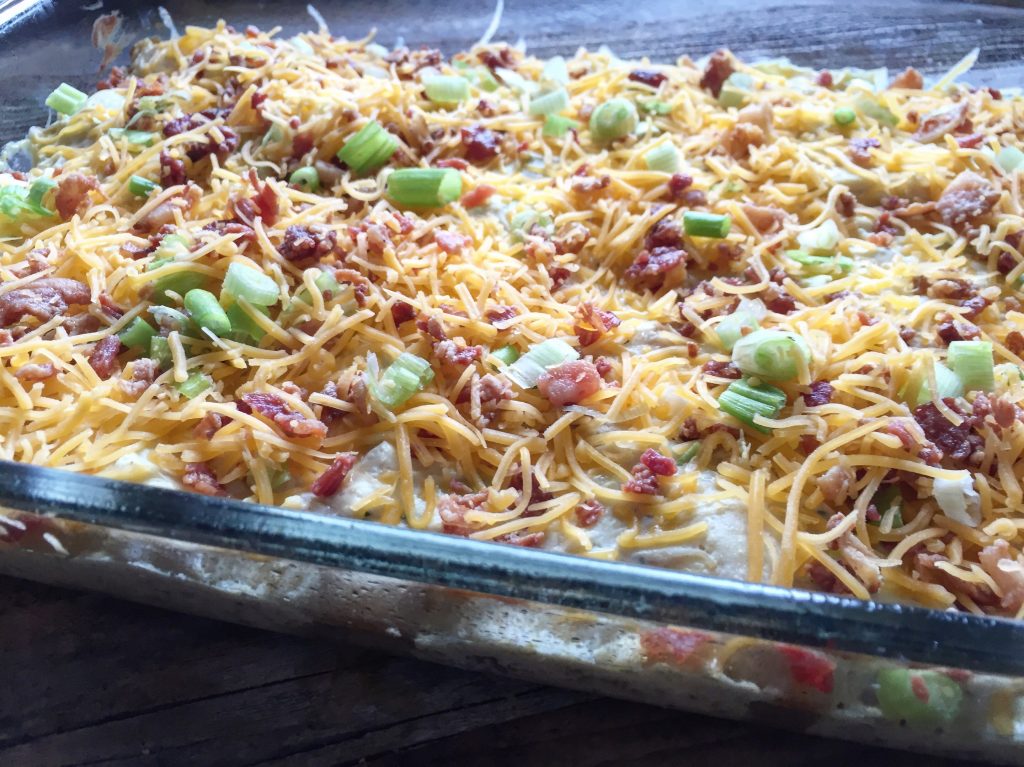 Look at that. 🙂 Put it back into the oven for about 15 minutes.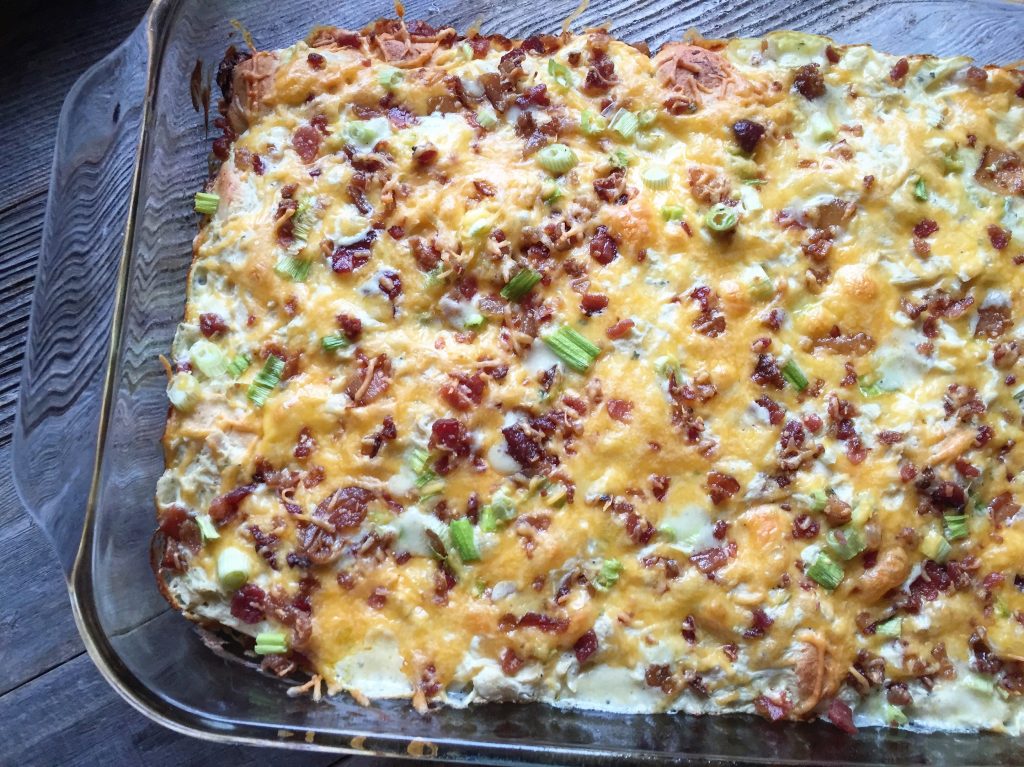 Remove from the oven and let it sit for a few minutes.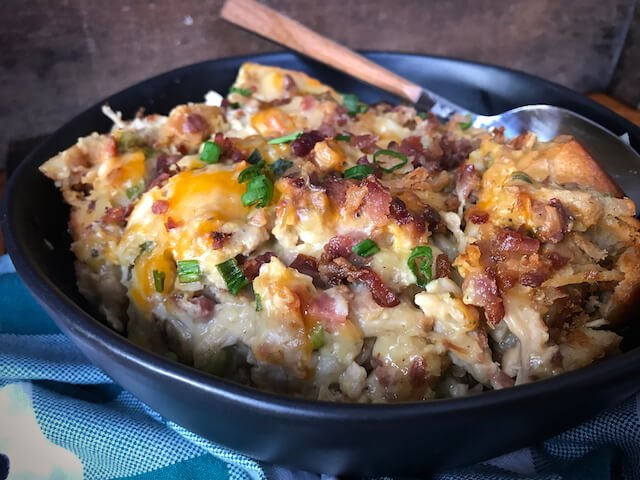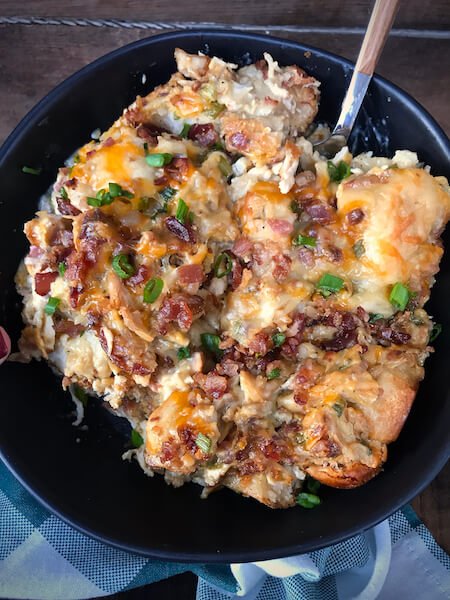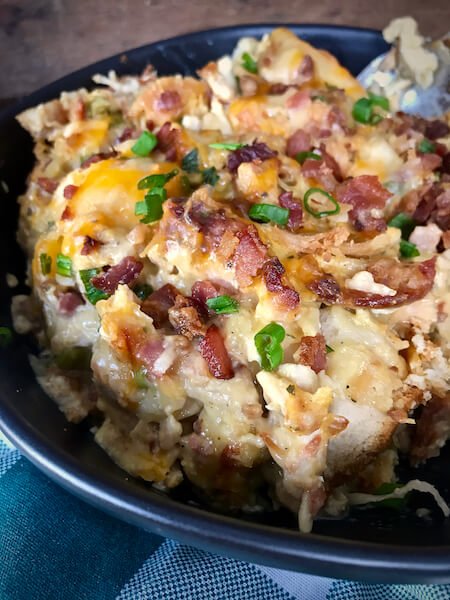 Close up. I apologize for nothing.
Eat up! I hope you enjoy!
Peace, Love, and BaconCheddarOnions.
Star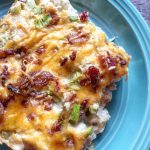 Print
Loaded Up Chicken Bake
Biscuits layered with a creamy sauce and topped with green onions, cheese, and bacon!
Materials
2

cups

shredded/chopped cooked chicken breast

One

7.5 oz can

refrigerated buttermilk biscuits

cut into small pieces (the 10 biscuit can- I use pillsbury or most store brands carry)

One

10.5 oz can

98% fat free cream of chicken soup

1/2

cup

nonfat sour cream

1

tbsp

ranch salad dressing and seasoning mix

I use Hidden Valley packets found near the dressing

4

green onions

finely chopped

1/2

cup

Real Bacon Bits

3/4

cup

Shredded Cheddar or Colby Jack (reduced fat/made with 2% milk)
Instructions
Preheat your oven to 350 degrees and lightly spray a 9×13 casserole dish.

In a medium bowl, Add chicken, cream of chicken soup, sour cream, dry ranch seasoning mix, and 1/2 of the green onions. Mix until combined well.

In a small bowl combine bacon, cheese, and the other 1/2 of the green onions. Set aside for now.

Now grab the casserole dish and spread the biscuit pieces evenly throughout the dish.

Spread your chicken evenly on top of that.

Place in the oven and bake uncovered for about 20 minutes.

Remove from oven and top with cheddar, green onion, and bacon mix.

Place back into the oven for another 15 minutes, uncovered.

Let sit for about 5 minutes. Slice into 6 servings.

Last but not least, dig in and enjoy!!
Notes
Serving Size: 1/6 of the pan
WW Points: 8
315 Calories
10g fat, 25 carbs, 1g fiber, 2g sugar, 28g protein
Note: I've had a few people say that this recipe is too salty for their taste. I reduced the ranch dressing seasoning mix to one tablespoon. If you've been enjoying the recipe the way I had it written before please continue to use the 1 oz packet of ranch dressing seasoning mix.