Bacon Bell Pepper Frittata
This post may contain affiliate links (meaning I earn a small comission if you purchase an item through a link I provide) I only provide shoppable links to items I love and are helpful. As an Amazon Associate, I earn from qualifying purchases.
Hey y'all! Summer gets so busy. I've been trying to get on my computer for almost two weeks to work on a few posts and I am just having troubles finding a little extra time. If I could function off about 23 minutes of sleep I feel as if that would be incredibly helpful. Here's what I've been up to:
Pepper's Birthday! She's two now. She's two. I can't believe she's two. One of the biggest reasons I don't post more than I do is because of this little bucket of sunshine. I try to soak up this season of motherhood as much as humanly possible. I hear the phrase "It goes by so fast" so much. Every single time a mother or grandmother says those words I cringe, my heart sinks, and I grab Pepper and hug her entirely too tight for a little too long. I cringe because I don't want to feel as if our lives just flashed before our eyes like so many people say. I cherish every moment that I can. In fact, as I'm writing this post I've taken about 12 breaks so far because Pepper keeps crawling up on my lap to cuddle for a moment. Does anyone else feel this way? Is it just me? Sometimes I feel as if my identity has been lost a little due to being a mama, but for now, it's okay. I'll find balance someday. For the time being, I'm going to keep soaking up all the precious moments that I can because she'll only be little for so long. We had a big ol' hawaiian luau for the birthday party. It came together perfectly with big help from my big sister and my mama. I'm not good at party planning to be completely honest, but those women should probably have their own party planning business. It was fantastic. Lots of family, lots of delicious food, and lots of love! It was a perfect day.
Yard work. We have a very large "yard". I don't even think of it as a yard anymore. I think of it more as a small planet inhabited by ivy, chickens, and rhubarb. It takes Eric almost 2-3 hours to mow on a riding mower. It's insane. We are trying to "pretty it up" as much as you can in the country. I do not like yard work, but I like having a nice yard. Why are there bugs? Why do things grow? Why are there more weeds than flowers? Why is the sky blue? Why are there so many roots? I need to plant tomatoes. Still. Our poor garden is tilled, fertilized, and just waiting to be filled. On the plus side, I'll be making fresh salsa someday.
Housework. I mean, that's pretty much a given.
Painting the kitchen. In April, I believe, I told Eric that I wanted to brighten up the kitchen by taking down the darker wallpaper that was on the walls and painting it. I told him this would take a weekend. No problem! One weekend. Two days. 48 hours. I'm hilarious. I couldn't even pick a paint color for two months. I'm a perfectionist (with a handful of things) and a procrastinator (with everything). On the plus side, since I don't rush, not even a little, I feel like I make a decision that I am really happy with. I'm still working on it. The wallpaper alone took me weeks to get down even with help from my mama, then prepping the walls, then taping the walls, then washing the walls…. There's a lot more to painting a dang wall then I ever knew! One of the walls unfortunately wasn't primed before the wallpaper was applied so taking the wallpaper down was nearly impossible. I gave up on it. I almost moved out. I didn't move out, but I did decide to do a faux shiplap wall that is 95.6% finished. I'm really loving it actually after a little hesitation on it. I think Eric even likes it after a lot of hesitation with it. I mean a lot. Little by little, it's all coming together. We moved out to the country last fall so, we've been here a little under a year, and really starting to make more improvements where we can by ourselves for now. It's been a ride so far… that's for sure!
Enough about what I've been up to. Let's talk about this Bacon Bell Pepper Frittata! Essentially a Frittata is eggs and anything you want to put into it. I've been making different versions of a frittata for so many years. It's kind of like a kitchen sink salad, but not a salad at all. In my case, I take whatever needs to be eaten up before it goes bad, chop it up, throw it in a pan, add eggs, maybe some cheese (always cheese in my case), and bake it. Somehow, It almost always turns out delicious no matter what you put in it! Frittatas are so easy, but sound a lil fancy so you can instantly impress anyone by putting a piece of delicious frittata in front of them. A couple months ago, I needed to use up some bacon and red pepper. This surprisingly was the first time I put the two together in a Frittata. Why had I never thought of it before? I'm not sure. Red pepper and bacon go together like peanut butter and jelly. They are just a match made in heaven. Truly one of my favorite food combinations on this planet. I know this isn't the traditional way of making a frittata because I transfer it into a pie plate instead of putting the egg mixture into a skillet, cooking a little, and then transferring the skillet into the oven to finish cooking. The truth is, the first time I made a frittata I didn't exactly know how to make a frittata so, I just winged it and it turned out so good. I've been making it this way since the first time. I've actually never even tried making it the "right" way because why mess up a good thing? Maybe I should call it a breakfast pie instead. Thoughts?
The other day while I was getting ready to photograph the frittata for this here blog. I had to swat away a hand and fork before I even had a chance to photograph the finished product. Eric is obsessed with this recipe. He even went as far as to say this might be his favorite thing that I've ever made. Out of all the years and out of all the recipes, this?! Oh well. If I am being honest, he says this a lot. I don't think he actually will ever have a favorite.
Let's get into the kitchen!
Preheat your oven to 350 degrees and chop up a medium red pepper.
Chop up half of an onion.
And chop up some center cut bacon!
Place the bacon in a large skillet a fry for a few minutes before adding in the pepper and onions.
When the bacon has cooked for a few minutes add the red pepper and onions.
I realized while this was cooking I forgot to chop up a couple cloves of garlic. So, I just grabbed some minced garlic out of the fridge and added it real quick. Over medium-high heat continue to cook until the bacon is crispy and the pepper and onions are caramelized. This will take about 8 minutes and it will create the most delightful flavor to add to your eggs. I promise.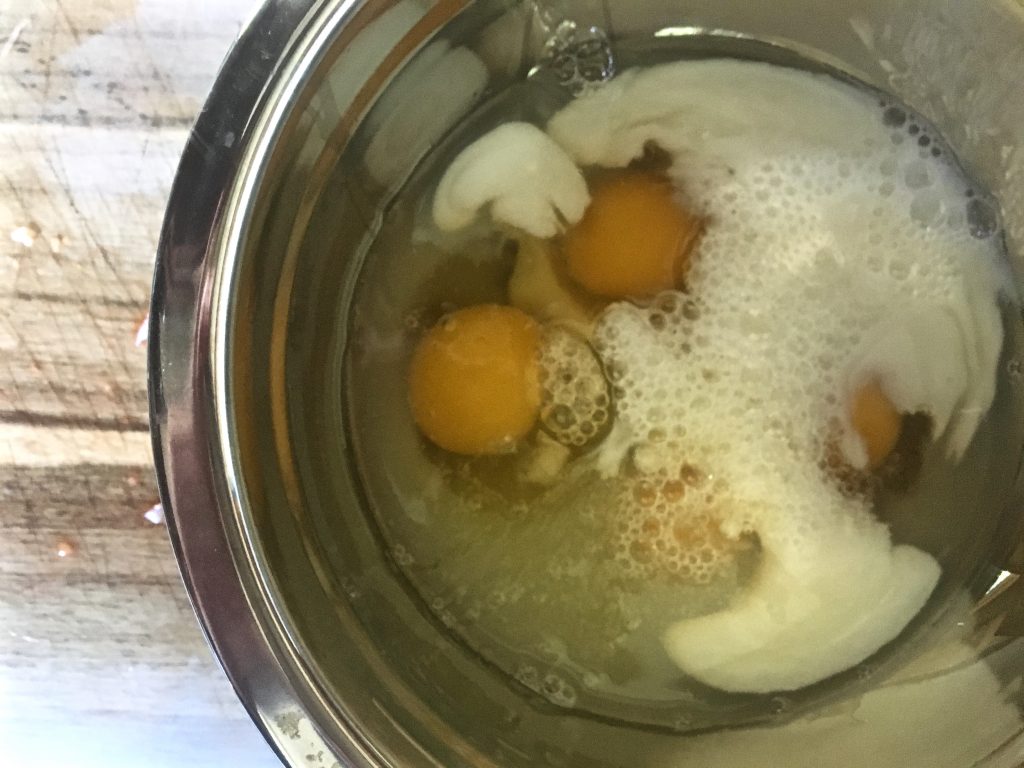 While the bacon mixture is cooking up. Grab a mixing bowl and add 8 eggs, 1/2 cup 1% milk, and just a tiny pinch of salt. (The bacon adds plenty of saltiness to this dish)
Whisk it all together!
Add about 3/4 cup of reduced fat cheese. I used Colby Jack made with 2% milk.
I'll never tire of a sight like this. Your bacon mixture will look something like this and if you can, try to resist putting a stop to making this frittata, grabbing a spoon, and eating this right out of the pan. I promise that has never happened over here. Not once. I put it in a proper bowl first, of course.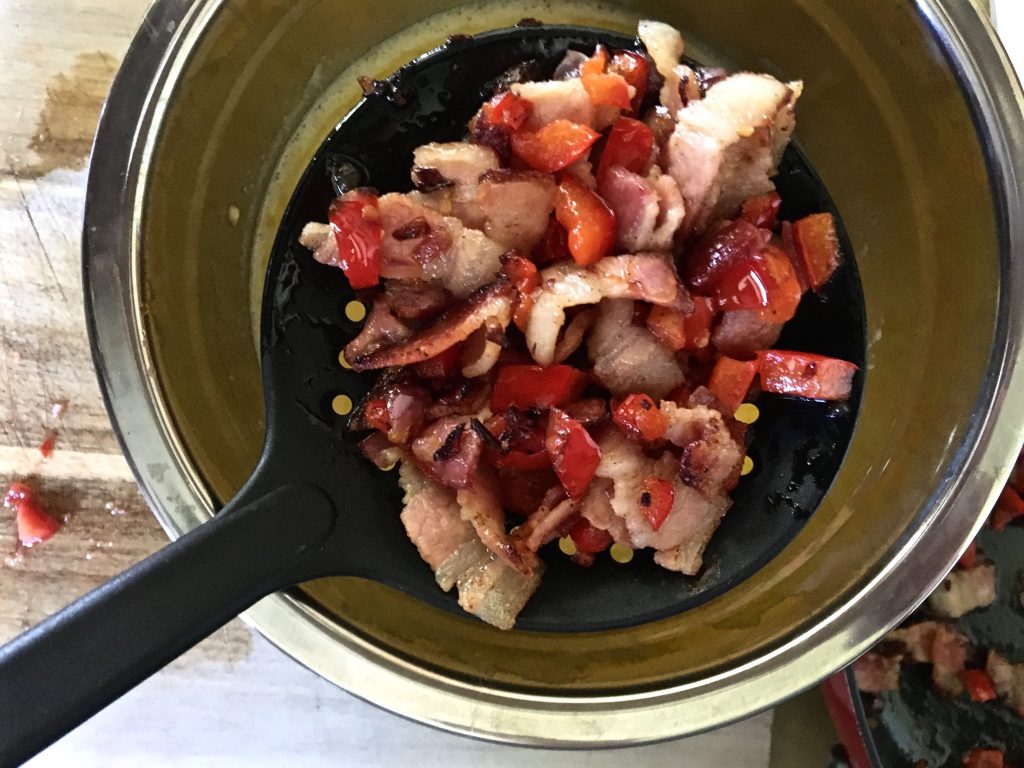 With a slotted spoon, remove the bacon mixture from the pan and add it to the eggs so you don't get much bacon grease in it. You can also move it to a paper towel before adding it to lose a little extra grease. I don't do this, but you sure can. I read somewhere once that people who eat bacon live longer.
Mix it up!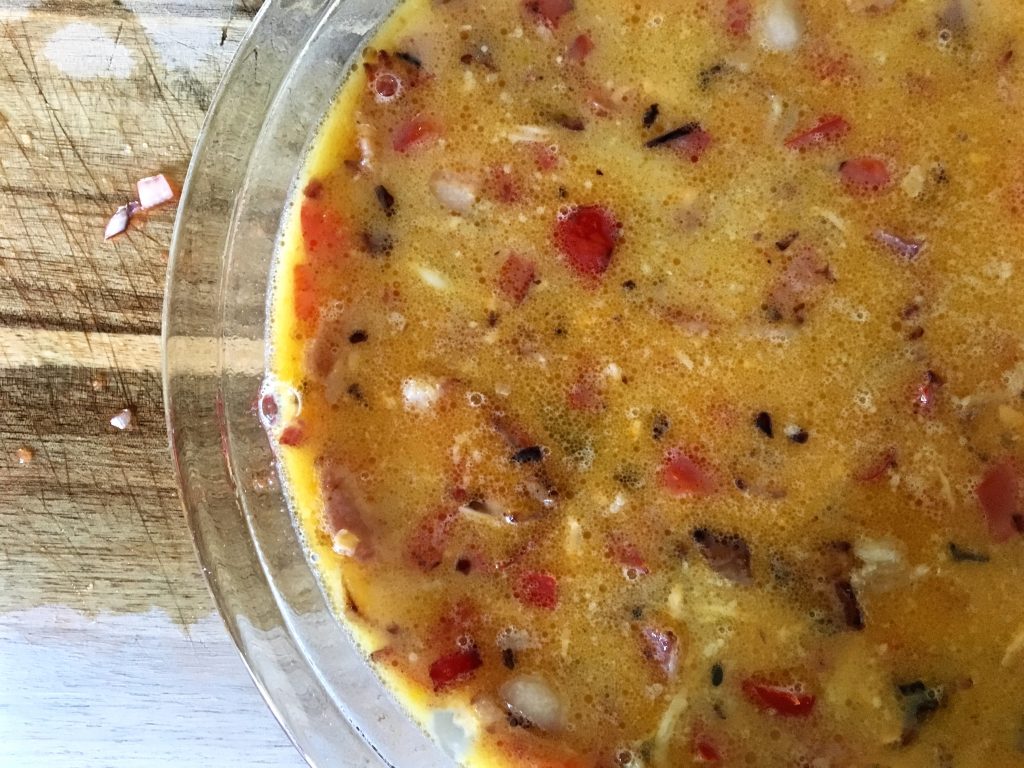 Add the mixture to a pie plate that has been sprayed with cooking spray. Place in a preheated 350 degrees oven for 30 minutes.
Remove it from the oven and it'll look somethin' like this.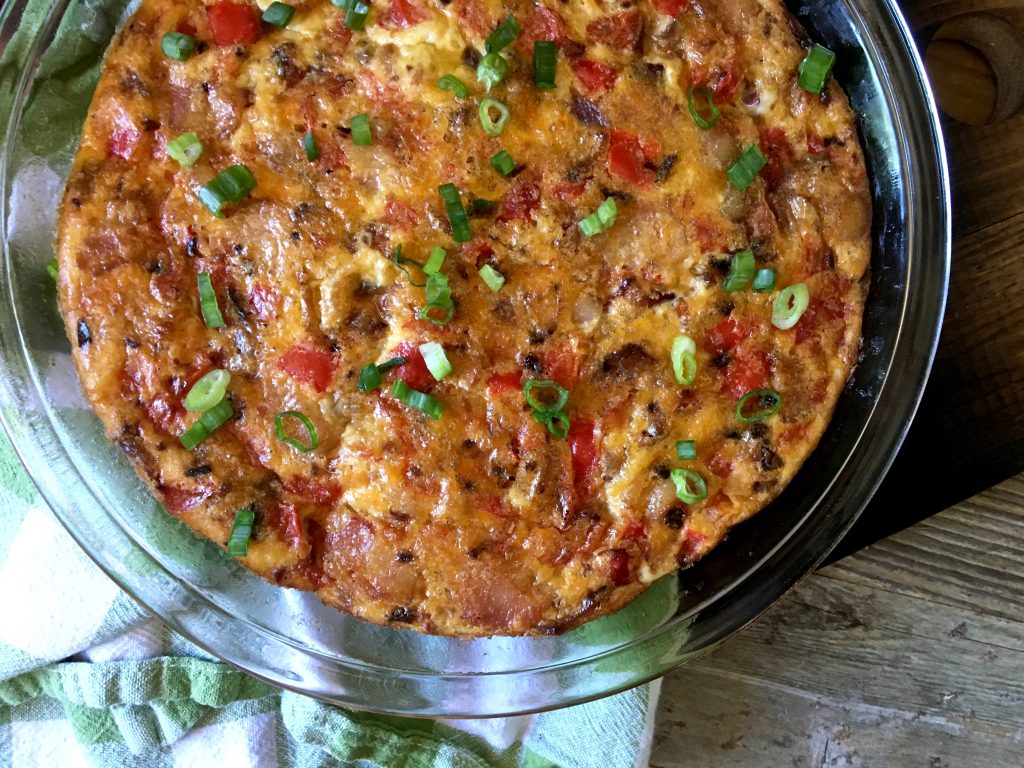 Top it with some green onions for color and a lil extra flavaaaa flav!
Hi, I'm delicious.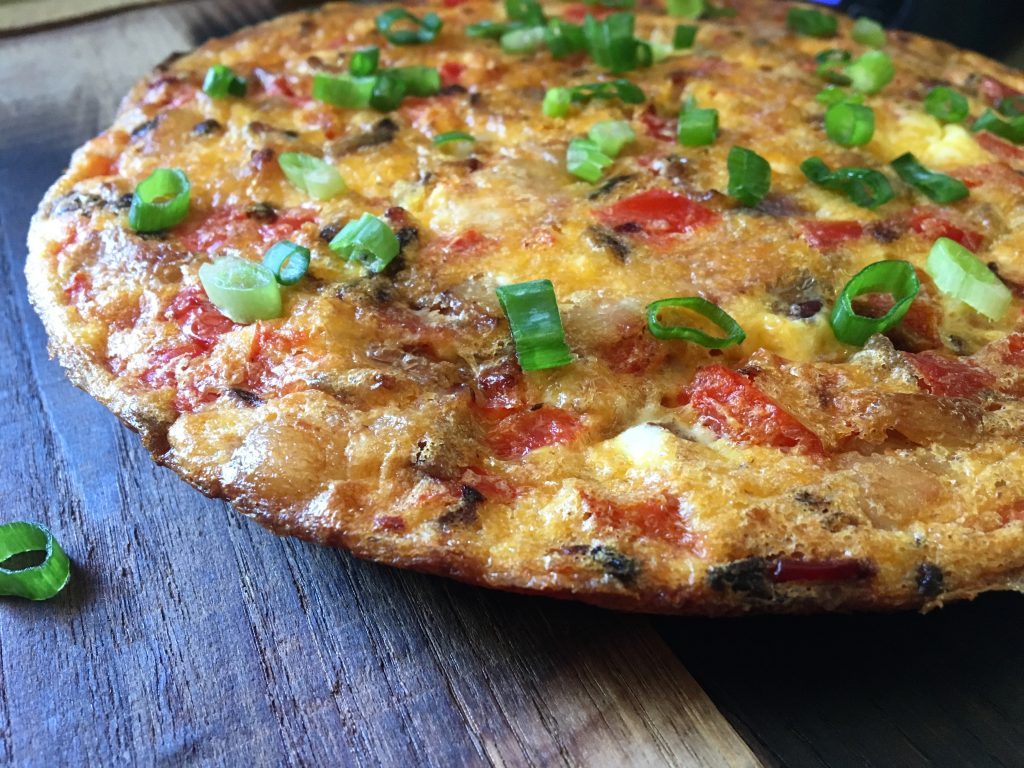 and pretty.
Put'r on a plate, grab a fork, and enjoy!
If this is your first time stopping by my lil ol blog, then try this immediately.
If this is your 70th time stopping by my lil ol blog, then try this immediately.
Please. I wish I could send ya'll a piece of this. It's a bite of heaven.
With love from my kitchen to yours,
Star
Print
Bacon Bell Pepper Frittata
A perfect recipe for breakfast, brunch, or brinner. A frittata packed with bacon, cheese, red pepper, garlic, and onions for a delicious flavor.
Materials
8

eggs

1/2

cup

1% milk

(or skim milk)

3/4

cup

shredded Colby Jack Cheese made with 2% milk

7

slices

center cut bacon

, chopped

1

medium red bell pepper

, chopped

1/2

onion

, chopped

2

cloves

garlic

, minced

pinch of salt

cooking spray

green onions

, chopped (for garnish, optional)
Instructions
Preheat oven to 350 degrees. In a large skillet over medium-high heat add bacon and cook for a few minutes before adding the pepper, onion, and garlic. Cook all together until bacon is crisp and onions and pepper are caramelized, about 6-8 minutes. While the bacon mixture is cooking, add eggs, milk, and pinch of salt into a medium bowl and whisk together. When the bacon mixture is done cooking add the shredded cheese and the bacon mixture to the eggs and stir until combined. Pour into a 9 inch pie plate sprayed with cooking spray. Bake for 30 minutes. Remove from oven, slice into 4 servings, and enjoy!
Notes
Serving size: 1/4 of the frittata
235 Calories 11g fat, 5g saturated fat, 6g carbohydrates, 1g fiber, 3g sugar, 20g protein
Weight Watchers Points: 4 Points