Shepherd's Pie Potato Skins
This post may contain affiliate links (meaning I earn a small comission if you purchase an item through a link I provide) I only provide shoppable links to items I love and are helpful. As an Amazon Associate, I earn from qualifying purchases.
I don't really remember where I came up with this idea for Shepherd's Pie Potato Skins, but it happened quite a few years ago on a super cold day, when I was craving some comfort food. A few weeks before, Eric and I went for a drive and ended up having dinner at this deliciously adorable little Irish Tavern, on a random corner in a tiny town. I ordered their special of the day, Shepherd's Pie… and it was one of the most delicious things I've ever tasted! So when I attempted to recreate it, I wanted to eat the exact same thing. But then the wheels started turning in my brain, and I thought about how perfect little potato skins would be. It was a big hit! We loved them.
I quickly grabbed a notebook and wrote down the recipe, and I never made them again. What a sad ending to a beautiful story about Shepherd's Pie. I use the term "recipe" loosely when I talk about what I write down in my notebooks, because my recipes are a bunch of chicken scratch that contains the name of the dish and the ingredients… sometimes I'm good to myself and remember to include a cooking time, but that's it. I never write detailed instructions for myself. Many times I don't even write the amounts of what I used! This has happened all too often in my life, and it's a small personal goal to STOP doing that, but I can't see myself getting much better about it. When I'm cooking and creating I'm in my own world, and I just don't think to stop and write down all those details. And that's where I run into trouble with this blog sometimes! Which is why I occasionally have to make something 2-3 times before I share it with you. Because half the time I just can't remember how much of a certain spice I used, and that spice could be the most important part. Spices can take you all over the world in a teaspoon! They can take a boring chicken breast from a one to a ten in no time. I just love my spice collection. It's one of my most prized possessions.
I may have gotten quite a bit off track there… so here we go, back to the Shepherd's Pie. I've been doing quite a bit of organizing and de-cluttering of my things lately, in an attempt to make life a bit easier. It takes me a while, because I've found two antique streamer trunks just FULL of my old notebooks and "recipes". So as I go through them I'm sorting through it all, and adding to my neverending list of ideas for the blog! This morning I decided to go with the Shepherd's Pie Potato Skins, because they really deserve to be made again. The recipe has been sitting in that old trunk for entirely too long, and It's a gloomy, snowy Midwestern day, so they'll make the perfect dinner tonight for Eric, Pepper, and I. 🙂
This is such a flavorful and hearty dish to serve friends and family. I just love good old meat and potatoes, stick to your ribs type of meal.
There's quite a few steps here that I know some people don't love, but I promise you these are simple to whip up despite the number of steps AND they will be well worth it when your plate is all but licked clean because they were so yummy.
Here's what happens in the kitchen..
Preheat the oven to 400 degrees. Grab six potatoes and a brush, and scrub them in water to clean them.
Grab a pan, lightly spray potatoes with some cooking spray, and sprinkle with some kosher salt. Place in the oven for about 1 hour, until tender to the touch.
When there's about 10 minutes left on the potatoes, you can start on the Shepherd's Pie mixture. Chop up two cloves of garlic…
and one small onion.
Add a teaspoon of olive oil to a skillet over medium-high heat. Throw in the chopped onions and garlic, and cook until the onion is translucent.
Add ground beef to the skillet, add some salt and pepper, and cook thoroughly.
Sprinkle 1 tablespoon of flour over the beef when it's browned. Stir well for about 30 seconds.
Add beef broth, tomato paste, dried thyme, dried ground mustard, Worcestershire sauce, and salt & pepper to taste. Mix thoroughly.
Bring the mixture to a boil and then reduce the heat to low.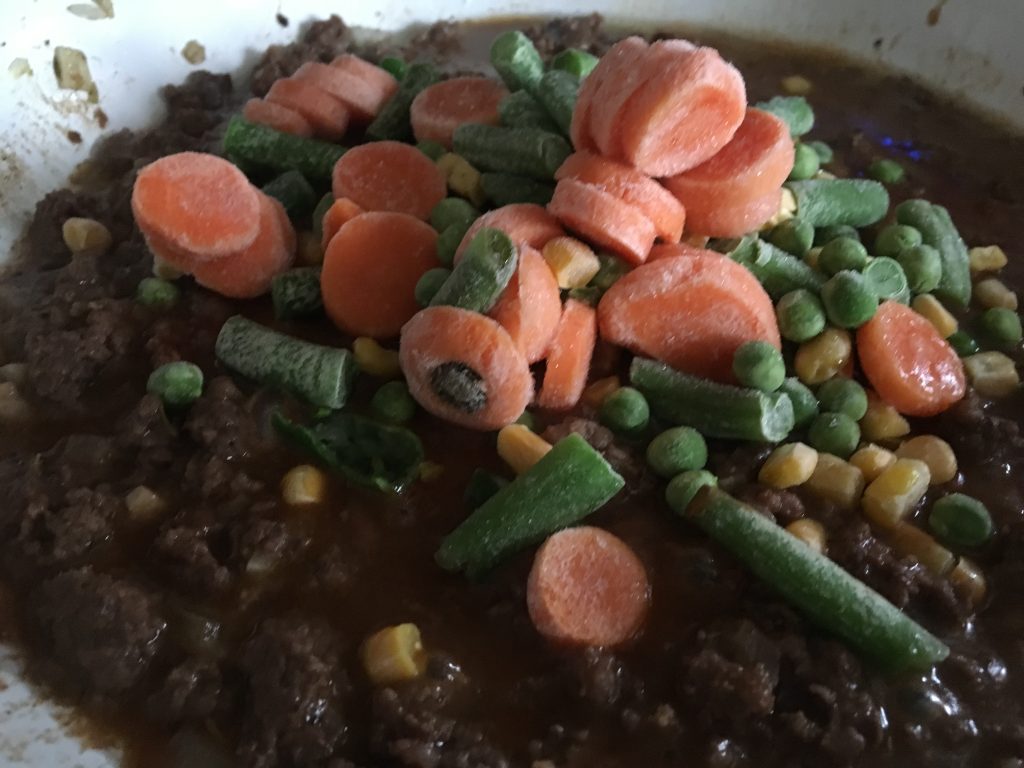 Add frozen mixed vegetables, and simmer it all together for about 10-12 minutes.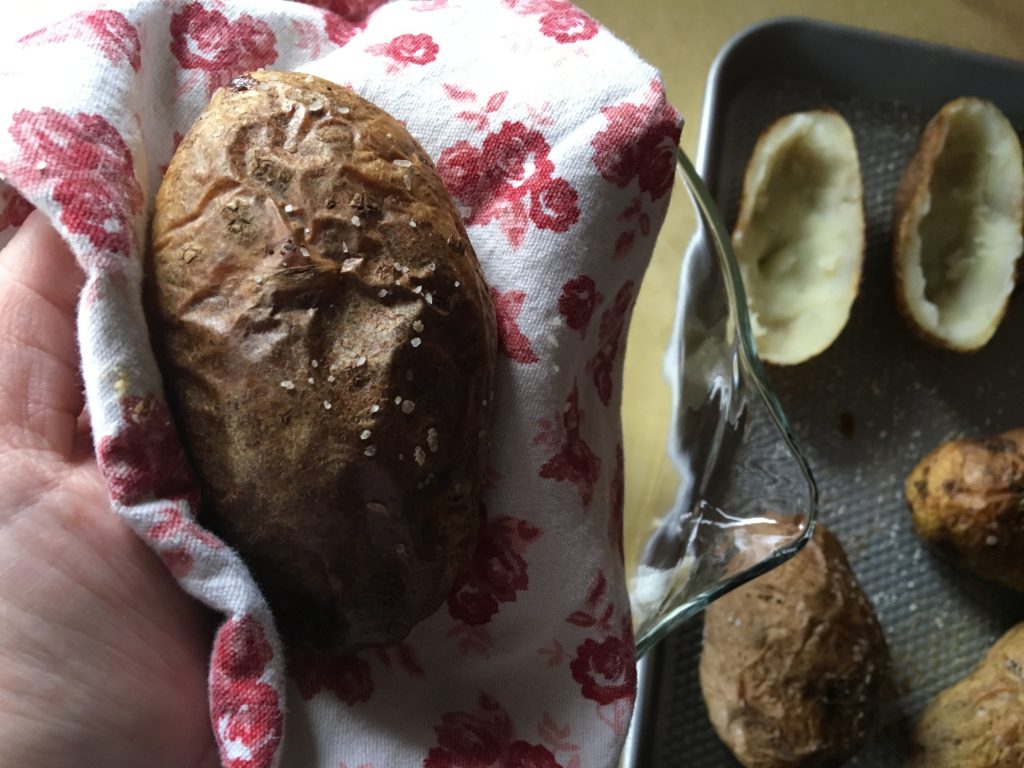 While the beef and vegetable mixture is simmering- Cut each potato in half and scoop out the insides into a bowl. Take care to leave a layer of potato against the skin, or they can become prone to tearing. (I always hold my potato in a dish towel because more than likely it's still pretty hot!)
Add some light or regular butter (I used half a tablespoon of regular butter), chicken broth, garlic powder, and salt & pepper. Mash together until creamy.
Scoop about 1/4 cup of the beef/veggie mixture into each potato skin.
Mmmm…. so delicious! A confession… I might have tried a couple spoonfuls of the mixture by this time.
Now here comes the fun part! You don't have to do it this way, but not only does it make the mashed potato part look a bit fancier, it's actually MUCH quicker and easier to put it on this way rather than scoop spoonfuls on. Take a large ziplock bag, scoop the mashed potatoes into the bag (be sure there's very little to no air in the bag when you seal it), cut about a 1/2 inch off the corner of the baggie, and pipe it on, squeezing evenly onto each potato. Top'm off with about a tablespoon of cheese onto each potato.
Pop back into the oven at 400 degrees for about 10 minutes.
….um, yum.
I hope y'all enjoy this lightened up twist on a homestyle classic!
with love from my kitchen to yours,
Star
Print
Shepherd's Pie Potato Skins
Crispy, oven baked potato skins stuffed with a savory beef and vegetable mixture and topped with fluffy mashed potatoes.
Materials
For the potatoes
6

medium russet potatoes

(about 8 ounces each, scrubbed clean)

1/4

cup

chicken, beef, or vegetable broth

(low sodium if available)

1/2

tbsp

butter

(or 1 tbsp light butter/margarine)

garlic powder

to taste

salt & pepper

to taste

cooking spray
For the Shepherd's Pie filling
1

tsp

olive oil

1

small onion

chopped

3-4

cloves

garlic

minced

1

lb

lean ground beef

1

tbsp

flour

1

cup

chicken, beef, or vegetable broth

(low sodium if available)

2

tbsp

tomato paste

1

tbsp

Worcestershire sauce

1 ½

cups

frozen mixed vegetables

(corn, carrots, peas, green beans)

1

tsp

thyme

salt & pepper

, to taste
Instructions
Preheat oven to 400 degrees. Place potatoes on on a sheet pan. Lightly spray with cooking spray and sprinkle with kosher salt. Bake for one hour or until tender to touch.

When there's about 10 minutes left for the potatoes to cook..

Place olive oil, chopped onion, and garlic in skillet and sauté over medium-high heat. When the onions are softened add ground beef and season everything with a couple pinches of salt and pepper. When the ground beef is cooked, sprinkle flour over the beef and toss to coat. Add broth, Worcestershire sauce, tomato paste, thyme, and salt & pepper to taste. Bring to a boil, then reduce to simmer. Stir in frozen mixed vegetables and continue to simmer while preparing the potatoes to be filled.

While the Shepherd's Pie filling is simmering- Take your potatoes, cut in half, and scoop the inside of the potato into a bowl. Place potato skins back onto the cookie sheet.

Add butter and broth to potatoes. Quickly mash together until smooth. Add salt, pepper, and garlic to taste.

Add about 1/4 cup of beef and veggie mixture into each potato half. Top each potato evenly with mashed potatoes. If desired, sprinkle some cheese, if desired.

Place back into a 400 degree oven for about 10-12 minutes until melted.
Notes
Serving Size: 2 Potato Skins Halves.
320 calories. 6.5g fat. 3g saturated fat. 43g carbohydrates. 3.5g fiber. 3g sugar. 21.5g protein.
WeightWatchers Points: 9 Points