This post may contain affiliate links (meaning I earn a small comission if you purchase an item through a link I provide) I only provide shoppable links to items I love and are helpful. As an Amazon Associate, I earn from qualifying purchases.
Three words: Roasted Corn Salsa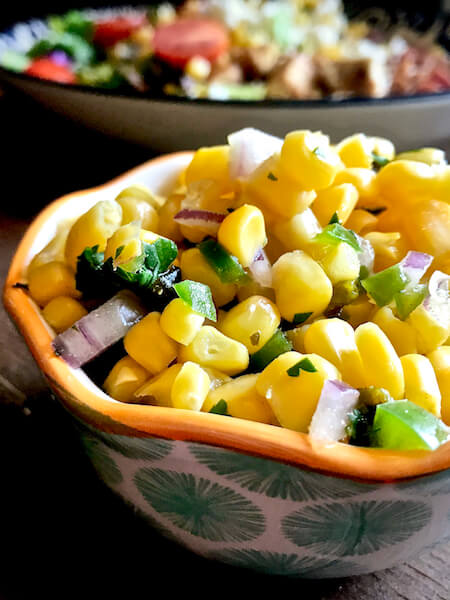 Remember those incredible Chicken Burrito Bowls I threw on the blog a couple'a months ago that were inspired by the Chipotle Burrito Bowls? Well, This Corn Salsa is just the thing you're gonna need to top'm off and make'm even more special. This Roasted Corn Salsa is truly a star all on it's own, but add it to a burrito bowl, salad, or tacos? Man, It's a hit and a half! It requires a little bit of work, but not much and after you take your first bite- you won't care. When I say work.. really, I just mean time. I feel like lately if there's one thing I'm short on, it's time. I'm always running late and I always have a to-do list that's a mile long. I'll stop rambling before it gets outa hand, but what I'm saying is. You gotta roast a peppers, okay? and it takes a little time, but not much and it's pretty much hands off and it's non negotiable. It makes the salsa. I solemnly swear. So roast the dang corn cobs & the pepper and be happy. The corn part? ok, that's negotiable. You can also use frozen corn, but summer's here and fresh corn is bountiful so why not go for the fresh stuff while it's in season and so delicious? When you make this in the winter you can use the frozen stuff. Either way on the corn is good. You really will only taste the slightest difference, I promise.
Anyhow, we're making this one short & sweet this week because 1. I'm planning a Halloween Birthday Party for my soon-to-be three year old. Three year old. I'm not crying. I don't know whether I'm crying over the fact that she's going to be three or the fact that I decided to throw a Halloween party in June. Y'all, she keeps her mama on her toes! I've had to get real creative with this thing and also spend an ungodly amount of money on Halloween candy. Apparently when it's not in season they jack the prices up on that sorta stuff for people like me. Oh well, I know her lil face is going to light up and that's all that matters to me at the end of the day. If I can slow down and take some photos of the day. I'll be sure to share them with y'all here. Okay?
Back to the this Roasted Corn Salsa and into the kitchen we go!
Let's start with some corn, alright? Clean up 6 cobs of corn.
Preheat your oven to 450 degrees. Trust me, I wouldn't tell y'all to heat your ovens to 450 degrees in the summer if it wasn't worth it.
If you don't wanna use the fresh stuff, that's totally fine!, grab about 3 cups of frozen corn, cook it up according to the package directions, and then let it sit and cool off while preparing the other items for the Roasted Corn Salsa.
If using fresh corn cobs, spray them with a little bit of cooking oil spray. I use olive oil or avocado oil spray and then wrap'm up in a little foil.
Like this.
If you're roasting your corn in the oven throw those puppies on a pan along with a poblano pepper. The pepper doesn't need any salt or oil. Nothin' just it's natural self. Be sure to turn the pepper every so often just so it roasts evenly.
What are poblano peppers? They are perfection. I have such a love for them, truthfully. You should be able to find them in any grocery store in the produce section where all the other peppers are. They are used in a lot of Mexican dishes and are full of so much flavor with very mild heat. They just might be my favorite pepper to cook with. Roasting them brings out a crazy amount of flavor so this is why I am telling you that roasting them is non negotiable.
Okay now, you'll remove the corn from the oven after about 20-25 minutes, but continue to roast the pepper for another 15 minutes. Remove the corn and when it's cool enough to handle, open the foil, and let it cool completely.
When the corn has cooled off enough to handle cut it off the cob.
Keep in mind, if you're using the frozen corn, just ignore all of this. (Except for the pepper part!)
When the pepper is done roasting throw it in a bowl. See how it looks pretty black on the skin? That's exactly what you want this baby to look like.
Cover it with some saran wrap and let it steam for about 10 minutes.
I know this seems like a lot of work for one pepper. Normally, I wouldn't do all this extra work for one salsa, but this stuff is so stupid good. I don't even care. You won't either, I promise.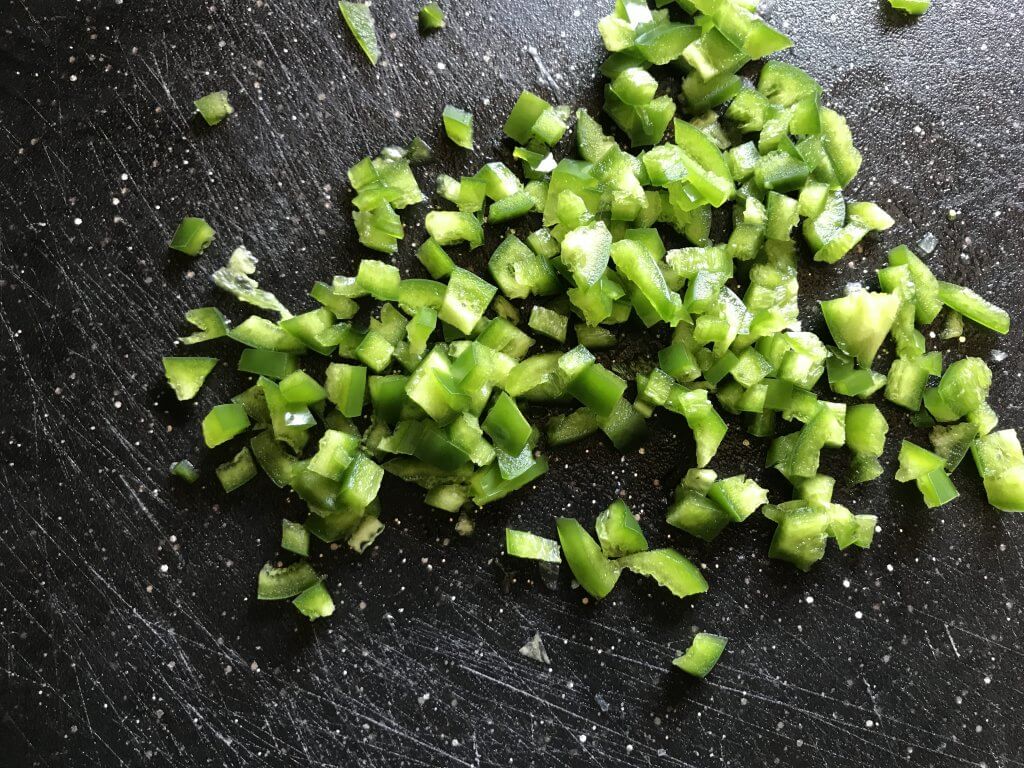 While the pepper is steaming, deseed one jalapeño and dice it up into tiny, baby peices. You might want to use some food safe gloves to do this. I live on the wild side and never, ever do and regret it every single time. This time? I itched my nose and died a little. It's up to you.
Then, dice up half of a medium red onion. The red onion part is also kind of important because red onions tend to be slightly sweet and have a mild onion-y flavor.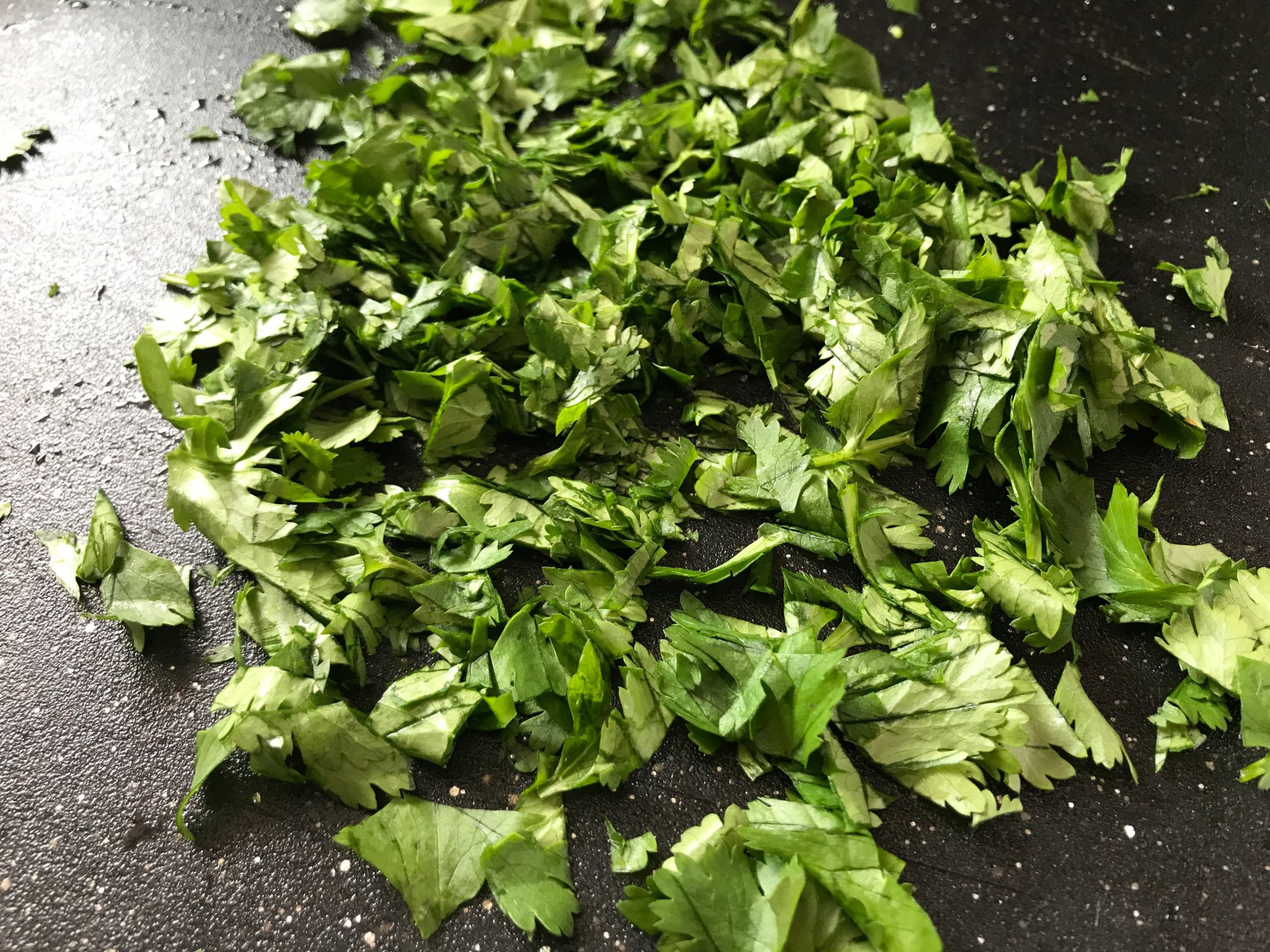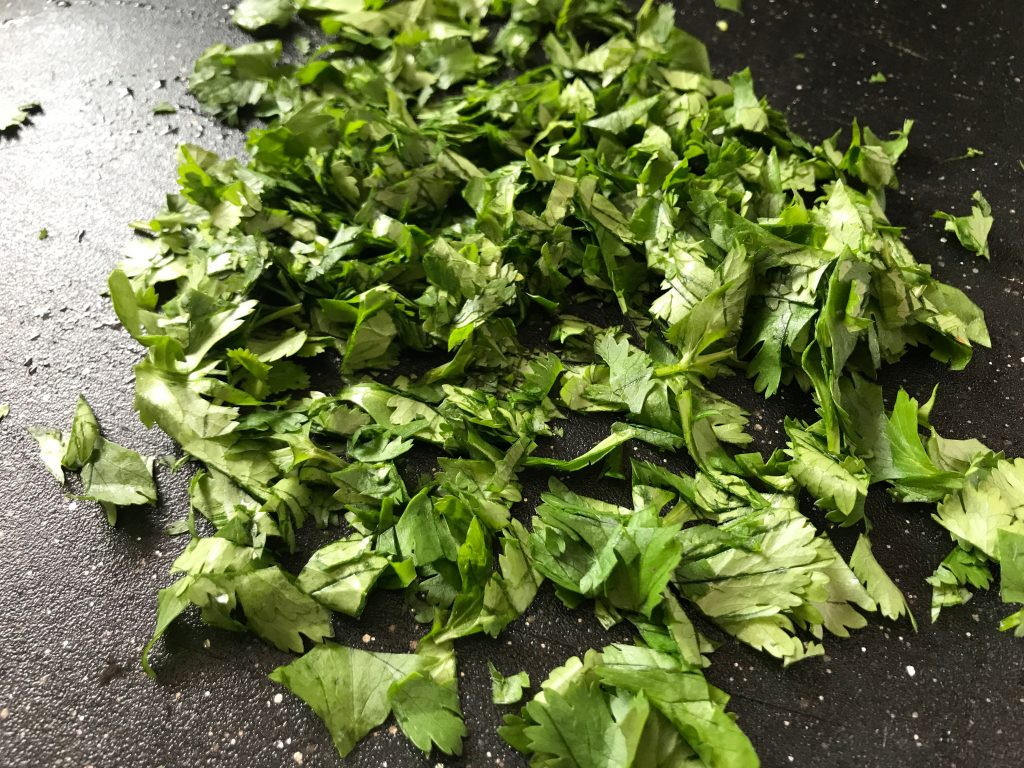 And chop up some cilantro! About 1/4 cup should do it. Use more or less depending on your love for cilantro. I think 1/4 cup is a pretty good balance with everything else.
Okay, look! The pepper is done steaming, okay? Finally! I know. Look at the how the skin is like goo-ey and separating? Am I describing this right? I'm not sure. I didn't go to culinary school, guys.
Also, can we talk about my manicure for a second? I started getting these powder dipped manicures and they are so strange, but I love them and they don't chip ever!! (yay!) and I also stopped biting my nails because of them. (Worst habit ever, I know. I'm in recovery.)
Back to the pepper. Skins gone!
When you cut it open there's going to be some seeds in there take'm out and cut the stem part off. Discard. Then dice up the pepper. Okay, done!
Now, it's time to throw the party together! Add corn, onion, roasted poblano, jalapeño, cilantro, 1/2 tsp cumin, 1/2 tsp kosher salt, and then, squeeze a lime and half a lemon in.
Mix it all up! Salt to taste. If possible, let it sit in the fridge with a cover on for at least a half hour to really let flavor meld together.
Then, throw it on a Chicken Burrito Bowl.
Or pair it with some tortilla chips.
There's really no wrong way to eat this stuff. I eat it by the spoonful it's so delicious, fresh, and flavorful. It's perfect for summer!
I hope you make it and I hope you love it!
With love from my kitchen to yours,
Star
Print
Roasted Corn Salsa
A fresh salsa filled with corn, peppers, onion, and cilantro. Perfect for parties, burrito bowls, and taco night!
Materials
6

ears

fresh corn

cleaned, you can also use 3-4 cups frozen corn

1/2

medium

red onion

diced

1

medium

poblano pepper

1

medium

jalapeno

diced

1/4

cup

cilantro

diced, or more to taste

1/2

tsp

ground cumin

1

tsp

kosher salt

or more to taste

juice of one lime

juice of half of a lemon

cooking spray
Instructions
To Roast The Corn & Poblano Pepper;
1. Preheat oven to 400 degrees. Spray cobs of corn lightly with cooking spray and wrap each cob individually in aluminum foil. Place on sheet pan with whole poblano pepper. Be sure to turn the pepper while it's roasting a few times to evenly char it on all sides. Roast the corn for 20-25 minutes and then remove from oven to let it cool. Continue to roast the poblano pepper for another 10-15 minutes.

*If using frozen corn instead of fresh, measure out three cups of corn, cook according to package, and then let cool.


When the pepper is done roasting, remove from oven, place in a small bowl, and cover with saran wrap. Let the pepper steam for about 10 minutes. Remove pepper from bowl, skin should be fairly easy to peel off, then dice into tiny pieces.
For the Salsa:
Add the diced jalapeño, red onion, poblano pepper, and cilantro into the bowl, followed by the corn, cumin, and salt. Finish off with lemon and lime juice and stir all together. Salt a bit more to taste. If possible, set in refrigerator for about a half hour to let flavors meld together. Enjoy with tacos, burrito bowls, chips, or with a spoon!
Notes
Weight Watchers Points: 0 points (any amount)
Nutrition
Calories:
61
kcal
|
Carbohydrates:
13
g
|
Protein:
2
g
|
Sodium:
200
mg
|
Potassium:
208
mg
|
Fiber:
1
g
|
Sugar:
4
g
|
Vitamin A:
215
IU
|
Vitamin C:
16.8
mg
|
Calcium:
3
mg
|
Iron:
0.5
mg