Bacon, Egg, and Cheese Biscuit Bake
This post may contain affiliate links (meaning I earn a small comission if you purchase an item through a link I provide) I only provide shoppable links to items I love and are helpful. As an Amazon Associate, I earn from qualifying purchases.
This Bacon, Egg, and Cheese Biscuit Bake is easy to make and delicious to eat! It's full of refrigerated biscuits, whole eggs, crispy center cut bacon, and topped off with just enough cheese. It's pretty darn perfect for a holiday breakfast or brunch!

Have I ever told y'all how much I love breakfast? I'm not sure if I have, so here it is: I LOVE BREAKFAST. It's so simple, yet so scrumptious. I feel like when living a healthier lifestyle, breakfast foods are the one thing that you don't have to change too much… You can still have your bacon, and eat it too!
Anyway, I'm sure if you are here now, you've most likely tried or at least heard of my "Almost Famous" Biscuits N Gravy Bake . Now that one was truly a masterpiece and completely born out of crazy hungry breast feeding hormones when I first began Weight Watchers back in October of 2015. I feel like nothing can top that. It's simple and delicious! I've become used to having either the B&G Bake or my Cheesy Sausage Hash Brown Bake for breakfast just about every single morning of my life, and I love it! So does Pepper, but I've got this handy dandy thing called a food blog now, so I need to keep trying new things, and also try to remember some of the breakfasts I used to make before these two delicious bakes.
I have a confession… like a really legit confession.
I seriously love Mcdonald's Bacon, Egg & Cheese Biscuits.
I feel like admitting that makes me look like I have no idea what I'm talking about when it comes to food, but trust me, I do. My palate ranges from an animal cracker dipped in peanut butter, to a pretty plate of Chicken Saltimbocca with a garlic white wine sauce.
On a side note: I'm laying in bed typing this and I turn to Eric to ask him how to spell "Sambooca" and he's says s-a-m-b-u-c-a and I'm not like no, that's not right. I'm talking about Chicken Sambooca, not the russian liquor. So I google it real quick and realize I've been pronouncing Saltimbocca … Sambooca for the past 5 years.
Full Disclosure: I make my own words up entirely too much.
Extra Full Disclosure: I will most likely continue to call it Sambooca for the rest of my life.
These are the reasons Eric loves me so much. I know this.
I honestly don't even know why I am talking about Chicken Saltimbocca (Sambooca). I need to go bed.
But, not before I give you this brand spankin' new delicious recipe from the skinnyish dish kitchen!
Where was I? Oh right, I remember now. I love Mcdonald's Bacon, Egg, and Cheese Biscuits, and this breakfast casserole tastes IDENTICAL… and it really, really makes my belly happy. It'll make yours happy too, alright?
Now here's what ya do!
Grab eight eggs, three tablespoons of milk, and some salt n' pepper. Then whisk your lil' heart out.
Note: you can use egg whites/egg sub to lower calories/points/fat if you want. I've made it with liquid egg whites and it's still so so so good!
Fry up 8 slices of bacon until crisp! Mmmmmmm Bacon is my favorite.
Fry up 8 slices of bacon and then chop it up. Try not to eat a couple little pieces. I failed. I ate a few or five. Also, cut 15 refrigerated biscuits into small pieces.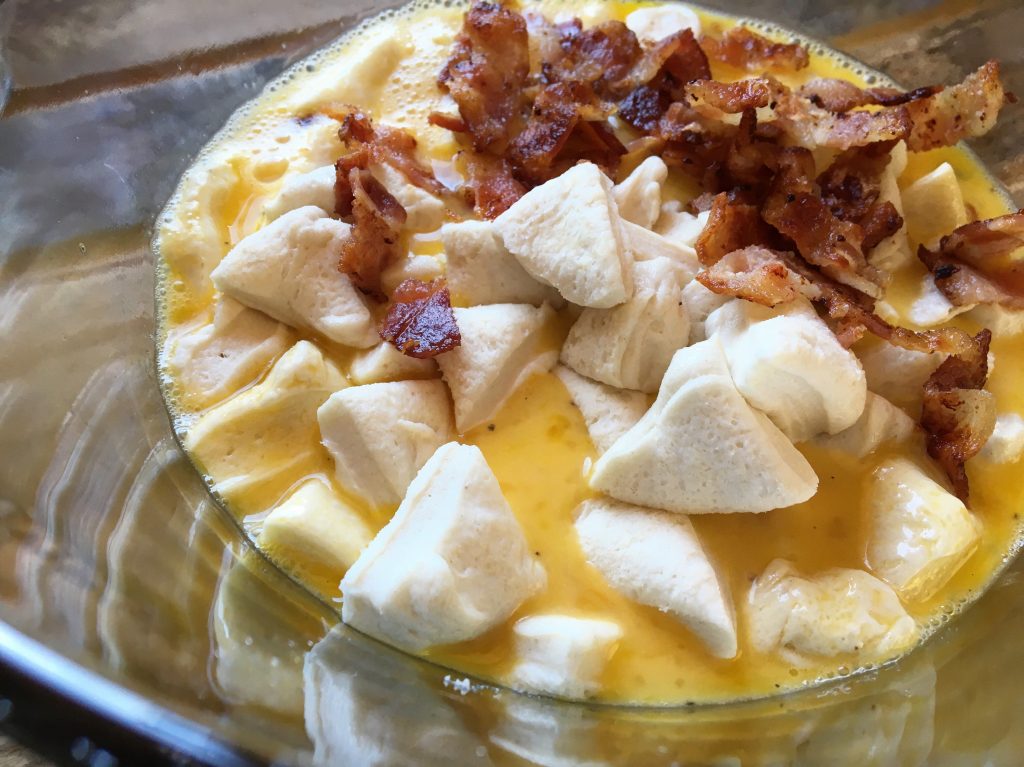 Toss in about half the bacon and all of the cut up biscuits in with your eggs. Stir together well.
Spray a 9 x 13 casserole dish with cooking spray and pour in the mixture.
Pop in a preheated 350 degree oven and bake for 20 minutes.
Grab some good old fashioned American Cheese! I personally think this is what really makes the bake taste so delicious. Feel free to use a different type of cheese if you aren't a fan though. I won't take offense! These are American cheese slices made with 2% milk. I've used shredded reduced fat cheddar and it tastes perfect.
Grab some good old fashioned American Cheese! Feel free to use a different type of cheese if you aren't a fan. I won't take offense! These are American cheese slices made with 2% milk. I've used shredded reduced fat cheddar and it tastes perfect.
Chop into small pieces. This is actually the hardest part about this entire recipe because it's tedious and American cheese likes to stick together.
This is where shredded cheese might be more your cup'a tea.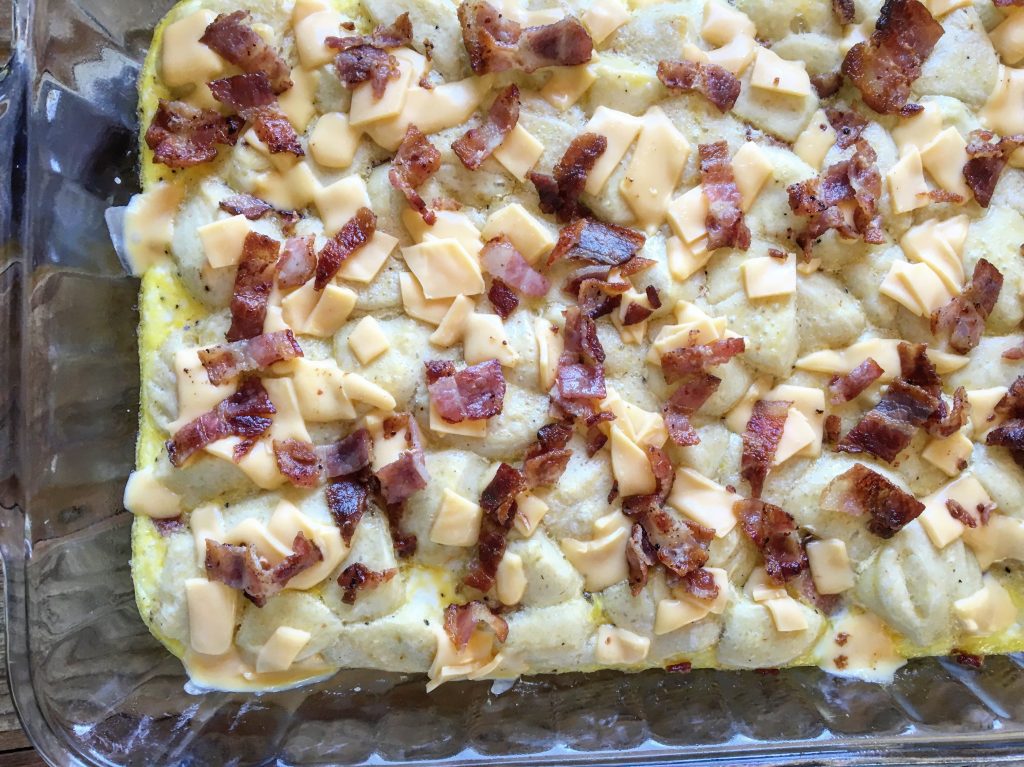 Now grab the bake out the oven and top with cheese and the rest of your bacon! MMMMM.
Pop back in to the oven for about 10 minutes.
Here we are. You've got yourself a delicious, lighter on calorie, homemade bacon, egg, and cheese biscuit in the form of a casserole that everybody's gonna love.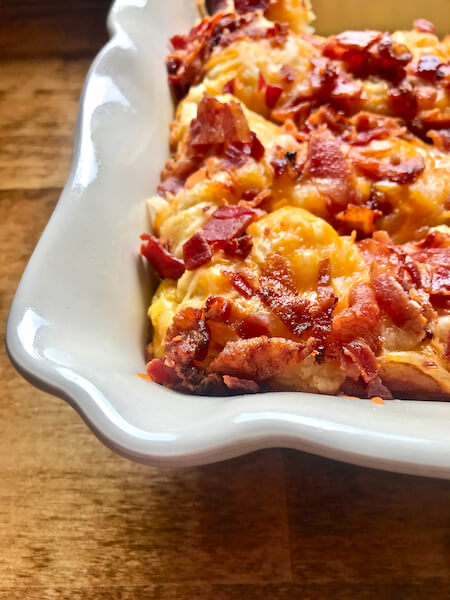 Here's how the bake looks with shredded cheese too!
I hope you enjoy!
With Love from my kitchen to yours, Star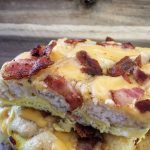 Print
Bacon, Egg, and Cheese Biscuit Bake
A deliciously lightened-up breakfast casserole layered with biscuit, eggs, cheese, and bacon.
Materials
8

eggs,

you may also use egg substitue or egg whites (or a mix of egg whites and whole eggs)

3

tbsp

2% milk

5

slices

low fat American cheese made with 2% milk

(or use ¾ cup reduced fat shredded cheddar cheese)

8

slices

center cut bacon

I use Oscar Meyer

1 ½

cans 7.5 oz

cans buttermilk biscuits

*see notes*

Salt & Pepper

Cooking Spray
Instructions
Preheat the oven to 350 degrees.

Prepare 8 slices of bacon. You can make these in the skillet or in the oven.

While the bacon is cooking, In a medium bowl whisk together eggs, milk, and salt and pepper.

When the bacon is done, chop up into small pieces.

Add 1/2 the bacon and all of the cut up biscuits into the bowl with the eggs and stir together.

Pour into a lightly sprayed 9×13 casserole dish and spread evenly.

Pop into the oven, uncovered, for 20 minutes.

Meanwhile grab 5 slices of American cheese and cut into small squares OR use 3/4 cup shredded cheddar. Set aside with the other half of the bacon.

When the bake is done remove from the oven and evenly distribute the cheese and the bacon. Place back in the oven for 10 minutes.

Cut six servings and enjoy!!
Notes
Serving size: 1 slice (1/6 of the pan)
290 calories. 12g fat. 3.5g saturated fat. 27g carbs. 1g fiber, 4.5g sugar. 17g protein.
WeightWatchers Points: 7 Points
** Biscuits: these can be found in the refrigerated section. Pillsbury & different store brands (like Great Value) makes these. 10 Biscuits to a can. you will need 15 biscuits total, cut into small bite size pieces. If you cannot find these smaller biscuits go ahead and grab the regular sized buttermilk biscuits and weigh out 11.25 oz- points/calories may change just a bit. I just bake the extra biscuits separately and someone ends up eating them.