This post may contain affiliate links (meaning I earn a small comission if you purchase an item through a link I provide) I only provide shoppable links to items I love and are helpful. As an Amazon Associate, I earn from qualifying purchases.
The day has finally come that I share this gem of a recipe with ya. What's that you ask? I call it… Chipotle Skillet Chicken! And it's gonna make your homemade burrito bowl dreams come true.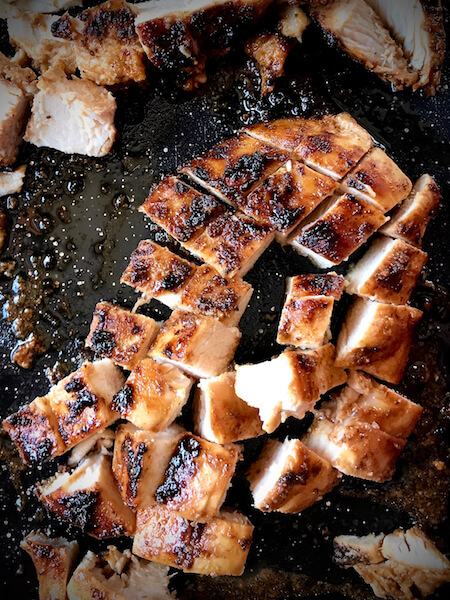 Don't let the name of it sway ya, it's not really all that spicy at all. But it is inspired by the chicken that you get in the burritos, burrito bowls, and tacos at Chipotle Mexican Grill. Have you been to Chipotle? If so, you should be really, really excited, because it's a pretty insane match… It might even be better than the original! Haven't been to Chipotle? No need to go now, you'll love this.
You want a little back story? sure ya do! Alrighty, so I think most of ya know that I live in a lil town, out in the country. The nearest neighbors are a mile away, we don't have many fun places to eat in my town… yada yada, so on and so forth. I always get a little jealous of people who live in places that have awesome stuff like Target and Chipotle Mexican Grill, among a million other things. But then I think about it and I'm like "Well, I probably wouldn't be as creative in the kitchen if I could just walk out the door and grab delicious take out at any ol' given time. I actually had Chipotle for the first time in January of this year. Since then I've basically had a one track, burrito bowl lovin' mind.
Okay, so back to the chicken. You're gonna love it! You will never need Chipotle takeout in your life again. It's not completely necessary to put this chicken in a bowl- you can use it in tacos, salads, etc. But this recipe couldn't be any easier! The most important part is allowing enough time for the chicken to marinate. Typically, on the night before I plan to make it for dinner, I make the marinade and then throw the chicken in all together, but you can also do it the morning of. You really need it to marinate for at least 8 hours, but I have had GREAT results after marinating for 16+ hours.
The biggest difference between this chicken and the kind from the restaurant is that I use chicken breasts instead of thighs. I made it with thighs a couple of times, and it's delicious! But in order to knock off some calories and points, I decided to use chicken breast instead. The marinade helps it stay super tender and juicy after cooking, so you don't need to worry about it drying out. Now, I didn't sneak into Chipotle and steal the recipe. I didn't even apply to work there and then work for a few weeks only to find out their secret to the best dang chicken I've ever had, and then quit. (Trust me, I thought about it though!) One day back in January I just packed up Pepper, and we up and drove 75ish miles, once a week, for a few weeks straight, and ate a lot of Chipotle chicken to really get those different flavors down. Seriously you say? Yeah, seriously. The things I do for this food blog! I've been tweaking this recipe for almost two months. I am super excited about it and I am pretty impressed by how much it tastes just like the real deal. Truth be told, I think I like it even better!
Now let's get in the kitchen and make some of the best dang chicken ever!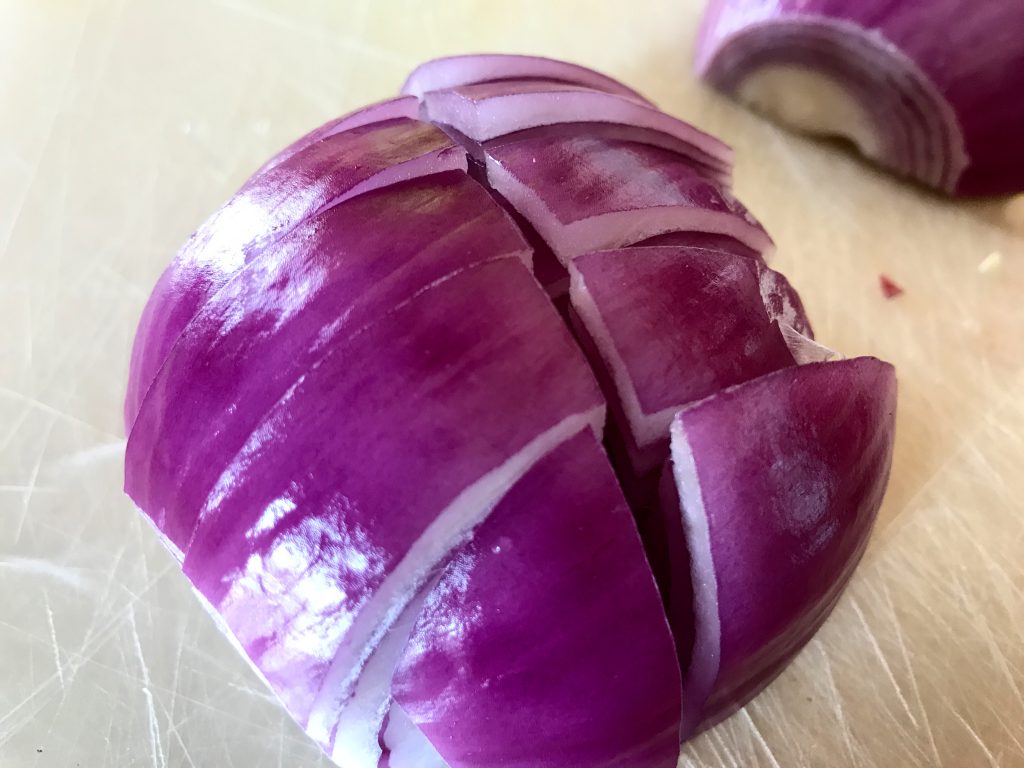 Cut up half a red onion into large chunks.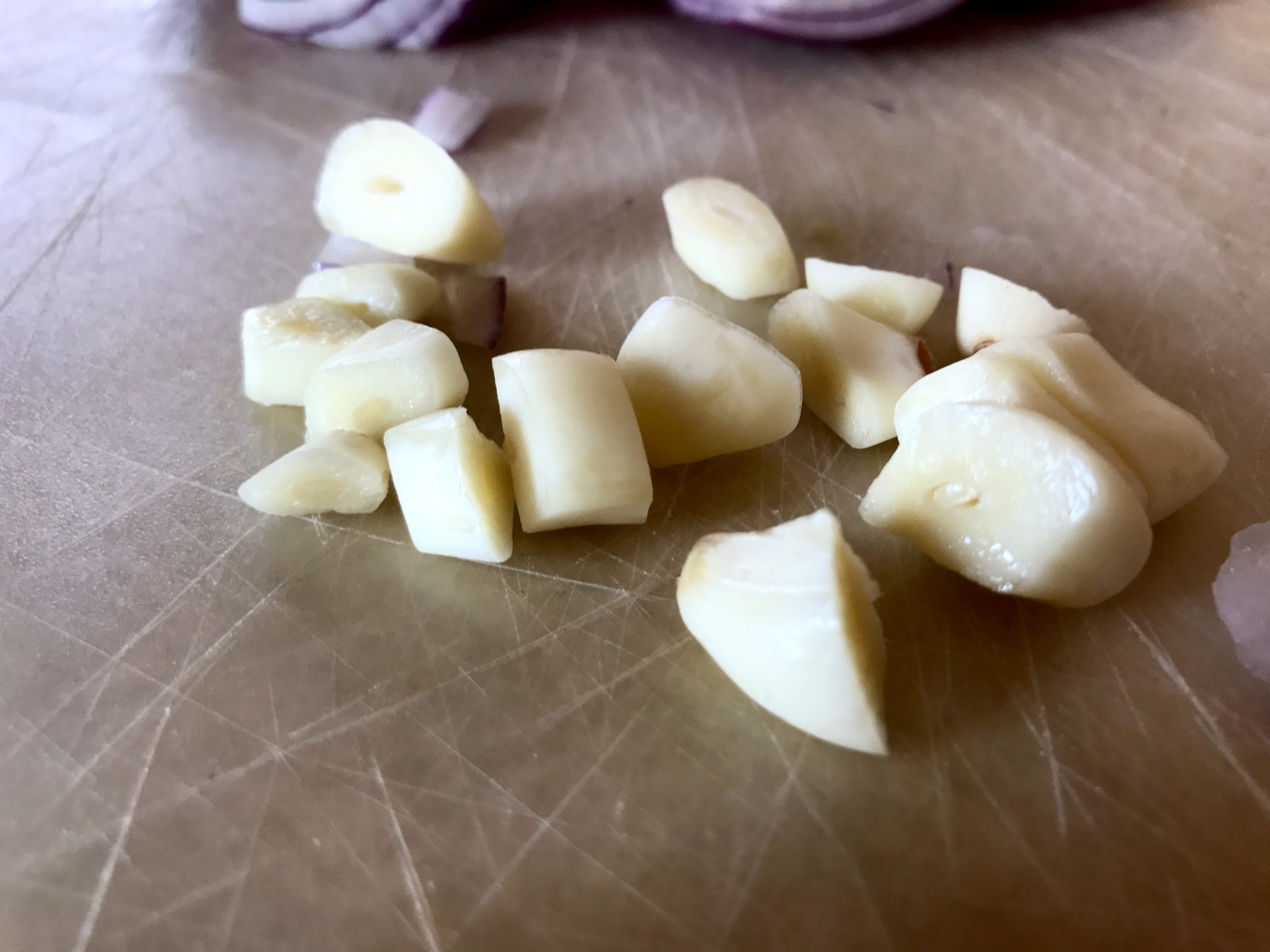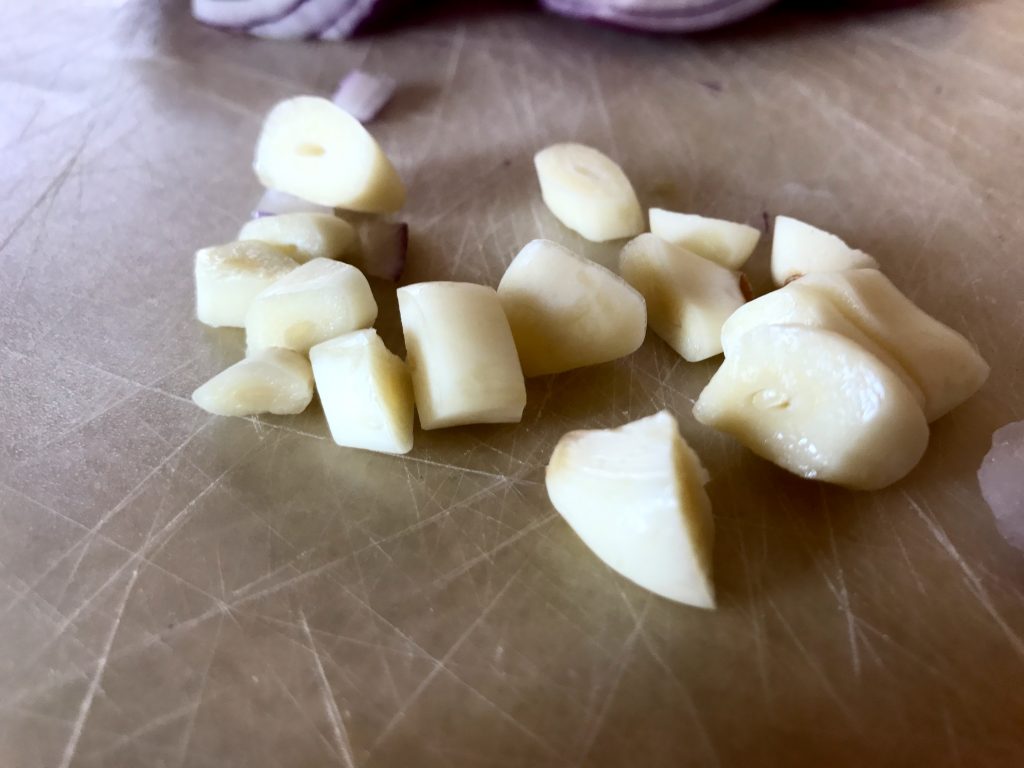 Do the same with 4 cloves of garlic.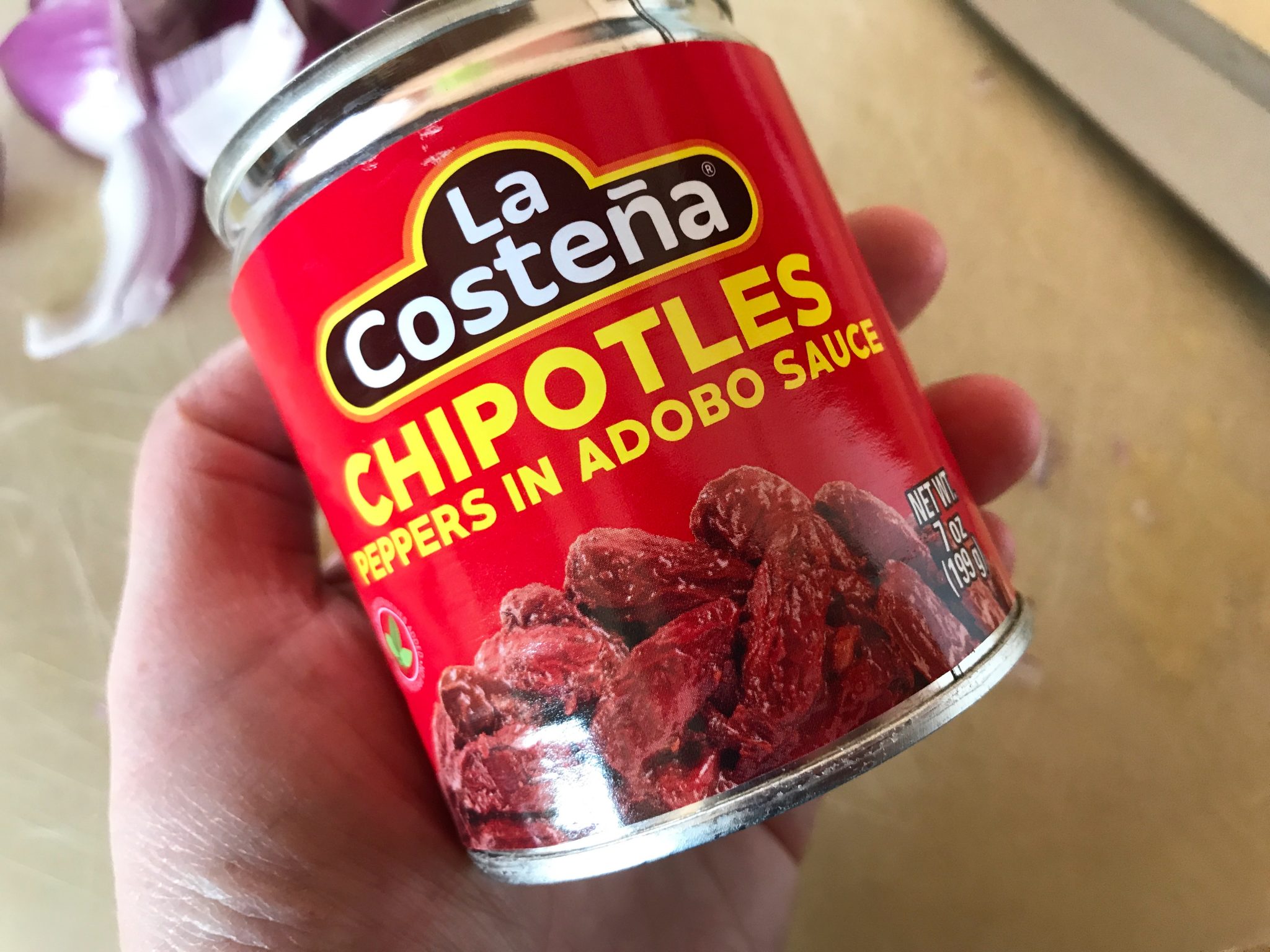 You'll need these!!! Grab one pepper outa there and two tablespoons of the adobo sauce that they are packed in. You can find these cans of Chipotle Peppers ANYWHERE! Just look in the Latin Foods section in your local market. It doesn't matter the brand. There will probably be 4-5 different brands. I grab whichever is closest to my hand.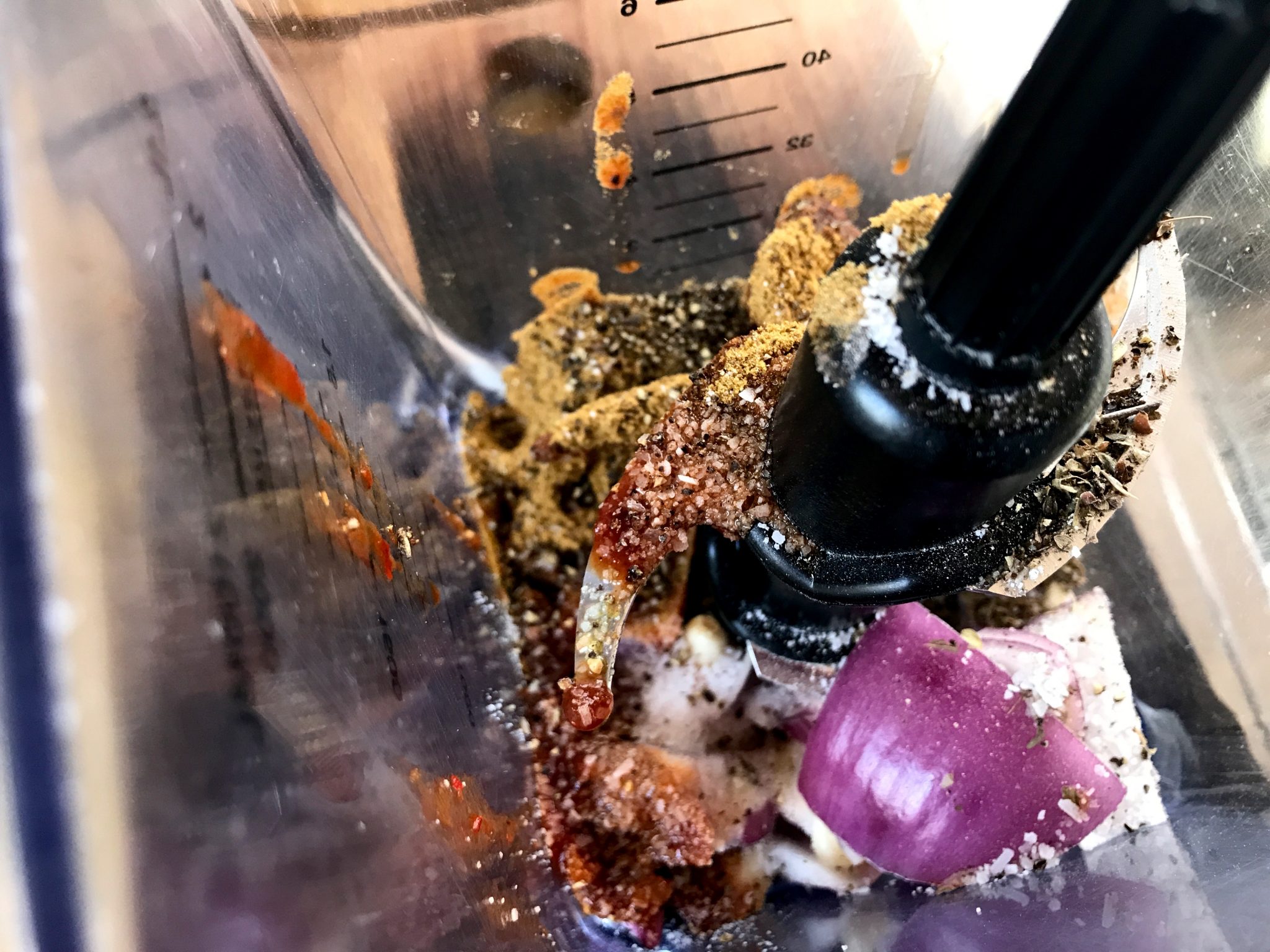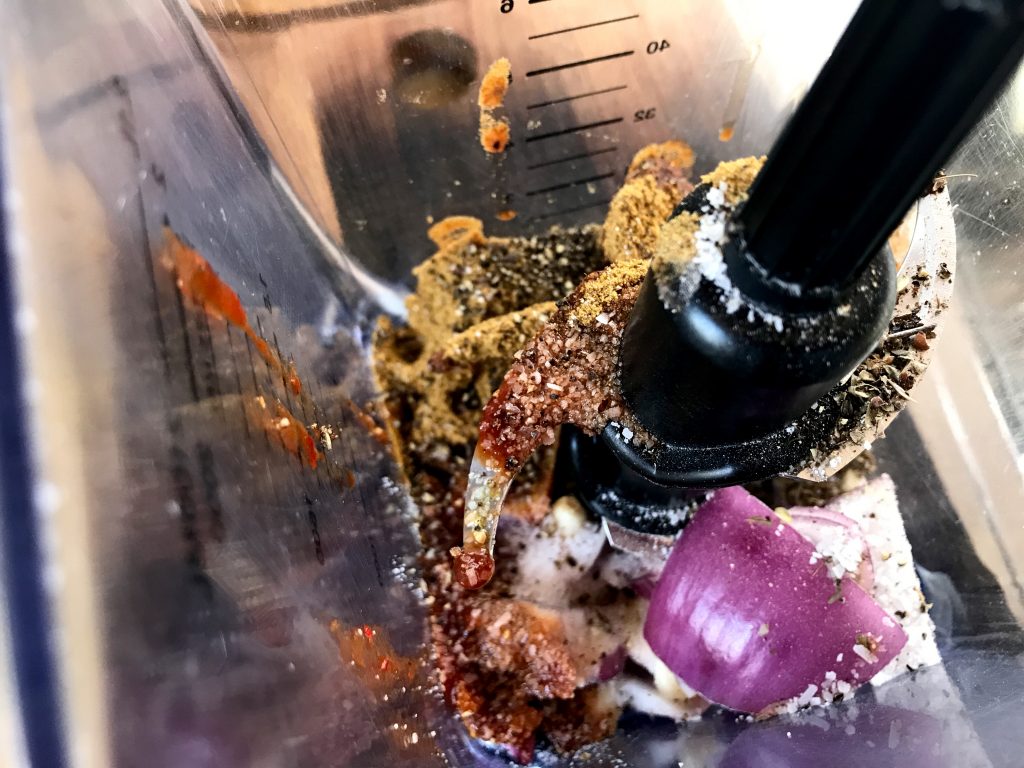 Throw the onion, garlic, adobo sauce, chipotle pepper, 2 tbs kosher salt, 2.5 tsp cumin, 2 tsp oregano, 1 tbs olive oil and juice of 1 lime into a blender (or food processor).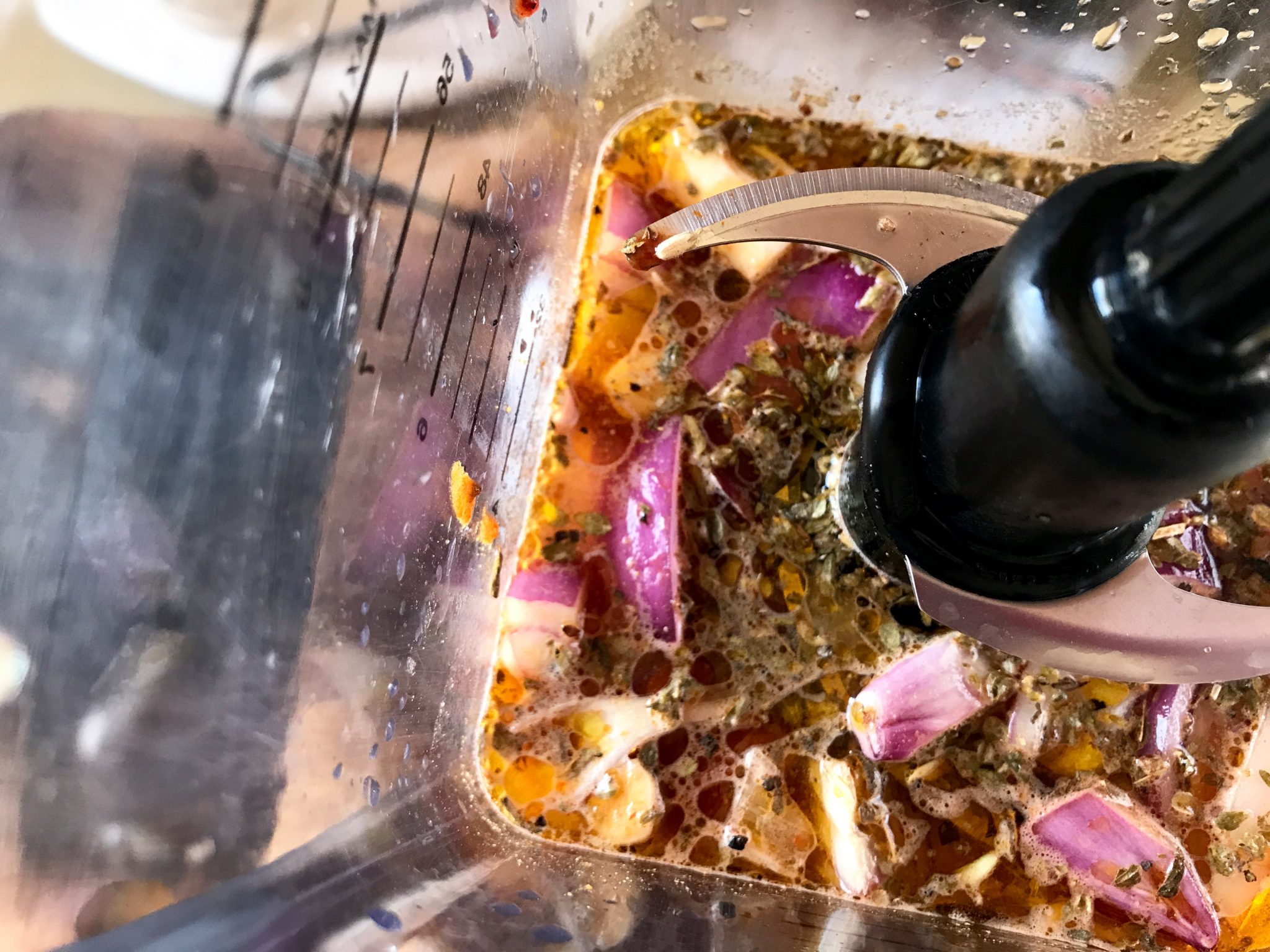 Add one cup'a water.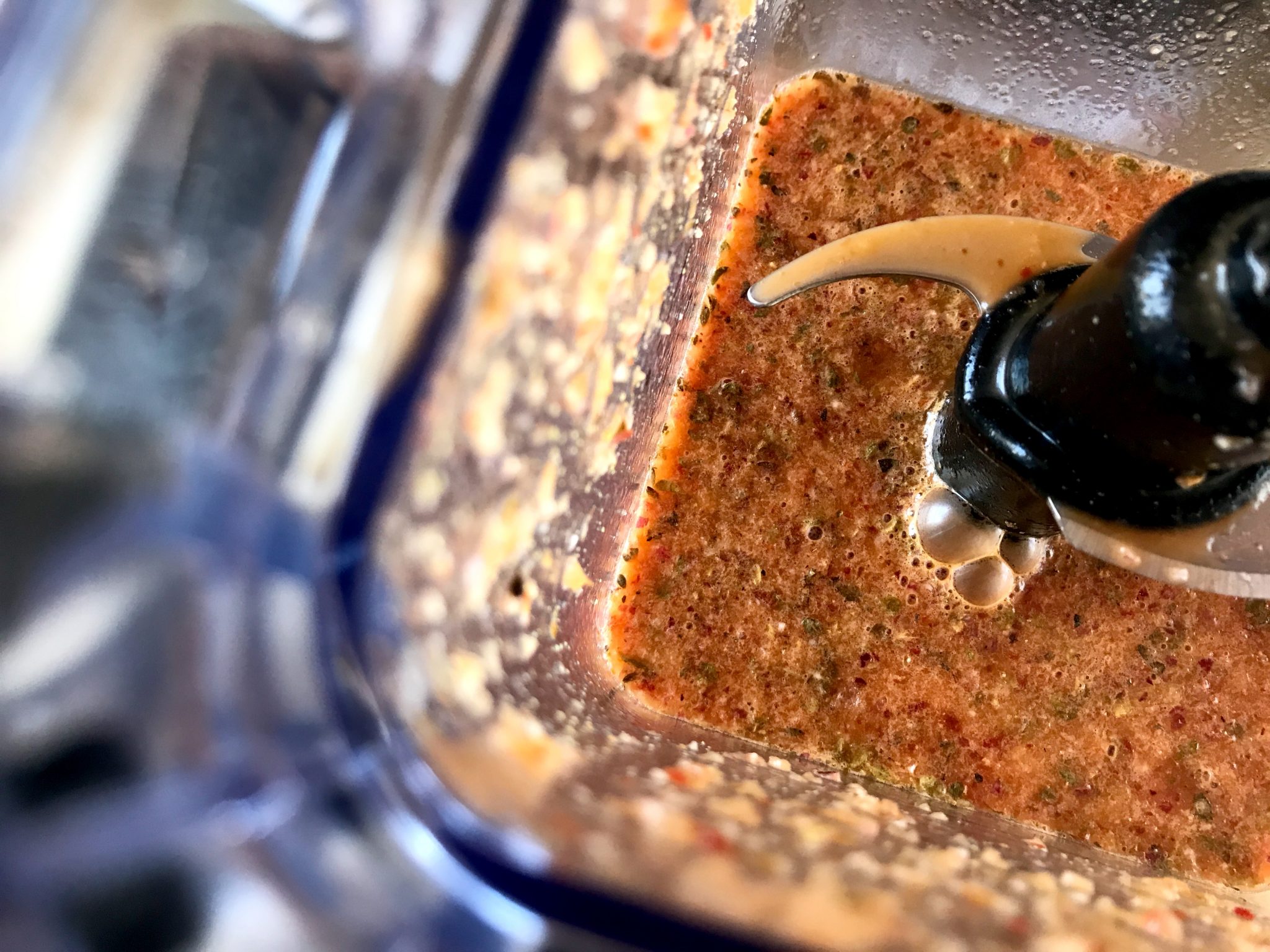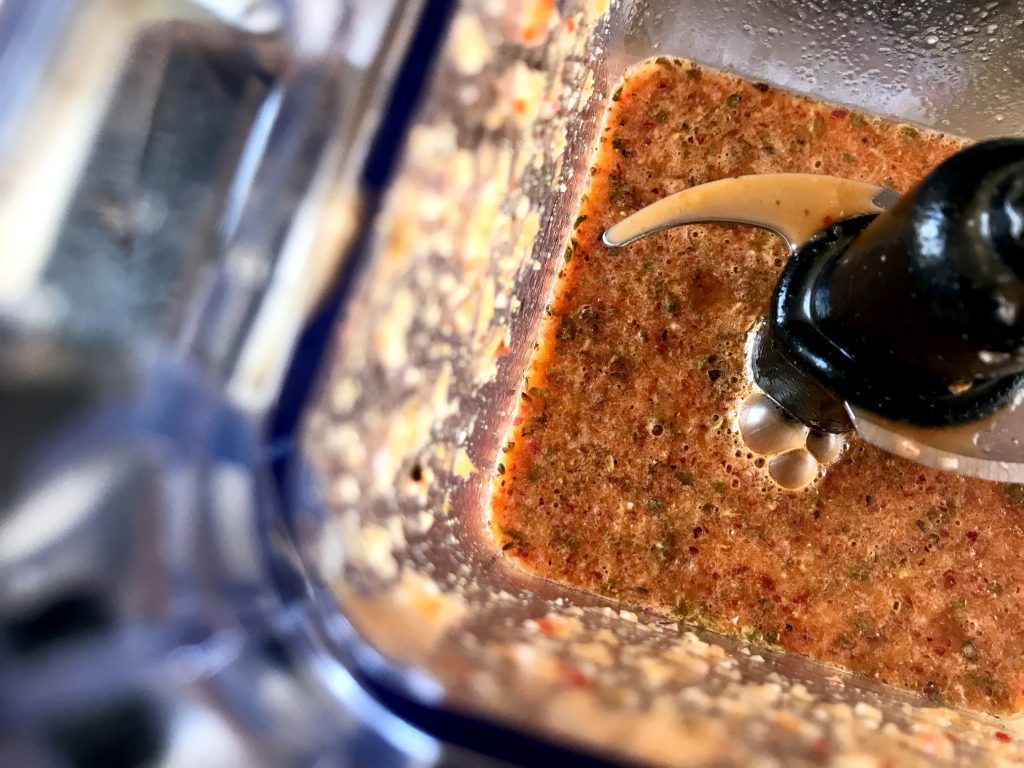 Blend, baby, blend!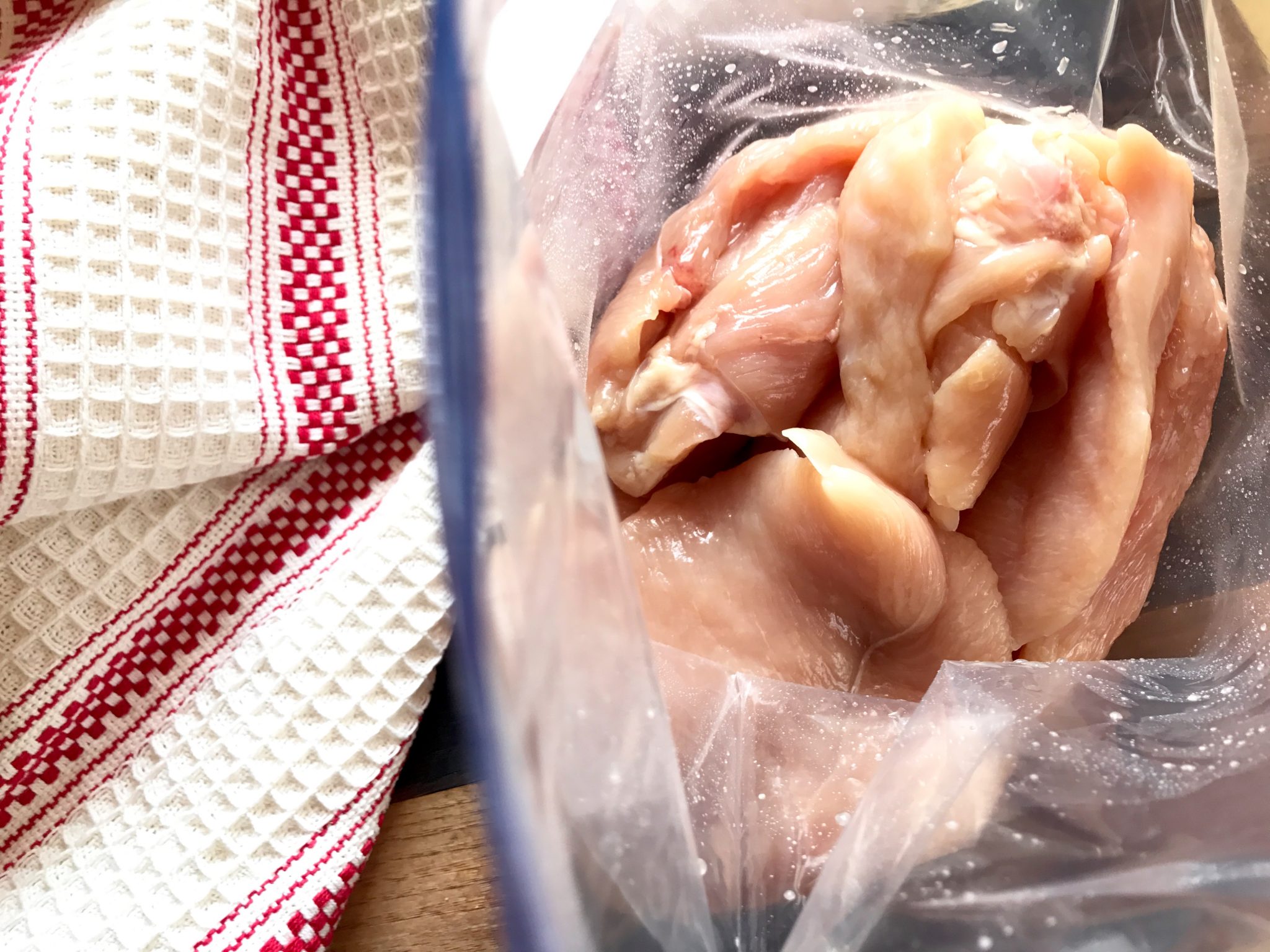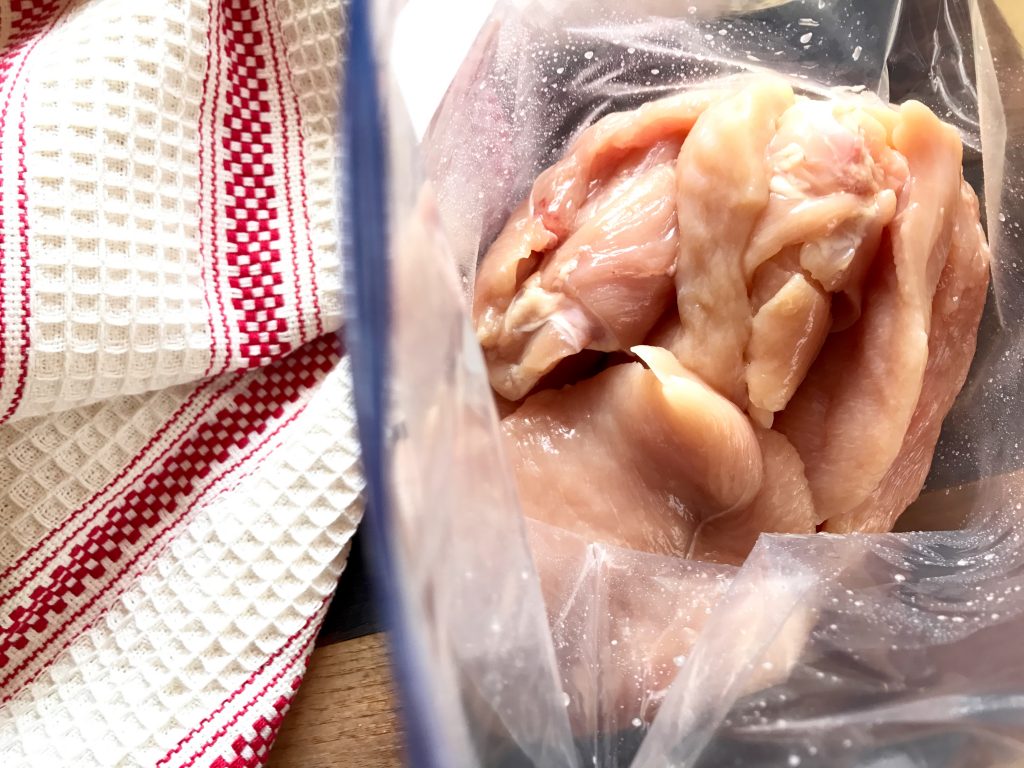 Now, you'll need two pounds of chicken. It'll be 3-4 breasts depending on size. Now grab a ziplock baggie and add the chicken breast. Be sure to cut your chicken breasts in half It just helps the cooking process when you throw'm on the skillet later.
*Note: You can use up to 3.5 lbs of chicken for this marinade, but you'll need to use a little more oil when cooking all of it because you'll have to cook it in a few batches.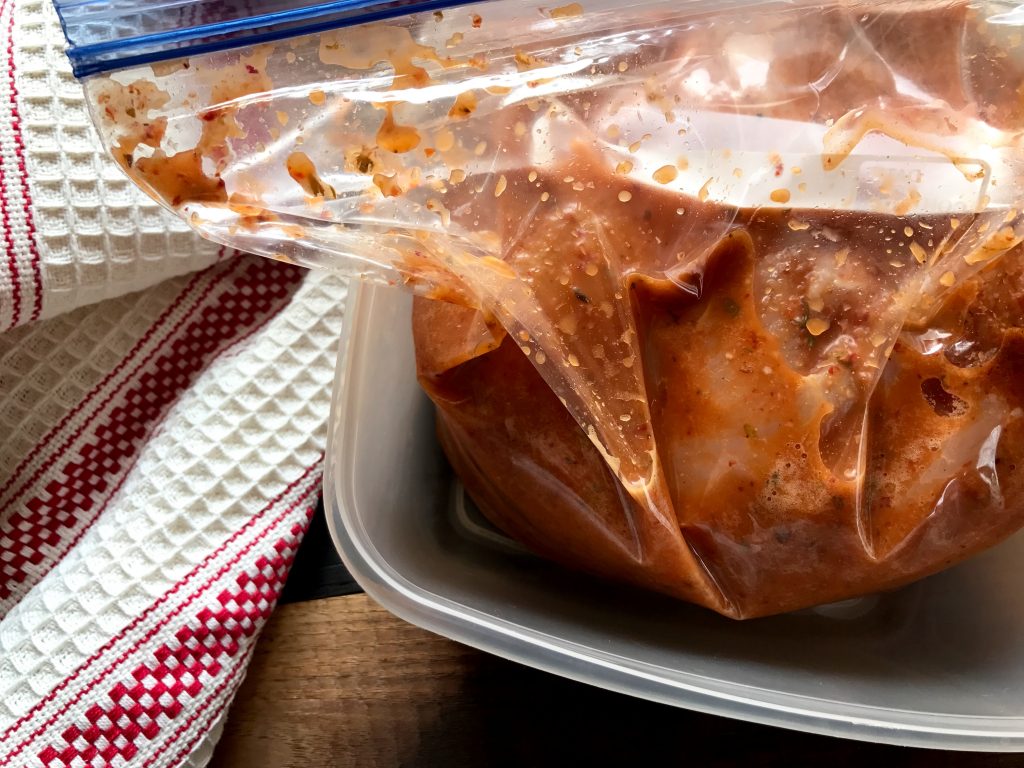 Pour in the marinade. After making sure the bag is tightly closed, use your hands to knead the marinade and chicken together for a minute or two. Now refrigerate for at least 8-16 hours. (Put the bag in a bowl just in case- the last thing you'll want to do is clean up raw chicken juice and marinade all over your fridge… trust me!)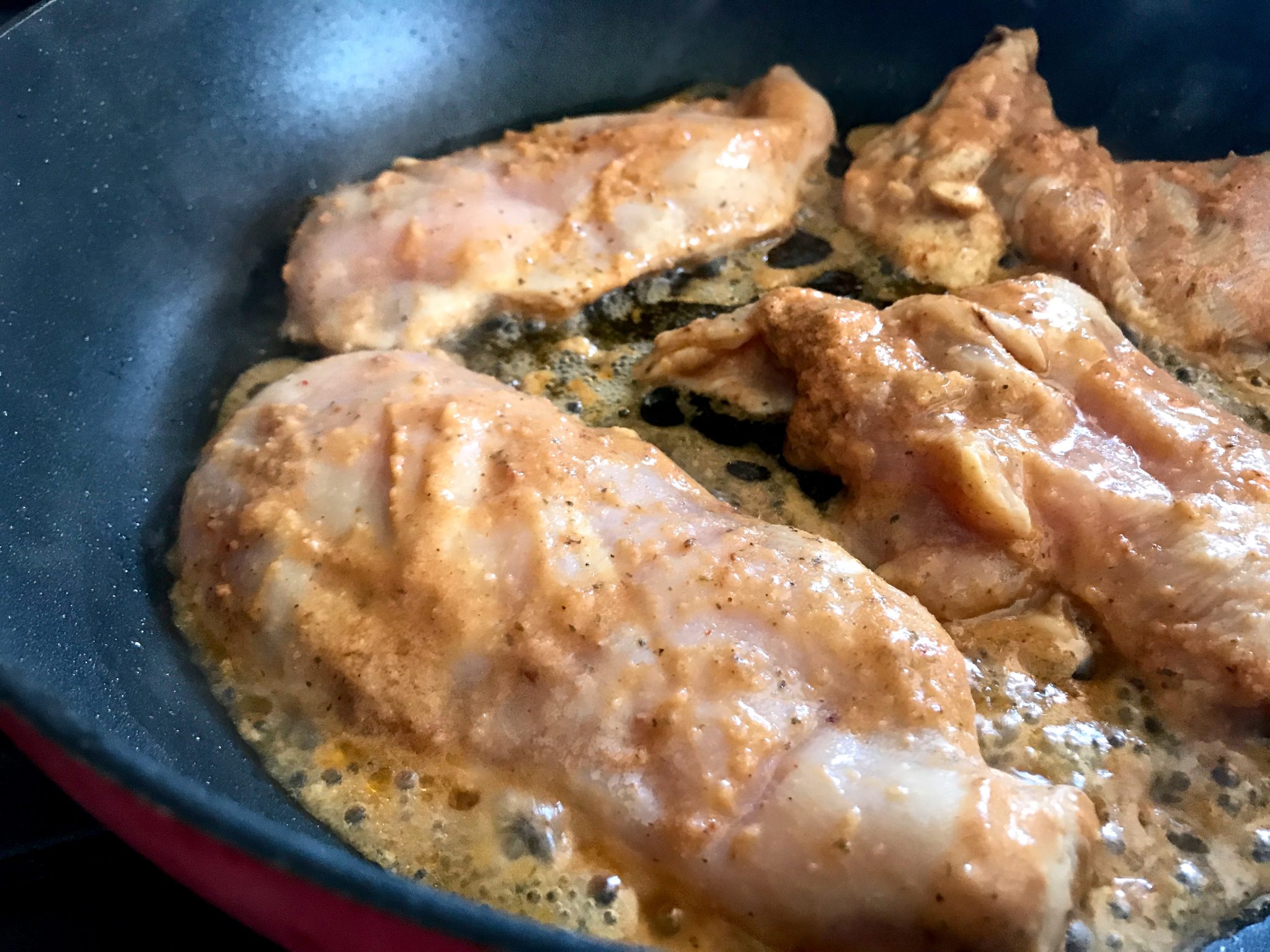 Now we're gonna turn the clock forward until our chicken is done marinating. In a large 12 inch skillet, add 1/2 tbs vegetable oil and bring up to medium heat. Add the chicken to the hot skillet. Cook for about 5-6 minutes on each side. Temp to 160, remove from the pan, and let it rest for 8-10 minutes. You'll need to make chicken in two batches. Be sure not to overcrowd the pan!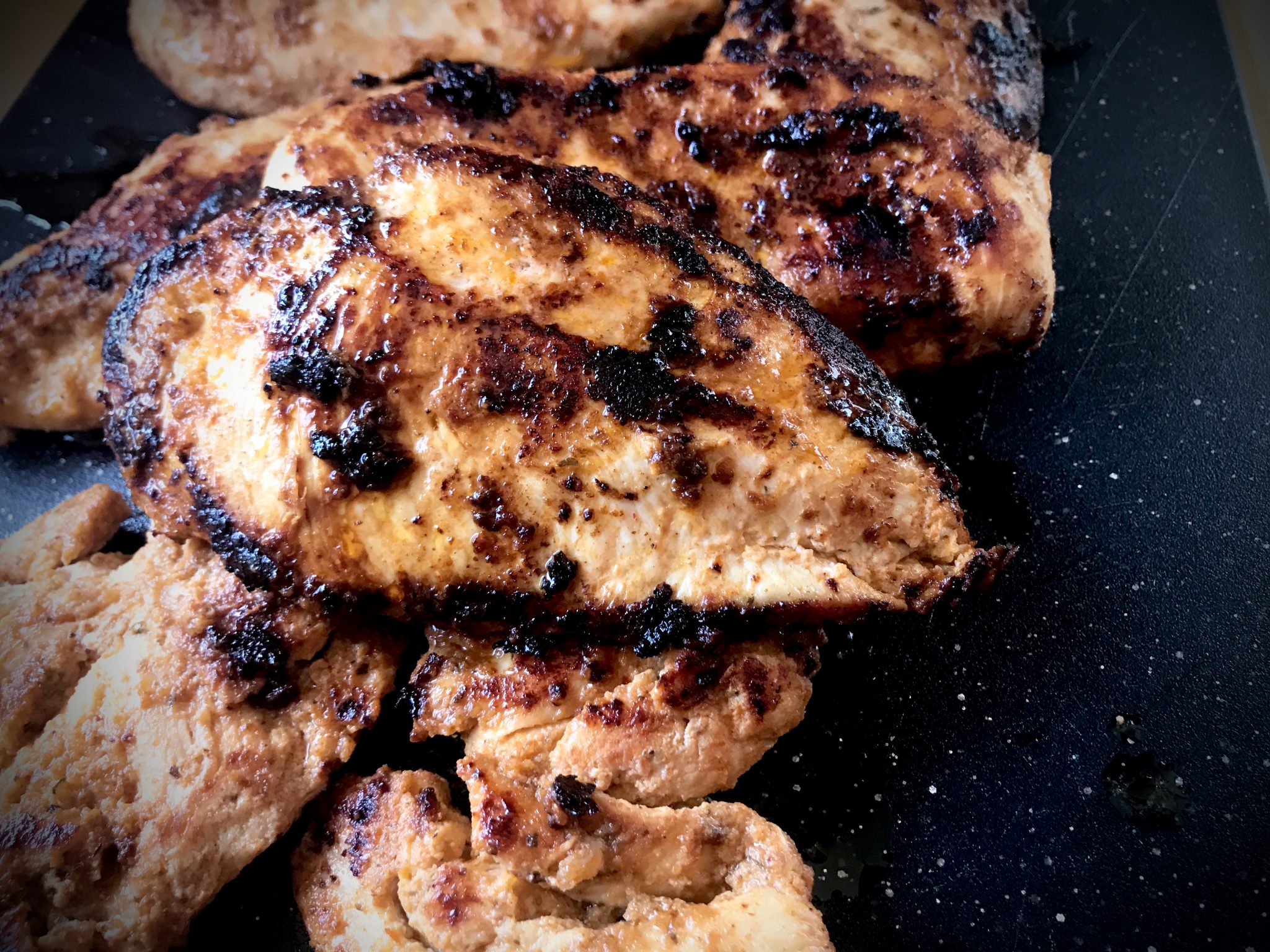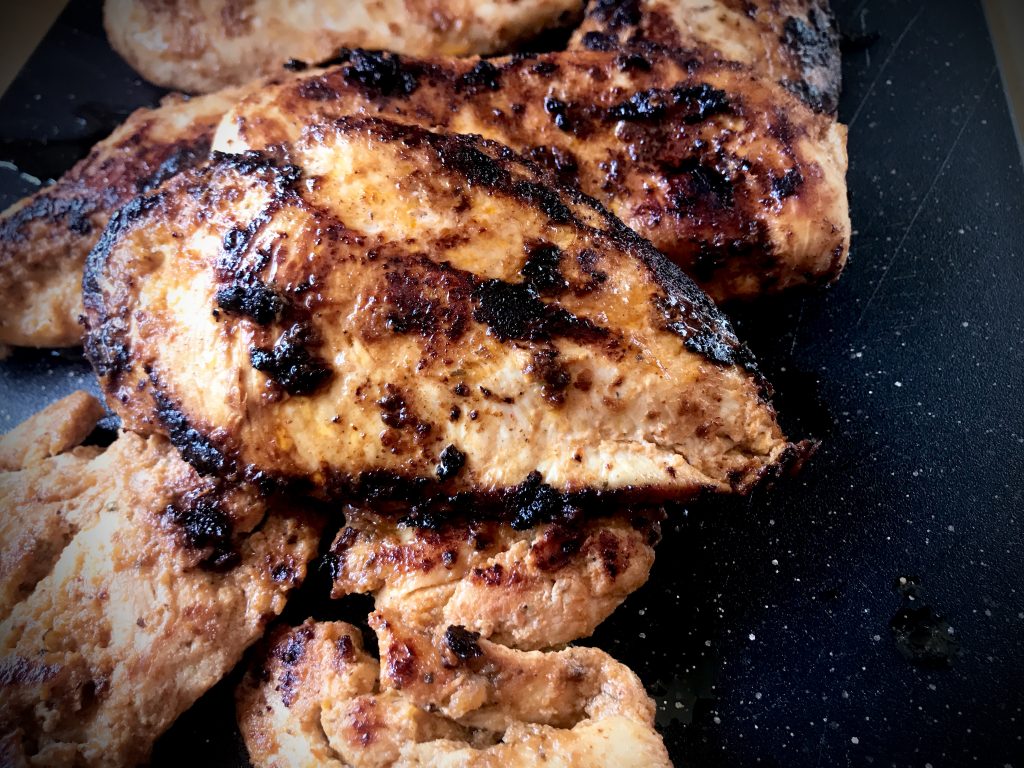 Don't worry if it gets a lil black & burnt around the edges… is that the professional term? I personally don't call this burnt. I call it FLAVOR!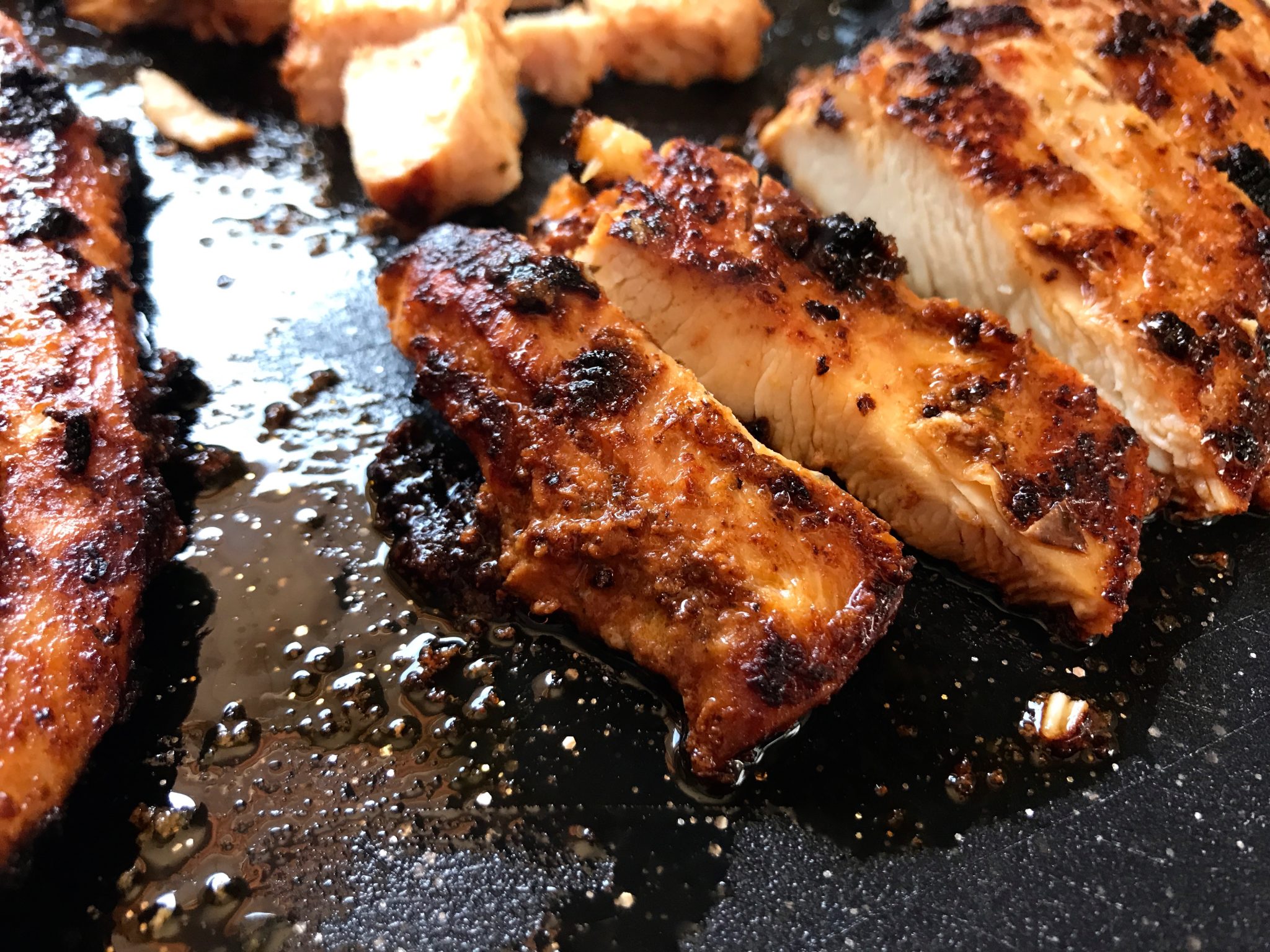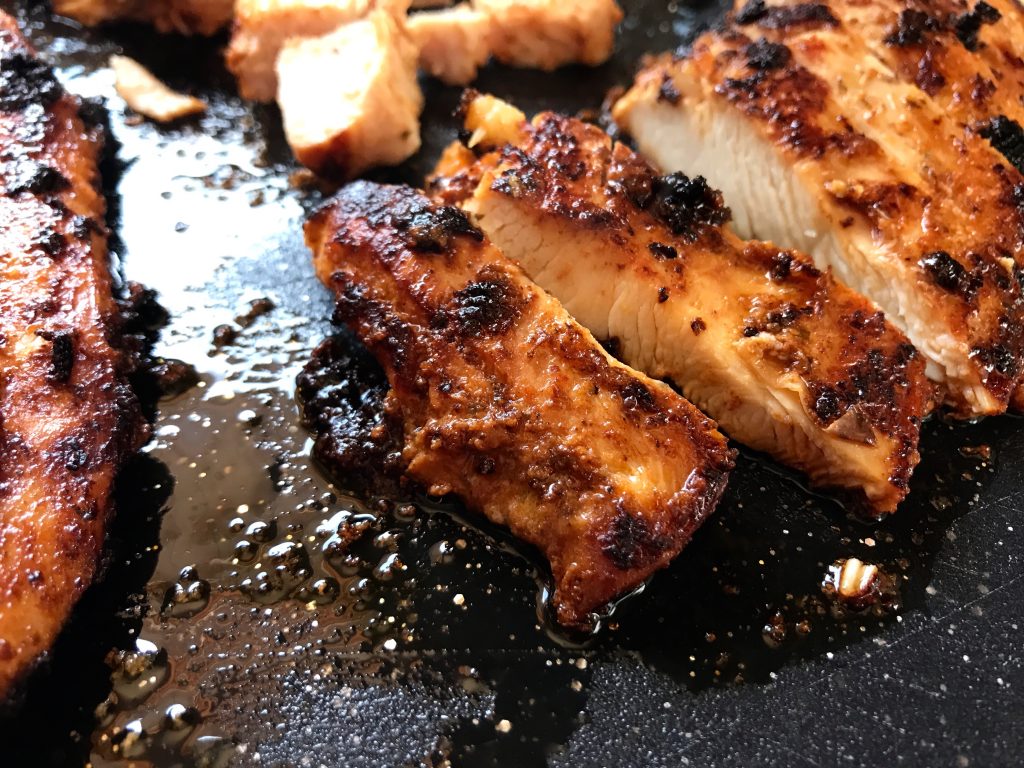 I think I'll just let the pictures do the talking here…
and here…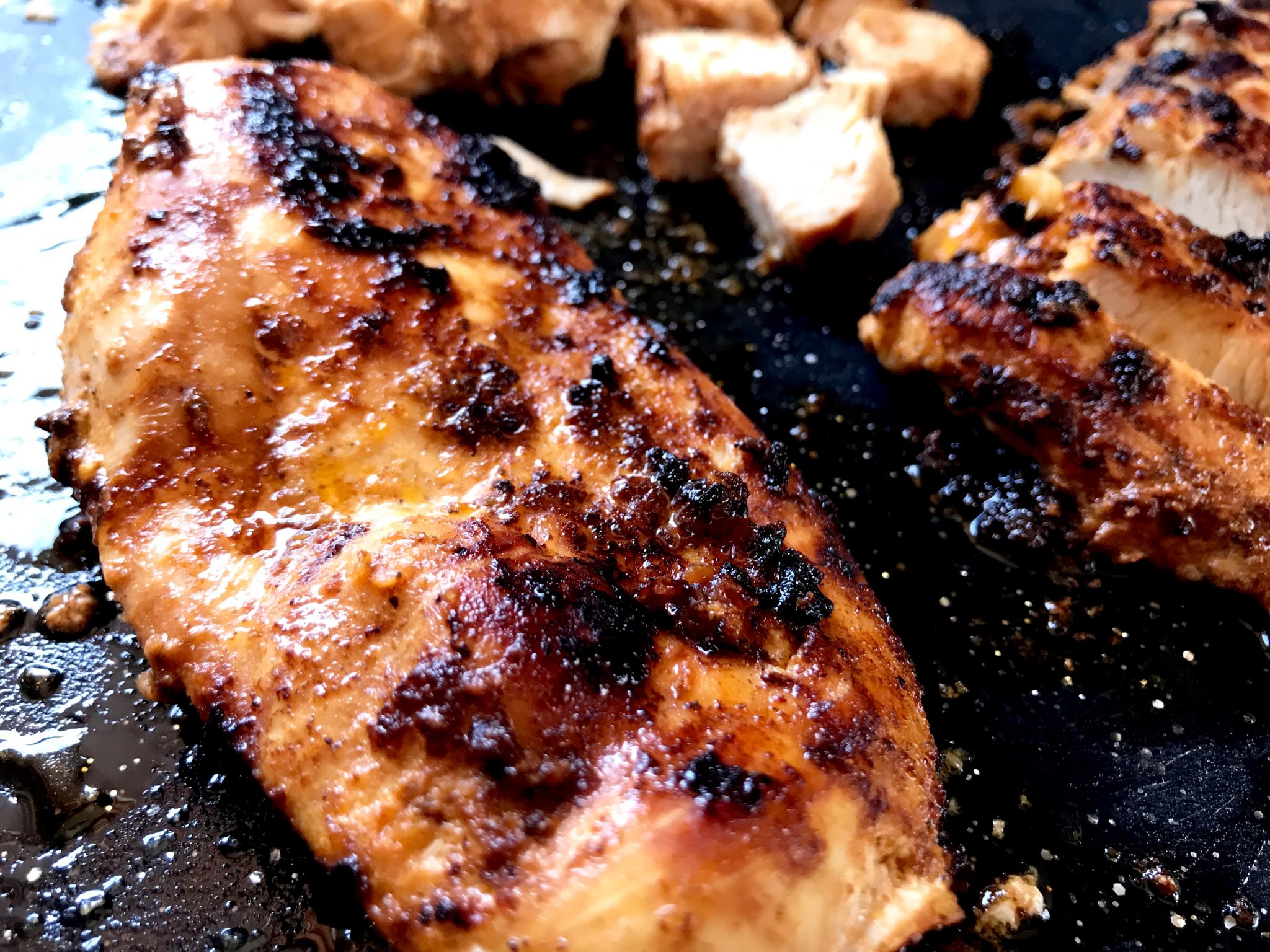 and here too!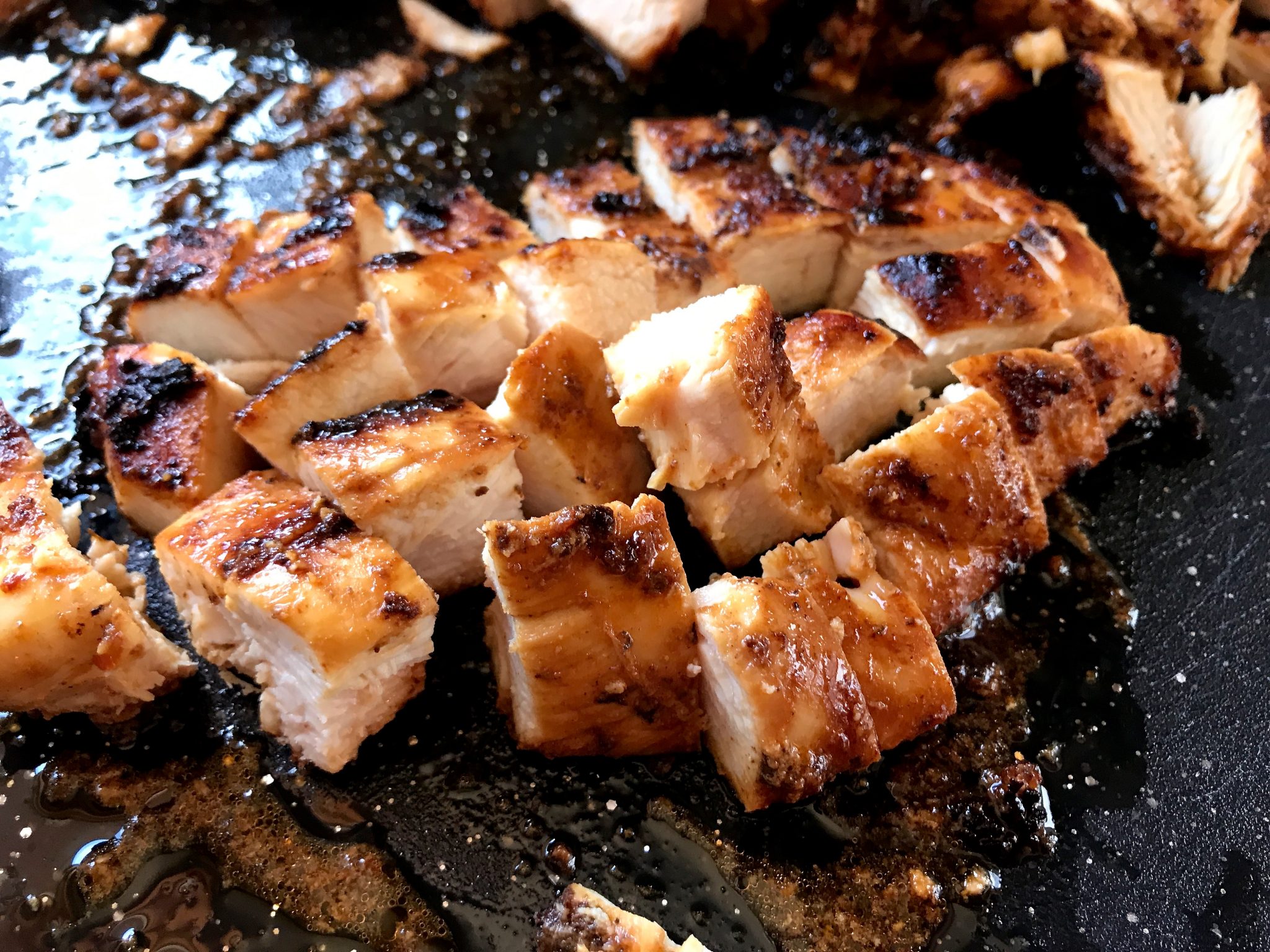 Okay, now dice it up into small pieces.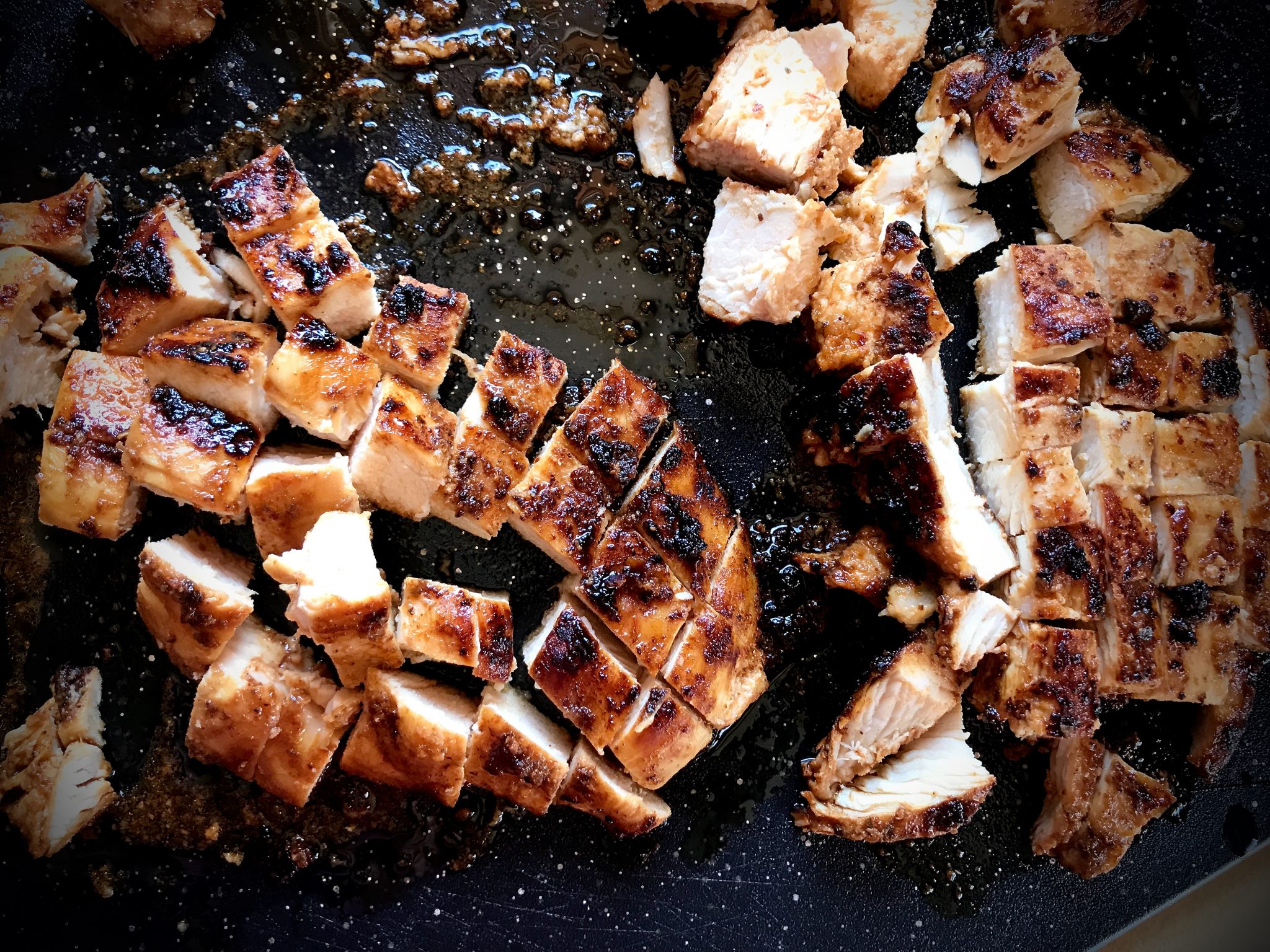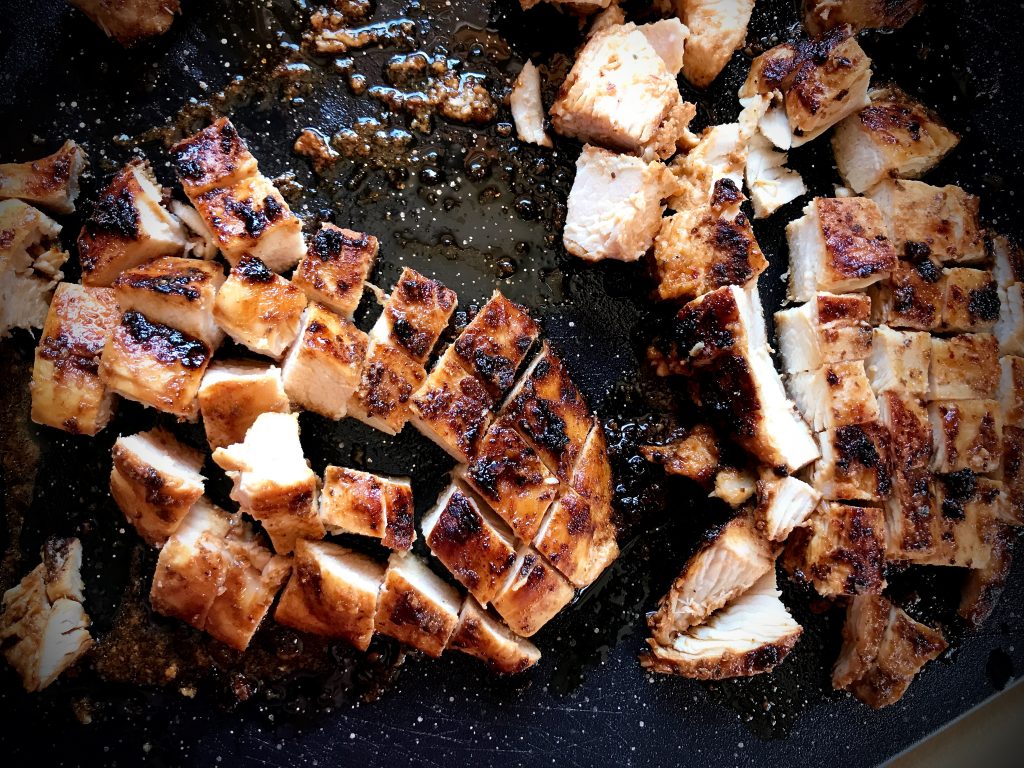 Okay, just ONE more thing! It's kind of important, I promise. After you've diced up the chicken, throw it right back into the skillet, and cook for just a couple more minutes over medium heat. Let it all mingle together with the leftover chicken bits, and it will soak up more of that amazing flavor crusted on the skillet. This last step really does matter!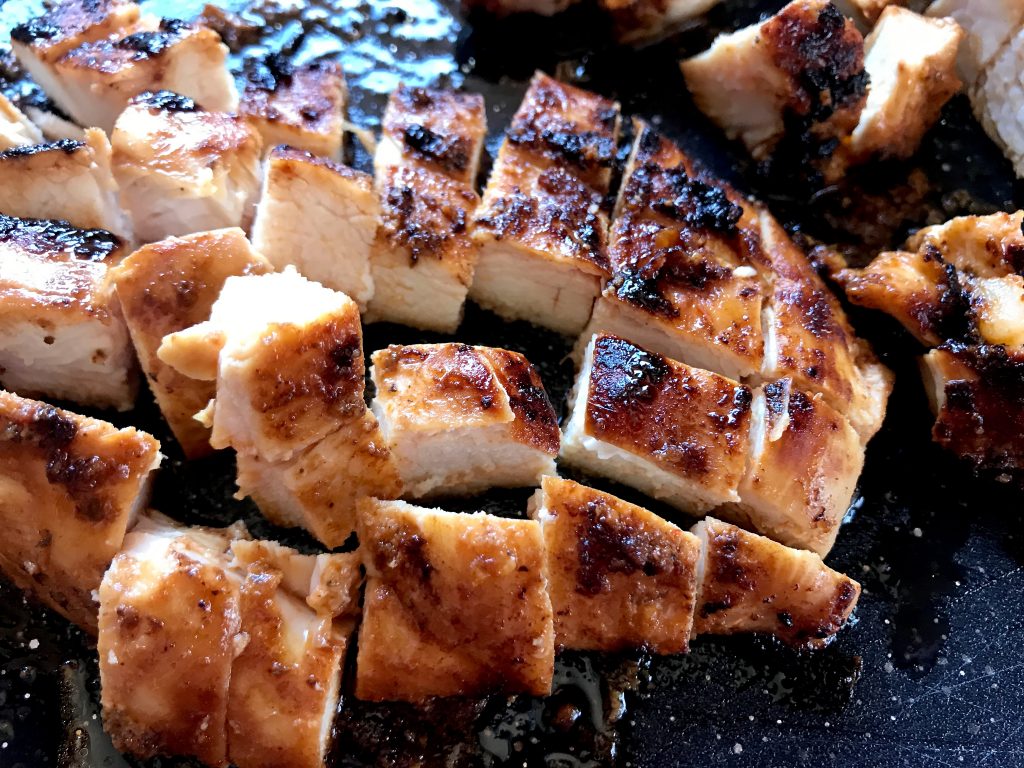 Okay, now you've got the third component of the Chicken Burrito Bowls. How happy are you!? I'm so excited guys, you're gonna love it!!
It's easy peasy, and oh-so-delicious.
Let me know how it goes if ya make it!
With love from my kitchen to yours,
Star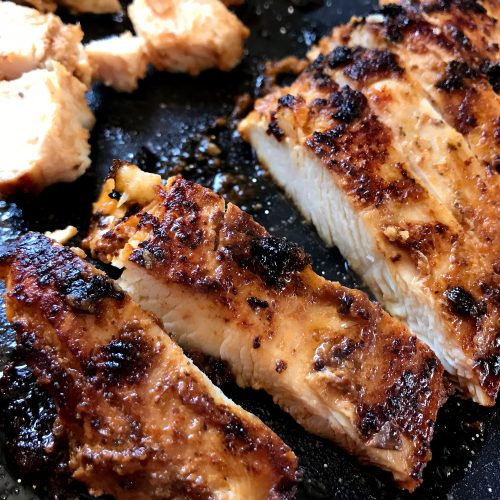 Print
Skillet Chipotle Chicken
a tender, juicy, skillet chicken breast packed full of Mexican flavors.
Materials
1/2

large

red onion

cut into large chunks

4

cloves

garlic

cut into large peices

1

medium

chipotle pepper (canned)

can can be found in the latin foods section in any store (Chipotle Peppers in Adobo Sauce)

2

tbsp

Adobo Sauce

from same can as chipotle pepper above

1

tbsp

olive oil

2

tsp

oregano

2.5

tsp

cumin

2

tbsp

kosher salt

if using table salt, reduce by half

1

cup

water

1 tbsp

vegetable oil

(divided-for cooking)

2

lbs

chicken breast

trimmed and cut in half to make thinner

juice from one lime
Instructions
For the Chipotle Marinade:
Be sure to start to marinate chicken for at least 8 hours before cooking. In a blender (or food processor) Add onion, garlic, adobo sauce, chipotle pepper, olive oil, cumin, oregano, kosher salt, juice of one lime, and water. Blend together well. Marinate for at least 8 hours. (Can be marinated for up to 24 hours)
For the Skillet Chipotle Chicken:
After the chicken has marinated, heat a large 12 inch skillet with 1/2 tbsp of vegetable oil over medium heat. Add pieces of chicken to the hot skillet. Discard extra marinade. Cook 5-6 minutes on each side or until the chicken temps at 160 degrees. Remove from skillet, set on cutting board, and let it rest for 8-10 minutes. Repeat once more adding second batch of chicken and another 1/2 tbs of vegetable oil.

When the chicken is cool enough dice it into small pieces and add back to the skillet where you cooked the chicken. Let it cook, stirring together with all the crusty chicken bits in the skillet over medium heat for a few more minutes. Serve and enjoy!
Notes
Yields: 25 ounces (about 5 cups) cooked chicken
Serving size: 1 cup (5 oz, cooked)
223 calories 4.5g fat, 1g saturated fat, 0g carbohydrate, 0g fiber, 0g sugar, 42g protein
WeightWatchers Points: 1