This post may contain affiliate links (meaning I earn a small comission if you purchase an item through a link I provide) I only provide shoppable links to items I love and are helpful. As an Amazon Associate, I earn from qualifying purchases.
Happy Sunday, y'all. I can't think of a more perfect day to post this recipe for Slow Cooker Beef Stew. It's been pouring cats and dogs out! I promised this recipe so I am chaining myself to my desk until I am done writing this post for ya! (Unless of course a sweet little girl named Pepper asks me to play dolls with her. Spoiler Alert: She did. about 7,000 times.) Anyhow, I'm super excited about this recipe. I really didn't think about doing a Beef Stew for the blog until a few weeks ago. I truly never have too much of a plan when it comes to food here. I'm a complete unorganized mess, but I like to think that's why I am able to be so creative in the kitchen, I mean… that makes me feel better.
This is how Beef Stew made it's way to the blog before some other really yummy things that I am looking forward to. About two or three weeks ago on a chilly Sunday evening. It was about 5 o'clock in the evening and Eric declared that all he wanted in life was Beef Stew. Um, you don't just whip some stew up, babe. It's just not possible. I felt kind of bad because he's been working so much and so hard lately and I really like to thank him with his favorite meals. (I say thank you with food, it's fine!) I decided that while I may not be able to make homemade stew I can totally figure out something stew-ish. We have a Culver's here in town and I drove over there because I really thought they had a Beef Stew for one of their soups, but nope. So here's what I did. I ordered their beef pot roast sandwich with mashed potatoes with a bowl of vegetable soup. I came home and mixed the Beef Pot roast with the Vegetable Soup and I plopped in on some mashed potatoes and gave it to him. I was pretty proud of myself for this Beef Stew-ish type meal in under 30 minutes. Although it was not made in my kitchen and with all my love. He was pretty pleased, but asked if I could still make stew soon. Of course, within a couple days I had my own pot o' stew going for him. And so this version of Beef Stew was born. I basically combined my mom's trusty beef stew recipe with my Sunday Pot Roast recipe. It was a delicious marriage.
I love a good Beef Stew. I really do. It's just perfect for the fall and winter months ahead. Is it just me or does anyone else feel like they are living in Medieval times when they eat a hearty bowl of stew? It's just one of those meals that has been made for so, so, so many years. It's historical, really. The original recipe is what my mom has always made, but I added a few extra things because I am me. Ha! It's super simple and super delicious. It'll take ya a few minutes to prep and then you throw it all into the slow cooker and let it do it's thing all day long. The meat becomes as tender as can be and the flavor is fantastic.
Eric and my mom both think I am absolutely NUTS because here it is… I don't add potatoes to my Beef Stew. I just don't like the way they taste in stew with the beef maybe? I am not sure. I just don't enjoy it. Whenever I have Beef Stew I always pick the potatoes out and fling'm at people. (Just kiddin) In conclusion, my Beef Stew is not made with potatoes and that's just the way it is.
I step it up though and I serve it over a heaping pile of mashed potatoes.. specifically my Homestyle Cauli-Tater Mash. I served this stew and tater mash in a big ol bowl to each of them the other night and they took it all back, but Eric still thinks y'all are gonna think I'm a nut job for telling you to make a Beef Stew without potatoes. Even though, he said it's the best dang stew he's ever had. I don't know why this surprises him so much. I make pot roast and I don't add the potatoes ever either. I think it's just that I actually told him that there are no potatoes in it that he became bothered so much by it. Anyway, I hope ya'll enjoy it! It's super yummy and you'll love it. I know it! Serve it over a pile of some mashed taters and thank me later.
Let's getcha in the kitchen!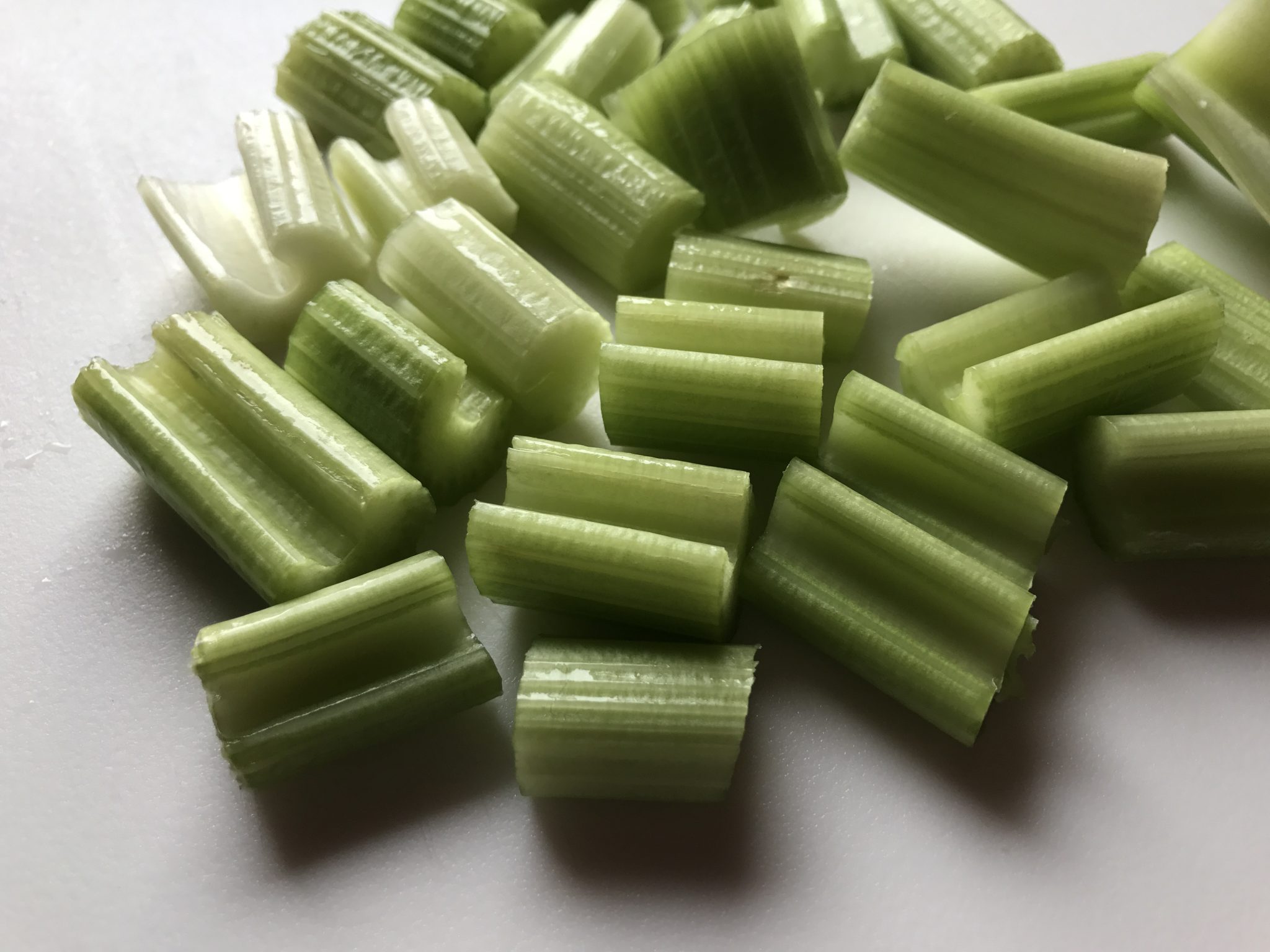 Chop about 4 ribs of celery into chunky pieces.
Chop and peel 4 large carrots into chunky pieces.
Roughly chop a few cloves of garlic.
and finally roughly chop an onion into chunky pieces. Perfection is not needed in Beef Stew. At least not in my Beef Stew world… It's a rustic dish and I think that's why I like it so much!
Now take a Chuck Roast and cut into bite size pieces. (Trimming the fat as best you can as you go)
Sprinkle some kosher salt on top 'o the meat and some pepper. I'm pretty generous with the kosher salt. I know I shouldn't be, but I am. My sister told me the other day she forgot to buy salt at the store one day and hasn't used it in weeks now. I audibly gasped at such a thing.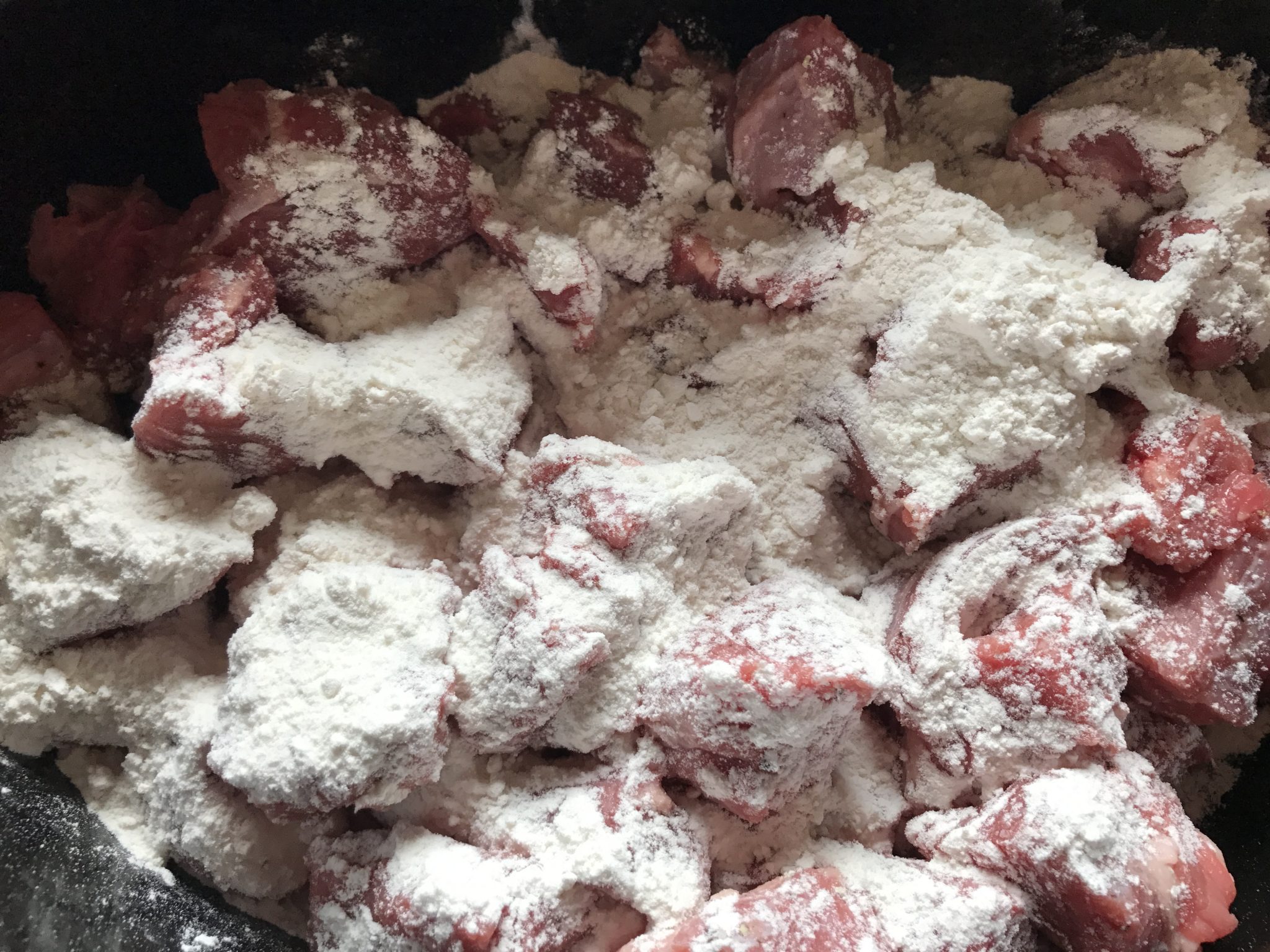 Add a few tablespoons of white flour.
Stir until the beef is coated completely.
Also, some of you may ask why I don't sear the meat first. I do sometimes. You can too obviously. Honestly, I taste the slightest difference…. and the slightest difference does not make me want to wash another dish. It's my blog and I'll break aaaaaall the rules if I wanna! haha!
Add all the chopped up veggies and a few sprigs of thyme. Yes, the thyme is important.
Add a small can of tomato sauce, a cup'a low sodium beef broth, a tablespoon of brown sugar (white sugar will work too), and a few tablespoons of worcestire sauce! (Don't forget 2 bay leaves. I actually did until about an hour into cooking time hence no photo of'm!)
Stir it up real good and pop that cover on the slow cooker! Cook on low for 8-9 hours or High for 5-6. 'Slow & Low' results in much more tender beef.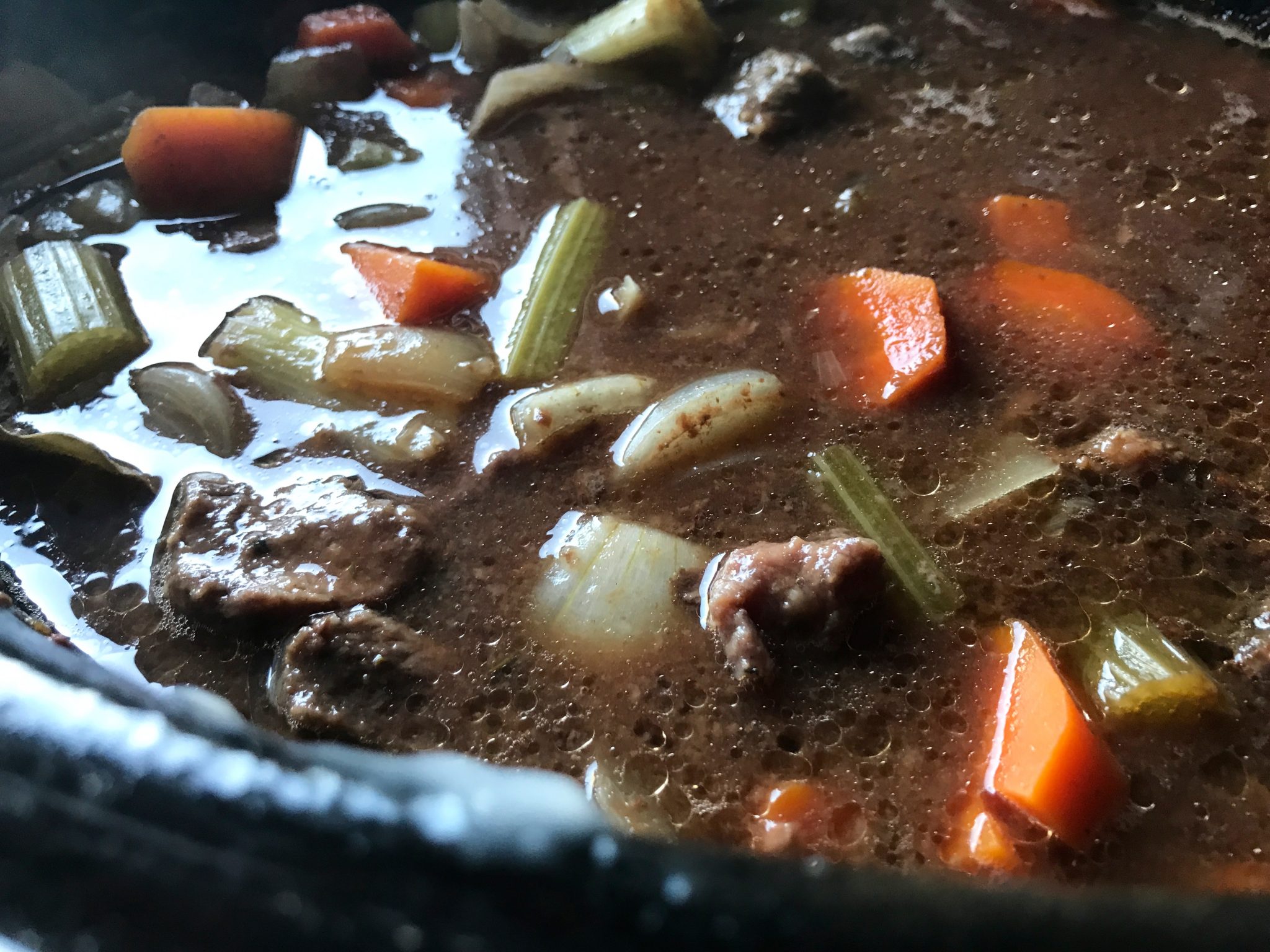 And come home to or back to this pot full of yum.
Now add some corn and stir it in.
Hands down the worst photo I've ever taken. Why didn't I grab a different colored bowl? Oh well. You win and you lose sometimes. This is 3 tablespoons of flour and 3 tablespoons of water. Whisk it together well. You'll add this to the stew to thicken it up a bit and give it that stew-y feel.
Actually, this might be the worst photo I've ever taken of food. Haha! Some things just don't photograph well. Add in the flour and water mixture and stir really well into the stew until it feels thickened up. Continue to cook the stew after this for about 30 minutes. This will cook down the raw flour taste. Remove bay leaf and thyme sprigs. You could also do what my mom used to like to do.. leave the bay leaves in and if your bowl has a bay leaf you're the lucky one who gets to do the dishes! (This was not a fun game. I feel like I always got the bay leaf.)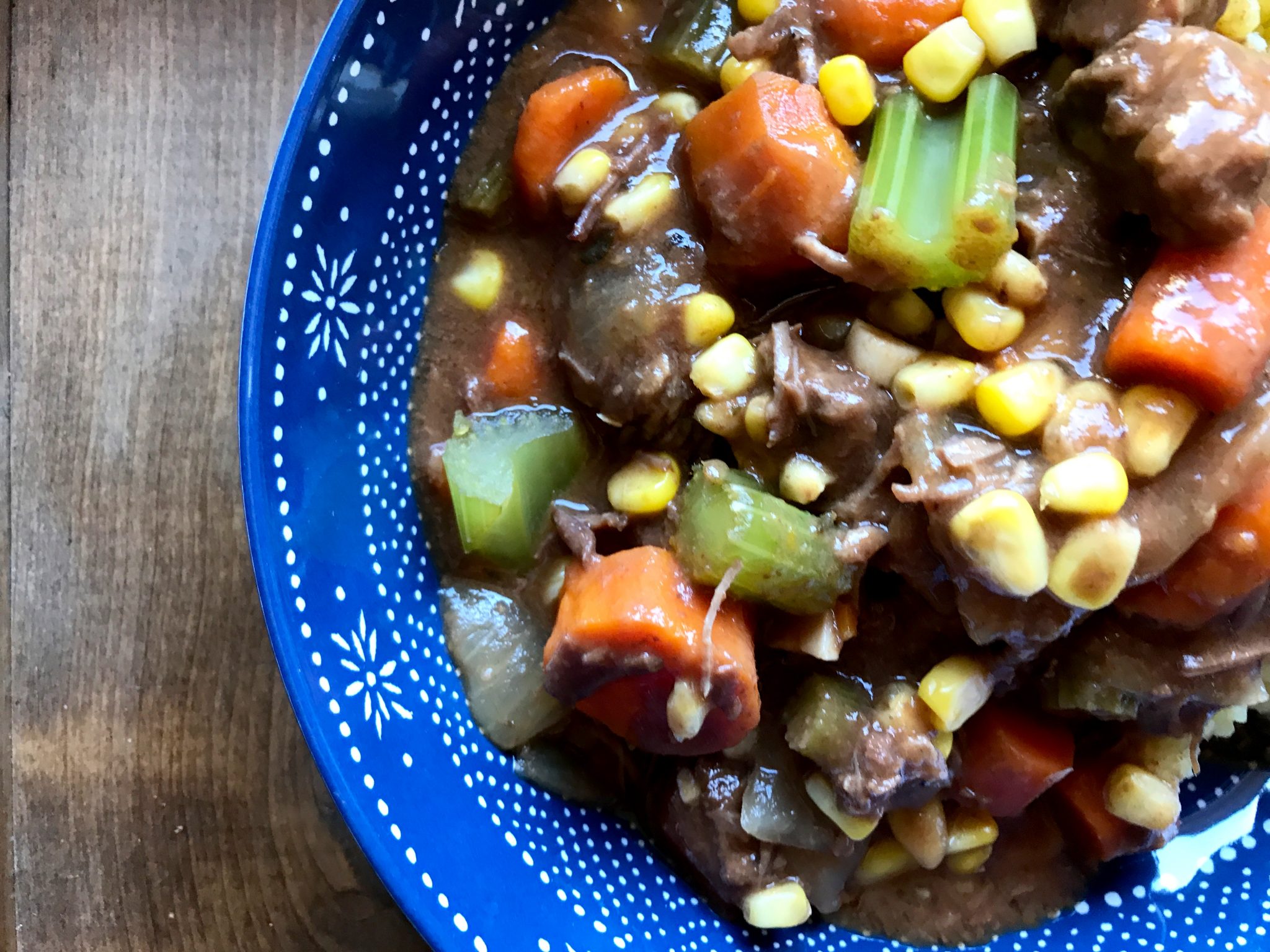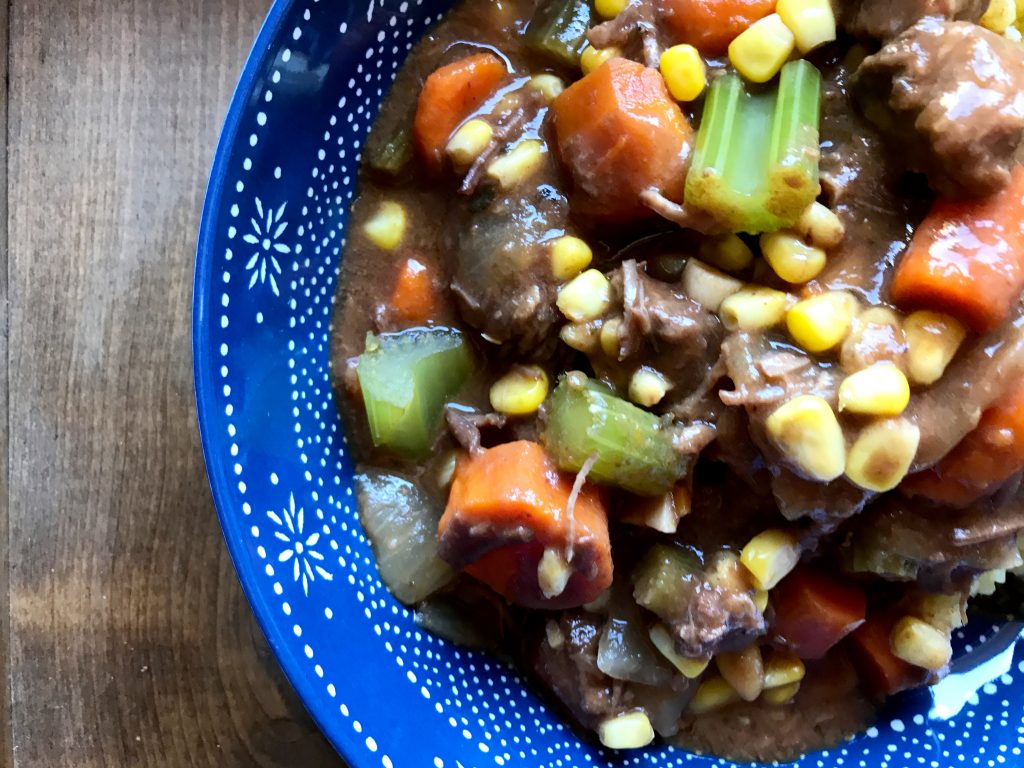 Ta-da! All done. Oh my gosh. It's just so pretty and so delicious. (And yes I'm using these bowls again. I LOVE'M!)
And Yeeeeep, piled high on top'o my Homestyle Cauli-Tater Mash! Delicious perfection.
Ah…
"the perfect bite" shot is one of my favorite things.
I hope you love this hearty stew as much as we do. Make it soon, y'all!
With love from my kitchen to yours,
Star
Print
Beef Stew
A slow cooked stew filled with vegetables, tender chunks of beef, and lots of flavor.
Materials
2

lbs

beef chuck tender roast, raw

trimmed of fat and cut into 1″ cubes

4

stalks

celery

chopped into chunky pieces

4

large

carrots

chopped into chunky pieces

1

medium

sweet onion

chopped into chunky pieces

2

cups

corn

canned, fresh, or frozen

3

cloves

garlic

roughly chopped

6

tbs

flour

divided

1

cup

low sodium beef broth

3

tbs

worcestchire sauce

3

sprigs

fresh thyme

1

tbs

brown sugar

8

oz

tomato sauce

canned

2

bay leaves
Instructions
Add raw beef chunks to slow cooker. Salt and pepper the beef chunks well. Sprinkle three tablespoons of flour over the meat and stir until the meat is completely covered. (reserve the other 3 tablespoons for later)

Add chopped celery, onions, carrots, garlic, thyme, bay leaves, tomato sauce, Worcestershire sauce, brown sugar. Stir together well. (Do not add corn)

Cook on low for 8-9 hours. Slow and low is the best method for tender beef, but you can cook on high for 5-6 hours.

When the stew is done cooking add the corn and stir together.

In a small bowl add 3 tablespoons of flour and 3 tablespoons of water. Whisk together until there are no clumps. Add into the stew and stir together until the stew feels thicker. Continue to cook on low for about 30 minutes to ensure the raw flour flavor is cooked off. Salt & Pepper to taste!! Remove thyme sprigs and bay leaves.

For maximum deliciousness serve stew over mashed potatoes or my favorite Homestyle Cauli-Tater Mash! Enjoy!
Notes
Serves 8 Suggested Serving Size: 1 and 1/4 cups.
254 calories, 6.5g fat, 2g saturated fat, 20g carbohydrates, 2.2g fiber, 7g sugar, 26g protein WeightWatchers Points: 5 Points