This post may contain affiliate links (meaning I earn a small comission if you purchase an item through a link I provide) I only provide shoppable links to items I love and are helpful. As an Amazon Associate, I earn from qualifying purchases.
Introducing: Cowboy's Meal. A super, super good hodge podge meal made up of the most satisfying ingredients with a very Tex-Mex vibe that I'm here for! Eat it as in a bowl, add to shells for taco night, or throw an egg on it and make it a breakfast skillet!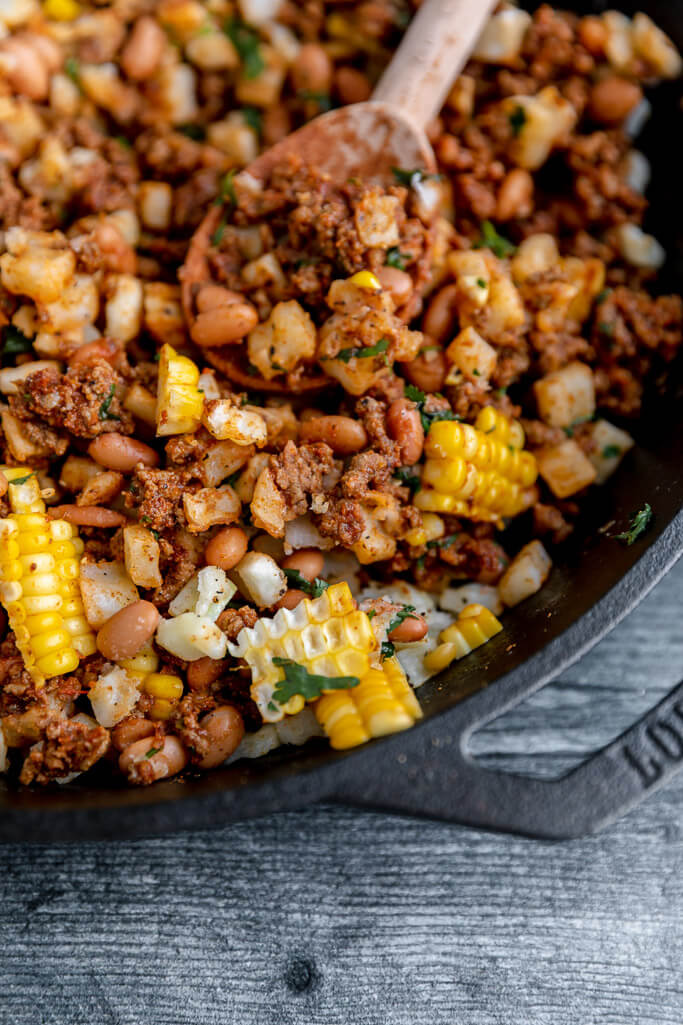 On the very last day of 2017, my mama took little Pepper so Erica and I could spend a night together without a toddler. The temps were in the negatives and it was just all around unpleasant. We opted to rent a bunch of movies, make dinner at home, and eat our weight in stove top popcorn and starbursts. That's actually my favorite kind of night and to be honest, the perfect way to end a great year. I wanted to make something different because well, it was New Year's Eve and all, but I didn't feel like spending a ton of time in the kitchen because there were movies, popcorn, and starburst waiting for me in the living room, you know?
So, what's probably the quickest and easiest meal that I have in my repertoire and that I always have the ingredients on hand for? You guessed it. Poor Man's Meal! It's one of my favorite meals and it's very popular on this ol' blog! You can read all about it, how much I love it, how I grew up on it, and grab the recipe here. But, I'm me and I still wanted to make something a little different so I decided to just start throwing a bunch of stuff together. I was feelin' a southwest vibe and seriously, the end result equaled actual magic.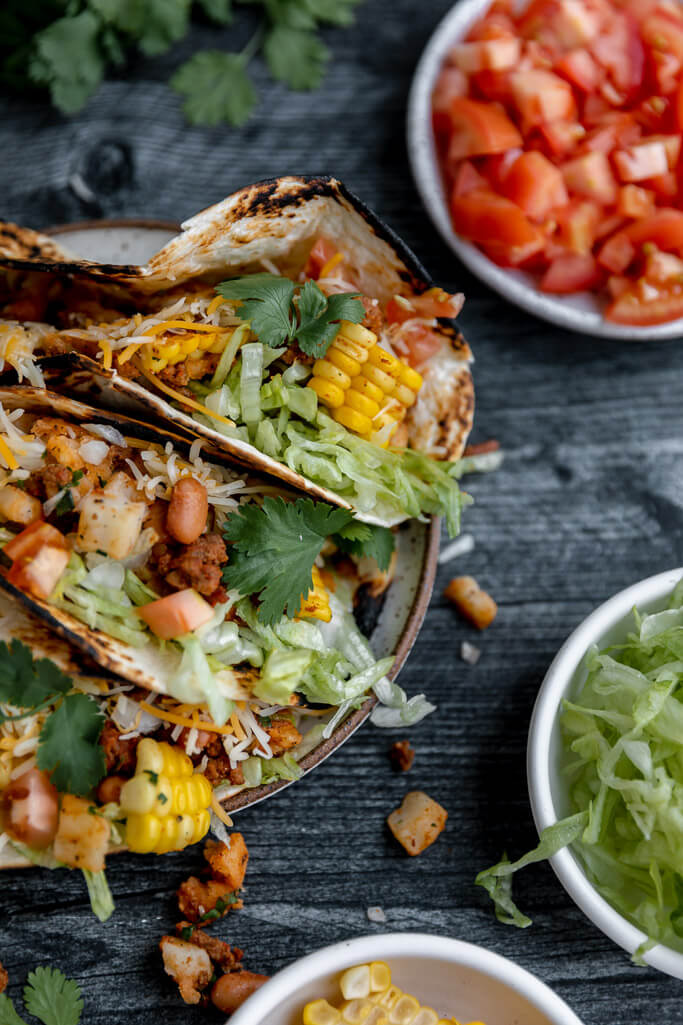 I had a hard time with a name for it at first, but I've finally decided on Cowboy's Meal! I don't know any cowboys personally, but I do know that they seem to like things like beef, beans, corn, and a lil spice. This was the PERFECT meal to end 2017 with for Eric and I.
I love that Cowboy's Meal is simple and most importantly, delicious! We ended up loading up the meat/potato/bean mixture into tortillas and piling tomatoes, cheese, and lettuce on those. Y'all… make this and then, do that. It's delicious on it's own, but add it to a tortilla blow your own dang mind.
How to make Cowboy's Meal: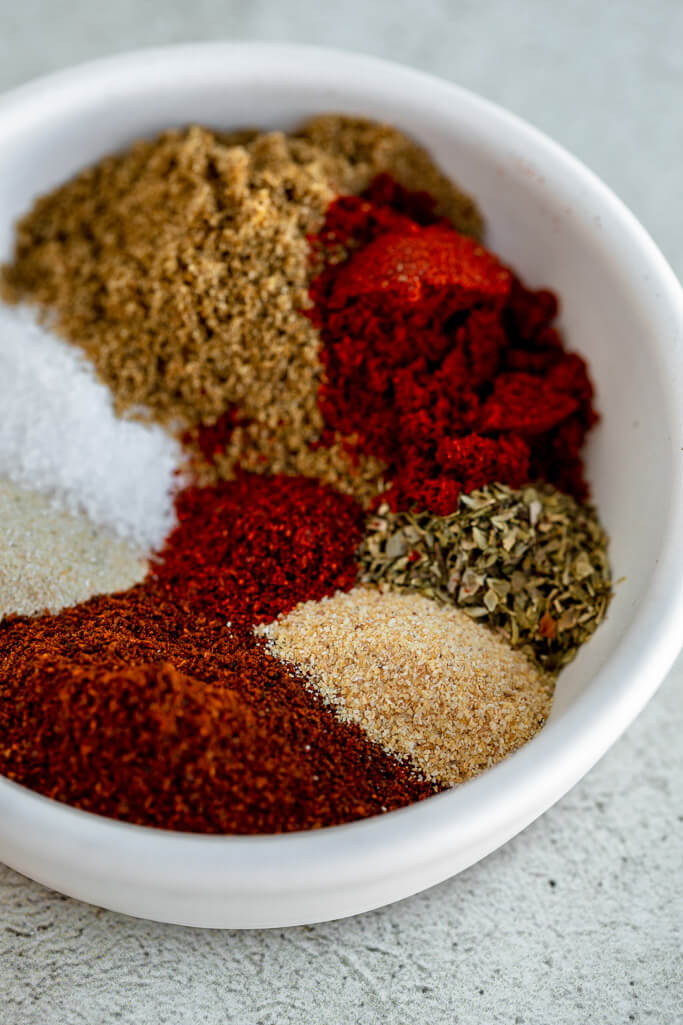 You're going to start off with a homemade and top notch taco seasoning. I know it seems like a lot, but trust me, you need all these spices to make it perfect. Grab 2 teaspoons chili powder, 2 1/2 teaspoons cumin, 1 teaspoon paprika, 1/4 teaspoon cayenne pepper, 1/2 teaspoon oregano, 1 teaspoon onion powder, 1/2 teaspoon garlic powder, and finally, 1 teaspoon kosher salt. Be sure to keep the garlic powder and kosher salt out. You'll need a teaspoon of each later for the potatoes.
Stir them all up!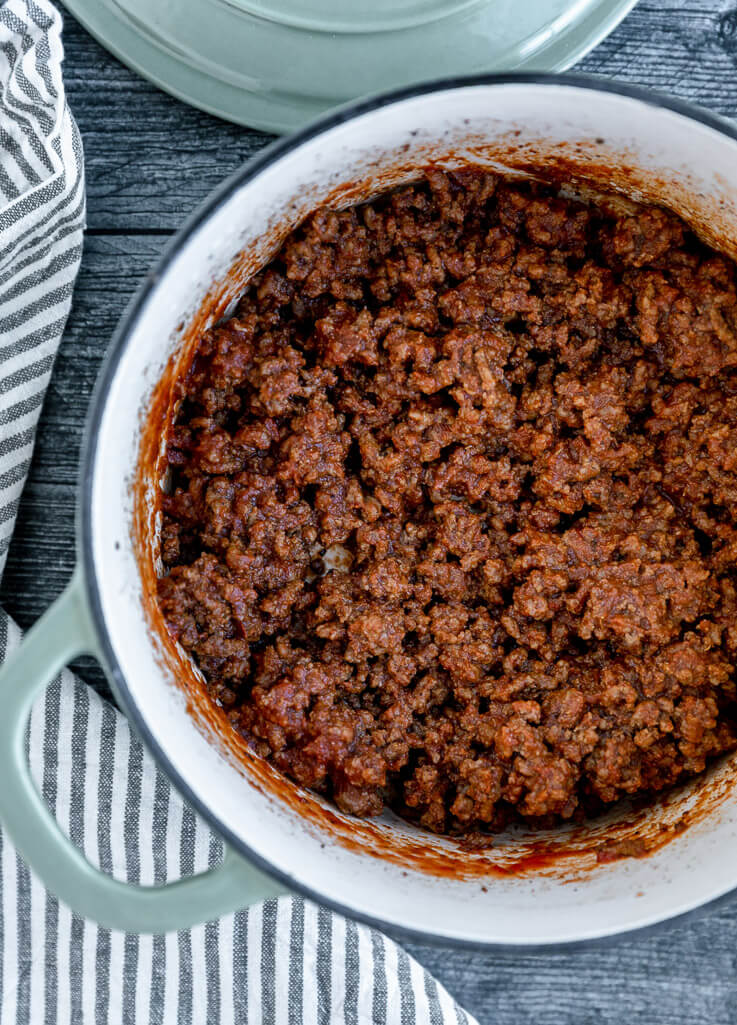 In a hot skillet or dutch oven, add one pound lean ground beef. Break up with spatula very finely. Add taco seasoning mixture to beef when it's all cooked. Continue to let it cook for about 1-2 minutes then add a small 8 ounce can of tomato sauce to the meat and stir well. Cook for another few minutes together, stirring occasionally. When It's finished cooking set aside.
In same skillet (no need to wipe it out) OR you can use a separate one from cooking the beef. Heat 3 tablespoons of vegetable oil and then add 6 cups of frozen hash brown potatoes (you can thaw them out for quicker cooking time too!). Season with 1 teaspoon kosher salt, 1/2 teaspoon pepper, and about 1 teaspoon garlic powder. Continue to cook over medium-high heat until the potatoes are warm and lightly browned. If you need to spray the potatoes with a bit of cooking spray while they are cooking.
When the potatoes are lightly browned and mostly cooked (they won't get super brown and crispy because of the amount in the pan at once) add in about 1/4 cup freshly chopped cilantro and let it continue to cook for a minute or two. I recommend this ingredient, but it's not going to make or break the dish. I know there are weirdo cilantro haters out there. Haha I'm jokin' with y'all. It adds delicious flavor (says me the gal who may be slightly cilantro obsessed).
Link to my favorite all purpose LARGE non stick skillet!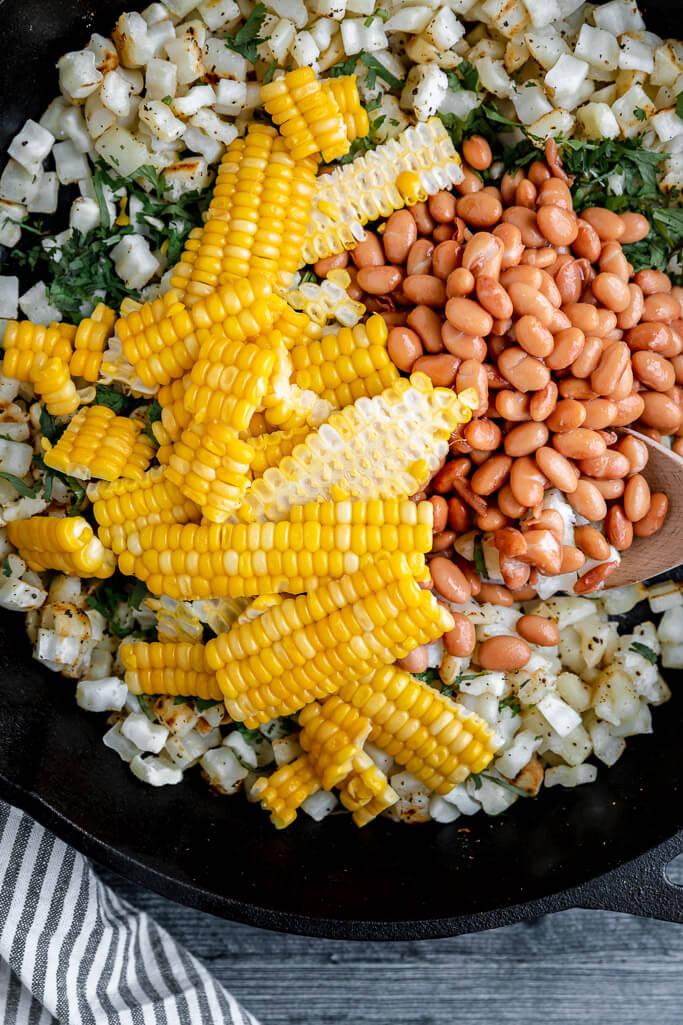 This is where the Cowboy's Meal party really gets started. Sometimes I'm like a mad scientist and I just keep throwing ingredients into a mixture until I feel like I'm satisfied with the amount of ingredients I've foraged out of my fridge and pantry. Ha! But really, these are all wholesome ingredients and this recipe is super budget friendly too!
Add in the corn and canned (drained, but not rinsed) pinto beans and gently stir together and cook together for a minute or two. The picture above shows fresh corn. I highly recommend fresh sweet corn if it's in season! There's nothin' better. You may also use canned or frozen corn, either will work just fine and it'll still taste yummy! Frozen corn will take a few extra minutes to heat up unless you let it thaw for a bit prior to heating it.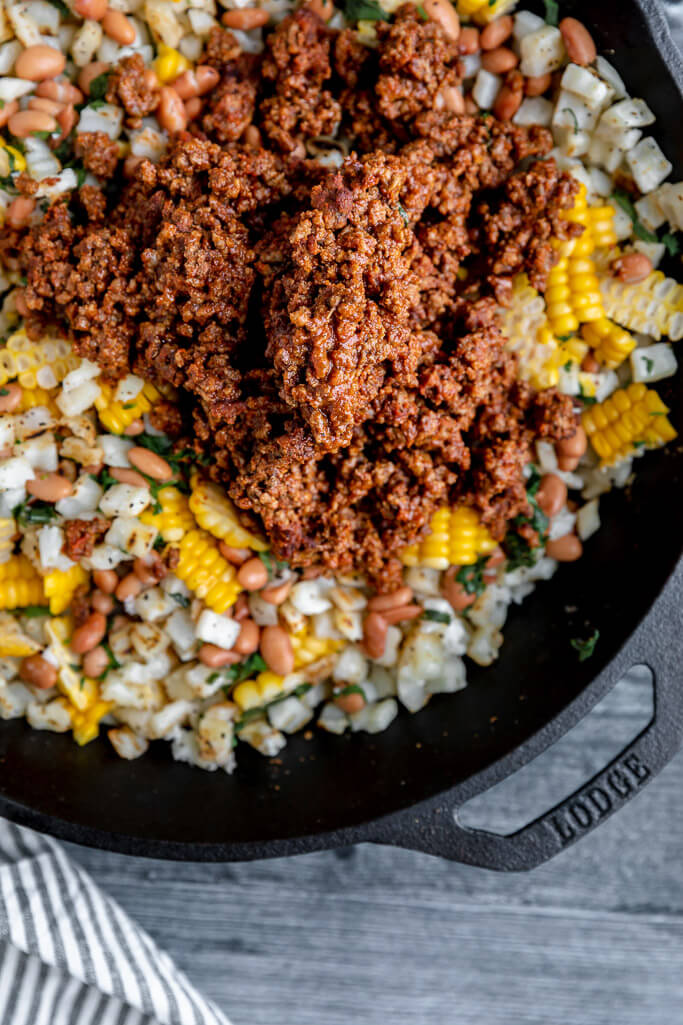 Now add that deliciously seasoned ground beef mixture back into the skillet along with all the other goodies. you try a spoonful of the meat yet? I sure did. Spoiler alert: come back again and make this meat just for plain ol' taco night. It's incredible!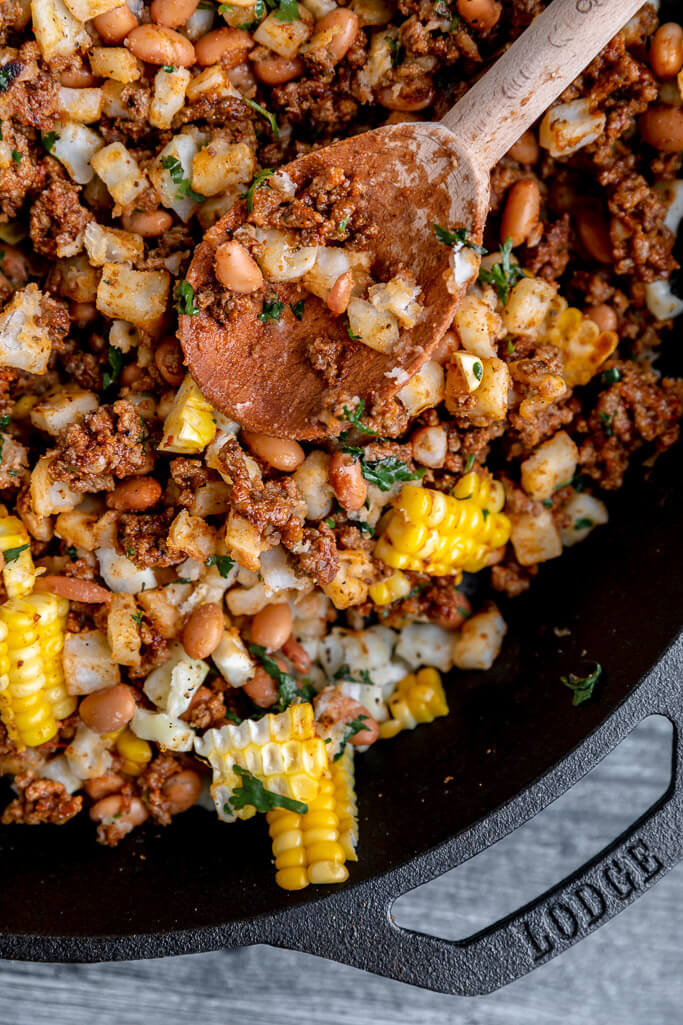 GENTLY fold the beef into the skillet. The potatoes are a bit delicate and can mush up. It doesn't really matter to me, but if you care. Be gentle.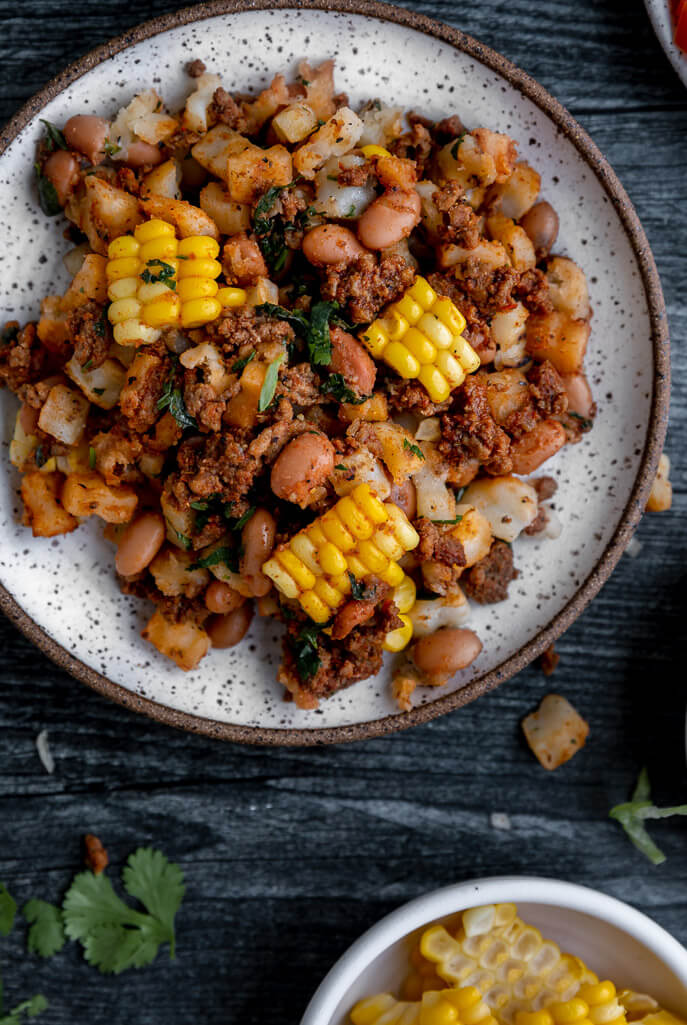 And, you are done!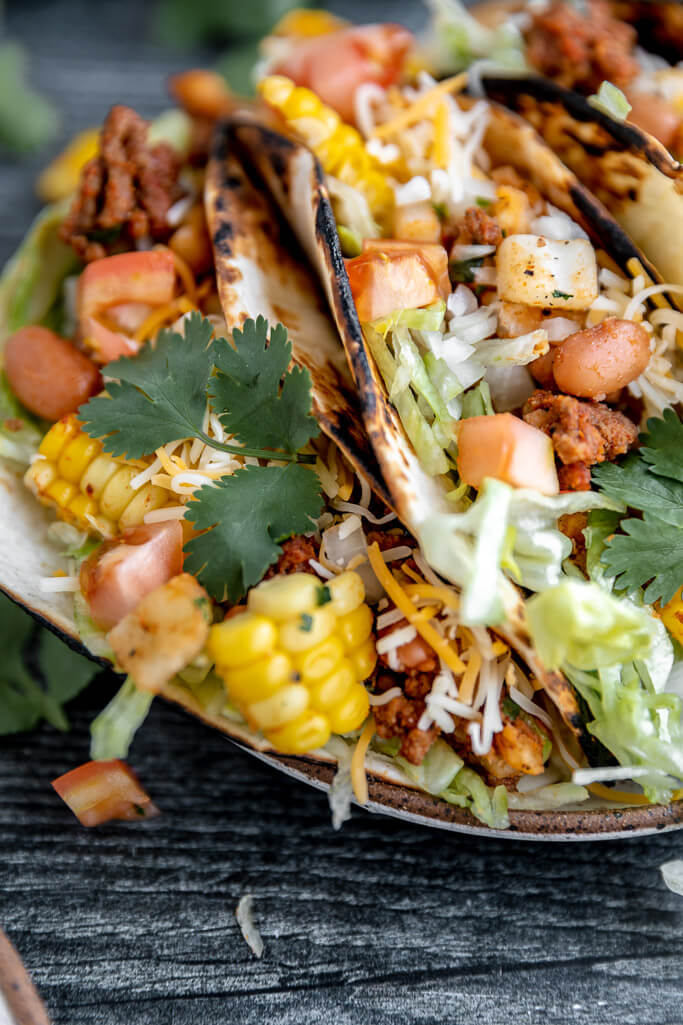 I'm just saying you should probably round this meal out by heating some tacos shells then adding things like cheese, tomatoes, lettuce and extra cilantro (if that makes ya happy)! These "Cowboy's Meal Tacos" make me VERY happy.
How good does this look? Seriously one of my favorite recipes to make. If you can believe it leftovers are even better! A couple years ago a skinnyish dish reader shared a photo of her Cowboy's Meal leftovers for breakfast with a egg on top! I can confirm. It's delicious.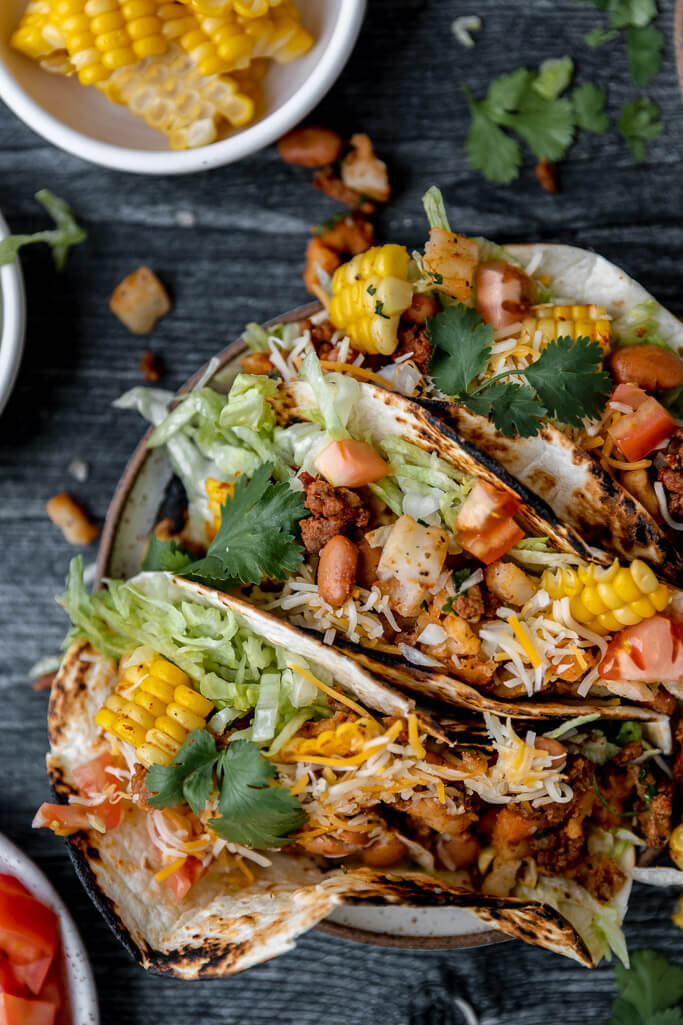 I've never said these words… and I'm not sure I'm using them in the correct context, but I don't even care. Here it goes:
BOOM. MIC DROP.
Did I do that right?
Make this.
Have a good day.
With love from my kitchen to yours,
Star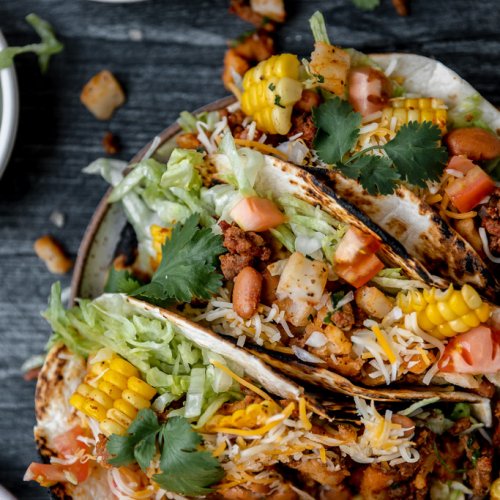 Print
Cowboy's Meal
A lightened up skillet meal full of perfectly seasoned ground beef, potatoes, corn, and pinto beans.
Materials
1

tsp

onion powder

1/2

tsp

garlic powder

(plus 1 tsp for potatoes)

2

tsp

chili powder

1

tsp

kosher salt

(plus 1 tsp for potatoes)

1/2

tsp

oregano

2 1/2

tsp

cumin

1/2

tsp

paprika

1/4

tsp

cayenne pepper

1

lb

lean ground beef

I use 93% lean 7% fat

8

ounce can

tomato sauce

3

tbsp

vegetable oil

6

cups

frozen hash brown potatoes

¼

cup

fresh cilantro

chopped (optional)

1-½

cups

pinto beans

canned, drained and rinsed

1-½

cups

corn

canned (drained), fresh, or frozen
Optional (for toppings and extra deliciousness)
shredded cheese

chopped onions

chopped tomatoes

chopped cilantro

chopped lettuce

corn or flour tortillas
Instructions
Stir together garlic powder, onion powder, oregano, cayenne pepper, paprika, cumin, and chili powder. Set aside. Make sure to keep 1 tsp garlic powder and kosher salt set aside for cooking the potatoes.

In a large 12 inch deep hot skillet add ground beef and break up with spatula. When the beef is cooked. Add spice mixture. Stir and cook together for about one minute. Stir in can of tomato sauce. Continue to cook over medium heat for a few minutes. Remove from skillet and set aside in a bowl.

Add 3 tbsp oil to the skillet and heat. Add hash browns, 1 tsp kosher salt, 1/2 tsp pepper, and 1 tsp garlic powder. Cook over medium-high heat until warm and lightly browned.

(If adding freshly chopped cilantro: Add in the last 2-3 minutes of cooking potatoes)

Add corn and pinto beans to potatoes. Gently stir the mixture together and cook for a few minutes until heated through.

Add seasoned ground beef back into the skillet and gently stir into the mixture. Serve hot in a bowl or on tortillas with extra toppings of choice! Enjoy!
Notes
Suggested Serving Size: 1 and 1/4 cup
WW Points: 8
280 calories 10g fat, 2g saturated fat, 30g carbohydrates, 5g fiber, 2.5g sugar, 16g protein