Print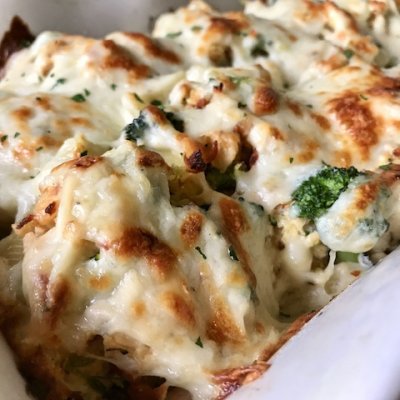 Chicken & Broccoli Alfredo Stuffed Shells
Jumbo pasta shells exploding with broccoli, ricotta, mozzarella, chicken, and spices, and covered in a creamy Alfredo sauce.
Preheat oven to 350 degrees. In a large pot, boil salted water for the jumbo shells. When the water comes to a boil, add the shells, and cook for approximately 9 minutes. Meanwhile, in a mixing bowl, add ricotta, egg, parsley, salt and pepper. Mix together until combined well. Then add mozzarella, chicken, and chopped frozen broccoli. Mix together. When the noodles are done cooking, strain and set on a cookie sheet to allow them to cool for a few moments before stuffing with the chicken mixture. Stuff each shell evenly with chicken and ricotta mixture and place into a lightly sprayed 9x13 casserole dish. Set aside.

In a medium saucepan, over medium-high heat, heat garlic and olive oil until garlic becomes golden brown and fragrant. Sprinkle in flour and whisk constantly. Add milk, followed by chicken broth, continue whisking constantly until brought to a gentle rolling boil. Reduce heat to low and continue to stir until thickened. Add Parmesan cheese and salt & pepper to taste. Pour over the stuffed shells evenly. Cover with tin foil. Place into preheated oven for 30 minutes.
Serving size: 3 Jumbo Stuffed Shells with sauce
7 Freestyle Smart Points (calculated with Weight Watchers Recipe Builder)
9 Smart Points (calculated with Weight Watchers Recipe Builder)
10 Points Plus (calculated with My Score Plus)
400 calories 13g fat. 37g carbs. 1.5g fiber, 6g sugar, 27g protein (calculated with my Fitness Pal)