White Chocolate Peanut Butter Marshmallow Clusters
This post may contain affiliate links (meaning I earn a small comission if you purchase an item through a link I provide) I only provide shoppable links to items I love and are helpful. As an Amazon Associate, I earn from qualifying purchases.
White Chocolate Peanut Butter Marshmallow clusters are filled with salty roasted peanuts, marshmallows, rice crispy cereal and covered with peanut butter-y white chocolate. This recipe is no bake and so wonderfully easy and the perfect addition to any Christmas cookie tin or holiday party!
These White Chocolate Peanut Butter Marshmallow Clusters (aka Nonnie's Christmas Candy) were brought to my "holiday cookie baking" collection by Eric's sweet mom. These are one of her traditional Christmas confections that she has made for Christmas for years! Since moving to Tennessee a couple years ago now, he has asked me to continue the tradition of making them. I was honored. But, I know I can speak for all of us when I say we wish Nonnie was making them instead of me! They don't taste exactly the same because I think she puts extra love in hers, but they are still super yum! The mix of salty and sweet is a wonderful addition to the holiday baking list and the textures perfectly balanced too. When she told me the ingredients list it sounded like mix of randomness, but it all works so wonderfully together. We really love them and cannot imagine Christmas with out a big tin of these to snack on and giveaway! I knew I needed to share them with you this year too!
These are a no bake candy/cookie so this makes it extra kid friendly in the kitchen and an easy addition to your cookie tin. No mixing doughs or worrying about over baking cookies. If a six year old can easily make these on her own (of course with a little supervision while melting the chocolate) then I'm confident anyone can! I love a good cookie, but I really enjoy these candy like clusters for something to contrast in the cookie tin! Eric's number one request during Christmas are these White Chocolate Peanut Butter Marshmallow Clusters. I could make 500 different types of cookies and if these aren't around he would be so bummed out.
The photos I'm about to share with you are not my best, but hey it's holiday season. Anything goes! I'll update someday maybe, but I kind of like the "in the moment" photos with Pepper measuring and making most of this.
I like to use a slow cooker to melt 2 lbs of almond bark. You don't have to use a slow cooker, but I find that it's the easiest way for me to melt a bunch all at once and I don't have to constantly hear the microwave beep. Haha PS Use slow cooker liners to make these clusters ever easier with almost no clean up! Add 2 lbs of almond bark (or white chocolate) to slow cooker set to low and let it melt stirring occasionally. Since I'm usually baking other things while this is going on this is really the best way for me, but if you want a quicker option you can melt in the microwave. The almond bark or white chocolate package will have directions on how to melt the best way via microwave or stove top.
When the almond bark has completely melted stir in creamy peanut butter. I prefer Jif or Skippy brand here, but use whatever peanut butter you enjoy. I have not tried it with all natural peanut butter or an alternative nut butter so I can't give much info on it.
Now, in a big ol' bowl measure 2 cups of dry roasted and salted peanuts, 3 cups mini marshmallows, and 4 cups rice krispies cereal.
When I first had one of these I was so surprised by the marshmallow and the rice krispies! I've had similar chocolate covered peanut clusters before, but when I took a bite I was like "wait what's in this!?" So good, yall!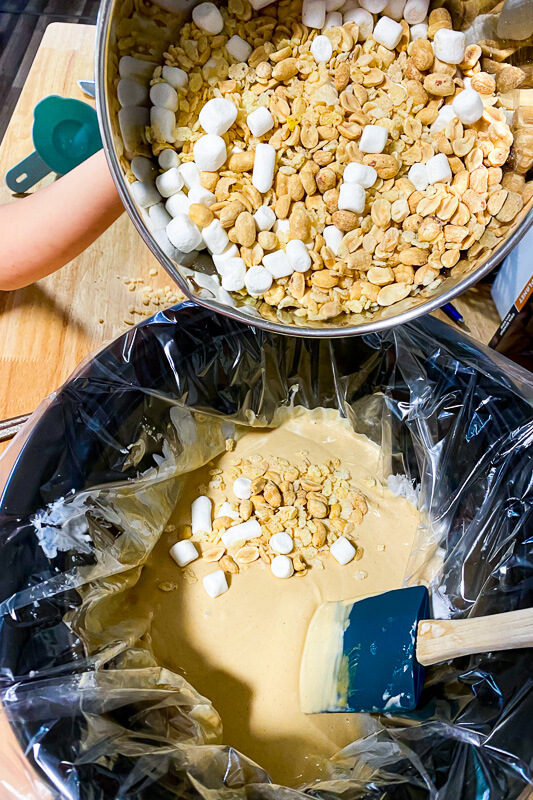 Slowly stir the marshmallow mix into the chocolate peanut butter mixture until well incorporated.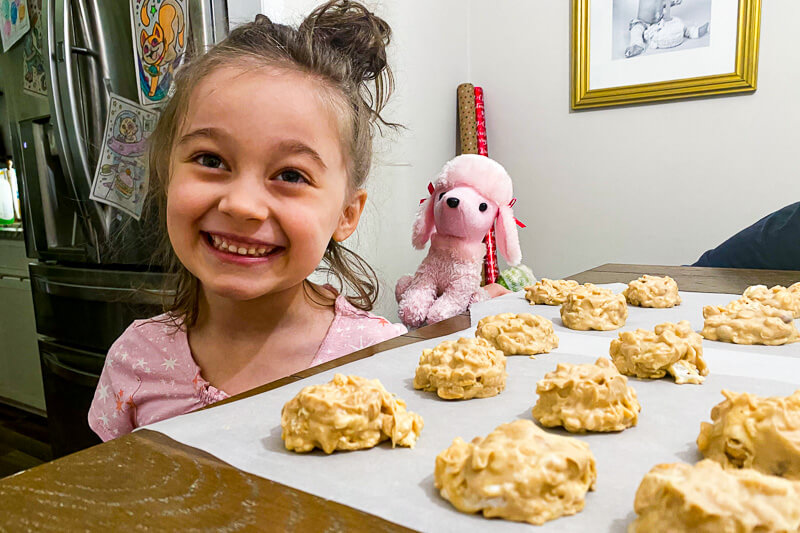 and ta-da! That's all folks. Transfer spoonfuls onto parchment paper and let them set until firm this will take at least a few hours, but if you need them to speed up a bit you can place them in the freezer for about 15-20 minutes until they're set. This recipes makes anywhere from 25-40 dependin on how big the spoonfuls are. I tend to make them larger accidentally, but think they do better in cookie tins smaller for the perfect quick one bite candy!
I have to resist the urge to put sprinkles on these even though I want to make them more festive, but Eric really, really likes them just how they are made and how he grew up so I refrain. Even though I want to. You do what you want to! I've even almost drizzled red and green candy melts on them. I need a Christmas intervention. Haha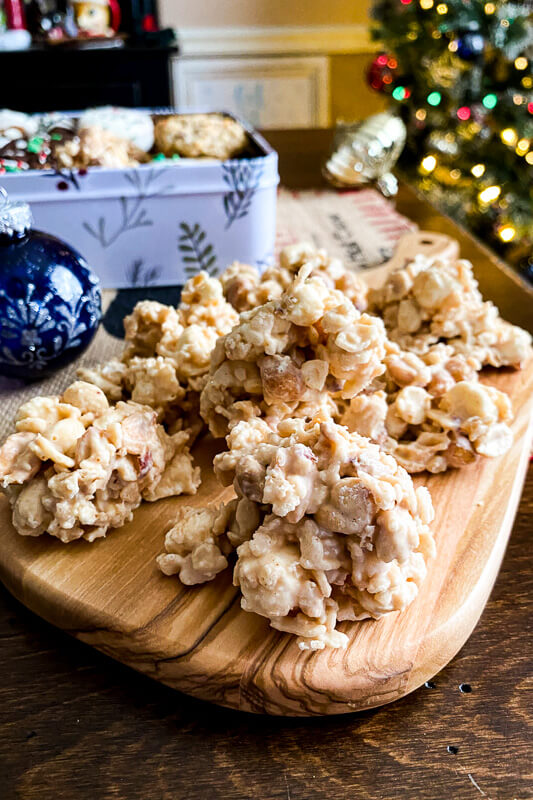 FYI: This recipe does make A LOT and they stay good in a air tight container for about 2 weeks! You may want to try to halve it if you don't want LOTS of treats around, but this is definitely a recipe worth sharing so make some for your neighbors, kids teachers, family, and friends. I promise homemade cookies and candy will put a smile on just about anyone's face.
This years cookie box is full of so many goodies! Do you make a cookie box/tin for friends, family, and neighbors? This is one tradition that has been instilled in me since childhood and it's one I intend to keep for a very long time. Once a year I do this and once a year I enjoy a few more cookies than I probably should and once a year I lose some readers because I'm sharing recipies that don't fit into the box they've put me in. I promise it's only one or two and I hope you'll stick around because I have some super delicious skinny-ish recipes photographed and ready to share in January!
Other cookies in the box above: Santa's Favorite Monster Cookies and Christmas Chocolate Chip Cookies! I also have included two cookies that I made last year as well from my friend Erin's cookie cookbook! The "snow at midnight crinkles" as well as the "white chocolate dipped ginger crinkles" I love both of these cookies SO much. Here's a link to her cookbook!
Hope you all have the best Christmas and Happy Holidays!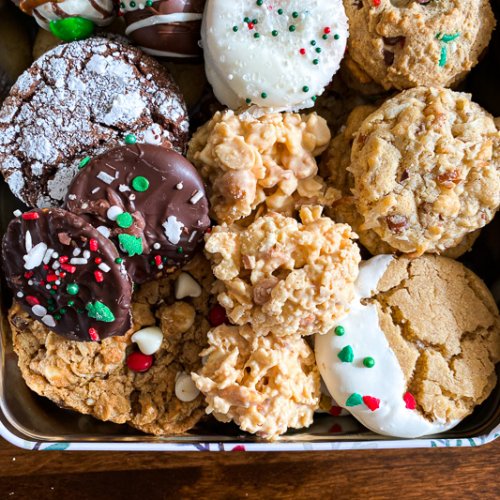 Print
White Chocolate Peanut Butter Marshmallow Clusters
A delicious no bake treat filled with rice krispies, marshmallows, and peanuts.
Materials
2

lbs

almond bark

can also use white chocolate

1

cup

smooth peanut butter

2

cups

dry roasted salted peanuts

3

cups

mini marshmallows

4

cups

rice krispies cereal
Instructions
Melt almond bark or white chocolate.

If using the slow cooker: add almond bark to slow cooker and heat over low stirring occasionally. This will take about an hour to melt down completely. If you need a quicker method: Follow instructions on package of almond bark/white chocolate for the microwave/stove top method.

When almond bark/white chocolate is completely melted stir in peanut butter until combined and the white chocolate looks kind of like a light tan.

In a large bowl combine peanuts, rice krispies, and marshmallows. Then slowly stir into the peanut butter chocolate. Place spoonfuls onto parchment paper and let set for at least 2-3 hours. You can speed up the setting process by placing in the freezer for about 15-20 minutes.

Store in air tight container and enjoy for up to two weeks!
Notes
**This recipe is not intended to be a low calorie/low sugar/low fat/low ww points**