Easy One Pot Spaghetti Dinner
This post may contain affiliate links (meaning I earn a small comission if you purchase an item through a link I provide) I only provide shoppable links to items I love and are helpful. As an Amazon Associate, I earn from qualifying purchases.
Hi y'all! This Easy One Pot Spaghetti Dinner is the king of easy dinners! I know this is probably one of those things that people are either going to love or they will skip over. Mostly because spaghetti? Who needs a recipe for spaghetti? Most of us can make spaghetti in our sleep! It's the number one go to meal when I don't know what to make for dinner or when I fail at dinner and don't want to feel completely defeated and order pizza.
I have to admit I probably would have never of thought to put a good ol' trusty spaghetti recipe on here, but a lot of my sweet readers have been requesting for just that over the last several months. I kept putting it off, and putting it off, and putting it off because it's one of those things that literally I throw together effortlessly and it's one of those things I throw together because we're in emergency dinner mode so I wasn't finding the time to make AND photograph said spaghetti dinner. Plus, it's getting darker earlier these days so Spaghetti Night around here means we had a super busy day and I still want to throw something healthy and homemade on the table.
Unfortunately, It also means bath night for Pepper. If you have a child who loves spaghetti night you REALLY do know what I am talking about. So, spaghetti dinner, photograph spaghetti dinner, sit and eat dinner, clean up dinner, and bathe child covered in sauce, meat, cheese, and noodles. I had to plan to actually do this when I wasn't in emergency dinner mode and I did just that yesterday afternoon!
This absolutely isn't your average spaghetti recipe. You know the one, the one where you brown a little meat, add a jar of sauce, boil noodles and pour said meat sauce over noodles. Nope, this is better. One thousand times better. First of all, it's full of tons of flavor and the sauce is made from scratch in minutes. Second of all, It is all done in just one pot. Yep, ya heard that right. All you'll need is one stock pot with a lid. No colander, no second pot to boil noodles. Just one trusty pot with a lid (and a spoon!) and you'll have dinner on the table in under 30 minutes and very few dishes to clean up after you and your family happily devours this big ol' pot of goodness. (especially if you make them eat with their hands. Pepper has absolutely no trouble with this!)
Let's get in the kitchen..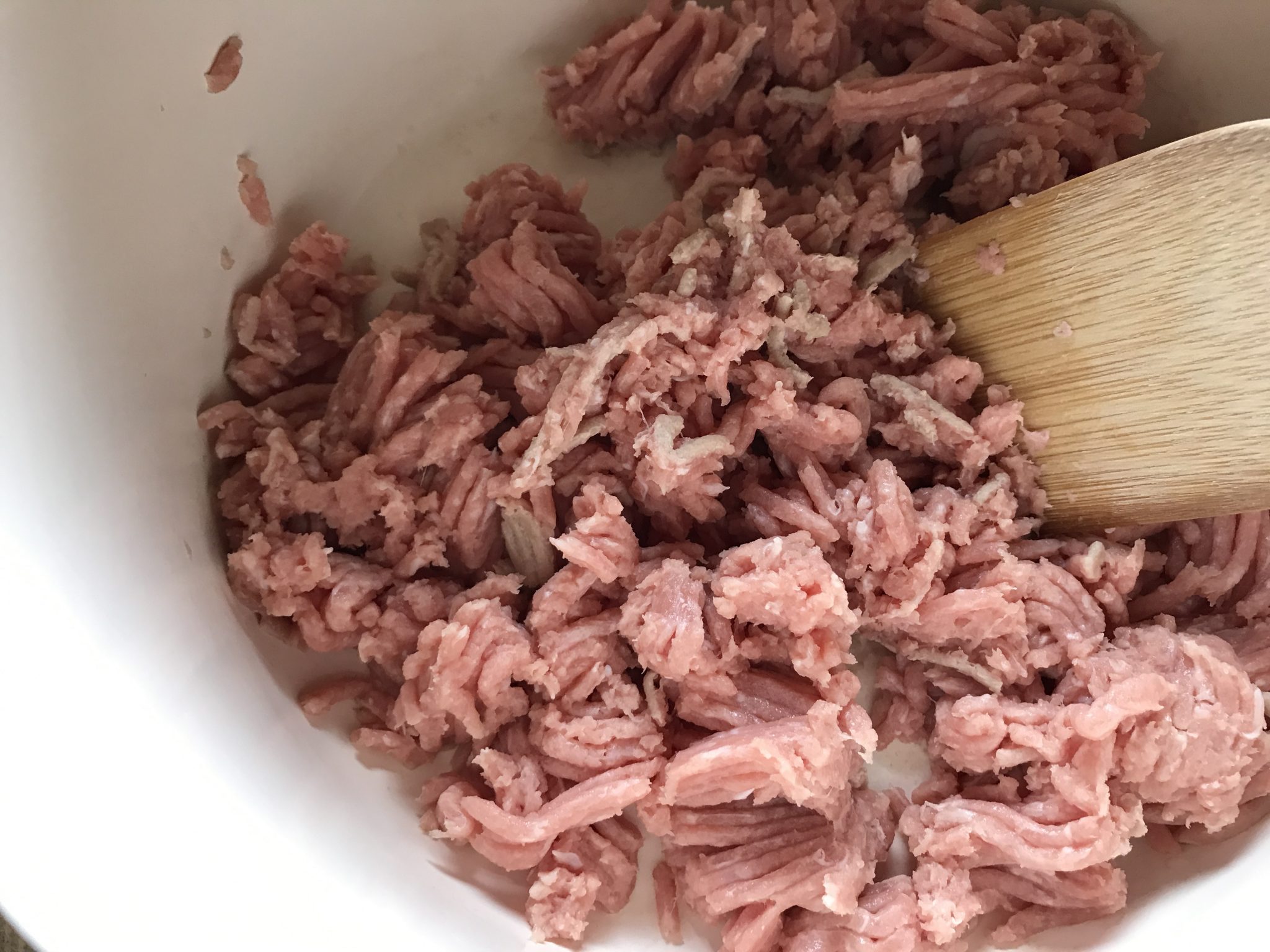 Throw a pound of lean ground turkey or lean ground beef in a pipin' hot stock pot. I usually use ground turkey unless Eric is declaring that he needs red meat in his life then I use ground beef. Super delish either way!
When the turkey is broken up add one chopped onion and 2-3 cloves of minced garlic. (Sorry I snoozed on taking a photo of the chopping of the onion and garlic!) Season it up with some pepper, kosher salt, and Italian seasoning. Continue to cook over medium-high heat until the meat is cooked and the onions soft.
Next add low sodium beef broth (or vegetable broth) beef broth gives it a much richer flavor in my opinion so I normally use it unless I just don't have any on hand. Also! Add your cans of tomaters (diced and crushed), Worcsetchire sauce (I seriously hate spelling that word so much), dried basil, and dried oregano. (Don't forget a pinch or two of crushed red pepper)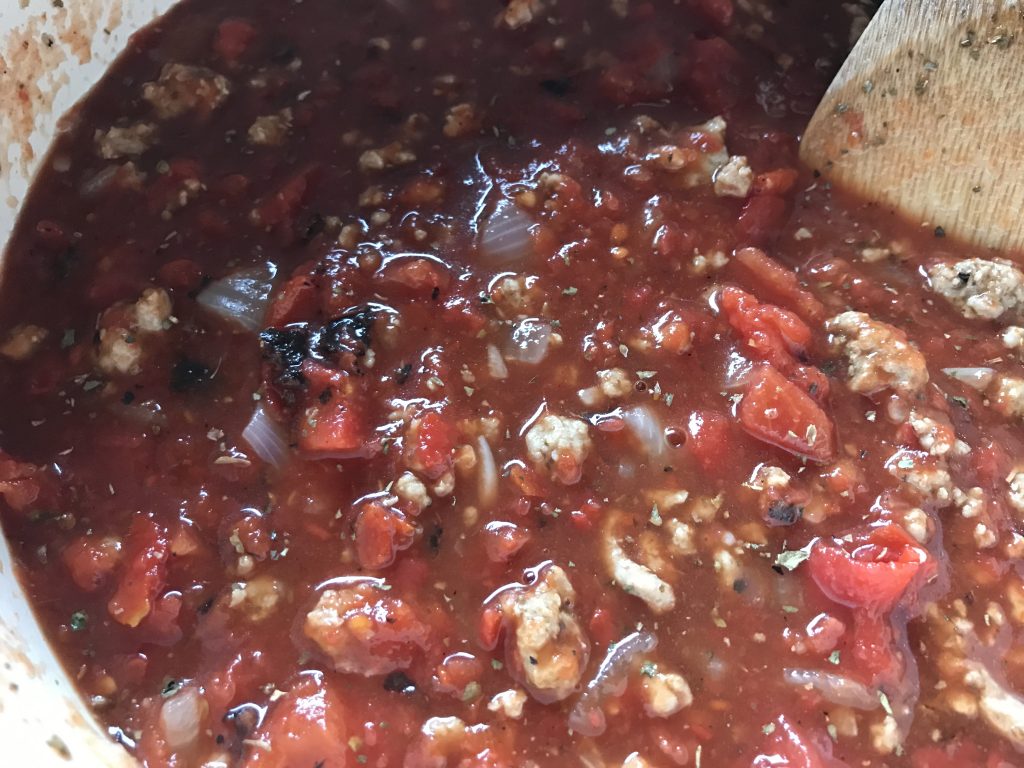 Mix her all up! (This really comes together quicker than it'll take ya to read these directions. I promise.) Bring the mixture to a boil.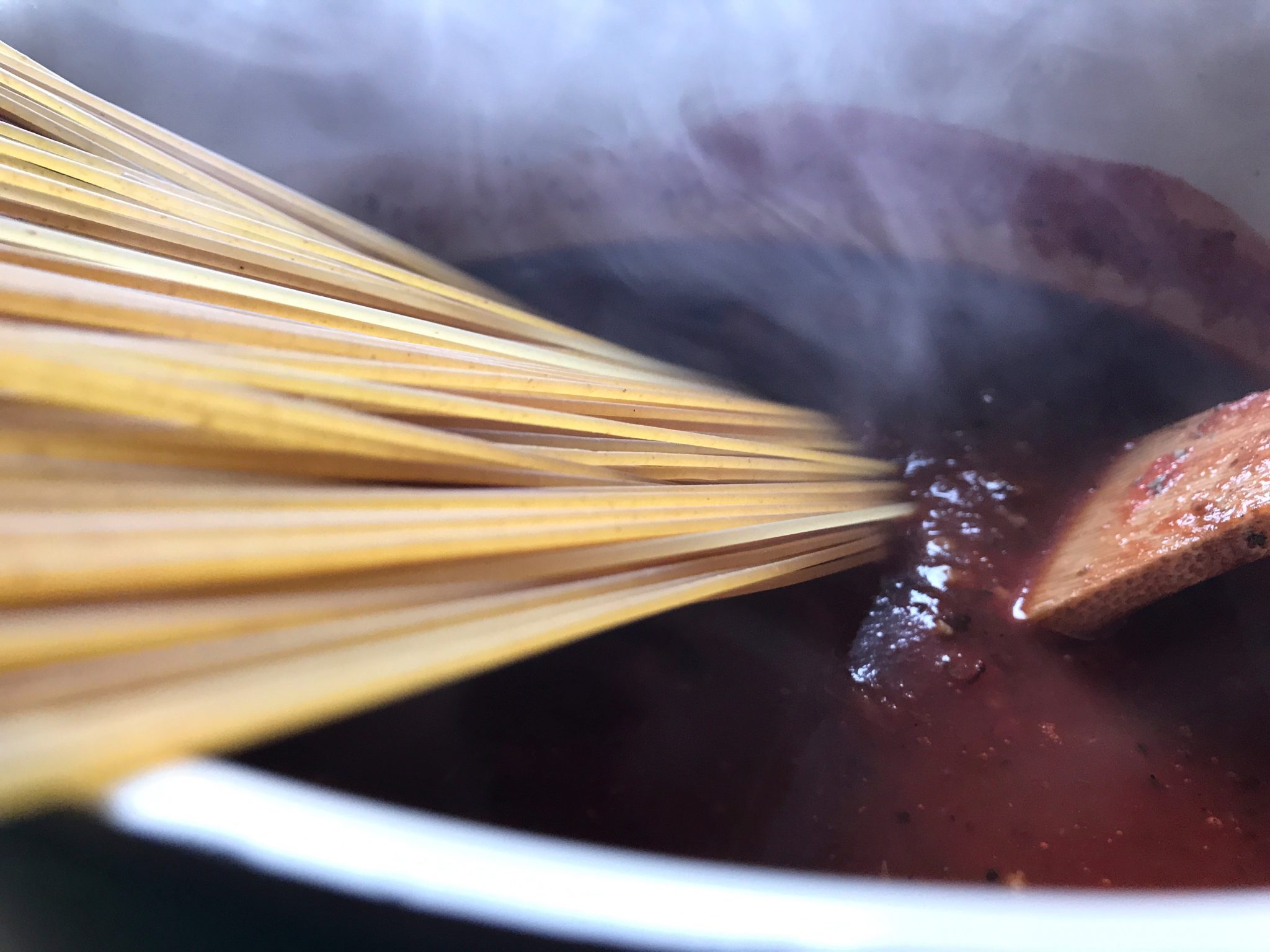 Getting this photo was NOT easy. Steam everywhere, but I got it. Yay! Add those noodles to the sauce and let'm mingle awhile. Cover that pot too!
(AKA let'm simmer, covered for about 10-12 minutes stirring occasionally until the noodles are cooked!)
When the noodles are cooked you'll have somethin' really delicious in that ol' pot and you'll be able to feed your hungry family in under 25 minutes! Don't forget to Salt & Pepper to taste.
Plop it in a bowl… Also, I was at Target the other day and found these bowls for like $1.37 and I am obsessed with them. Naturally, I bought 17 because a girl can never have too many dishes! I mean, what if I lose one? or *gasp* one breaks?!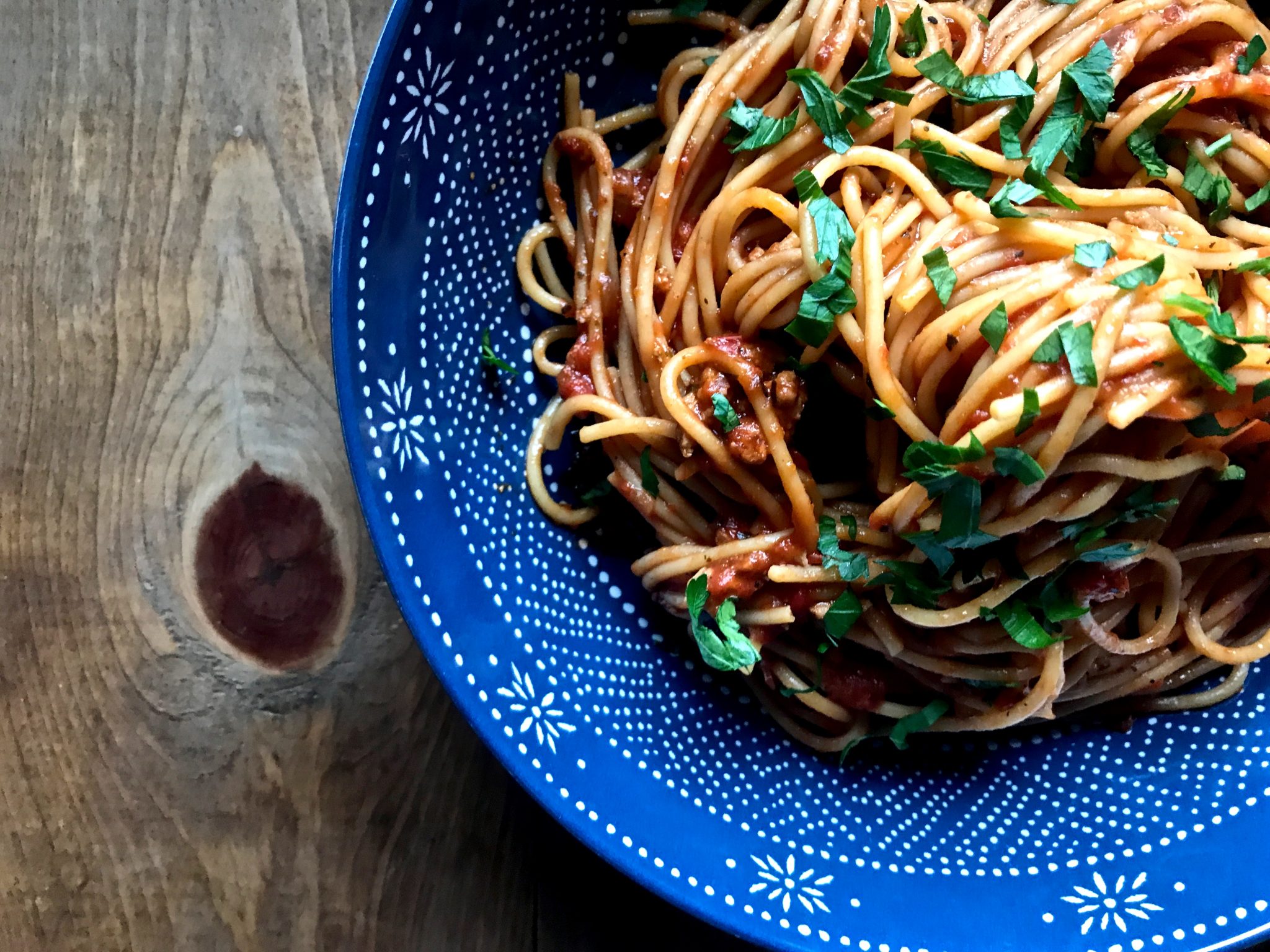 Garnish with a little parsley and/or basil if that's your thing..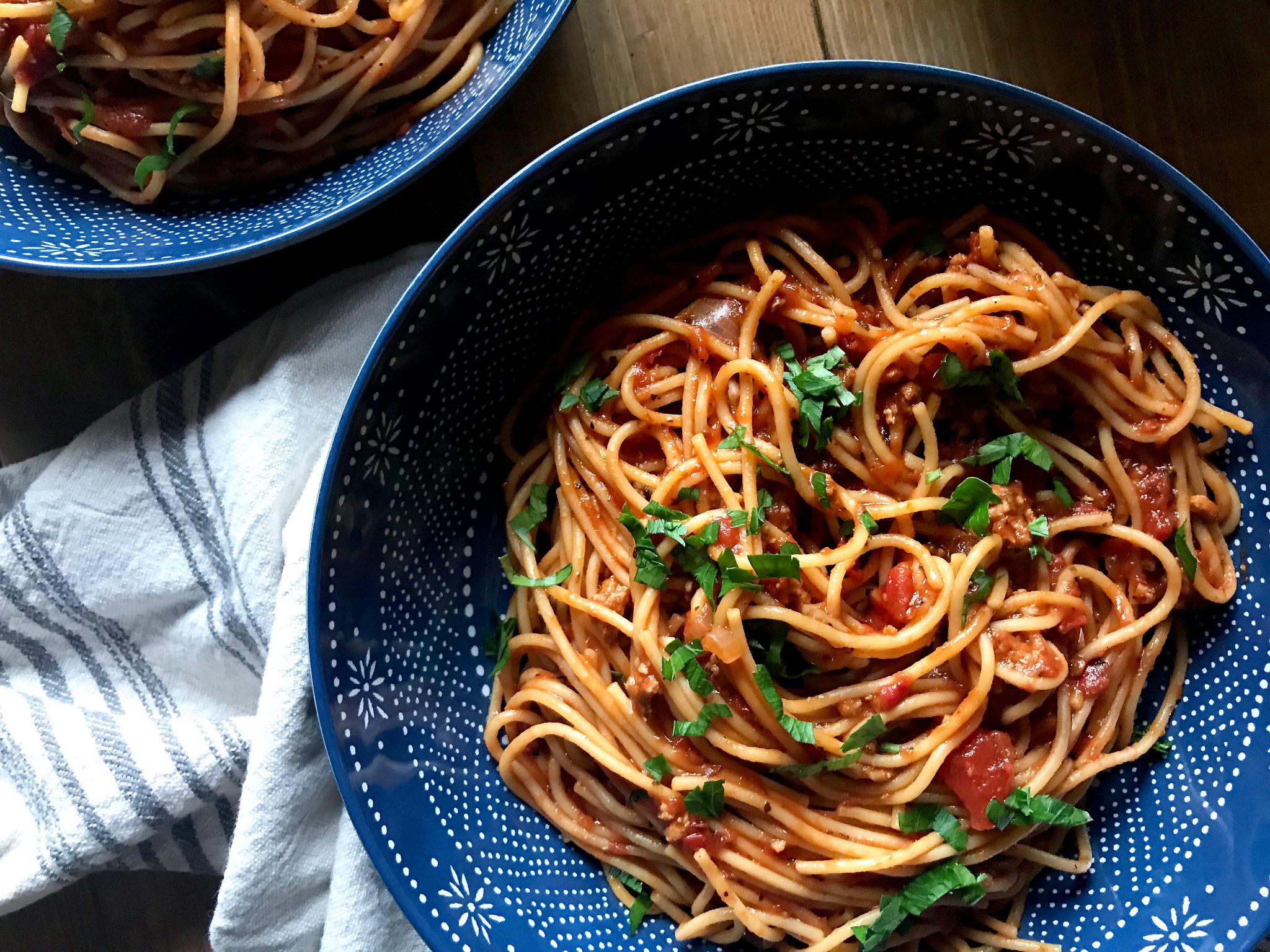 ….and maybe sprinkle on a little (or a lot) of parmesan cheese to really make it extra special.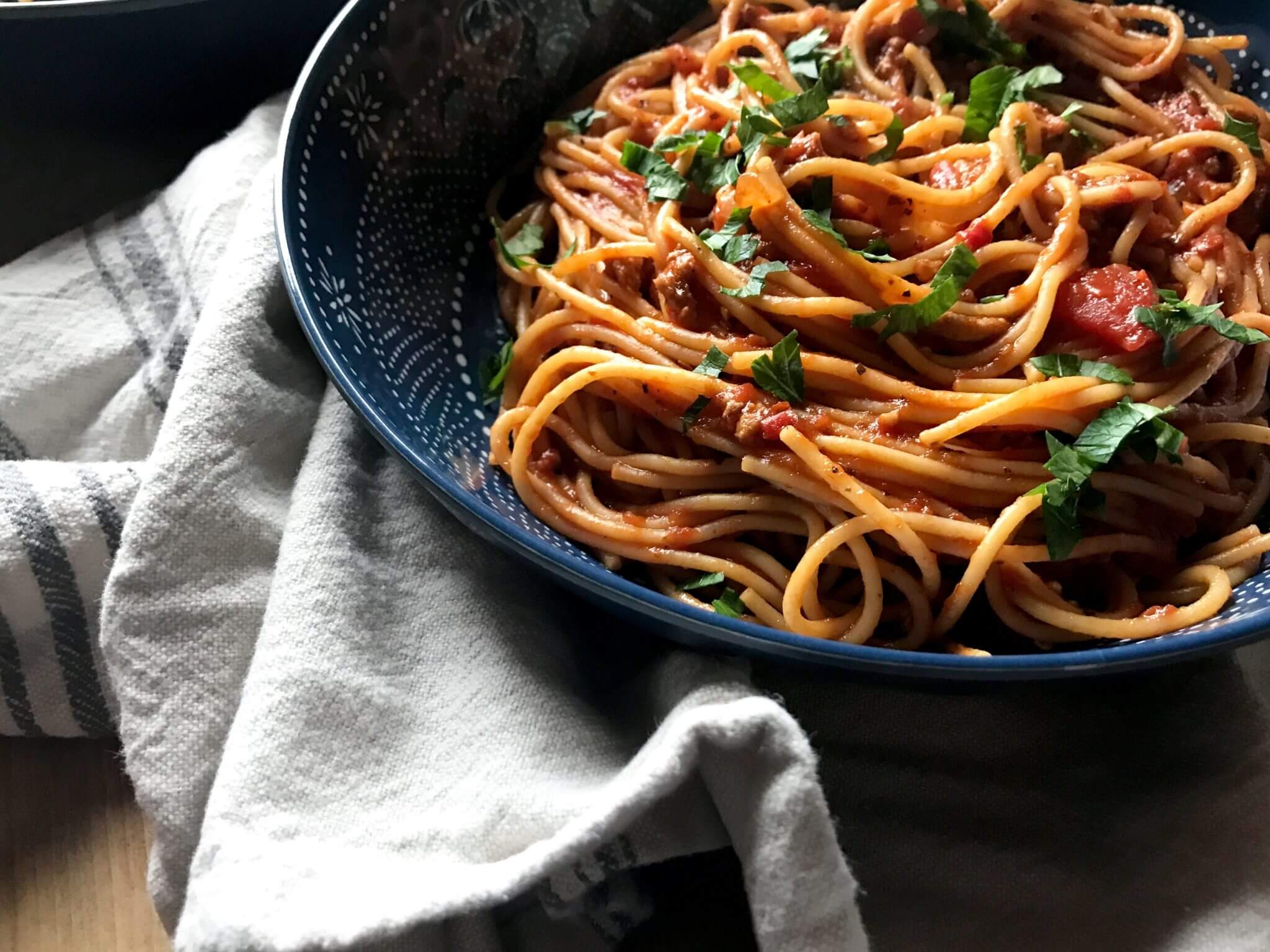 (This might be my favorite meal that I've photographed to date.)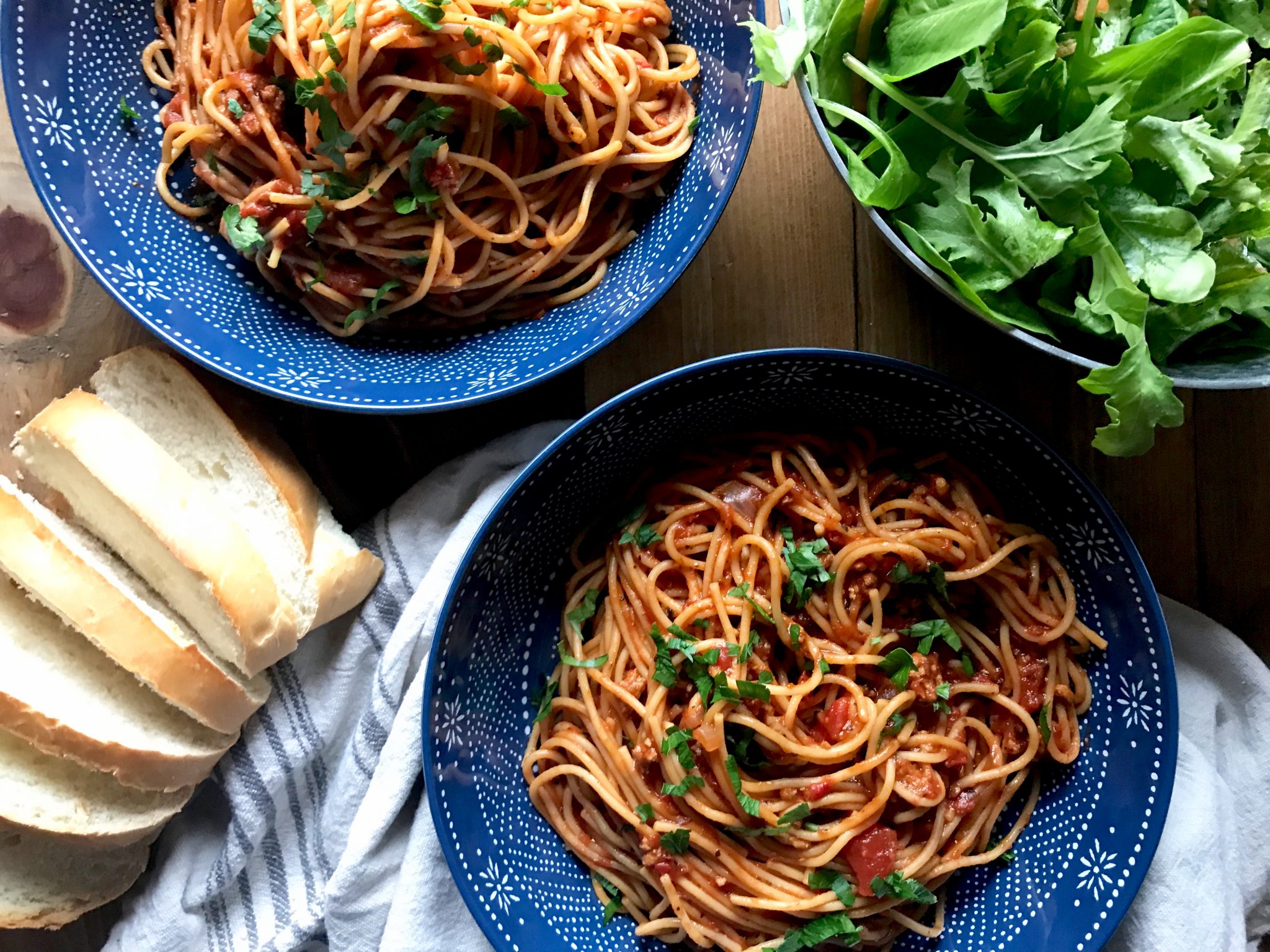 The ultimate QUICK weeknight dinner includes One Pot Spaghetti Dinner, Fresh Bread, and a green salad to round it out.
As a food blogger, I make a lot of food, y'all. A LOT. Much, much more than you even see me post, trust me. And I'm going to be completely honest when I say that this is one of my favorite meals to make. There's nothin' fancy about it whatsoever. It's just delicious and simple. It reminds me of my younger years because I don't think there was ever a week that went by that we didn't have Spaghetti Night in my house! So I'm carrying on the Spaghetti Dinner tradition just a little differently and it is just perfectly delicious.
I hope you enjoy this recipe as much as we do! This is hands down, Miss Pepper's favorite recipe!! I make it almost every single week for her.
With love from my kitchen to yours,
Star
Ingredients
1

pound

lean ground turkey, 93/7

uncooked

1

medium

yellow onion

chopped

2-3

cloves

garlic

minced

1-28

ounce can

crushed tomatoes

1-14.5

ounce can

diced tomatoes

(I use fire roasted)

2

cups

beef low sodium beef broth

chicken or vegetable works fine too

8

ounce

spaghetti

dry

3

tbs

Worcestershire sauce

1 1/2

tsp

Italian seasoning

1-1 1/2

tsp

kosher salt

1 1/2

tsp

oregano

1

tsp

basil

a pinch

red pepper flakes
Instructions
In a large pot with lid add ground turkey and break apart. When the turkey is mostly broken up add chopped onions, minced garlic, some kosher salt, pepper, and Italian seasoning. Continue to cook until meat is cooked and onions and garlic are soft.

Add crushed tomatoes, diced tomatoes, beef broth, Worcestershire sauce, basil, oregano, pinch of red pepper flakes, and salt and pepper to taste. Stir together well and bring to a boil.

Reduce heat to low and simmer. Add dry spaghetti noodles to pot and press down on them enough so the sauce covers them. Cover with lid and continue to cook for 10-12 minutes or until noodles are cooked stirring every once and awhile.

Mix together well, salt and pepper to taste. Garnish with some fresh parsley, basil, and parmesan! Enjoy!
Notes
Makes 6 Servings Suggested Serving Size: 11 ounces, about 1.5 cups 310 calories. 5.8g fat, 1g saturated fat, 5.5g fiber, 4g sugar, 46g carbohydrates, 22.5g protein.
WW Points: 8