This post may contain affiliate links (meaning I earn a small comission if you purchase an item through a link I provide) I only provide shoppable links to items I love and are helpful. As an Amazon Associate, I earn from qualifying purchases.
Tzatziki sauce is a super simple sauce that is so delicious, fresh, and bright. It compliments so many foods including veggies, salads, grilled meats, pita chips, and even sandwiches! This might become your new go to condiment!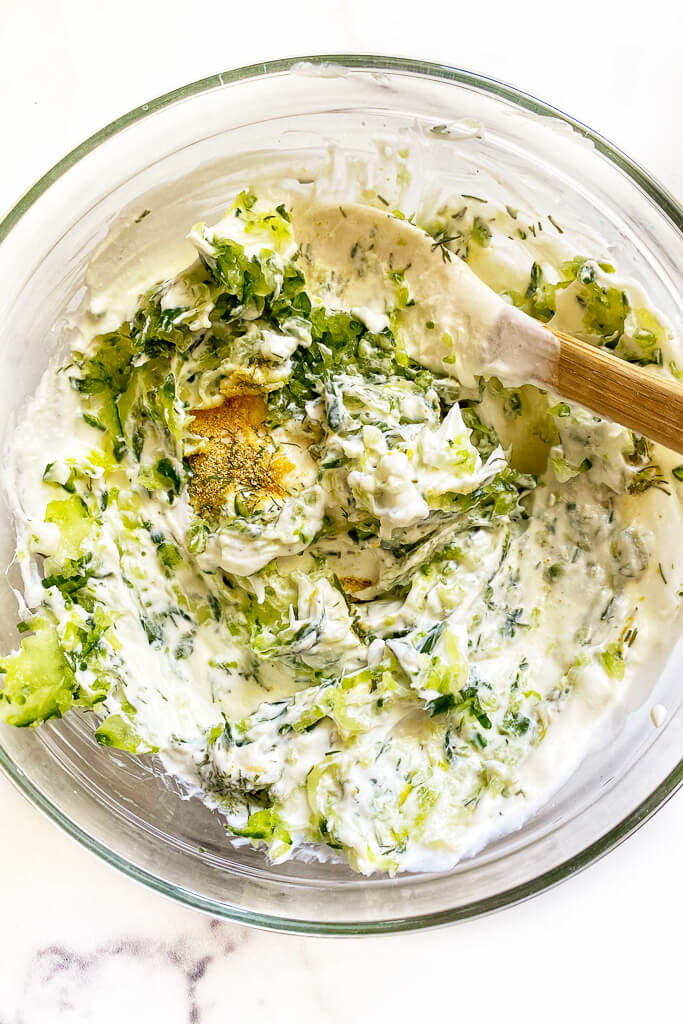 Ever since I posted my recipe for Greek Chicken Bowls I've been making this Tzatziki sauce, but I just recently decided it was time to put on the blog because as the years go by I become more and more obsessed with using it! I even love it as a salad dressing (watered down a bit so it's drippy) The list of ingredients is short and sweet including items that I almost always have on hand. This sauce compliments so many delicious foods. I've even been using it as a salad dressing!
My recipe pulls flavors from an authentic recipe, but I lighten it up a bit by using nonfat greek yogurt and light sour cream in place of the traditional full fat greek yogurt. I made it this way once years ago because I didn't have enough yogurt left and I was craving Tzatziki sauce with our grilled chicken dinner. It worked and I loved it so much that I just always make it this way now.
WHAT IS TZATZIKI SAUCE?
Tzatziki is a super simple and creamy yogurt sauce with shredded cucumber, herbs, lemon juice and salt. It's refreshing, light, and cool.
I grew up enjoying Tzatziki sauce plopped on top of a big ol' Gyro that came with a side of fries in a styrofoam container. AND IT WAS THE BEST. It's still something I crave on the regular, but unfortunately there aren't too many places to grab a big ol' Gyro that way in East Tennessee. I haven't mastered how to make a homemade gyro exactly, but I have mastered this sauce so I love to keep it on hand for just about everything. When we're in Knoxville and need a gyro fix we definetely grab Yassin's Falafel House. It's so good. If you're in the area give it a try!! The gyros are so good, but I could bathe in the hummus. It's the BEST!
HOW TO MAKE TZATZIKI SAUCE?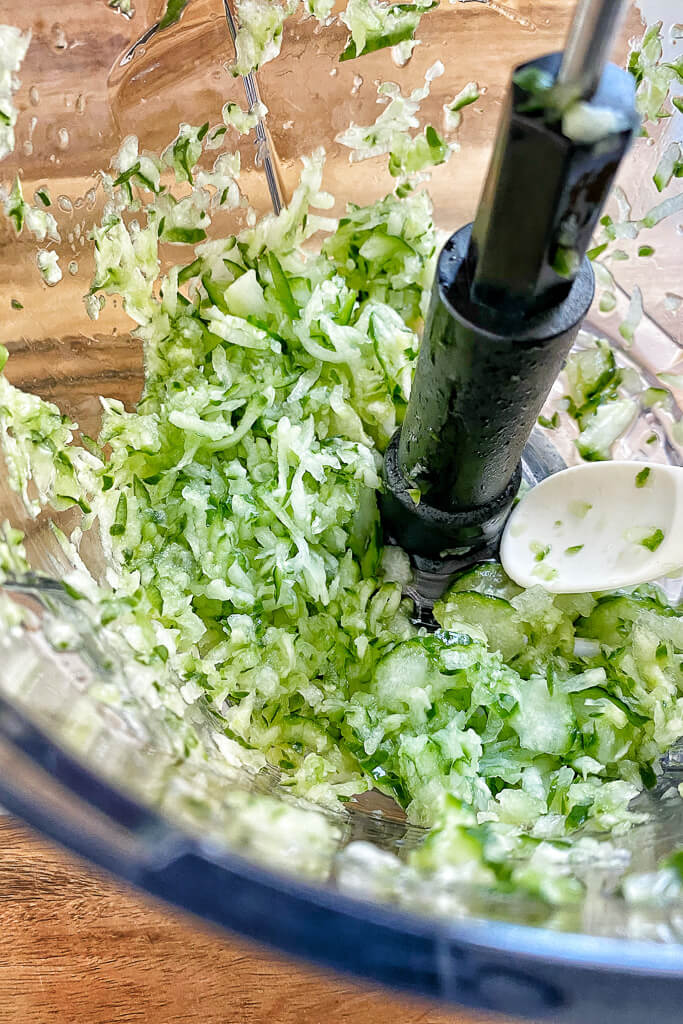 First, shred about half of an English cucumber. You can either use a food processor or just a box grater does the job perfectly. Both ways work well. I couldn't find my box grater (Eric put the dishes away so everything is MIA). So, I just used the food processor here. Works like a charm!
*Note on the cucumber- please use an English cucumber or a couple of the smaller Persian cucumbers. Persian cucumbers are the smaller ones usually found in a bag with 5-6 in the produce section. Regular cucumbers can be bitter from time to time and can make a meal downright offensive. I warn about this when using cucumbers because this happened to me once. Once it happens once you'll probably never buy a regular cucumber again. Haha! It's been almost 10 years since I bought one.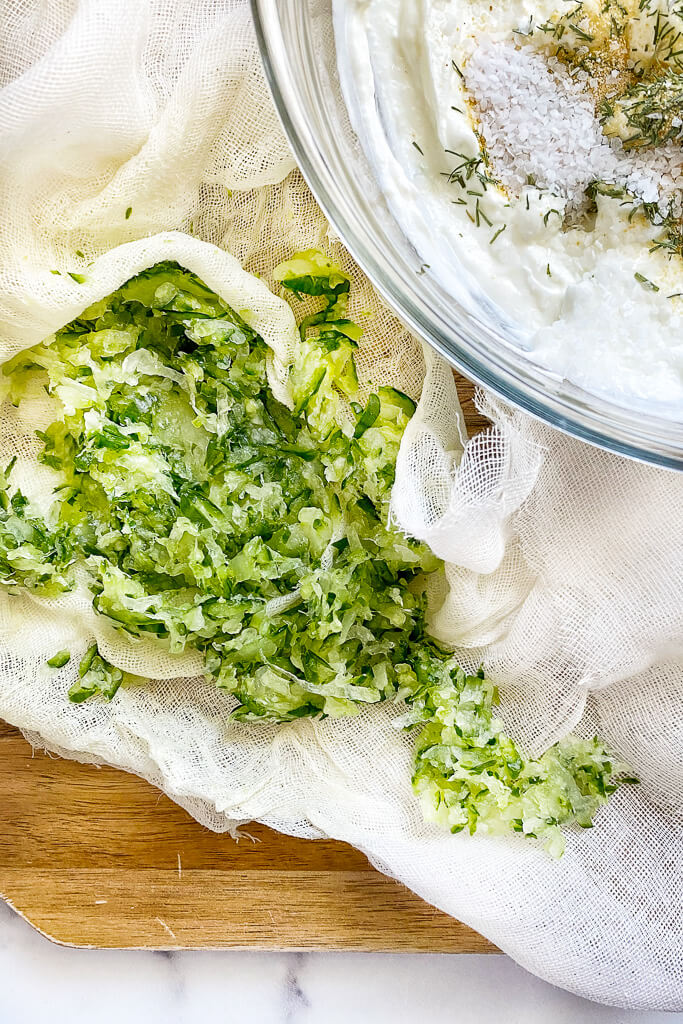 After you shred the cucumber you'll need to press as much water as humanely possible out of the cucumber shreds. If you don't do this you'll end up with a water-y mess in the dip which will just throw all the flavors and texture off.
I recommend using a piece of cheesecloth and then wrapping it up and squeezing over the sink. That's what I've always done. You can use a few layers of paper towels (it will break though) or a lint free/dye free kitchen towel works fine. Cheesecloth sounds fancy, but it's not. It's not very expensive and it's made for this kind of thing and makes it super easy. I keep several pieces on hand all the time in my kitchen gadget drawer. I usually order mine, but you can find it in the kitchen gadget section of just about any grocery store.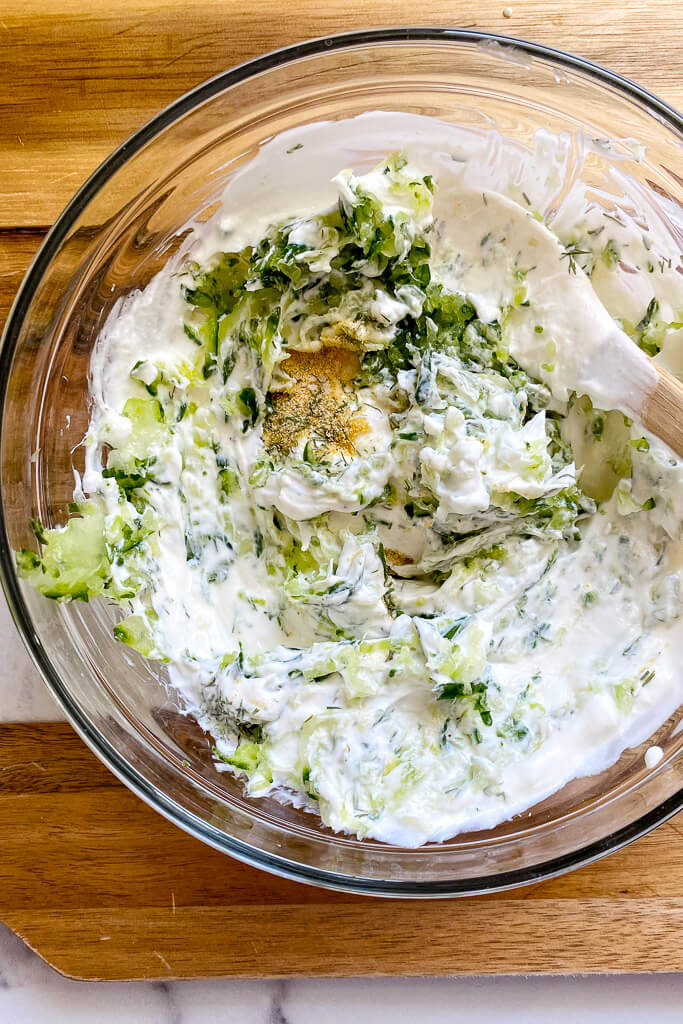 Next up, grab a medium bowl and add a half cup of nonfat greek yogurt, a half cup of light sour cream, 1 tablespoon of fresh lemon juice, 1 tsp olive oil, and 2 tsp of dill (or start with one tsp and taste I like it dill forward), 1/2 tsp garlic powder, 1/4 tsp kosher salt, and the cucumber shreds. Stir together well.
And that's it! Cover tightly and let the flavors mingle together for at least an hour before serving. The flavors need to hang out before they do a lil dance on your taste buds. This will last in the fridge for up to 5 days in a tightly covered container.
It's not very photogenic all by itself and mixed up, but boy it's good! I make this and eat it just with raw baby carrots, broccoli, cauliflower, and cucumbers. But it's an absolute must have with my Greek Chicken Bowls! AND! Soon I'll be posting the Greek Meatball Bowls that I've been talking about nonstop on social media lately! I'll link when I get the entire recipe up. Stay tuned!
Hope y'all enjoy this one! It sure is simple! Definitely one of those recipes that you'll be happy to have in your back pocket. If you're entertaining it's one of those things that impresses like, "oh my goodness you made your own tzatziki sauce, you're amazing!" kind of thing.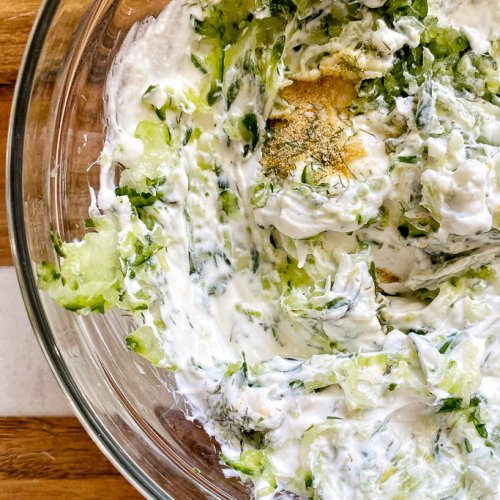 Print
Tzatziki Sauce
Homemade Tzatziki Sauce is so simple and delicious with fresh lemon, herbs, and yogurt. Perfect served with pita, vegetables, chicken, and salads!
Materials
½

cup

non fat Greek yogurt

½

cup

light sour cream

1

tsp

olive oil

½

cup

shredded English cucumbers (or 2-1 small Persian cucumbers)

(about 1/2 cup total after the water has been pressed out)

1-2

tsp

dried dill

I use 2 tsp, but I like it very dill forward so start with 1 tsp if you're not sure. You can always add more!

½

tsp

garlic powder

1

tbsp

lemon juice

¼

kosher salt

salt and pepper, to taste
Instructions
Shred the cucumber using a food processor or a box grater. Either method works perfectly. Add the shredded cucumber to a piece of cheesecloth and wrap it up and press it over a sink multiple times until little to no water is being pressed out. This is an important step. Please don't skip because if you don't press the extra water out your dip will be water-y and not very good at all.

In a medium bowl add the greek yogurt, sour cream, dill, garlic powder, lemon juice, olive oil, and kosher salt. Stir together well. Salt to taste. Store in an air tight container and let the flavors meld for at least 1 hour before serving or keep in the fridge to use for meals and snacks up to 5 days.

**If you want to use it as a dressing option add a little water to each individual serving to thin it out a just bit. Add one teaspoon of water at a time til its the consistency you want it to be/easy to drizzle.
Notes
SERVING SIZE: 2 TABLESPOONS
WeightWatchers Points: 1 Point
30 calories (1g fat, 1g saturated fat, 18g sodium, 2g carbohydrates, 0 dietary fiber, 1.5g sugar, 0g added sugar, 0g sugar alcohols, 1.8g net carbs, 2.6g protein)
**CUCUMBER: TRY TO USE EITHER ENGLISH OR PERSIAN. REGULAR CUCUMBERS CAN BE REALLY BITTER SOMETIMES AND IF THIS HAPPENS. IT WILL COMPLETELY RUIN YOUR SAUCE.