Tuscan Sausage, Bean, and Kale Soup
This post may contain affiliate links (meaning I earn a small comission if you purchase an item through a link I provide) I only provide shoppable links to items I love and are helpful. As an Amazon Associate, I earn from qualifying purchases.
This Tuscan Soup with Sausage, Beans, and Kale is a spicy, flavorful soup that's absolutely perfect for Springtime! Its main feature is the delicious golden broth, but there's plenty of good stuff in there to make it hearty and filling. I know, it sounds like it might be a lot of work… but it all comes together quickly enough for any night of the week! And to really bring it all together, I love to top it off with some croutons and extra Parmesan cheese.
A couple months back, Eric and I went to Olive Garden. It's not a place we go all that often. But we had an unused Christmas gift card, so one of us said "Hey, here's an idea – let's get over to Olive Garden before we lose this gift card for 3 years under the couch cushions or in the bottom of a hamper!"
I ordered the endless soup & salad (because I'm totally a soup and salad kinda gal), and I realized I had never tried the soups at the OG before. First, I went for a bowl of their Zuppa Toscana, thinking that I probably wouldn't be a fan. Because, who in the world wants warm, limp kale in a soup?? It's not something I was lining up to try, that's for sure. Then I brought the first spoonful to my lips, and… Holy cow guys, holy C-O-W! The taste was amazing. I couldn't entirely deal with the savory, spicy, steamy perfection in front of me. I decided right then and there that I would work to recreate this soup, so all of us can enjoy it in the comfort of our own homes… and of course, make it a lil bit Skinnyish, so it's guilt-free!
Instead of trying to do it exactly the same, I ended up putting my own spin on it, as usual. I was inspired most by the outstanding burst of flavors and the usage of kale, and decided to do this Tuscan Sausage, Bean, and Kale Soup. It's full of healthy ingredients like Sweet Italian Turkey Sausage, Great Northen Beans, Kale, and a rich savory broth that's just slightly spicy. And if that isn't enough to get you on board, this is also one of those magical foods that gets better each and every day it sits in the fridge!
Now let's make some delicious Tuscan Sausage, Bean, and Kale Soup!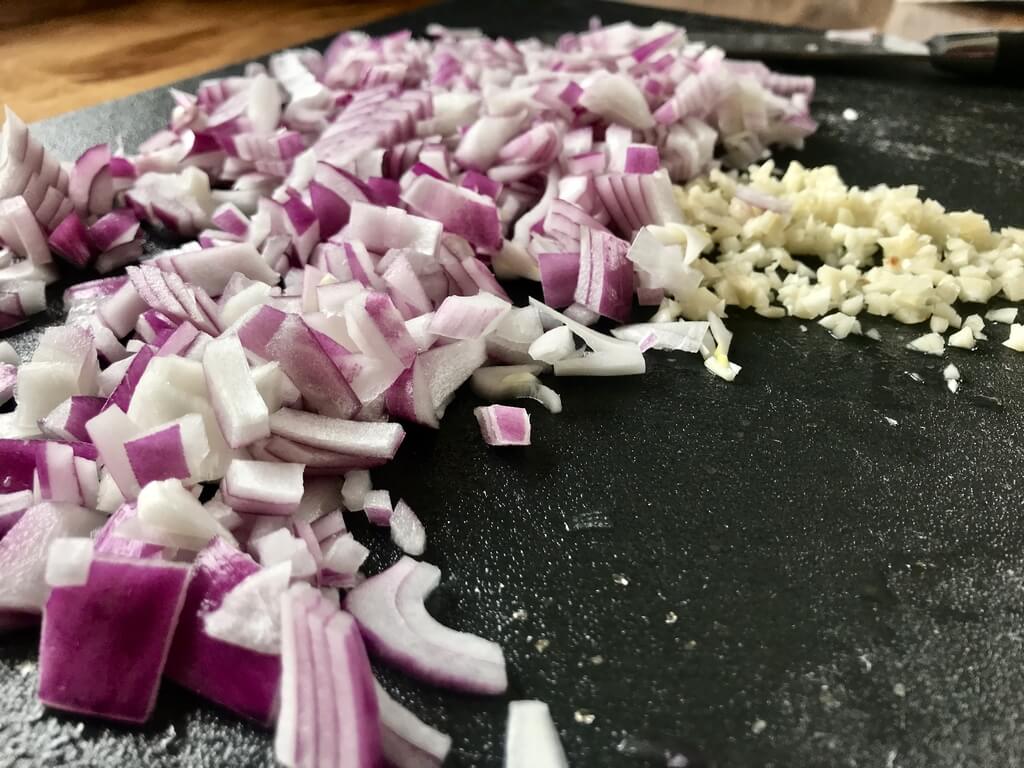 I don't think I've ever met a recipe for soup that doesn't call for dicing up onion and garlic, so let's start off by chopping up a large onion, and finely chop about 4-5 cloves of garlic, until minced. If you love garlic, throw more in there! Your heart knows how much garlic to use, but in case you're not super familiar with cooking, use 4-5 cloves to be on the safe side.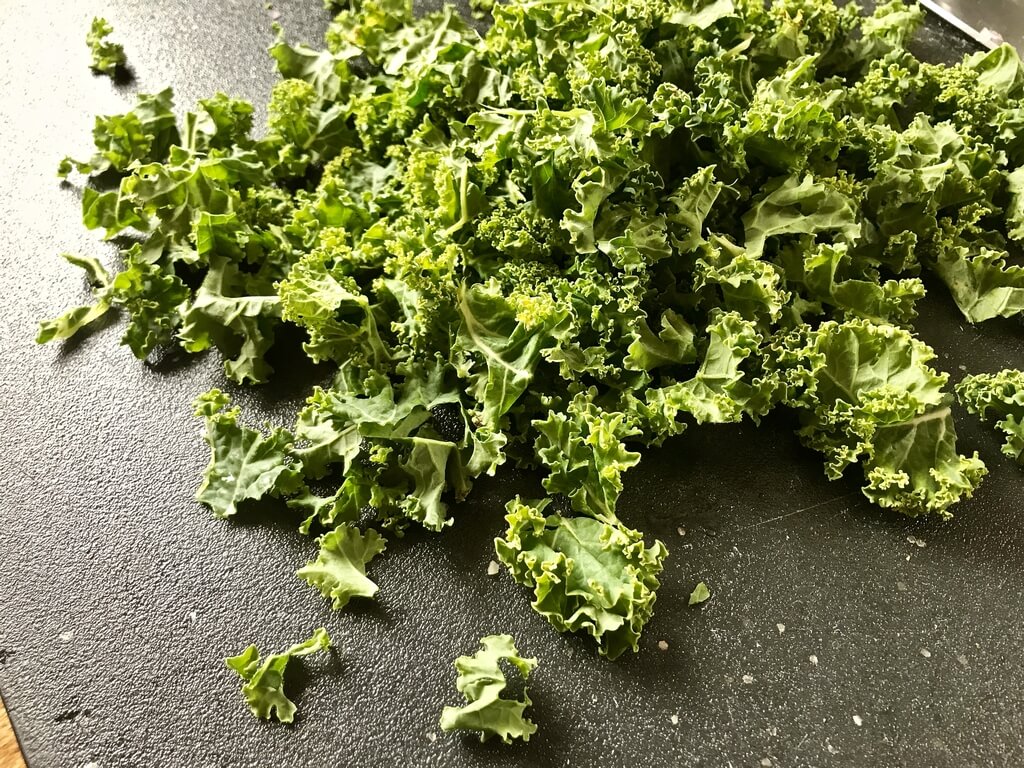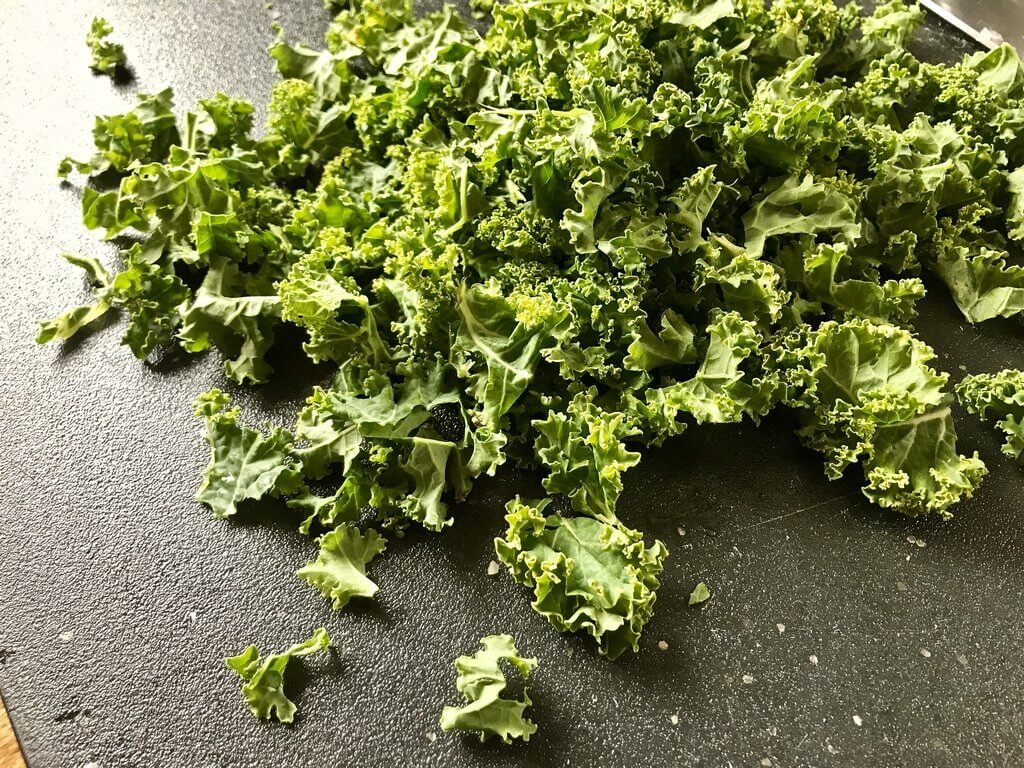 Grab some curly Kale, chop or rip it up into little pieces (about quarter size), and set it aside for later.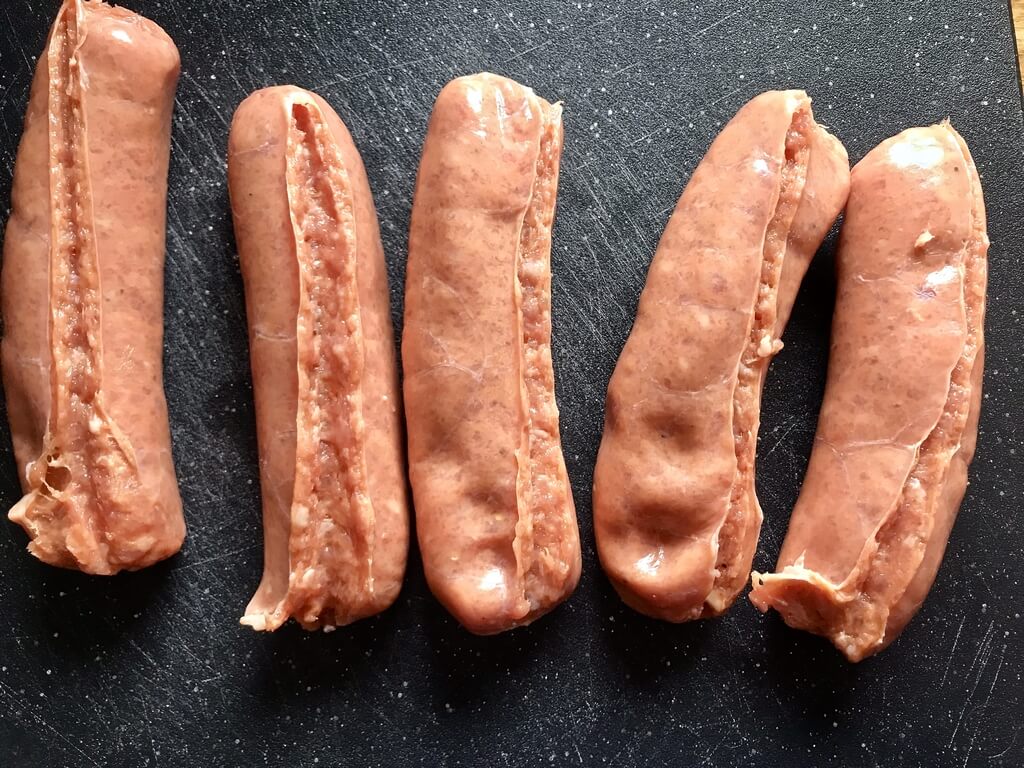 Grab one pound of Sweet Italian Turkey Sausage. (Regular Italian Turkey Sausage works too!) I've only been able to find this stuff in link form, so I just grab a knife and cut down the side to remove the casing.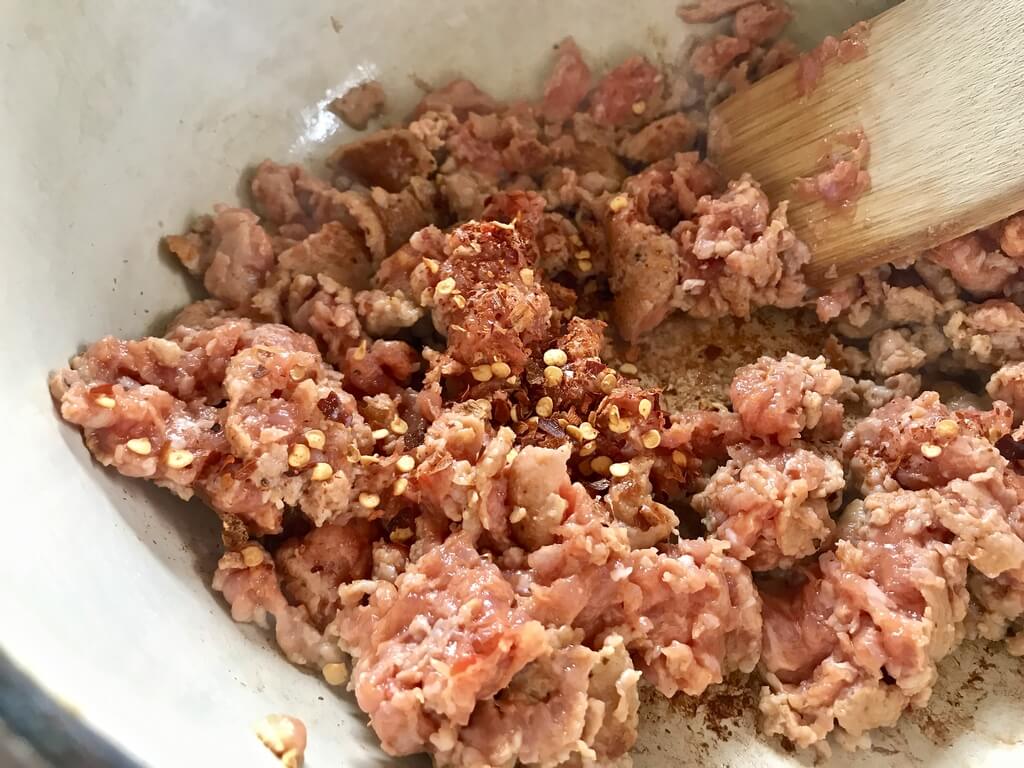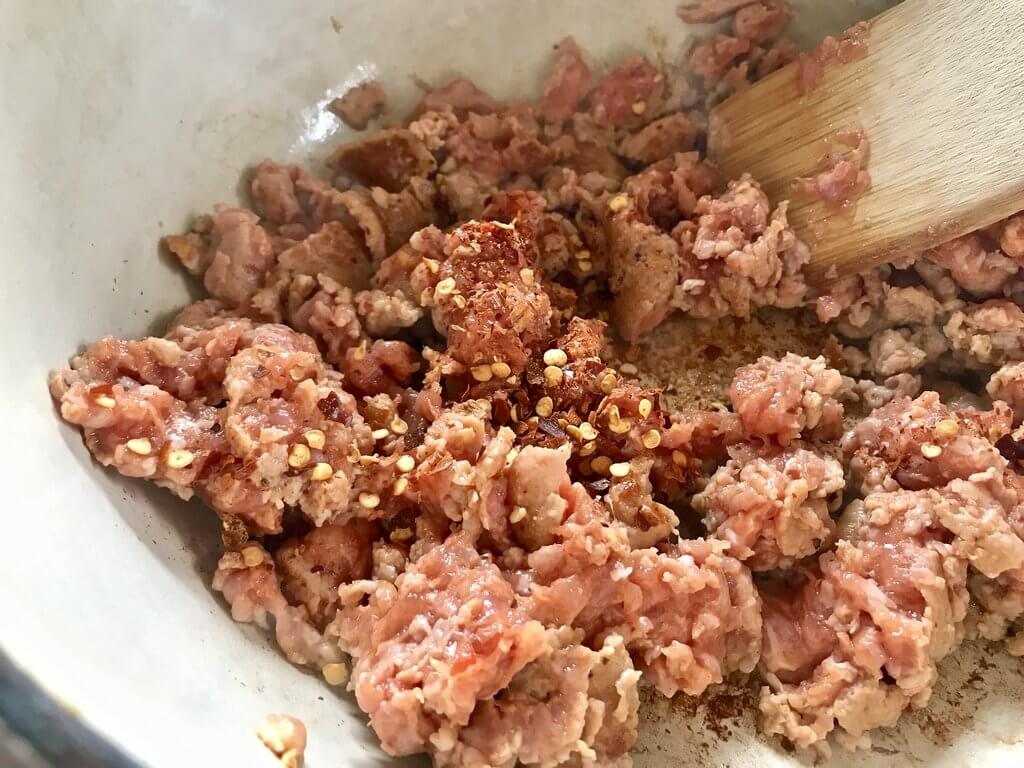 Toss the Italian turkey sausage into a large pot/dutch oven along with one heaping teaspoon of red pepper flakes, and a couple pinches of kosher salt. Cook over medium heat, and break it up with a spatula until it's cooked through. Remove the sausage and set it aside.
If you're lookin' for a good dutch oven, Tap here for the one I have! I love it. I bought the classic white one so that it would match my kitchen and it sits on top of my stove all the time. It's my favorite thing to make big batches of soup.
In the same pot, over medium heat, add two teaspoons of olive oil followed by your diced onions and minced garlic, and one and a half cups of shredded carrots.
You can easily just cut up some whole carrots. But I've had these shredded carrots on hand lately, because I've been making a ton of side chopped salads. You can find these convenient bags of the pre-shredded carrots in the produce section, near the other carrots. They're a great time-saver and step-saver, and it's easy to throw it right into this soup, and pretty much anything else that calls for carrots.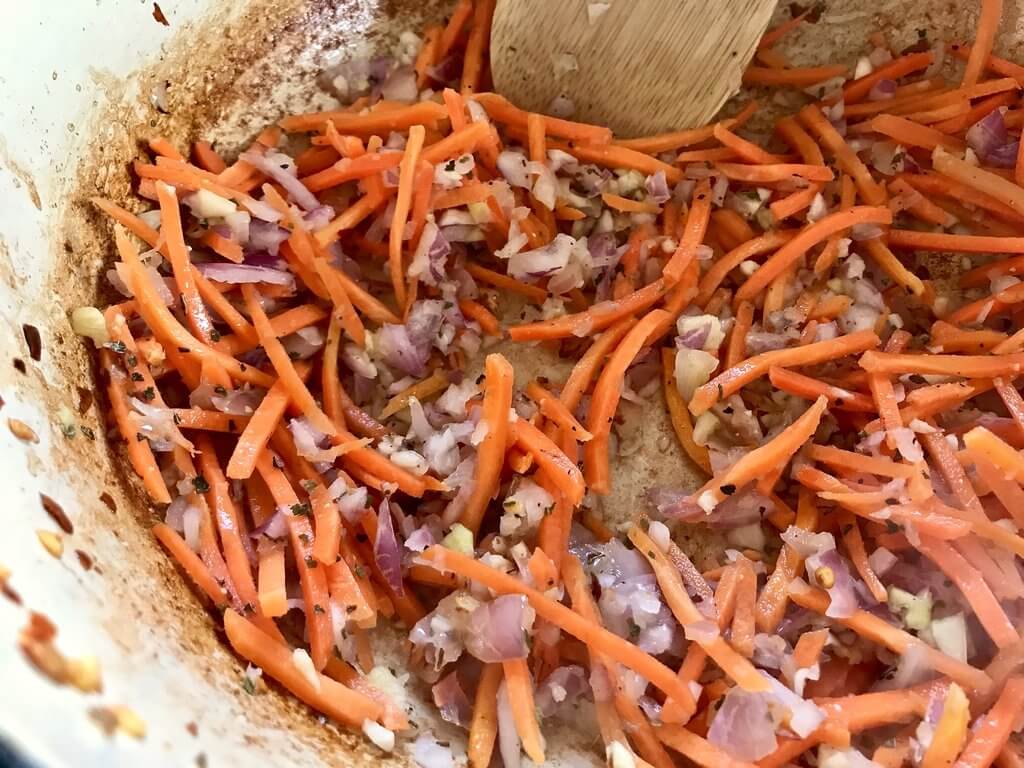 Continue to cook until until the carrots and onions are softened. Then add about 8 cups of low sodium chicken broth, and bring to a boil.
This stuff right here is a real gem! Don't leave the grocery store without it. I always add this to soups, stews, and homemade gravy. It really packs extra flavor into meals. I add about two teaspoons into the soup, just as it's coming to a boil!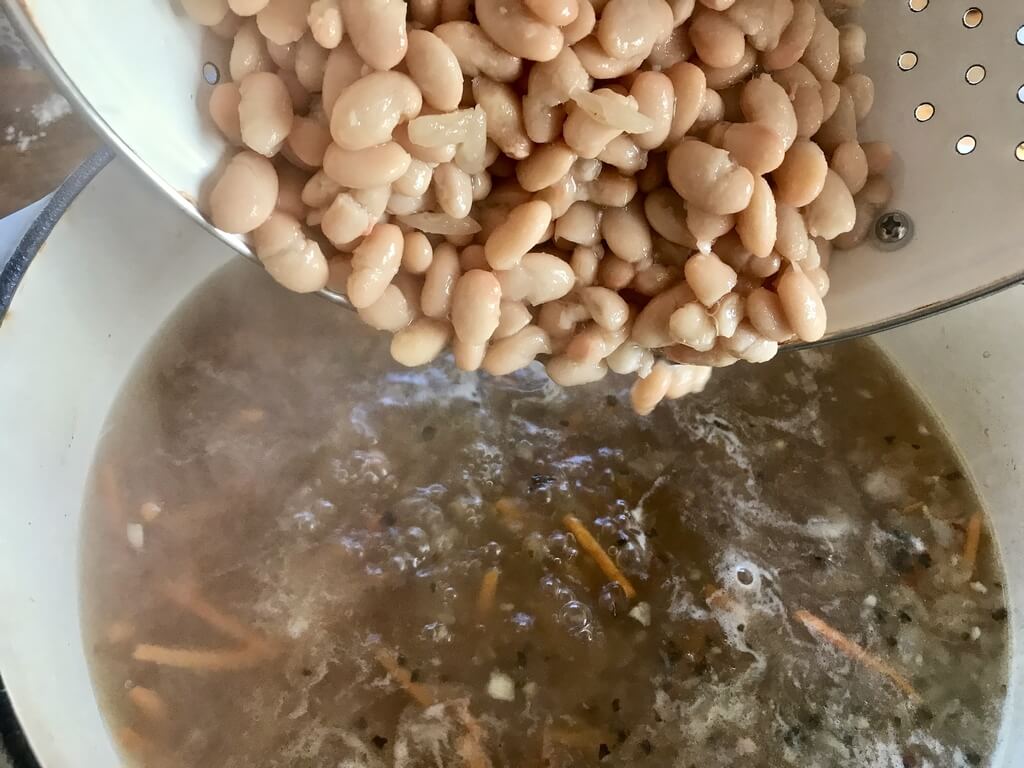 Toss in a can of Great Northern Beans. No need to rinse them, but go ahead and drain the cans before adding the beans.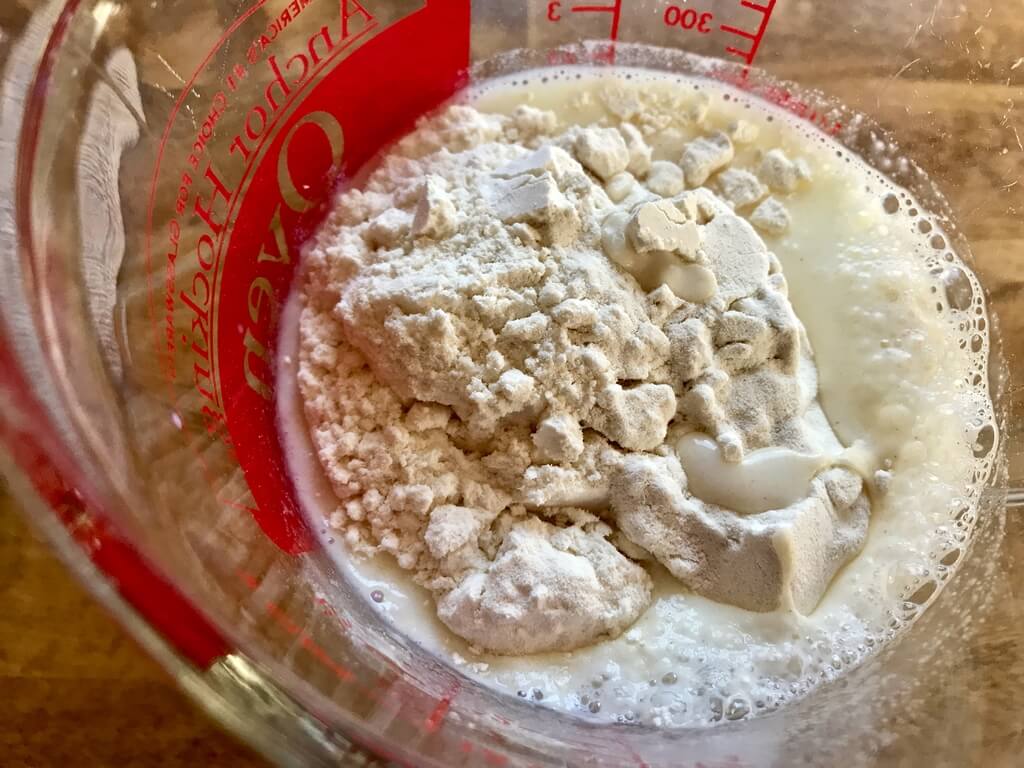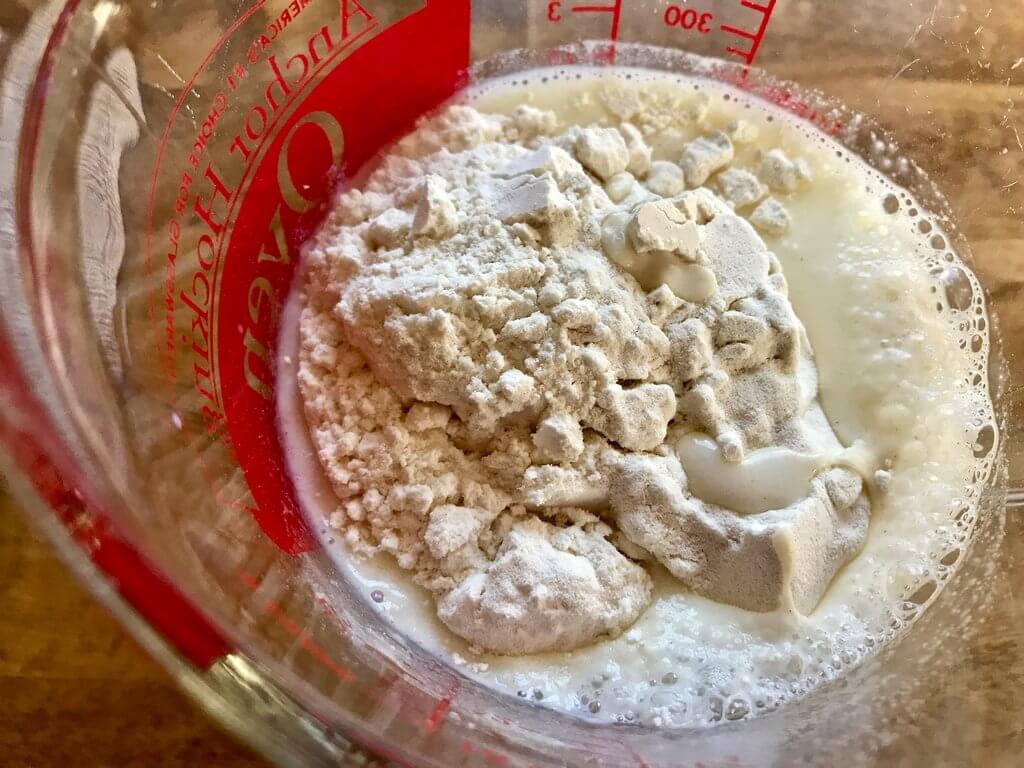 Now let's make a quick slurry, alright? No don't run away, it's easy! Just put about four tablespoons of flour in a small bowl and add 2 or 3 tablespoons of milk, then whisk it together extremely well to make a paste. Add this slurry to the soup while it's at a gentle boil, and stir it in well, until the soup is slightly thickened.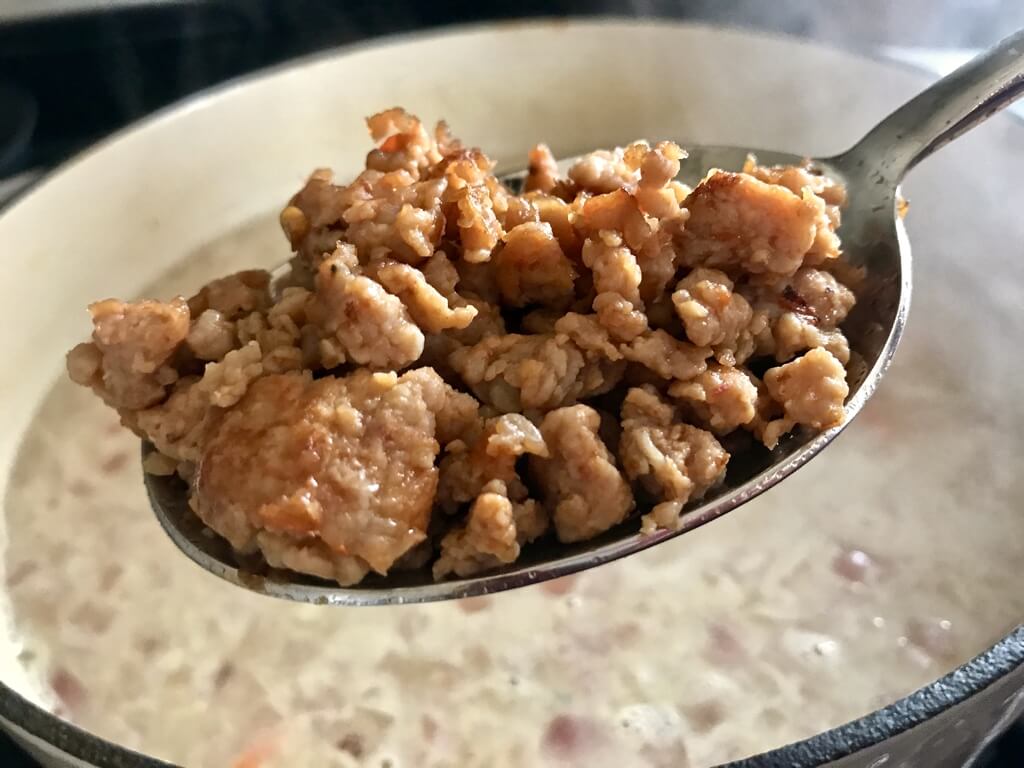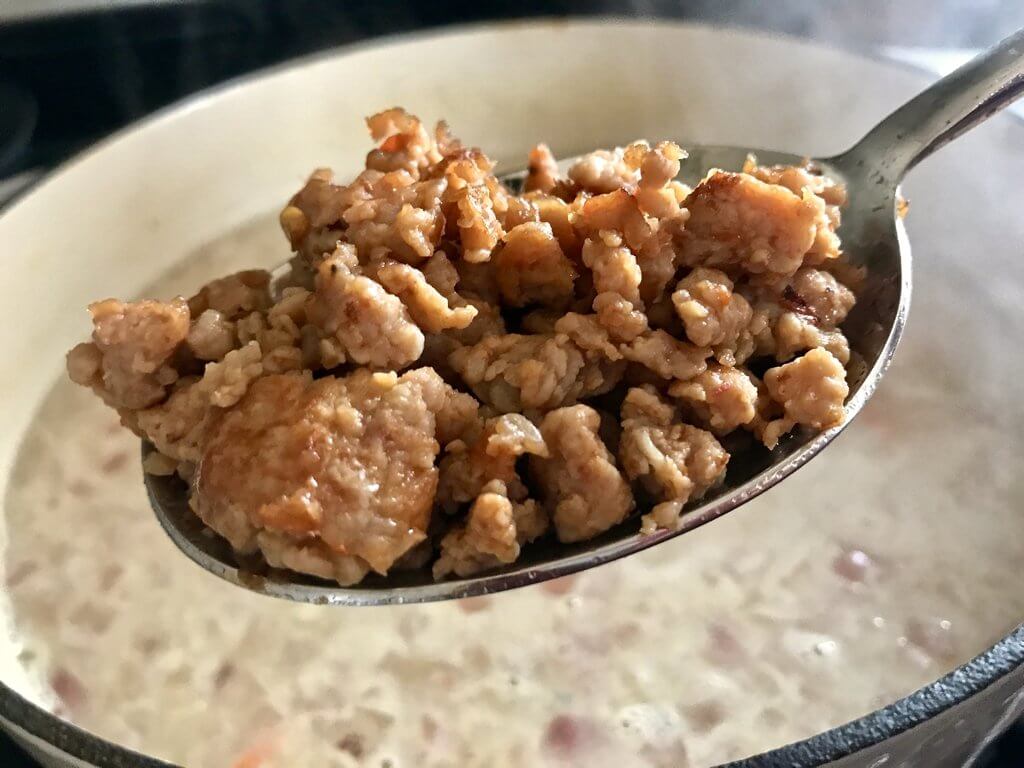 When the soup has thickened up just a bit, reduce the heat to low, add the sausage back in along with the rest of the milk. Then toss in a fourth of'a cup of Parmesan cheese for somethin' extra special!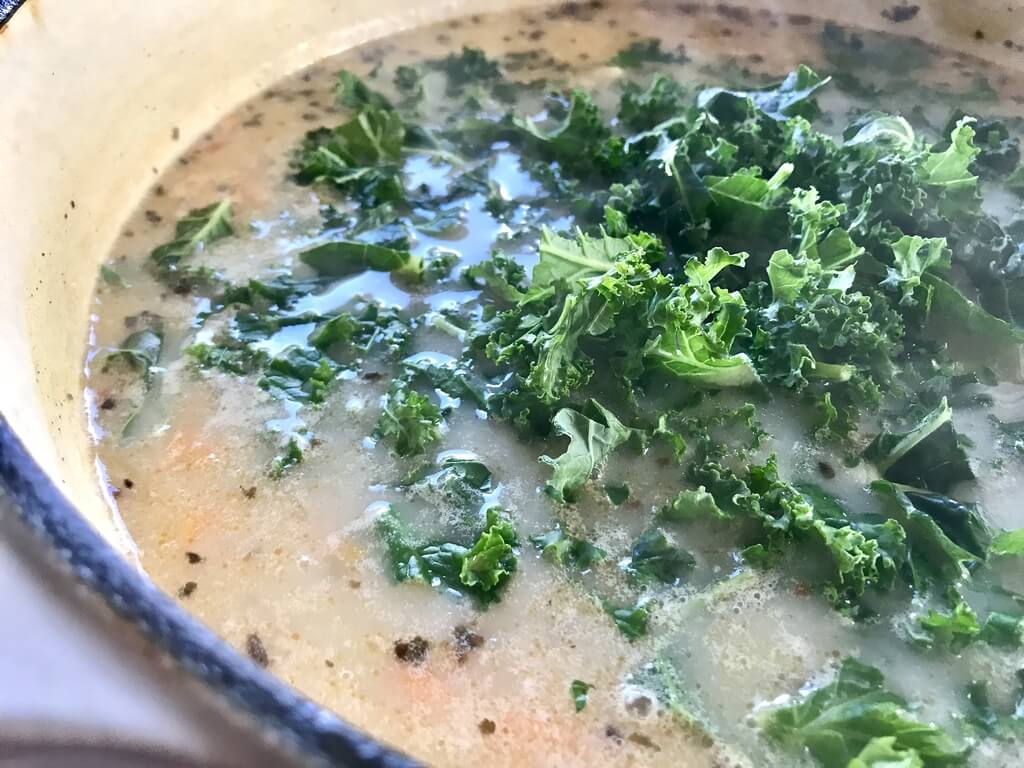 Add in the chopped kale, and stir it all about. I know it might sound kind of weird, but man, it's so good, y'all. I promise! It's like I'm eating a salad in the soup. Okay, that sounds kind of gross. It's not it's so good. And kale is some sort of super food. So eat this soup and feel like soup-er woman. Get it? Ahh… Did I mention it's day light savings today? Ha!
Now folks, please be sure to salt and pepper to taste! It's definitely going to need a bit, but I won't tell you how much. We all have our own preference for saltiness, and the very last thing in the world I want is for it to be too salty for ya!
Remember, we can add salt at any time – from the very first steps of preparation, right up to when it's fully cooked and served, in a bowl on the table. The person who's eating can always make it a tiny bit saltier, if they decide… but if the cook adds too much at any point, it can be ruined. This has happened to all of us, and it's a cryin' shame.
I know it's March 10th, and I know Spring is coming. I mean, I think Spring is finally coming… the weather people tell me it's coming. But I decided to send out one more hot soup recipe, before soup season is officially over… because y'all are gonna love this one, I just know it.
This Tuscan Sausage, Bean, and Kale Soup is gonna make the perfect addition to your menus this week, and it's one of those things that goes into the fridge and then reheats even better. So be sure to pack it up to-go for lunch hour. We like to add some croutons and sprinkle the top with a little extra Parmesan cheese, and then enjoy a big ol' chopped salad on the side. It's lighter, but also hearty, and so delish!
I hope you make this soon! Please remember to let me know how it goes in the comments section below, on Instagram, or Facebook!
With love, from my kitchen to yours, Star
Print
Tuscan Sausage, Bean, and Kale Soup
This Tuscan Sausage, Bean, and Kale Soup is both brothy and surprisingly filling. It's got a hint of that authentic Italian spice, and the kale and beans end up the perfect consistency – not chewy, and not mushy, but juuust right!
Materials
1

lb

sweet italian turkey sausage, raw

if only available in links-remove casings

1

tsp

red pepper flakes

2

tsp

olive oil

1

large

yellow sweet onion

chopped (red onion works, but sweet onion works best)

4-5

cloves

garlic

minced

1-1/2

cups

carrots

shredded/diced

8

cups

Chicken Broth, low sodium

1/2

tsp

Oregano

2

tsp

Better Than Bouillon roasted chicken base

found in the grocery store near the canned soups and broth

1

15 oz can

Great Northern Beans

(1½ cups) drained, but not rinsed

3

tbsp

All-Purpose Flour

2/3

cup

1% Milk

(reserve 2-3 tbsp to make slurry)

Salt and Pepper

to taste

3

cups

Kale

chopped or torn into small pieces

1/2

cup

parmesan cheese

grated
Instructions
Cook the Italian sausage and red pepper flakes together in a dutch oven or large pot over medium-high heat until crumbled and browned. Set aside.

In the same dutch oven/pot add olive oil and cook onions, carrots, garlic, oregano, and a couple pinches of salt & pepper for about 4 minutes or until soft.

Pour chicken broth into the dutch oven/pot with the carrot and onion mix. Bring to gentle boil. Add chicken base and beans. Cook for about 10 minutes to let flavors mingle.

While soup is cooking, make a quick slurry: In a small bowl add 1/4 cup of flour and then 2-3 tbsp of milk. Whisk together extremely well to form a paste. Stir into the soup while it's gently boiling. Continue to stir well until the soup is lightly thickened.

Reduce heat to medium and add the italian sausage crumbles back in along with the rest of the milk and parmesan cheese. Mix in the kale just before serving.

Salt and Pepper to taste! It will need it.
Notes
Suggested serving size: 1-1/2 cups
calories: 327, Fat: 9g, Saturated Fat: 2g, Carbohydrates: 34g, Fiber: 8.5g, Sugars: 6g, Protein: 23.5g
WeightWatchers Points: 5 Points
Inspired by the Super Delicious Zuppa Toscana on tasteofhome.com