This post may contain affiliate links (meaning I earn a small comission if you purchase an item through a link I provide) I only provide shoppable links to items I love and are helpful. As an Amazon Associate, I earn from qualifying purchases.
This Tuna Pasta Salad makes a perfect healthy meal or calorie-conscious side for the summertime! It's like sitting outside in the sun feeling the cool breeze of springtime, while enjoying crisp, hand-harvested veggies from the family garden… all in food form. Sounds too good to be true? Make up a batch and try it for yourself. I think you're gonna love it!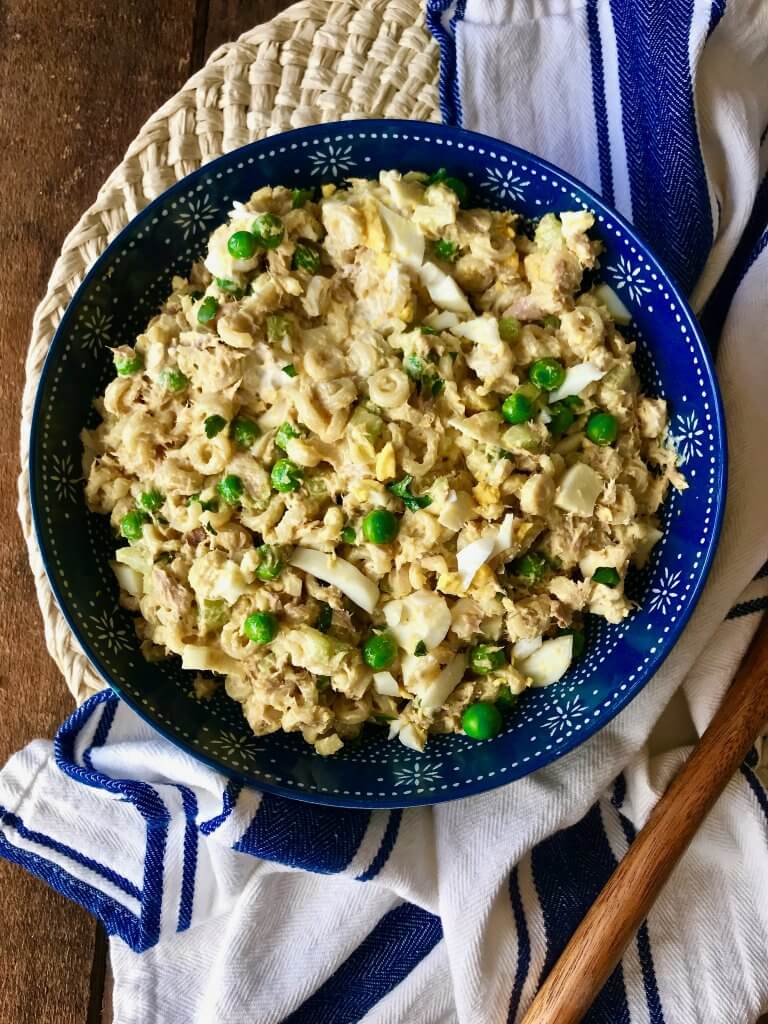 Food From Family
It won't surprise all of you that I love to cook. I don't know how many recipes I've made over the years, I lost count a long time ago… it's in the thousands by now, I'm sure! The ones that are most special and memorable are the ones that bring a sense of nostalgia, where I feel a connection to generations past. Poor Man's Meal and Mom's Chicken and Rice Casserole are both good examples, inspired by my mom's cooking when I was young. She was inspired by my Grandma long before I was born, and so it goes with family recipes, back through the decades and centuries… it's an amazing and beautiful thing. I'm not 100% sure how far back this Tuna Salad goes. But to me, it will always be my mama's.
When my Dad was still with us, he would grill out in the summertime… A LOT. If my dad was grillin, we were all happy campers. And for many of those grilled meals, on the side of our plates was a big scoop of my mom's "O Salad"… and it was so, so good.
What's O Salad, you ask? It's regular old Tuna Pasta Salad, made with O-shaped pasta. See, my mama is from Minnesota. Up there, it's easy to find boxes of pasta in the shape of O's. But where we live (a few hundred miles South and sideways), you just cannot find it. We've never stopped looking at all of our area grocery stores, and still no luck. When we would go visit family just outside Minneapolis, I still remember stocking up on two things: O-shaped pasta, and "Old Dutch" potato chips. Usually about 10 boxes of each. And how about this- I remember my mom unwrapping Christmas presents from our Minnesota relatives, and it was boxes of O pasta! It's a family tradition, and I guess we take this pasta salad pretty serious.
If you live in Minnesota (and in other places I'm sure), you can probably find O-shaped pasta at the store. But if you can't (like me) you can really use any type of pasta you want. We're pretty particular about that O-shaped pasta; but I promise if you use something different, it will taste the same to every single person in the world!… except for my family.
Updated in April 2019:
Since I wrote and published this recipe in 2017, Amazon has expanded its selection of grocery items in a big way. You can now order the exact O Pasta that we used back in the day (YAYYYYYYY!!!!!!!):
The link above is for FOUR 1lb (16oz) boxes… in other words, A BUTTLOAD. You could store these in a big ol' canning jar, or a really good airtight storage bin, and it would be just fine. But if you prefer to try this recipe before buying a whole lot of the O pasta, here are a couple other options…
This recipe is a childhood and family favorite, and I'm very excited to share it with y'all using O shaped pasta instead of just regular ol' boring shells or something. Haha! And I lightened it up just enough for ya to enjoy. It's a perfect summer meal all by itself, but it can also be a delicious side dish to pass at a barbecue… and everyone will love you for bringin' it, I promise.
Here's whatcha do!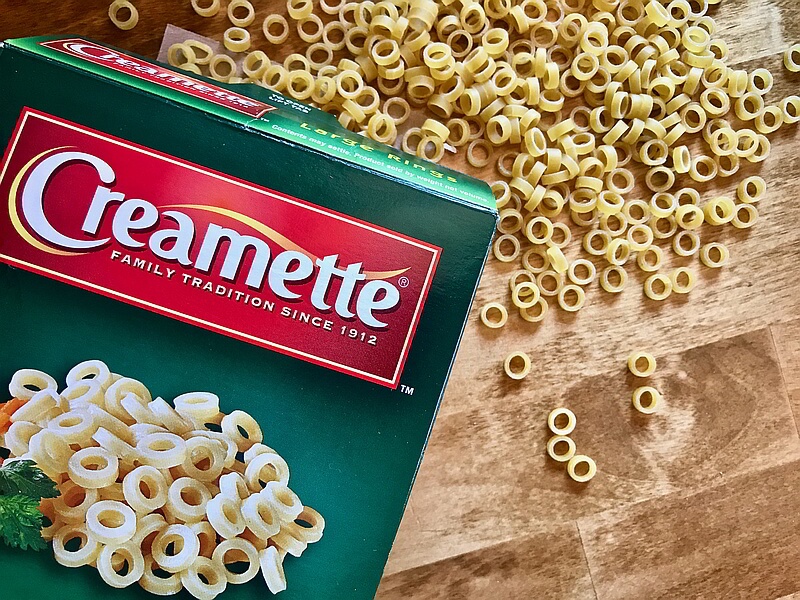 First things first, you'll need some pasta. Preferably O Shaped Pasta, but as I previously mentioned something like shells will do just fine. It won't change the taste, just my childhood.
Update: The pasta itself is called. "Large Rings" It's not as fancy as I would have thought, but we found some on amazon and bought it!
Boil water, don't forget to salt the water!, and then throw the noodles in it. Cook according to package directions.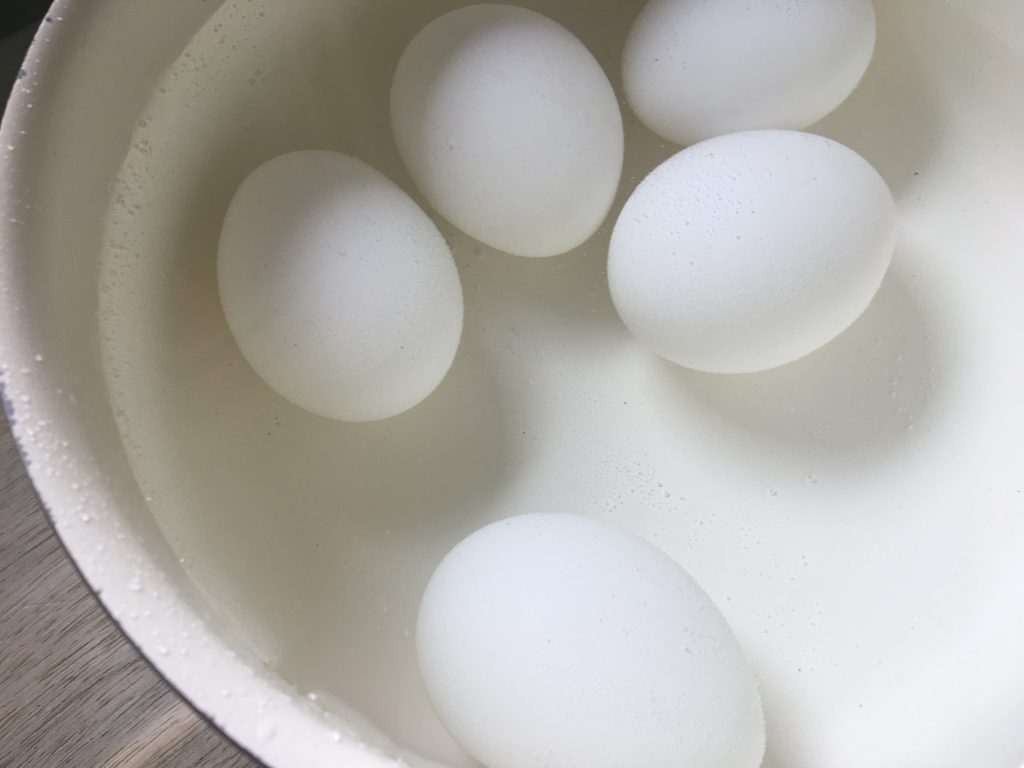 Boil some eggs. Everyone has their own little trick for perfect hard boiled eggs. I boil water in a pan, gently add the eggs one at a time with a spoon into the boiling water, and continue to boil for 12 minutes.
Grab two ribs of celery and chop them up finely-ish. As you can see, I'm not a perfectionist.
In a bowl add tuna, dried minced onion, and celery salt. Mix it all together.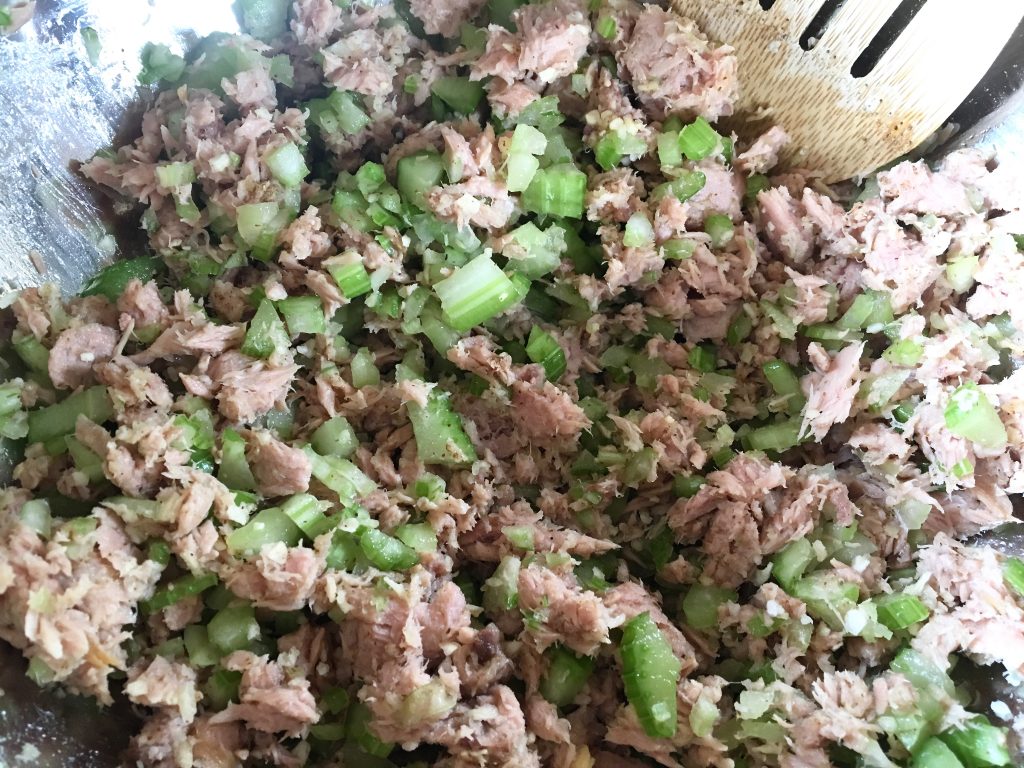 Then add celery and mix that all up! Set aside.
When the pasta is done cooking, strain it and rinse with cold water.
When the eggs are done run cold water over them for a couple minutes.
Peel the eggs! I remove the shells in cold water. It's less mess, and they seem to peel a bit easier. I also don't need to worry about a shell going rogue into the salad itself, also known as, the worst thing ever. What is it about an itty bitty tiny piece of shell that can just completely ruin something?
Remove the egg yolks, chop them up, and set aside. Don't worry too much about this chopping, the pieces don't need to be exactly the same size. If you're on WW and want your points be lower if you're on green just use the egg whites. If you're on WW and on the blue or purple plan use the whole egg!
Grab some peas. I usually use the fancy canned variety, but sometimes I'll buy frozen, quickly steam, let them cool just a bit, and then add them. It's really up to you.
Add the cooked pasta, peas, and egg whites to the tuna, and mix her all up!
Then add light mayo and mustard. Mix it all up again, and stick it in the fridge for about 30-45 minutes before serving. This one really is at its best when it's served cold. This also gives the flavors a chance to dance and mix together!
And there ya have it- an absolutely delicious Tuna Pasta Salad… known in my family as O Salad.
YUM!… now please excuse me while I finish off a bowl of it.
Eric LOVES taking this salad in his lunch on hot summer days. And you know what? It makes my heart smile… because my dad was the exact same. ❤😊
I hope y'all enjoy this as much as we do, because I can promise that it's gonna be on our summer menu a lot!
With love from my kitchen to yours,
Star
P.S.: For a delicious crunch, add a handful of crushed-up potato chips on top to REALLY enjoy it the way I used to as a kid. (I'm thinking Baked Lay's would be a pretty healthy way to do this.) I would have taken a photo with some chips sprinkled over it, but we were out of plain potato chips!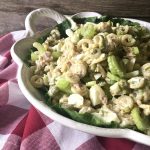 Print
Tuna Pasta Salad (O Salad)
a delicious creamy summer pasta salad filled with hard boiled egg whites, tuna, celery, peas, and spices.
Materials
8

oz

dry pasta, O's, shells, or elbows noodles

10

oz

tuna packed in water

drained (two cans)

6

eggs

hardboiled, yolks removed, chopped

3/4

cup

peas

canned or frozen *if using frozen let them thaw before adding to the salad

2

ribs celery

chopped finely

3/4

cup

light mayonnaise

1

tbsp

yellow mustard

1

tsp

celery salt

2

tbsp

dried minced onion

found with other dried spices in grocery store

salt & pepper

to taste
Instructions
Cook pasta according to directions and rinse with cold water. In a large mixing bowl add tuna, chopped celery, celery salt, minced onion. Mix together thoroughly. Then add cooked pasta, hard boiled eggs, peas, mayo, and mustard. Mix until completely combined. Salt & Pepper to taste if you think it needs it! Cover and place into the fridge for 35-40 minutes before serving. Enjoy!
Notes
Serving Size: 1 and 1/4 cup 319 calories 8g fat, 1g saturated fat, 34.8g carbohydrates, 6.4g fiber, 2.4g sugar, 28.5g protein WeightWatchers Points: 7 Points Delicious tip: For additional points/calories crumble a handful of plain potato chips on top for instant magic.
* The Skinnyish Dish is a participant in the Amazon Services LLC Associates Program, an affiliate advertising program designed to provide a means for us to earn fees by linking to Amazon.com and affiliated sites.