Top Twenty Five Recipes of 2021!
This post may contain affiliate links (meaning I earn a small comission if you purchase an item through a link I provide) I only provide shoppable links to items I love and are helpful. As an Amazon Associate, I earn from qualifying purchases.
Hey friends! If you've been here for awhile you've seen me pull together a list at the end of the year full of reader favorites! It's totally one of my favorite posts of the year and I always get excited to see what recipes made the list and in what order. There's always some good old stand bys that never seem to get "kicked off" and that's okay with me! Favorites that get made again and again are the backbone of this blog.
If you're new here HI! Welcome. I'm so glad you found my lil corner of the internet. Think of this Top Twenty Five list as your very own personal skinny-ish dish quick tour guide. While I have a lot of favorites that aren't on this list, these recipes stand above the rest for the time being and you definitely cannot go wrong making any of them! Long time readers? Maybe you missed a couple of these and now you can add them to your must make list too! Whatever you may be, I hope you enjoy!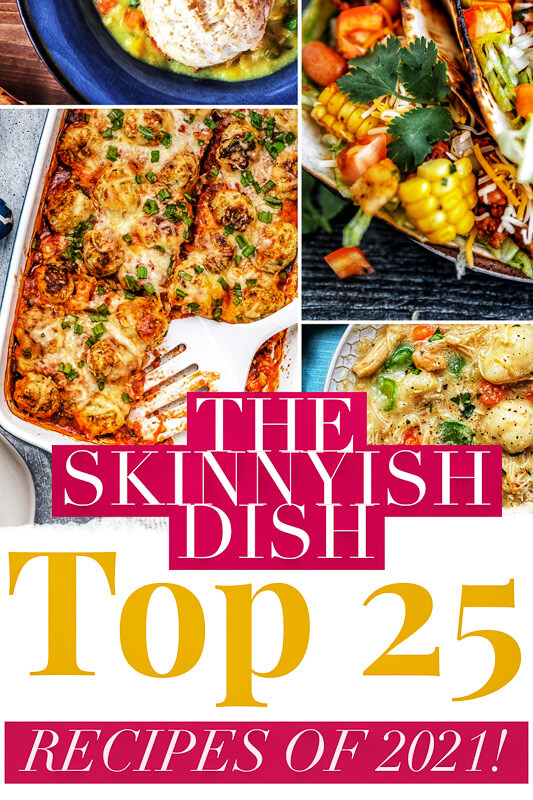 This past year has been full of some really good highs and some really low lows, and truthfully, I'm not sorry to be saying goodbye to 2021. I'm also not saying I'm going to be making 2022 my best year, but I'd settle for delightfully uneventful, but productive and full of smiles kind of year. That's all I am going to say about that.
As always thank you so so so much for being here whether you're a brand new reader or you've been here since daily dose of pepper days. I thank you for inviting me into your homes and into your kitchens. It's not something I take lightly when you put your trust in me. I appreciate you all so very much.
Guess what? GIVEAWAY!
I'm also adding a GIVEAWAY! to the countdown list this year. Yay! right? Everyones loves free goodies. I'm giving away "A few of my favorite things" to 5 readers! Winner will get my favorite meat thermometer, my current favorite insulated travel mug, an adorable meal planner, and my favorite deep skillet with lid that I use literally all of the time! This isn't sponsored by anyone but me! I will choose a winner on January 10 2022. I will email the winner separately and also update this post with the names! Please read rules and extra entries below.
RULES: To enter you must comment on this post (tell me your favorite skinny-ish dish recipe or if you're new here-tell me which one you plan to try!) and make sure to put your correct email in where it asks for your email so I can reach you (email is not published publicly and i will not use your email except to let you know you've won.). Winner must live in the continental US to receive items mentioned above (you can enter if you don't live in the US but I can only send you a gift card for these items, I can't send the actual items to you).
Oh and!!! **Do you want 5 bonus entries? Go rate and comment on your favorite skinny-ish dish recipe! Be sure to use #top2021 in the comment so that I know to enter you for extra entries! 5 extra entries for every recipe you enter up to 5 recipes. So you can enter a total of 26 times total****
Please note: I moderate new comments here to reduce spam/profanity/downright rudeness. If you've never commented before or have only commented once or twice it probably won't be approved until I manually approve it. Don't be alarmed if you don't see it post automatically! If you're concerned it didn't go through please check again in 24 hours and then re-enter if you don't see your comment! =)
Anyway let's get this show on the road shall we?
Mexican Street Corn is my trusty stand-by for Taco Tuesday! And, it looks like it's a lot of others favorite side dish also! It's so simple to make! This creamy corn is full of lots of good flavor and goes next to just about anything you can think of enchiladas, tacos, burritos, fajitas, carne asada, etc etc! We love it here on the skinny-ish dish and I think you will too!
This classic creamy spaghetti dish is filled with delicious Tex Mex flavor that will warm your soul! We could easily live off of this dish.
New years resolution: Make more skillet pickle chicken! I can't believe it's number 23, y'all! This chicken is the best thing since sliced bread, TRUST ME.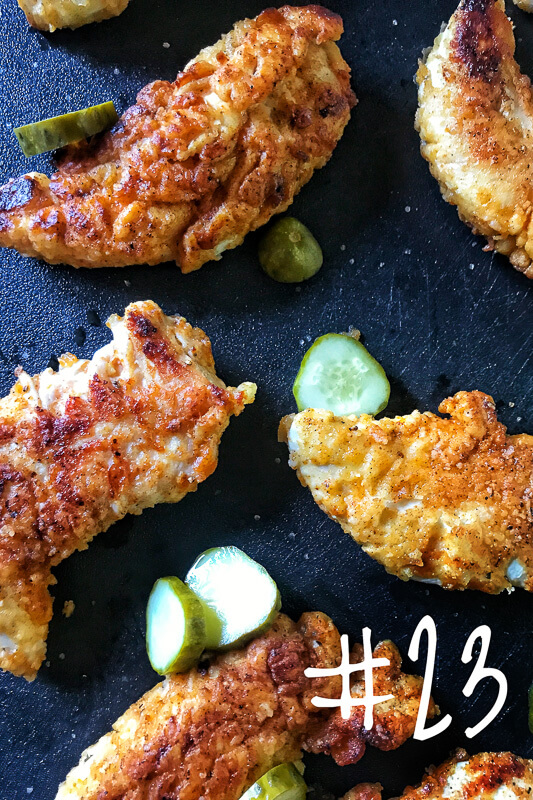 My mama is proud of y'all for keeping this one on the top twenty five. If you know, you know! If you're new around these parts. My mom thinks this recipe should be number one. Forever. It's her absolute favorite!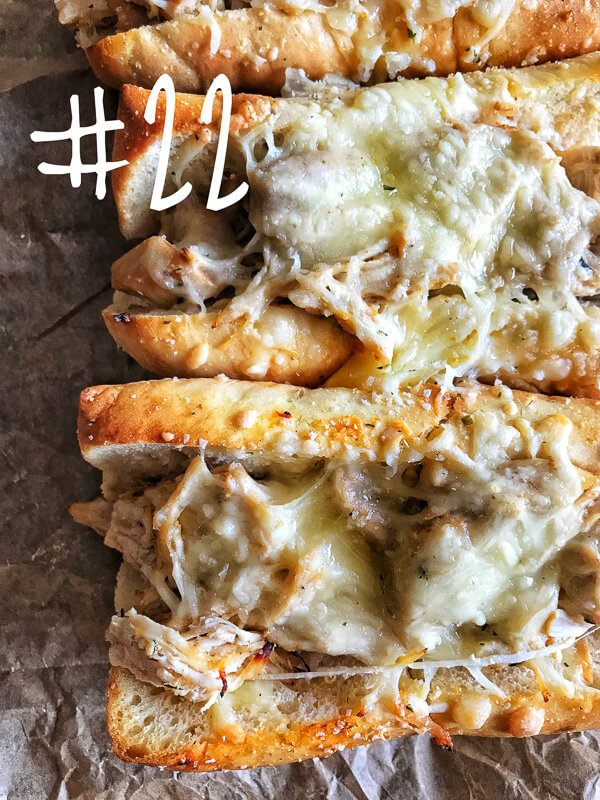 There's something warm and fuzzy about the fact that this was the very first recipe that I put out into the "internet world" and it still makes the top twenty five list 5 years later. It's definitely a forever favorite! I think I'll make a tshirt that says biscuits n' gravy bake 4 life. (who wants one!?)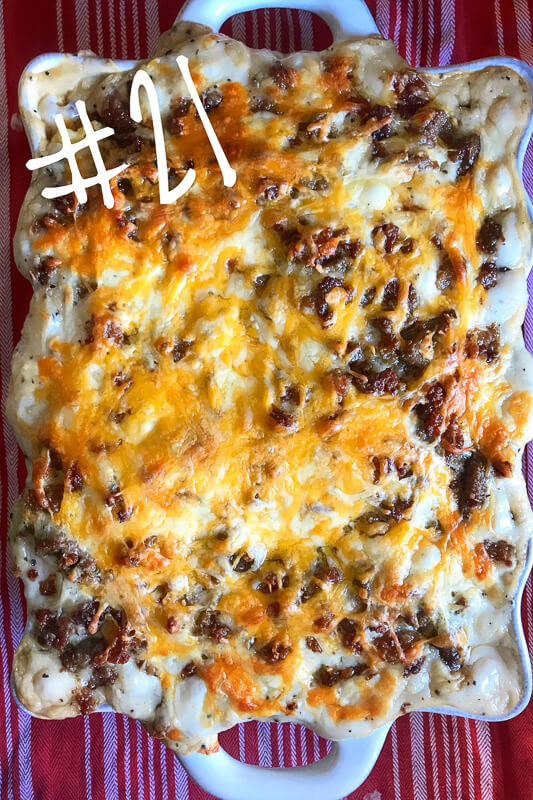 I don't know why these work as well as they do because they are definitely not your gramma's biscuit, but they are just the best ever. Ever. EVER. EVER. I love them. They are so easy to whip up and I have been known to grab these and eat them for a snack. Please don't sleep on this recipe especially if breakfast sandwiches are your love language.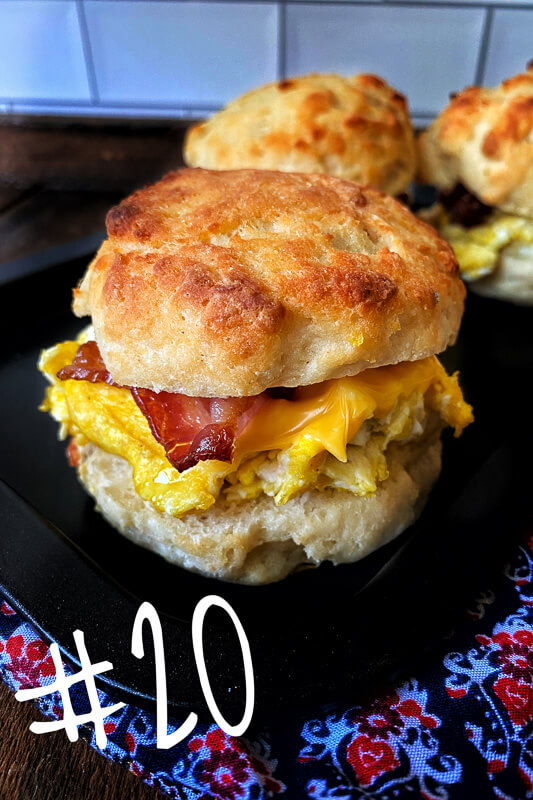 I know they're are a heck of a lot BBQ sauce purists out there. And I know this just barely passes because it's so not traditional and it's a much lower sugar version. I was afraid to even post this now living in the South. Ha! Anyway, It's so good! Make it! Love it! Don't let the BBQ purists getcha down!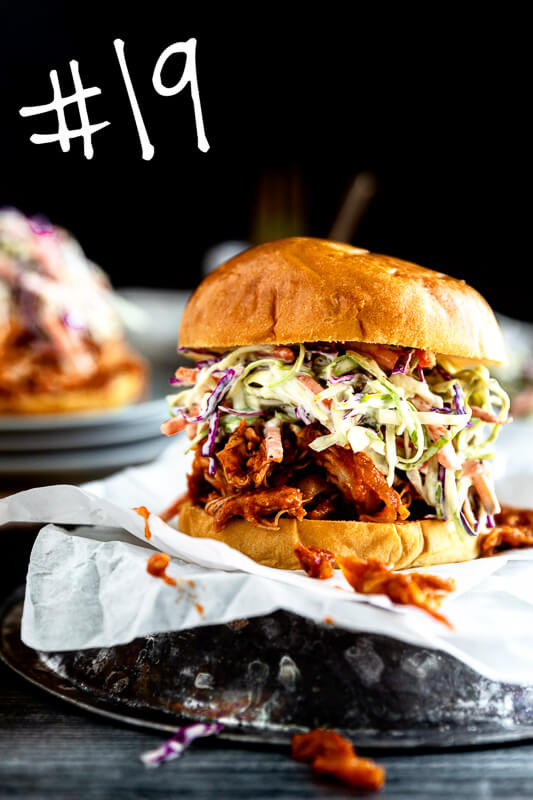 Drool. That is all. These are seriously so good! Who knew chicken breast could replace traditional pork carnitas? I'm so glad I gave it a go! Use this chicken in EVERYTHING. seriously.
Anyone else go to Chili's a million times as a teenager to hang out with friends and order Monterey Chicken with mashed potatoes and broccoli? No? Just me? Well here's my grown up version of my chili's fave! This is such a quick and easy recipe and should be kept in everybody's back pocket!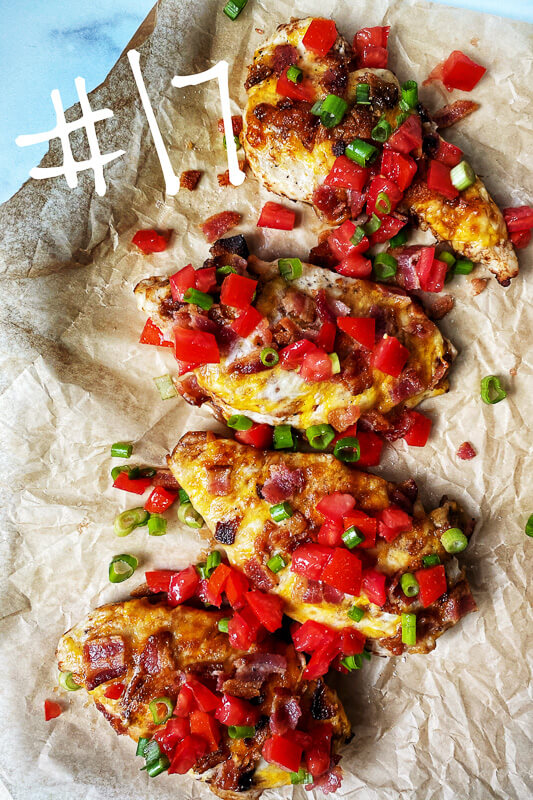 Cowboy's Meal was created as a Tex-Mex version of Poor Man's Meal, a staple skillet meal in my family growing up. It's full of crazy flavor and I absolutely love it! You can stuff it into tacos/burritos, eat it just as is in a big ol' bowl, and or throw an egg on it and make a little breakfast skillet situation with leftovers! It is incredible.
Another tried and true favorite that has been on the top skinny-ish dish countdowns since I started doing the countdowns! This recipe is the perfect marinara. It's no fuss and no frills. Just tomatoes, onions, garlic, and spices and a nice long cook time. I've had many many readers share that since they've started making this sauce they haven't bought a jar of sauce and for some that's 5+ years!!! Definitely a must try if you haven't yet!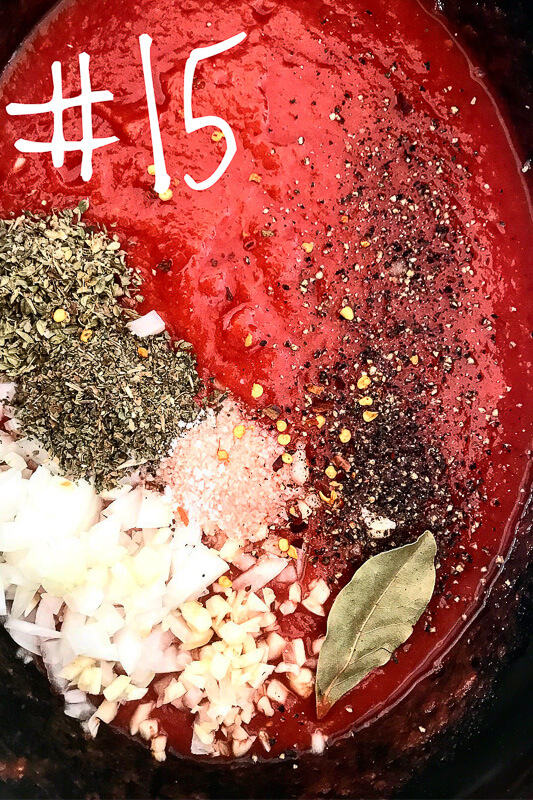 Another recipe I shared with y'all that is basically from my childhood! Italian beef was an every other week kind of thing in my house and it's still a must to this day! This slow cooked chuck roast will rock your socks off, my friends!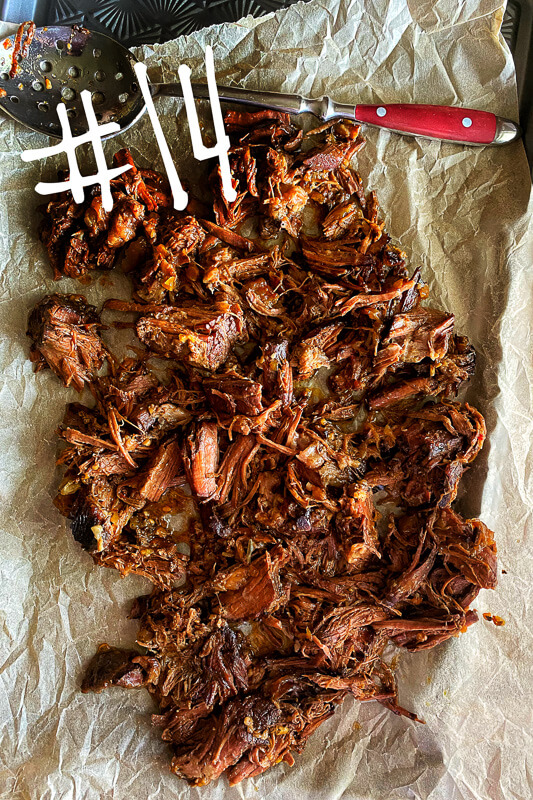 Meatball Sub in casserole form? Sign. Up. For. This. It's so delish!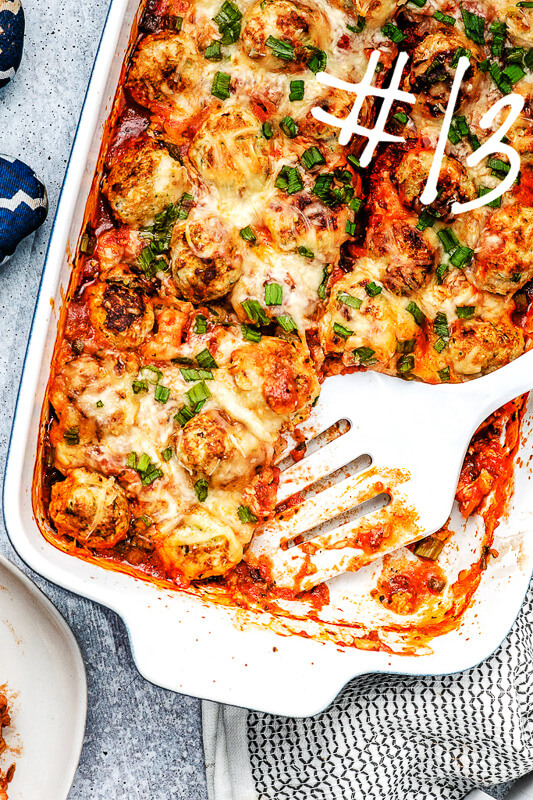 Honestly, this might have been my favorite recipe I posted this year. I LOVE IT.
If you need a recipe for some of the best tacos EVER. Here ya go!
A delicious stuffed pepper full of beef and mushrooms and I can't believe I love it as much as I do! Because mushrooms and I are not friends.
The last recipe you'll ever need for baked chicken. This is an "all purpose" chicken that you can use in all sorts of recipes or just as is next to some yummy sides! NEVER EVER make boring dry chewy chicken breast again!
The most comforting bowl of soup that you could ever make!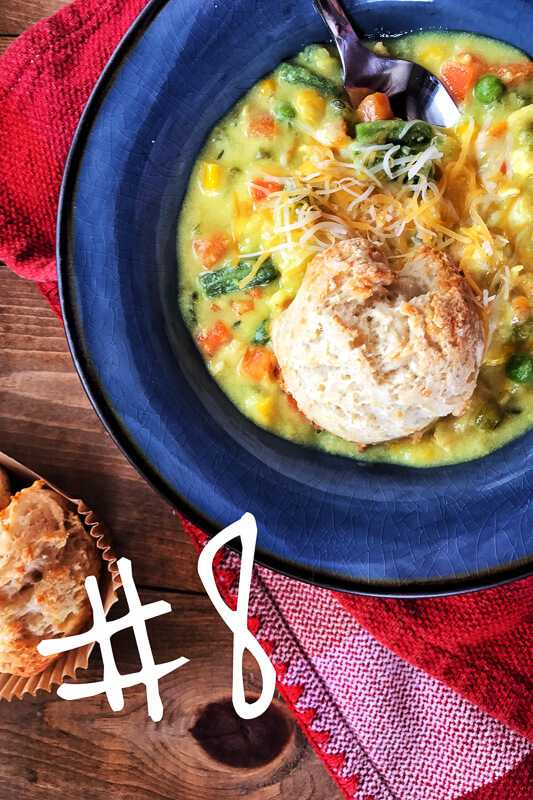 I was a little surprised by this! This is my go to side dish and snack and apparently everybody elses too!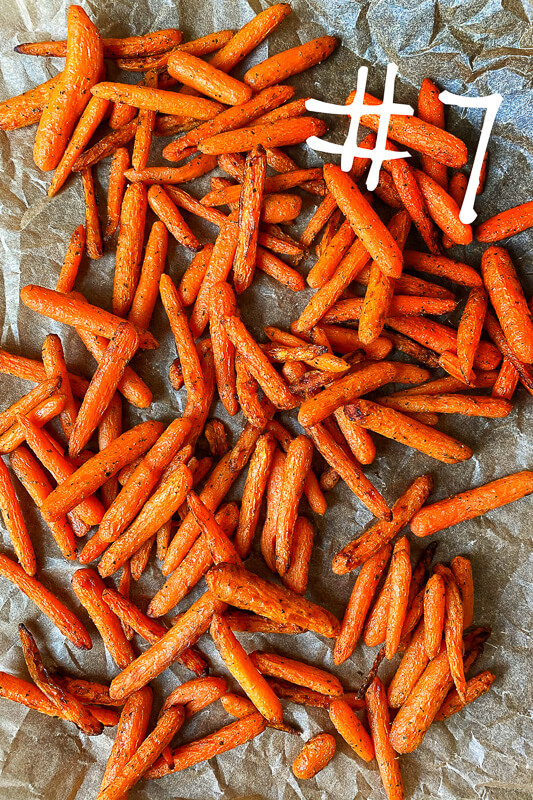 I don't create many of the "bubble up bakes" anymore, but the one's I did make really became everybody's favorite! I think I need to try creating one this year. Seriously all of them that I made that one year that they were super popular are still on this top twenty five list! This Loaded Chicken Bubble up is SO good! Indulgent, but still skinny-ish.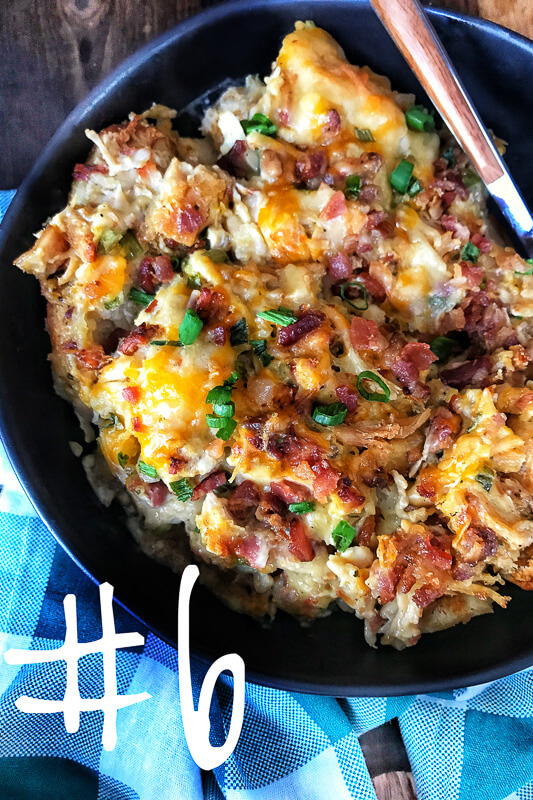 Seriously okay, I know I said that the taco crunchwrap was my favorite post, but I actually lied. This is my favorite recipe post this year! I've been making this version of Chicken and Dumplings for YEARS and finally shared it with y'all earlier this year. I know it may not be everyone's cup of tea since it has veggies and drop dumplins, but pick'm out if it bothers ya. Haha! This is good stuff, friends!! A cozy bowl of perfection.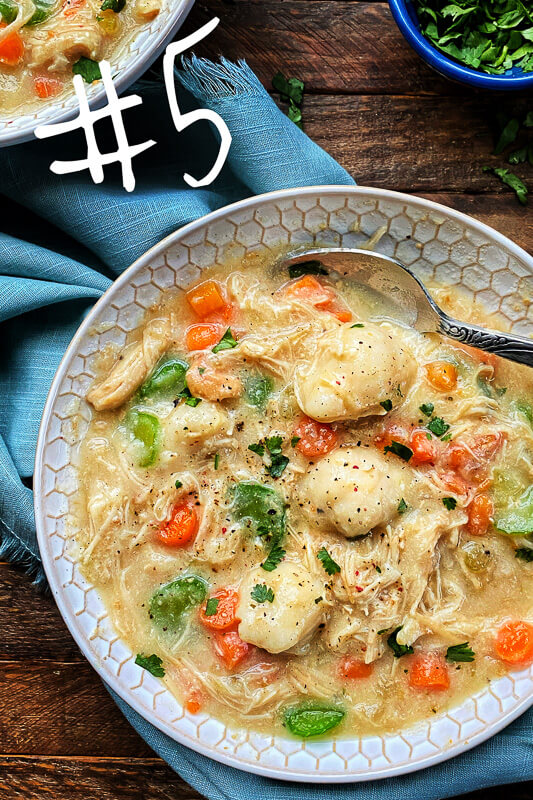 Meet your new lunch time bestie! This Chicken Salad is soooooo good! Let me also say this real quick. I think fruit with meat is super weird (I wish I liked it, but i can't 99.9% of the time!), but for whatever reason I absolutely love chicken salad with grapes (and toasted almonds and a savory sweet creamy dressing and crunch celery). It a wonderful mix and the perfect thing to prep and eat all week! I really like to have chicken salad or egg salad in my fridge weekly so this is almost always on the menu.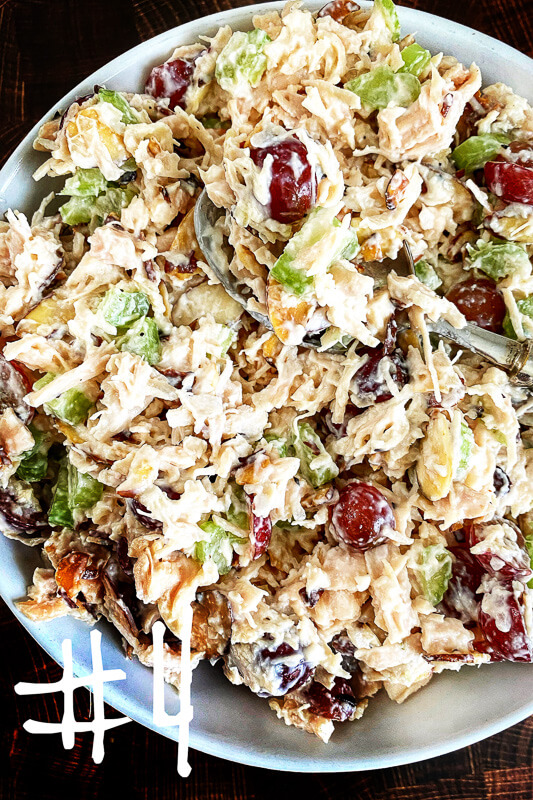 You people… are my people. I think you all love bacon, eggs, cheese, and biscuits almost as much as I do! This breakfast casserole is so dang good! It tastes so close to a bacon egg and cheese biscuit from that restaurant with the golden arches on the sign. It's incredible and extremely popular with picky eaters!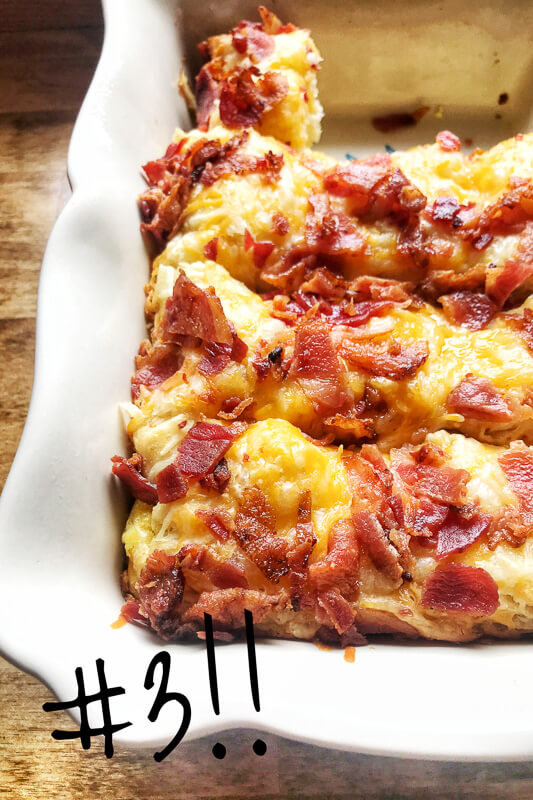 Does this come to anyone's surprise? Forever taking one of the top spots and a forever skinny-ish dish fave! I've had readers tells me that they win chili contests with this recipe! It honestly is fantastic and if you're a new year and you enjoy southwestern type food and you like beans. You should make this tomorrow.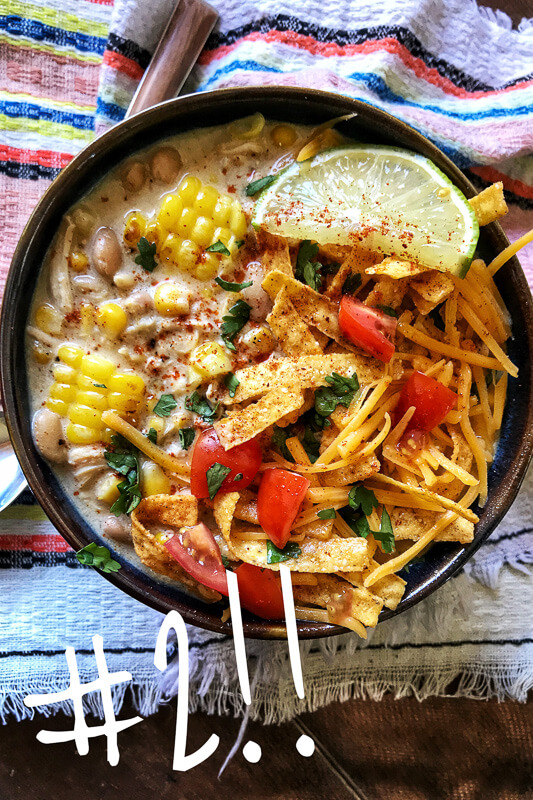 YES, AGAIN! My goal in 2022 is to make more Greek inspired food. It's truly so wonderful and fresh and flavorful. I absolutely love this recipe and I hope that if you haven't tried it yet that you will because it's just… so perfect (not to toot my own horn too much!). And yes I will get my tzatziki sauce on the blog soon so you can put it on top of these!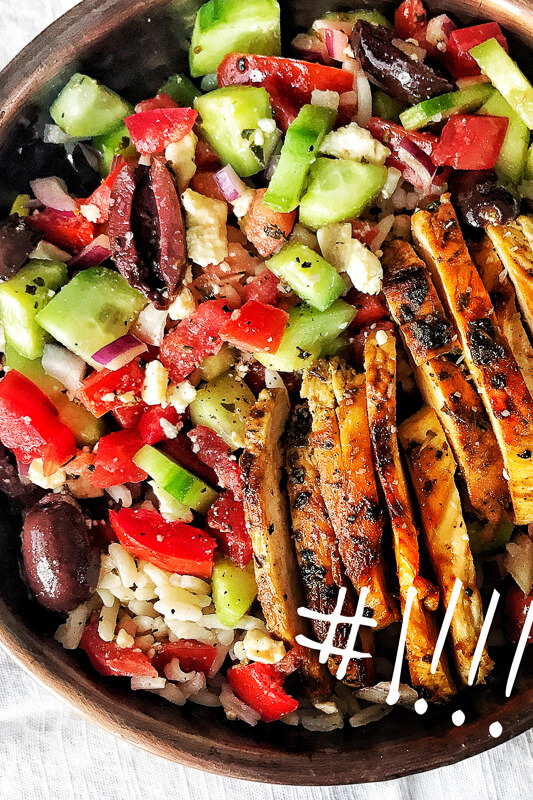 And, that's a wrap folks! I hope you find something new to add to your menu plans this week! Happy New Year! Let's just… try to make it a better one than the last couple, okay?
What do you think should have made the cut!?
Thank you again for another great year!
Loads and lots of love from me to you! -Star
Stay in the loop!
Subscribe to get our latest content by email.