This post may contain affiliate links (meaning I earn a small comission if you purchase an item through a link I provide) I only provide shoppable links to items I love and are helpful. As an Amazon Associate, I earn from qualifying purchases.
Hey Folks! I'm going to start somethin' new around here – it's just gonna be a collection of thoughts on Thursdays. I don't know if it will be weekly… because ya know, life happens. But in an effort to show you a lil more of my life, my loves, my likes, etc on here (rather than only on the social media networks), this is the solution that I've come up with. I promise you'll still find me on Instagram, but with their crazy algorithms changing by the hour, it's frustrating… I'm constantly getting emails that people rarely see my updates! But guess what? Here there is no algorithm, and I'm in charge of it all. You can see what you want, when you want. So I hope you check back on Thursdays for some random thoughts and musings, and probably some photos too!
1. Here's an exciting update – We're happy to finally announce that The Skinnyish Dish is officially a family affair! Eric has quit his job and hopped on board full-time to help me run things. And truthfully, as this amazing thing has grown, it's become too much for me to handle all by myself. Don't misunderstand, I'm so very grateful for the way this all has taken off! But honestly, friends, I just couldn't keep up. This is a big leap of faith for us. Eric is kinda like the Yin to my Yang, except we're both pretty unorganized… so in that way, we're the Yang to each other's Yang… or something like that? I'll admit I am a little nervous about us being around each other all the time. We get along great, and I never want that to change. But we've discussed this possibility for a few years, and we know that now is the time– this is the best move for our family, and for the future of The Skinnyish Dish.
So what does this really mean, and why am I announcing it?
It means more ideas, more recipes, more often, and more delicious! Eric has been my number one taste-tester since day one, and he's always kept me grounded. He won't be doing any of the cooking, but he's great at helping me brainstorm new recipes! It also means I'll have more time to recipe test and photograph, and all that stuff. I'll have help with daily tasks, and all of the behind-the-scenes stuff (like emailing with companies, editing, and dealing with the tech side of things), because that's never been my forte. It definitely means there will be less spelling and grammatical errors in my posts, because he's a grammar butt.. I mean, a grammar NUT! Eric has always been really good with language and writing, and he never misspells a word (and he sometimes reminds people of this (-: ). He has edited a lot of my posts, but now it'll be part of his full-time duties, and I can't think of anyone better for the job!
To get right down to it, I'm super excited that we're able to do this. Now there's more time to do what I love- creating and perfecting new recipes, and sharing them with all of you more often than ever before. So give 'em a warm welcome y'all, because he's the number one reason I started this site and continued on with it. Without him, I might never have done this!
* It also may mean we'll give this cookbook-writing thing a go much sooner than later!!
2. I got an Instant Pot! The kind folks over at Instant Pot sent me one a couple weeks ago, and I'm still a little afraid of it. But my goal in 2019 is to bring you a bunch'a Instant Pot-friendly recipes! Just give me a lil time to get the hang of it and perfect the process, OK? Or I suppose you could pick one up from Amazon, and we can learn all about it together!
*Psst.. If you have some recipe requests, please comment and let your girl know!
.
3. My Go-To Coffee Order: This is pretty random, but I am always asked what I order when I grab a coffee. It's simple and it's delicious. I order a cold brew (always), and get Stevia/Truvia (whatever they have), sugar-free vanilla and sugar-free caramel syrups, and a splash of skim milk. If I happen to be near a Starbucks, I always do sugar-free cinnamon dolce and sugar-free vanilla with Stevia and a splash of skim milk. (Eric, if you happen to read this, please screenshot and save… ha!)
4. The Elf has landed! We weren't sure if we would start this tradition just yet, but hey, why not? Pepper is only going to be little for so long. And if we have to set an alarm to remember to move the Elf every night, or do a cutesy lil scene a few times, we can do that for the little girl who has our hearts. because Christmastime is so special, and we only get one a year… that's just a handful of Christmases for her before the magic starts to fade! I'll share some of our fun with "Jingles" The Elf here in "Thursday Thoughts" throughout the rest of the month. I don't think Pepper completely understands the concept, but she's suuuper pumped when the dang elf brings candy for breakfast. :-0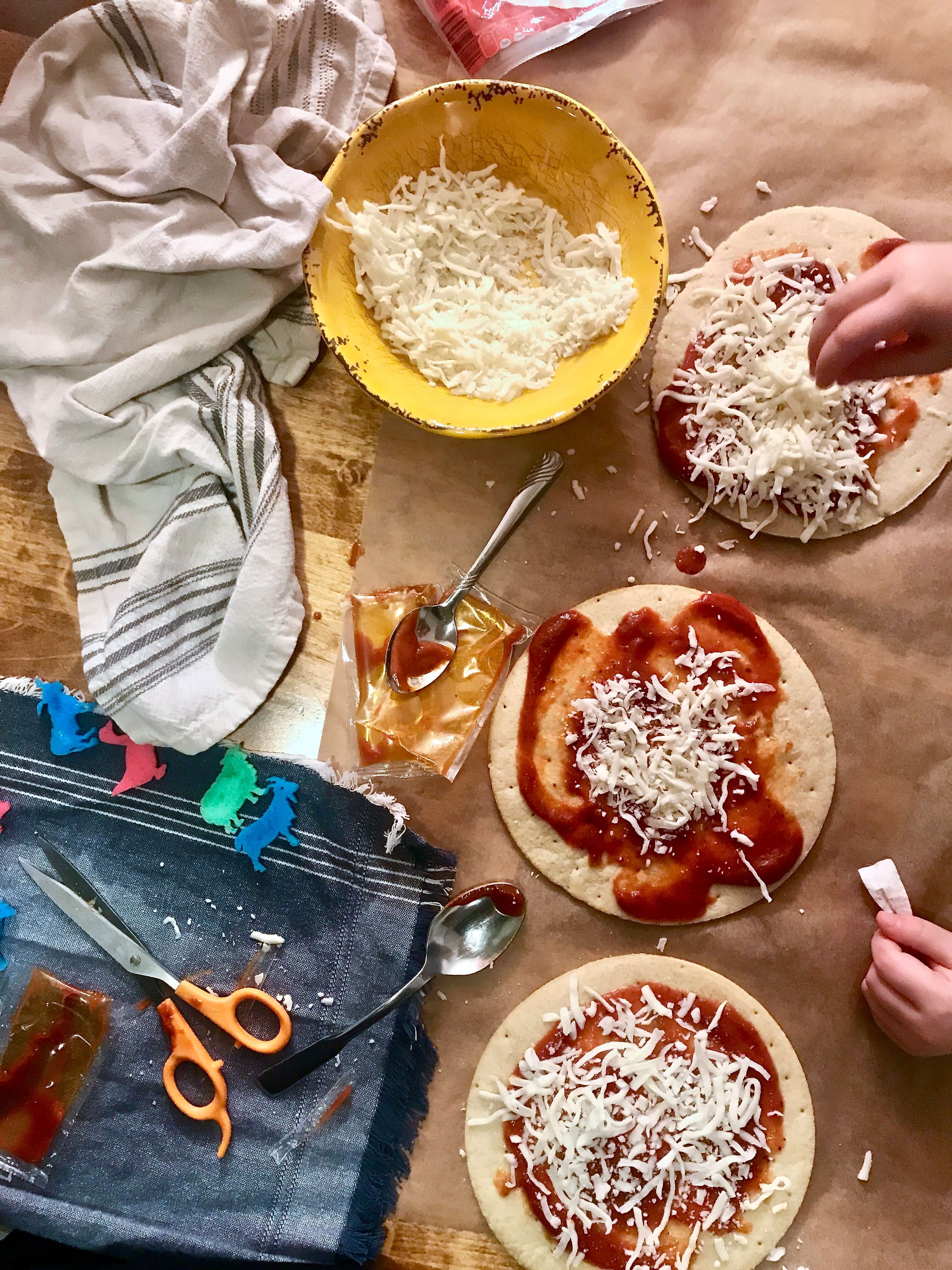 5. Proud mama moment: Pepper made us dinner! I've been working a ton lately. As many of you know, the Holiday season is crazy busy for every family. But it's also the absolute busiest and craziest time of the year for a food blogger! Put those two things together, then bring to a boil and stir constantly, and it can get pretty overwhelming. Even though I work at home, I sometimes feel like it's almost worse than being away… because I'm right there, and I know Pep doesn't always understand. I've been thinking up ways for us to spend more quality time together in the evenings, because quality over quantity, forever. So when we ran to the grocery store for some last minute ingredients, I grabbed this cute little pizza kit, and we made these three personal pan pizzas together! Then we all sat down as a family and ate. Pepper insisted on High-Fives all around! All I did was supervise and take photos, she did it all. I love spending time with her in the kitchen, and I can't wait until she can do more in there with me!
Just look how proud! Oh my heart! And please don't judge us for our random, haphazard tinsel garland hangin'… That was all Jingles The Elf.
6. Got myself a new 'do! I've tried to have long hair for the past 3.5 years… I blame motherhood hormones. I have very thick and wavy hair, and it's completely unmanageable for someone who doesn't actually like to spend time doing their hair (me). For three and a half dang years I've told myself "I want long hair, and I'm gonna do it!" And for three and a half years, it's felt like a mop on top of my head… with the exception of a few date nights and holidays. I finally went in, saw my girl, and had her chop over 5 inches off!, so it's back to a "lob bob thingy," and it's been amazing! …Not to mention I'm no longer using half a bottle of conditioner every dang time I wash it. I just feel more like myself. Maybe I'll blame social media for making me want those long locks… Ha!
Side view completely with a beautiful copper Bayalage for the color.
7. I'm really trying to get back into reading more. A few years back, I would read about a book per week. But in the past year, I've barely finished 5 books total. I'm also having trouble simply deciding what to read, because I want to make it worth my time! Comment below and tell me what books you're loving? Please?!
8. I'm about to dive into cookie baking season. I usually make a few recipes from my mom's stash, and then try out a few new ones as well. This year I have my eyes on Grandma Lucy's Sugar Cookies and Christmas Magic Cookie Bars ! I'll let ya know what we make.
9. One more thing: If you haven't had a chance yet, check out my Christmas Gift Guide! Click on over and enter to win a great prize + get a few perfect and practical gift ideas for that favorite cook in your life!
I hope y'all have a happy weekend! Thank you all for being a part of this amazing journey, and for reading my first "Thursday Thoughts" Post!
Love, Star